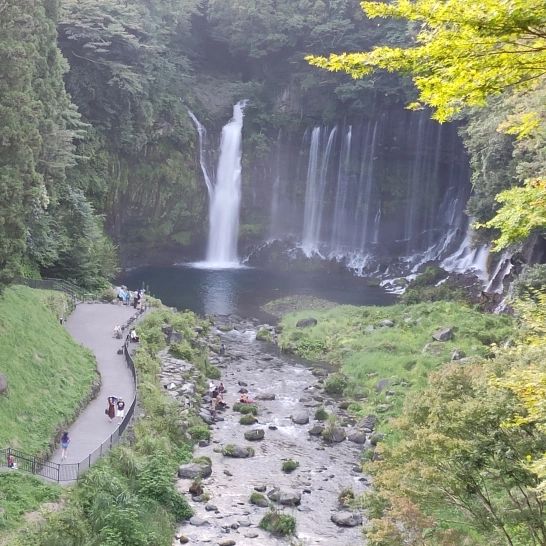 Mt.Fuji aka "Fuji-san" (san in Japanese means mountain) is one of the most popular & attractive destinations in Japan. It's a cone shaped snowcapped volcano recognized as UNESCO world heritage in cultural category as it has been an inspiration to many art works. You can go Mt Fuji climbing in summers (for a month usually when its season) otherwise there are many many viewpoints surrounding this huge mountain range which is spread across 2 prefectures (Shizuoka and Yamanashi). There are 5 lakes surrounding Mt.Fuji known as "Fuji 5 lakes" each of which is sporting a breath taking view of Mt Fuji. In this blog I will share some information about Fuji 5 lakes and places nearby and also Hakone - is a Mountain town which lies in Fuji-Hakone-Izu National park known for Shrine, torri built over Lake Ashi, onsen, and sulfur springs of Owakudani predominantly.
Day1: Lake Yamanaka -> Lake Kawaguchiko -> Narusawa Ice caves -> Asagiri Highland -> Shiraito falls
Day 2: Hakone: Hakone scenic Tozan train ride -> Hakone Open Air Museum -> Choanji Temple (500 Buddha temple) -> Hakone Pirate Ship Ride( Tōgendai Port) -> Hakone shrine + Torri gate over Lake Ashi
Out of 5 lakes, I visited Lake Yamanaka which is the largest of Fuji 5 lakes and it lies in Yamanakako village. This is famous for boats (in the shape of swan) rides. Lake Kawaguchiko is the most beautiful lake out of all 5 and is the second largest and easily accessible.
Narusawa Ice cave is located in Aokigahara forest also called as Suicide Forest and it is a lava cave formed due to Mt Fuji eruptions and hot lava flow. The reason why it is called Ice cave is because the temperature averages to 3 degrees and its ice covered throughout the year. Once you start getting into this cave through slippery stairs, you can see Ice walls, Ice pillars and Icicles - all natural and hence beautiful :) These caves served as natural refrigerators.
Also, some information about Aokigahara forest (Suicide forest aka Sea of trees) is so dense that one can easily get lost and has been a place which is unfortunately known for people entering the forest to commit suicide as they walk in with no intention of coming back ever and has mentions in movies and Novel which unfortunately again has popularized this dark tradition.
Asagiri Highland has large pastoral grass fields with Mt Fuji backdrop and this is one of the major dairy producing regions in Japan. Here you can try fresh cow milk and also various kinds of dairy products like cheese, butter and so on. This place also has events like horse riding and so on... (Not a must visit place & it was more like a pit stop from driving for me)
Shiraito falls is also a world heritage site as a part of Fuji-san cultural site. This is actually a huge waterfall and this place reminded me of Plitvice Lake in Croatia, it's that beautiful and is regarded as one of the Japan's top 100 waterfalls. Must visit if you are in Japan during autumn and otherwise also actually!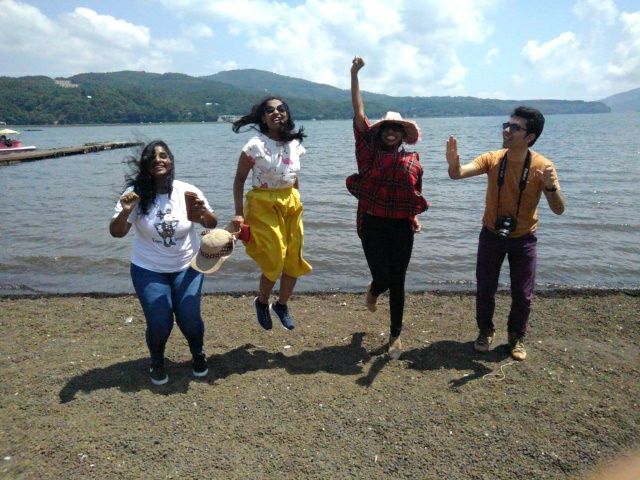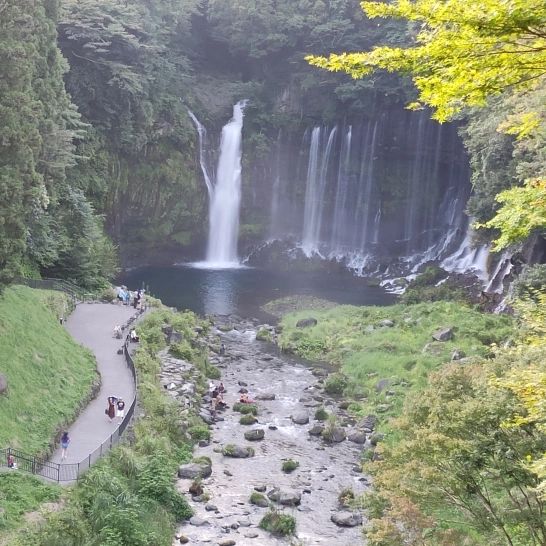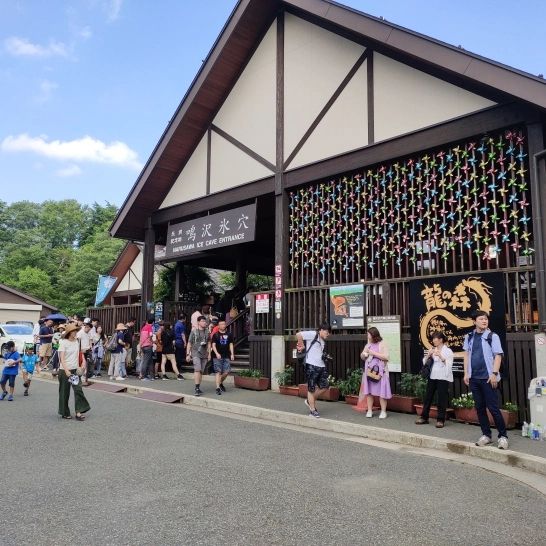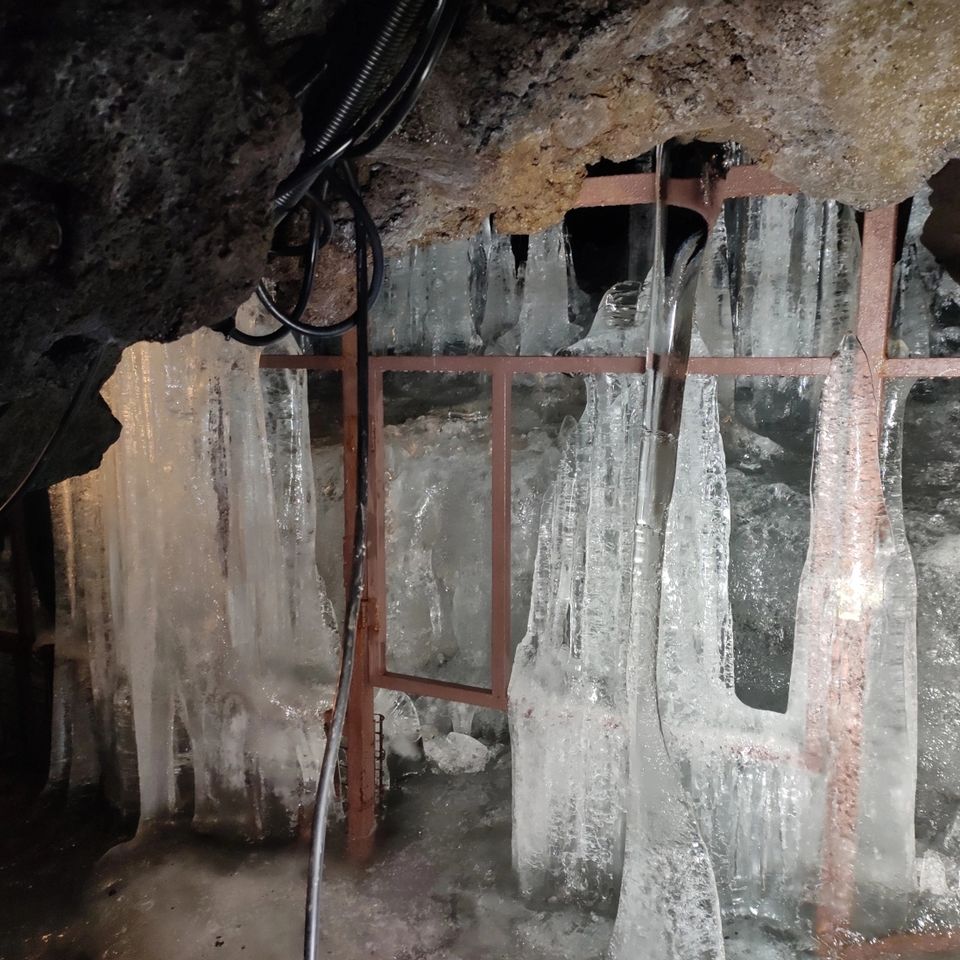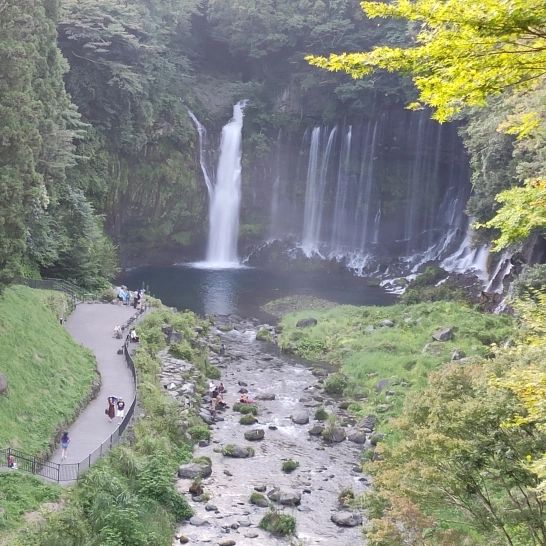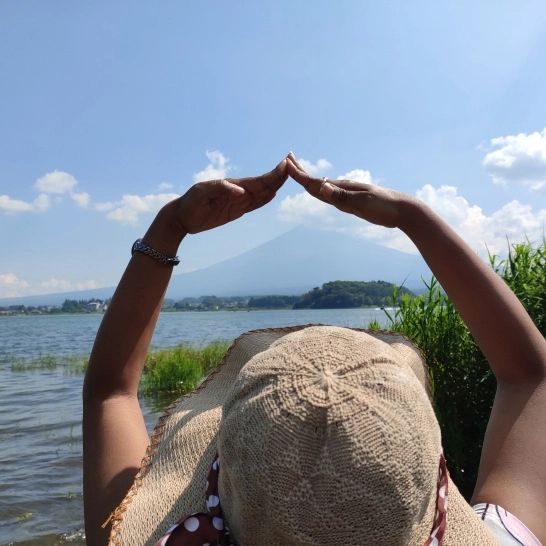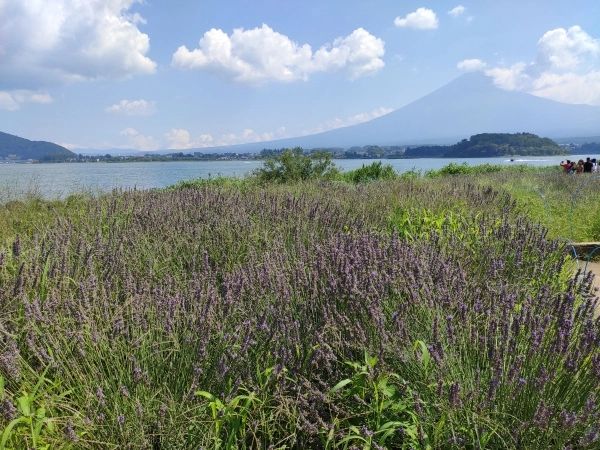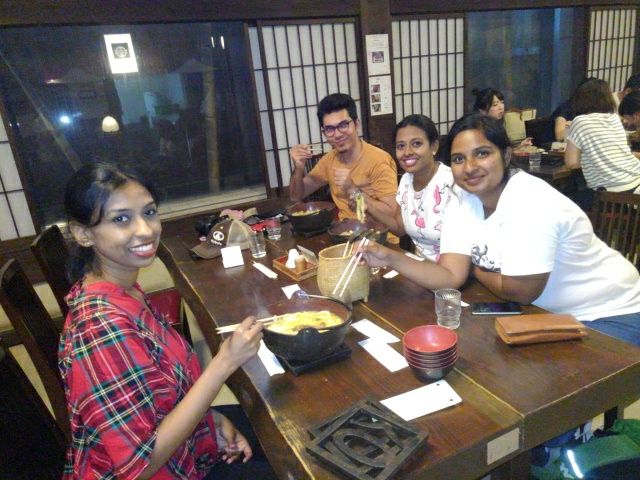 Day 2 I left from Yokohama and reached Hakone-Yumoto station where you can board Scenic Tozan train and Tozan train ride is a fun ride especially for kids as it takes zig zag narrow tracks where you can see the driver switching between front and rear engines often! I took a ride till Chokoku-no-Mori station as my next destination was Hakone open air museum
Hakone Open Air Museum is the best modern art museum I have visited so far, and what makes it best is the fact that its "Open air"! The greenery from the surrounding mountains and valleys set as the background adds an edge to these wonderful pieces of art by the artist of Japan and around the world. There are dedicated indoor exhibits of Picasso. Symphony sculpture is beautiful inside where you see colorful painted glass work and spiral staircase at the center that takes you to the top of the sculpture to give a top view of the park. There is Miss Black power statue which is also famous as it's a symbolic narration of empowered and confident woman! You can easily spend 2 hours here watching and understanding these colorful artwork!
A 5 mins walk from the Museum led us to "Cafe Douce" that serves vegetarian food and I tried Naan Pizza, Tomato spaghetti and sandwich and everything was delicious!
Choanji temple - is a lesser known spot for tourist and was recommended by a Japanese friend of mine. This is a small Buddha temple which has 500 statues of Buddha in various expressions and poses hidden in the surrounding lush green little forest around the temple. An interesting and one of its kind of find!
After getting a glimpse of Pampas grass field on the way, I went to Tōgendai Port to board a Hakone Pirate ship. Now this is quite a famous way to reach Hakone shrine. There are 3 kinds of Pirate ships - Royal 2, Victory and Queen Ashinoko. I boarded economy - Royal 2 and this is a super cool ship ride over Lake Ashi! You can enjoy the royal ambiance inside the Pirate ship and also the cool breeze and Mountain View on the roof top!
My next and last destination was obviously Hakone Jinja Shrine and Torri gate built over Lake Ashi. Hakone Jinja shrine is a beautiful shrine and you can see 2 torri gates and is a 5 min walk from the Moto Hakone boat Pier! One at the entrance and other gate is built over Lake Ashi which is picturesque!
Other popular places in Hakone is Owakudani Rope way to view sulfur hot spring near Mt Fuji, which was closed as there was active volcano warnings when I visited. Alternative is the Hell valley in Hokkaido (please see my Hokkaido blog for more info). Owakudani's Sulfur or black eggs (basically eggs which are boiled in sulfur hot spring which turns the shell black) which is the specialty here known to increase your life span by 7 years per egg consumed! Since this place was closed, I have to settle with my current destined life span ;)
What to shop in Hakone? Hakone is also famous for Trick (Karakuri) boxes. They are basically wooden boxes with kind of mosaic patterns designed in a way which makes it tricky to open the box as it has a series of steps which you must be familiar with to open the box and see the content. I recommend you to watch some you tube videos on this to know its beauty. It's a good way to keep your valuables!
What to eat? Apart from Black eggs in Owakudani, Kawaguchiko area is famous for a type of noodles called "Hōtō" Noodle soup which has flat wide Udon noodles served in a hot pot with vegetables and Miso soup (you get a vegetarian version). This is a dish originated in Yamanashi prefecture and is a typical Japanese delight to hog on when you are in this area! Beware of the hugeee quantity and its normal to order say 1 Hōtō & share it with your friends!
How to commute? I did a road trip on both the days, but for Hakone, you have Hakone free pass which is worth if Owakudani is open!