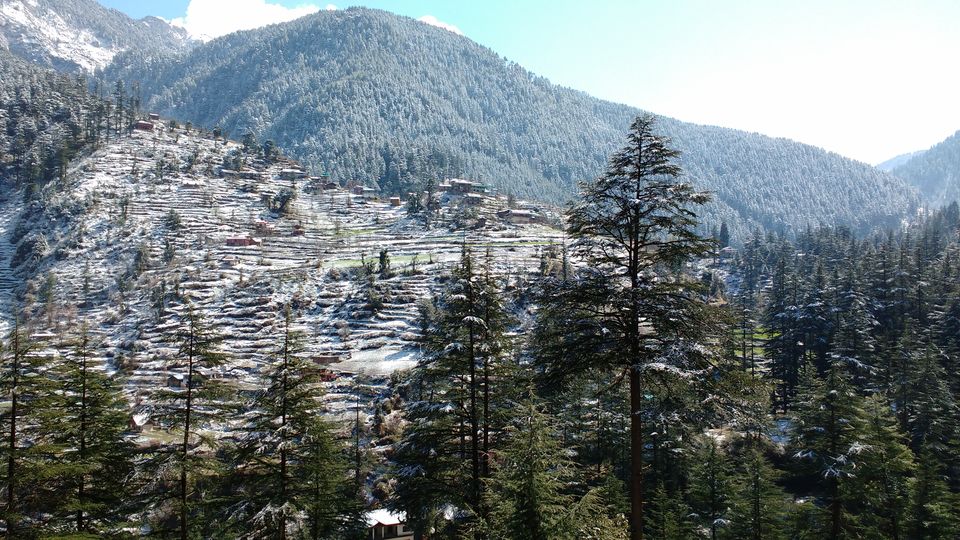 I guess everyone remembers their first experience with snow (at least the ones who are not born in places with regular snowfall). For someone who is born in perennially almost dry Aravalis or in a metropolitan like Delhi, it becomes even more memorable. Therefore, when we (me and my friend) decided to head off to an offbeat hill station on the Holi long weekend, and experienced snowfall on the very first evening, we knew the trip was going to be worth it!
To begin with, we travelled by a private Volvo bus till Aut (on the Chandigarh-Manali highway), the travelled to Banjar in a local bus and further took a taxi to Jibhi. The short but refreshing journey from Banjar to Jibhi came to an end, when we saw a place across a small and beautiful bridge, with tents and wooden houses, waiting for us. Jibhi it was!
Upon reaching, we took a right turn from main road, through bridge connecting to the camps and guest houses. Since it was the Holi weekend, we did not see any crowd around. We ended up taking accommodation at the very first camp we came across- 'Jibhi camp and Cottages' offered both types of accommodations- Tents as well as cemented walled rooms.
We were initially planning on taking a room in a guest house, but looking at the tents in the camps, we got excited enough to try the option out. As the evening descended and was engulfed by night soon, the weather began to become cold and it started to snow. However, we stepped out of our tent to enjoy this new experience. The entire camp area got covered with a white layer of snow, increasing in thickness every hour. We decided to take a walk outside on the road, even though it was getting colder by minute. It was a short yet amazing walk, with snow covering our hoodies and jackets (we were quite under-prepared, clothes wise, for the interesting turn of weather at Jibhi). When we came back to the tent, we requested the care-taker to prepare tea for us, and then plugged in some music for the night. It was so cold that we couldn't get out of our blankets for even a second. However, we were still enjoying every second of it- It was our first snowfall!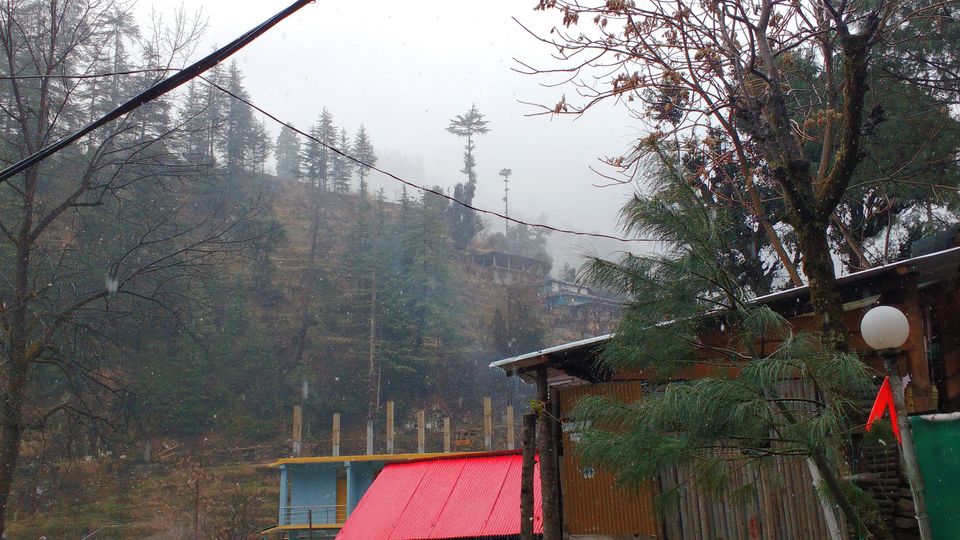 The next morning was just absolutely indescribable, but I would try- Everything around the camp was painted white, the green trees on hills around were covered and loaded with snow. Wooden benches, electricity poles and wires, the tin shade of kitchen across the camp- Everything in visibility was covered under the beautiful white silk blanket, that gave the day an amazing start!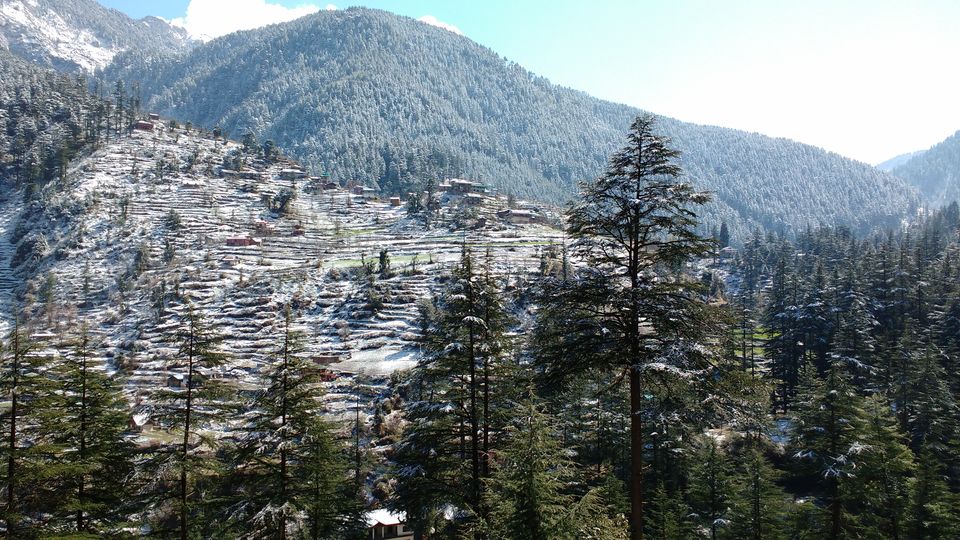 We asked around for things to do in Jibhi, and found that the Jalori pass trek is the closest and most popular attraction. However, due to heavy snowfall, there was a very thick layer of snow on the way to the pass, hence we could not go for the same. We instead took a smaller and more easy trek leading up to Shesh Nag temple. The trek was beautiful- every hill surrounding the narrow roads on which we were walking, seemed to be welcoming us in the most vibrant way possible. The mix of green and white on the way just lapped us within itself.
The temple area was picturesque, giving us some of the best shots in our very average phone camera.
There was some local ritual going on outside the temple, wherein we saw a beheaded sheep being cooked out in open, and its head kept before the temple entrance- For a moment there, we were taken aback. We sat down with the locals there for a while, sunbathing and having some water. The reflection of sun on melting snow was giving some amazing views from different angles, especially on a natural pool which was frozen at night, and whose water had begun to melt during day time.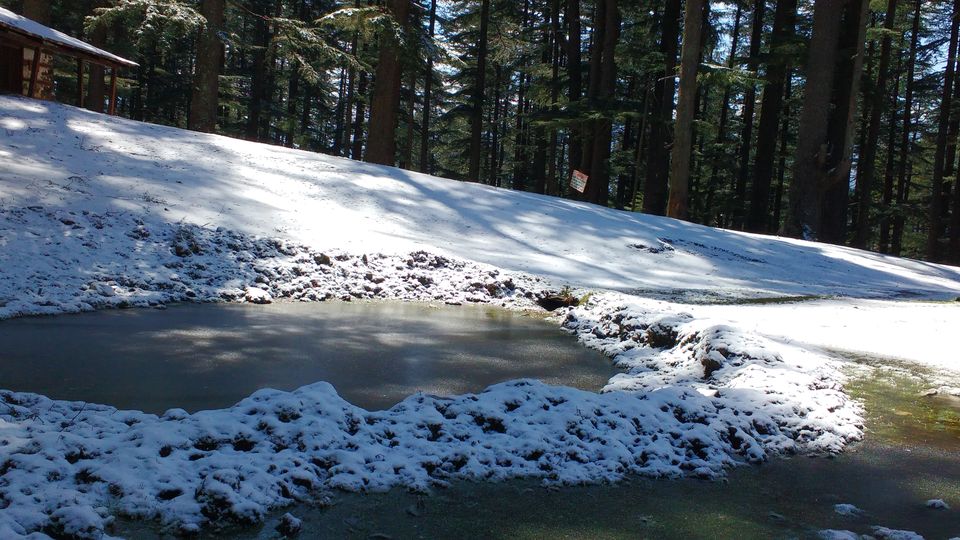 We descended to Jibhi in the afternoon, and came down to our camp to rest for a while. In the evening, we went a little down the camping sight to sit and watch flowing river. This was undoubtedly biggest highlight of our trip, and the scene is still afresh in our memory- Water gushing at a velocity just sufficient for us to want to dip our feet, and once we did so, the cold temperature sent a wave of shiver down our body. We carefully removed our slippers, sat on the stones between flowing water and played music on a speaker. The view, the water, the music- It all added up to make a perfect evening, away from civilization, phone calls, too many people, laptops, traffic, in short, away from regular daily life.
For dinner, we went to the kitchen in the camp, and sat with our care taker, discussing topics related to politics in Himachal and India. Living in remote locations doesn't stop people there from being as informed as others in the country. He told us how tourists come and do not want to leave this place, and how he has led many successful treks along with his guests, for whom he acts like a guide. The dinner was amazing, and so was their service till the time we stayed.
The next day we visited a waterfall nearby, and a couple of buildings if school and temples in the nearby areas, and relaxed for most of the time.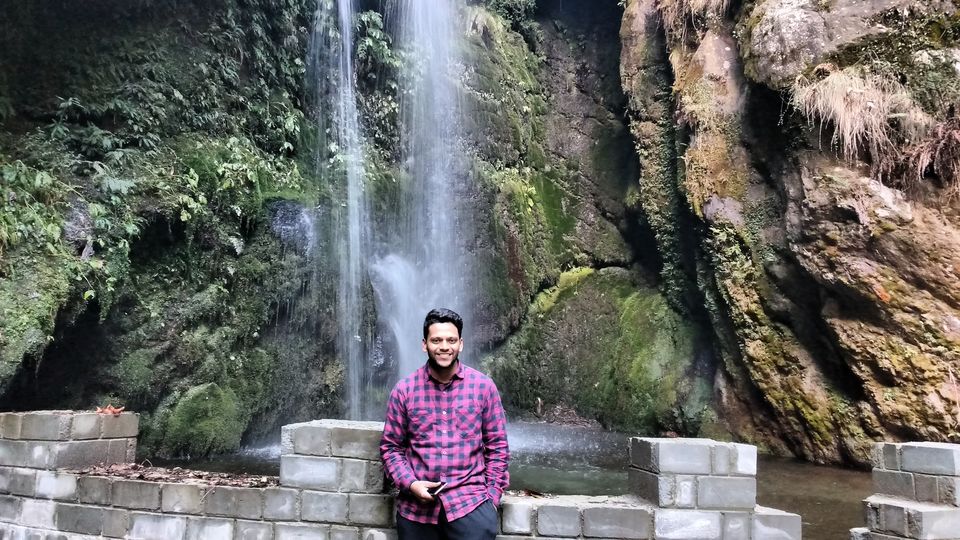 The next day, we had to leave for Delhi in the afternoon. Waiting for the taxi to arrive for picking us up, we sat on the milestone and wondered how peaceful life here would be, and continued to wonder so till we reached back Delhi.
The trip sure left an indelible mark in our memories, and we hope we could go back again in future to rediscover all of it again, and maybe more!