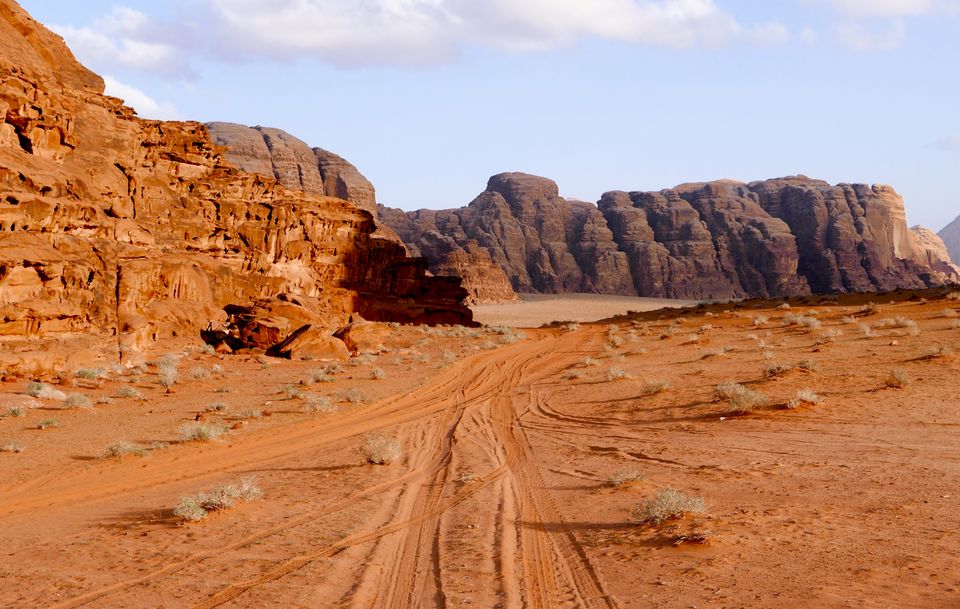 Wadi Rum was the real reason that I always wanted to come to Jordan. Wadi Rum is really unmissable on any trip to Jordan. It is a big desert valley spreading 720 square kilometers on the South of Jordan and extends further to Saudi Arabia. Its often referred to as the Valley of the moon and have been successfully as the surface of Mars in big movies like The Red Planet, The Martian, Prometheus, The last days in Mars and Transformers: Revenge of the Fallen.
Things not to forget while visiting Wadi Rum

1. Sunscreen, scarf and jacket: No matter which time of the year you are in Wadi Rum, days get extremely hot, so please carry a sunscreen because there are no shops in Wadi Rum. Wrapping a scarf around your head os useful because its very dusty there. Finally, nights get extremely cold in the desert and you should have warm clothes to keep you warm.
2. Keep cash with you: There are no ATMs in Wadi Rum (even not in the Bedouin village outside the desert), so don't forget your cash!
3. Water, water and water: Yes, very very important! Please make sure you carry lot of water. You get dehydrated very early for obvious reasons when in a desert!
Jeep Ride in Wadi Rum: It was a terrific start to the trip and once we entered the desert, it left me spell bound! I cannot describe in words how amazing the colors were and I have not seen a landscape like that before. I can say closest I could relate it to was the Grand Canyon I have been in Arizona, but again, nowhere close to it after all.

How to reach there?
There are local buses which goes from Aqaba/Petra/Amman to Wadi Rum very regularly. It is important to remember that there is also a JETT bus which is more expensive, but much more comfortable which is headed to Petra from Aqaba which takes you to Wadi Rum too. Check the bus website for the timing. Its the major bus company in Jordan and can be used to get from every major tourist attraction in Jordan, but Wadi Rum still being an off-the-beaten track attraction, the bus service is highly unreliable in this route! One more thing is, I call it unreliable as if there are not enough passengers (during off-season), the bus gets cancelled abruptly on the spot as the driver can decide whether its worth to do the trip or not with such less passengers. So, good luck!