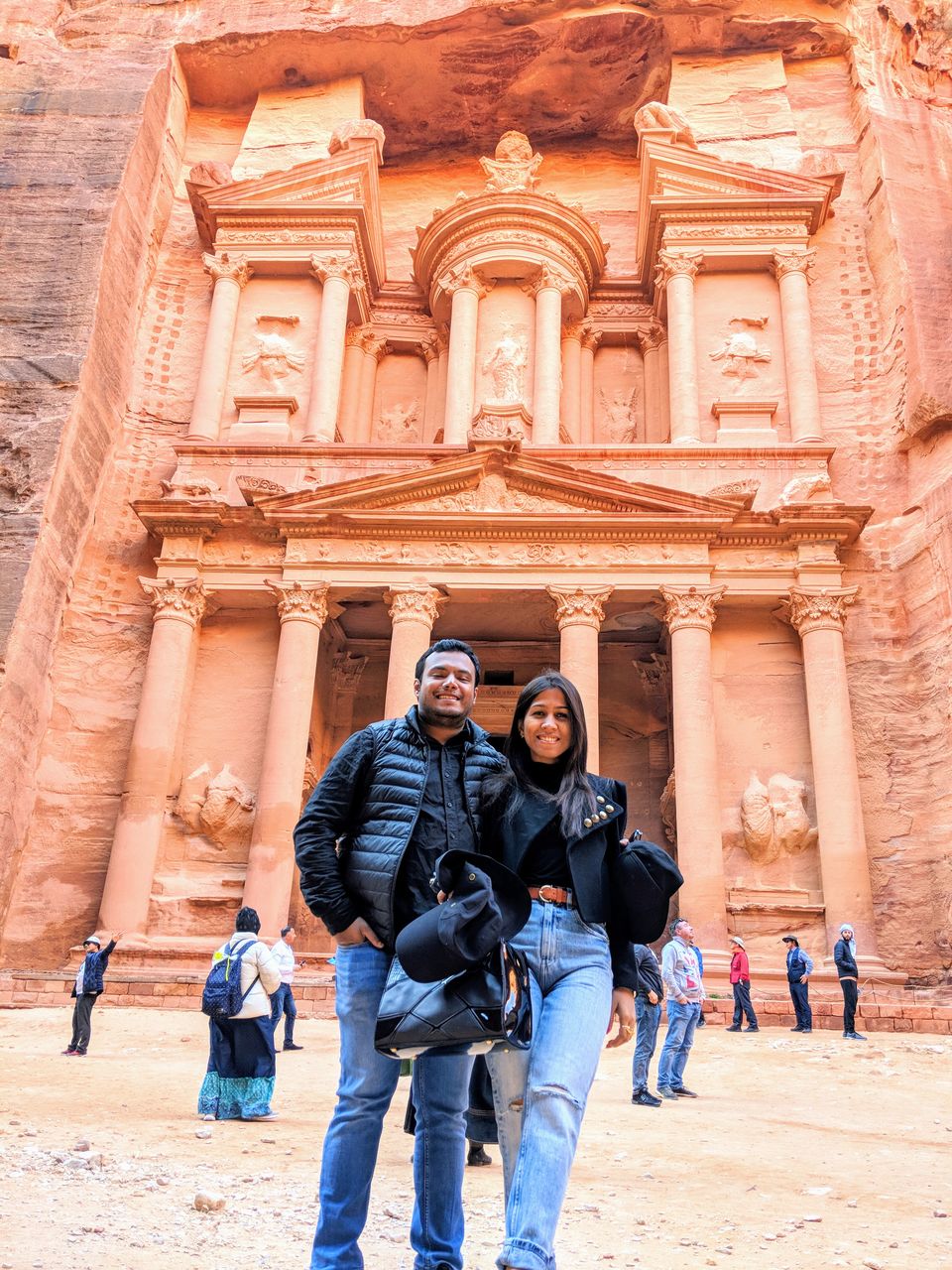 Let's go to Jordan, I told my, then fiancée, Kristi. The discussion was about our honeymoon, a week or so before our marriage in mid January this year. We were not excited about clichéd locations in Thailand, Indonesia, Maldives or Europe where we normally see newly weds from India, including many friends and acquaintances, going to. Why? Because firstly, I have personally traveled in many countries in Europe and Asia over the years as a bachelor. And secondly, while Kristi hasn't been all there (and in all fairness, it was a slightly selfish decision to go somewhere we both hadn't been to), we decided that a spirit of exploration is necessary to make our honeymoon exciting. The Middle East had long been on my travel bucket list but had somehow never materialised. We initially thought of Egypt but then we came across the visa on arrival scheme of Jordan for Indian passport holders (now discontinued, but more on that below). We were pressed for time for a visa application and Kristi had a business trip to Dubai right after our marriage. Plus we read amazing articles about the Hashemite kingdom and how rich and diverse it is in history and natural beauty. So we saw it convenient to meet in Dubai after her meetings got over, and then head off to Jordan. Thus, we finalised on an 11 day itinerary of 3 days in Dubai and 8 in Jordan.
Then came the surprise at Delhi Immigration. Kristi had surprisingly been allowed to go to Dubai without being asked for a return ticket (probably as she was on a corporate trip), but two days later when I was at immigration at IGI airport for my flight to Dubai, the question arose about my return ticket. I told them I would be meeting my wife in Dubai and we would be heading to Jordan availing their visa on arrival facility. I had the return ticket from Jordan and showed them the same. But as it turned out the scheme was quietly discontinued. I couldn't find any available information online about the VOA being discontinued (I had been to Thailand, Cambodia and Vietnam based solely on online VOA info), and called up the Jordan Embassy. They confirmed the same (VOA now is only for those with valid US or Schengen visas, which neither Kristi nor I had at that point) and told me to contact the Jordan consulate in Dubai to get my visa. I finally managed to board my flight to Dubai after telling the immigration authorities about this. Not a great start for a honeymoon but things at least got rolling.
We spent a few days in Dubai. I found it similar to Singapore (more expensive maybe) with all those glass and steel skyscrapers and humongous shopping malls, and the Burj Khalifa and Dubai Frame did provide some good photo-ops. We took a desert safari and got to experience the thrill of 4x4 drives, quad biking, bedouin food and evening belly dance and fire-jugglery shows. On securing our Jordan visas at Dubai, we were happy to head off to the Hashemite kingdom.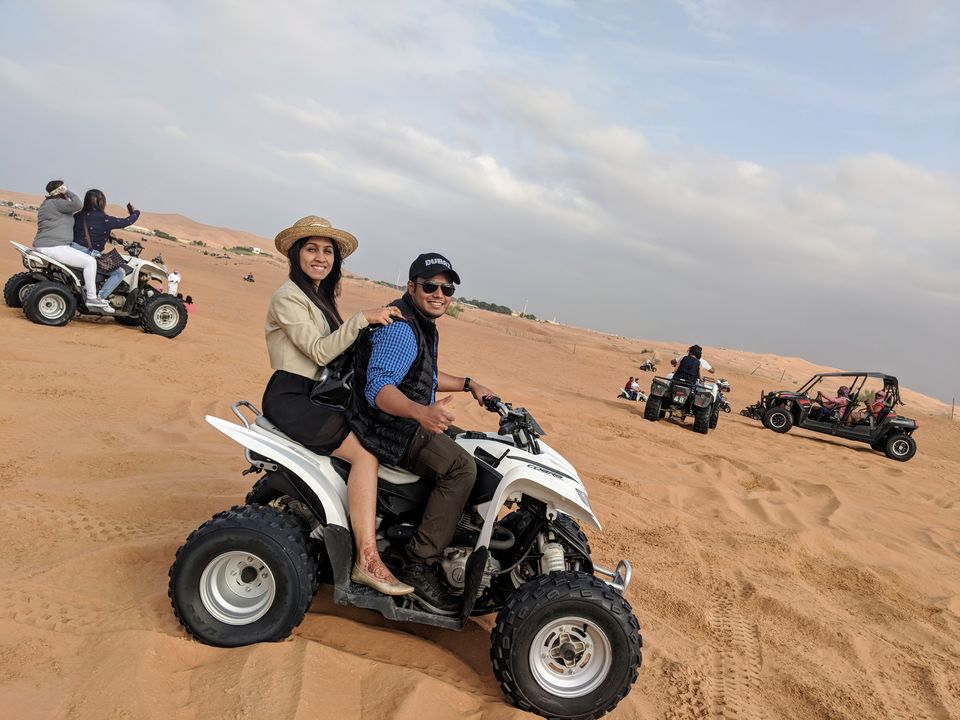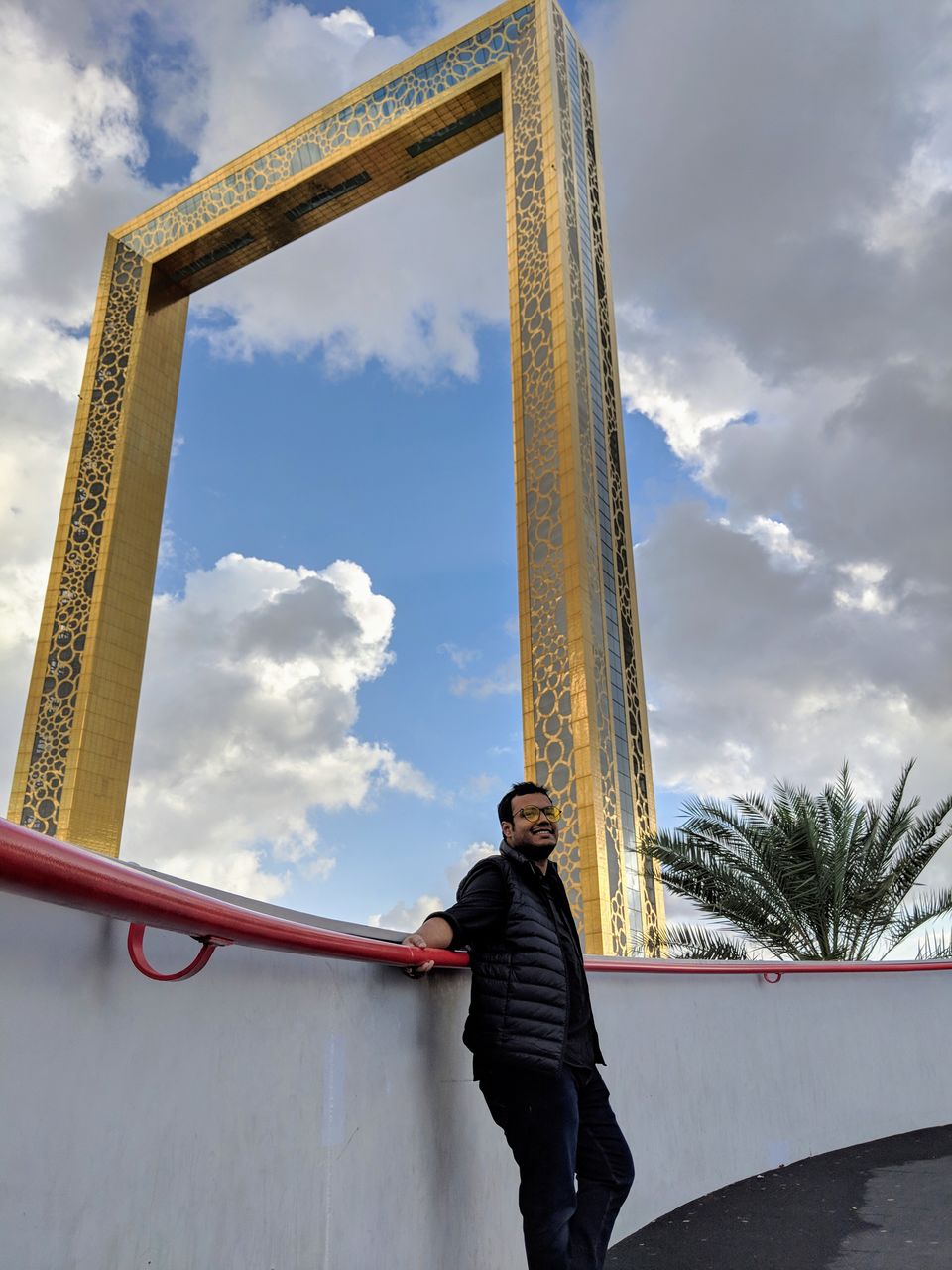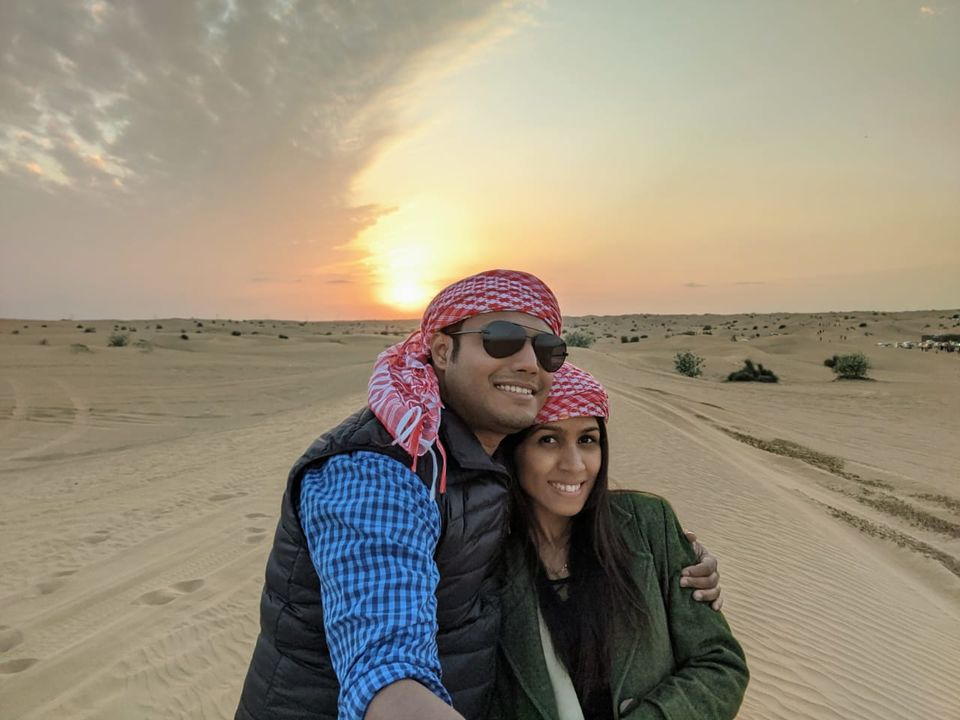 Day 1 & 2: Jerash & Amman
Landing at Queen Alia International Airport in Amman, we found the immigration really cordial and welcoming. I had read on Tripadvisor that the best way to see Jordan was by renting a self-drive car. The country is really compact (in just 5-6 hours you get from the extreme north to the extreme south) and there is a lot to see. So we got one from near the airport (was a pretty good deal as the price per day was less than Indian self drive rentals and fuel prices were also similar to Indian rates). It was in the last week of January and Amman was very cold. It seemed sunny all around when we landed but the moment we stepped out of the airport we felt this blast of cold air making us shiver. It was an unusual kind of climate, something I had experienced In Ladakh in August 2017. Amman is perched on several hills, which explains its unusually cold weather. It also happens to be the one of the oldest continually inhabited cities in the world. Now that's something.
Driving to our hotel, we saw that almost all buildings had a light brown facade, perhaps a trademark of the city thought up by its urban planners. Budget hotel rates and restaurant meal prices were certainly more than Delhi, Mumbai or Bangalore (perhaps twice to thrice at times) but people we came across everywhere in Amman were extremely friendly. Jordan is often referred to as an oasis of peace and stability in a turbulent neighbourhood. Neither the Arab spring of the early 2010s, nor the neighbouring Syrian or Palestinian unrests have affected social stability in Jordan, although refugee intake has swelled tremendously.
We spent the first two days exploring the Amman Citadel, a hill continually inhabited and developed by different civilizations since 1800 BC, and nearby Jerash, perhaps the best preserved of the ten major ancient Roman cities. We walked into still standing amphitheaters, signature pillars, lanes and arches. It was hard to believe they pre-dated worser conditioned Mughal era ruins in India by many centuries. Amman Citaldel had a temple to Hercules and we saw a broken arm lying near where a statue existed. There were magnificent views of Amman's skyline over rolling hills and it all made for some memorable photographs.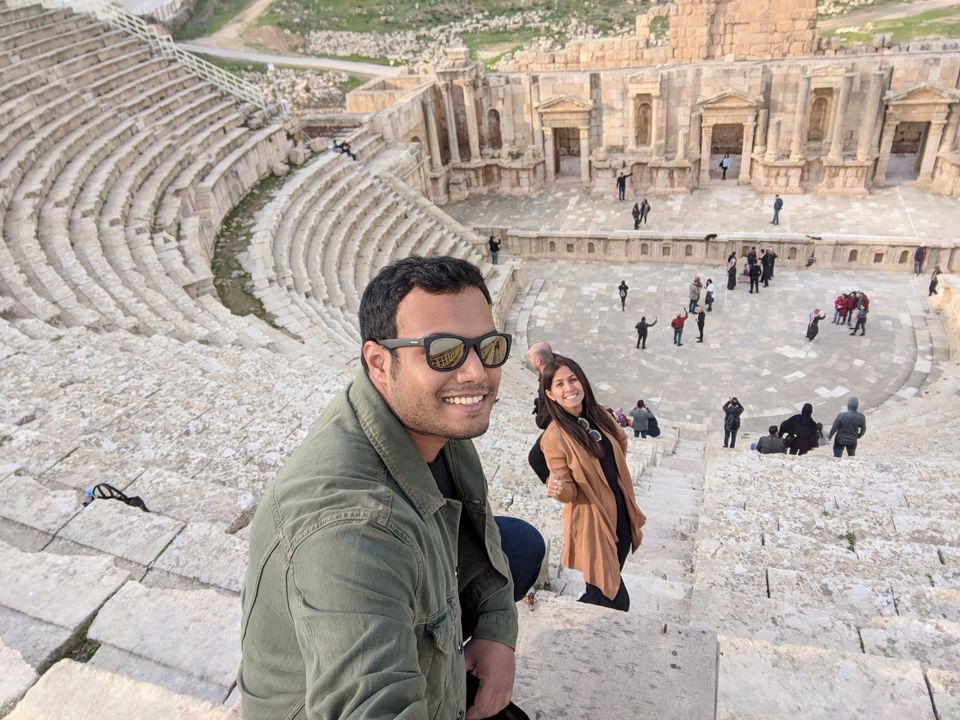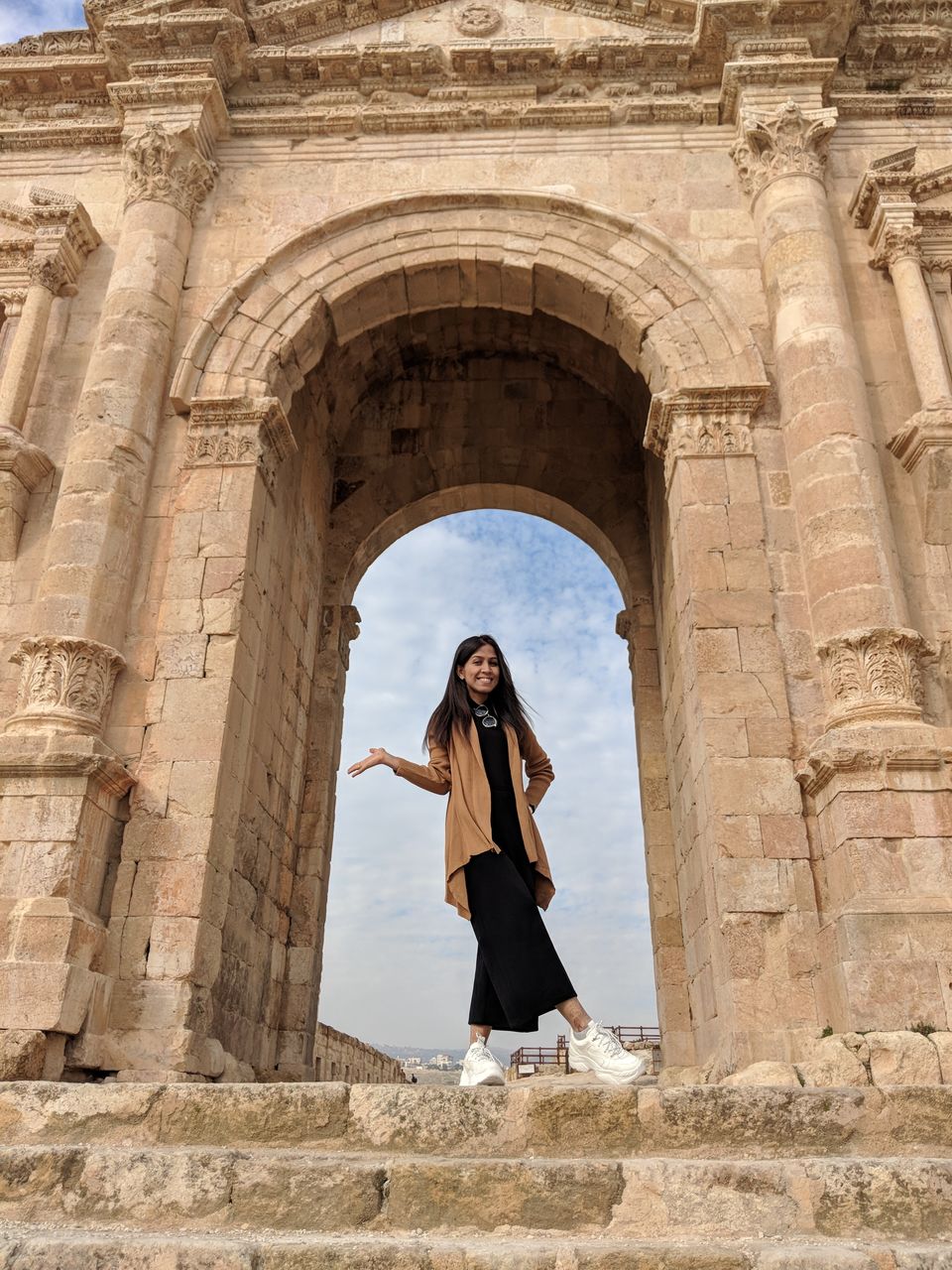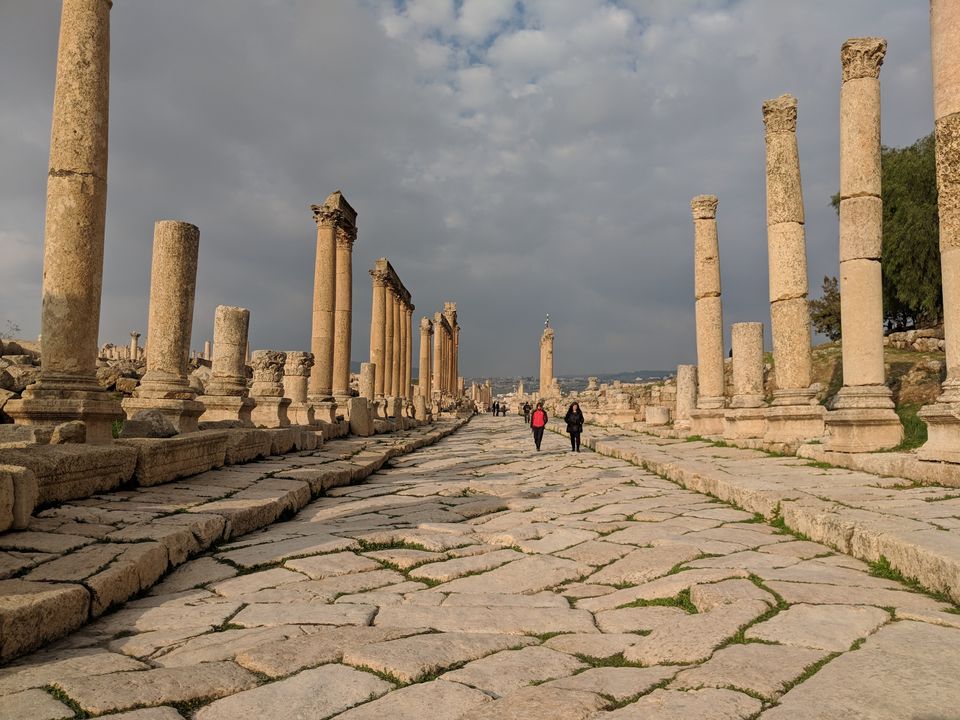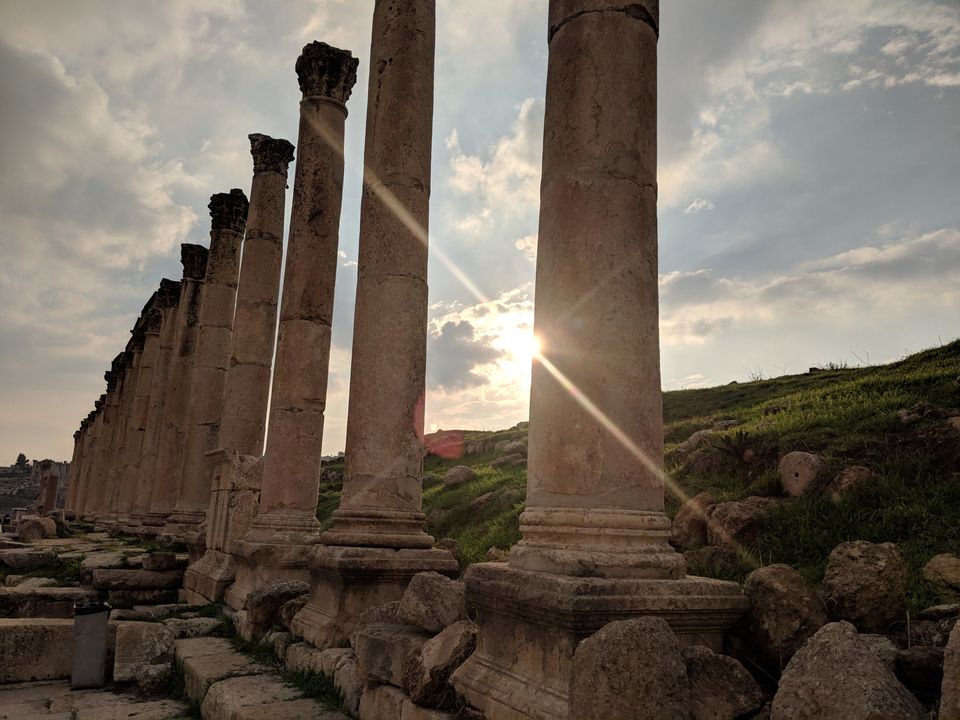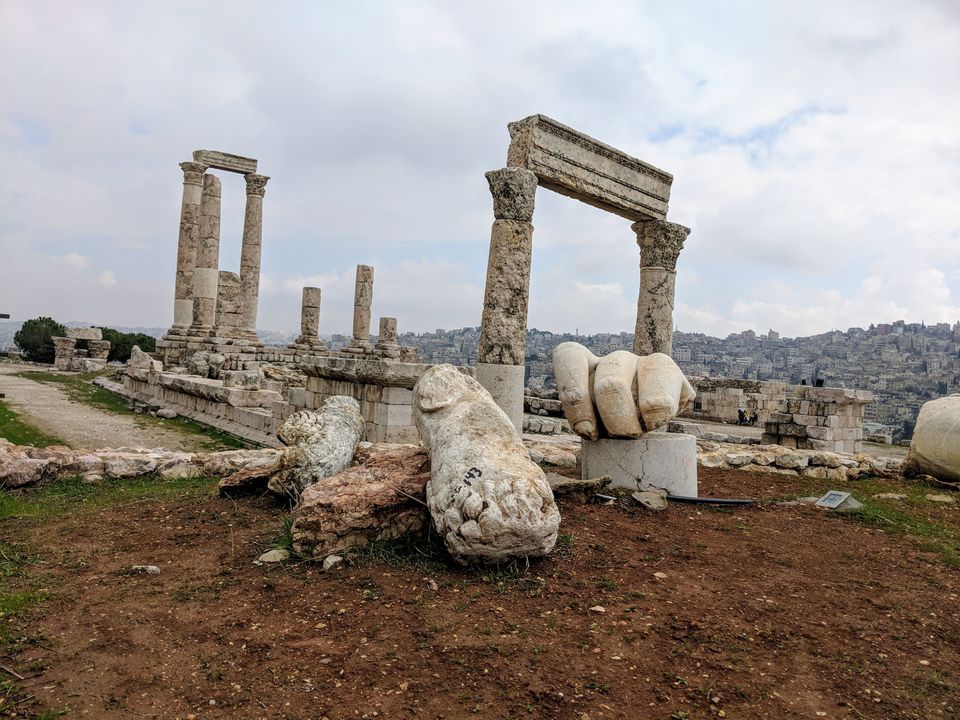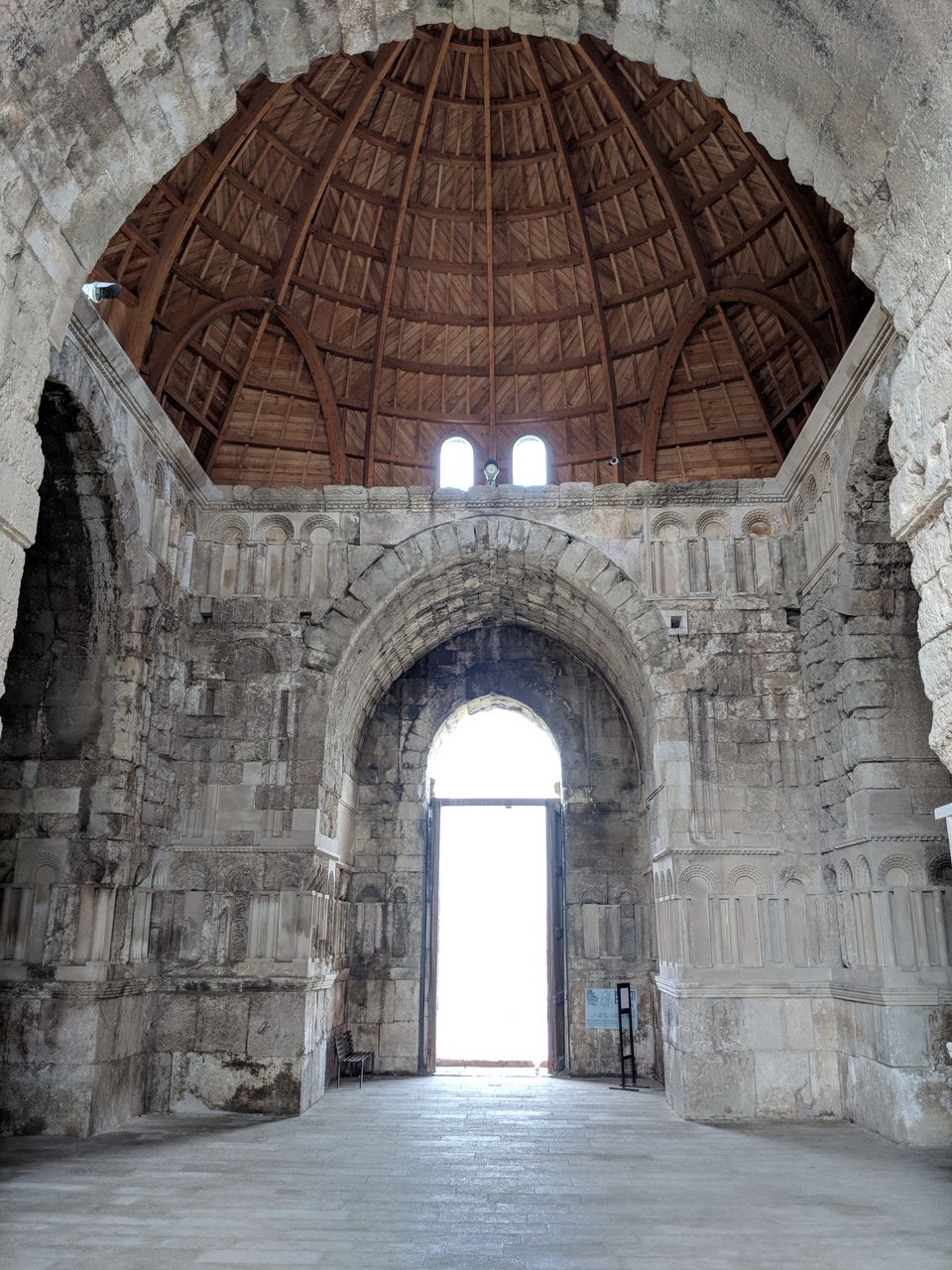 Day 3 & 4: Petra
After spending the last evening of the second day exploring Amman's nightlife and having a fabulous meal at Levant restaurant (one of the best in the city, specialising in Armenian cuisine), we drove down to Petra on the third day.
Petra needs little introduction. It is one of the new seven wonders of the world right there along with the likes of the Taj Mahal, the Great Wall of China and others. Like Jerash, Petra is an ancient city dating to 330 BC, complete with Roman influenced facades, temples, amphitheatre, caves and stairways to hilltop relics. While most people recognise it with only the famous Al-Khazneh temple, there is much more to it than the photo-op temple facade. The Nabateans, an ancient Arab trading people, lived and had their capital here and they maintained close relationship with the Greco-Roman empire, which explains the influence on the architecture. The area encompassing Petra is quite big and requires at least two full days to see it in entirety. The most coveted spot is the El Deir (Monastery), accessed by a long uphill hike. It is lesser known but bigger than Al-Khazneh and offers amazing sunset views from nearby spots.
Apart from Al-Khazneh, the other famous attraction of Petra is the Siq, a 1.2 km long gorge that is used to enter the ancient city. The amazing rock formations remind one of the Grand Canyon in the US. We visited Petra by early evening on the third day and attended a show of Petra by night, wherein the Siq and the yard infront of Al-Khazneh are lighted up with candles and a Bedouin plays flute for an hour. Not a very spectacular show but certainly soulful. Next day we half walked through Petra and to save on time, took donkey rides up to the Monastery. The day ended with an amazing sunset over the distant Negev desert of Israel, while we smoked seesha.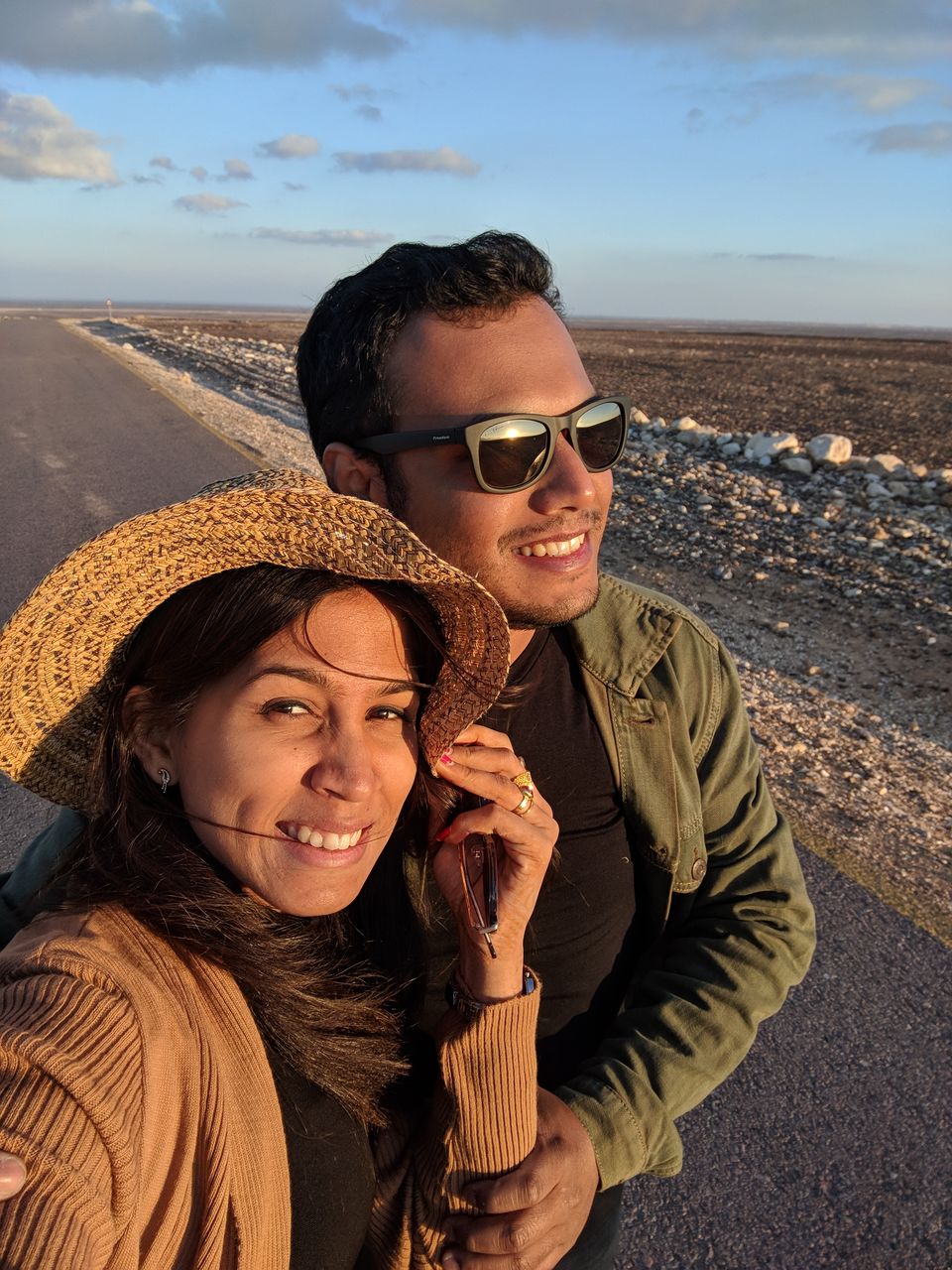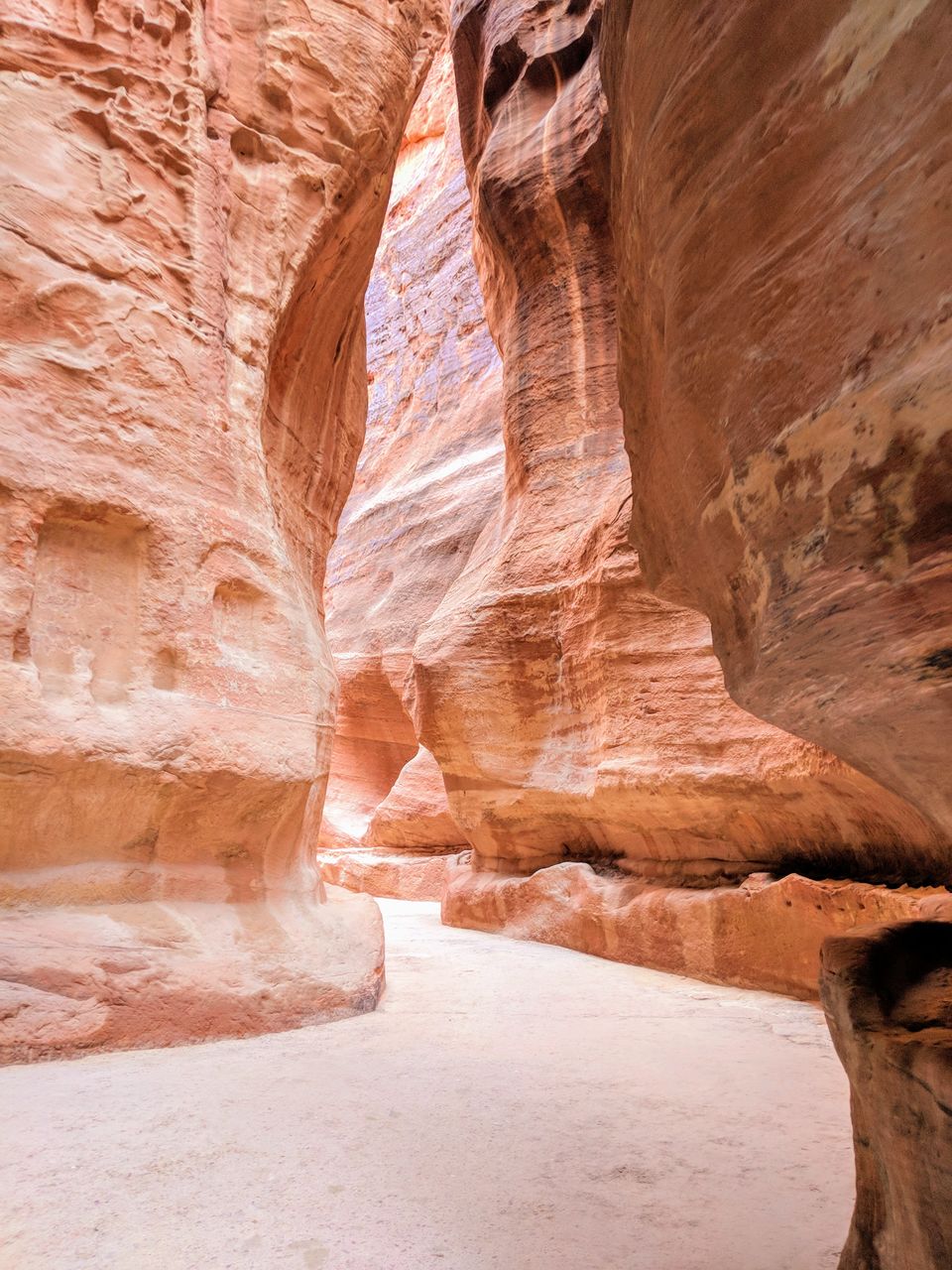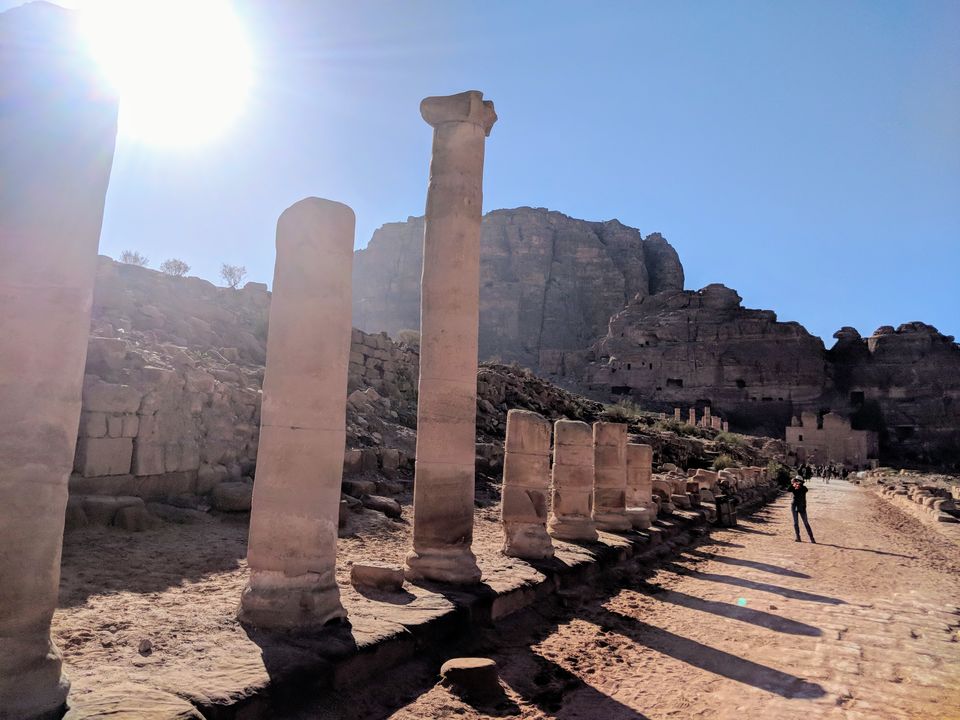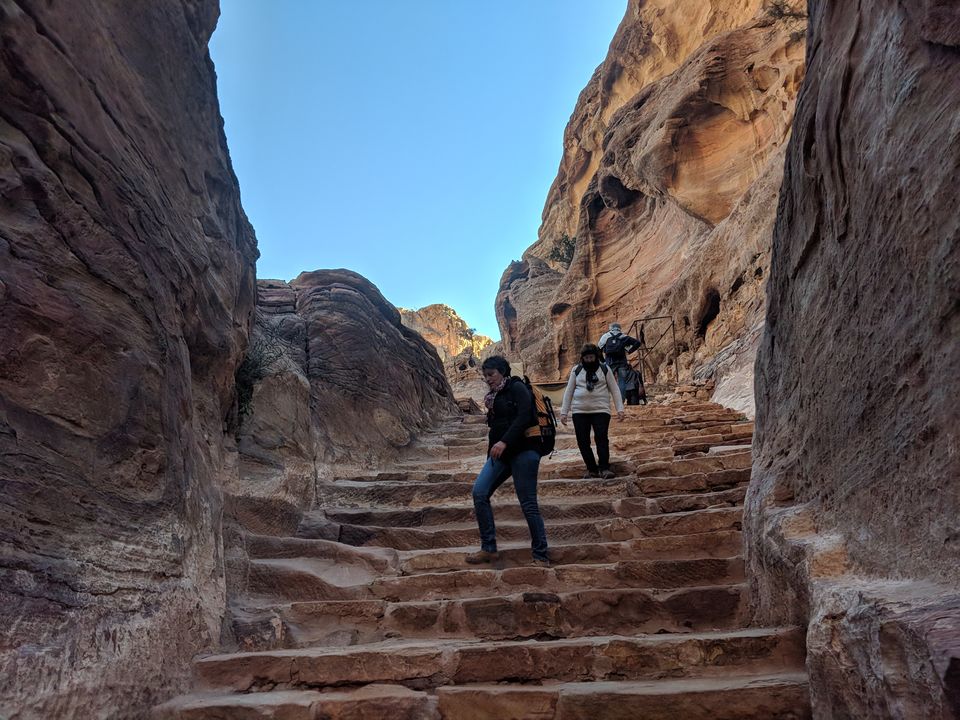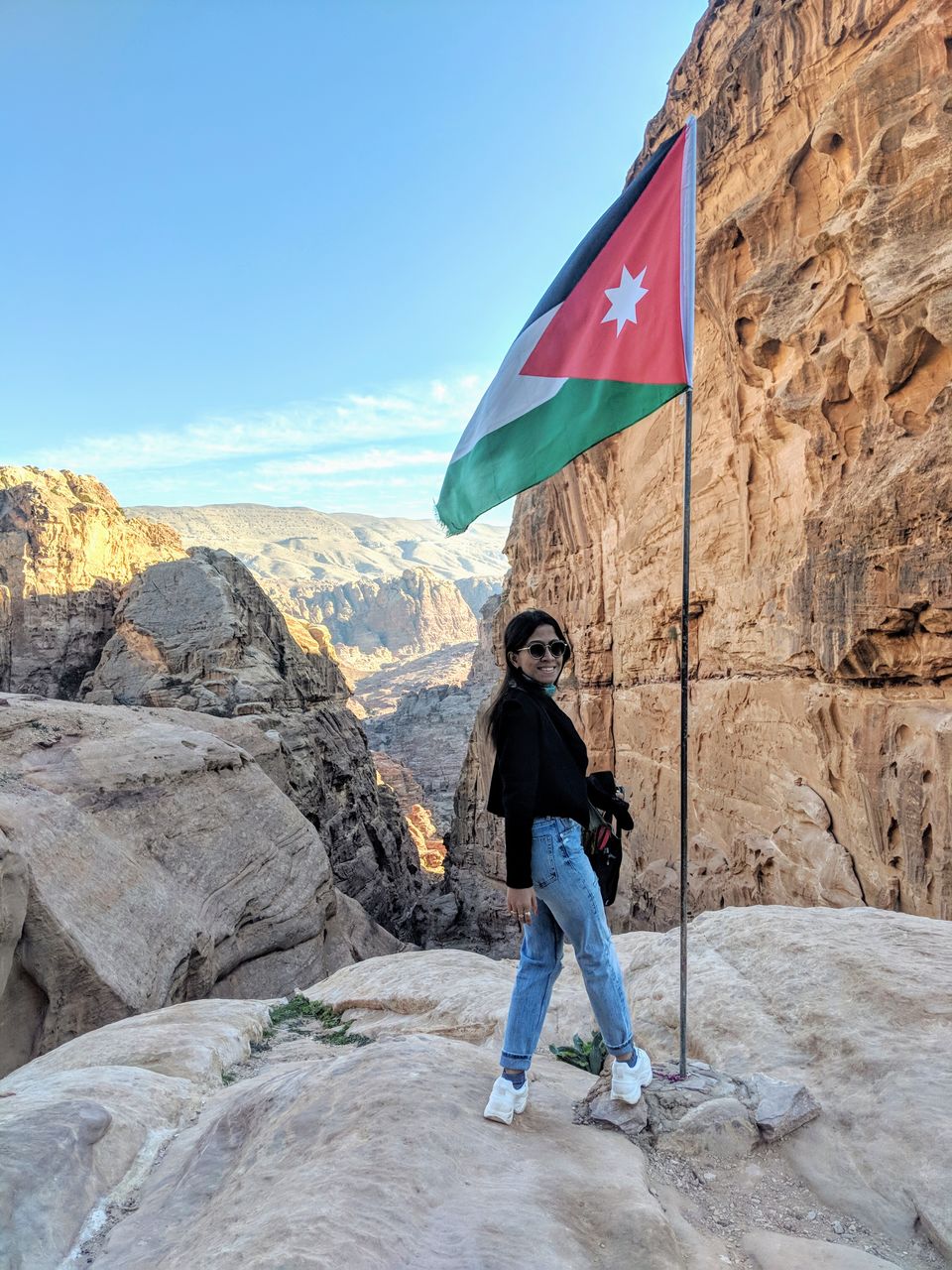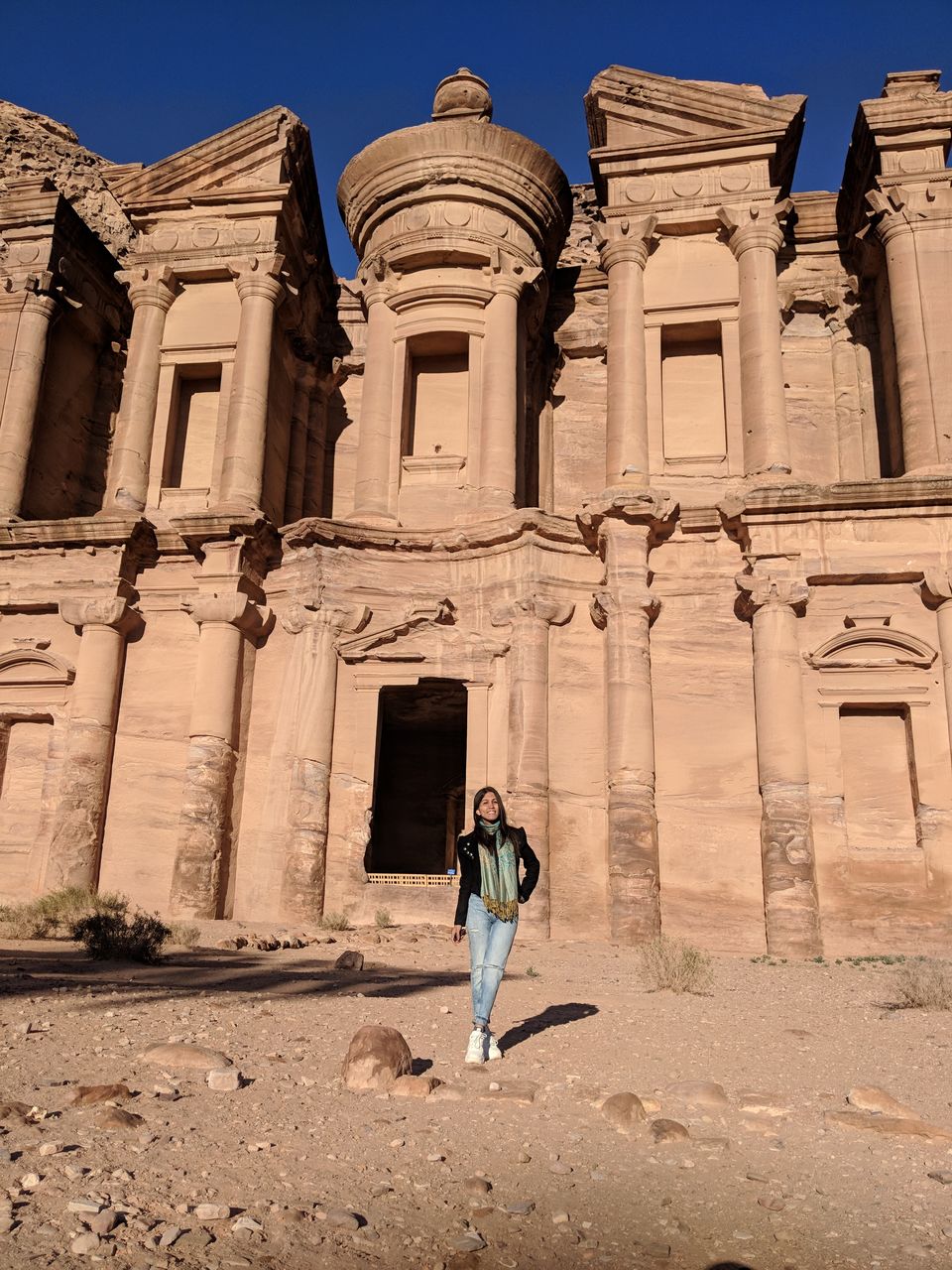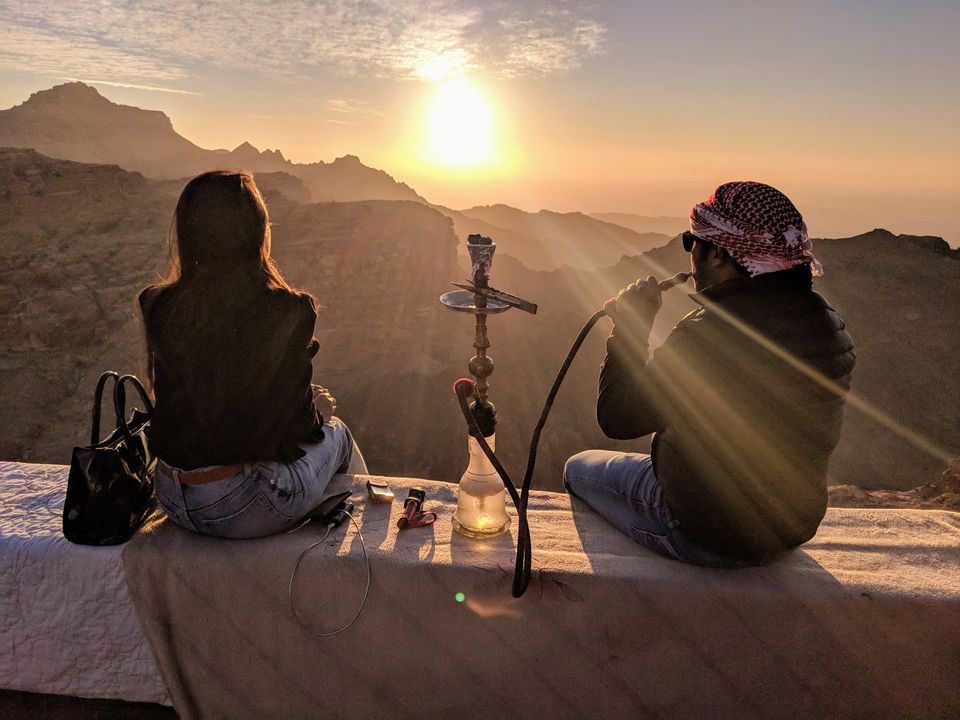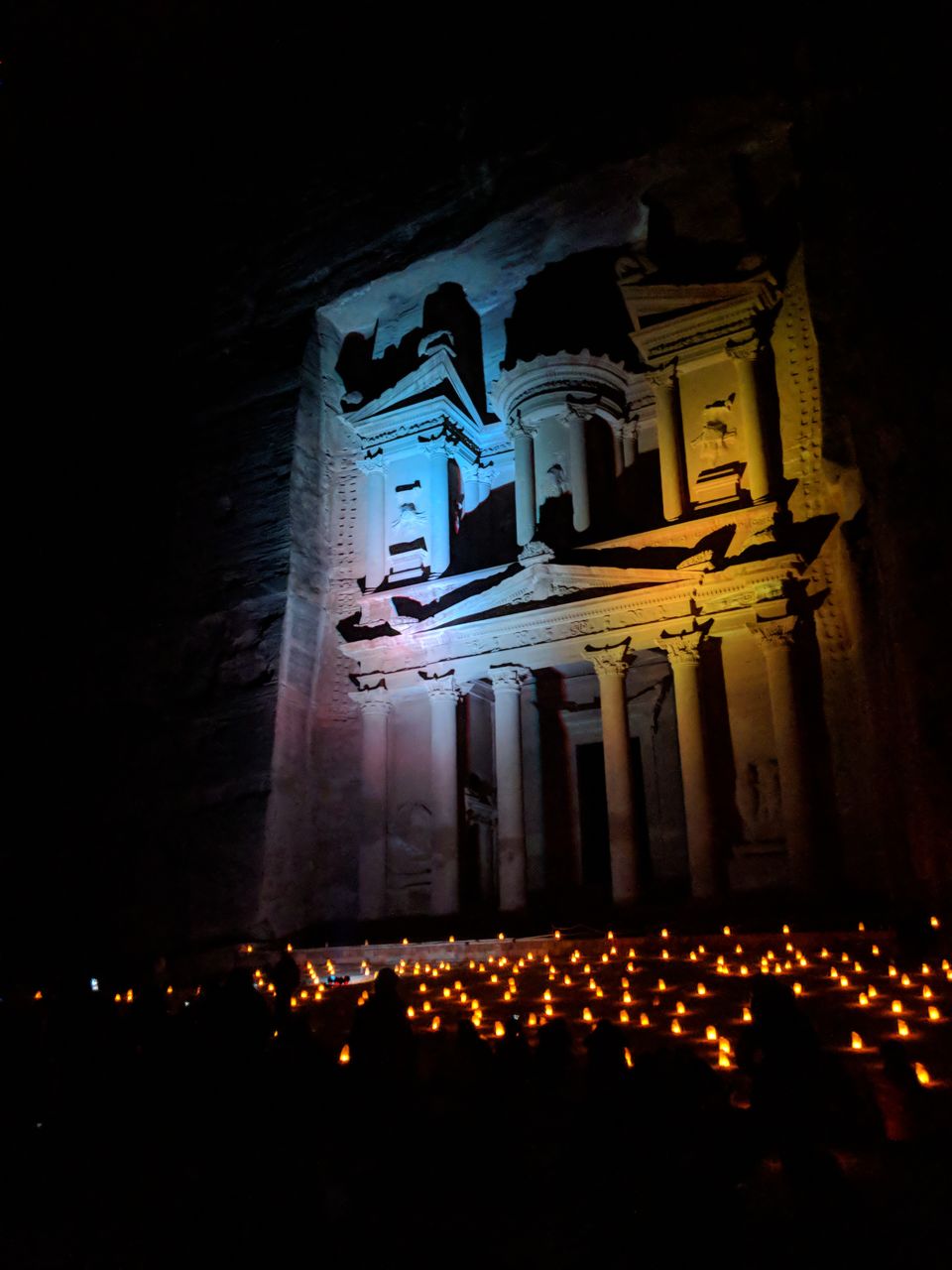 Later that evening we visited what is claimed to be the oldest bar in the world (The Cave Bar), carved out of rock near the entrance of the Petra heritage site. We ordered a couple of local beers. Jordan, despite being a Muslim nation, is quite liberal and one can find liquor shops in many places. After our drinks, we had a platter of camel meat kebabs at a nearby Bedouin-inspired restaurant. It was our first time trying camel meat and it wasn't that delicious. Too much fat than meat I would say. However, we had some amazing hummus and tea to compensate for the after taste. Thus, ended a long day of hiking, clicking and dining away.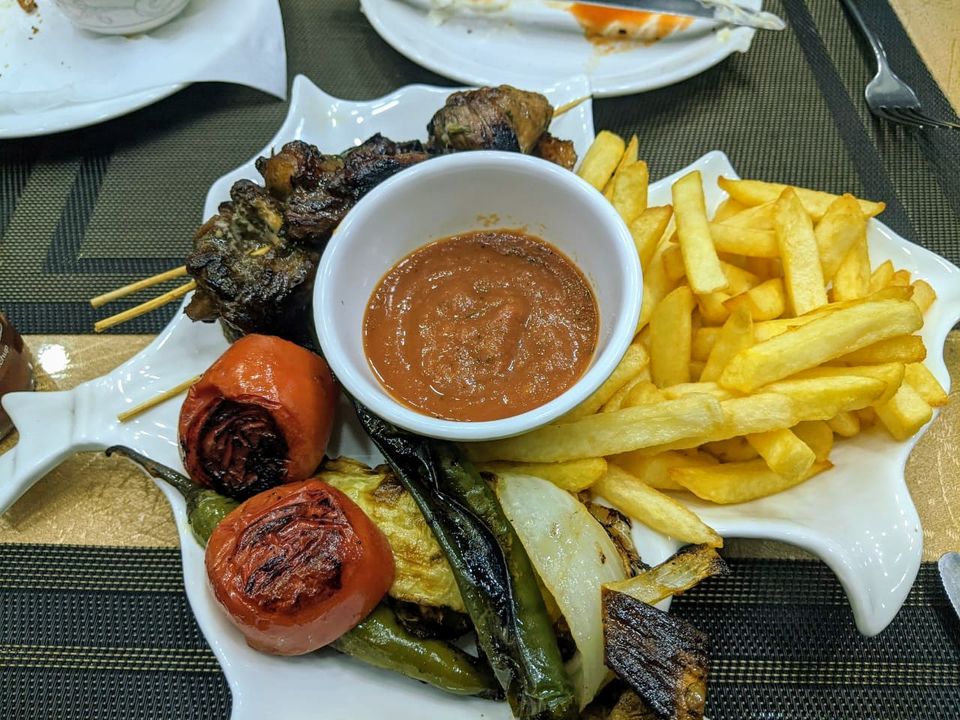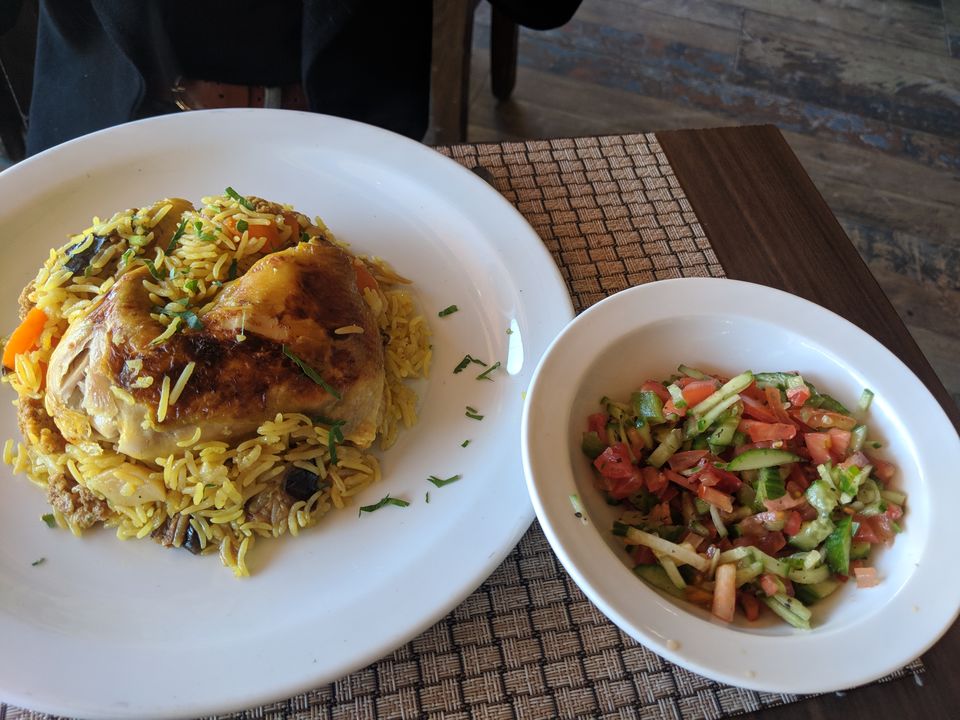 Day 5 & 6: Wadi Rum & Aqaba
On day 5, we woke up early and had breakfast at a popular restaurant in Petra, Al Wadi, serving Jordanian fare. The main dish of Jordan, Mansaf, is basically a lamb biryani cooked in Arabic style with less spices. It was delicious. We also had mezze platter, a collection of appetisers inspired by eastern Mediterranean eating habits, which together lend itself the name 'Levant'. This was also the name of the restaurant we ate at in Amman. With tummies full now, we drove through what is known as the Kings Highway, an ancient trading route and now a scenic modern highway running over rolling hills dotted with wind turbines. It was really windy and chilly and so we had some uncomfortable selfie moments along the way, much to my wife's annoyance. Our destination was Wadi Rum, an other-worldly desert that looks like Mars on Earth. No wonder Matt Damon's The Martian was shot there. And so was one of my all time favourite movies, Lawerence of Arabia. The vistas of Wadi Rum look like a sea of orangish-sand dotted with islands of rocks with amazing formations. We took a four wheeled drive that toured us through the most spectacular spots and ended with an even more spectacular sunset. The stay that night was at a desert camp run by modern day Bedouins. Surprisingly it was really well provided for with solar lighting and water heating, earthen cooked meals of chicken, rice and mezze and traditional songs and dances performed by our hosts inside the main tents. Toilet facilities were modern and clean as well. There were tourists from different countries staying at the camp and it was a lively evening that lasted till the solar power back-up ended close to midnight.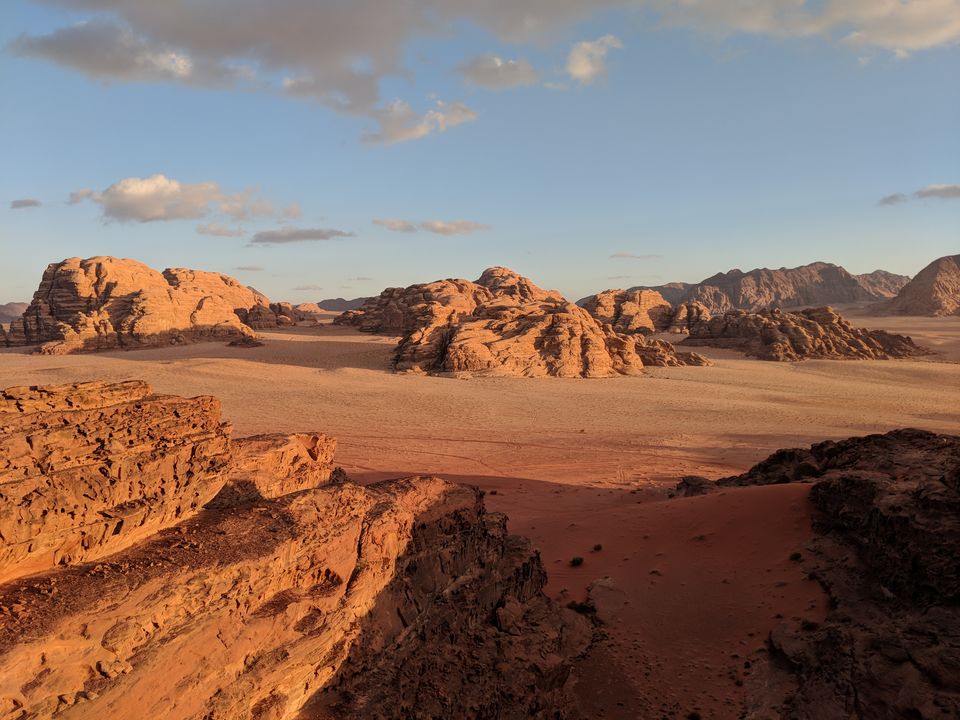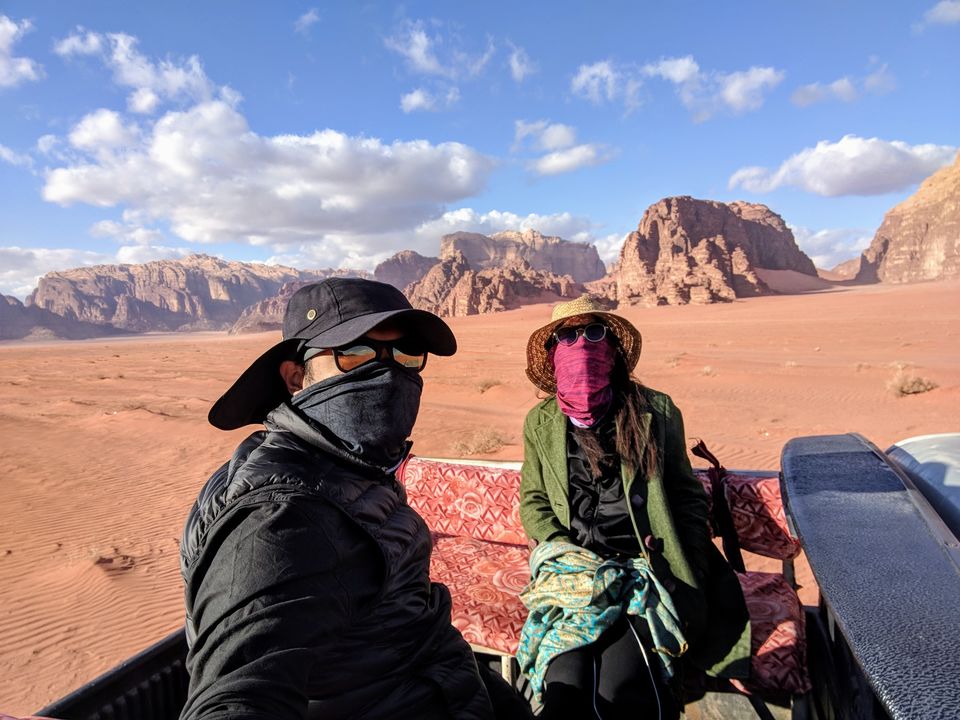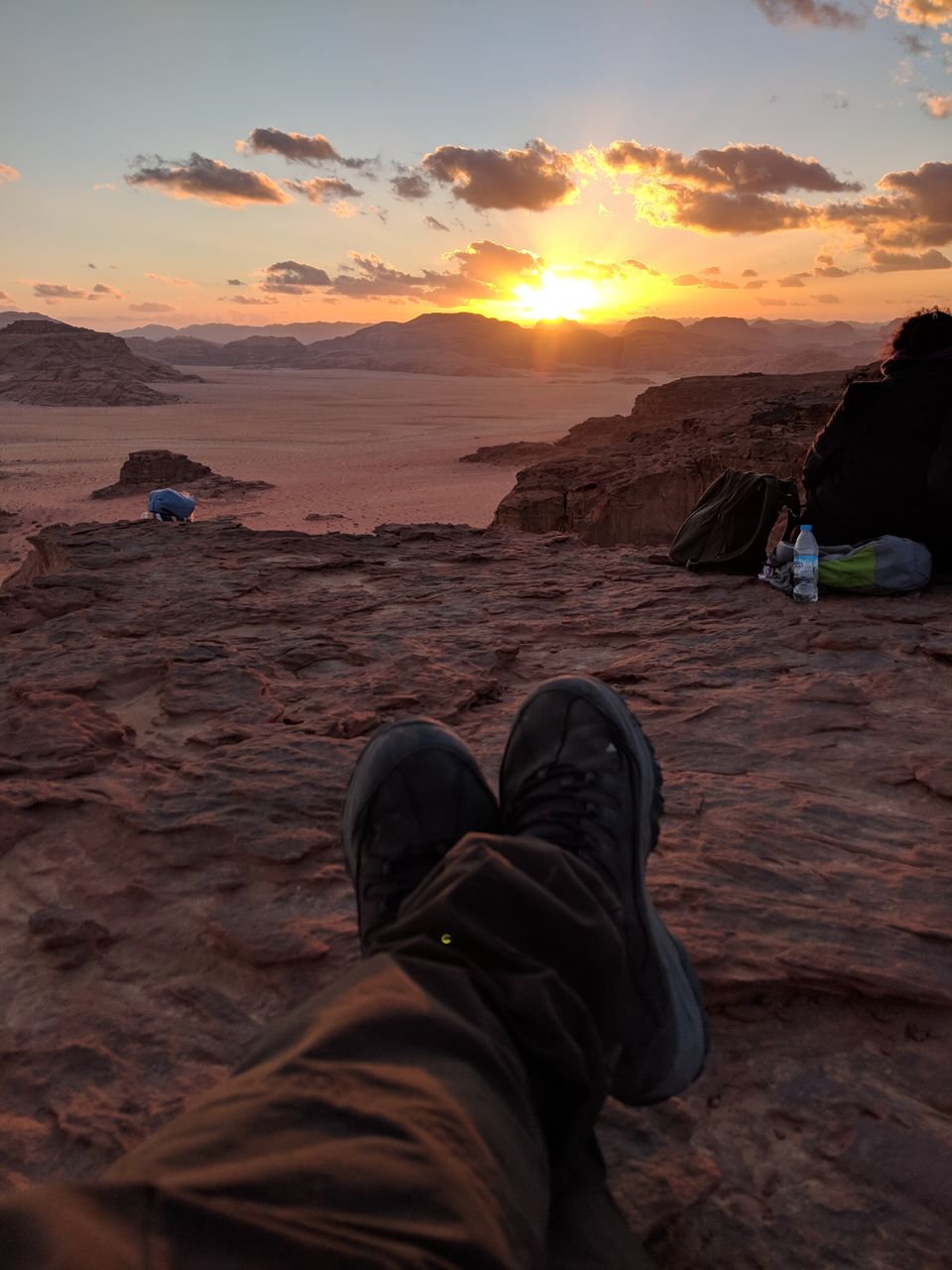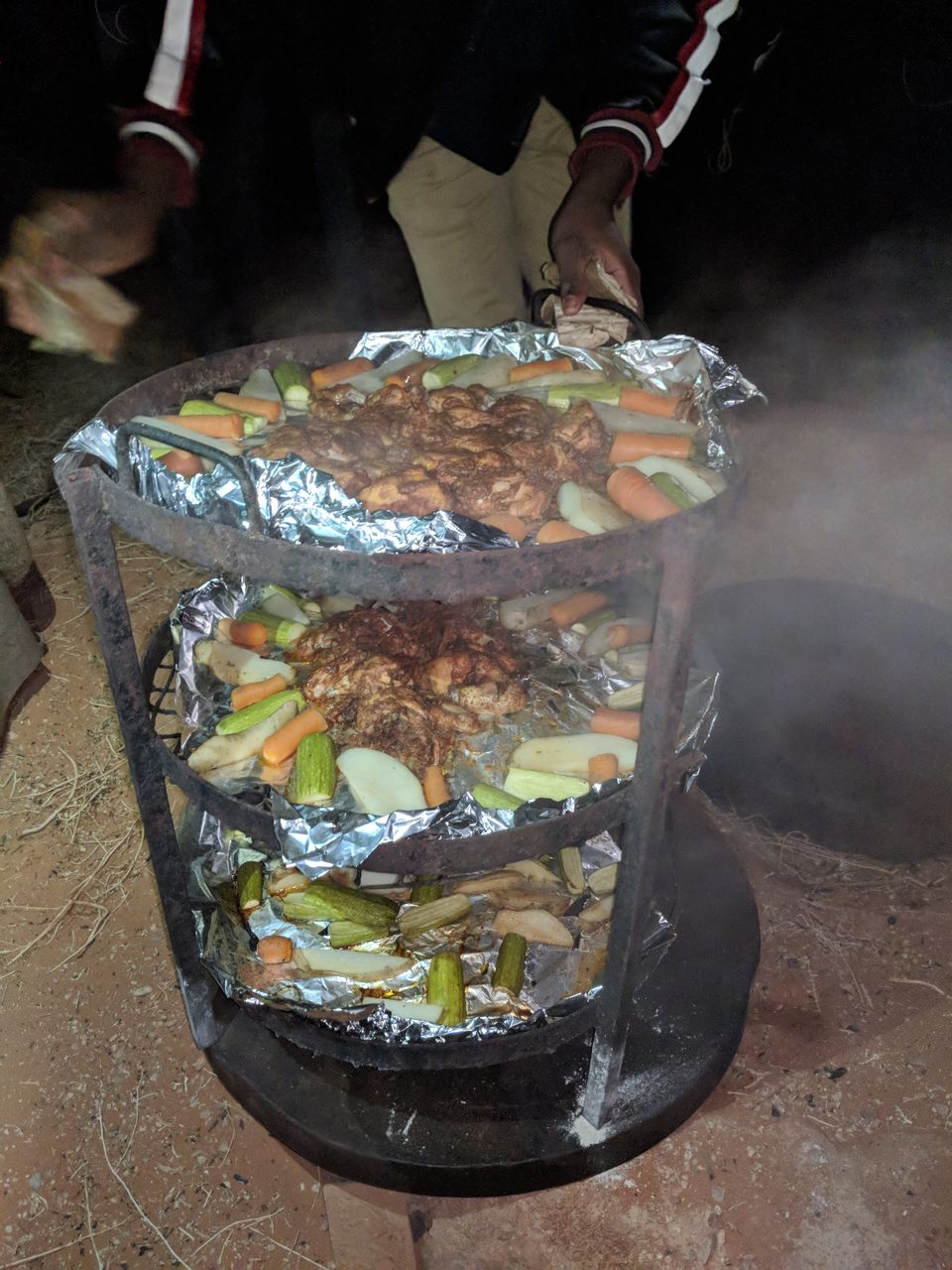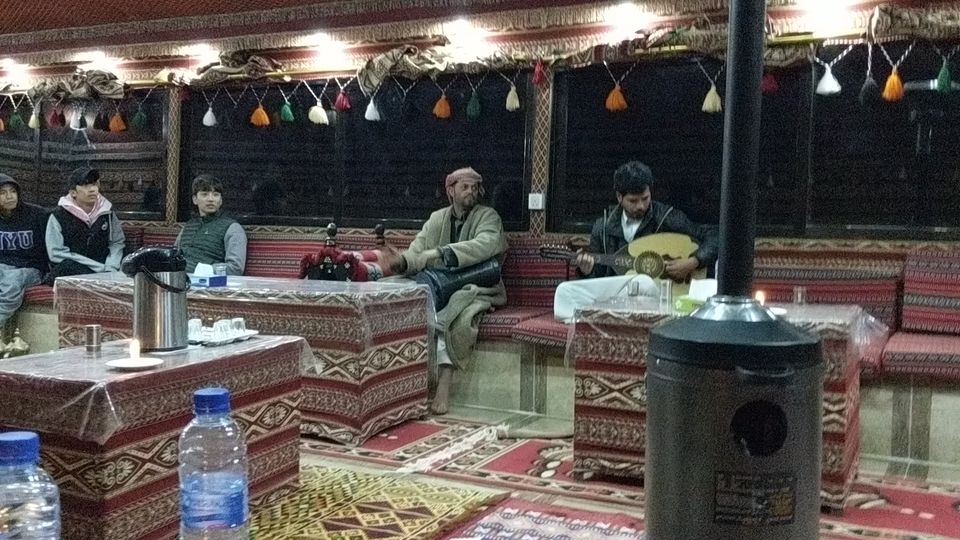 Next morning, we woke up early to catch the sunrise and then had a Sudanese breakfast prepared by a Sudanese member of the host team, consisting of a gruel, yoghurt, eggs, hummus and bread and some amazing coffee. After getting back from the desert to where we parked our car at the Bedouin village at Wadi Rum entrance, we headed to Aqaba, Jordan's only port, on the Red Sea. Aqaba is a beautiful little city at the southern tip of Jordan and the port Is very close to Eilat in Israel. Many tourists enter Jordan through Aqaba as well after getting off cruises. We went to the bay and had an amazing seafood lunch at a restaurant overlooking the bay and the Red Sea. Then we explored a bit of Aqaba by car. Soon it was early evening. We had to head off to our final destination, the famous Dead Sea, some three and a half hours away.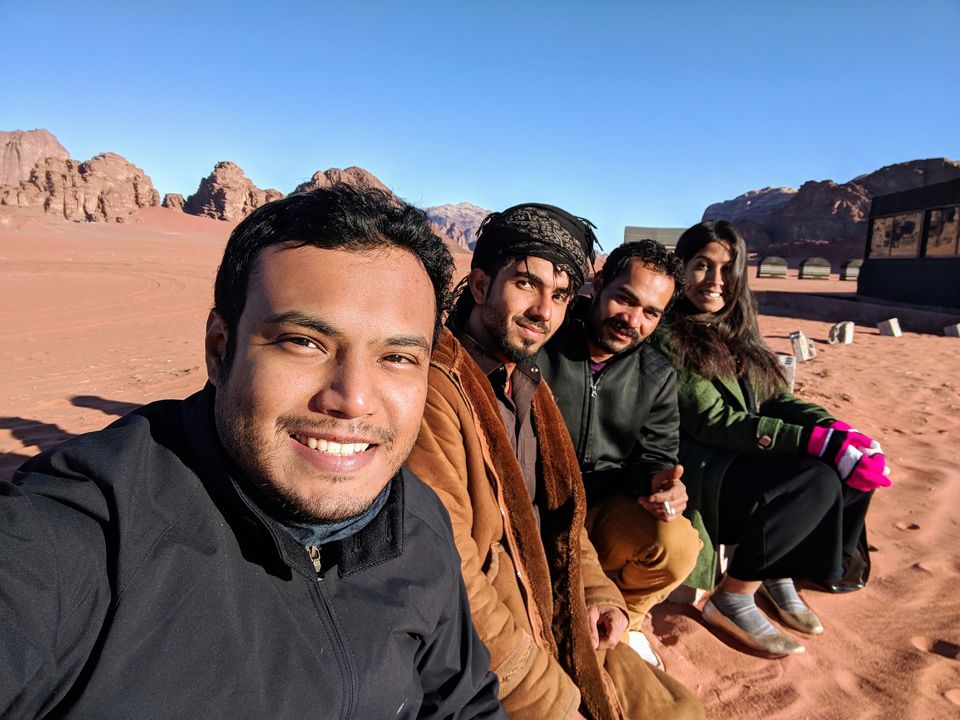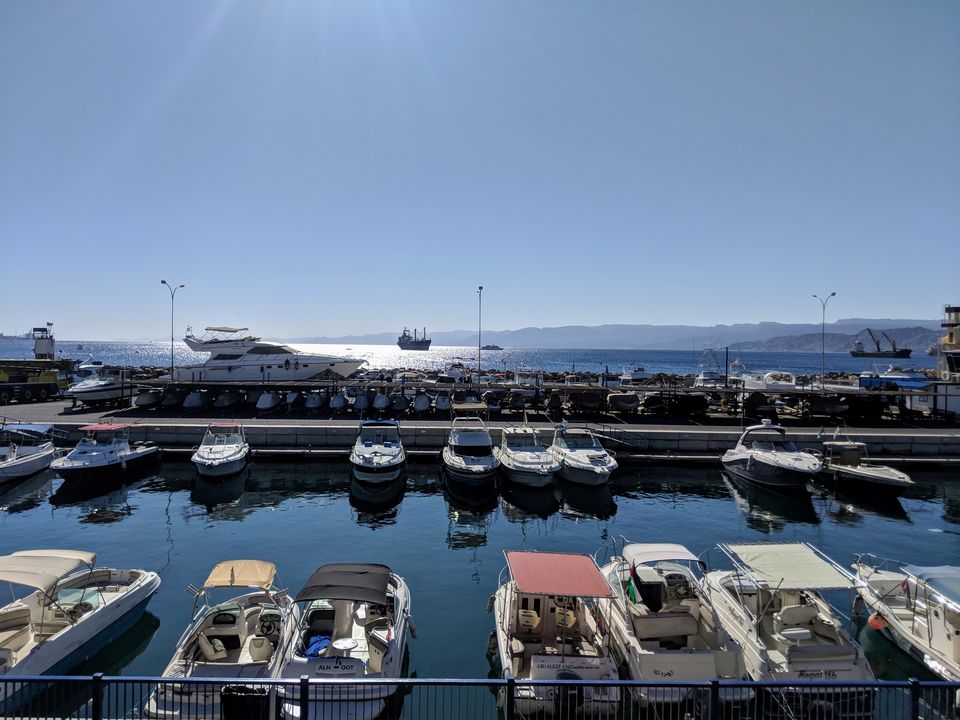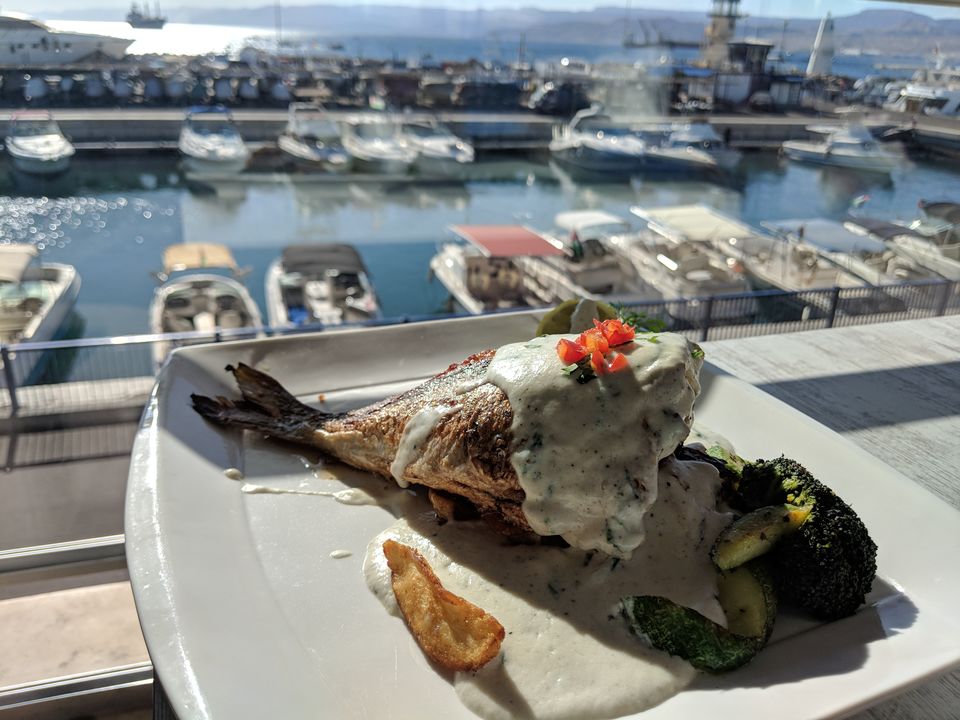 Day 7 & 8: The Dead Sea
The Dead Sea, the world's largest and deepest saline lake, is shared by Jordan to the east and Israel to the west. It is the lowest point on Earth, 430m below sea level. The Jordanian shore has hardly any public beaches and one has to check into resorts located in the northern part of the shore for access to the Dead Sea as the beaches are owned by the resorts. We checked into the Kempinski Ishtar after our drive back from Aqaba. It is a really magnificent resort, very modern with state of the art facilities. We were a little tired from the long day starting early morning at Wadi Rum, and so we decided to order food in the room and sleep off. Next morning, we had an amazing breakfast buffet and then headed for our first Dead Sea dip.
The Dead Sea has the highest salinity level of any body of water on earth which makes swimming here equivalent to floating as it is impossible to sink. The high salinity level also means no life can thrive in the water, hence the adjective 'Dead'. Reading online about the Dead Sea dip, I wanted a memorable photo-op and so took a newspaper from the resort to pose as if I am reading it while floating. Kristi was a little over-cautious so she restricted her experience to waist level depth while clicking my pics. The salinity is really harsh and unfortunately some got into my eyes and inside my mouth when I was getting back to shore. I had to wash it all off with normal water several times to regain my composure but the eye irritation stayed almost all day. We finished off the dip by applying some mud pack made from Dead Sea soil, a second (more careful) dip and a shower. It was all in all, a fantastic experience.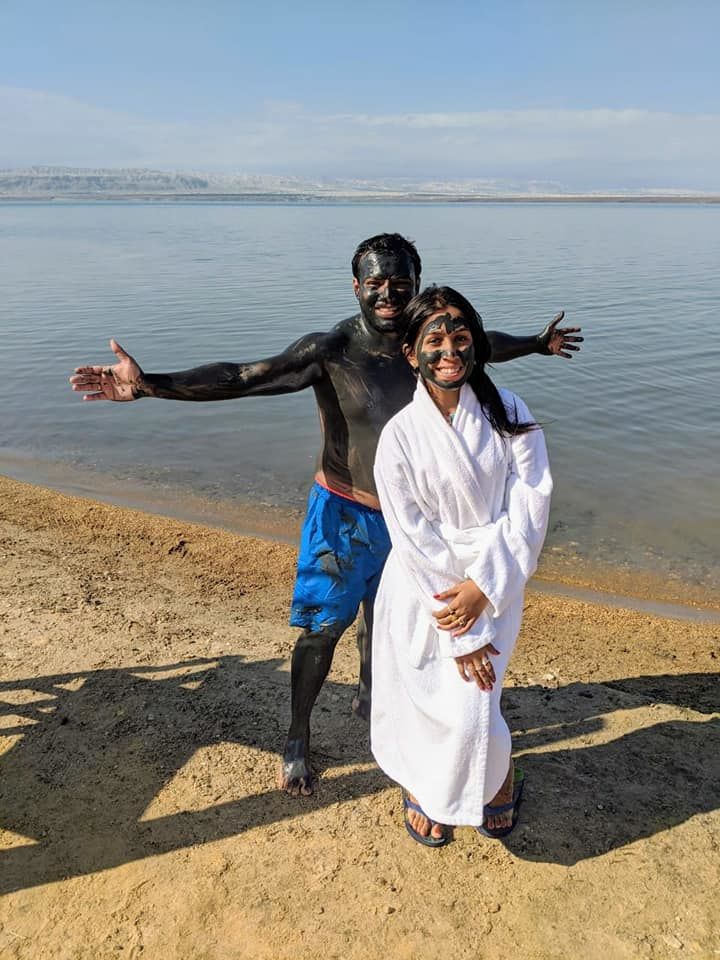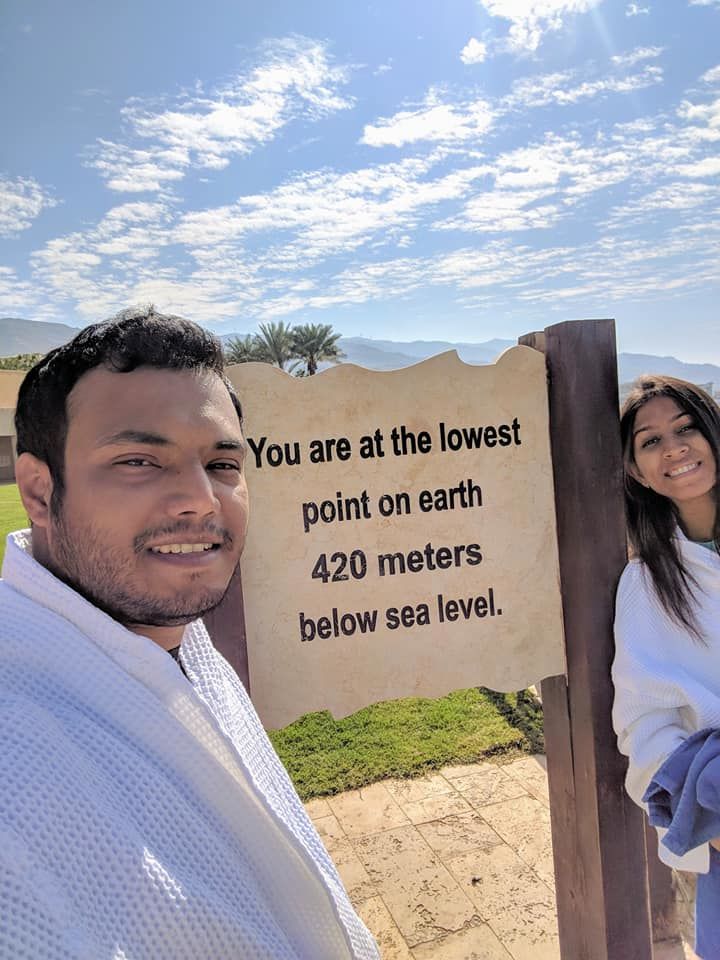 We stayed one more night at a different resort (Movenpick) and had another Dead Sea dip the next morning. There was a fantastic infinity pool as well at Movenpick which we enjoyed to the fullest for a sunset pic the evening before. Movenpick resort has its own charm, designed like a mini township with pools, jacuzzis, cottages serving as rooms, restaurant areas and therapy centres. We had a fantastic Italian meal on out last evening at one of their restaurants to wrap up a memorable stay.
On our last day, we visited Al-Maghtas (Bethany beyond the Jordan), located just 25 km away. This site is what most archaeologists and historians claim to be the Biblical site where Jesus Christ was baptised by John the Baptist. Hence, it can be considered to be the birthplace of Christianity. The place filled us with awe and we also visited the Jordan river from which we could see Israel's border at just a stone's throw away.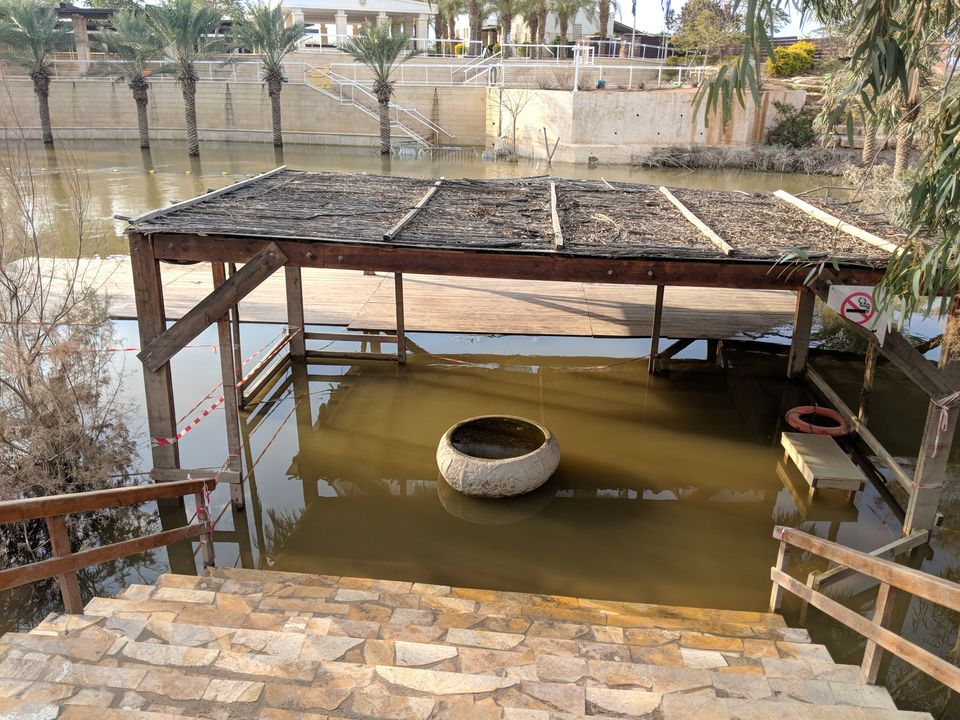 We now headed back to Queen Alia airport at Amman, about an hour away, to catch our evening flight back to India via Abu Dhabi. Along the way we couldn't help but marvel at all the things we got to see and do in such a short span of time. We romanced with Roman heritage, visited one of the seven wonders of the world, camped in one of the most unique of deserts, visited the lowest point on earth, floated in the Dead Sea and saw the baptism site of Jesus Christ. And yet, there were other historical sites and cultural spots that we had to skip on time constraint. Jordan provided us with a perfect honeymoon full of amazement and adventure. For such a small country it packs a punch, keeping tourists occupied every day of their trip. The roads are well-built too and traffic was sparse, which made our drive smooth and enjoyable. If the novelty and diversity of all this wasn't enough, we came across some of the most hospitable people anywhere, which made our stays even more enjoyable. We certainly loved our time in Jordan and will be back again someday, perhaps for another Dead Sea dip and a trip to all that we skipped.