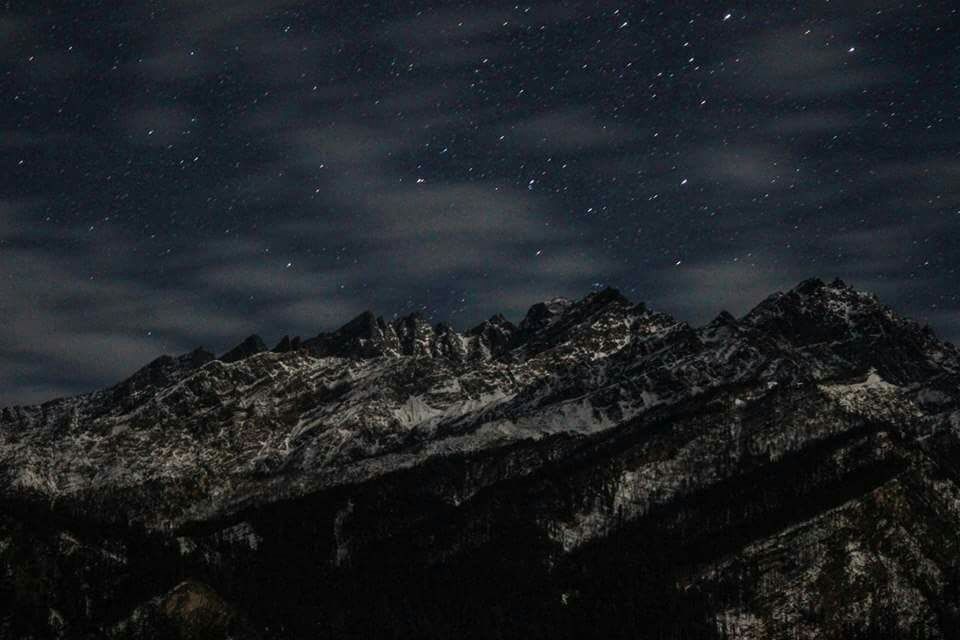 Ever been in that moment , where you felt frustrated and restricted like a bird in the cage ? Where you could trade anything that you own for some peace & solitude? That was the exact feeling that provoked the nineteen year old girl in me to embark on her very first solo trek.
Well it was not completely solo as I joined a group of trekkers who were going to scale the high mountains of Kuari pass. Nestled in the mighty Himalayas of Uttarakhan, Kuari pass trek, is a 5 day trek , done only in those months when the nights are longer than the days. Also known as Lord Curzon's trail , with the majestic Nanda Devi , Dronagiri & Hathi Goda peaks in the backdrop, one bypasses numerous meadows and bugyals on this trek while experiencing the motley of nature .
Closer to the departure date (Christmas day), every moment, waking or sleeping , was spent by me in the hopes of this being the best Christmas present that I had been envisioning everyday since my bookings. And finally the day arrived , with my overloaded haversack & trekking shoes on my feet , I felt like the protagonist of some movie who was ready to take over each & every mountain of Uttarakhand. The fastest route of reaching Joshimath , our base camp , consisted of an overnight train journey from Delhi to Haridwar and another 11 hour journey by road from there . At Haridwar, all 15 of us who had signed up for the trek came together and were split into 2 cars. The initial few hours of our car ride were pretty uneventful as we progressed from introductions to small talks. Music and our mutual love for travel proved to be the ice breakers as everyone started sharing their travel stories. It was in that moment that I realized , how much I had been missing out on all these years. Everyone except me was far more experienced and had travelled extensively & hearing them narrate their stories gave me the true definition of "traveller". After a lot of bumps & jerks and some "heart in the mouth" bends & curves of the mountain roads, we finally made it to Joshimath a few hours after dusk at the end of day one . Tired from the journey, everyone decided to call it a night after dinner as we were to start our next day early. Just before the sun had even made it's presence felt the next morning , we were out in the cold acclimatizing to the weather and warming ourselves up by doing a few exercises. It was during this session , that I noticed Dev , in just a T-shirt & trackpants , showing off his muscles & calves , while all of us were hidden behind 4 layers of clothing . "How can he even stand here like this?" , was the first thought that came to my mind .
Soon after , we ascended towards our first camp , Tugasi village . Within just a few metres I had realised , what a long climb this was going to be , because my haversack had started making me feel like a mule (courtesy of the food my mum had packed because she did not want me to die of hunger ). Pushing & motivating myself , I managed to reach halfway panting & coughing . Looking at my condition or maybe just out of pity , Dev offered to exchange our bags . And in that moment he seemed like my knight in armor, sent to relieve me from my agony .
Dev , an engineer by profession and photographer by passion was a very easy going person to talk to . Being a native of the mountains , everything about him , from his rosy cheeks , his built to his accent had a "pahadi feel" which also rested my previous question of how he could bear the cold .
' The distance will seem shorter when you are with the right companion ' , indeed it did and sometime after noon we reached Tugasi village . This was the place from where we were completely disconnected from the world . The remainder of the day was spent in strolling through the village, interacting with the villagers , exploring their culture & playing mafia. By the time the moon was out & shining in all its glory , Dev & I , found ourselves laying on the grass and staring at the diamonds in the sky winking at us from the endless arch of void black . That tranquil feeling is inexplicable, when all you see around yourself is a dark valley , with stars luminating your path and a faint noise of an insect on loop in the background , when you can hear your heart beat .
On day three, we made our way up to Tali top , our final campsite and also the most beautiful one as the land there already wore a thick white blanket. Soft , glistening and cotton wool like snow made its way in our hair , clothes , shoes , bags , tents , everywhere . We were in the snow , the snow was in us. "A snowball in the face is the perfect start to a lasting friendship " & being at the receiving end of the hit I could see Dev becoming that friend .
Our 5 days had just passed by in a blink of eyes by playing games which tested our geography, the photographer showing off his skills ( some of my best photos were clicked by him ) , him racing me to a point and then taunting me over my low stamina , fighting over Maggi and paranthas and sliding & playing in the snow . As the nights became colder , we also found ourselves shifting from under the stars to under the torch light in the tent . Over a sip of whiskey and rubbing our hands with some brandy, the air of the mountains would do its magic and make us vulnerable to the stories of the land & unsung songs of the heart. He became a philosopher - when I asked ,"ye jina bhi kya jina he?" , a motivator - when I felt like giving up on something , a pacifier - when I whined about my past and just a listener - when I wanted to let it out without being given any opinion or being judged. He was the perfect therapy that I had been looking for. This was the first time that I had forged such a strong bond with someone within just a few days. I guess these are the perks of being on a digital detox. You live every moment , become aware of your surroundings and appreciate the people around you.
With numbers exchanged & promises made to be in touch , soon it was time for farewell as we all separated from Joshimath and went our own ways . With a heavy heart, I hugged Dev and thanked him for the amazing time we had spent together . From here on , I was to go to Rishikesh for the New Year's and Dev had to return to his home town Haridwar .
Rishikesh , the land of yoga , meditation and adventure , was a marvel to be in from the very first step .From river rafting & bungee jumping for those seeking an adrenalin high to witnessing the Ganga Aarti & soaking your feet in the water and going into a trance to the beats of the ripples , Rishikesh serves it all. But since i had only one night (last night of the year) , I thought it was wiser to just laze around than do something strenuous . Now ofcourse I had shared my Rishikesh plans with Dev & asked him for some inputs which could help me in unveiling the stories of the place . But never in my dreams had I expected him to be waiting outside my hotel gate on his bike , a few hours before the year changed forever .
" Why? " was the only word that my shocked self could manage . " Well ,because who knows when I will get a chance to meet you next . So while you are here , let's just make the most of it. Hop on , madam " he said .
No more questions asked , no more explanations given , as I sat on the bike and he zoomed through the narrow lanes . Gorbing on some Italian food in a dainty little cafe with my newest friend by my side , I chit chatted & bickered my way into the new day. After spending a few hours together , Dev dropped me back at the hotel & rode back to Haridwar .
That night as I lay on my hotel bed , I travelled back in time & introspected how much I had experienced in the past 6-7 days . How many learnings I was taking back with me & how many lives had I been touched upon by . How a seventy year old uncle trekked with me and showed me that age is just a number and that you should be passionate about whatever you do . How a girl left a well paying corporate job to become a travel photographer which taught me that you are young and its OK to make mistakes . But most of all, I learnt to trust people & the world seemed so much better after . Trust helped me strike a chord with Dev. I was taking back a friend, who just let me be , whether shy or cranky , whether sweet or angry .Who made me eat fresh snow ( because thand mein gola nai khaya toh thand ka kya mazza lia ) , who was my pillar of rock when the nature was harsh , who remembered my wish of riding in the hills and checked it off my bucket list. Even though I did not swipe right on Dev because we did not match 100% ,I know I will swipe right to travelinG with him in a heartbeat.
This trip, was undoubtedly the best escape from reality I could have asked for . It liberated me from my imaginary burdens and gave me the wings to fly & rise high. Maybe sometimes , it's not about finding yourself , but about losing that , what u really arent .