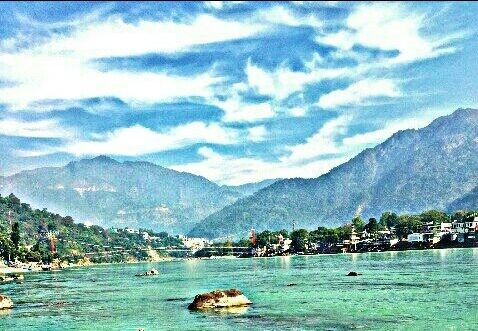 The Yoga Capital of the World, Gateway to Garhwal Himalayas, Adventure capital of India, Land of Spirituality, etc are used to describe the aura of Rishikesh , the town located on banks of river Ganga, named after Hrishikesh (another name / avatar of Lord Vishnu). Rishikesh has all those descriptions because it charms all the souls who set their foot here.Being in Delhi for work gave me the opportunity to experience this aura mostly the adventure part. In this article I have shared my experience along with all relevant details about rafting in rishikesh.
How to Get there?
By Air: Jolly grant Airport in Dehradun is closest airport and has enough flights daily. It is 45km away and one can take taxi to rishikesh from the airport.
By Train: Delhi rishikesh passenger is the only direct train from delhi and takes approx 11 hrs to reach. Apart from that, one can take train till Haridwar and another passenger train from thereon. Trains from Haridwar to rishikesh are available on average intervals of 3 hrs, with last train scheduled at 16:50 hrs.More details can be obtained at IRCTC or E-rail. It would be best to take a taxi or bus from Haridwar, since it would be tedious to align as per train timings. Many trains leave from Delhi late in the evening and reach haridwar early morning which saves a lot of precious day time. On average it would take 6-7 hrs to reach haridwar. A berth in sleeper coach would cost around Rs.200 in most of the trains.
By Road: There are regular state run and private buses plying between Delhi and Haridwar which are approx 227 km apart . Rishikesh is approx 20km away from Haridwar by road & it would take 45 mins by bus with tickets costing approx Rs.25 only. Taxis are also available but would be costly affair.There are some autos (tuk-tuk) which charge around Rs.35 to take you to rishikesh but would be cramped mostly.
We took Mussoorie express which leaves Delhi at 22:15 hrs and reaches Haridwar by 6 am. After some refreshments post the overnight journey, we took bus to Rishikesh and were there by 9:00 am or so.
Just as you get off the bus, all the rafting and camping operators would start approaching you with packages. Now be aware if you look online these same deals are close to double the price which is on offer here. For Rs.1500 almost every operator has almost similar package to offer. They include rafting, cliff jump,overnight stay in tents around the river or forest , snacks, dinner and breakfast. Now again do not pay more than this at all. Some might sell you idea that their tents are exactly on the river bank but in reality none are exactly on the bank and government has banned anything from being built on banks. Some people who have private properties from long back near bank are the ones to look for. Being a group of seven , we got this price down to Rs.1300 per head and got an extra meal as well ( accidentally). One has option to do full distance rafting of 16-18 km or just opt for 10-12 km option. We took the 18 km one being overly excited! Rafting starts from Shivpuri ( famous for water sports) or nearby that depending on distance.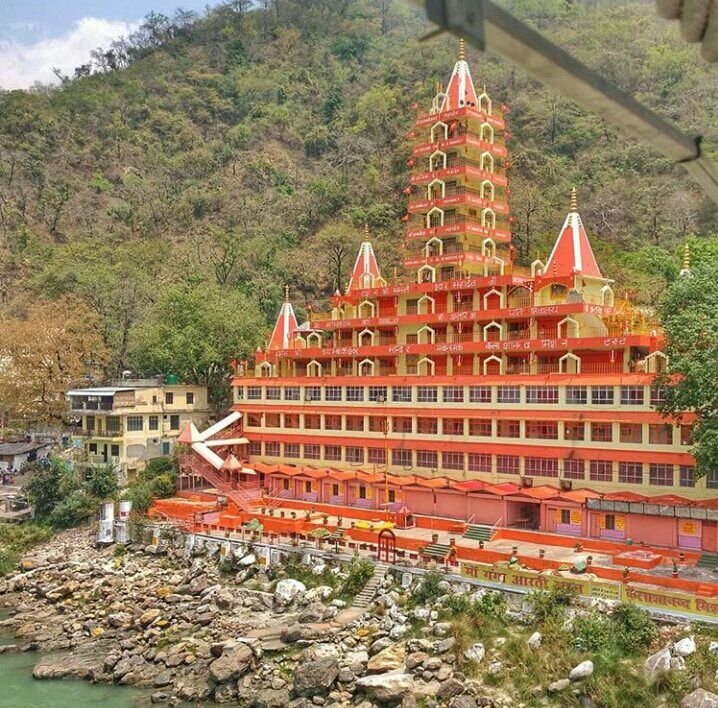 Camping
After the end of exhilarating and tiring session of rafting, we headed to our campsite which was around Shivpuri. It took around 3 hrs for rafting,etc to be completed.Our campsite was located at cliff situated on the bank. We felt disappointed we are not exactly on the banks and cannot see the river properly (only to realize in the morning how close we are). We enjoyed our evening in the woods with good music, food, booze (please carry your empty vessels back if proper waste management is not available) though we could not get the devil's lettuce. There were 3 of us left in the end who sat with bonfire till 4 am.Morning was extremely mesmerizing with river shining in the early rays of sun like diamonds are floating in it. As soon we finished with breakfast, we headed to the bank to enjoy a game of volleyball and just chill on the river side soaking in the sun and enjoying magnificent view as sun rays emitting from behind the clouds and mountain turned purple shade. We tried hands at kayaking which was on offer. Afterwards proceeded with lunch and also got lucky with the leaf later. We left by 4 pm in the evening from our campsite back to Rishikesh town and thereon to haridwar.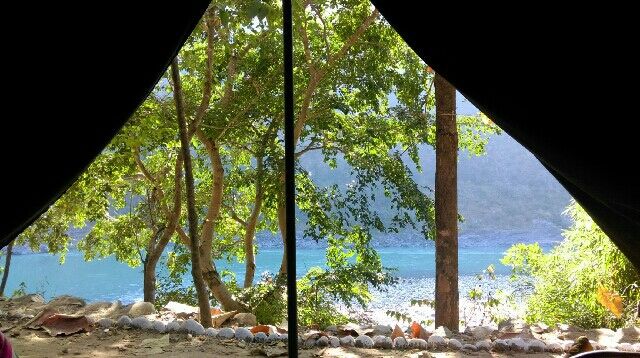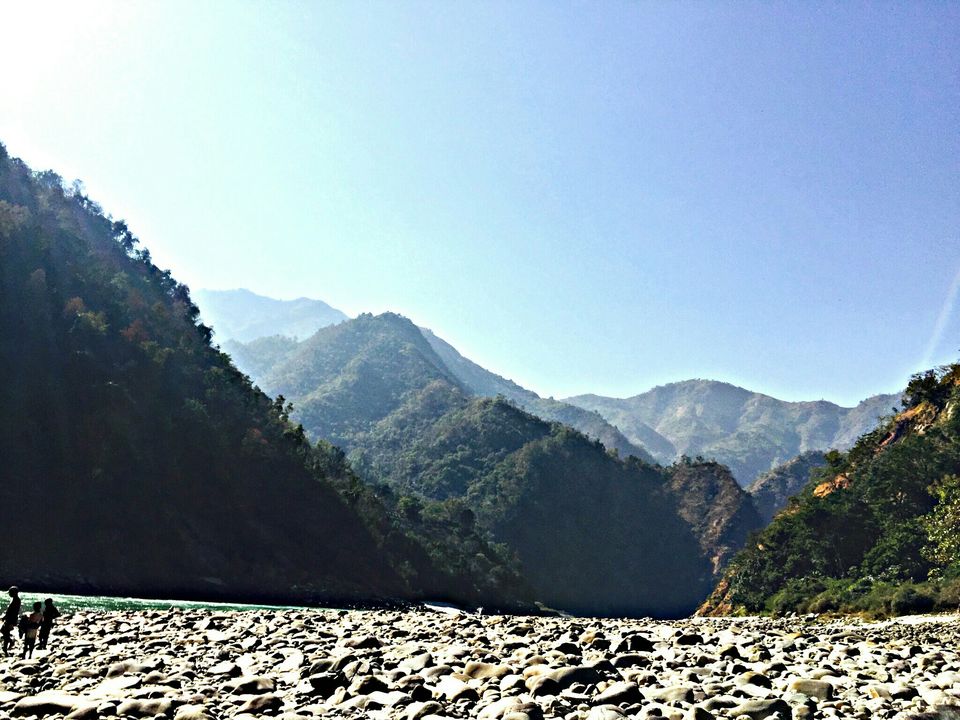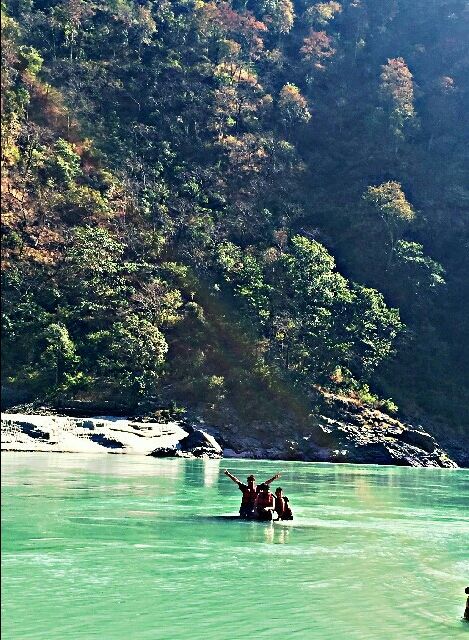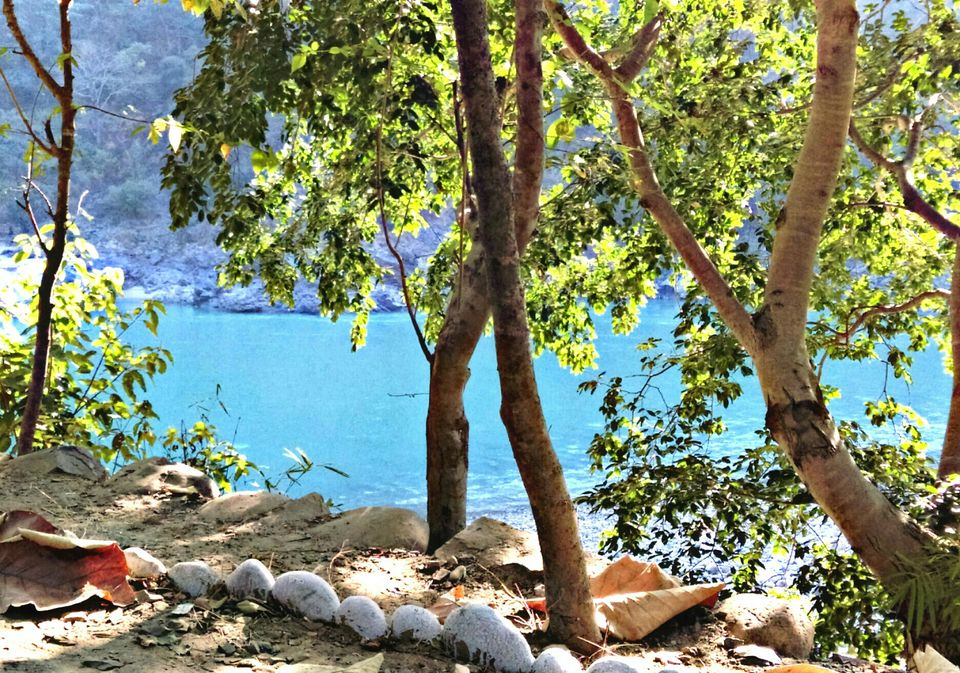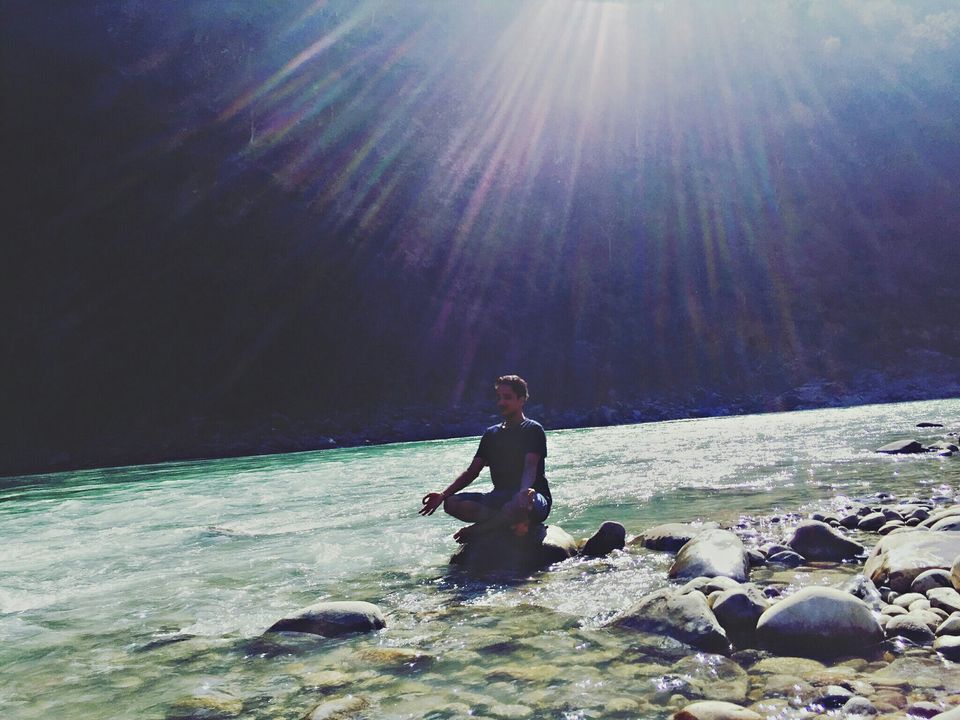 Post a small briefing session by our guide (Rajveer) we were on our way to handling the river dancing to the tunes of Himalayas! Post initial waywardness in movement where our raft was moving in circles , we were finally able to sail it in line with the river flow. After approx 2 km, our guide got us to steady our raft near a cliff which was as high as 70 feet, to amuse us with his cliff jumping! Rajveer climbed up to the top,few of my colleagues who knew swimming followed him; But the guide warned them that once you are up the cliff; only way to get down would be to jump in water , so they ventured only till height of 40 feet and then our guide jumped up from 70 feet and we were just left in awe of it.He jumped,swam back like it was some piece of cake. The expressions on the face of two colleagues who jumped from 40 feet manifested adrenaline rush like no other. This rafting adventure was filled with one trying, failing and succeeding in traversing various rapids of the river posing as a challenge. Listening to the guide carefully and following his instructions makes it a smooth and fun ride. After covering some good amount of distance finally came the rapid where the guide would allow one to get in the river and get an experience of swimming or managing to swim in these rapids of mighty Ganga. Knowing how to swim will come in handy! Further ahead our guide being well aware of the terrain gave us a break on the banks at a gorgeous spot for us to get lost in beauty of this heaven and this spot was probably straight out of an artist's imagination.

Afterwards you reach the cliff jumping point. This cliff is at max 20-25 feet high, but one realizes that its not easy to jump in the river from any height. After some encouragement from Rajveer, I finally jumped and as I came out, I was shivering to the level that i could not hold my cup of tea and spilled almost half the cup.After the first jump, you would want to do it again as the fear is only for first time, after that you are just intoxicated on adrenaline rush and want more of it. At end section of the rafting around laxman Jhula, you will be treated to lovely view of Sadhus, yogis practicing their art on the banks and some others just relaxing with gurus.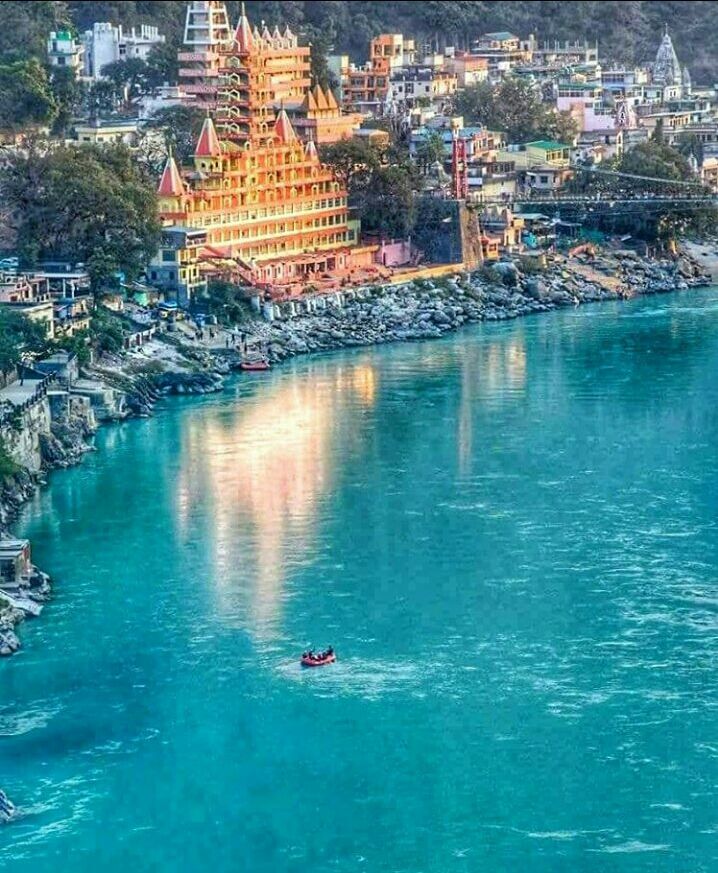 Places to Eat, Visit in Rishikesh
One can visit famous Ashram of Maharishi Mahesh Yogi (or Beatles ashram), Neelkanth Mahadev Temple, Rajaji National park, Jumpin heights for Bungee Jumping, Experience Maha Aarti at Triveni Ghat,Parmath Niketan temple, Vashishta Gufa, Laxman jhula,Beatles cafe,Ramana's organic cafe, The sitting elephant, Little Buddha cafe etc. Also, if you happen to be in Haridwar do go to Hoshiyar Puri to enjoy finger licking food.
Update: Recently court had banned all rafting & camping. So, if plan is to do rafting check in advance if operations have been allowed to resume.
To
Frequent searches leading to this page:-
rishikesh river rafting and camping tour packages, camp rishikesh tour packages, trip to rishikesh and haridwar, rishikesh weekend packages from delhi, rishikesh to badrinath yatra