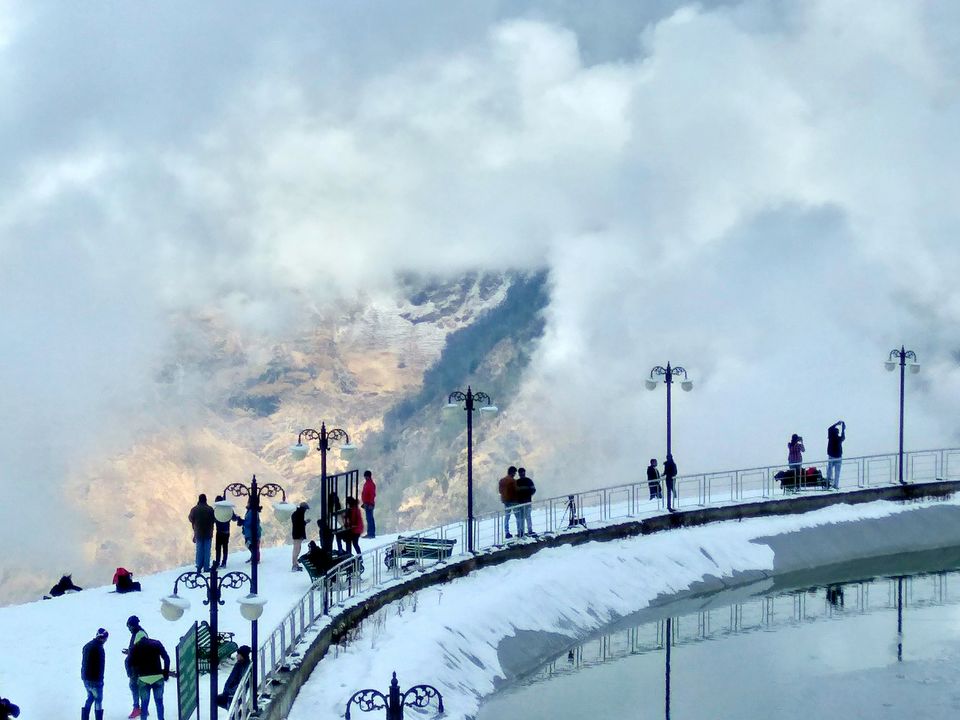 "...Auli- Its not a Mini Switzerland, its a Mini heaven..."
Arre Shuru kahan se kare???????
This was the same thought i had when i first thought of even planning a Road trip from Haridwar to Auli on a bike, and after around 2 years of the trip when i am writing this blog still the same question is revolving through my mind. All the butterflies in the stomach, adrenaline rush, that nervous chill in the veins are back again.
So it was a normal day in the month of December, 2016 when i discovered through a post of tripoto in their fb wall (ironic) that their is a place in Uttarakhand called Auli where a world level ice skiing competition is held every year in the month of January and because of the snow, weather, view of the peaks it is one of the best places to visit in India in the month of January.
I was working in Gurgaon (still working at the same place) when i called up one of my brother from another mother who was working in Haridwar (still working at the same place) and told him about this mad road trip fantasy of mine and guess what, woh bilkul hassa hi nahi. He just asked ke date confirm karo to leave apply karein.
Well uske baad i called some more friends of mine and in return i just got laughs, risk factors, advises & demotivation (the common factor).
"Late January ke time pe Auli? Woh bhi road trip pe? Woh bhi bike pe?"
Khud pe doubt hua but fir realise hua that when all your friends back out for a crazy plan, that's where your best friend steps in and says "Pagal akele karega ye, chal saath marte hain"
So after researching about all the pros and cons, getting the leave approved, shopping for the essentials etc Auli was Onn
25th Jan, 2017 i took the last train from New Delhi to Haridwar.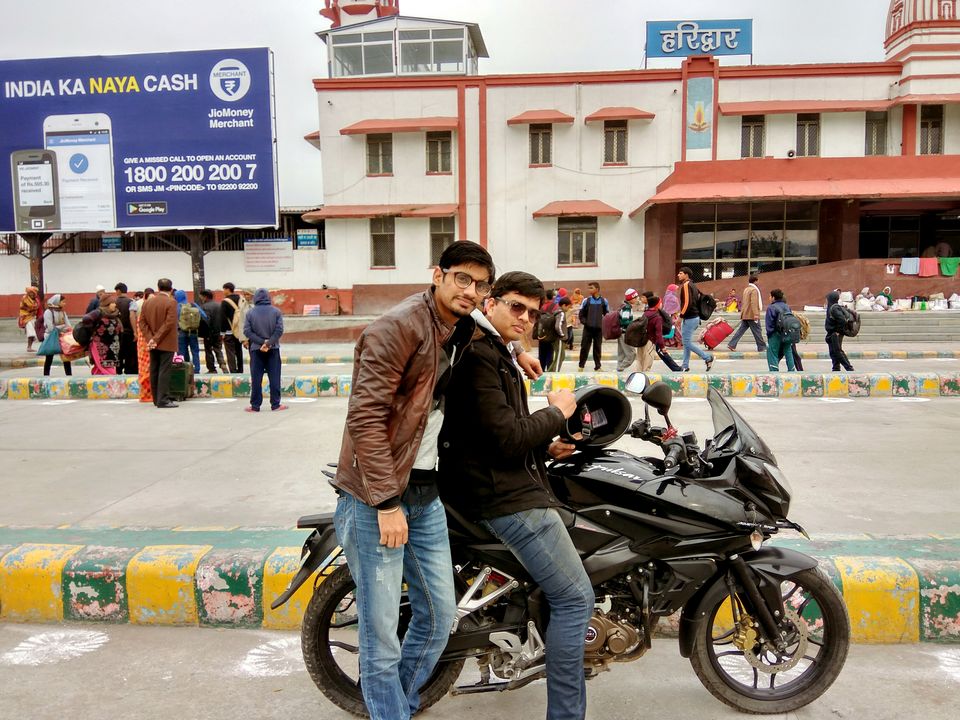 " ...So this is where the Road Trip starts- from the devbhoomi, Haridwar..."
Well i reached haridwar around 6 in the morning, could not sleep the whole night due to the excitement so was a bit restless but as soon as I saw my buddy Harsh Agarwal waiting outside the station with his bike for me, all the tiredness got replaced by the energy of love.
We started from haridwar after sipping a cup of tea and decided to have a breakfast in Rishikesh.
At around 8 we were in Rishikesh.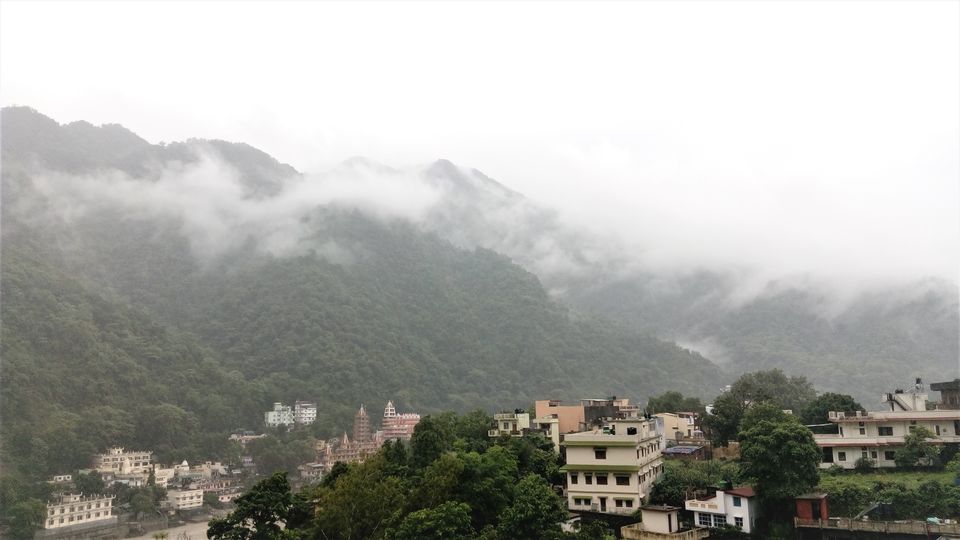 Well i have been to Rishikesh many a times and have worked their for around a year so have a lot of friends over there which meant that it took me 2 hours to have the breakfast because i was meeting them after 6 months.
Around 10 we started from Rishikesh towards our Road trip to heaven.
We decided to have very few breaks during our ride because the place, the route, the destiny all were new to us.
The Bluetooth speaker was at its full sound and we were giving chorus to it. We crossed Shivpuri, sirasu, byaasi and were heading towards Devprayag (our next stoppage).
P.S. Devprayag is a town in Tehri Garhwal district and is one of the Panch Prayag (five confluences) of Alaknanda River where Alaknanda and Bhagirathi rivers meet and take the name Ganga.
After admiring the scenic Merger & Acquisition (Sangam) of the both the river we head towards Srinagar (J&K wala nhi, Uttarakhand mein bhi hai)
At Srinagar we had our lunch and went ahead towards Rudraprayag. The roads were like butter since its a national highway for badrinath (as per the latest updates from my friends now the roads have deteriorated).
Finally after Haridwar-Rishikesh-Devprayag-Srinagar-Rudraprayag-Nandprayag-Chamoli-Pipalkoti we were about to reach Joshimath.
It was around 5.30 p.m. when we reached Chamoli. We were quite exhausted and our back were paining like hell and the cold breezes were getting stronger & stronger. It was like they were continuously slapping our faces.
We decided take a tea break in chamoli and then move ahead as it was only 70 kms left now for Joshimath.
Our break got extended due to a bit of rain and bad weather. It was around 7 when the weather got cleared for us to move ahead. But now it was all dark. We had two options in front of us i.e. whether to stay at chamoli only or move ahead for joshimath. We have not made any prior hotel bookings in Joshimath so we could have stayed in chamoli but when two mad people go on a road trip you should always hope for the unusual path to be taken.
So we drove ahead. I have driven a lot in mountains but trust me after pipalkoti the mountains just got massive and huge. We felt like they were all upon us. It was cold like hell, there was no one on the road except us( only 1-2 cars passed by), the path was scary and to our least expectations the fuel indicator on the bike started showing us just near to empty. Now its only 15 kms left for joshimath, the petrol pump was 10 kms back, we had no idea whether there would be any petrol pump till Joshimath or not, it was around 8 p.m. and all dark. What would you do?
Well we were so damn scared and freezed that we couldn't even stop and check our petrol tank that how much is left. All we did was move ahead no matter whatever happens, we decided not to stop.
P.S. Our local friends from Uttarakhand have told us several stories of some leopards being regularly spotted in the way to joshimath, to which we just laughed at that time and now were totally frightened recalling it.
By god's grace we reached Joshimath at around 9. The first thing we did was to use the washroom. I realised that day that the feeling to pee is directly proportional to the fear/cold.
Just as we thought that finally the very long Day 1 of our trip is over with all the adventures in it, we got the last shock ready for us in Joshimath.
Long weekend of 26th January and you guys came without pre-booking?
That was the reply from each and every hotel we went to as all were full.
After 1.5 hrs of long search one hotel owner was kind enough to give us one of his quarters in the hotel.
So after having dinner we managed to sleep in whatever we got and were ready for the Day 2.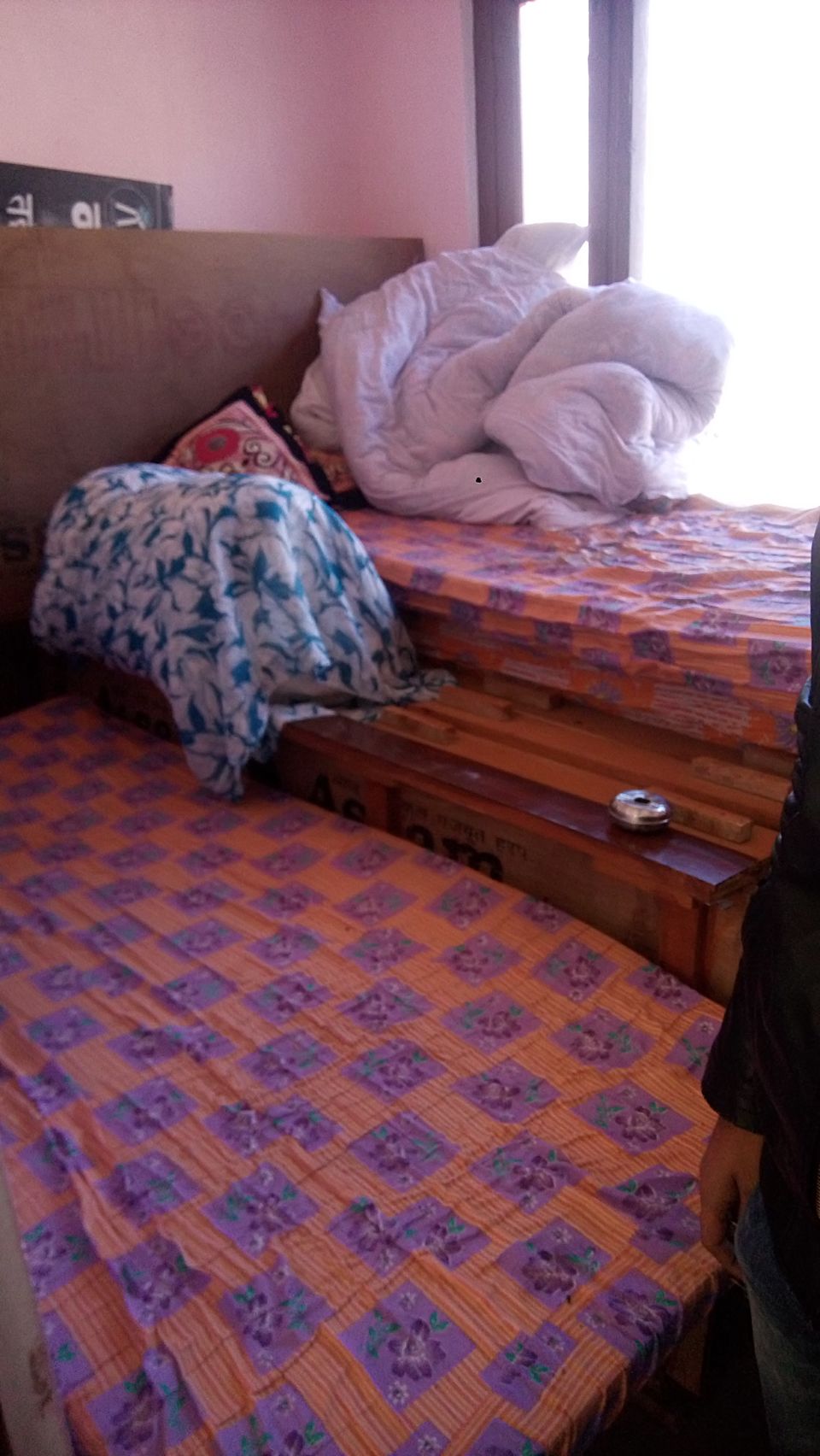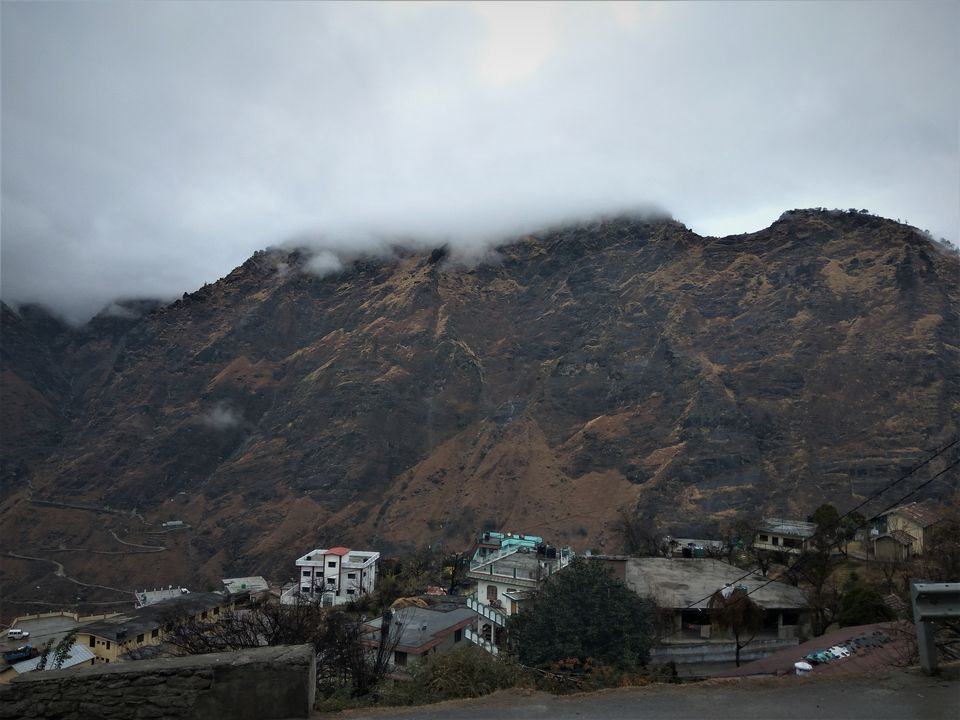 So we woke early and after having breakfast we went ahead for Auli which was just 17 kms from joshimath.
Well the easier way to reach their is by the ropeway but we continued with our beast only.
That 17km ride is not less than a staircase to heaven. You just go up & up with some mesmerising views and if you get lucky like us you will be welcomed by some snowfall on the way.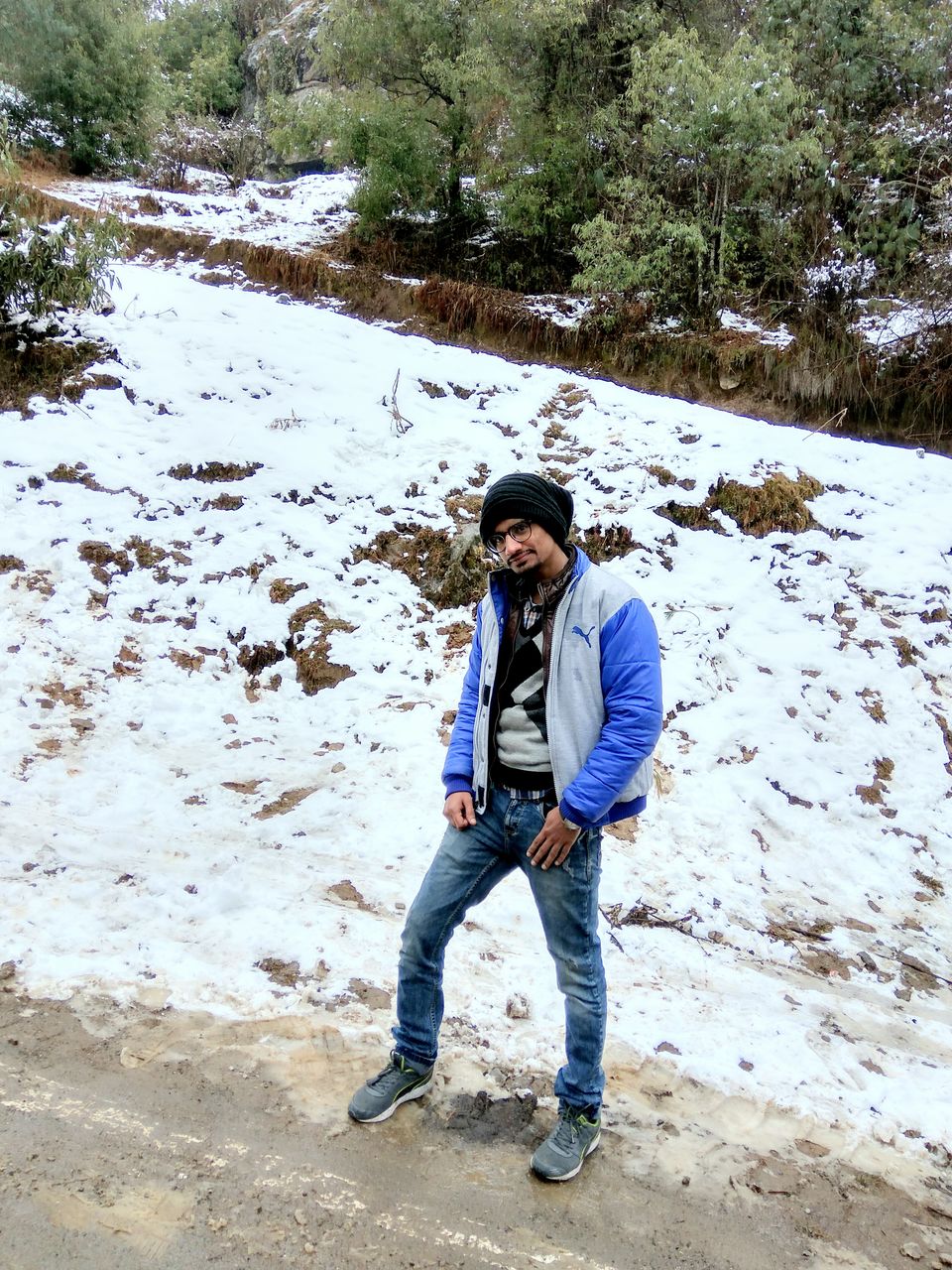 Finally we reached Auli and parked our beast at the parking area and took the ropeway for the top.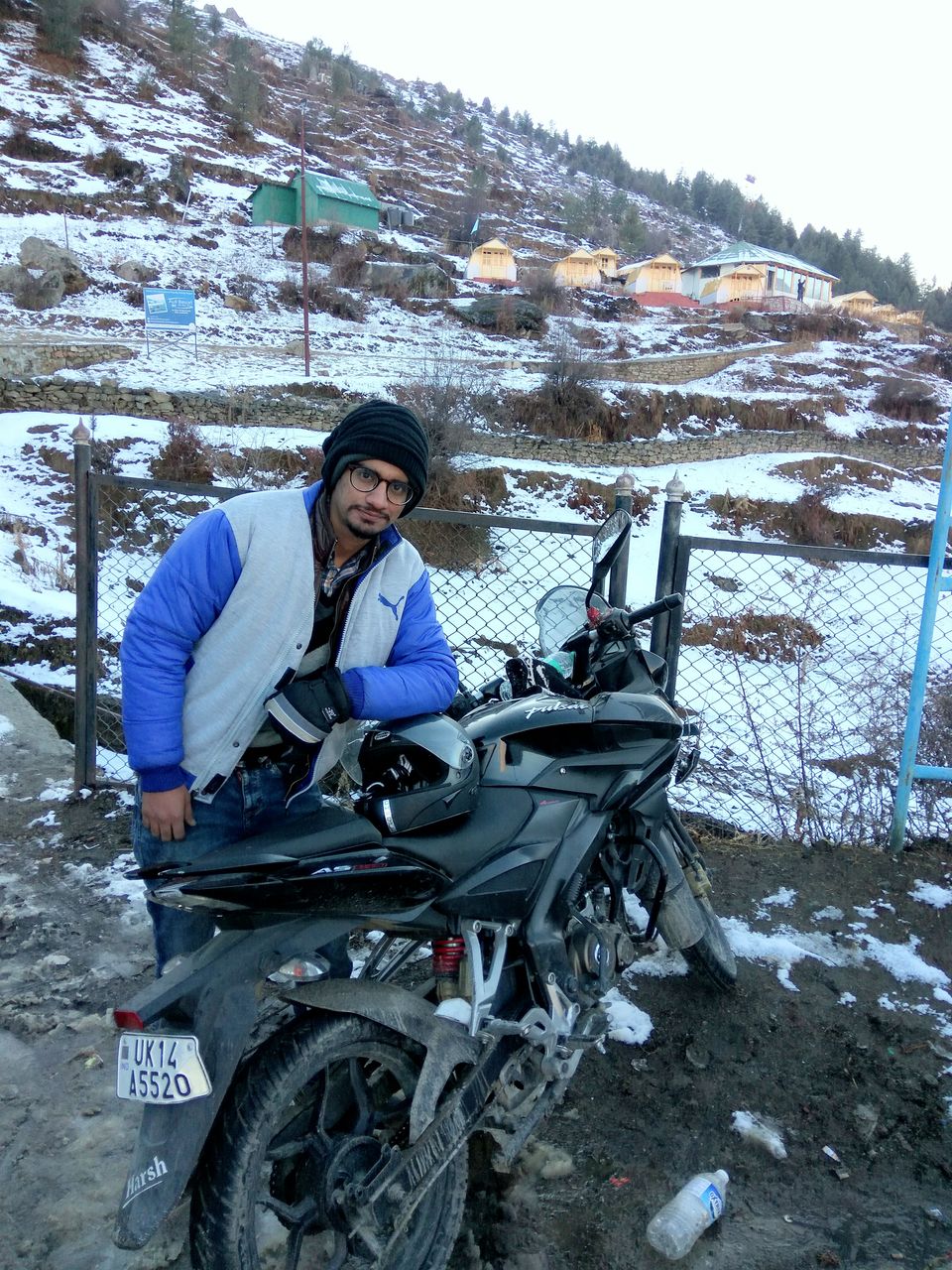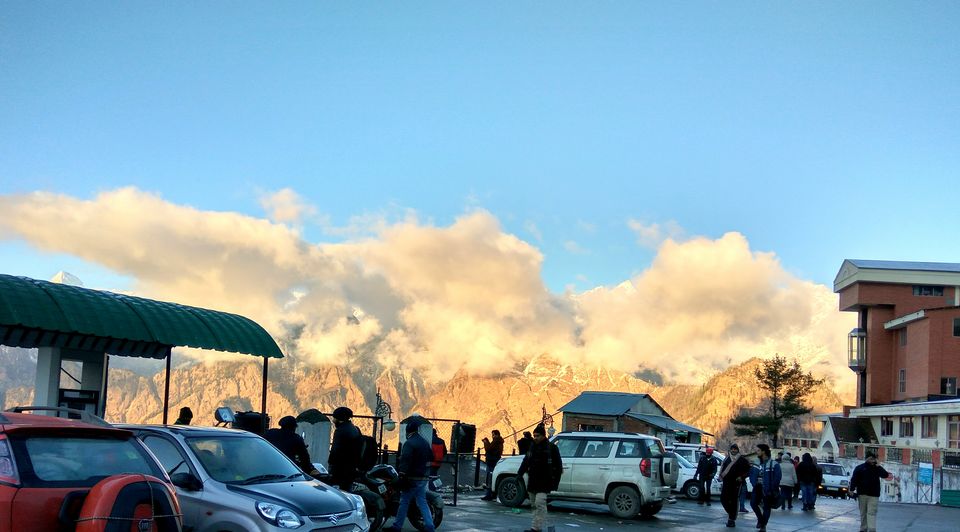 When this is the view from the parking area, you can just imagine what would be awaiting us when we will reach the top.
Well the chair-car ropeway was scary as it was not covered. You have the covered ropeway option as well but we being we took the scary one.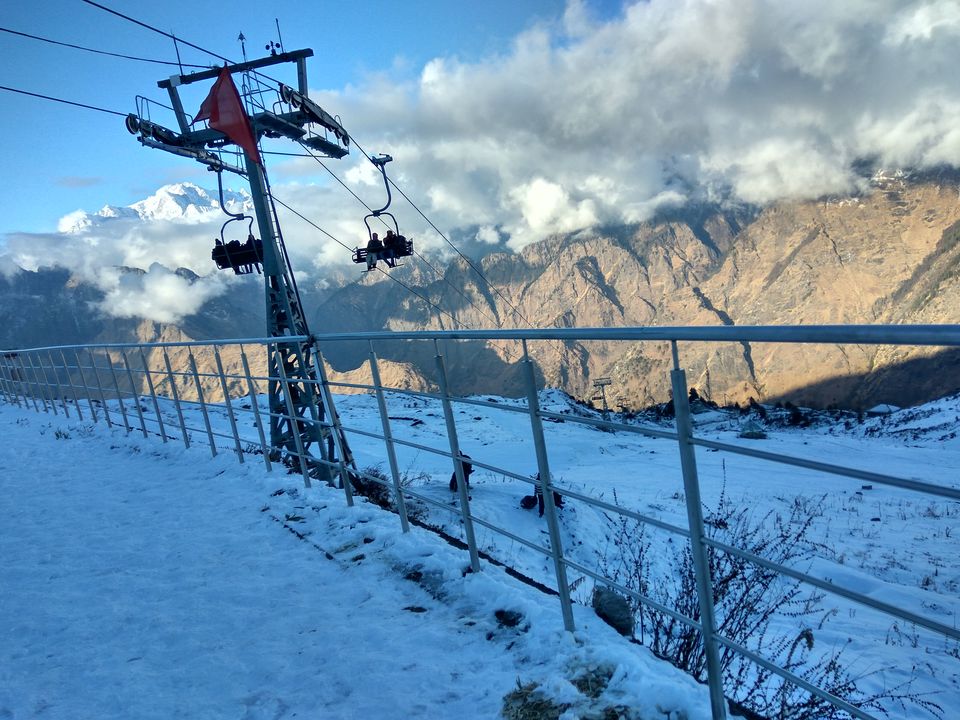 That 2-3 minutes ride on the chair-car ropeway made us felt like "Yamraj is baar narak nhi swarg le jaane aae hain" It was just unbelievable and once in lifetime experience. You cant look down from that height but you can't even skip looking down. The cold breeze, the mountains (some snow covered, some glittering like gold, some fully wilderness) all around you and the snow below you.
I just cannot express the place and the view from the top as soon as you reach the main skiing area. Let the pictures speak for itself.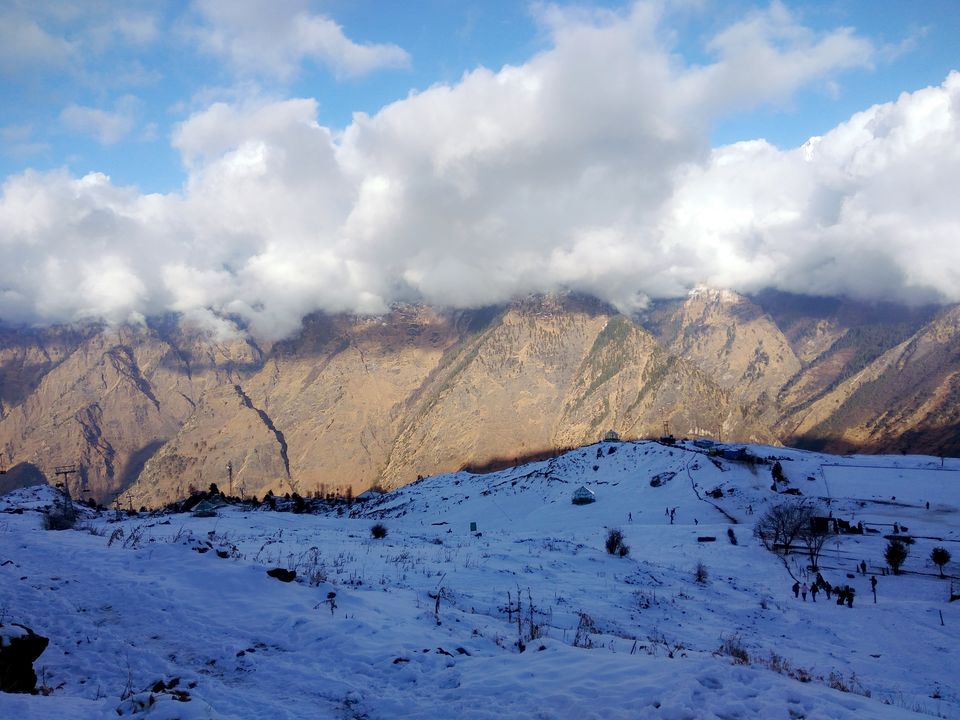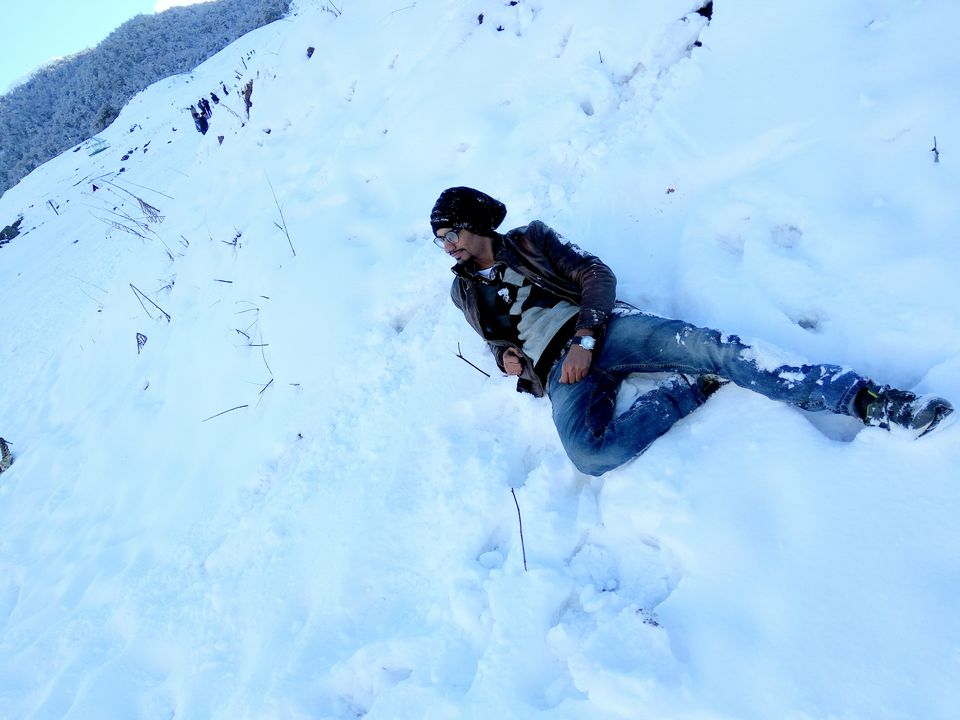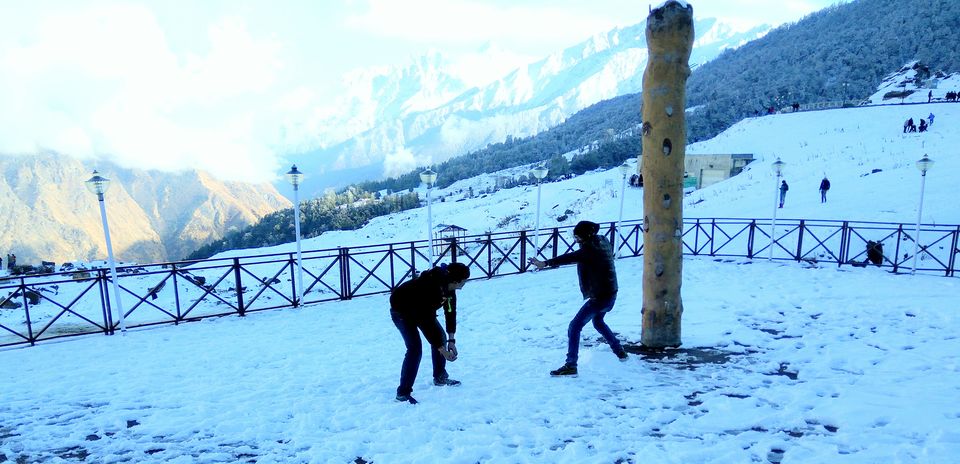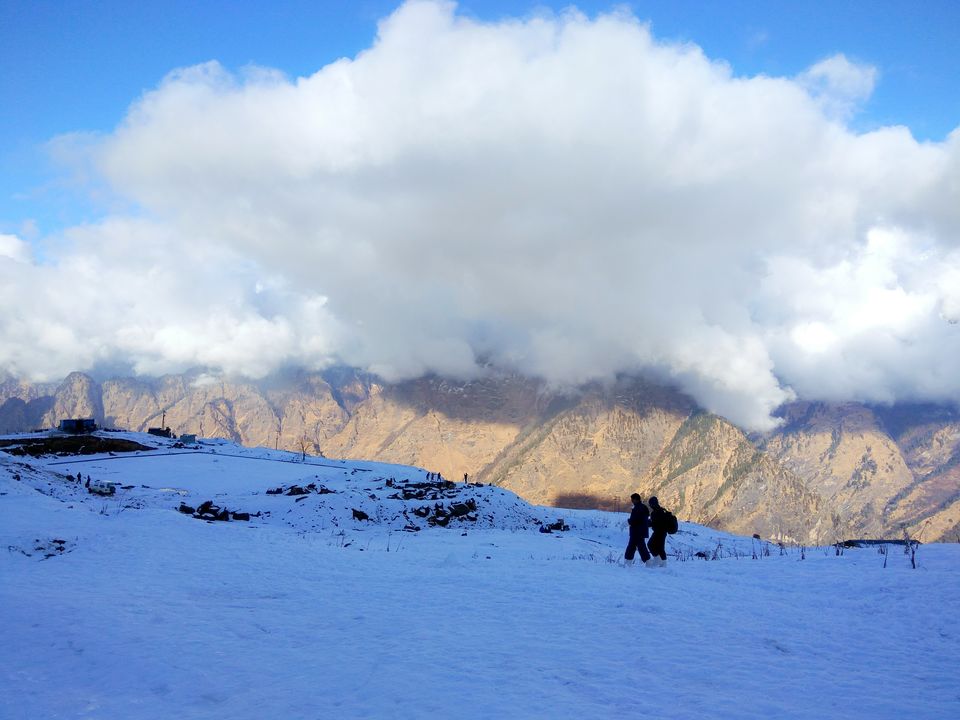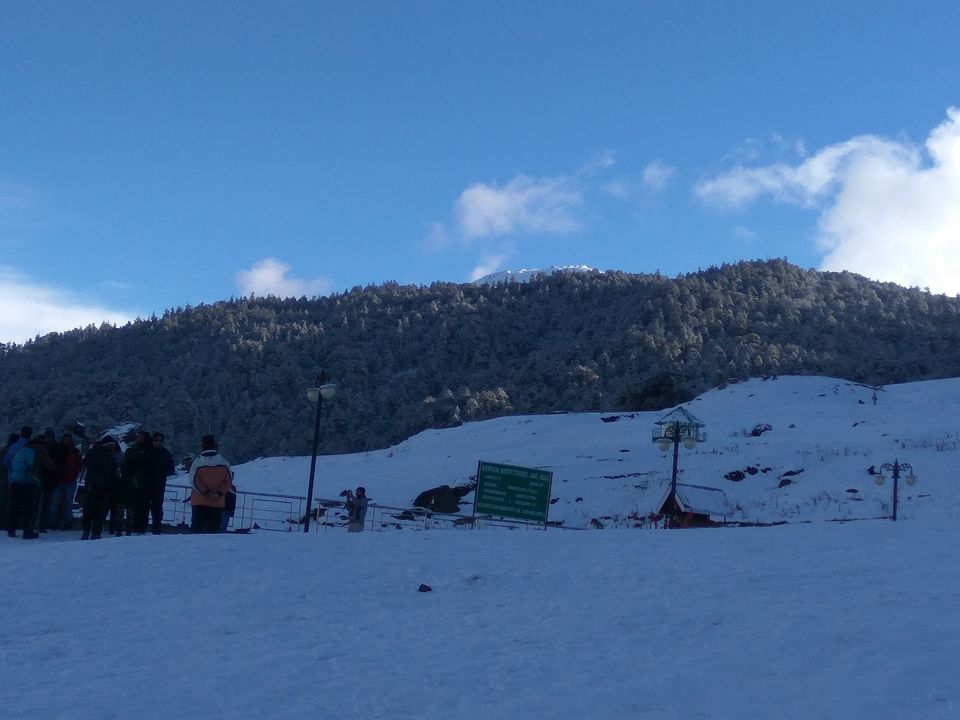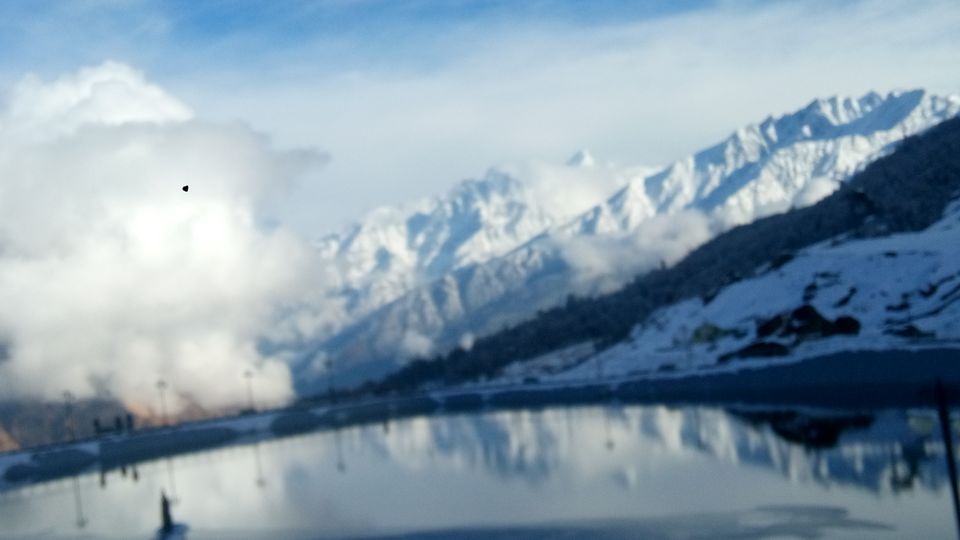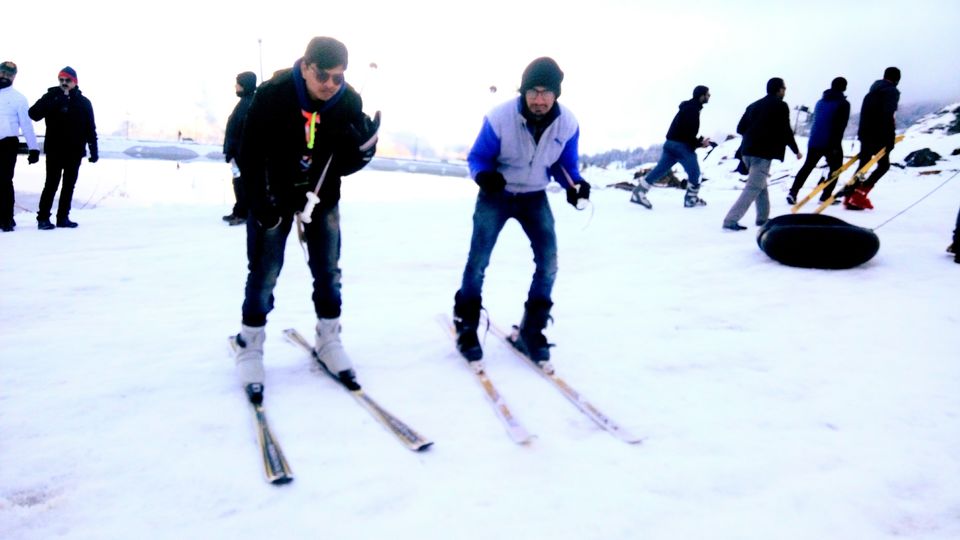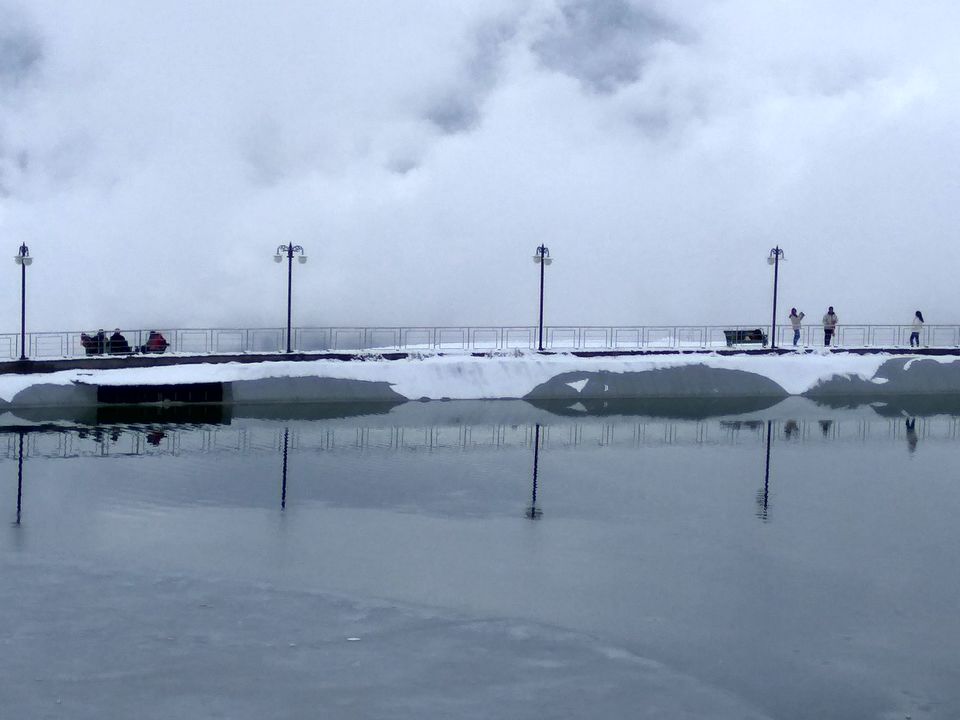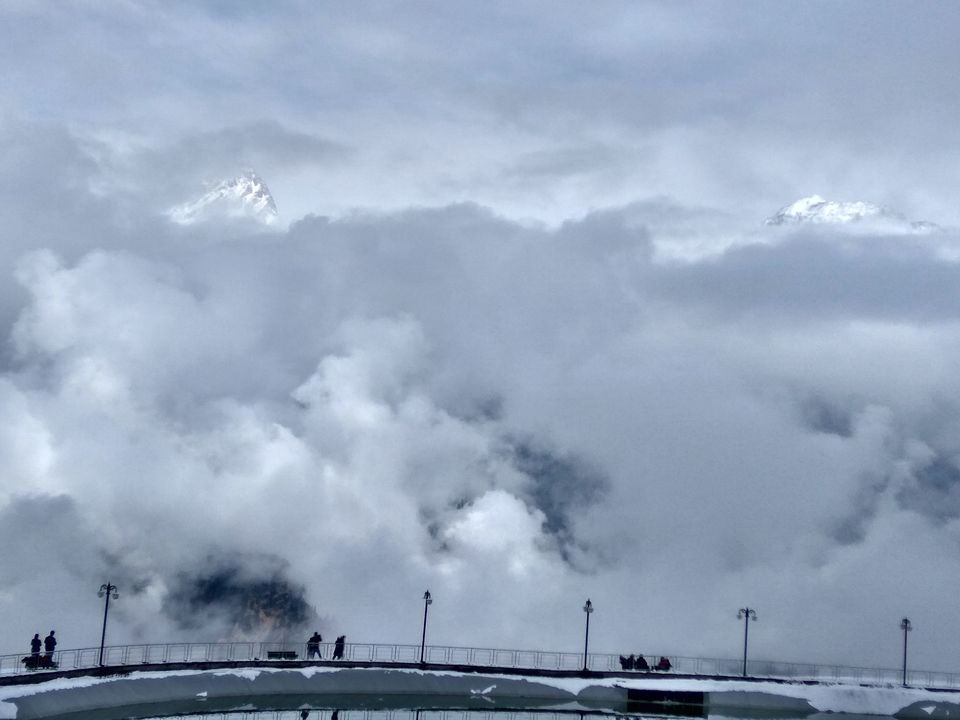 Do i need to say anything else for this place?
Well their are a lot of people up there offering skiing services. While interacting with one of them, i got to know that it would take no less than a 1-2 months regular course to learn some professional skiing.
Well i have had skiing experience at the ambience mall, Gurgaon but when it comes to nature you just can not recreate it.
After bargaining with few skiing instructors i finalised one who agreed for approx 500 bucks per person for an hour. There was a lot of rush so we waited for few minutes before our chance and just watched the people skiing their way.
After falling for around 20 times, skiing for around 2 hours, playing with snow, doing some other snow activities we started our way back for the ropeway after having a cup of tea and maggi.
P.S. the ropeway is open only till sunset (around 5-5.30 pm) so make sure you reach early so that you can have ample time to admire this scenic place and the unforgettable skiing experience.
We came back to Joshimath and ended our day after having dinner.
Next morning we just repeated what we did a day before. We could have gone to some other place to explore but trust me the experience of that skiing place with the view of nanda devi peak and snow all around is so intoxicating that you cannot do anything else.
Day 4: The day where we bid Goodbye to Auli, Skiing, nanda Devi peaks, Joshimath and the uncle who gave us the place to stay.
Fun Fact: Waise booking na kar ke kaafi saste mein accomodation ho gayi humari (as uncle took only 3000 from us for 3 days). But please don't try this at a vacation near you.
Again while leaving Joshimath at around 9.30 after having breakfast we had two options i.e. one to stay tonight and take hault at srinangar or stop at directly Rishikesh. And no points for guessing we targeted to reach Rishikesh till night.
After surpassing all the fears, cold, huge mountains, tiredness etc we reached Rishikesh at around 10 P.M. and stayed their for the night and ended our trip.
The next day i stayed in Rishikesh and met all my friends who were amazed, surprised & happy to hear the story of our Road Trip to Heaven.
Love u Harsh Bhai
Bonus: Below is the link for a compilation of some of my videos of the trip on youtube.
https://youtu.be/DZhrOf7V_0g