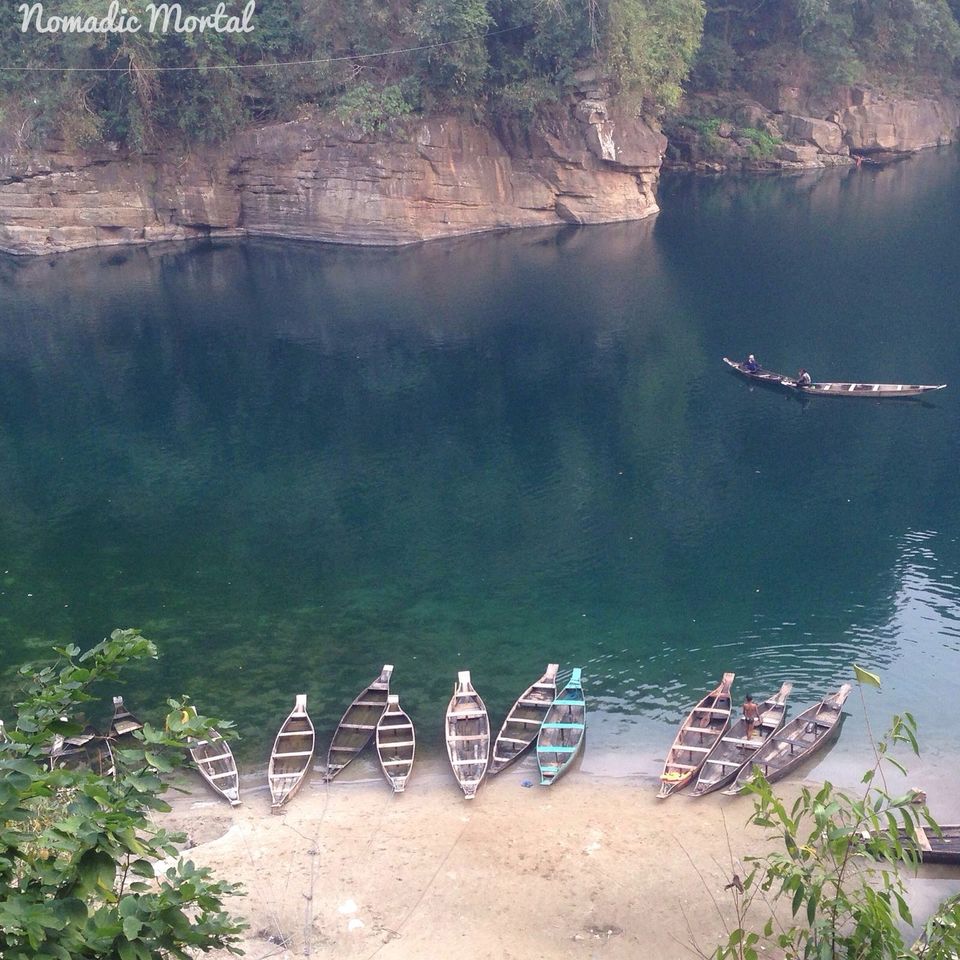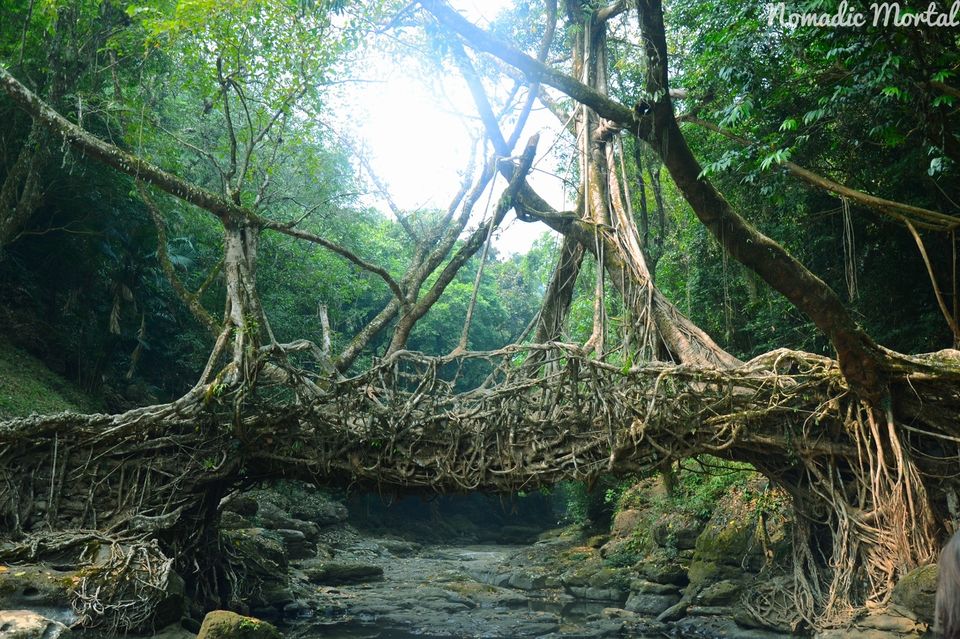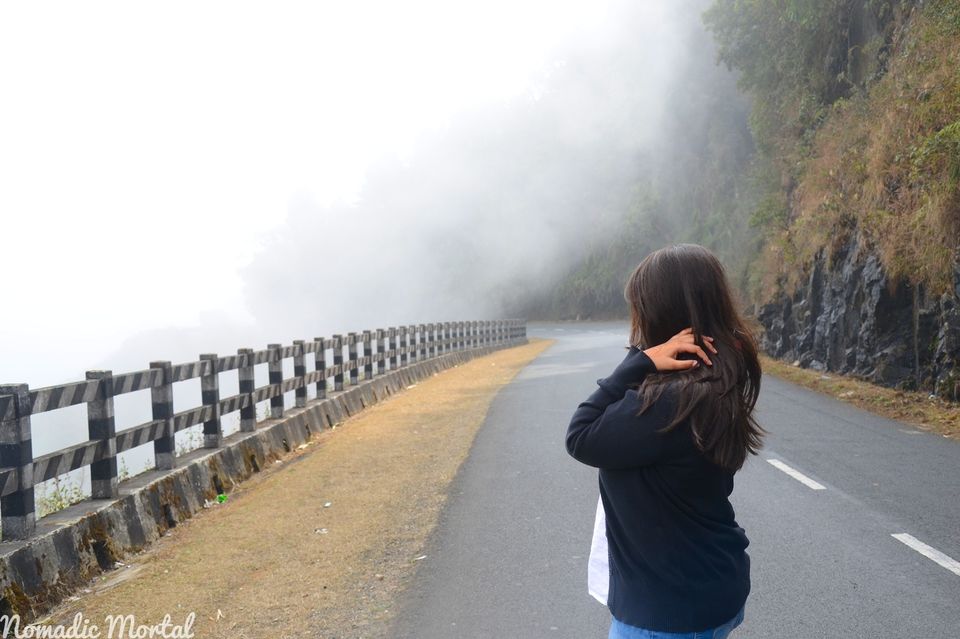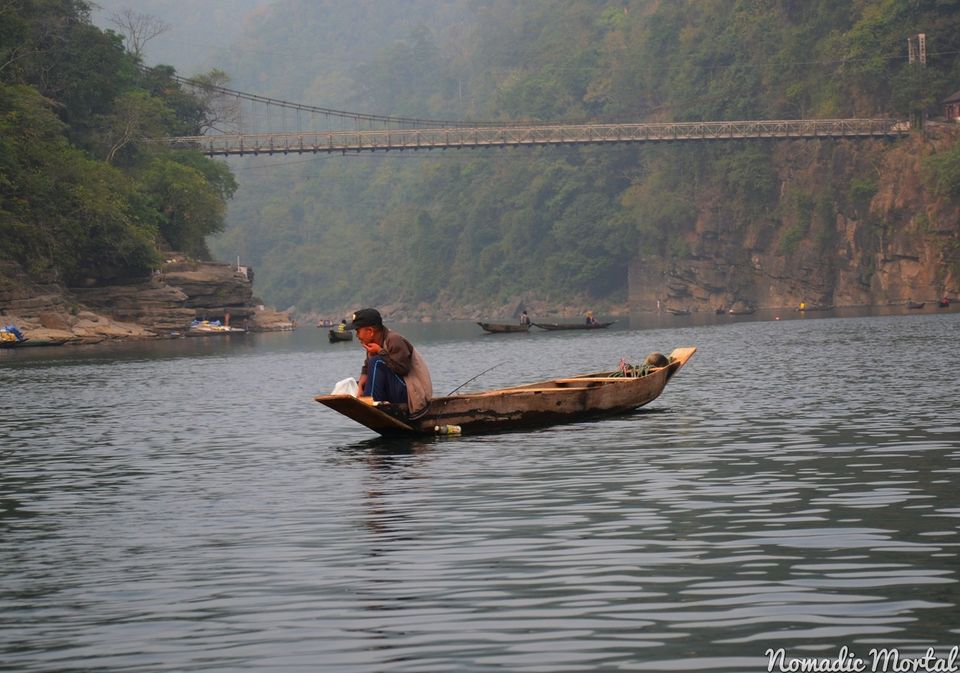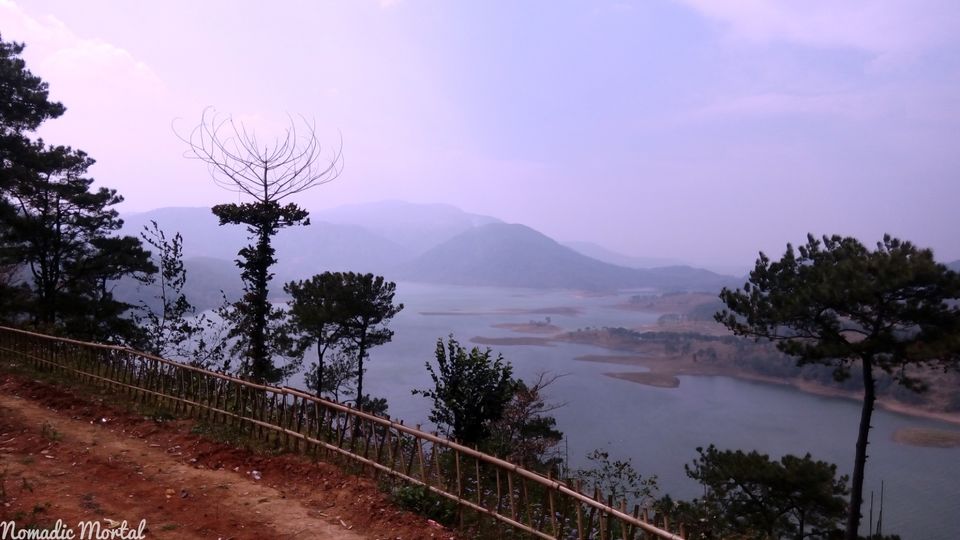 We started the day after an amazing breakfast at Sa - i – Mika. We drove through some very scenic roads dotted with tiny villages. Kids playing football would stop and wave at the car. And when you wave back, they give you the sweetest of smiles. The sheer happiness on their faces is enough to lift anyone's mood. :)
We drove through Pyursula towards Dawki and the road was decent with not much traffic. Though I am told, the Jowai – Dawki Road is much more scenic, we didn't have the time to take a detour to Jowai.
The road is such that, for the most part, there is a valley on one side and a hill on the other. The valley was masked with clouds and fog. At some places there was almost no visibility. It honestly felt like we were driving through clouds. Now who could pass up an opportunity to stop here and take pictures!?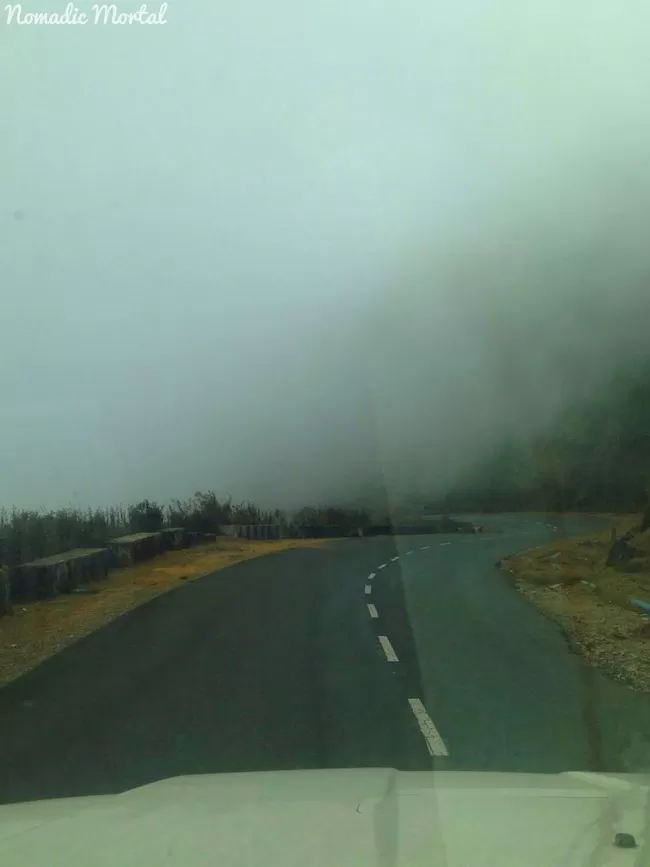 Few Pointers: Regular cabs leave from Shillong as well as Sohra for day trips to Dawki. Some of the shared cabs tend to be overloaded. For ex., we saw a Maruti Zen filled with 7 people. So please be aware.
Living Root Bridge (Riwai):
The first stop on this scenic route was the much anticipated Living Root Bridge. It is exactly what the name says, a bridge made of aerial roots of Banyan Fig trees which grows stronger with each passing day. In one of the wettest regions of our country, the locals have shaped the roots of many such trees to form natural bridges to cross rivers and connect villages.
This beauty blew me away. So majestic and yet so simple. An extension of two trees twirling into each other. They just stood there tall and strong watching as the world passes by. If we sit quiet awhile, I'm sure they'll share a few stories with us.
Few Pointers: This Bridge is the most easily accessible for tourists and will take a 10 min walk from the parking lot. It can get a little tricky when it rains to tread your way down. So be careful. Also carry a bottle of water. If you have more time, then do visit the other Root Bridges spread out over Meghalaya. There are even Root Ladders. :o
Mawlynnong:
This is a tiny village about 2 kms further from the Living Root Bridge. It has become a very famous tourist spot because it was named as the Cleanest Village in Asia in 2003. Yes, that was 13 years ago. The people of this village have turned this title into a very flourishing business. You can see a hoard of taxis when you enter and there is a parking fee, which is basically entrance fee, of Rs.50/Car. This fee is collected even if there is no place to park. :|
The village is clean for sure, but so are many other villages on the way here. So nothing surprising about it. The roads are dotted with plants and colorful flowers. Aesthetically very pleasing. There is 100% literacy in this village and it is a matrilineal society. Almost all of the shops and restaurants were run by women. What a refreshing change!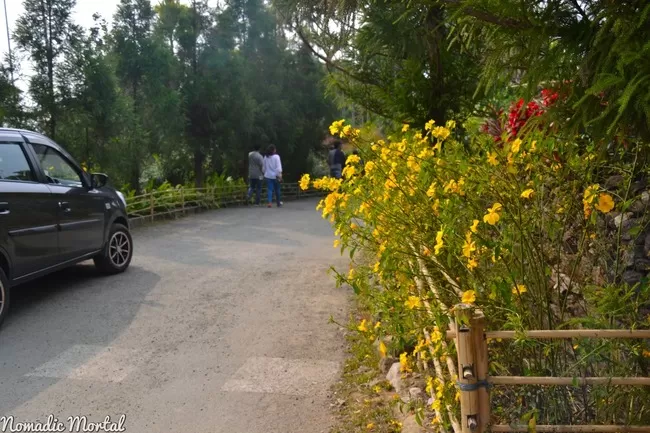 You can have a scrumptious lunch at one of the many restaurants here and also shop for some pretty souvenirs. There is a viewpoint built here from where you can see the plains of Bangladesh (or so I'm told). The walk up to the view point is through a walkway made up of nothing but bamboo shoots. This was something very fun to do.
Few Pointers: Mawlynnong has a couple of stay options if you wish to spend the night. Mostly home-stays. The locals are welcoming and cook some amazing dishes. There is another spot right outside the village where one can witness a large boulder balancing on a tiny rock.
Dawki:
Ahhh Finaally.! This place has been keeping me awake ever since I booked my tickets to Guwahati. :P It is an hour's journey from Mawlynnong through thick forest cover. You can see Bangladesh on one side for most part of the route. When I first caught glimpse of the river, I was so disappointed. It was nothing like I had imagined it to be. The water was muddy and in all likelihood, there was sand mining of some sort taking place. Also there were about a 1000 people in the water. :|
Turns out, this sight I was seeing was in Bangladesh. As we moved further, the scenes changed drastically. The river became clear and we could see the bridge which lies across Dawki. I couldn't wait to get out of the car.
It was everything I had imagined. Infact, it was more. We hired a boat and went for a long ride. You can see many locals sitting on their boats here and fishing. Great spot to fish by the way, since the water is so clear. The boats almost seem like they are floating mid air.
I could sit here for hours soaking in her beauty, admiring how calm she is and how seamlessly she flows not worrying about borders. I had found my Happy Place. <3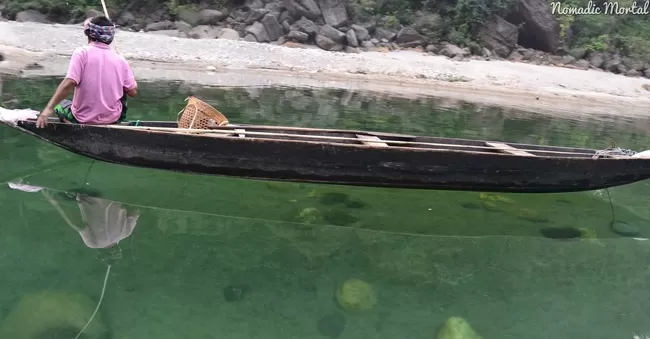 This was also my first Border visit. The Indo-Bangla Border is an invisible line across this river, with stark differences on both sides. I was told there was a Bazaar happening on the other side (a Weekend Market of sorts) and hence the number of people. These people had taken form of a physical Border between the 2 countries.
Watching the sun set here was an unforgettable experience. Something I shall cherish for a very long time.
Few Pointers: I feel sometime around noon would be the best time to visit this place for truly seeing how clear the water is. The clear water makes the river seem shallow, but in truth it is not. So please do not get into the water. The water can be consumed. Ask for a life jacket if you do not know swimming. Also bargain hard for the boat ride.
Shillong:
After being dragged away, because I didn't want to leave, we made our way back to Shillong. Since we still had to do some shopping, we were in a mad rush on the way back and hoping and praying that we wouldn't get stuck in a traffic jam. We did manage to reach just in time and thankfully, since it was the weekend, the shops and market were open until 8:30PM. I went crazy shopping. You can buy boots and fake leather products at a very reasonable price here. And having used them for about 3 months now, I can vouch for their quality. You can also buy warm clothes like shawls and sweaters. Of course Shillong is one of the most stylish capitals in our Country, so you can find some great clothes for extremely cheap prices.
Do visit Unique Sweets and Snacks for some delicious sweets to bring back home.
Now who could go to Shillong and not visit the famous Shillong Cafe! We decided to have lunch at this tiny Cafe. They serve some amazing Italian food. And after all the Thalis we've been having, this felt like home! Yes, Italian is my comfort food. :D
Few Pointers: Markets in Shillong close very early. So if you want to shop more, start early. Personal picks: Boots, Leather Jackets and cute tops. I did also buy a lemon from the local market. Have you seen the lemons they use here!? :O
You will have a hard time finding taxis after 9PM and they will also charge you extra. The night street food scene is brilliant and you will get a variety of options to choose from.
DAY 2:
Shillong – Guwahati:
After waking up late and having a lazy breakfast, we went shopping again. I really wanted to visit the Bara Bazaar which is famous for being run by women only. But I was told it is closed on Sundays. Oh well! :|
Umiam Lake:
We bid adieu to Shillong with a heavy heart and left to Guwahati. On the way you find this beautiful lake called Umiam Lake or Bara Pani. It is huge and the highway skirts its perimeter for quite some time and hence very hard to miss. It is beautiful beyond words. The breeze making your hair fly, the smell of corn roasting in the corner and the view of crystal blue water stretching as far as you can see. Ideal! We just stood there staring at this beauty and reminiscing on what a wonderful trip we have had. I felt truly blessed.!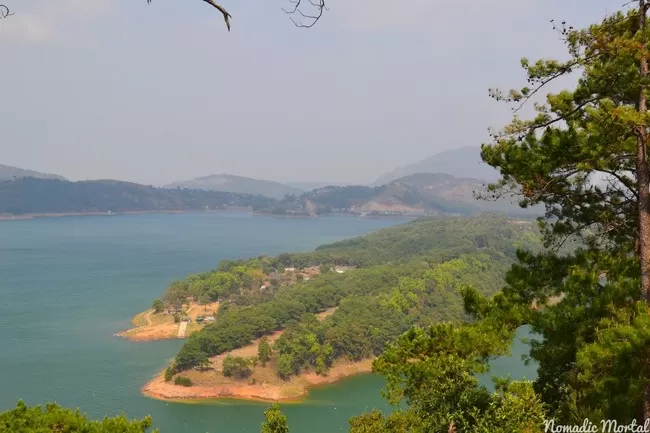 Few Pointers: Umiam Lake has boating as well for those interested. Best time to visit is just before sunset.
This trip changed my perception of boundaries. I experienced different cultures, different languages and met a bunch of amazing people. My maiden trip to the North East was mind blowing and I knew very well that - This was just the first of many more trips to this place.
Not all those who wander are lost!
-J.R.R Tolkien
This trip was first published on Nomadic Mortal. Head on over for more photos.
Frequent Searches Leading To This Page:-
season to visit meghalaya, monsoons in meghalaya, meghalaya tourism in monsoon, best time to visit meghalaya, meghalaya trip packages