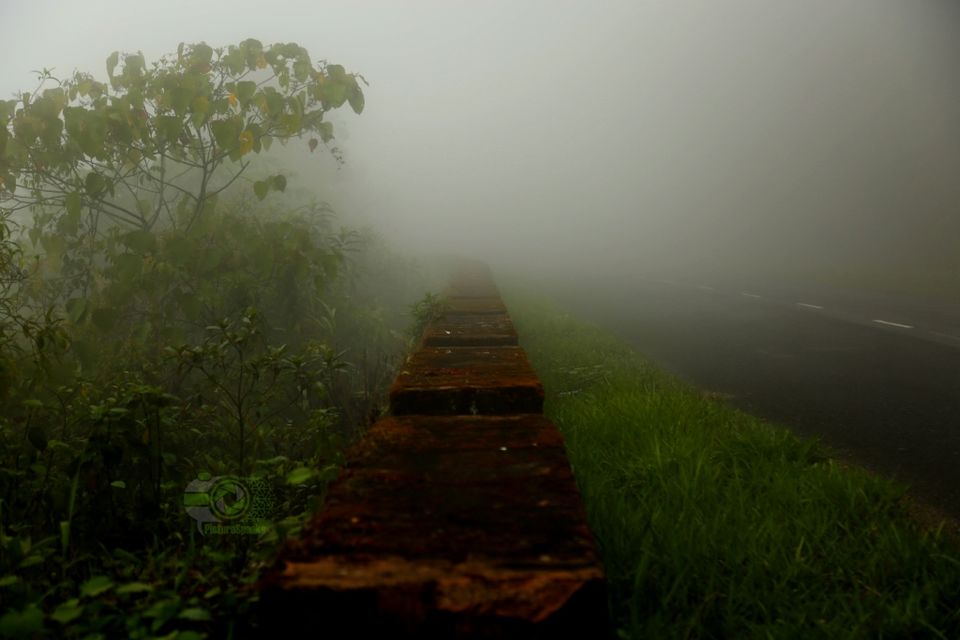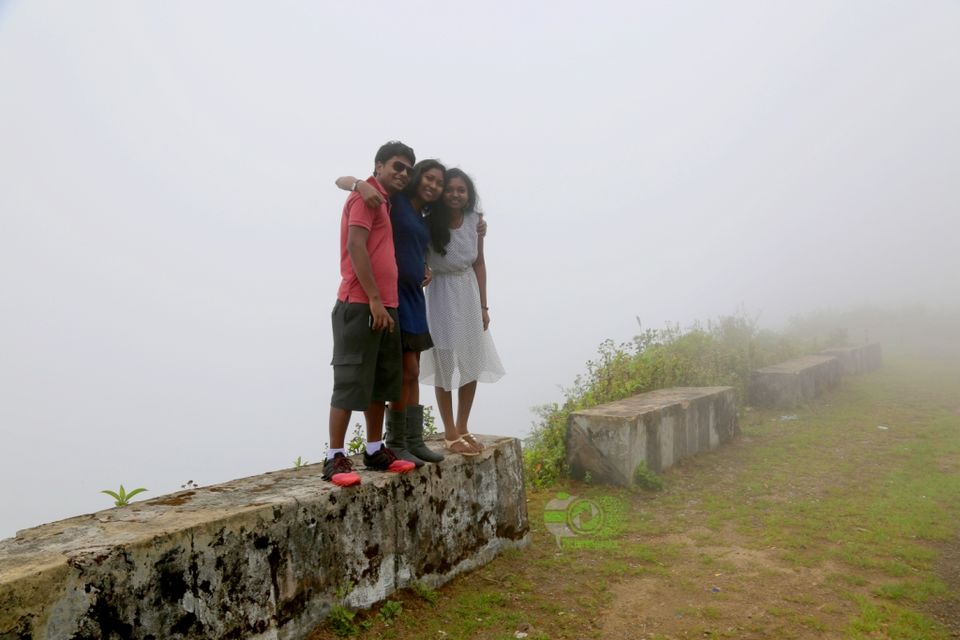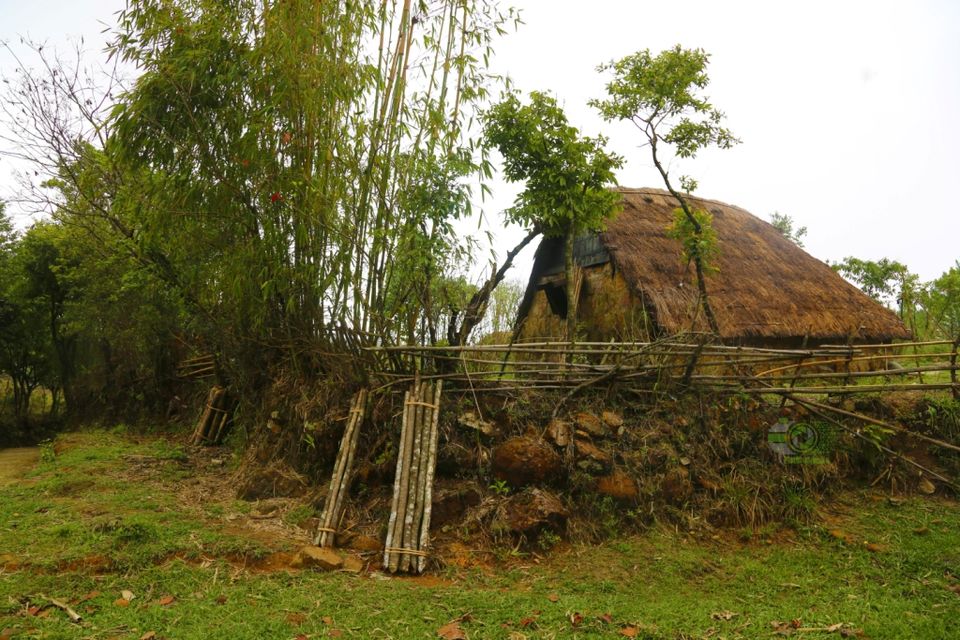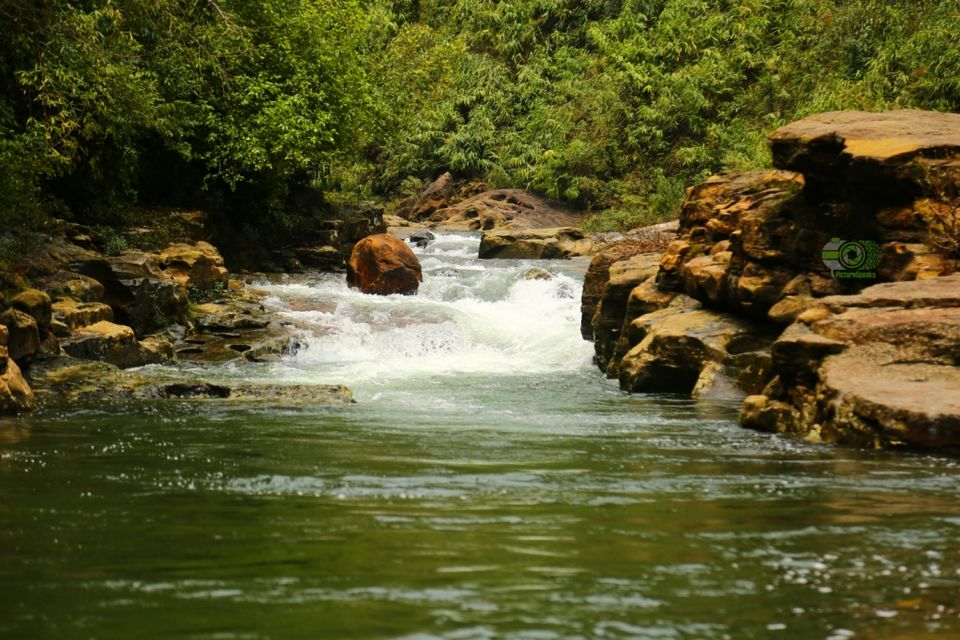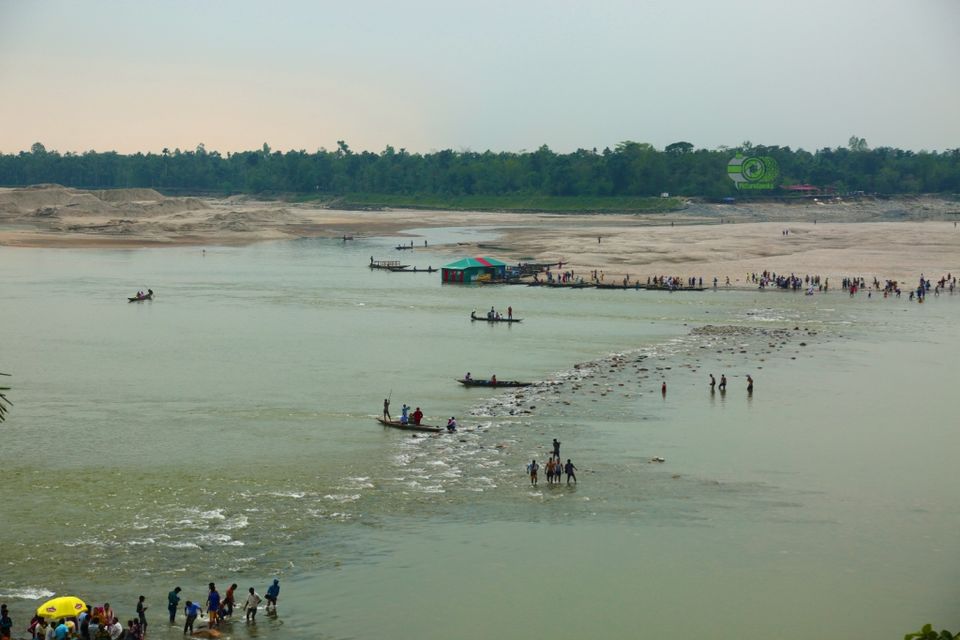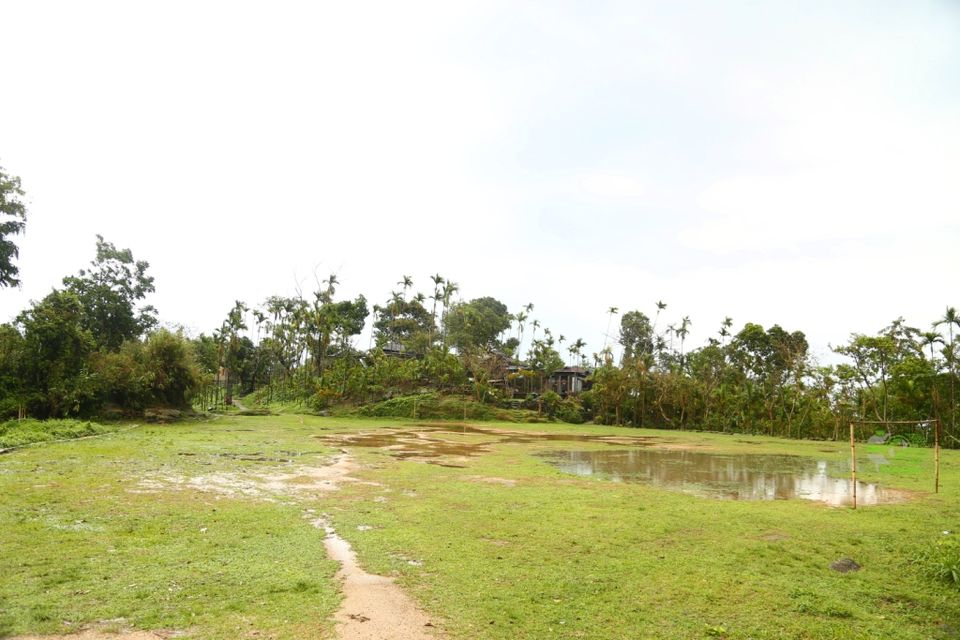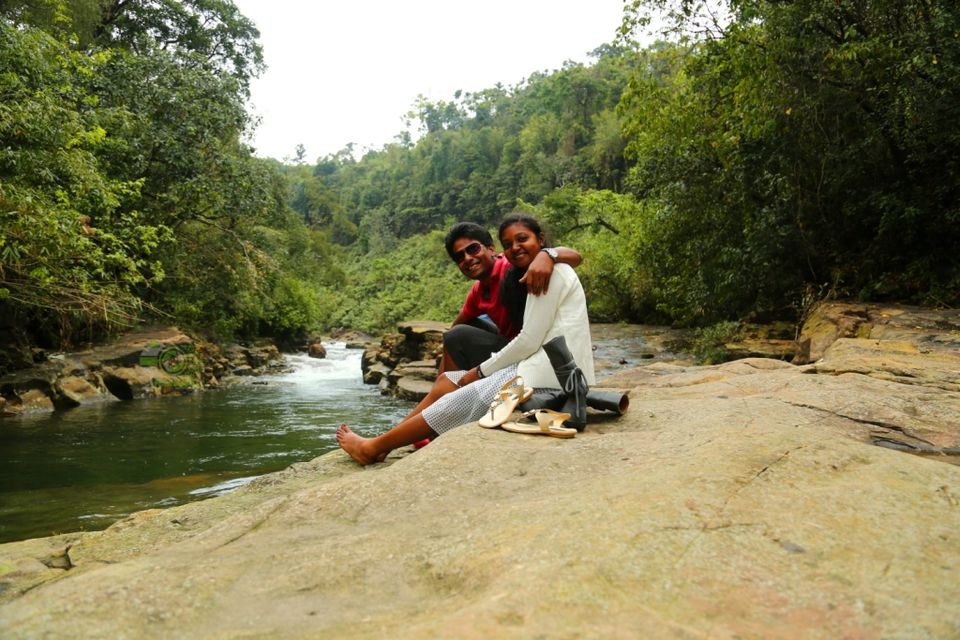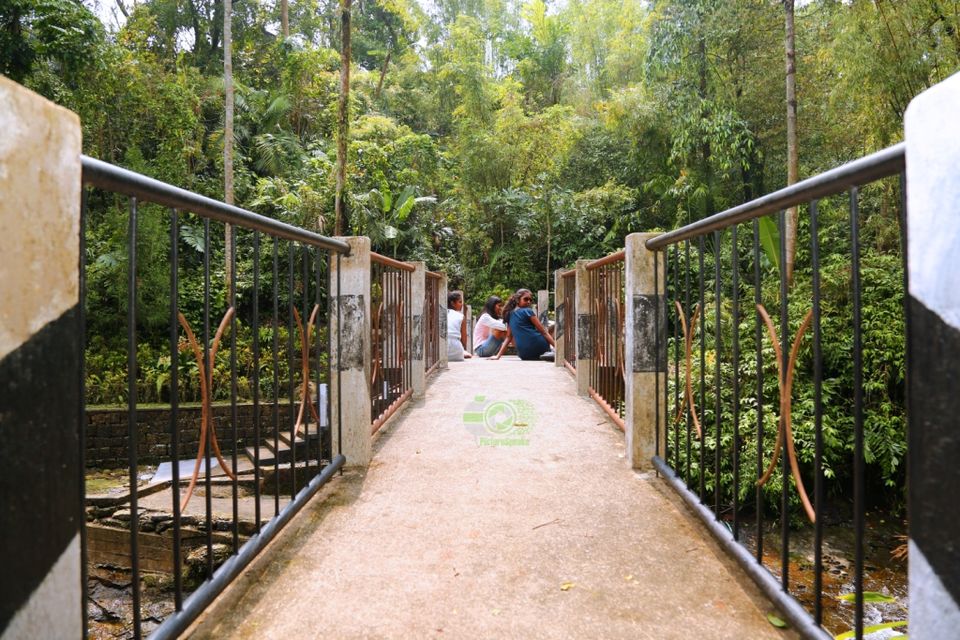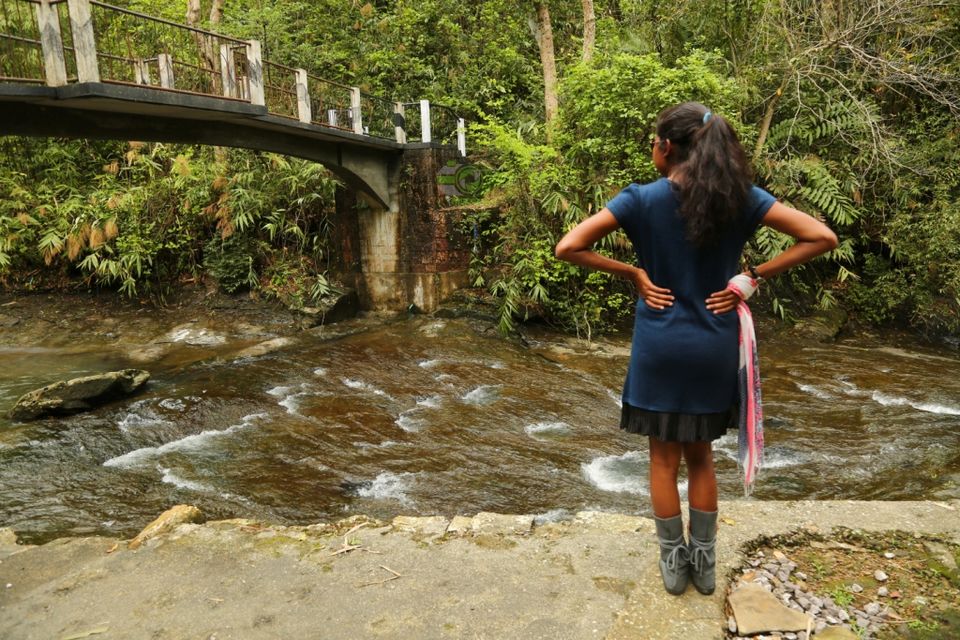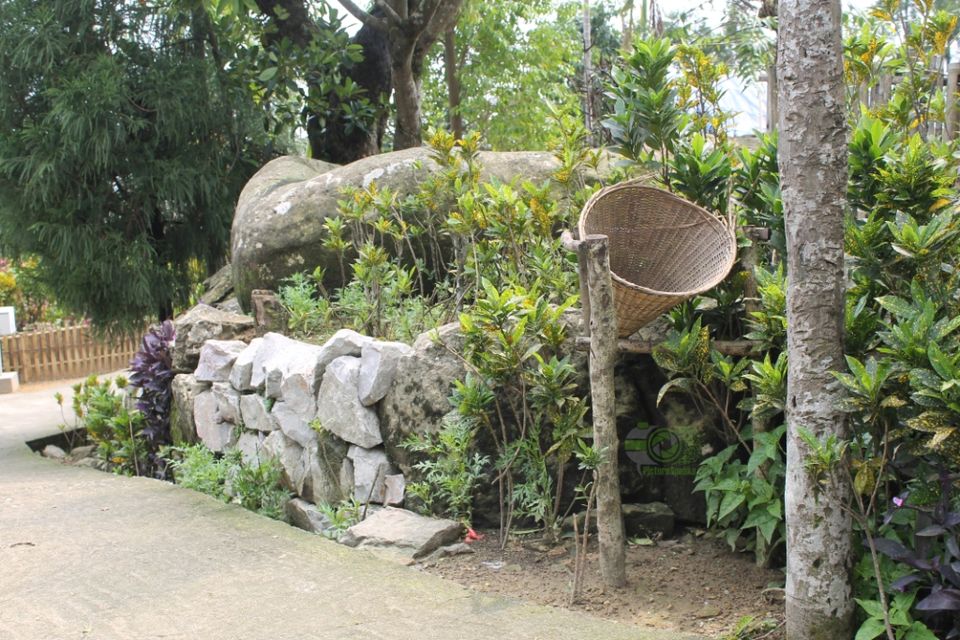 WHEN ADVENTURE CHASED US : CHAPTER-1
SHILLONG - MAWLYNNONG - CHERRAPUNJEE
Day 2 : All set for a new day we were ready by 7:00 am and were waiting for the taxi to move to Mawlynnong we hired a cab so that we can move to some off route places too. Breakfast on streets and that was good enough. We started off by 8:00am from Shillong the morning was sunny and a little hot; we slowly were at the outskirts of shillong and entered the valley full of green grasses and vegetables.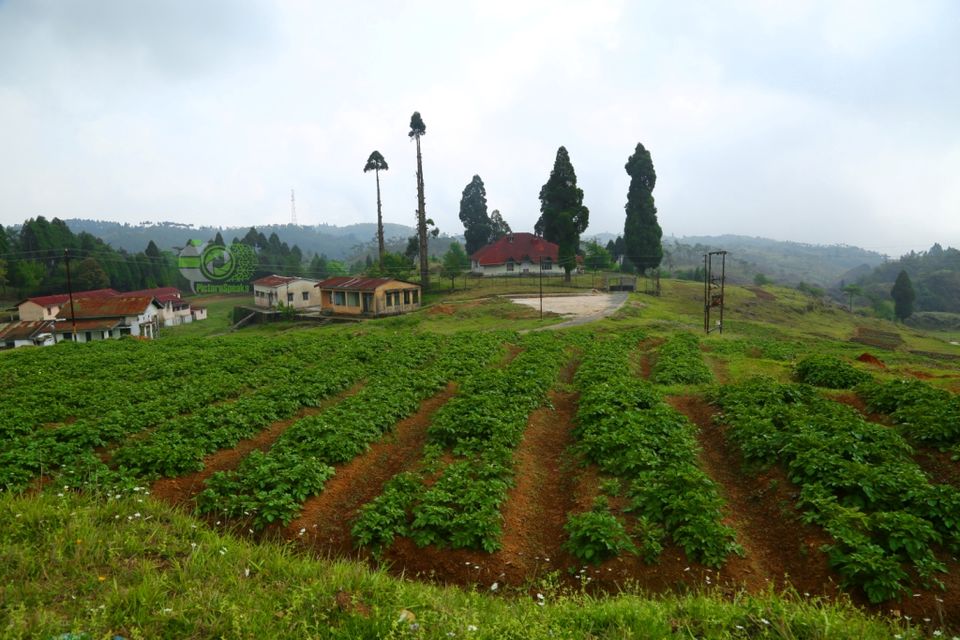 Some vegetation and beautiful setting.
We were still waiting to see what the world calls 'Abode of clouds'- Meghalaya. Peeping out of the window I was all wondering what is there behind the next turn and what resides beyond the hills. We stopped by at few points; good thing with our driver was he would stop by at any place we wanted to be.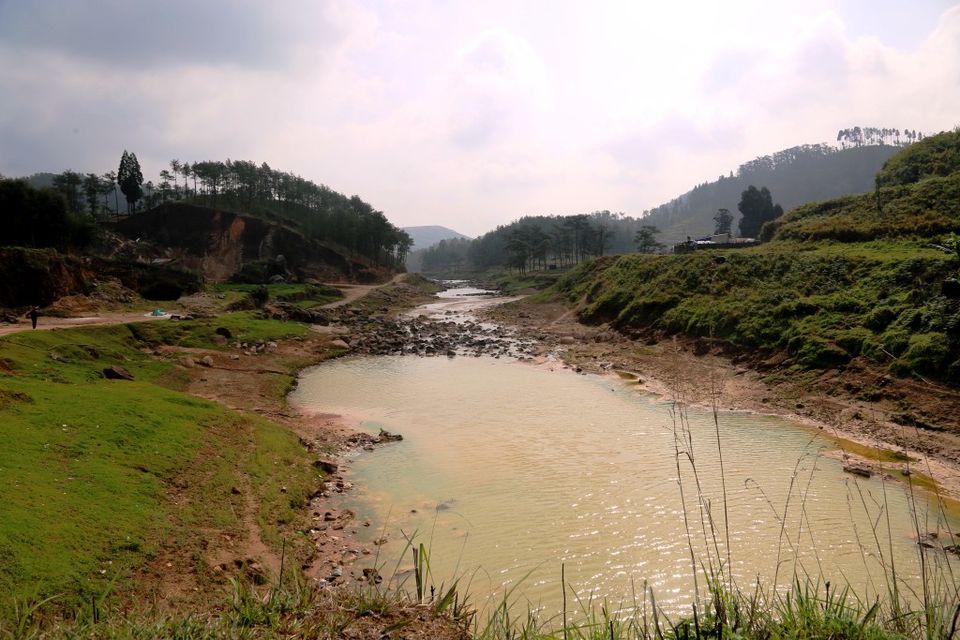 Just a river on way
Not an hour crossed by I could feel the winds growing cooler and sun rays fading away. AHH!!! Here it was the first glance of the clouds … pure it was, white it looked and cold it felt.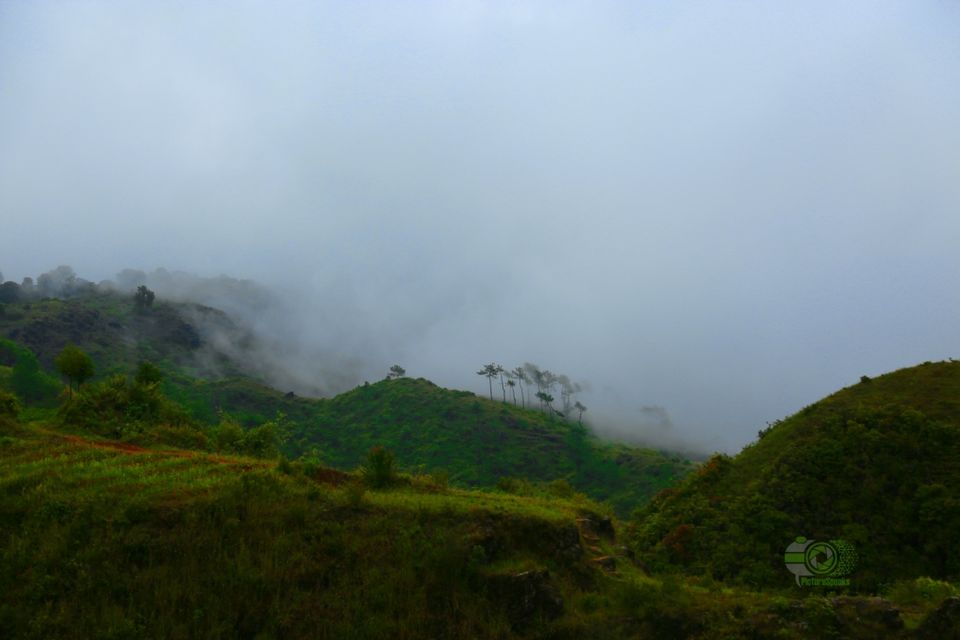 First encounter with the clouds
We all were awestruck, just one word 'heavenly'. We moved towards the clouds and the clouds came closer to us. Soon we were lost in these clouds.
I could touch the clouds,
I could feel air,
I could smell the greens
And hear the rain.
Just stopped by to feel the clouds and capture few moments.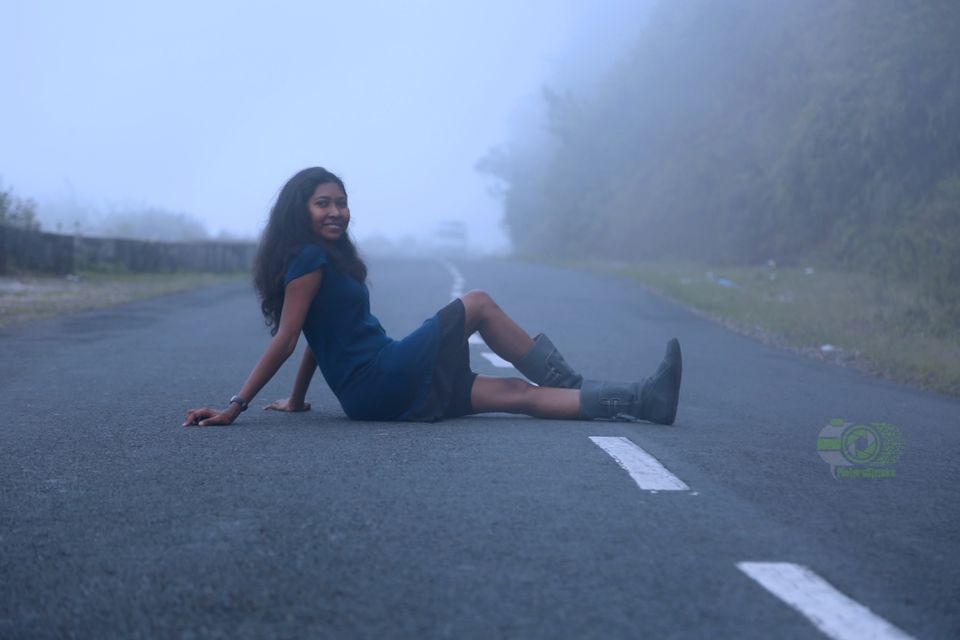 On road in my favorite pose ;)
It was just the beginning, we entered the abode of clouds, the weather grew colder and I was sitting with my arms all stretched out to hug the clouds. We were simply enjoying the drive amid the clouds when one of us realized there is something wrong with the car. Yes it was the front left tire of the car that got puncher but the good thing, driver had the spare one. This was just the beginning and we all were prepared for anything and everything. A group of engineers and architects know well how to fix things and are great at solving any problem on way. So here we are helping the driver change the tire, learning for few of us. Well all are not the same BK helped the driver, I did a little but the other two were busy posing.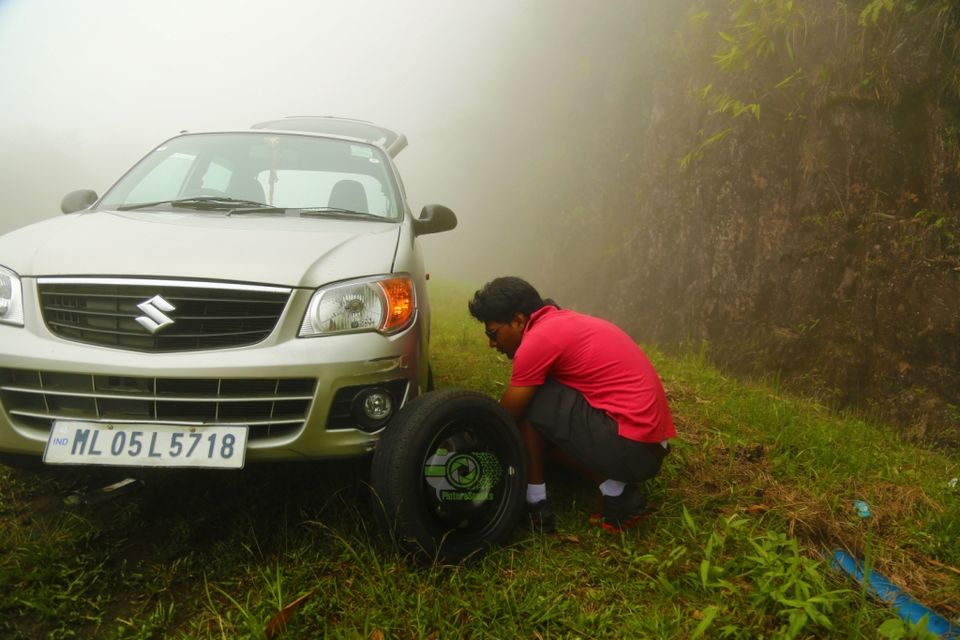 Make sure you have a spare one
The car was all good now and we were too excited to see what is there in the store next. I had a very strong feeling that this is just the beginning of adventure and there is more to come on way.
P.S.: it was cold and I would suggest all travellers to check with the weather and its cold when it rains so apart from umbrella do carry a jacket or sweat-shirt.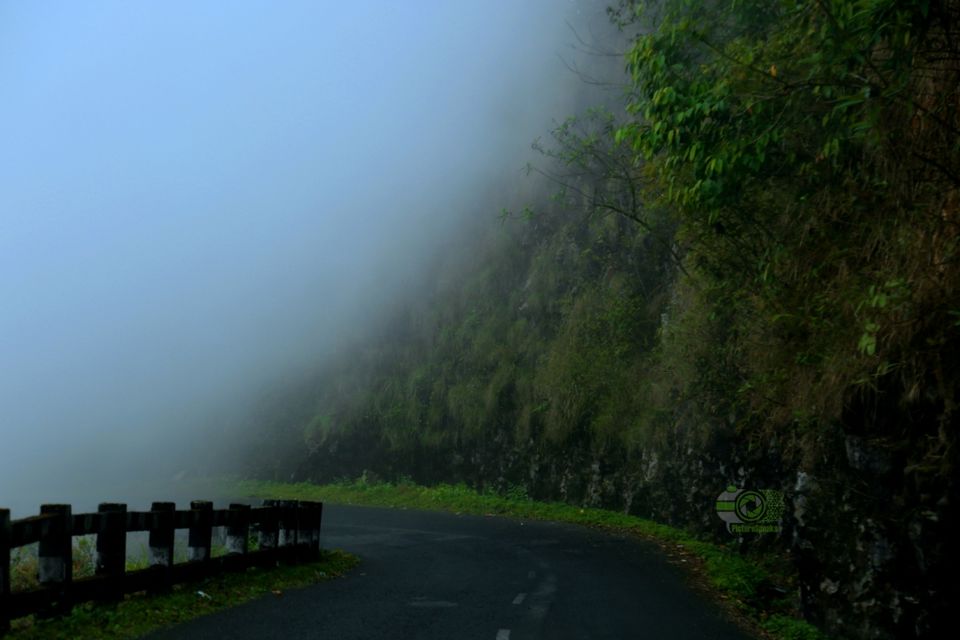 We had no itenary prepared for the trip; only thing we knew is to visit any place on way and stay connected to the locals. We wanted to visit every other village, taste every local dish, sing a song with the kids and get to know the culture more. We made our own viewpoints and named new rivers and bridges. On our way to Mawlynnong after Pynursla we deviated from the road and asked our driver to take us to the other way , we wanted to see something unknown and something new. Even though the driver said there's nothing special but we were not looking for special we were looking for unexplored.
The route we took was yet a new experience, full of green bushes and streams, there was a small hut and a beautiful little pond in front of it. This place was like a dream and the simplicity was so realistic. Yes a contradictory statement but this is how I could explain. The village named Whynnkong.
It was a mix of ethnic huts and well furnished houses. A school yet so clean and well maintained and children with smiling faces. We tried to communicate with few but the ladies just rushed inside their huts without a word. They were too shy to communicate.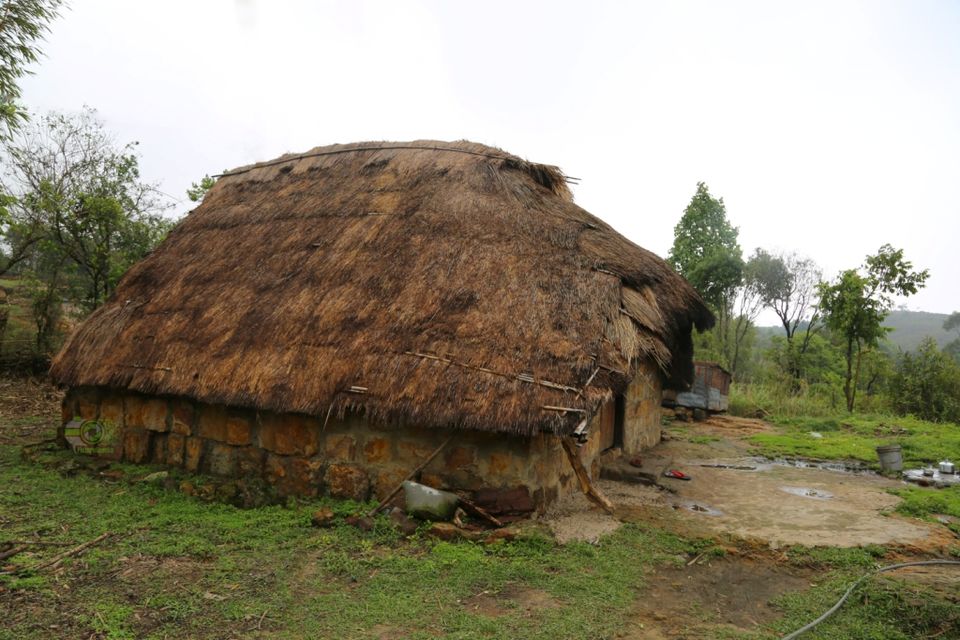 A small good deed could bring a big difference. Save water even if it's available in abundance.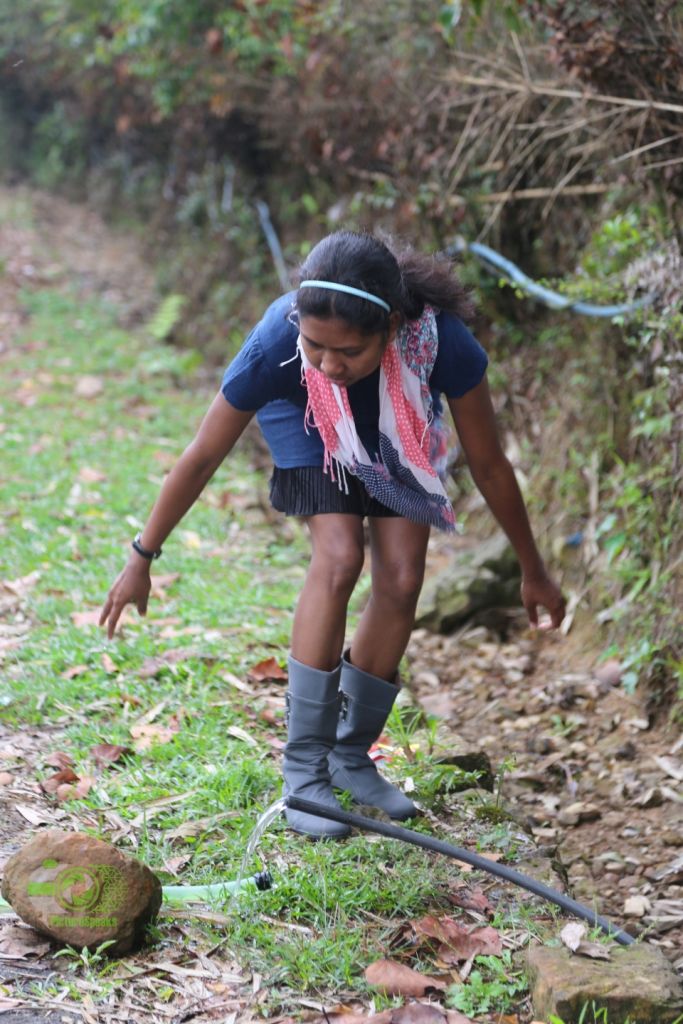 Trying to fix the supply pipe to save the wastage.
Another mesmerizing spot, a small river all covered with clouds. There was no name given to this river as far as we know. But this place became one of our favorite. The pristine water, the green grass all around, the yellow stones which were glowing and the untouched beauty of this place was magical.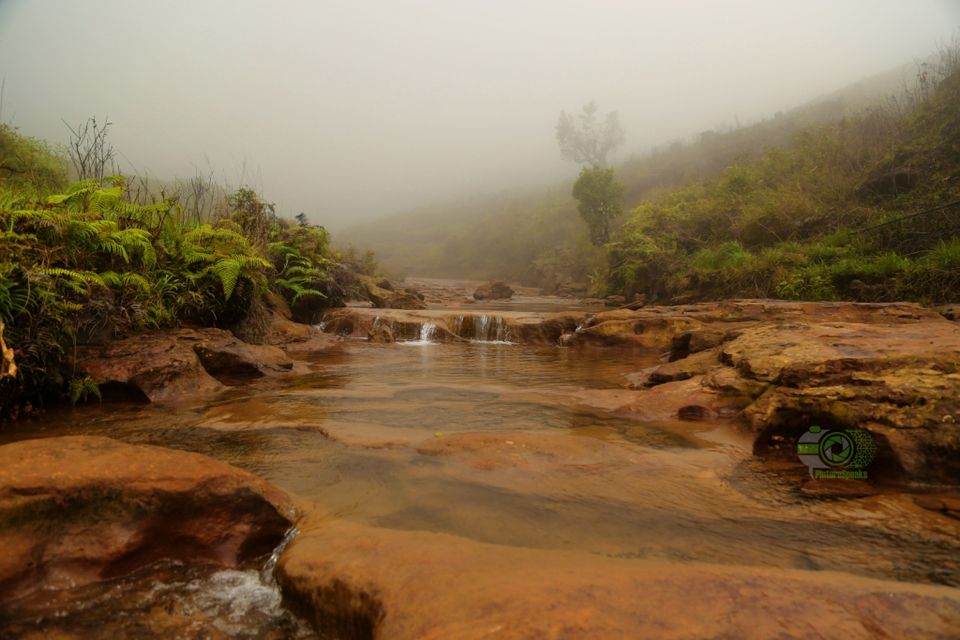 It seemed like a dreamland. We walked down the river and sat at one place just to hear the water flowing and wind blowing. This river was our very own exploring spot and we spent quite a long time just gazing at the green fields and playing with the cold water which was so appealing. The bright chromatic rocks were just shining even when there was no sun and the water was crystal clear. Serendipity!!!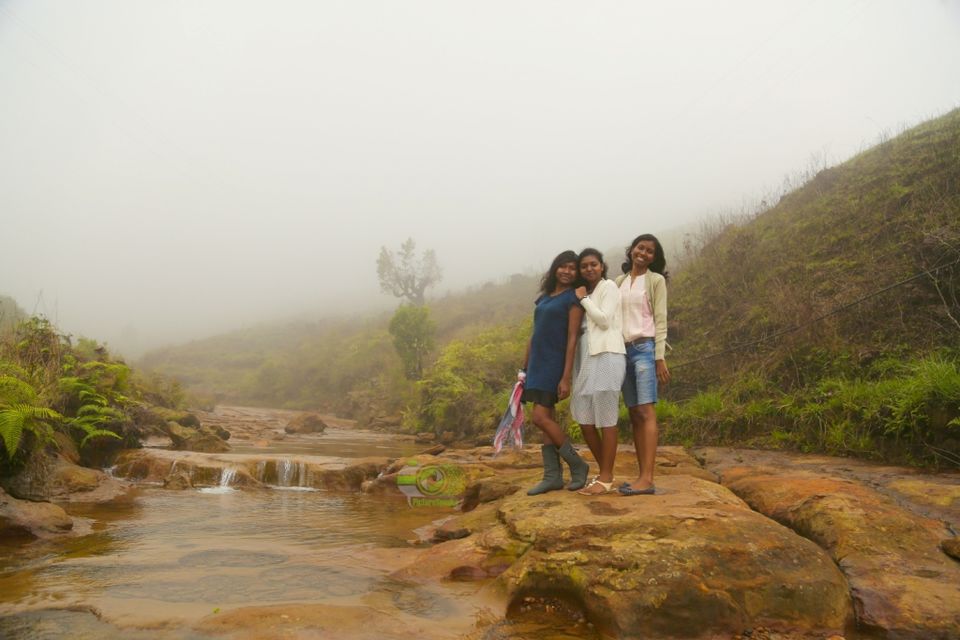 The old school ties and now the trip
I'm glad we visited this place and I wish I could spend some more time here.This was all about moving without an itenary and nothing could be better than having all the crazy friends to run around the place.
So back to same route towards Mawlynnong.
It was not even an hour of drive when the driver stopped by the suspension bridge and said 'go and have a look at this place', with all the excitement we went down. Just like the velvet curtain being lifted were the serene clouds flying and clearing the view for us what was next, was amazing. This was a river flowing like a stylized sophisticated lady walking by the shore. I was all lost in the lap of nature.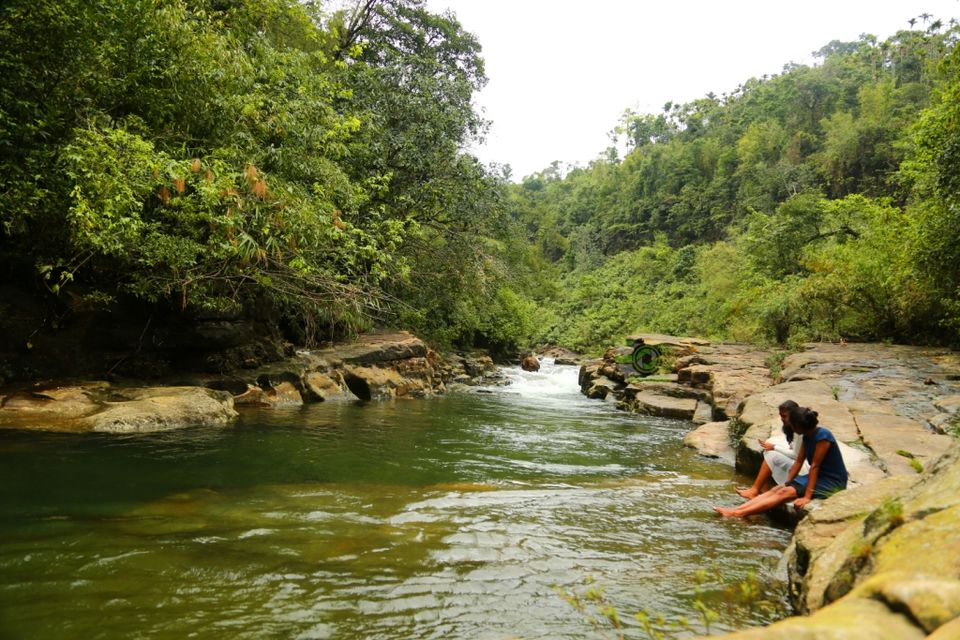 Relaxing and recalling some high school days with Ankii
I sat with my legs dipped in water just when I realized there are beautiful butterflies just trying to get a place to sit. AHH!! this is the real treasure of this place, butterflies all of different colors, purple, green, yellow, blue and what not. How amazing this nature is and how wonderful is the creation of Almighty.
A day full of surprises and it seemed like it's not going to end. The village visit, the unknown river, the butterflies and next was Mawlynnong 'the cleanest village in Asia'. We reached there at around 12:30 pm and as we entered the village what we saw was a rare sight. The little children were cleaning the road, picking the trash and emptying the dust-bins. This is the reason it's the cleanest, if children are taught this what an incredibly amazing person they will grow up to be.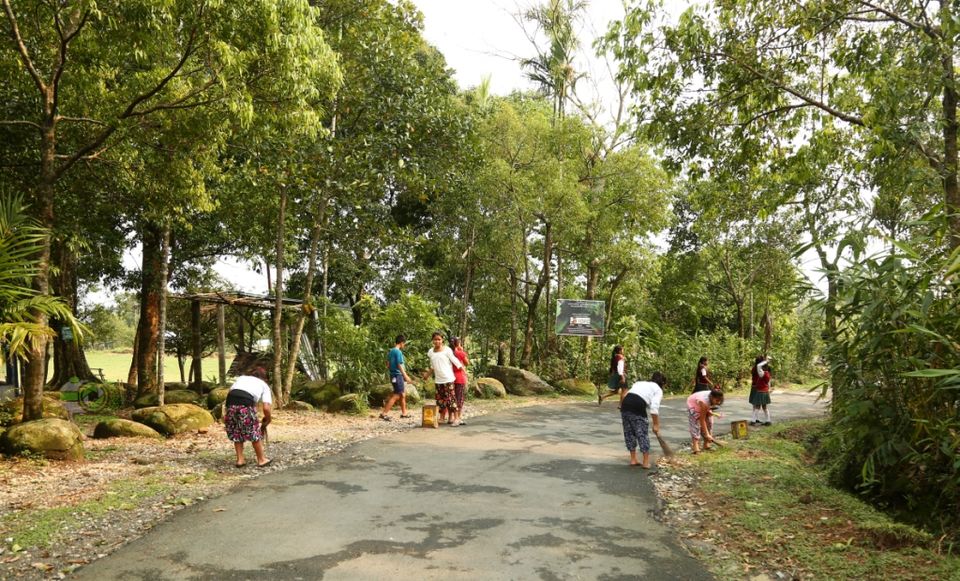 Children learn what they live.
As we went closer to the village I realized we were in a whole new different world. Got down from the car started walking in as we read 'God's own Garden'. Yes a small garden right between the houses and such clean courtyard. It was amusing to see that these houses were for real and these roads were so good to walk on. Very simple yet clean and unimaginable. But why only a village it can be the whole country and the question is when will we learn and when will we begin?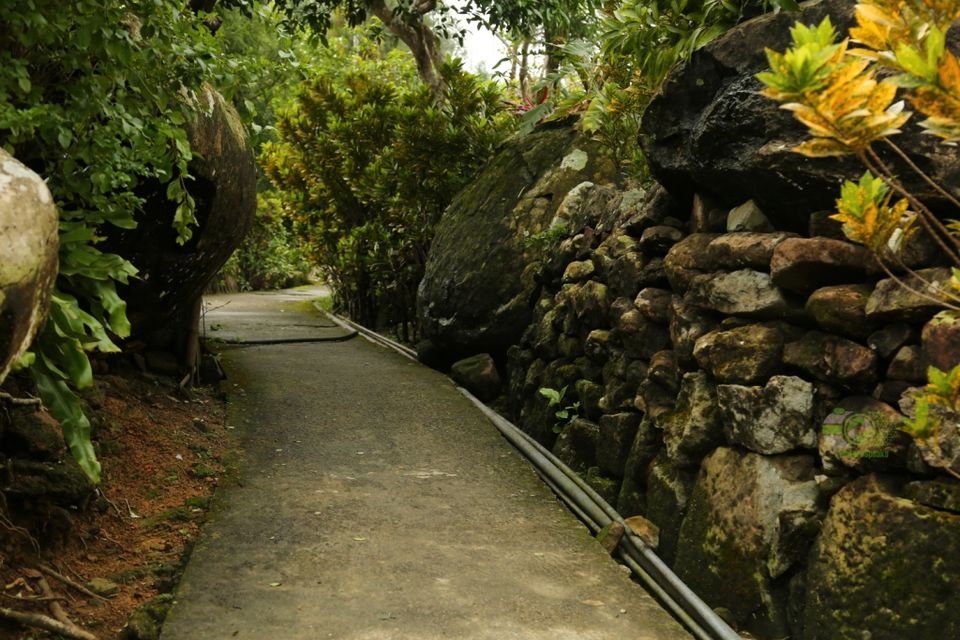 Road that leads to God's own Garden.
Our first task was to get a home stay, we walking in the village in search of a place which fits our budget. We were in the cleanest village of Asia and were expecting a good price stay there. We stopped and walked in asking for room it was Ha-La-Tyngkong Homestay cum Restaurant. Lucky us there was a room available for 4 and at Rs. 1500 per night. This was really unexpected, room was very clean and a very homely bed to rest so we rushed in with our baggage. The young lady there was really helpful.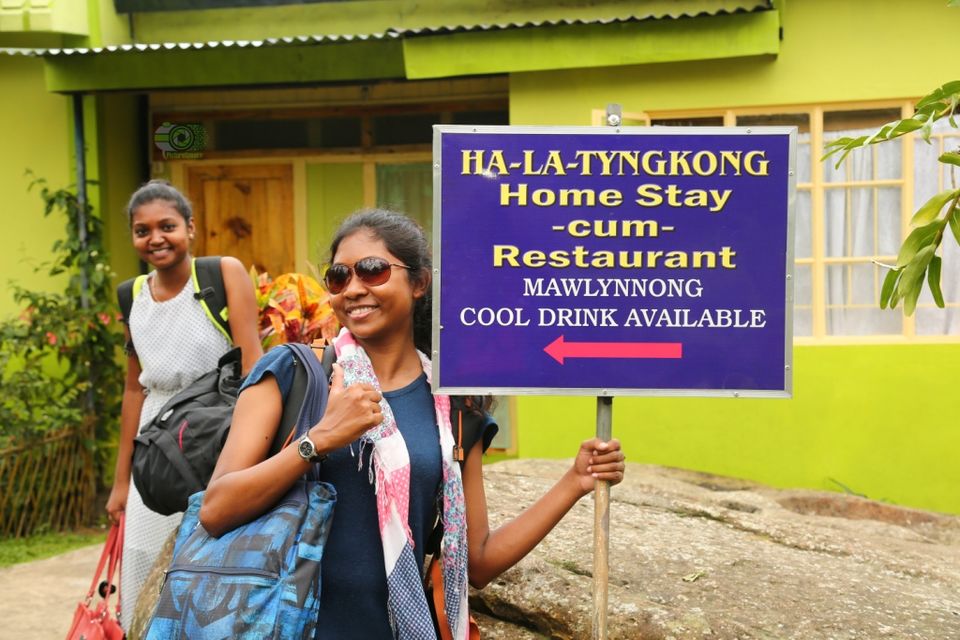 Welcome to this small little warm home stay. It's lovely.
We went around a little and as always took the road less traveled by the tourists and it led us to the river. The picture could explain it better than words.
The bridge of hope in tranquility.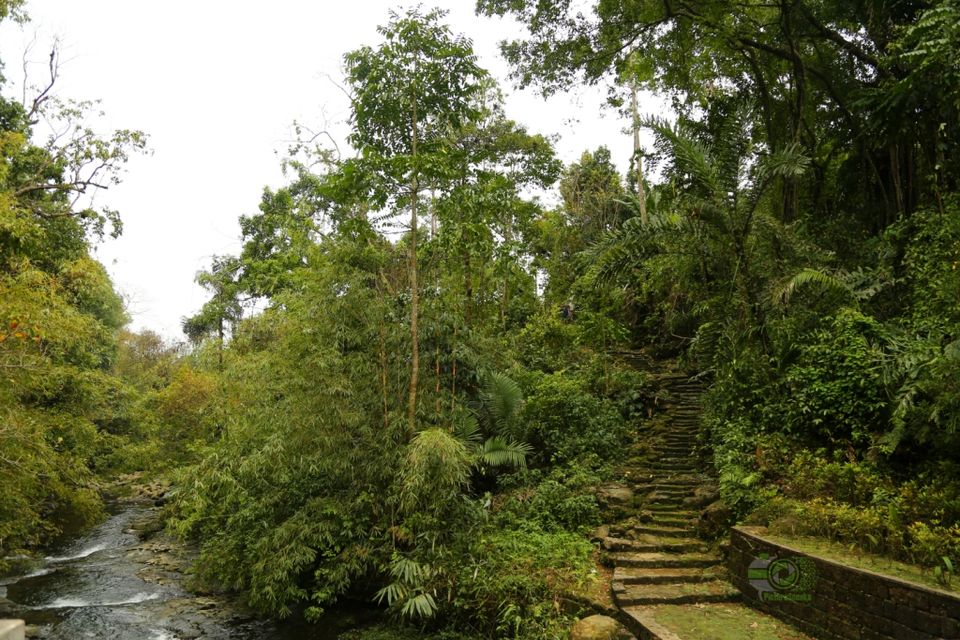 Path that leads to the bridge
So there we had lunch, to be truthful this place is where I found food not very satisfactory. So now we were ready for yet another expedition and set off for our next destination. After an hour drive we reached Dawki, a small village at India- Bangladesh border. We wanted a boat ride here but the weather was not quite unpredictable, even though it was sunny when we reached as soon as we booked the boat clouds came tumbling. In spite of the drizzle we started off at the boat and that was not a very good decision. We were mid way and the showers turned to heavy rain, still we enjoyed the ride in the rain. Even this was an adventure when it started raining heavily and we were all drenched. The sailor just took us at the other side of the river and we were sitting below the huge rock trying to protect ourselves from rain. Even this was so much fun.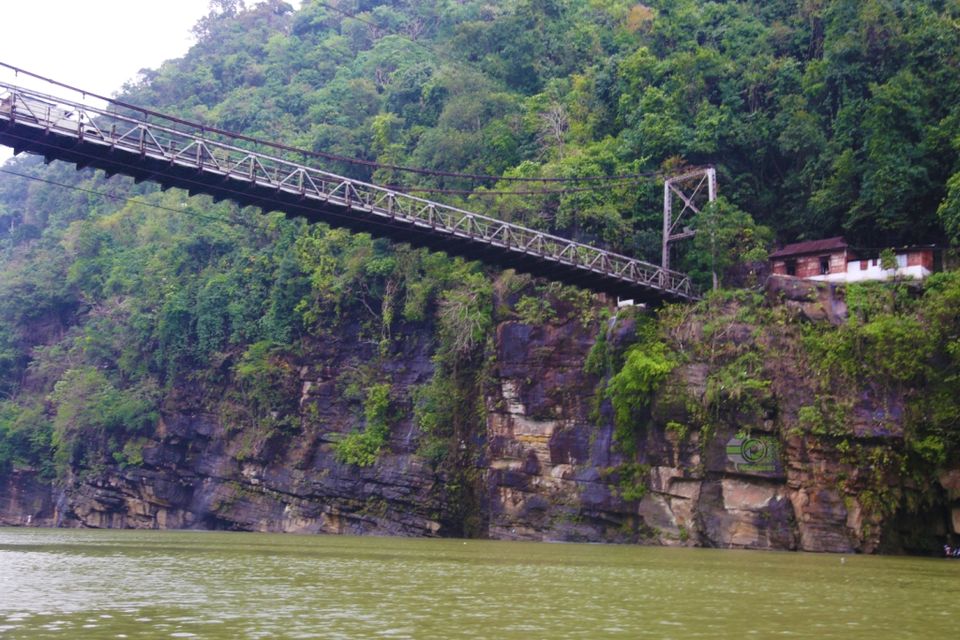 The rain stopped for a while and again we were on the boat to go ahead but this was not over yet another shower and we had to return back to the starting point as there was danger that the water level might rise. Well this was a wiser decision and we went back.
So we wanted to check this place and it was done, now was the time to go back to Mawlynnong. All wet, tired and cold got into the car and with a thought that now the home awaits and the warm bed might be ready we drove off. But first we had to go to Pynursla to get the spare flat tyre fixed and from here we knew we were just 18kms away from Mawlynnong. We had driver who spoke a lot did a little and on whom we relied, he said just 18 kms more to go. We crossed a direction guide board which none of us could read as it got dark and it was around quarter to 7. Binita, sitting beside the driver in front seat even said the driver to stop and see the direction; on which the driver very confidently said 'this is road and I'm 100% sure'. It was now 8 and we had not reached Mawlynnong and wondering its taking quiet long to cover 18 kms. It was dark and we could not see any sign of settlement, no huts, no lights, no vehicles and nothing; just the dark and lonely road. Now we all had a question 'where are we?' and 'where are the villages we had crossed on way while going?'. The driver was still very confident about the direction, we sat silently and we knew we were lost except for the driver. Finally we could see some lights and crossed a check post which was new to us.
ACCIDENTAL VISIT TO BOPHILL FALLS:
We were tiered after the day full of adventure and did not know what was waiting for us next. Soon we realized we were on a suspension bridge and we heard was gushing of water very profusely and this was a place we had not seen and never imagined. The window glass went down all of us peeing out, it was pitch dark, no sign of moon or stars and what we saw is once in a lifetime thing. In this darkness was this waterfall shining and we could see the whiteness of the water. What a scene it was all of us were scared, our hearts in out mouth yet we all had just one word to say 'WOW'. Even though scary but we were all mystically amazed by this scene. It was Bophill falls; I must say it's one of the most thrilling beauty that I came across in this trip.
I would recommend all the adventure seekers to visit this place when it's dark. It's scary but at the same time it's mesmerizing. Next step was to take a u turn and search for the correct route back. So now we realized we have smart phones and GPS, with just one tab and phone alive we headed back.We were 4 friends, 2 were scared and speechless, the only boy in our team was silent and worried and I had very furious and thrilled too. This place is after Lyenkhut and the road will lead you to Dawki. On way back we were more alert and the driver was now silent so we just got down at a village and asked for the direction. So finally we were on track and reached Mawlynnong by 9-9:30. As soon as we got down the car it started pouring vigorously, there was thundering and the road which was crowded in the daytime was now empty. We got wet again but we were glad we didn't have to spend the night in the car. Good to see the happy face at the homestay all that we wanted now was a good warm dinner. Time to go to bed but none of us could sleep, it was thundering and lightning and raining heavily; we had a day full of real adventure. I couldn't ask for more adventure now. So another advice is ready with the road map instead of totally relying on the driver.
Note: be ready with the road maps of the main route and alternate routes too. Keep a track of the route and keep asking the villagers on way.
DAY 3:
MAWLYNNONG TO CHERRAPUNJEE
This was a morning in the abode of clouds as I peeped out of the window it was all clouds, I could not even see the house next door. It started raining and I kept watching the rain drops, I could see the leaves dancing by the air, the clouds flowing by the wind, the raindrops kissing the ground and the thunder just trying to frighten me. I loved the morning rain felt every drop as I heard them falling. I couldn't ask for anything more beautiful. Lying on my bed I kept watching the rain.
Even my friends woke up and now we were ready to go for a stroll in the 'God's own Garden'. It was 7:00 in the morning, we took our umbrellas and after a cup of coffee and a bowl of Maggi we were on to amble over those clean roads. As we walked down the road we saw the real neatness of the village. The drainage system was so well developed and boundaries of the houses were just the natural rocks and plants and yet it was so safe. This was a true silent morning, least number of people on way, dustbins at every 50meters and houses so neatly done. I am falling short of words to explain the neatness and simplicity of the village.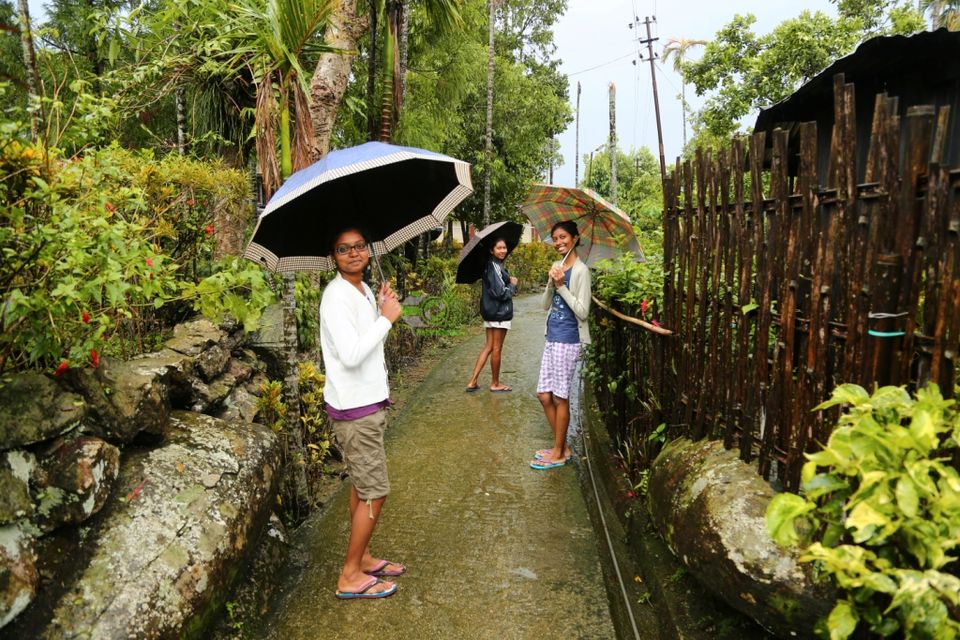 Rain walk
We walked around the village and saw the architectural beauty as well the nature's blend. The people were busy with their morning work and we explored yet new roads in the village.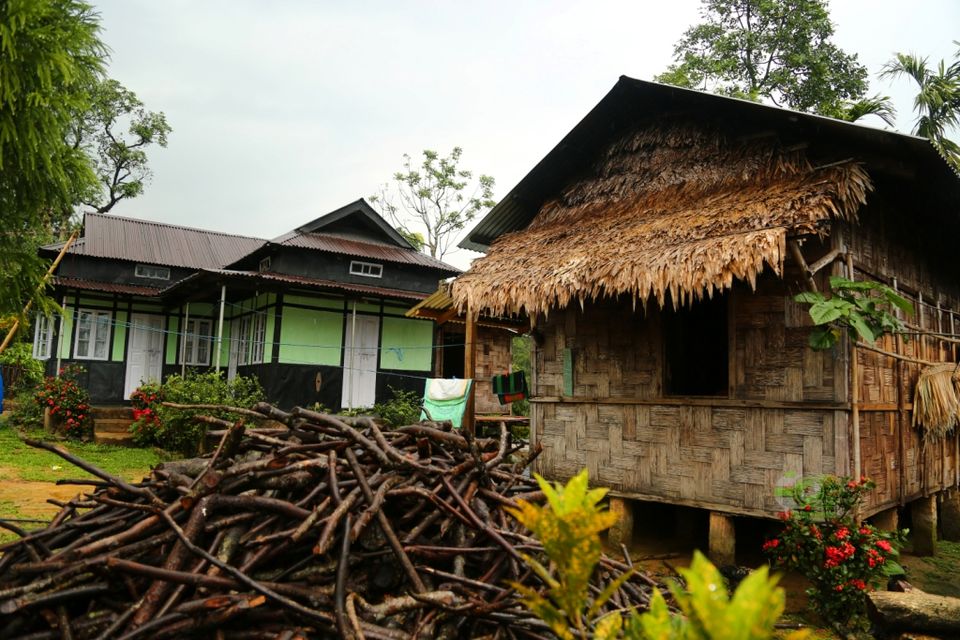 Simplicity, ethnicity and elegance
We explored almost every end and even reached the village down which was so untouched by the outer world which was so realistic to see. It was time to leave this pretty little village.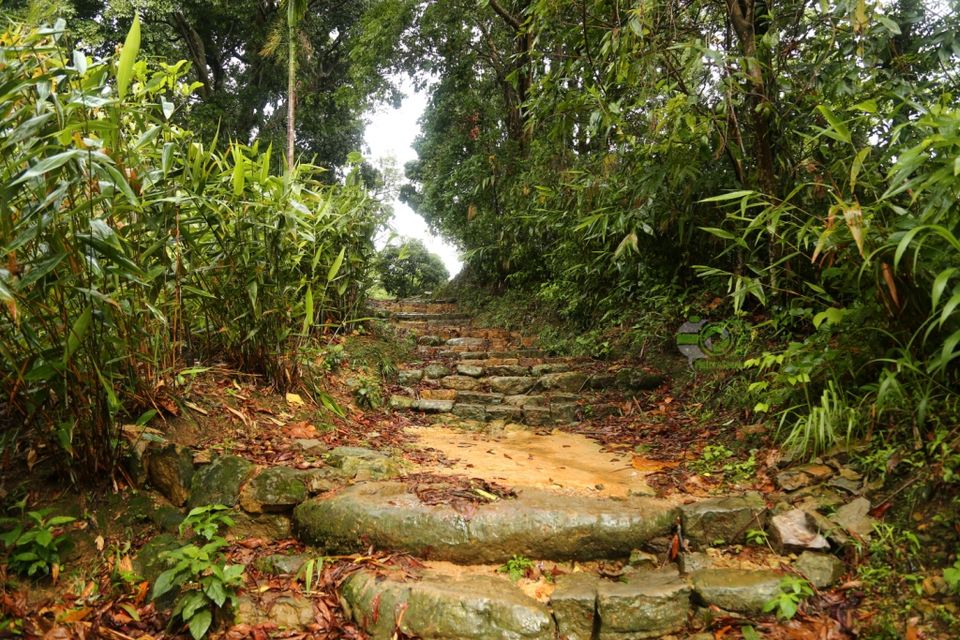 The path untouched.
By 9:30am we left Mawlynnong and ready for another destination. Next was my favorite and my dream destination, Cherrapunjee.
It was nice clear weather when we started and not even half an hour and we were again covered with clouds we had to skip all the viewpoints on way. It started growing cold and visibility was zero. We stopped by a village and we were thrilled to see not a single human around. It was scary all covered with clouds only the dim lights of the vehicles crossing were visible. We just walked on the road in search of just nothing; we even did not know the name of the village. As we moved on it was drizzling and what we saw was a small hut in blue color and a small veranda in front with few planters and a small pond beside it was just like the story book picture.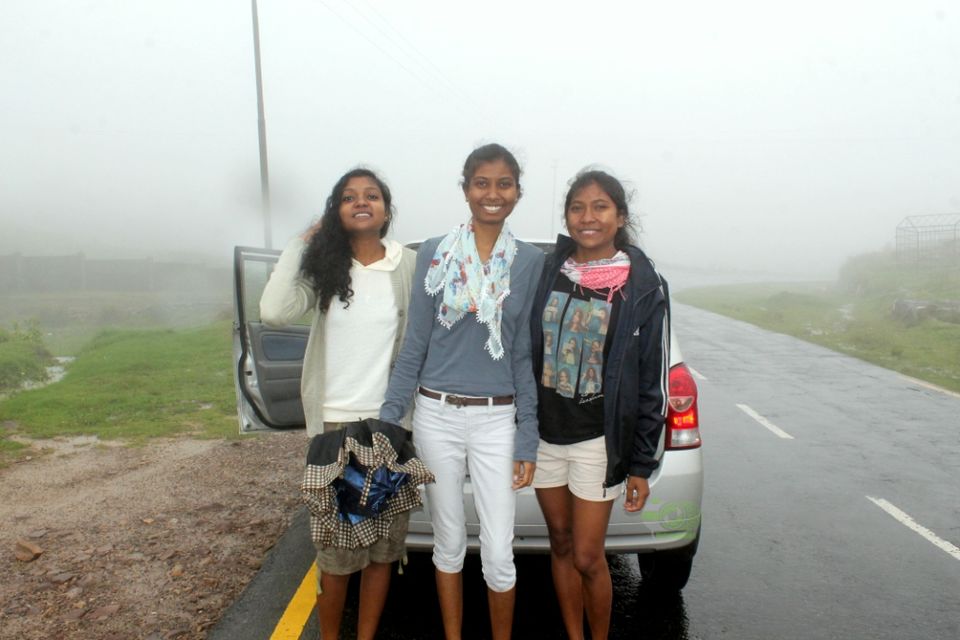 Unexplained adventure point :P
Soon we were at Sohra.
To be continued in Chapter 2
Picture Credit:Bikram Khalkho
Visit his page @ https://www.facebook.com/picturespeaks/