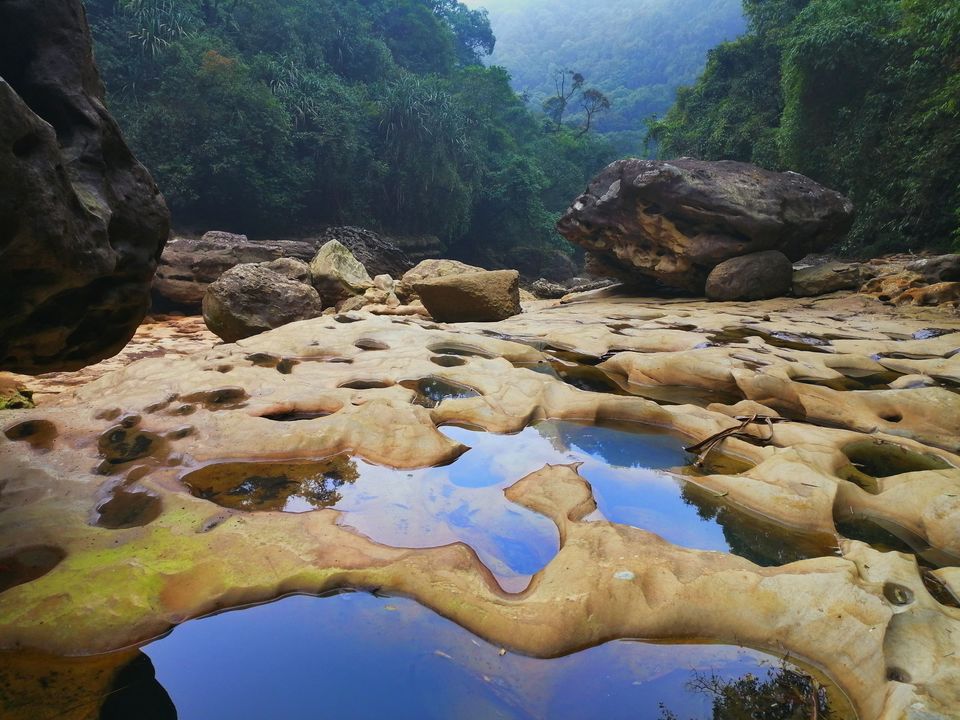 Hi ! welcome to My Meghalaya blog part 2
If you guys did not checked my Part 1 blog then please go the below link to read part 1

https://www.tripoto.com/trip/our-last-trip-before-lockdown-northeast-meghalaya-part-1-5f60a90fea610
we ended last blog when we reached Cherapunji end of the day 2 of our trip.

Day 3
Seven sister falls-
In the morning after having breakfast,starting the day with Nohsngithiang Falls, also known as the Seven Sisters Waterfalls or Mawsmai Falls. It is called seven sisters as it's a seven segmented waterfall, falling from a height of 1033 feet.
The falls plunge over the top of limestone cliffs of the Khasi Hills during the rainy season. In full spate. Otherwise, you will only be able to see the thin waterlines.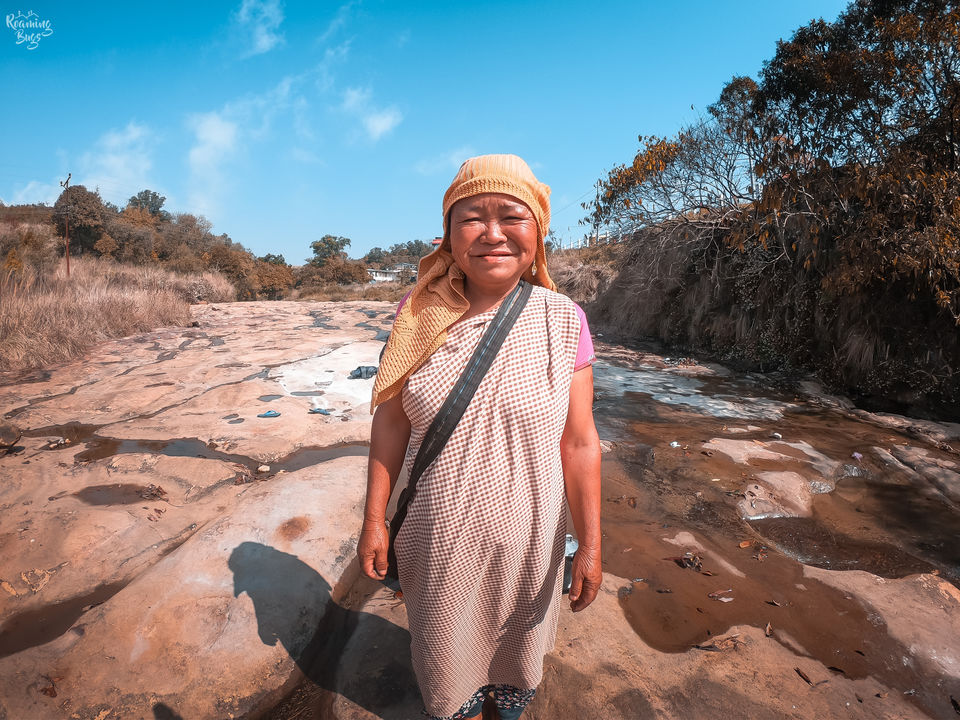 Mawsmai cave-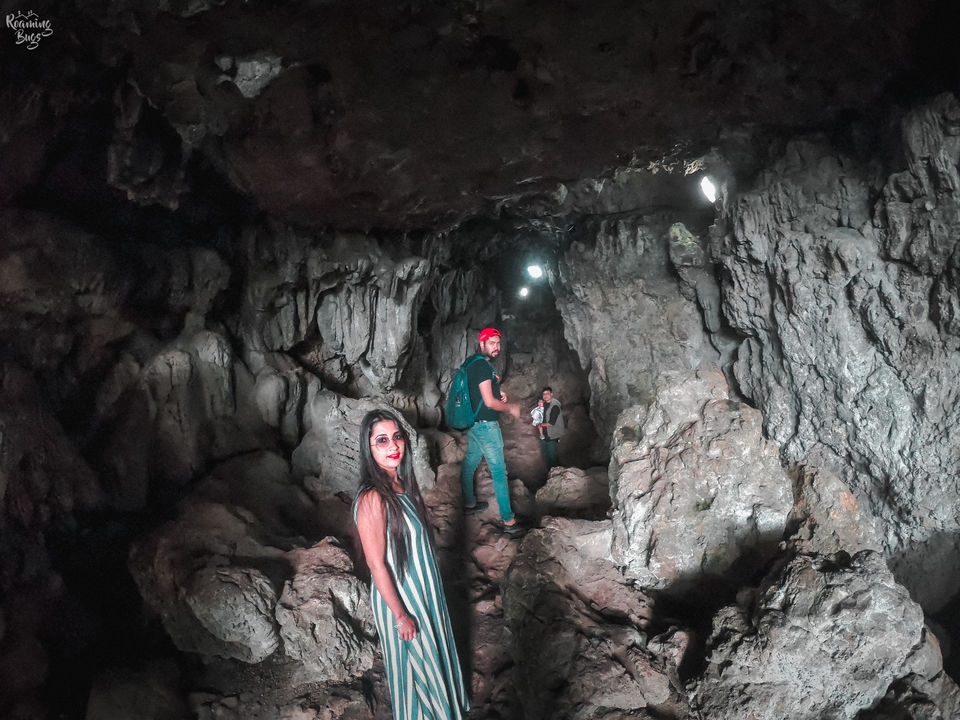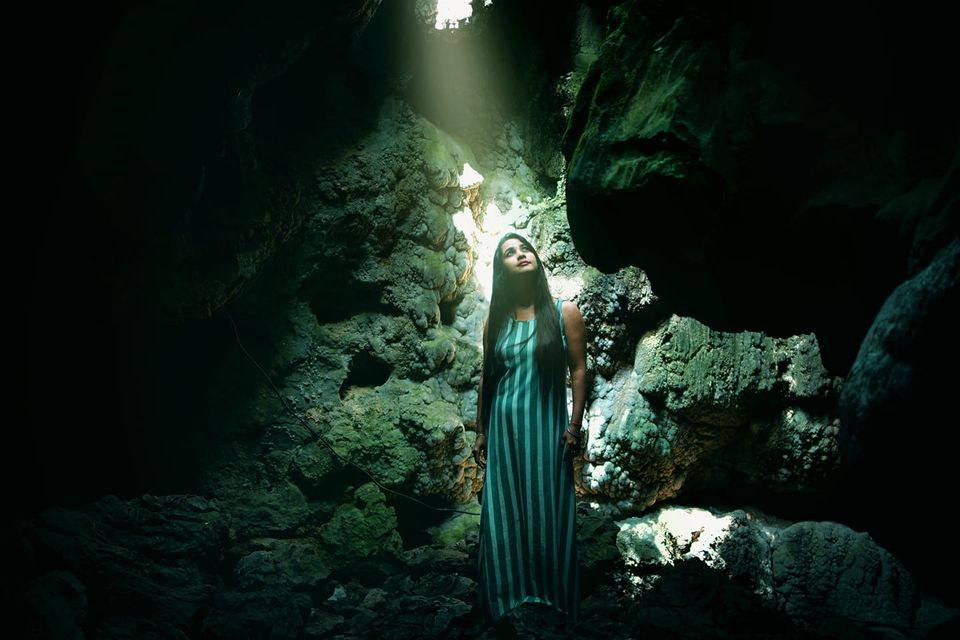 Within 1 km distance, Mawsmai cave is a wonderful result of natural abrasion. The cave is one of the must-watch places on our Meghalaya trip. Being one of the oldest and easily accessible caves in the region makes it a major crowd-puller attraction.
Caving is always a prioritized thing in our adventure list. I assure you this cave does not disappoint you. From the entrance point, well-directed stairs help you to reach the main entrance of the cave.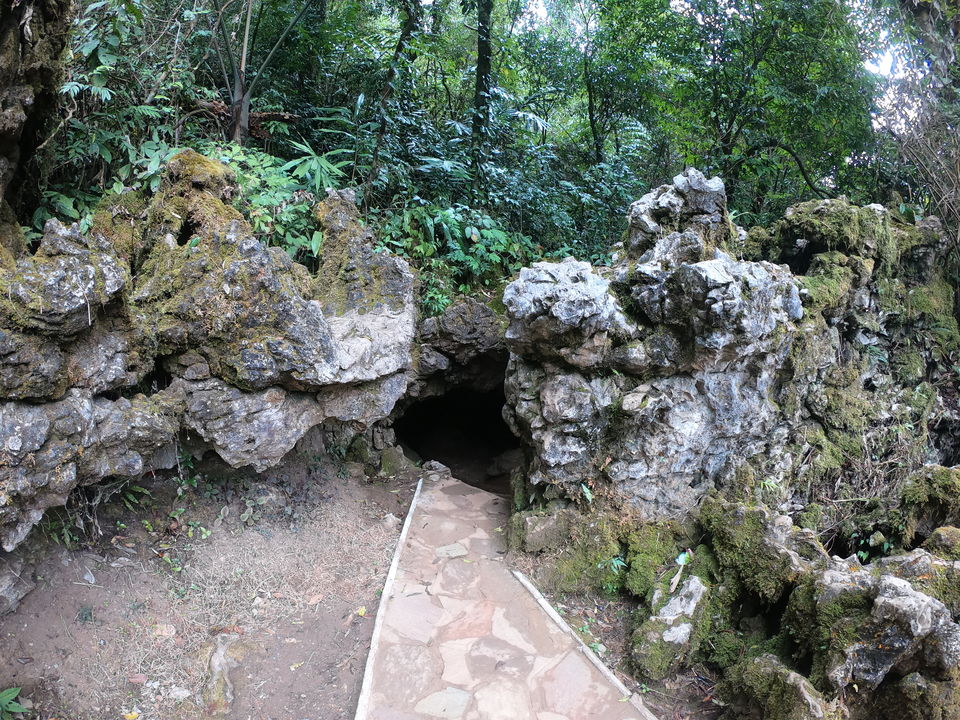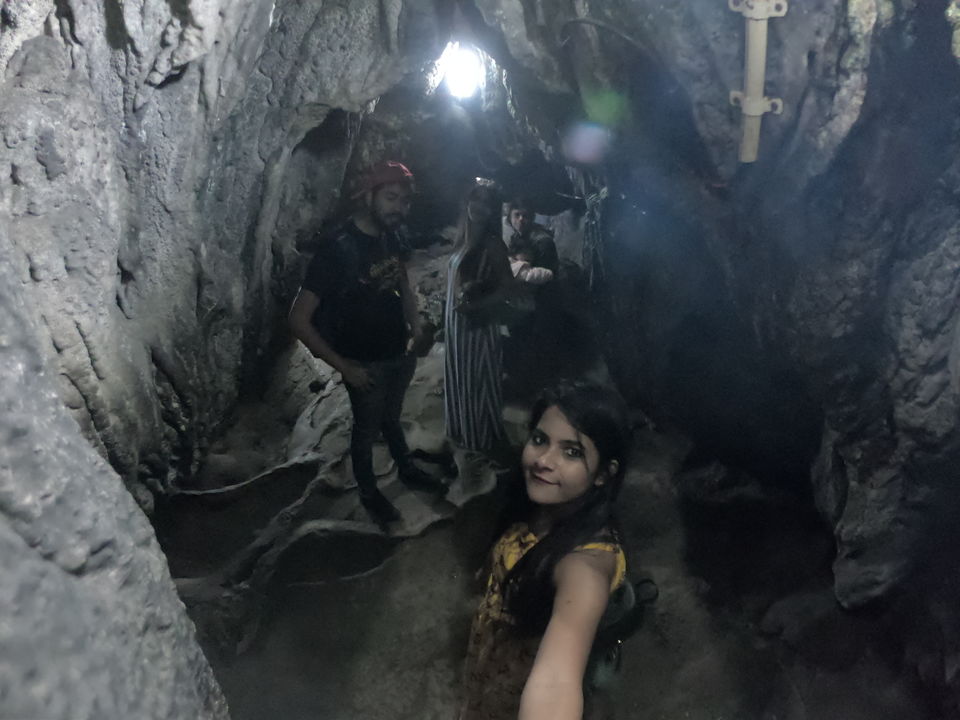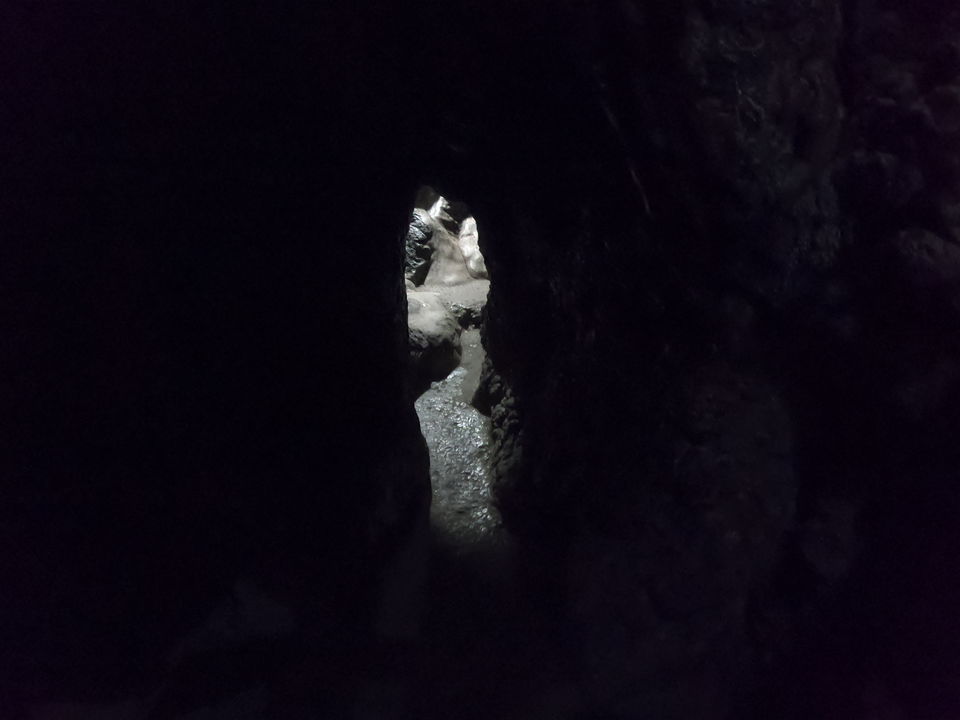 Then Narrow cave lanes throw you off to a completely dark world, you only are able to sense some damp smells from stalagmite walls, and your hands only feel some mystical texture cave wall.
Undoubtedly the cave paths Were dark, but the small indicator lamps lead you to the end. That journey is mesmerizing and one of the most adventurous moments of our trip.
It is a 10-15 mins walk inside the cave, if you are claustrophobic and unhealthy physique then will suggest avoiding going inside, There is a network of underground caves which is sometimes scary. Just make sure it's not the monsoon time as water fills up the cave and it gets shut down for visitors.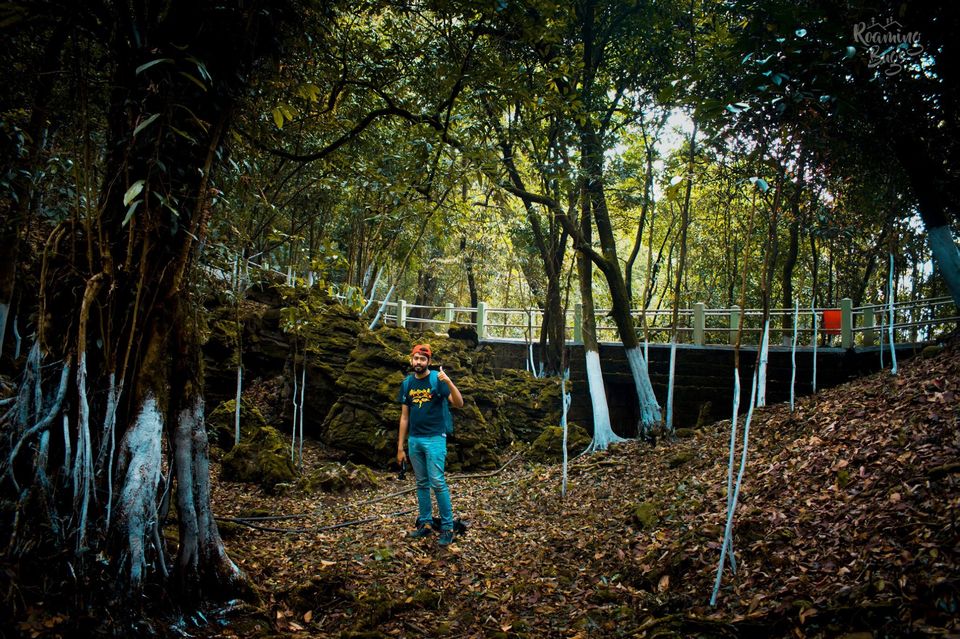 Ecopark-
Where you are seeing the nature's awestruck creation, to beat them equally Government of Meghalaya designed the Eco Park .it is one of the popular tourist attractions of Cherrapunjee from where the visitors can enjoy a lovely view of the 'Green Canyons' of Cherapunji along with the waterfalls that are located nearby. It also has a crystal clear water stream in its boundaries. Right from the other side of the park, admire the amazing views of the plains of Bangladesh. The park also has a vast variety of indigenous orchids given by the Shillong Agri-Horticultural society, placed in the Green House of the park. This unique park is a newly developed place apt for the kids and old age if you are traveling with family having kids and old family members.
Nohkalikai falls-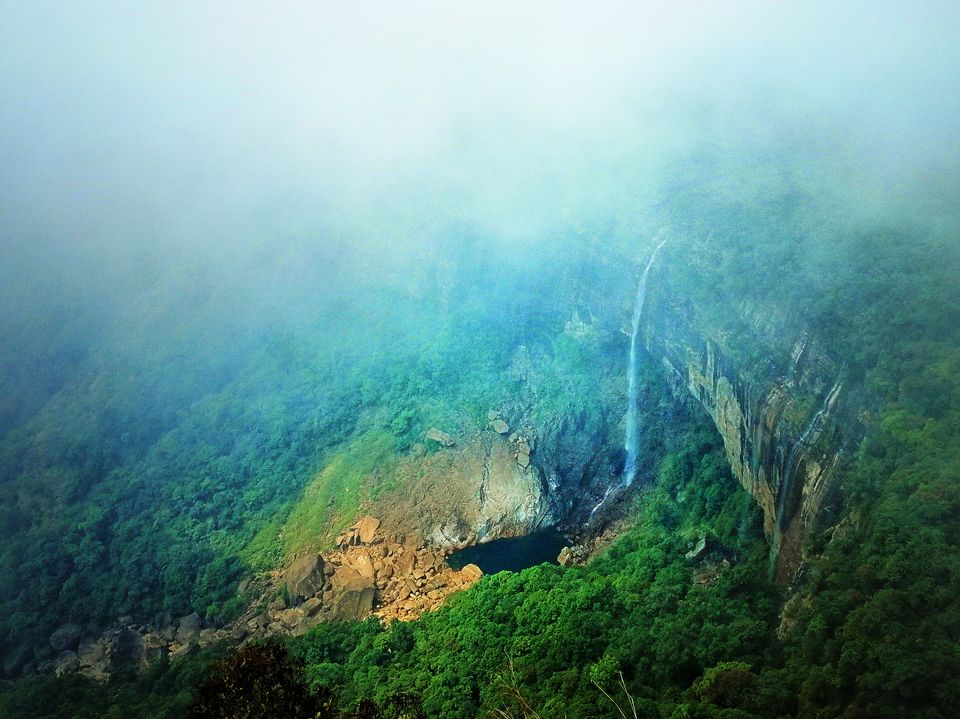 It is more than 30 minutes drive from Mawsmai village, one of the tallest plunge in India (340 meters). Situated in East Khasi hills.there is a story behind the naming which you might know but who do not know here is the story, It is said by locals that A mother "Ka Likai" fell from here, as her child was being killed by her new husband. in spite of jealousy, he killed her daughter and fed her to the mother. the mother got mad and in grief jumped from this place. the place reflects the grimness and melancholy of this place at the same time. Alongside the beauty shines through the valley. The playful clouds added a mystery for this waterfall.
Tlai falls-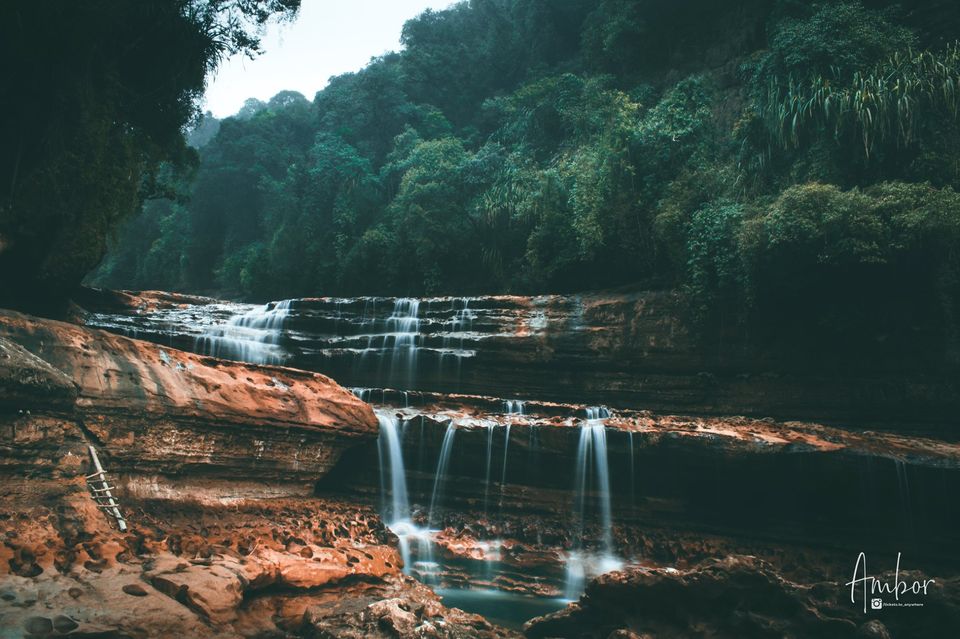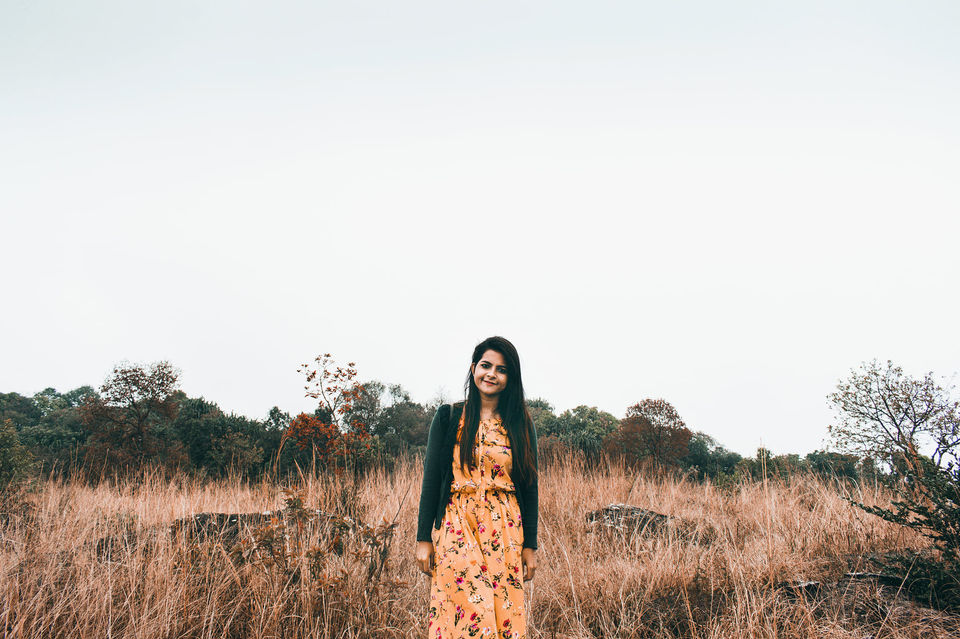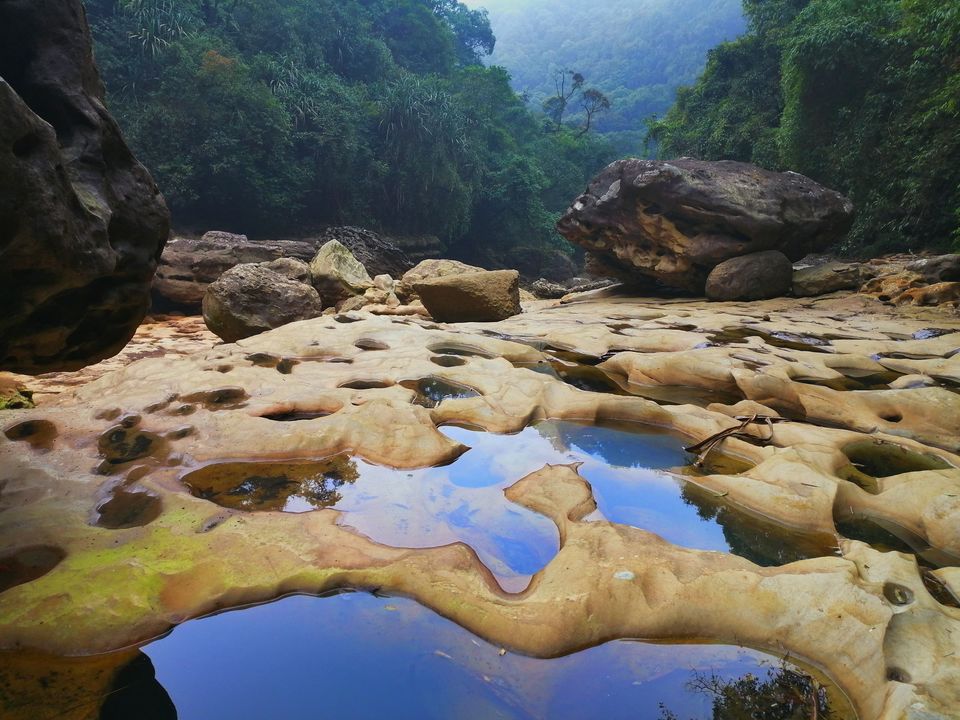 One of the hidden beauty of Meghalaya, it is still untouched by many tourists as only adventure seekers and locals can visit here. we come to know this place from the photograph of the falls in the ticketing counter and recognize the photo that once we saw on the internet but there weren't many details of it. The guy issuing tickets and pointing some directions which draw on the stones indicating the correct direction. The path starts with a beautiful flat grassland later by descending a hill, covered with trees, where sun lights hardly reach, as a result, there are damp slippery stones and muds to make you unstable if you are not careful. this 45 minutes path will take you to a completely different world.at the bottom of the hill, you will find a river bed ,unusually shaped stones with holes. On the right you will find a spectacular 3 tiers waterfall Tlai, on the right after some more 60 minutes you will reach to the top of Nohkalikai falls.in the entire trek you will be able to find a number of fossils which is to believed 70 million old.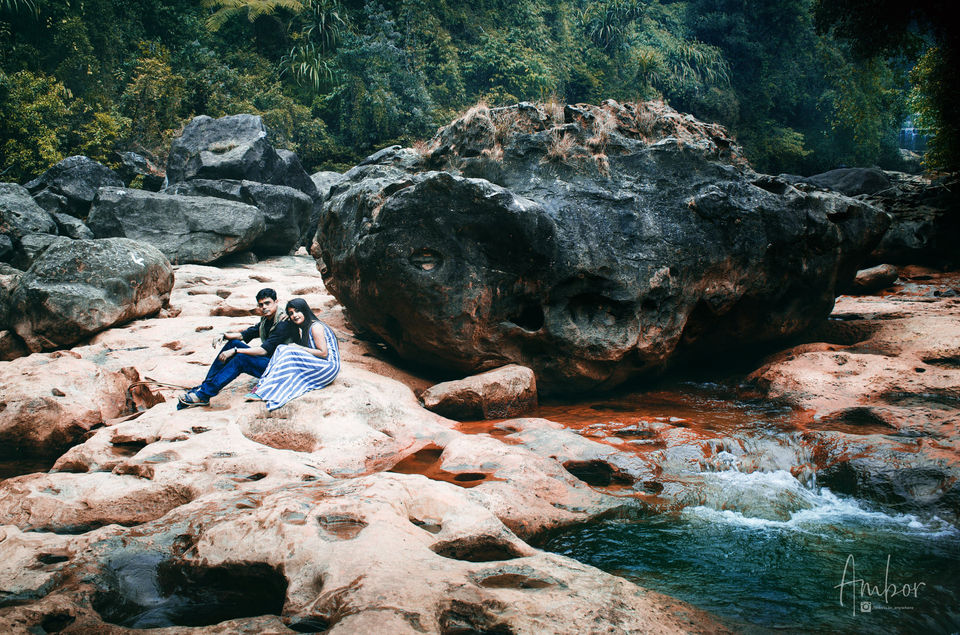 Daintlen Falls-
Just before reaching Sohra, a road to the right leads to the falls which are 5 km away. The waterfall derives its name from a Then or a snake of gigantic size which dwelt in a cave. Legend has it that the people destroyed the snake in order to rid themselves of its reign of terror. Adjacent to the very spot where the Thlen was slaughtered lies the Dainthlen Waterfalls. image of the Then, the symbol of greed, corruption and evil.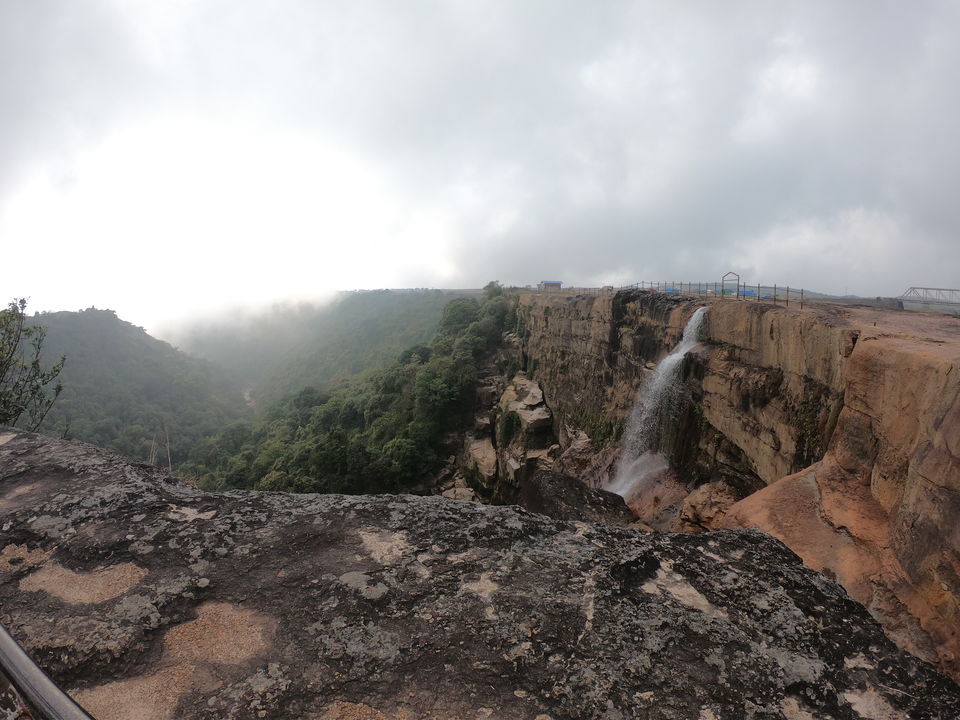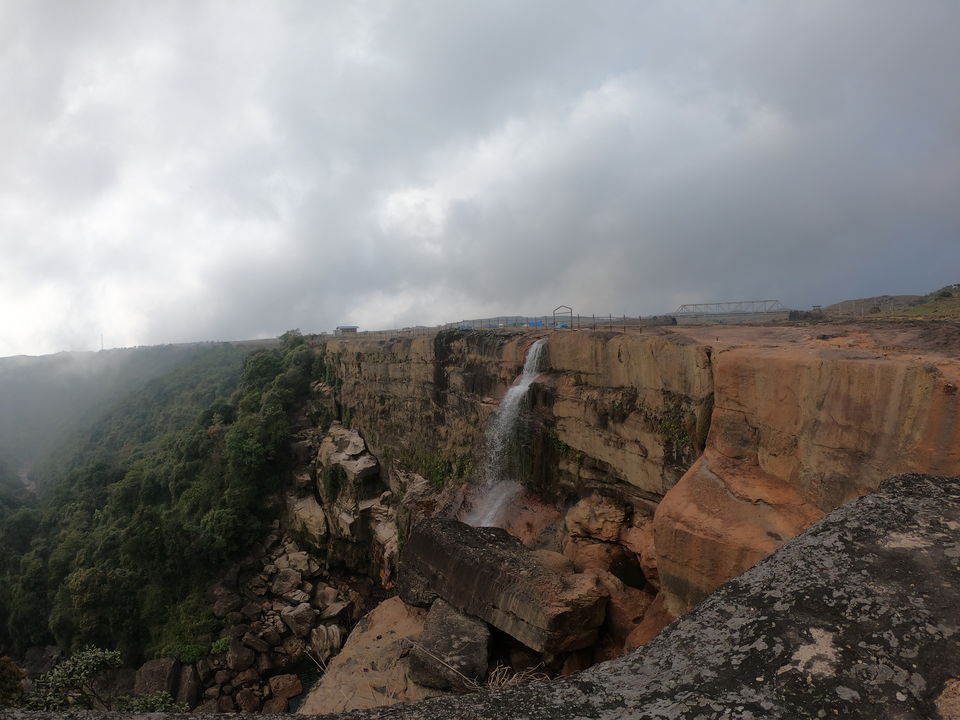 As we were not well prepared and unknowingly found the hidden treasure of Tlai where we spent almost 2 hours, we missed another spectacular falls name Wai Sadong, which we had planned to see on that day. As it is getting dark there is no option left we just came back to our hotel around 6.When we are discussing not being able to visit wai sadong falls, mother nature has some different plans for us.we are having tea in the viewpoint of Seven sister falls and mesmerized by sunset chatting with family.
We often forget to pause and enjoy a place peacefully for a moment while traveling, we are lost in hopping one place to another as there are so many things to explore in such a short time, but it is also important to stop at a point and just relax and enjoy the beauty of nature that the mother earth has to offer us. we had the same experience in that evening which faded away from the loss of not being able to visit wai sadong falls.
Day 4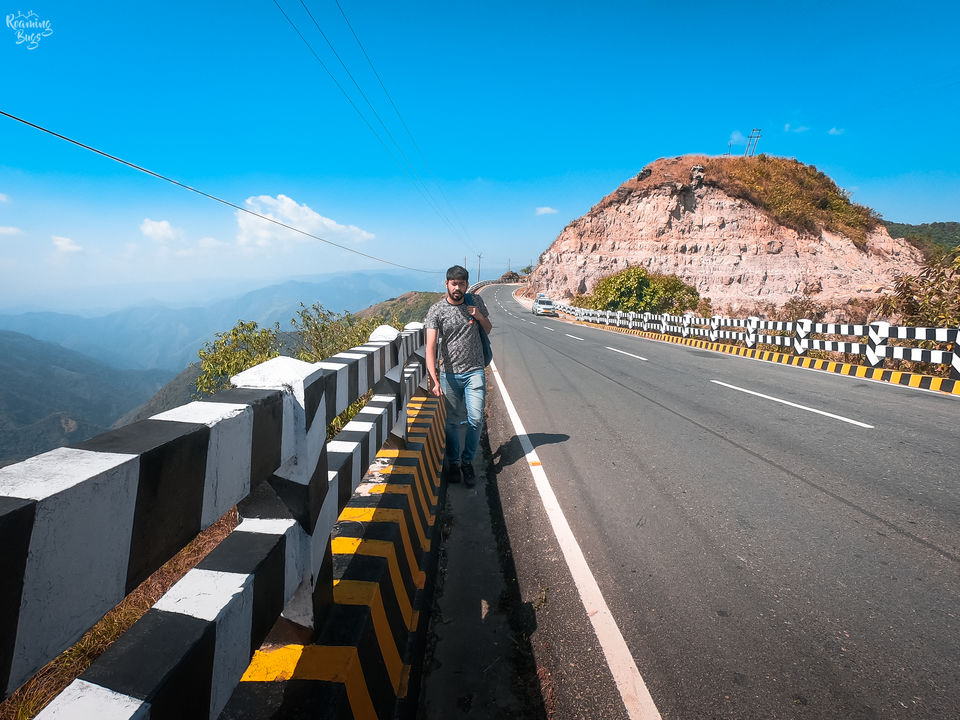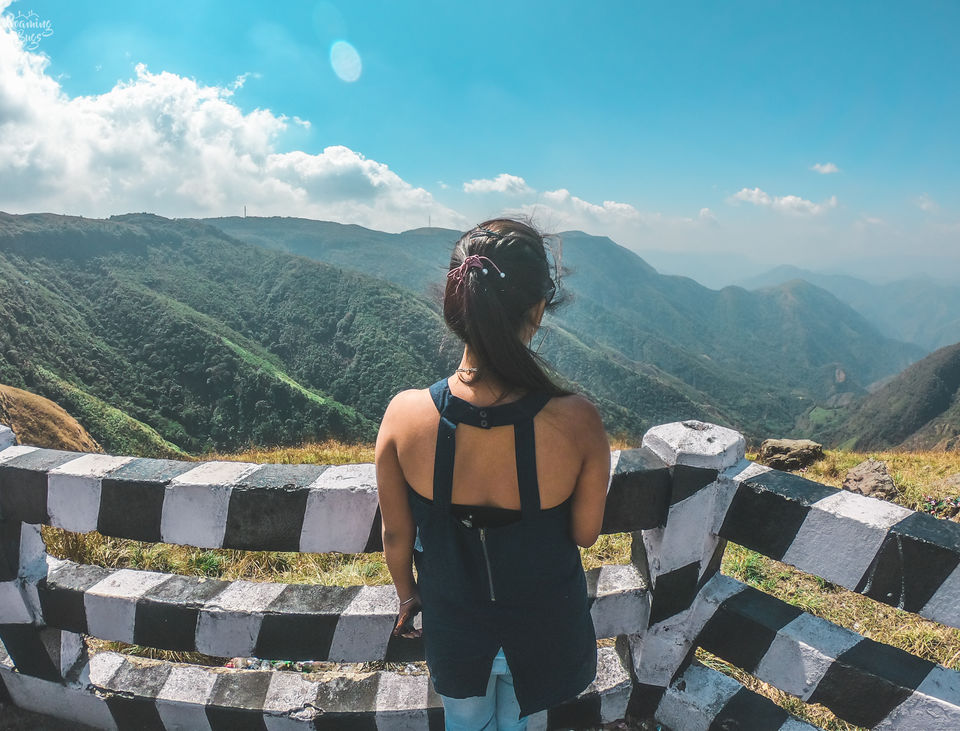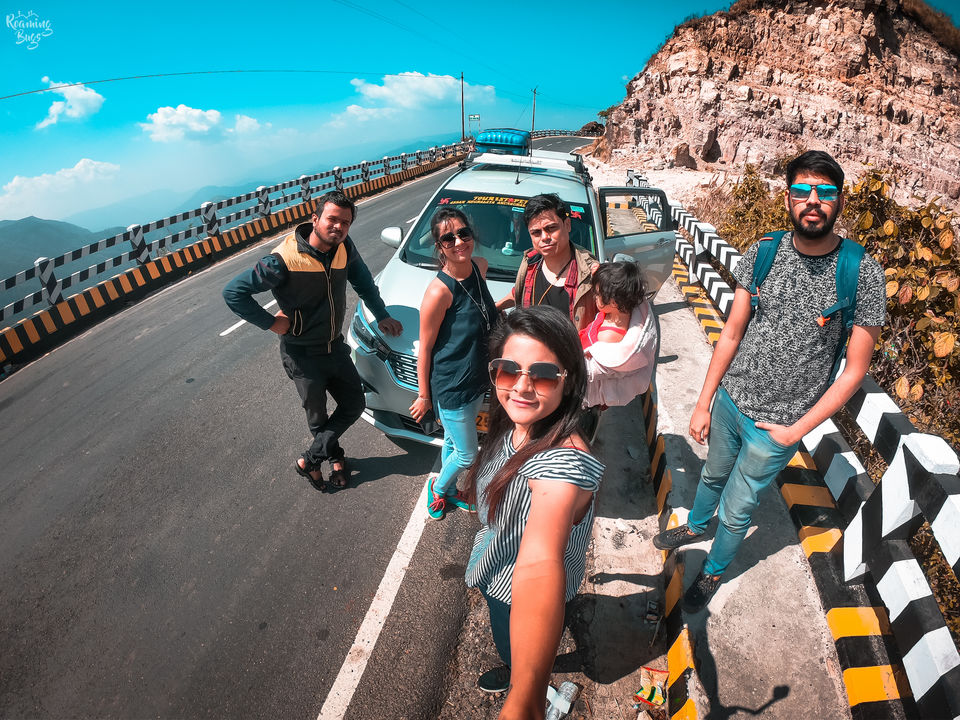 Next day we leave early as we need to cover 85km almost 4 hours journey to the border of Bangladesh, Dawki. It is situated in West Jaintia hill.
Dawki-
Dawki is known for its pristine lush green surroundings, and it is truly a blessing in disguise! The town is not just a tourist attraction but also one of the nearest 'Gateways to Bangladesh' .This place is famous for Umngot River and its emerald green glass-like water.
In Umngot Riverbank you can literally see the other side and can shake hands with the people standing on the other side of the border.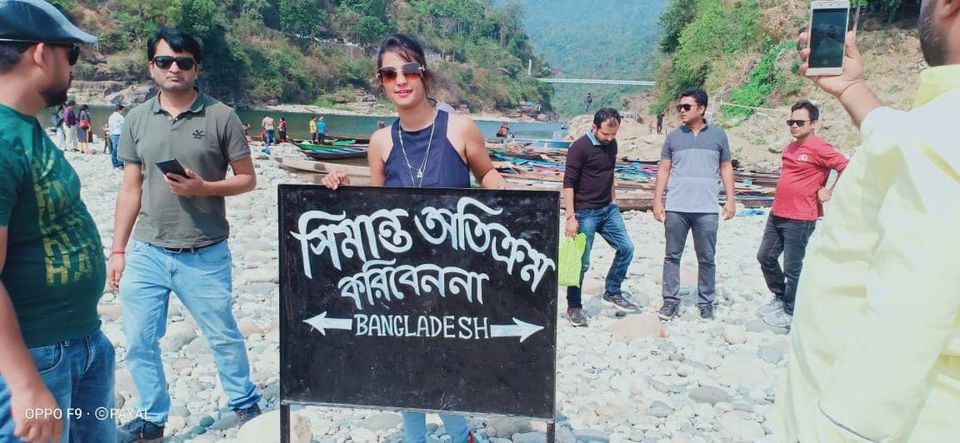 The most appealing thing is that the river has crystal clear water. When you look at the boats sailing in the river from a distance, it looks like as if it is floating.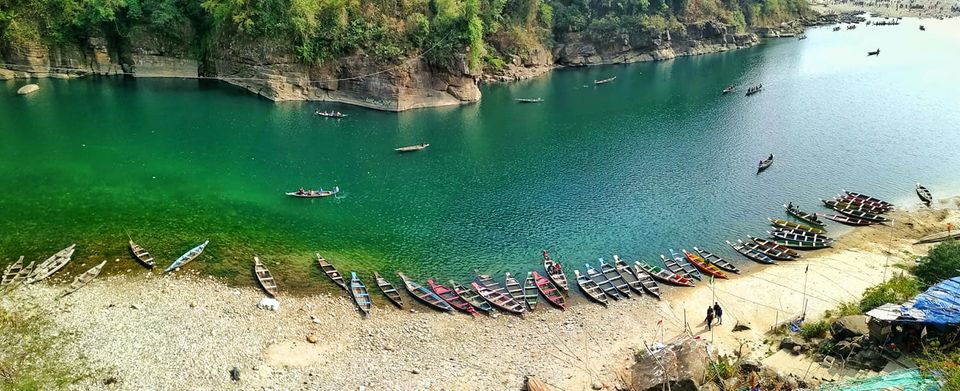 The other famous thing is it served as a trade centre between the two countries for a long time. Dawki is mainly known for coal mines and limestone exports which keep the trade between India and Bangladesh. In fact, it is the only place where there is a road route connecting to Bangladesh.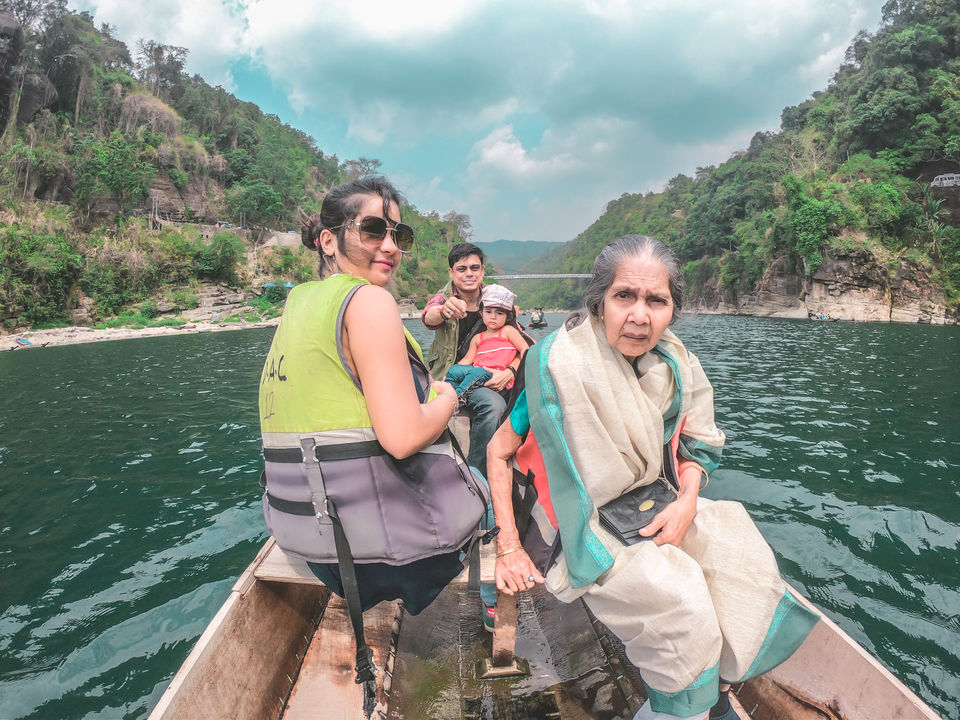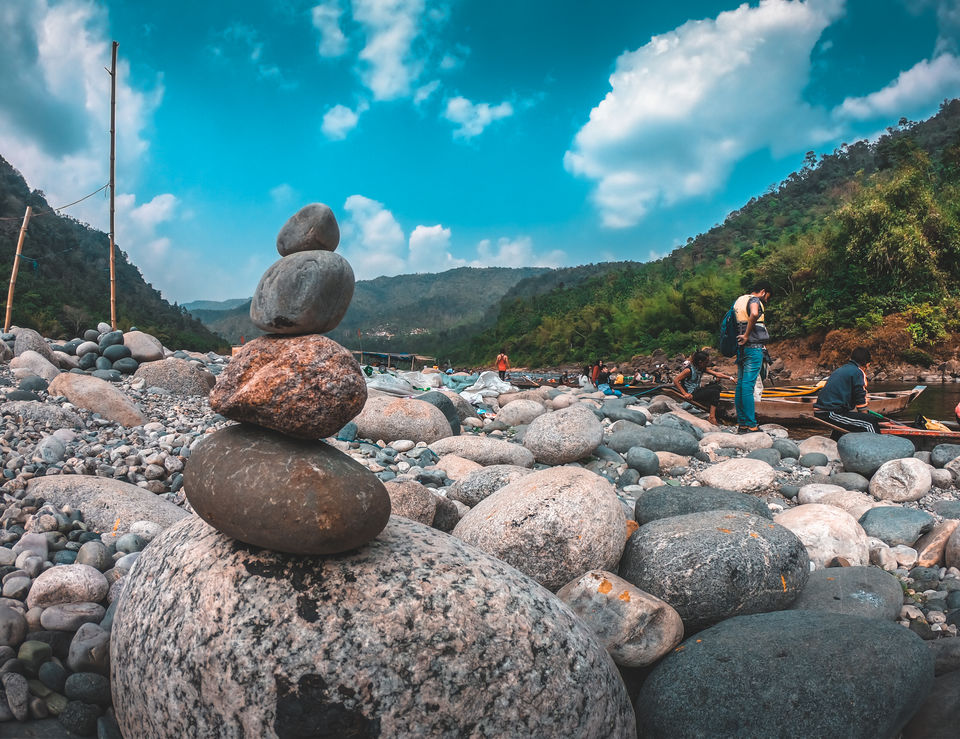 Dawki is also near to Jowai village which offers hidden nature and cultures of India for adventure seekers.
Krang Suri Waterfalls-
Less than 1-hour drive uphill from Dawki you will be reached to one of the most Scenic waterfalls Krang Suri. Water is less in the winter but it will be still worth visiting. the water is as blue as the sky. You can swim into the water or just sit and mesmerized by the view of the falls. whatever it is it won't disappoint you.
Mawlynnong-
The cleanest village of Asia of 2013 situated 2 and a half km drive away from Krangsuri.there are about 95 households mostly in Christians.there are 3 churches in the village. They offer homestays to the tourist as earning, apart from that agriculture is the main occupation. This place is ideal for relaxation in a village manner.
Near to this village, there are 2 tourist spot, one is living root bridge another is the sky viewpoint of Bangladesh. If you are unable to visit Double-Decker root bridge then you can understand the concept of the same by visiting this bridge. How do they make and maintain it naturally.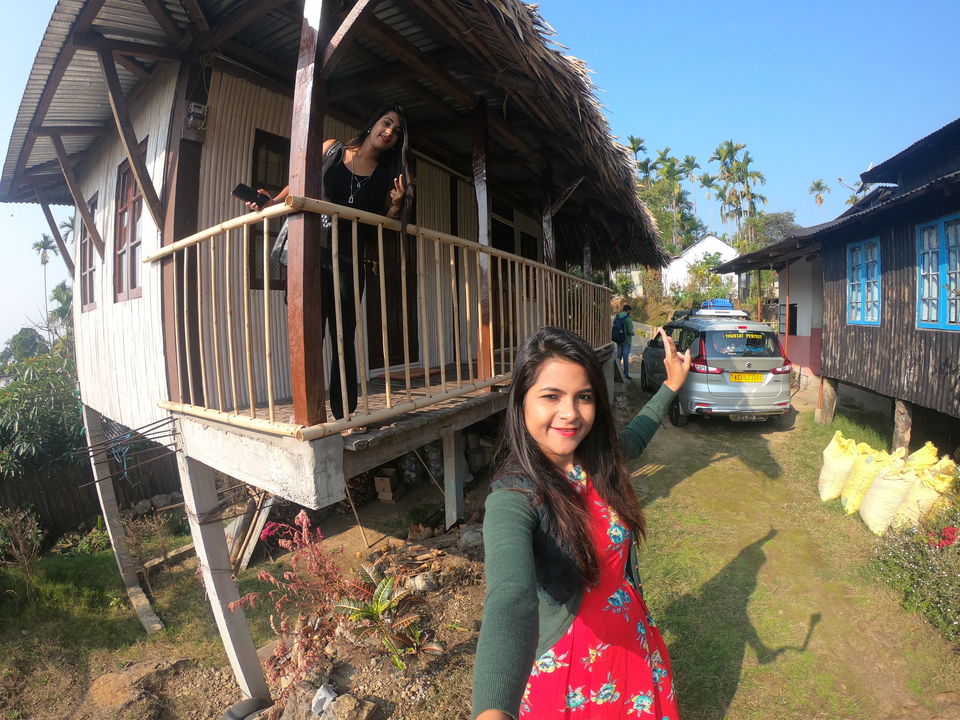 Day 5
Today we have our flight back to Kolkata at 9 pm from Guwahati. So we have a whole day in which we plan to visit Laitlum grand canyon on the way back to Shillong. We pack our luggage and leave around 8 am. Its almost 65 km drive away. Having our brunch on the way we reach the Laitlum around 11 am.
Laitlum Canyon-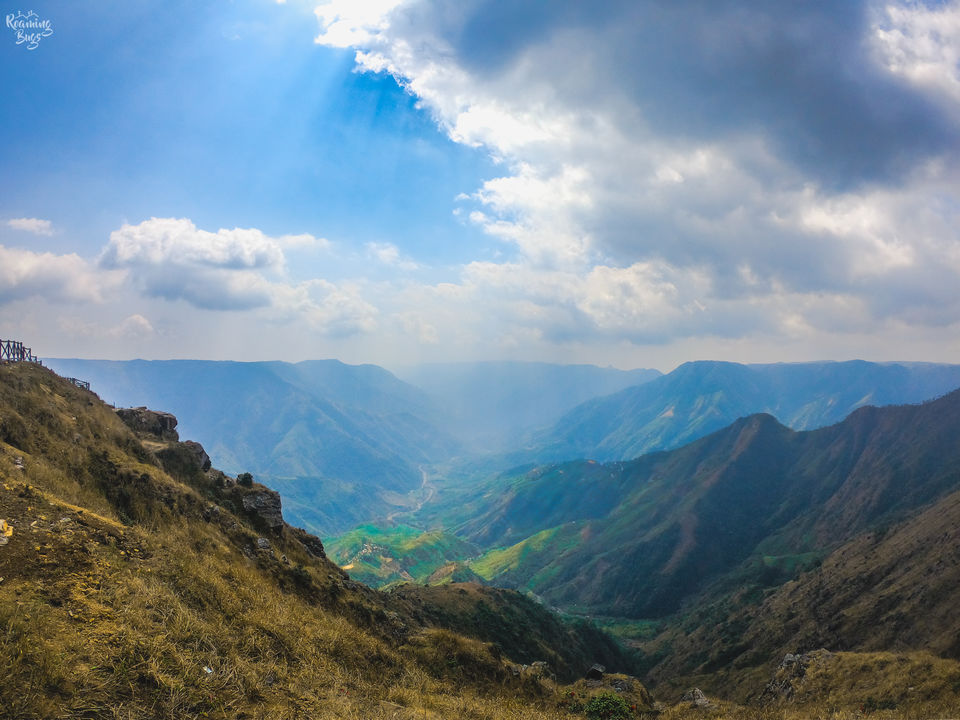 God's beautiful creation Laitlum is a hilltop area represents its name truly " end of hills". These scenic hill slopes called as amphitheater of Meghalaya, as far as you can see the never-ending hill slopes meeting with each other, streams flowing cutting through those hills.painted in lush green and earthy brown colours, in blue canvas.

spending Holi with the locals is one of the better way to celebrate. It would be the best if we could witness a clear view. After all, it is the abode of clouds how can one avoid clouds…!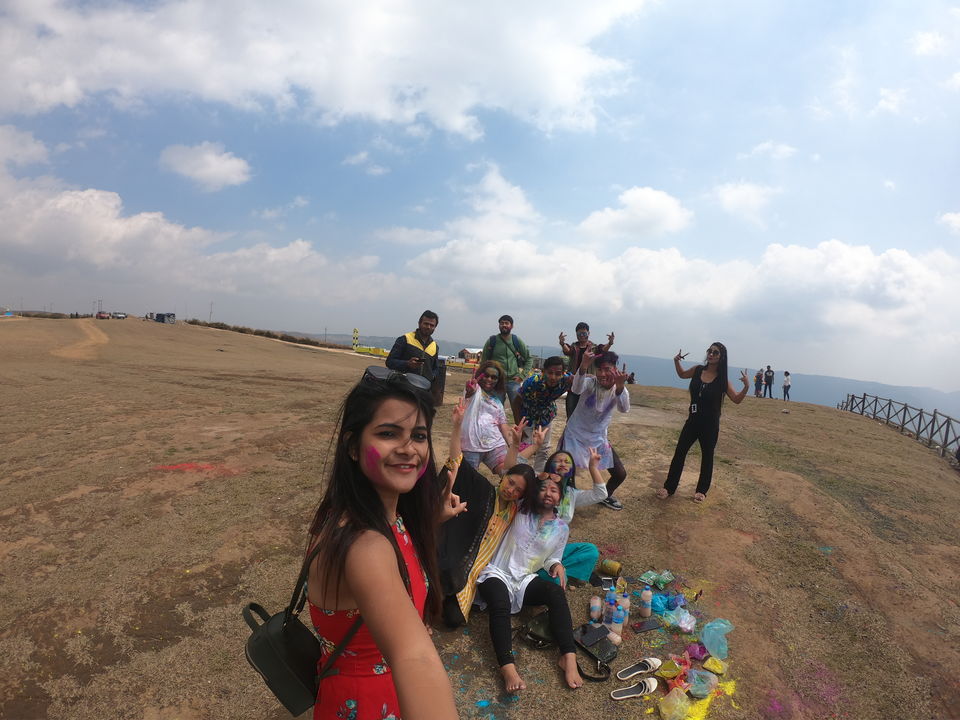 Cathedral of Mary Help of Christians-
Next and our last stop is a beautiful church situated in the heart of Shillong called the cathedral of Mary Help of Christians. It is the cathedral church of the Roman Catholic Archdiocese of Shillong and serves as the seat of the Metropolitan Archbishop of Shillong. Built by the first Catholic missionaries to these hills, the Salvatorians from Germany, it was the first Catholic Cathedral Church in what was then the Mission of Assam. The earlier 1913 building was a wooden structure. It was destroyed in the Good Friday fire of April 10, 1963. Later it is rebuilt on 1936. Besides being the pride of the Catholics of the region, the church has also become a great tourist attraction.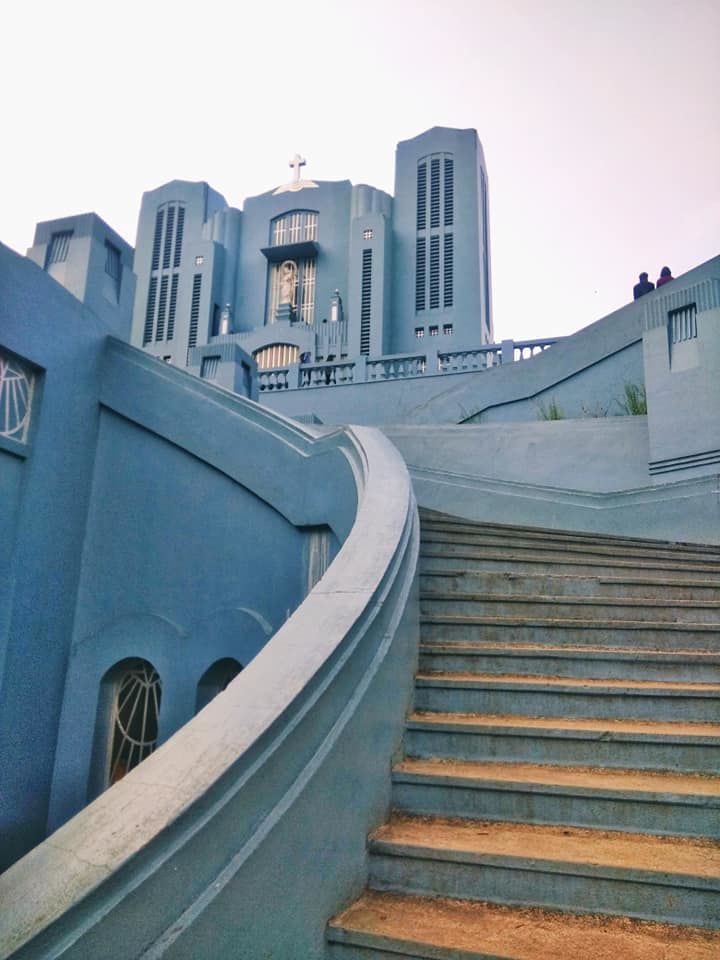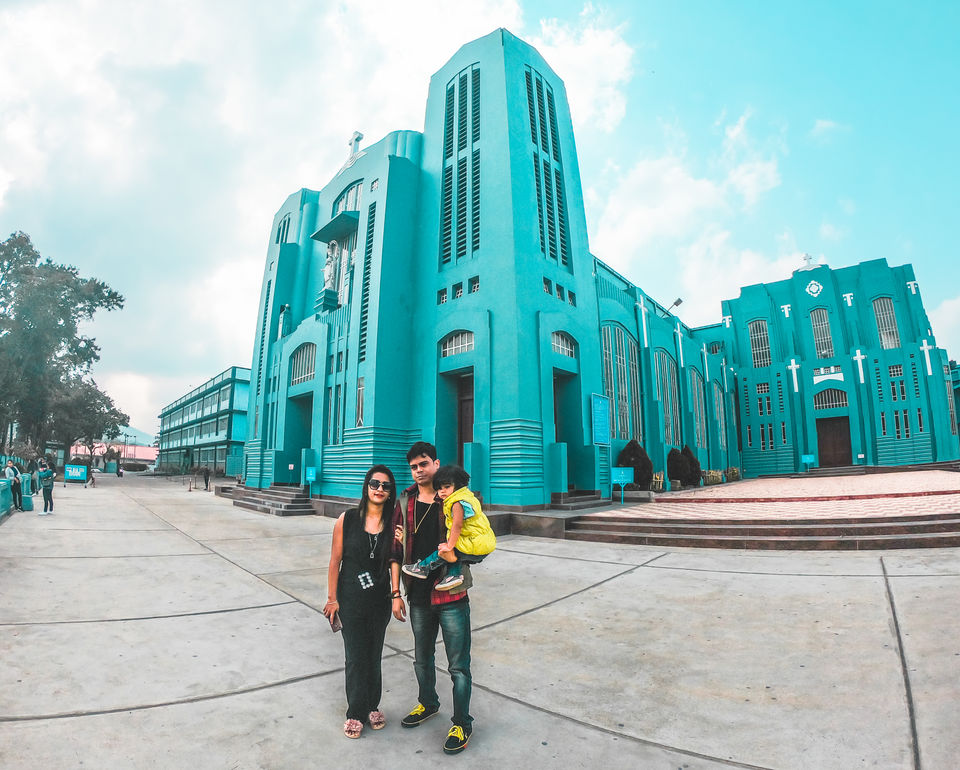 Heading towards the road back to Guwahati through which 4 days back we have started our journey made me nostalgic but as said-
"Goodbyes are not forever, are not the end; it simply means I'll miss you until we meet again"
We will come back soon to Meghalaya for more unexplored untold places to revealed.
Short Notes about the trip-
per head - 14000(for entire trip)

car-4800,hotel-1600,food-2000,flight-5000,others-600

Accommodations details:

Guwahati - Hotel Embassy /ambassador-
2800/2 room (2 double bed 1 single bed)
https://www.yatra.com/hotels/hotels-in-guwahati/hotel-ambassador
A big no to hotel -Oyo 38003 Bandhana

Cherapunji- Wet land homestay

1200/room per day (having 2 double bed room)
2200/dorm room (having 5 double bed )

https://www.goibibo.com/hotels/wet-land-homestay-hotel-in-cherrapunji-6669124307481687411/
Mawlynnong- Pumpkin Lumpyngngad Homestay

1800/Bamboo cottage

https://www.google.com/travel/hotels/Mawlynnong/entity/CgoI2e_jk-q23a4IEAE?g2lb=2502548%2C4258168%2C4270442%2C4306835%2C4317915%2C4322823%2C4328159%2C4371334%2C4401769%2C4403882%2C4419364%2C4424916%2C4425793%2C4427775%2C4432285%2C4270859%2C4284970%2C4291517%2C4412693&hl=en&gl=in&un=1&ap=aAE&q=mawlynnong%20homestays&rp=ELrVwdvJpozDORDT4KT8nc-WkzkQ2e_jk-q23a4IELK655Gk1KbWCjgCQABIAqIBFU1hd2x5bm5vbmcsIE1lZ2hhbGF5YcABA8gBAA&ictx=1&utm_campaign=sharing&utm_medium=link&utm_source=htls&hrf=CgUI8C4QACIDSU5SKhYKBwjkDxAJGAMSBwjkDxAJGAQYASgAWAGSAQIgAQ
Cars-
400 rs from guwahati airport to paltan bazar for 5 adults

20,000 for total 5 days (Innova car 7 seaterthe car )
the car was with us for the entire tour from Day 1 sightseeing to day 5 airport drop

Contact no. (you can contact him both the father an son duo are very helpful and humble guy )

Food -
400/day
others expenses (entry fee)- 600 rs

ATM Options -
Paltan bazar,Shilong, is the last ATM options. Please carry cash before hand from Paltan bazar as nobody will accept online payment.
Here is our instragram ID : enriyaque/ and tickets.to_anywhere/
https://www.instagram.com/enriyaque/?hl=en
https://www.instagram.com/tickets.to_anywhere/?hl=en
Follow us and Drop any query about The trip :)
Stay safe.Happy Traveling :)