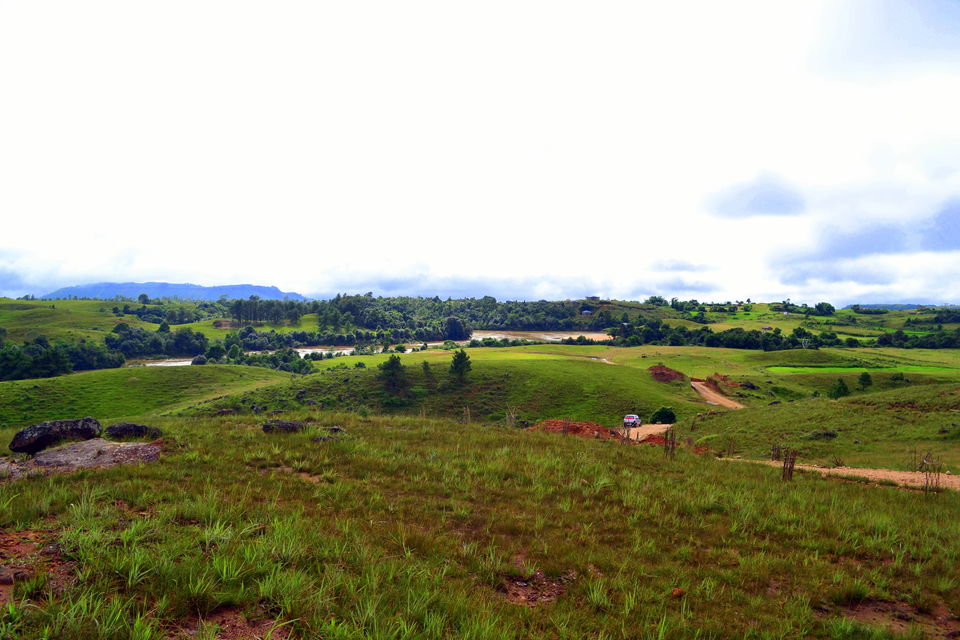 I had always planned on traveling to West Meghalaya, towards Nongstoin and onwards to Tura, but could never make a concrete plan. None of the frequent Shillong visitors in our small town had ever ventured to that part of the state. There was no need, they said. You will want to see Shillong town, the road to Sohra, Cherrapunji and probably Dawki if you have that extra bit of adventure in you. They were right, of course, in their own ways.
When I showed the location of Nongkhnum to my family, they were skeptical. They had played it safe all these years, like all tourists in Meghalaya, and stuck to the common path. The roads are unknown, the weather unreliable, and the people strangers. I would have agreed had this still been 1995, but technology had enabled us to travel beyond our wildest imaginations. People make bucket lists all off the internet, without the need for consultations or calling distant relatives. I convinced them and we were off the next morning, crossing Shillong just after eight.
Some of the skeptics were right, initially, on the road. At Mylliem, a small hamlet on the road to Sohra, we turned right towards Nongstoin, a further 84 kilometers away, and the smooth tar surface gave way to bumps and flattened stone-ways. All that ended barely ten minutes later when smooth roads greeted us again, and this lasted all the way till the diversion for Nongstoin.
Meghalaya had recognized its potential to reinvigorate the tourism with its borders. The land is brimming with an abundance of natural beauty, unexplored places and fascinating people and their worlds. A drive to Shillong from Guwahati is often described as the perfect cure for an urban overdose. You can watch the clouds descend upon Umiam and munch on some steamed corn, walk the stony roads in the city, stop for some of the delicious local food and visit the peak for one of the best sunsets over a city. These simple things in a simple region make everything so extraordinary.
The road to Nongstoin is patchy at best. The headquarters of the West Khasi Hills district has everything in modesty. Small and lodges that provide a clean stay and great but expensive food, tiny shops with all the requirements for that time and place and a barrage of taxis to take you to and from Shillong. We packed our lunch at Nongstoin and set off for Nongkhnum, another 15 kilometers away.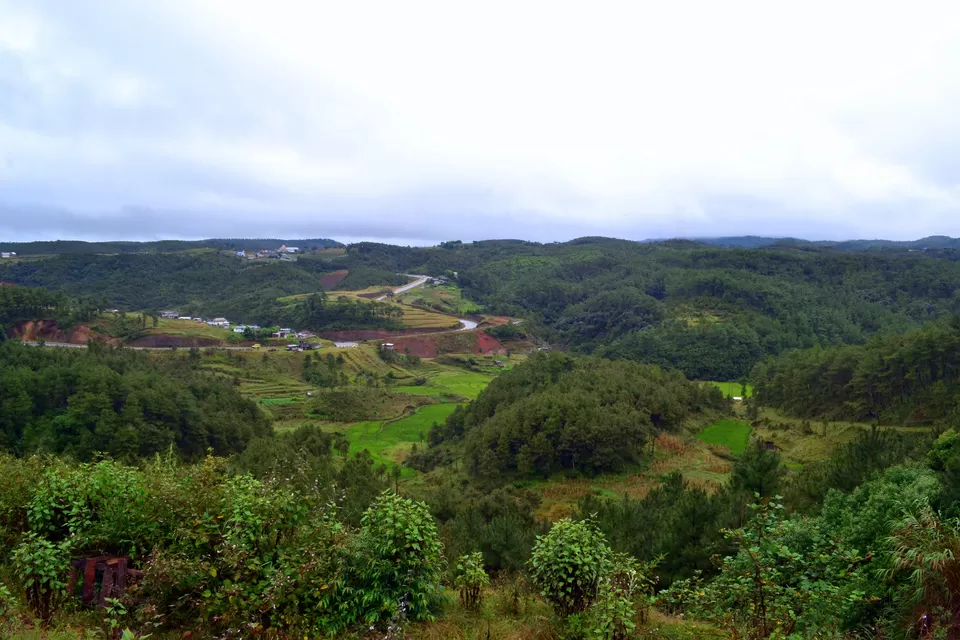 Nongkhnum is a river island, the second-largest in Asia after Majuli in Assam. The Wah Kynshi River meets a gorge on its path north and splits into two streams to form the island. There was no way to walk to the island a few years ago until the government erected a suspension bridge to the mainland.
The road from Nongstoin to Nongkhnum is in a really bad state. Heavy monsoons and a lack of maintenance have eroded the top layer off the surface, leaving the bottom exposed to heavy truck tires which ultimately results in large potholes. We crawled in our SUV till the diversion towards the island, where the road was much better.
Open hills with grasslands lined either side of the road. It looked like we were transported from Meghalaya to the steppes of Central Asia or the undulating hills of Scotland. The hills extend for miles ahead in each direction on the plateau, interspersed with a few hills far away. You could understand why the Colonials missed the mountains in Britain after seeing these places. The resemblance is astounding.
There are no people to be seen anywhere, just the road, grass and some cattle. We crossed two villages on the way, but given it was a Sunday, there was not a soul in sight. We reached the final descent to Nongkhnum and stopped for lunch, sharing food with the cutest stray dog I had ever met. We were careful not to litter (a major concern for state departments in the northeast), and made sure to keep the used plates and bowls back in our car.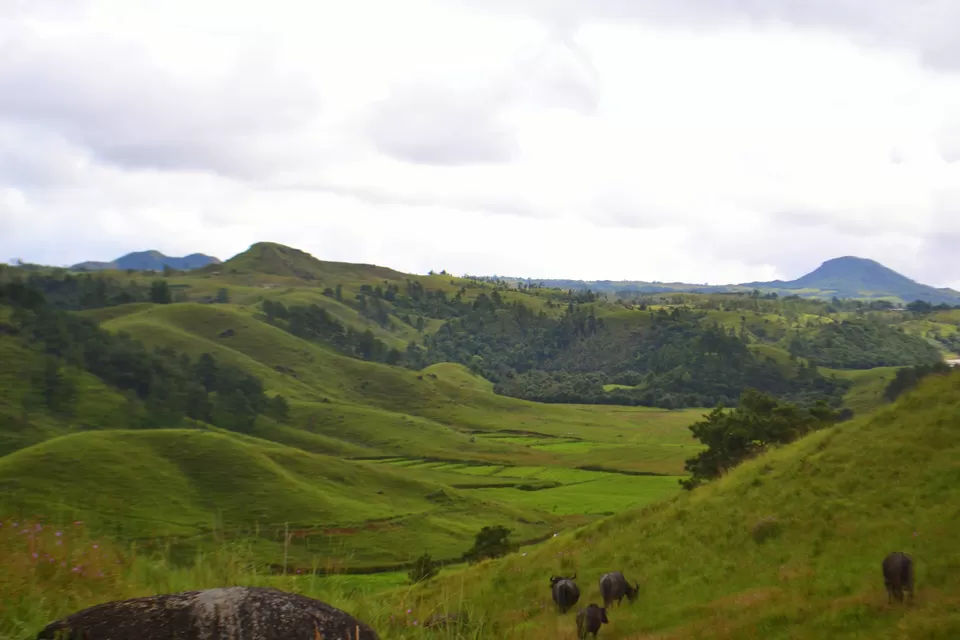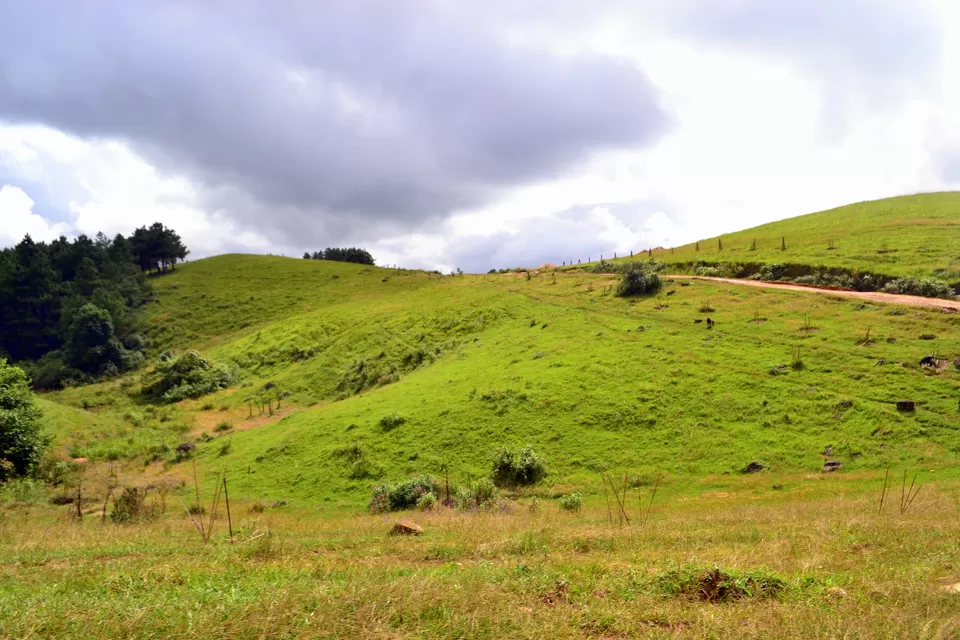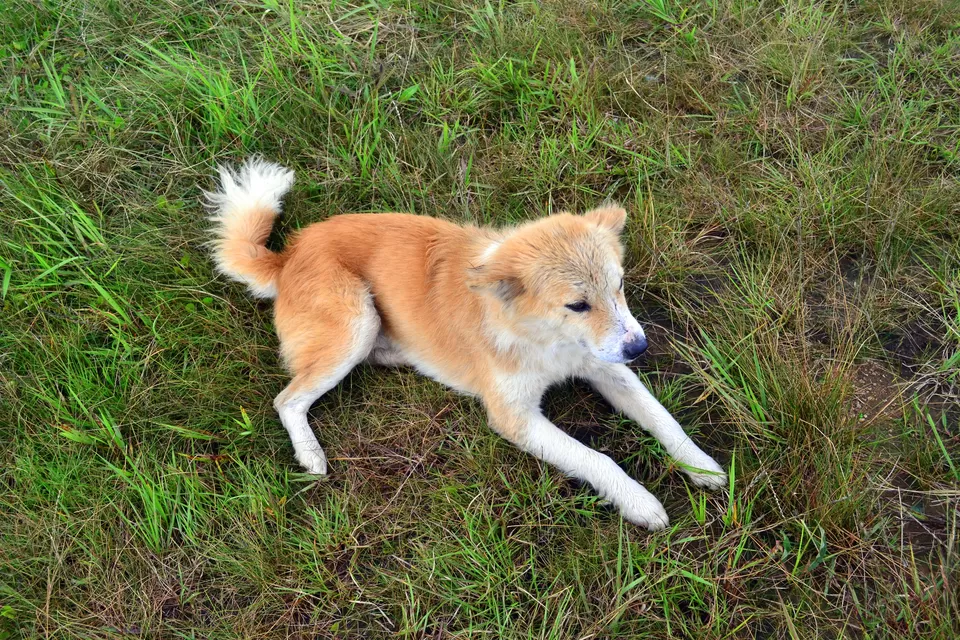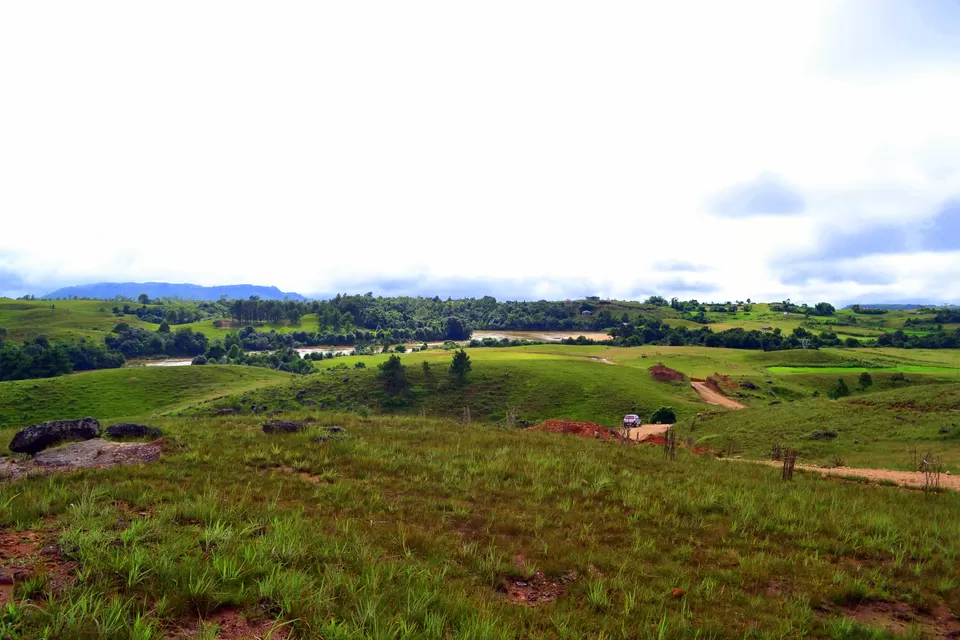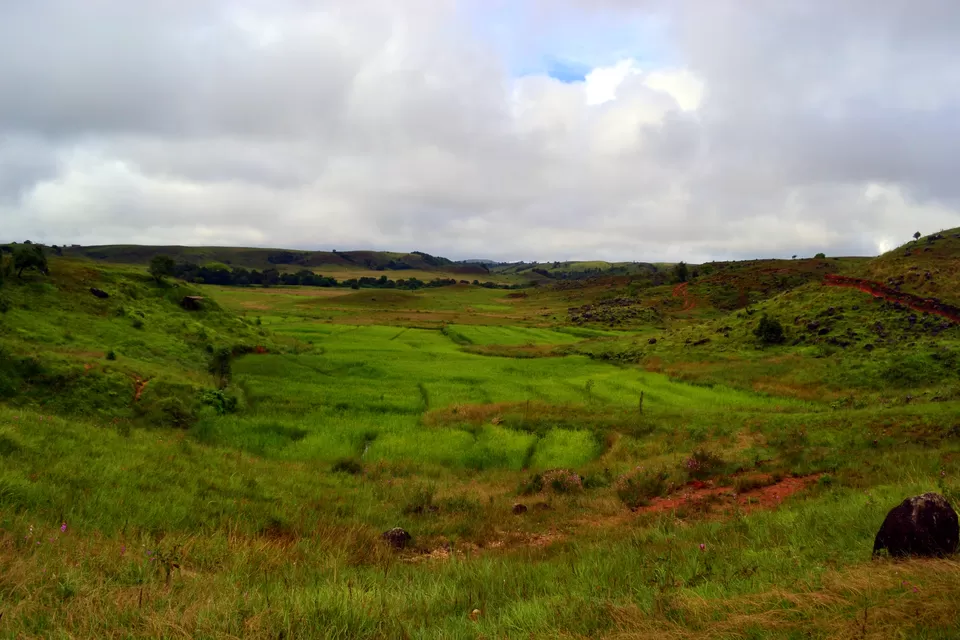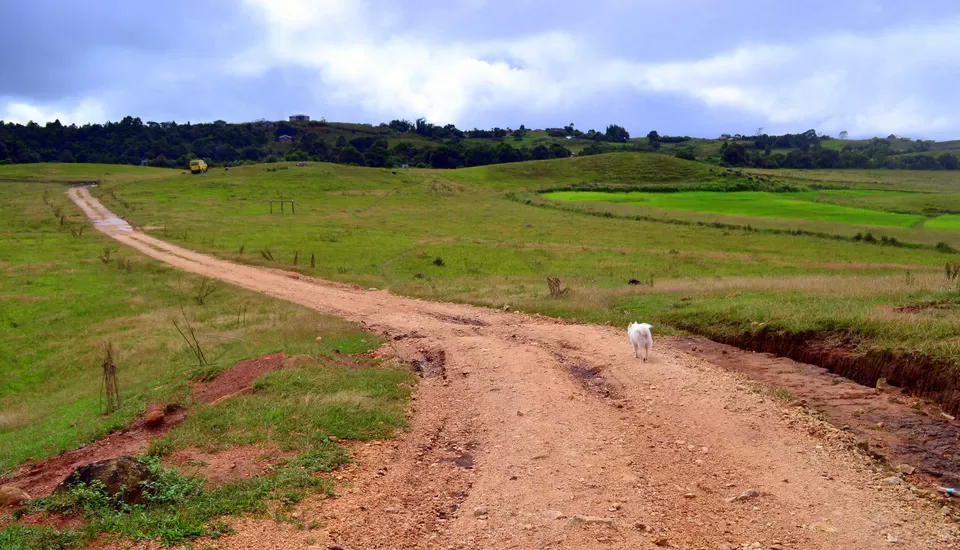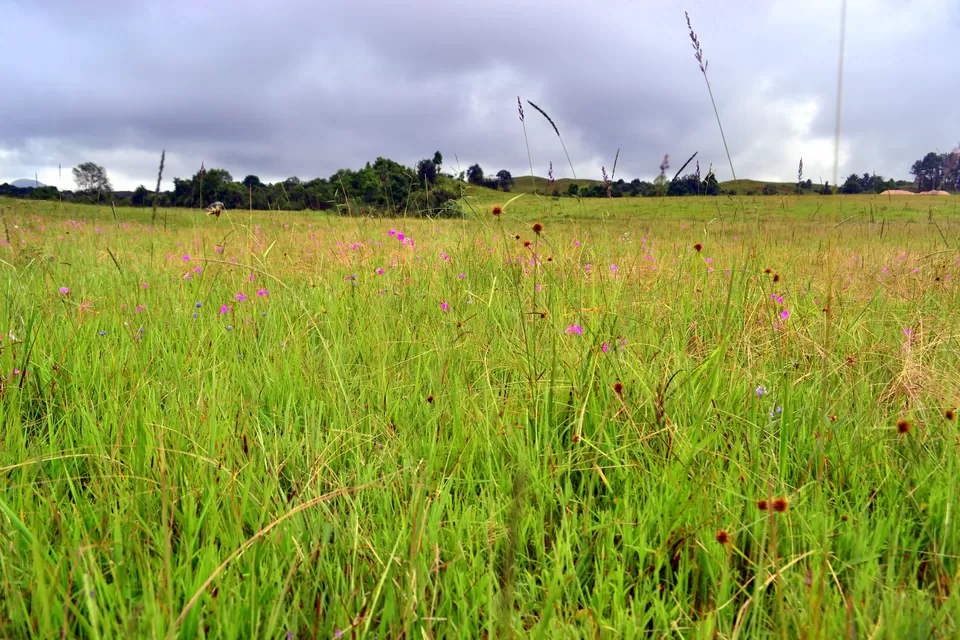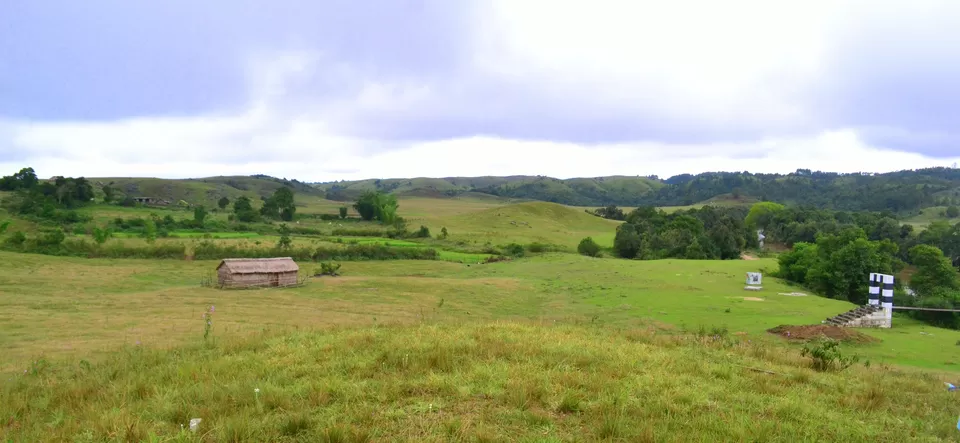 The walk to the island and the beach is magical. The weeds brushed against our legs, the wind made sure there were constant clouds covering the harsh sun. None of us spoke on the way. We were witnessing something so unique that we wanted to cherish it completely – silence.
We crossed the bridge and were joined by two other traveling parties, one of which comprised of some young people from Guwahati. They did not seem as interested as us in admiring what was around and instead chose to talk loudly, sit and glare at their phones and leave after just ten minutes. "There is nothing here," we heard one of them shout. She was right, there was nothing around us, which was exactly the point.
While I was looking Nongkhnum up online, I had stumbled upon pictures of people at the river beach, picnicking and playing. There was a little doubt if we would ever see the island as it was, without the usual bustle of the tourists. I think we were lucky – it was a Sunday, the monsoon season was still on and the Puja holidays had just ended. Nongkhnum was left all alone for us to discover and appreciate. The moment we left the place, I wanted to come back and tell its story to everyone who asked me for a new place to visit. So here it is.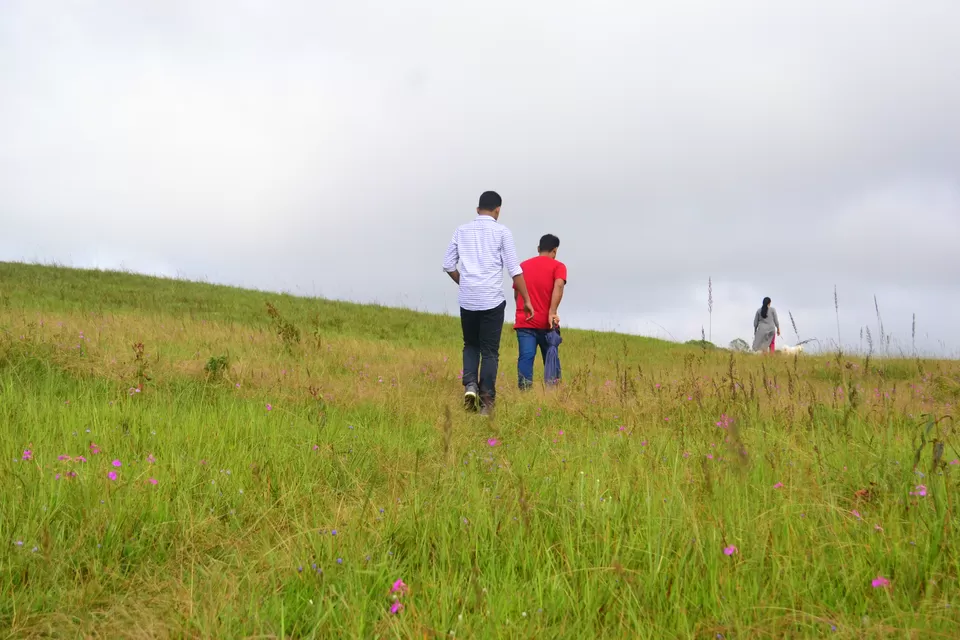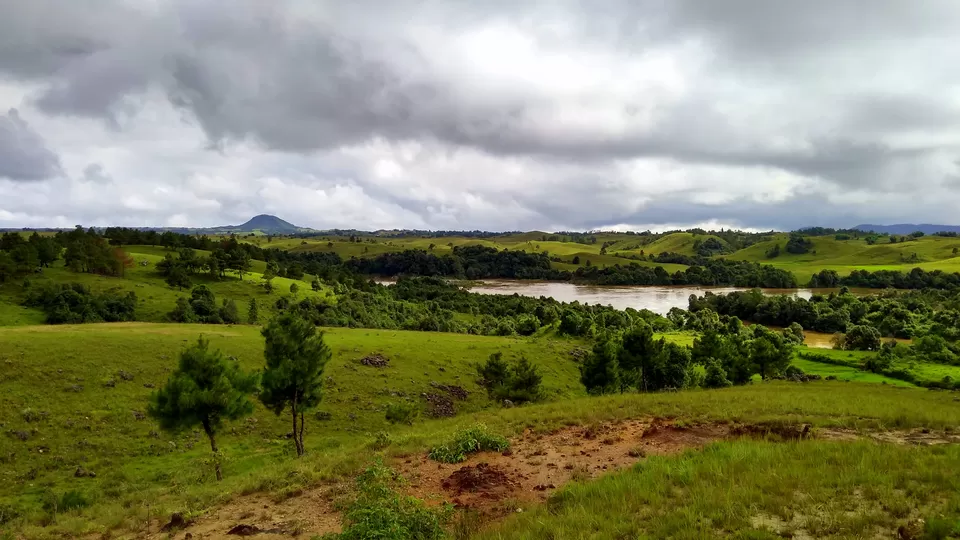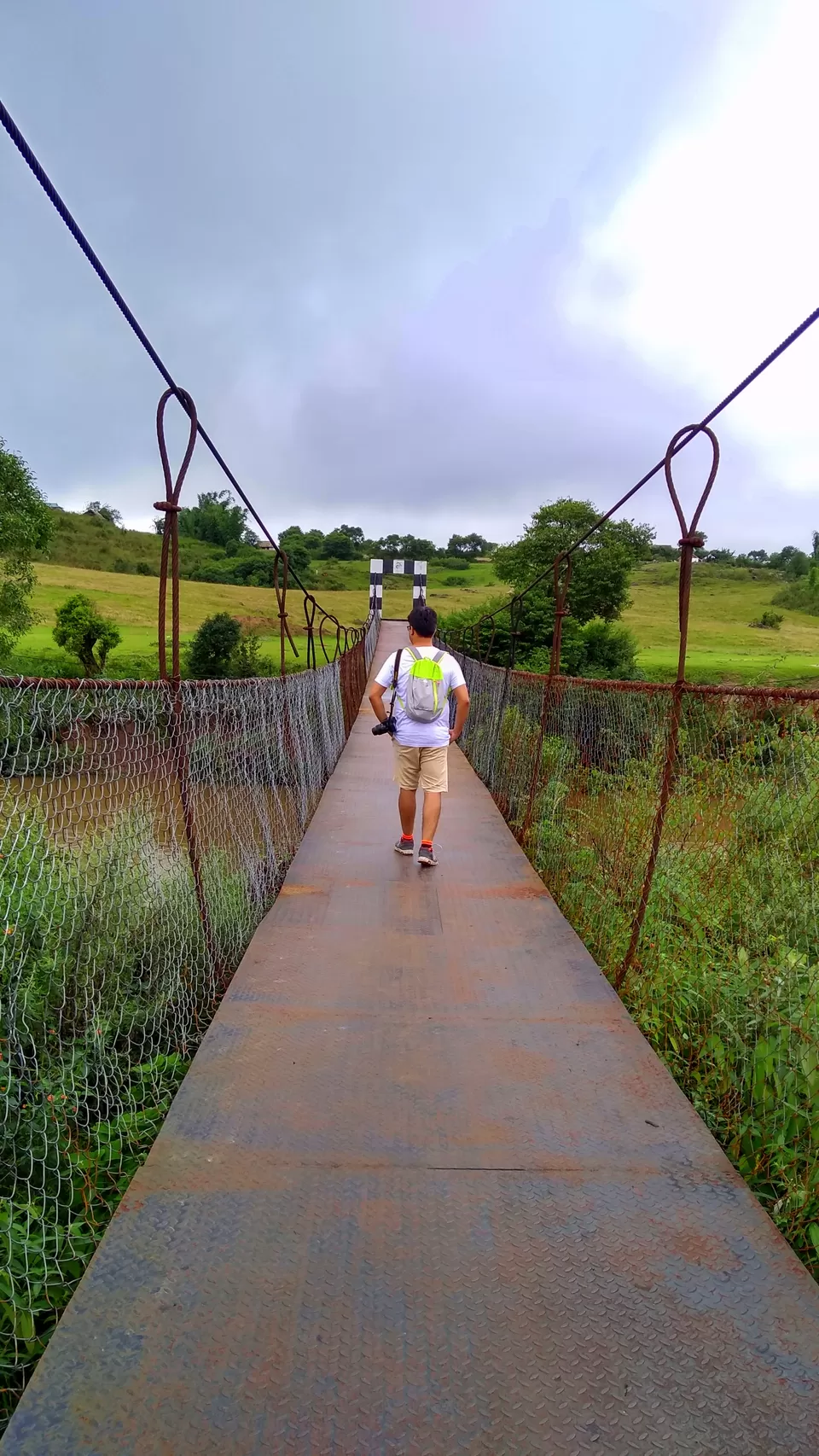 Google Map coordinates: http://bit.ly/2xX1fJn
Location accuracy on Google: Very accurate
Distance from Shillong: 108 kilometers
Closest town: Nongstoin, district headquarters for West Khasi Hills
Road condition:
Good to very good from Shillong to Nongstoin (90 kms)
Terrible from Nongstoin to Nongkhnum (15 kms)
Phone signal strength:
Good 4G at Shillong
Good to moderate 3G on the road till Nongstoin
No network at Nongkhnum, except for BSNL. (We checked with Airtel, Jio, BSNL, and Idea).
Where to eat:
Breakfast at Shillong at the ML 05 Cafe
Lunch at Nongstoin which has several restaurants that offer good North Indian and Chinese food
If you are looking for something different, ask your local taxi driver to take you to one of the smaller stalls on the road. They have some delicious pork dishes.
What to pack:
Summer essentials:
Waterproof jackets or a windcheater.
A sweater or a pullover is a must. The wind is punishingly cold.
Umbrellas, because it can rain any moment.
Good, all-weather hiking shoes.
Comfortable sandals, in case your shoes get wet or stuck with mud.
Wear comfortable pants or trackers. The journey will be long and you would want to walk around in Nongkhnum.
Water bottles
Small snacks and other edibles to munch on. Like I said, the journey is long. There are small shops selling tea on the highway as well.
Plastic bags to protect your backpacks, cameras or heads from the rain.
More plastic bags to accumulate all the trash. DO NOT LITTER OR THROW THEM ON THE ROAD!
Power banks for your phones/tablets.
Winter essentials:
Everything on the list above.
More warm clothes. The winter mornings and evenings have temperatures below 10 degrees Celsius.
More information: http://megtourism.gov.in/nongkhnum.html
Frequent Searches Leading To This Page:-
meghalaya packages from delhi, Meghalaya Customized Holidays Tour package, shillong meghalaya tour packages, guwahati shillong meghalaya tour packages, Best offers on Shillong tour packages