Hampi, the city of ruins, will transcend you to a different world.A world of gigantic boulders scattered among miles of green palm trees ,dazzling emerald paddy fields till as far as your eyes can go, rocky hills, rivers, fragments of age old monuments reduced to mere stones, dilapidated yet beautiful architecture and many tales and legends of the bygone era - this entire city looks like a fallen empire frozen in time.
Hampi indeed has very glorious history.It was the capital of the last great Hindu kingdom of South India, the bustling Vijayanagara Empire in the 14th century.Situated on the banks of Tungabhadra RIver, the city was prosperous, perhaps Indias wealthiest at that time.This empire was defeated and ransacked by the Deccan Sultanates, reducing Hampi to a ghost city, a vast land (spread over 4,100 hectares) of ruins and rocks.UNESCO's World Heritage Site was conferred to Hampi in 1986.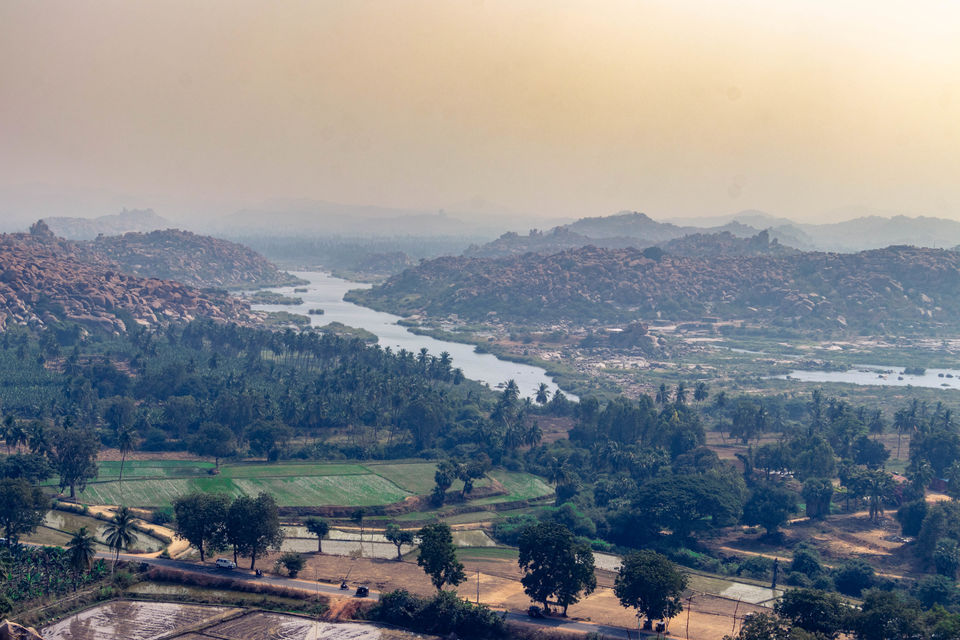 But Hampi is not just about ruins and history, it is a uniquely beautiful village with surreal landscapes and warm people and a spiritual aura that lingers throughout.The architecture sure will capture the imagination of any history enthusiast, but the village in itself will enrapture you such that you will wish to stay here much longer than you intend to.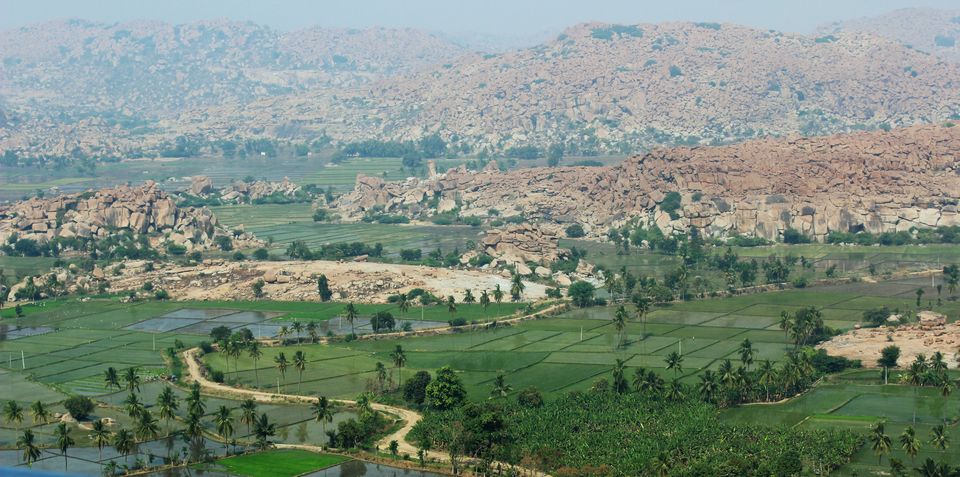 I had planned Hampi as a new year getaway from Hyderabad.I won't deny that Hampi was not my first preference because a few people had discommended saying "there are only temples and ruins".But the morning we had reached Kamalapura and I had laid my eyes on this city from an auto,all my doubts and prejudices were crushed in the most beautiful way possible.The fresh morning air infused with scents of wild flowers, the warm glow of the sun, rice paddy and rocky hills on either side of a winding road, villagers passing by with welcoming smiles - and I knew 3 days were not going to be enough .
How to reach Hampi
Hampi is well connected to the rest of the country by a strong network of flights, trains or buses.Hubli (166 km) and Belgaum (270km) are the 2 nearest airports, both in Karnataka. Hospet Junction(13 km) is the nearest railway station. Tourists from the prime cities like Hyderabad, Chennai, Bangalore mostly prefer to use the regular train services to visit Hampi.For road-journey lovers, you can take the reliable interstate bus services which will also drop you at Hospet. There will be plenty of autos available at any time of the day from here to till Hampi Bazar. They will charge Rs.150-200 per auto.You can also choose to hire a cab or drive yourself for a night to reach this lovely village of Hampi.I booked my tickets from AbhiBus.com because they list all the buses both private and state run and provide good discounts. It is better to plan a little ahead and book tickets in advance because the night journey is long and roads are very bumpy near the state border.Avoid last row seats unless you want to end up with a sleepless night and a severe backache.
Detailed Itinerary
ANJANEYA TEMPLE , SANAPUR LAKE, Coracle Ride and Random Interesting Places.
We reached Kamalapura bus stop at around 6:30 am on 29th Dec.We had boarded our bus at 9 pm from Miyapur bus stop , so we were pretty on time.The famous Hampi Bazar is located in front of the famous Virupaksha Temple and remains crowded for most of the day. There are ample options of accommodation here, but we preferred the less noisy Hampi Island which lied across the river. Unlike the bazar , this island is basically a village with a few cafes and guest houses with just basic facilities for those who want to have a more idyllic experience. We had pre-booked our stay at Waterfall Guest House.
After having a delicious breakfast cooked by the host Ramu, we started for the nearest spot- Anjaneya Temple .
We rented 2 scooties from Ramu and hired an auto.This temple is believed to be the birth place of the Hindu God Hanuman.
There are 570 steps to the top of this temple but don't worry, the monkeys will keep you entertained all your way and the view above is worth all the pain.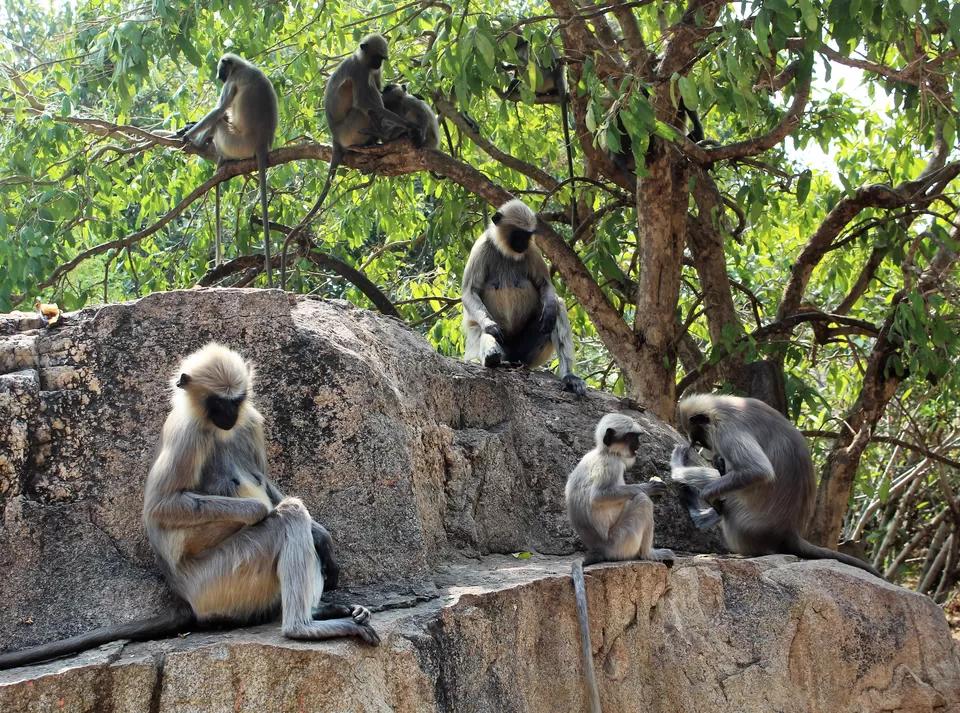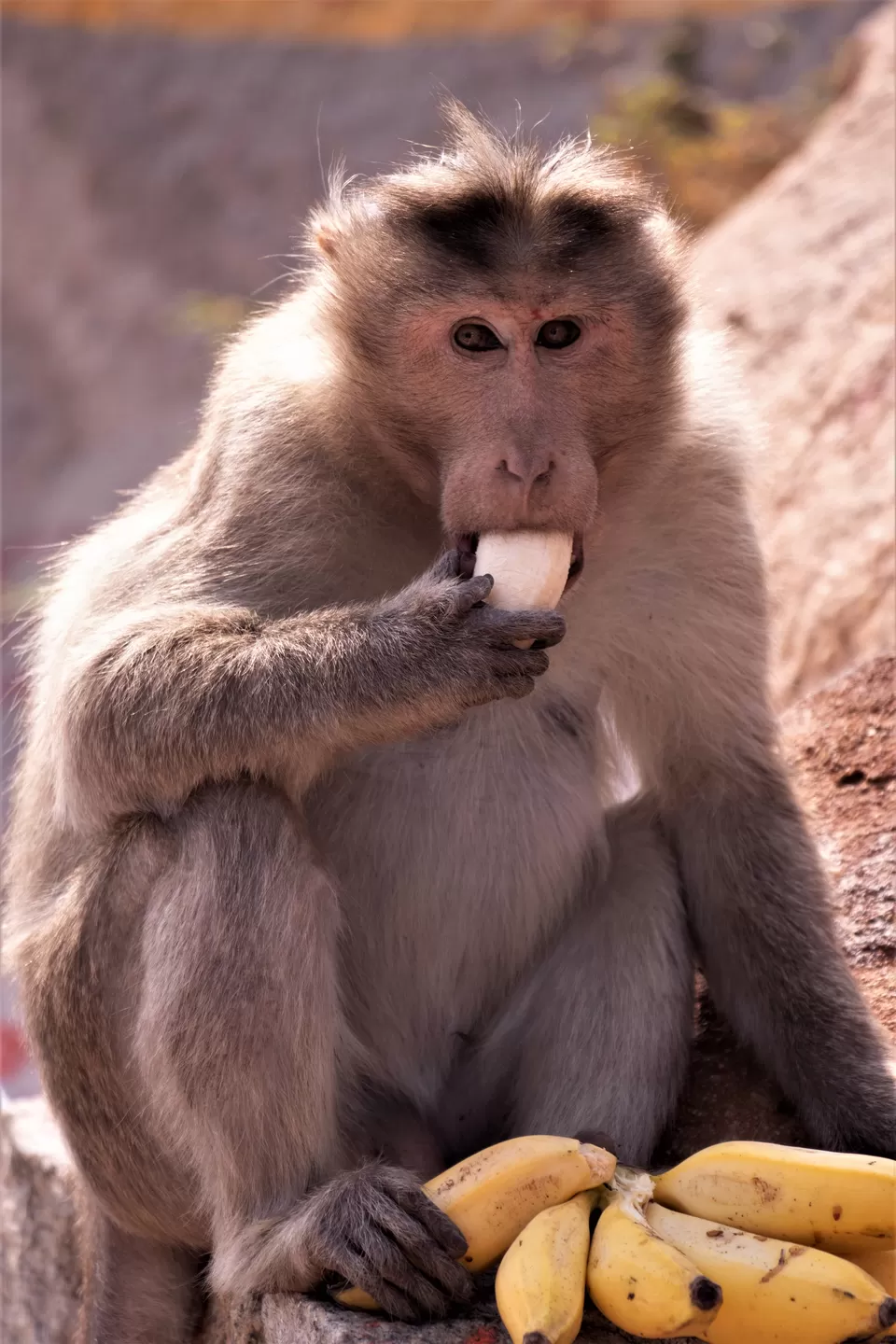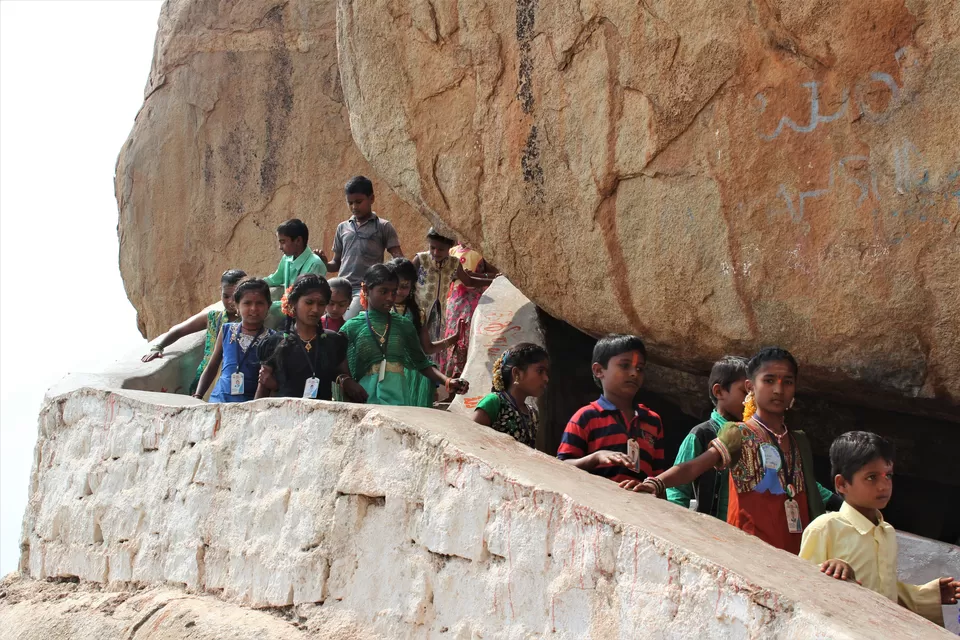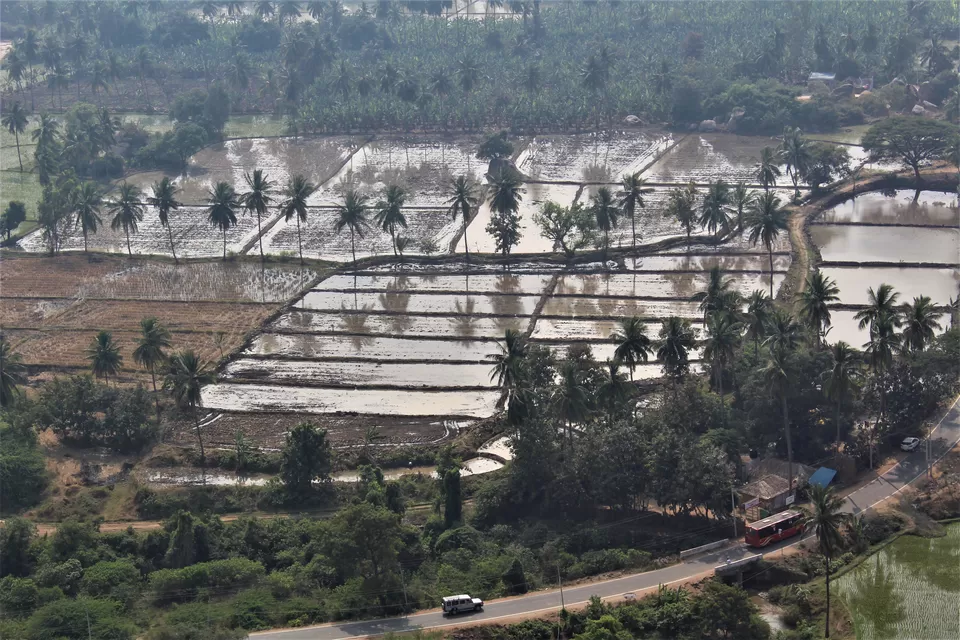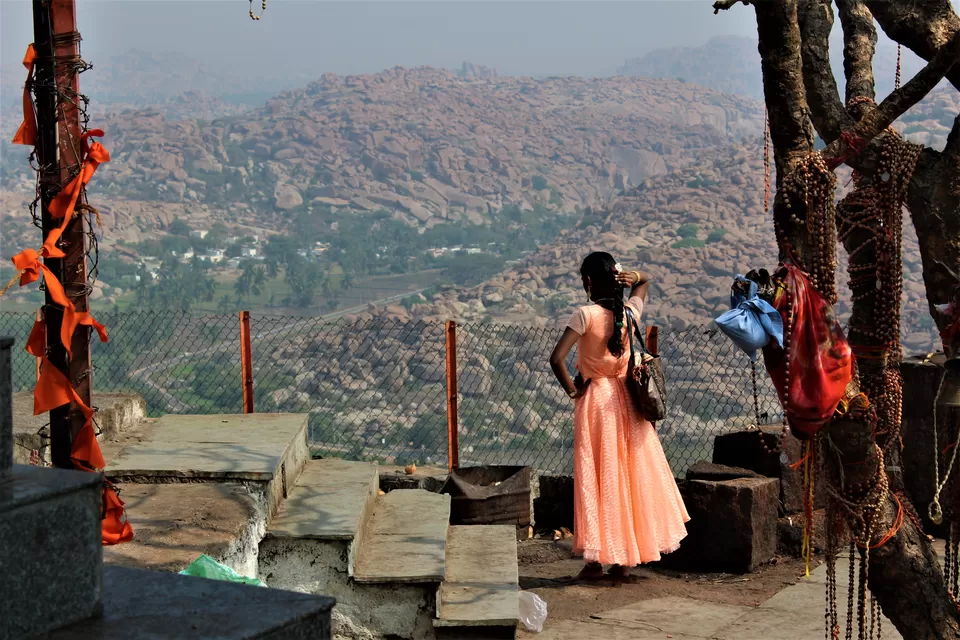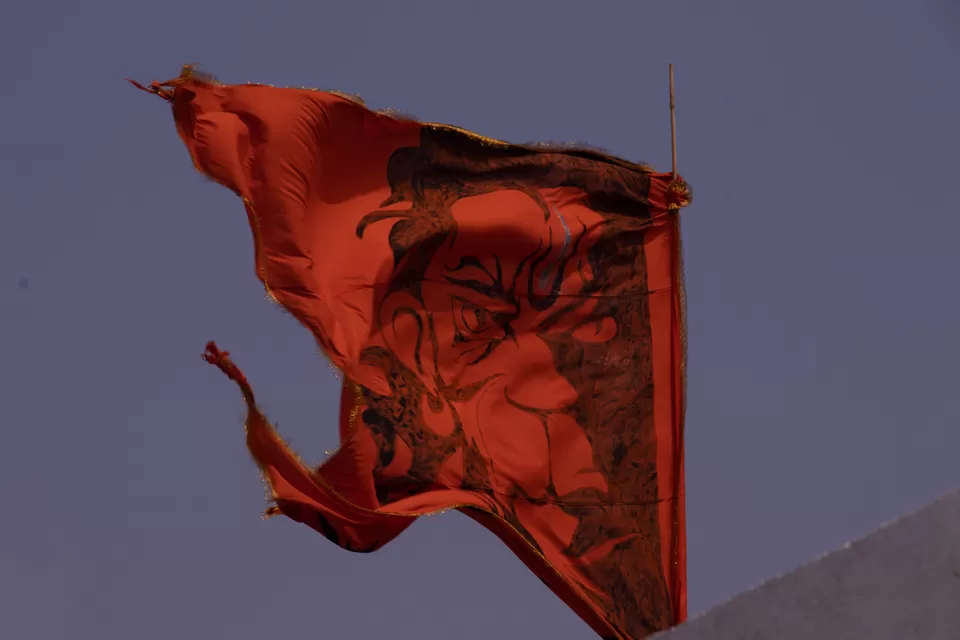 Visit this place as early as possible to avoid the crowd and harsh sunlight.We spent around 2-3 hours here.Enjoy the refreshing sugarcane juice once you are down or the tangy raw mango slices from the village women.
The journey back to our guesthouse was really enjoyable as it turned a little cloudy and windy.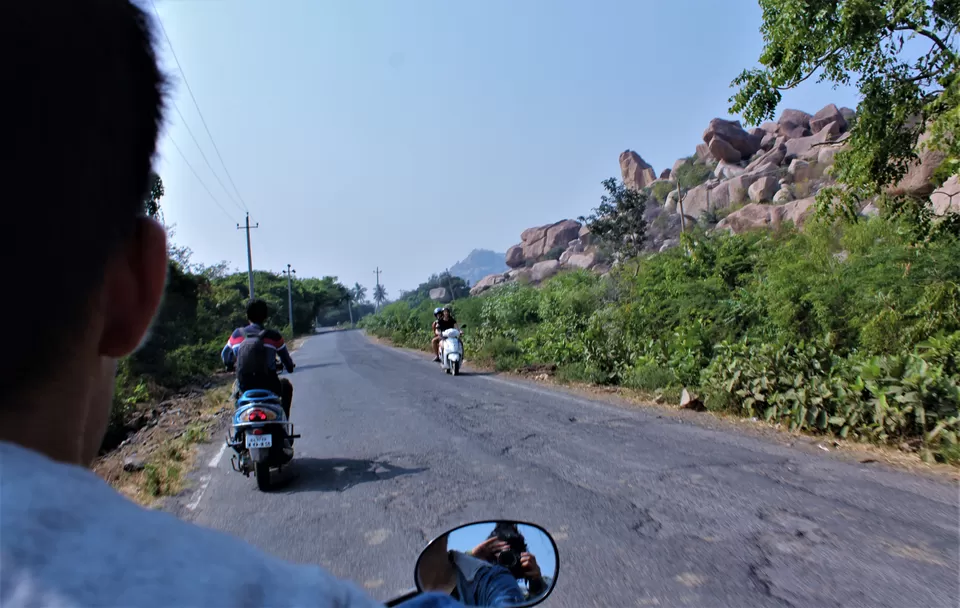 Bright green paddy fields on both sides of the road, smiling, curious faces of the villagers,birds singing from the trees,small huts, children running after baby goats - you will get the feel of quintessential rural India.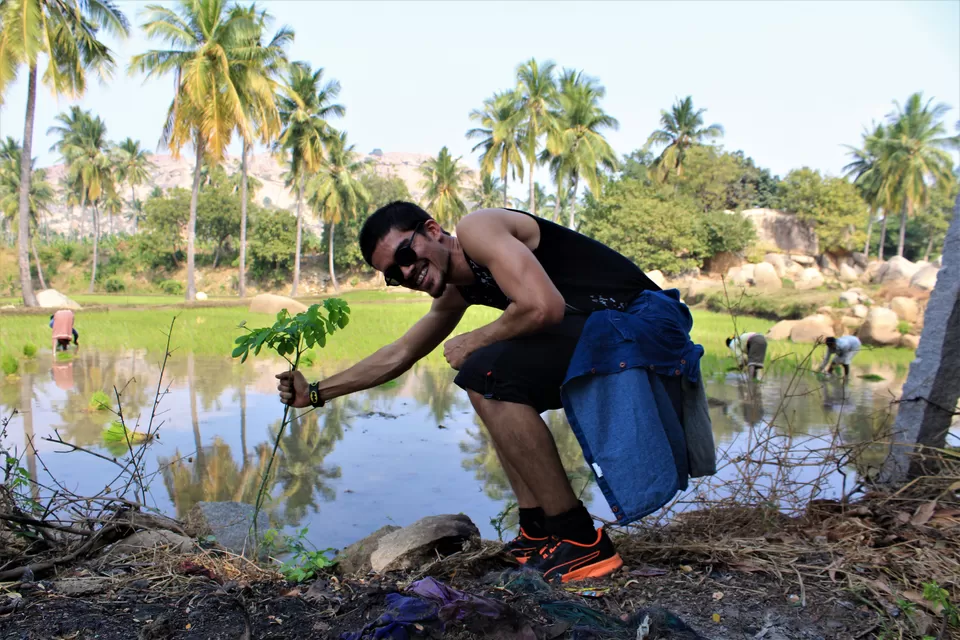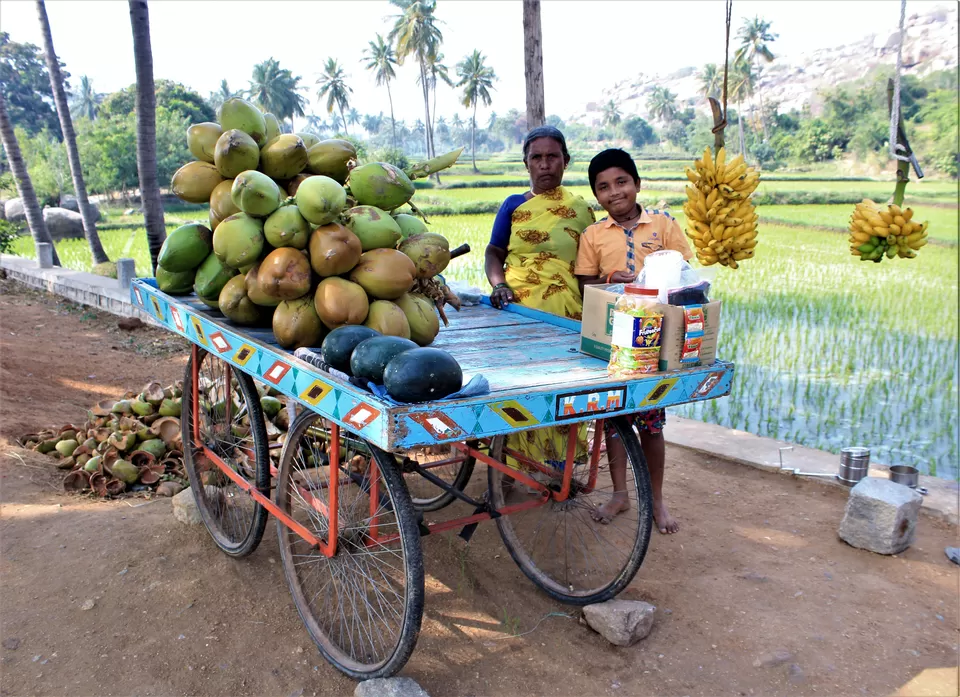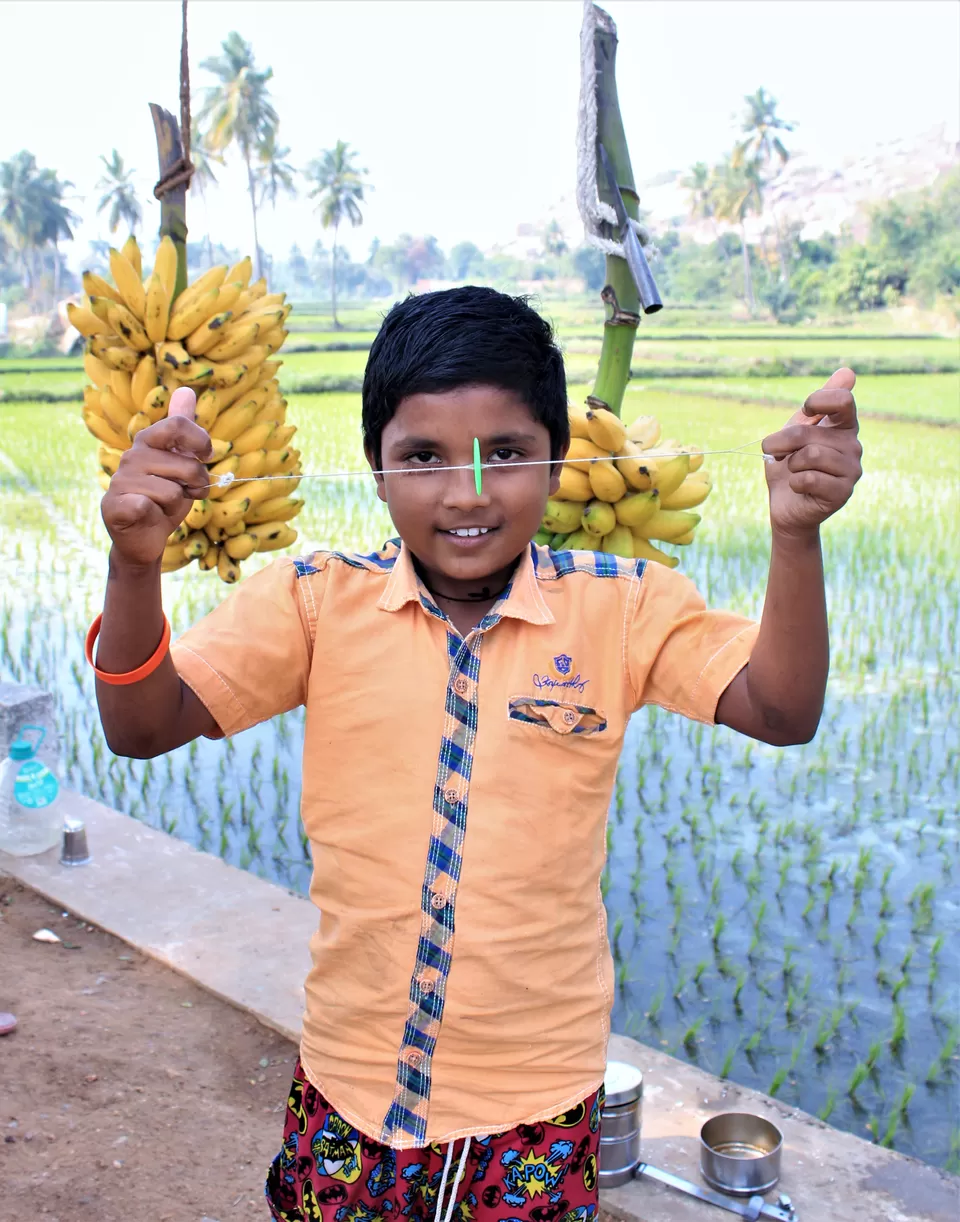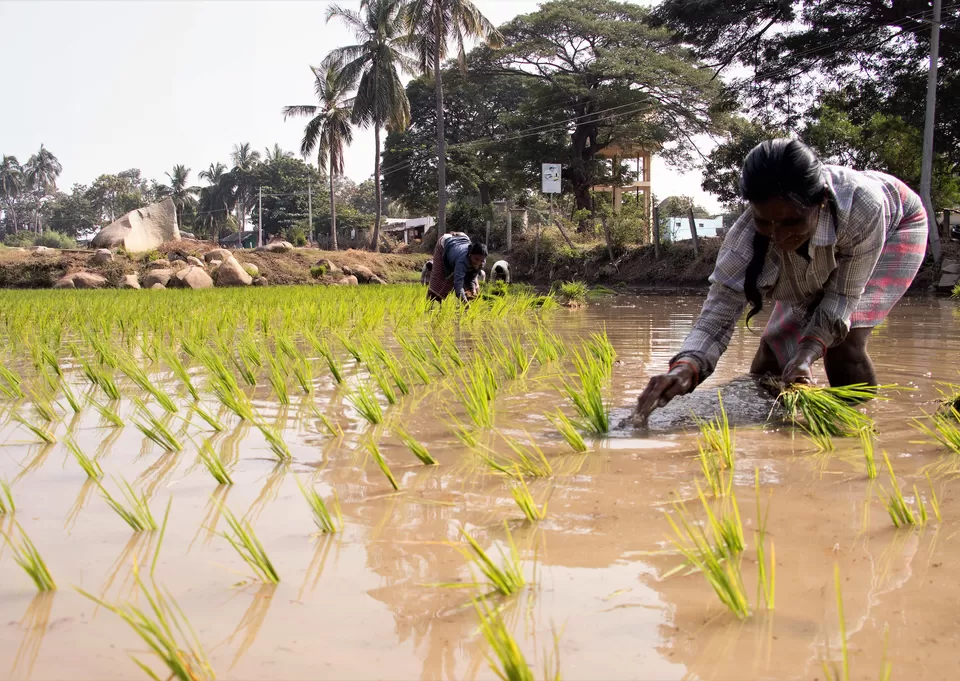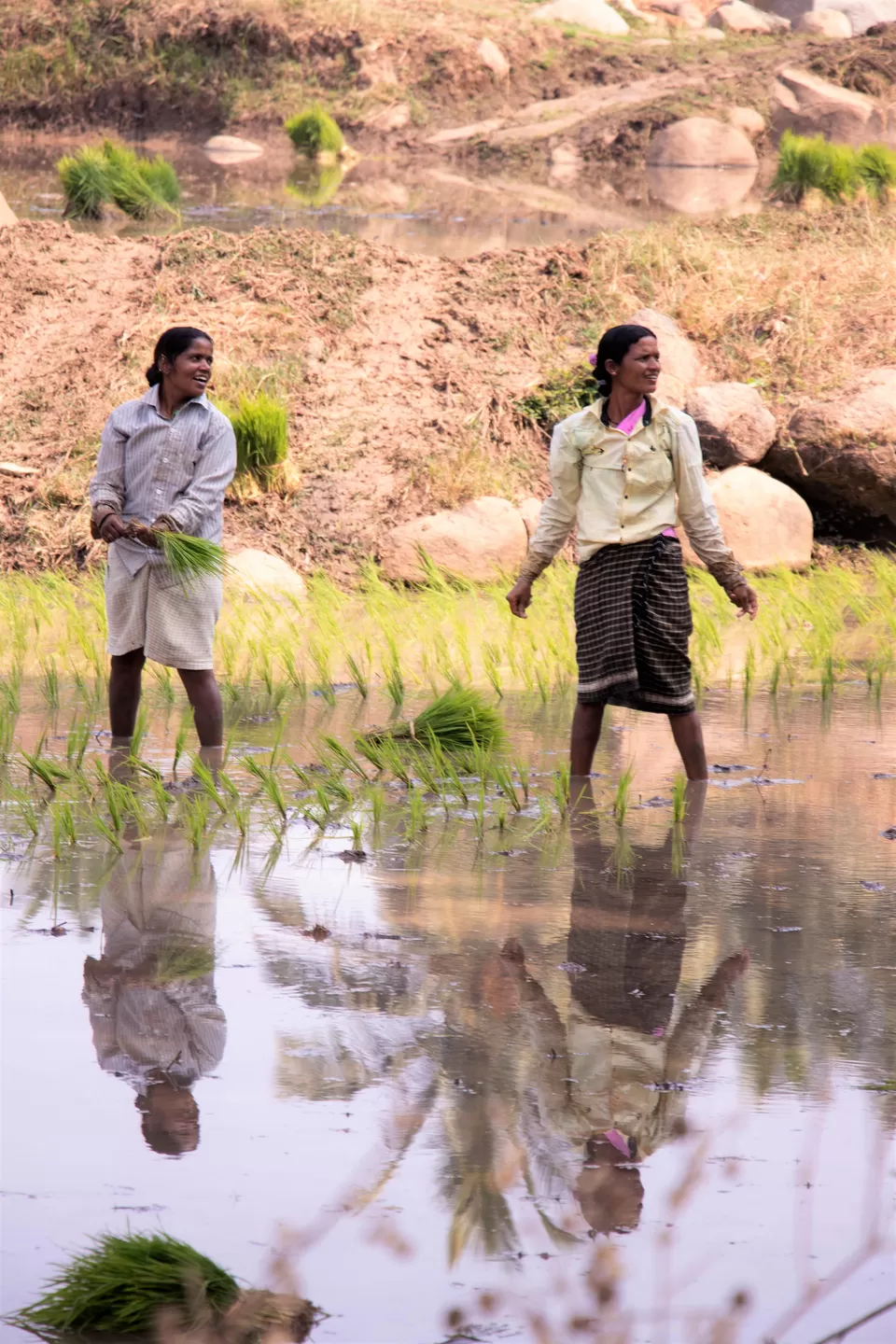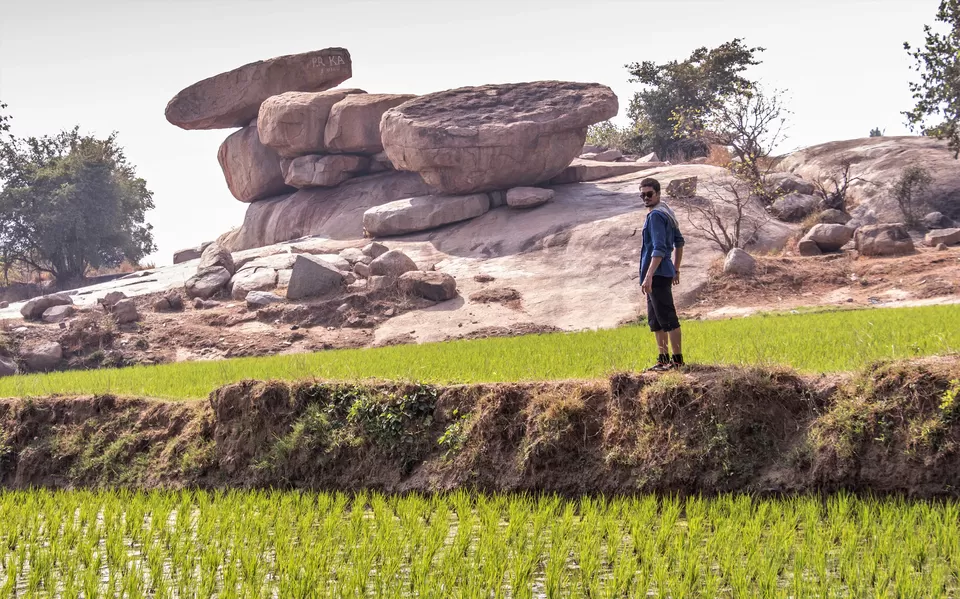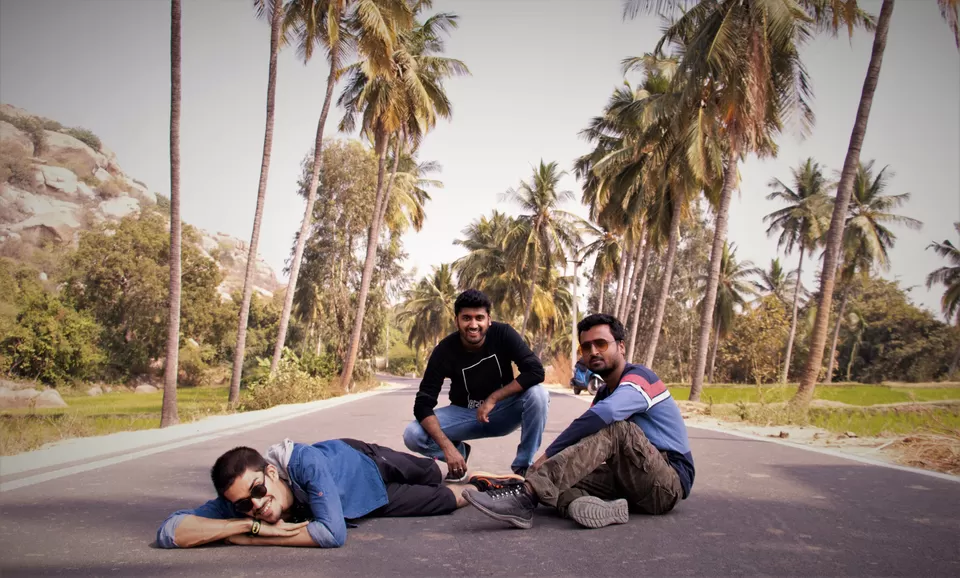 This was the point when i fell in love with Hampi.
Click as many pictures as you want because you will hardly find this kind of surrounding once you are back in your world of sky scrapers and flyovers and all the cacophony.
After lunch and a little rest at the guesthouse, we covered ourselves and started towards the other side of the village where the river and the waterfalls were there.After driving for some time we could hear people cheering from a distance and we followed the sound. When we reached the spot , we were thrilled to find a big group of foreigners, gathered on one bank of the river, some sitting on the stones with feet dipped in the waters, some swimming below , some of them enjoying a soft music and smoking away all the stress.There were few people who looked really athletic and there were trying to walk on a tight rope they had fastened across the river on the stones.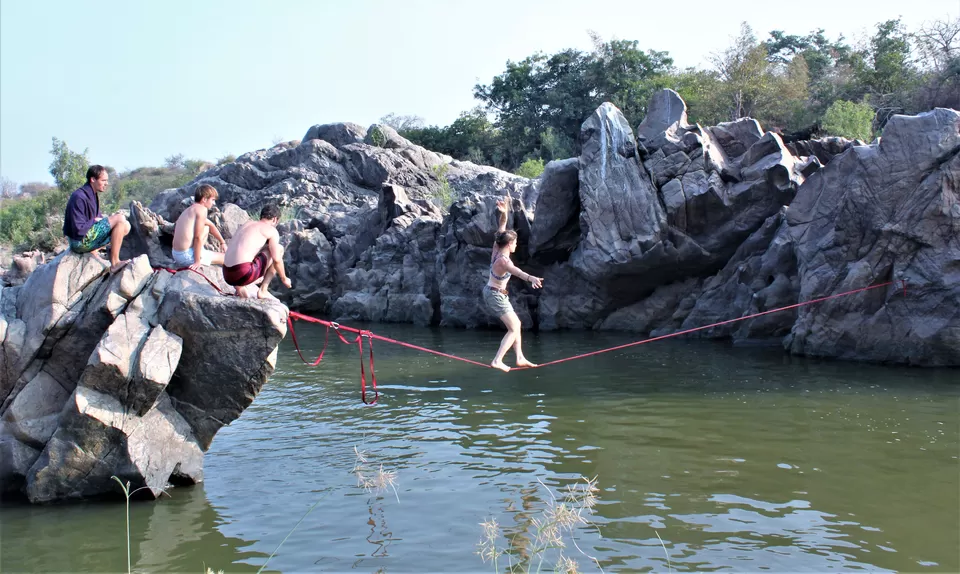 One by one they kept trying and falling in the river and they would again climb back and try.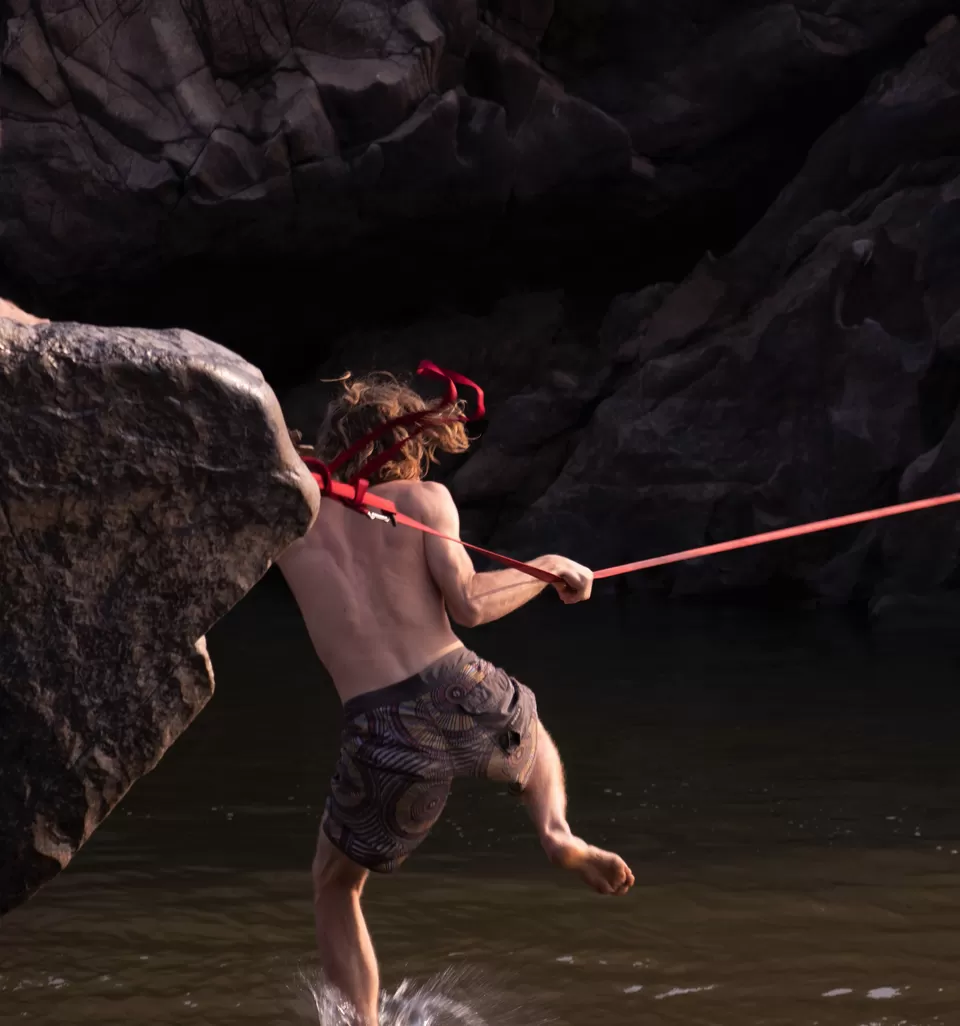 Young village girls floated away in coracles from beneath the tightrope and giggled shyly as the foreigners splashed into the waters.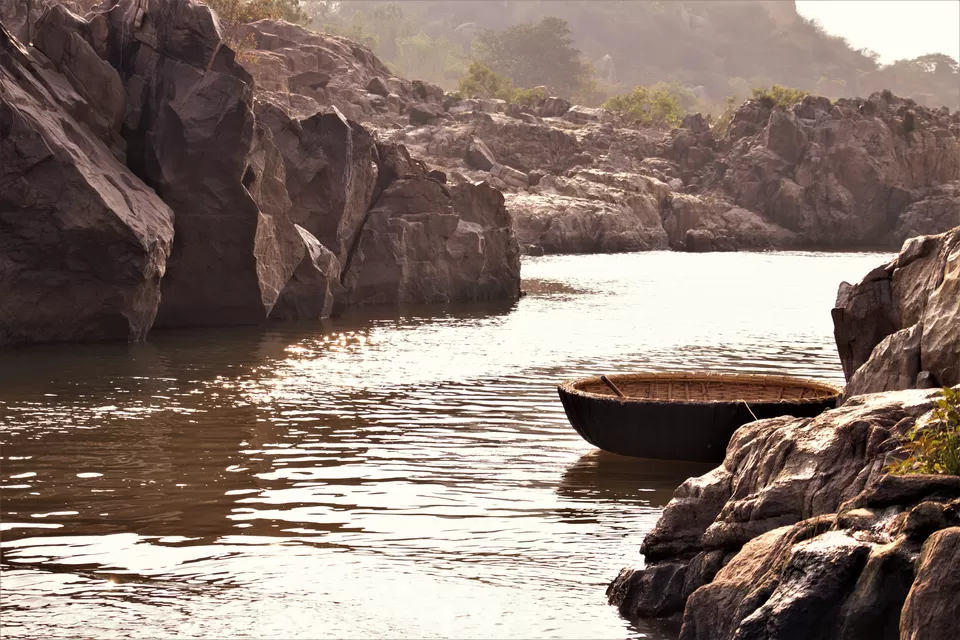 I did not even realize when I had started cheering for them, I had never witnessed such a feat before.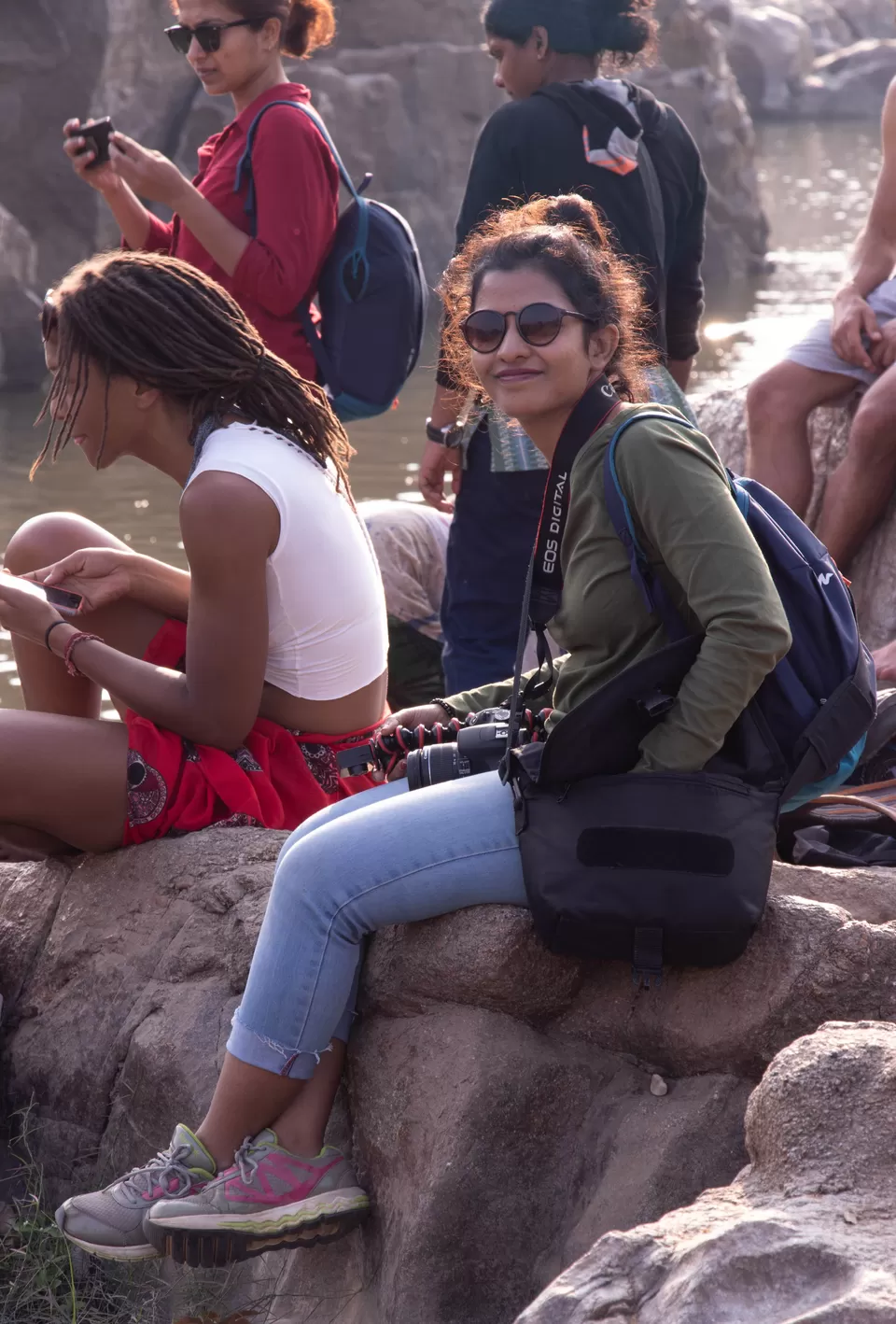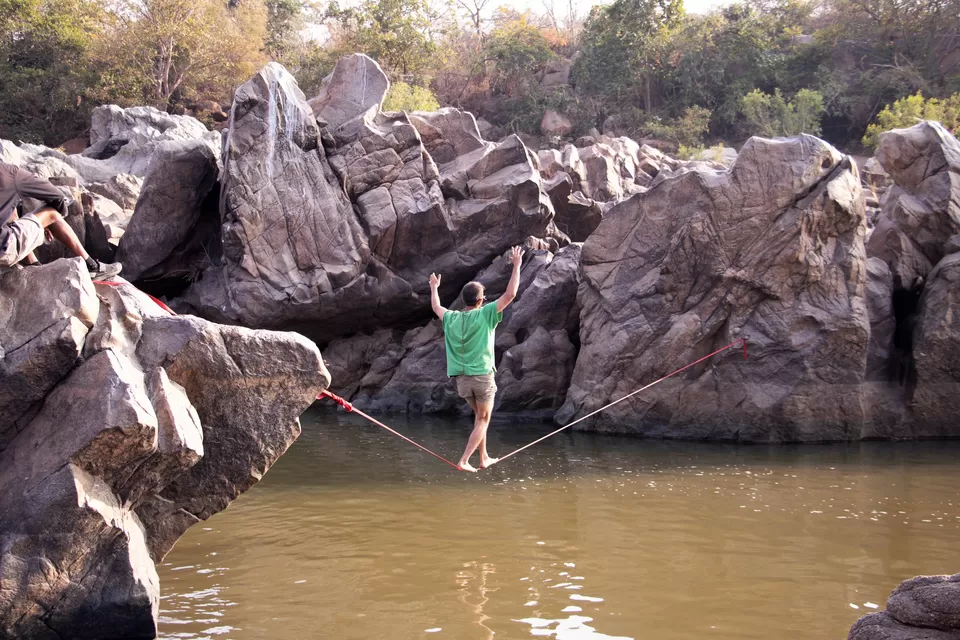 We gazed at their sleek, sculpted bodies slithering up the boulders without a jerk , balancing on the rope like pro gymnasts, falling and swimming back quickly without wasting a breathe. We looked at each others tummies bulging out , even more after the sumptuous lunch we had and decided to focus on our next destination -Sanapur lake.
The ride to Sanapur lake was beautiful - curvy but smooth roads between hills of boulders.The air got cooler as we approached the lake but it was hidden in the foothills untill we reached close to the banks.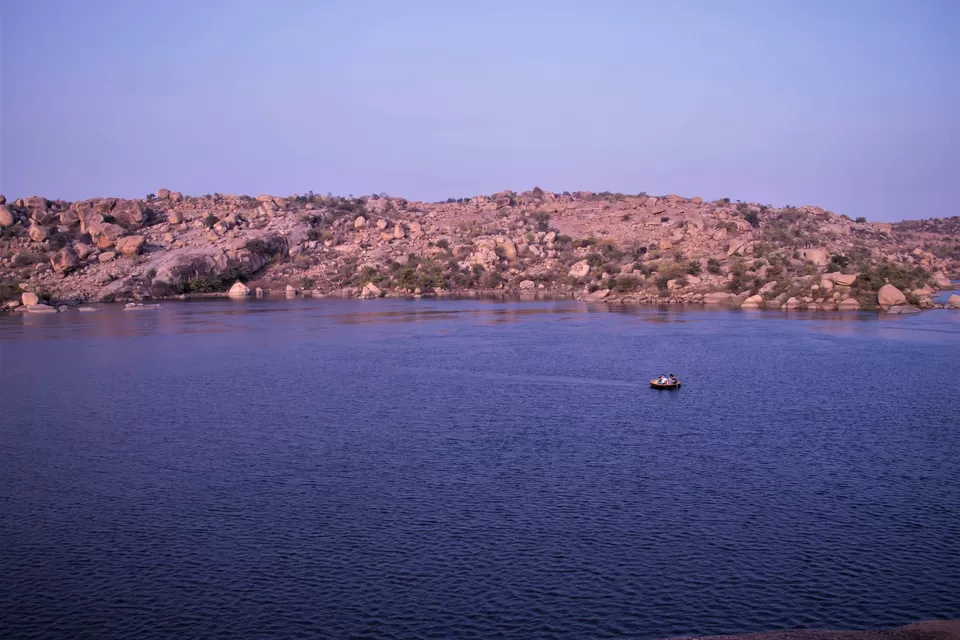 This lake is a man-made reservoir fed by the Tungabhadra river and sits calmly flanked by big boulders.One can enjoy the coracle (round shaped) boat rides or take a dip or even try cliff jumping from certain points.But I felt that the best way to enjoy this serene place is to just sit at the banks, feel the breeze and watch the sun paint the sky in red.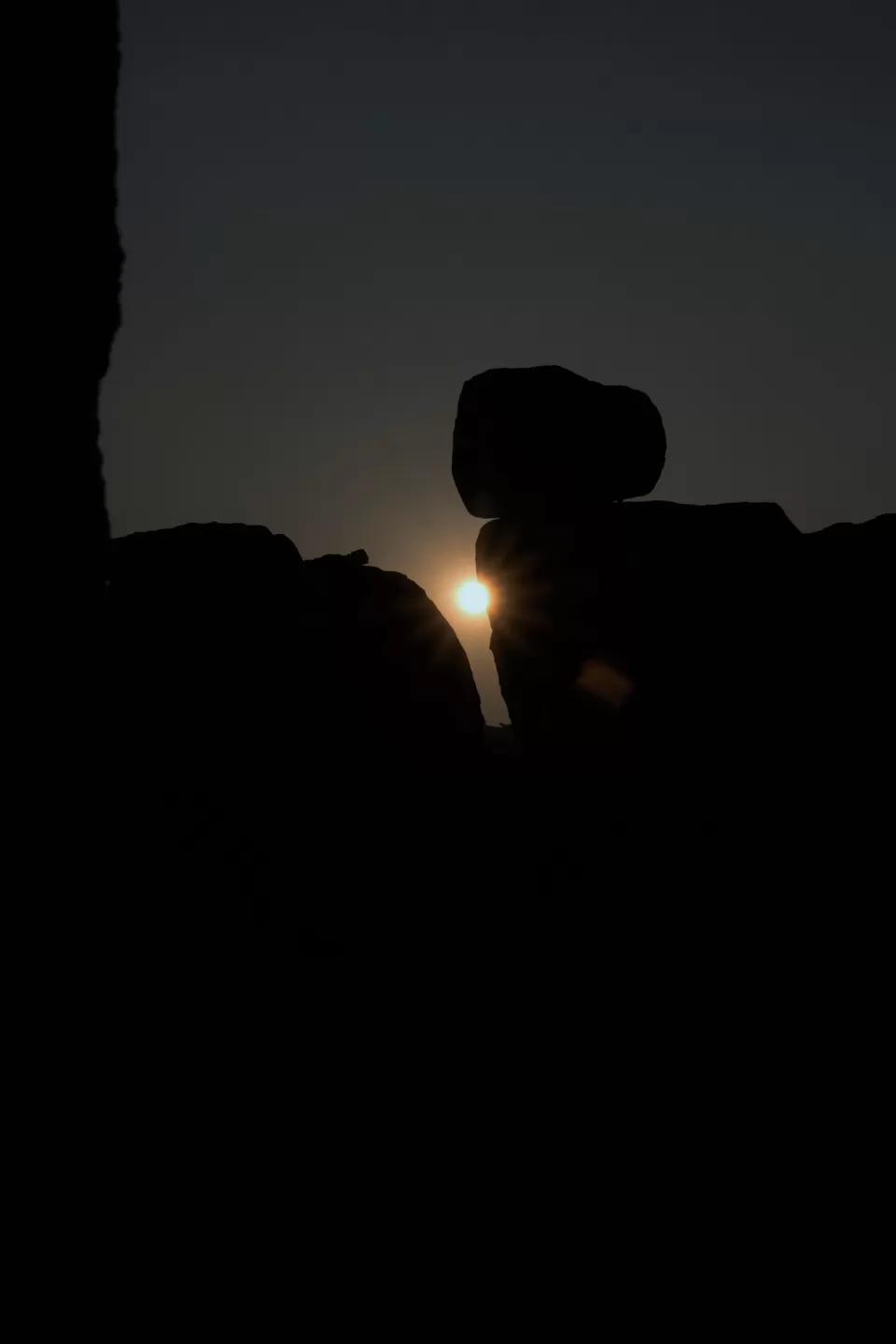 Our boat man took our coracle in the middle of the lake and started spinning it.I enjoyed it thoroughly but if you have motion sickness do not try this.These rides, for Rs.100 per person for 15-20 minutes, are a must try in Hampi.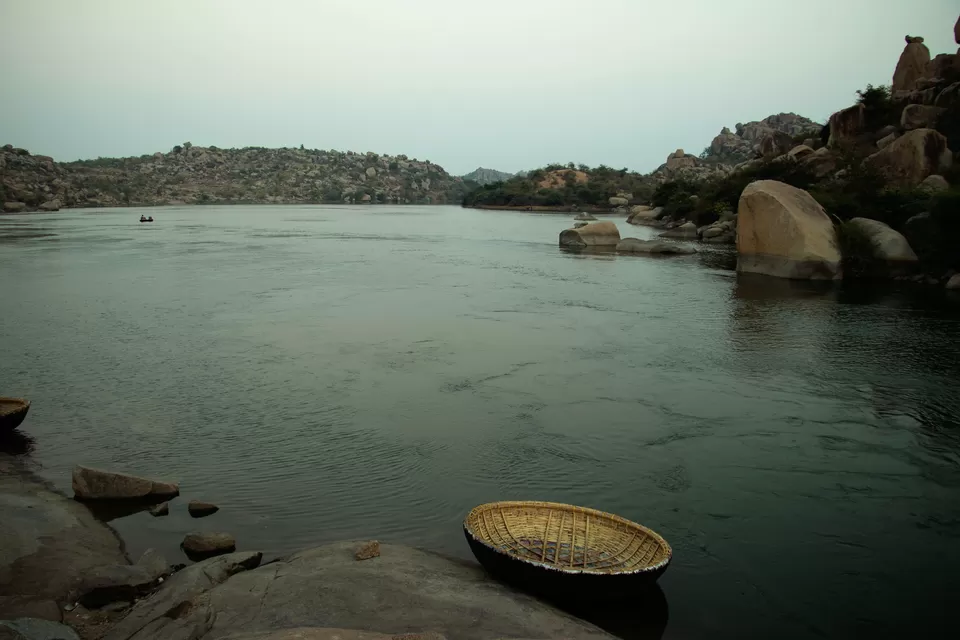 Climb up the big boulders and take a view of the lake from there.This is a very nice spot for clicking pictures too.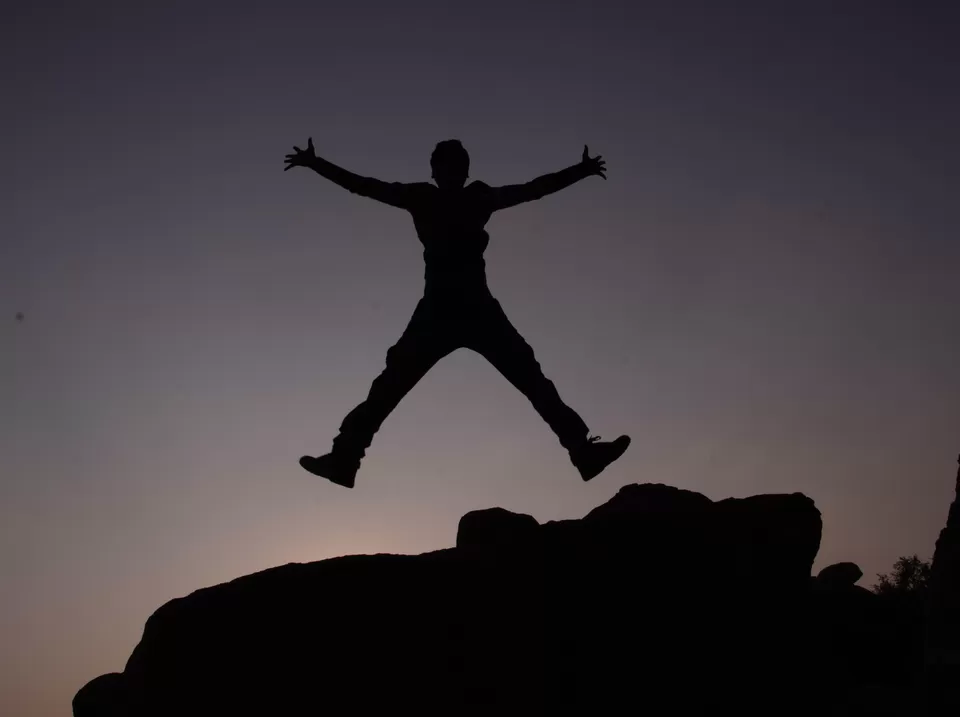 The road that followed the canal emerging from the river looked amazing from here.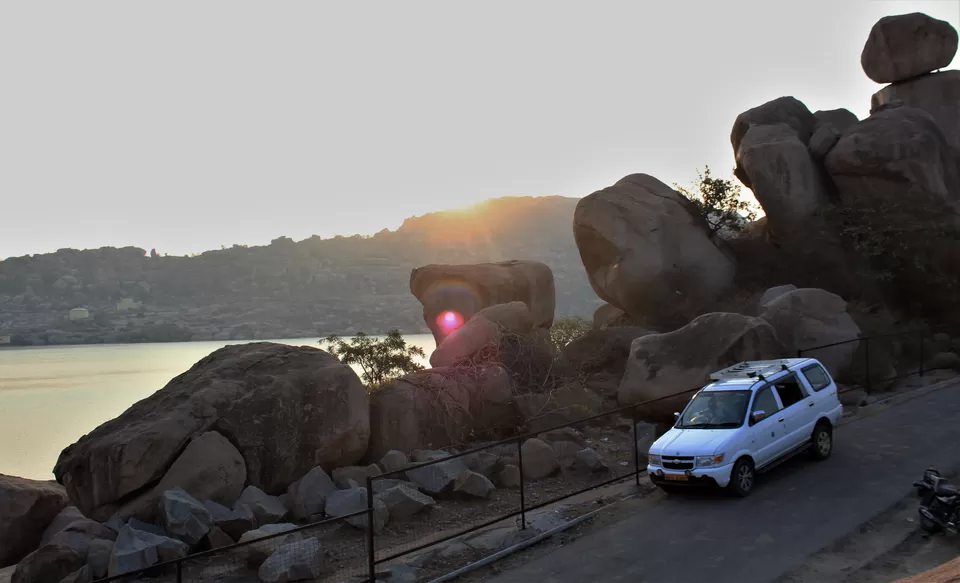 We could have taken a ride along this road had we been a little early. Come here with some more time and plan it either at sunrise or sunset for the best experience.
Later that night, our friend Deepak made an attempt to capture a star trail and it was not bad at all.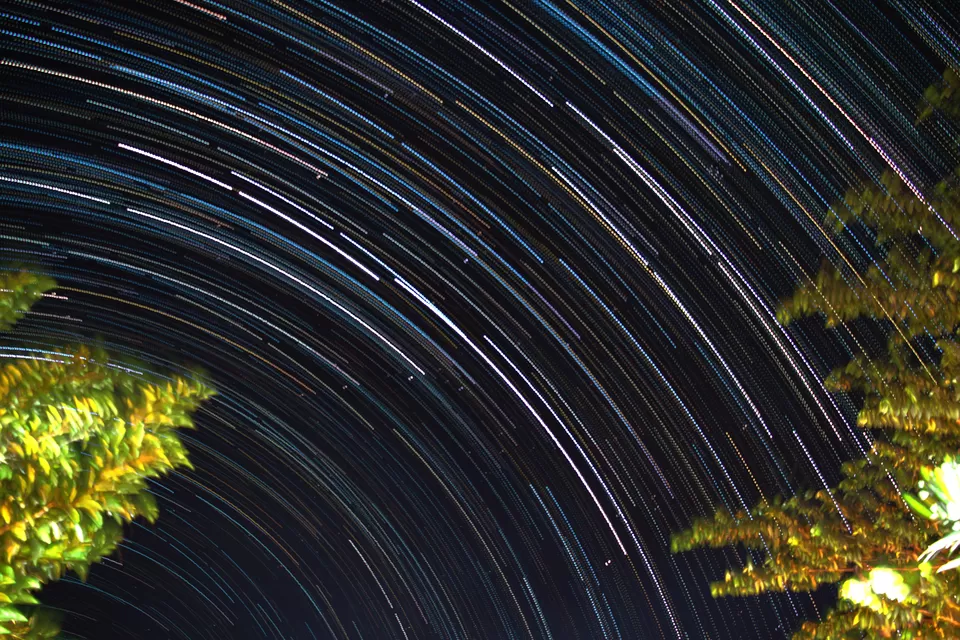 VITTHALA TEMPLE,NARASIMHA SHRINE, VIRUPAKSHA TEMPLE, ELEPHANT STABLE, LOTUS MAHAL
We had designated this day entirely to sightseeing in and around Hampi, exploring the many beautiful temples and other architectural wonders.
With the coolest shades mounted on our noses, cameras hanging from our necks and hoodies to add on to the swag, we popped into India's most versatile vehicle – the auto-rickshaw. We did not rent scooties for this day as some places were a bit far and it was very sunny.
Our first spot was the flagship tourist attraction of Hampi, the iconic Stone Chariot.It is actually a shrine built as a chariot inside the Vittala Temple premises.It is dedicated to Garuda , the escort of Lord Vishnu, but the sculpture is not present on the chariot anymore. Nevertheless, the chariot itself is a brilliant example of the incredible sculptural art of Vijayanagar empire.
Our driver dropped us at the banks of a river which we crossed in a small pump boat for Rs.10 per person.He said he would come by road and meet us at the exit of the temple campus. From the river we walked till the parking area.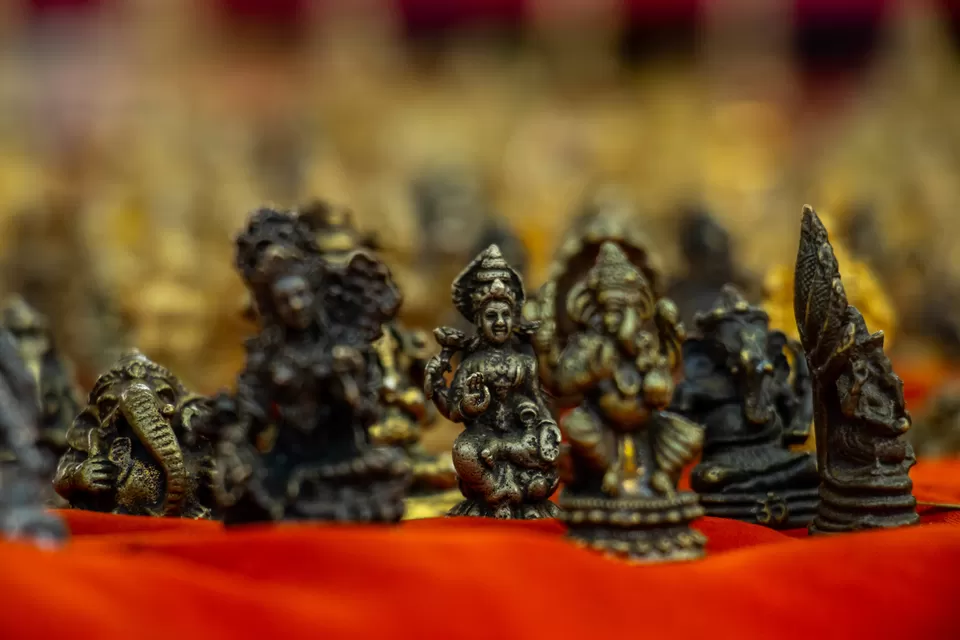 There was a long queue already, for the battery cars which were to carry us back and forth the main temple.We enjoyed fresh fruits, coconut water and buttermilk from the local people while we waited for our car. Even this tiny journey to the temple is exciting. The Vithala Temple complex is spread across such a large area, we felt like we are entering an epic historical movie set.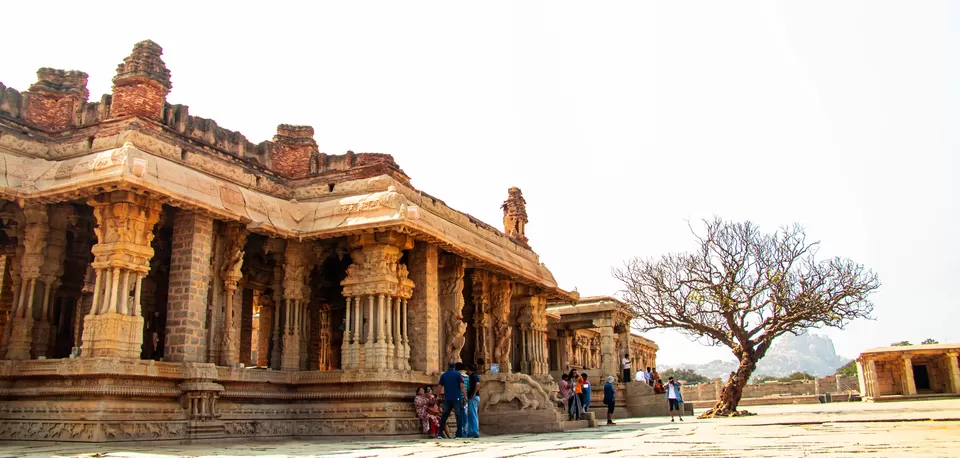 We walked from temple to temple, admiring the intricate designs, the statues and figures of gods and goddesses, the carvings that narrated myths and legends and stories of war and trade.
I was amazed at the skill and finesse of the early craftsmen and the patience with which they have perfected every shape.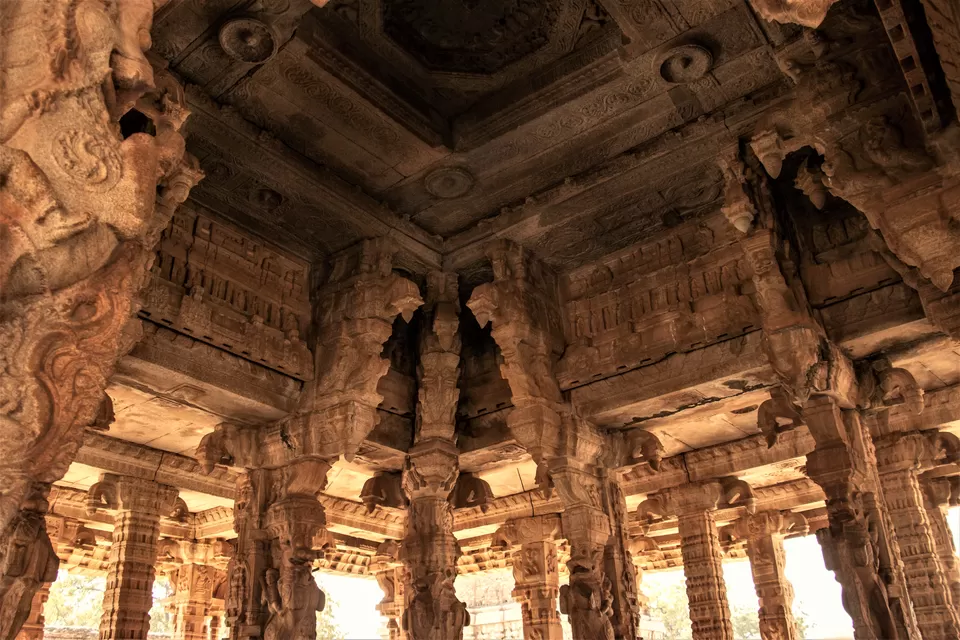 One can easily spend around 2 to 3 hours here. We took a lot of pictures and videos and explored every corner of this campus.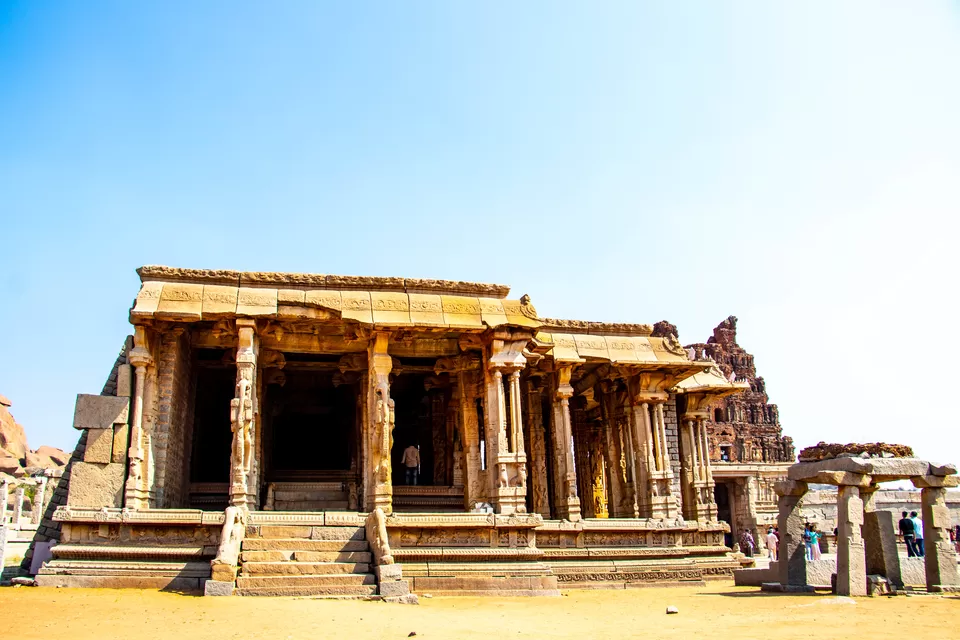 For some time we sat inside a temple, on the cold granite stones and listened to a guide a different group of people had hired. From his excellent story telling skills, we could almost visualize the grandeur, the battle scenes, and the final downfall of a magnificent empire.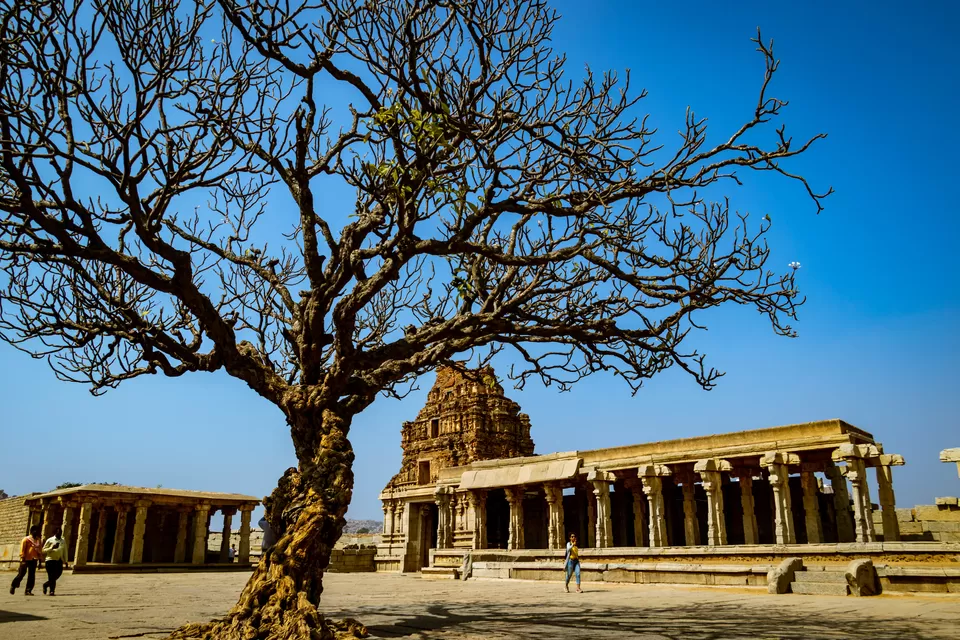 We did not feel like leaving the place untill we were really hungry. Another battery car dropped us back where our driver was already waiting for us.We quickly had lunch at a local dhaba and started for the other smaller monuments.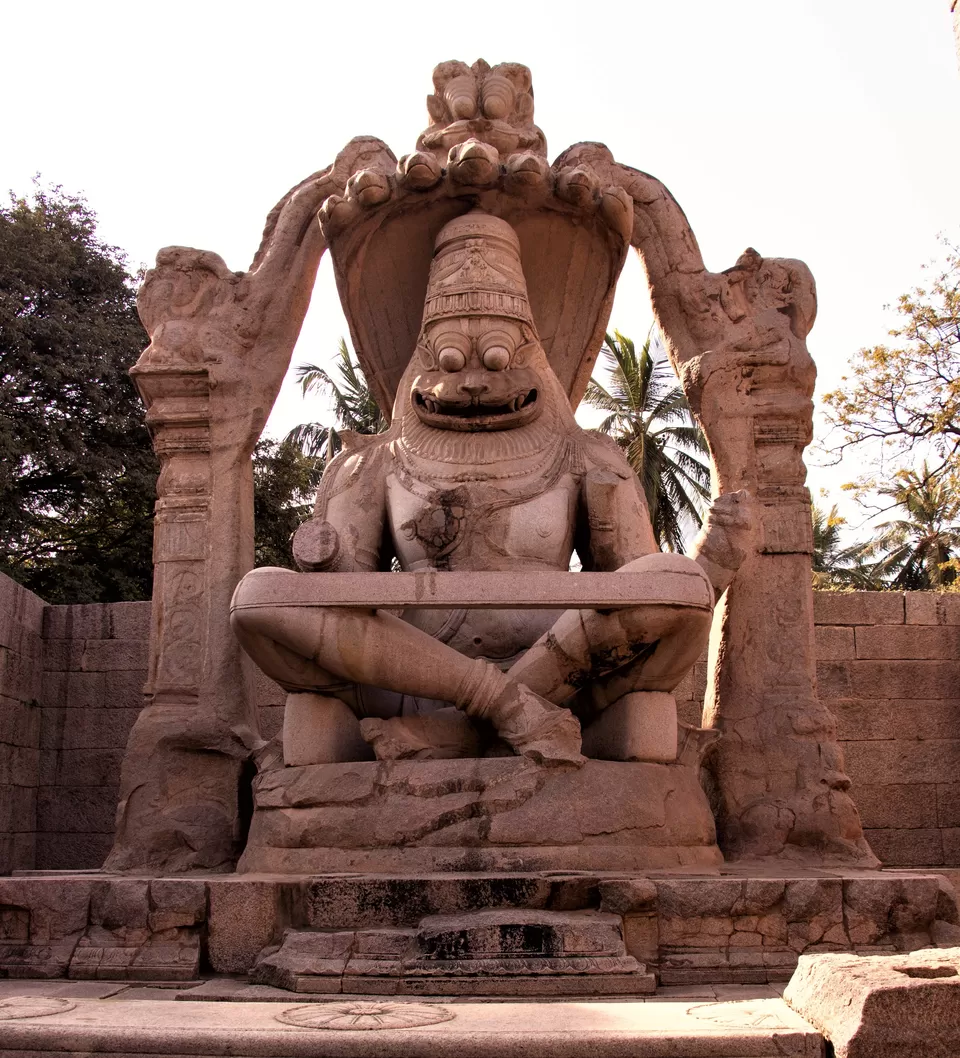 The Lakshmi Narasimha statue is the largest monolith statue in the ruined town of Hampi.It depicts Lord Narasimha in an angry form, sitting cross-legged on the coil of a giant seven-headed snake Adishesha. Originally the statue also had Goddess Lakshmi sitting on lord's lap, but it was damaged in the year 1565 and now it is kept at Kamalapura Museum.
VILLAGE TOUR,HIPPIE ISLAND, MATANGA HILL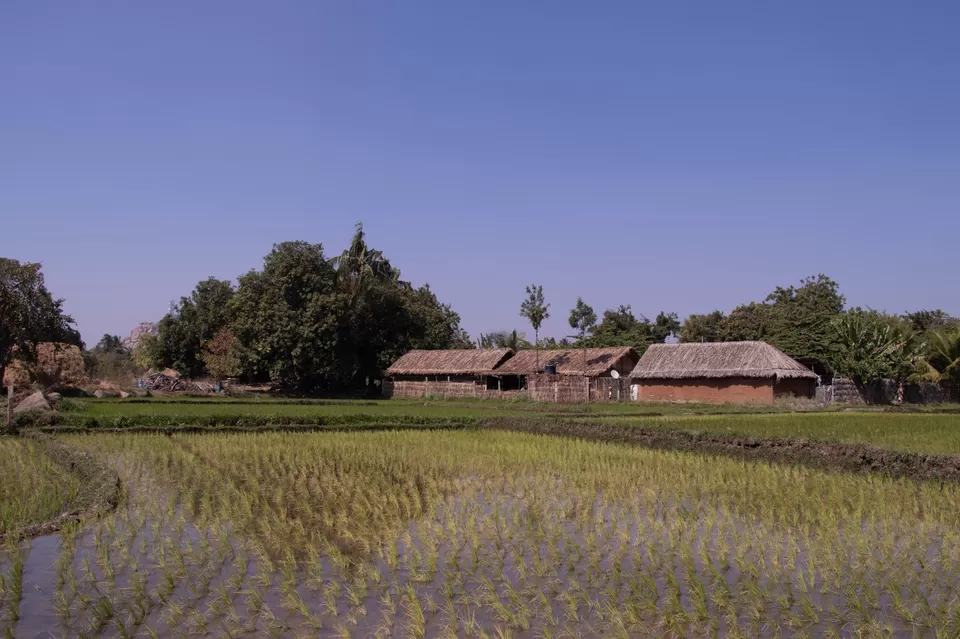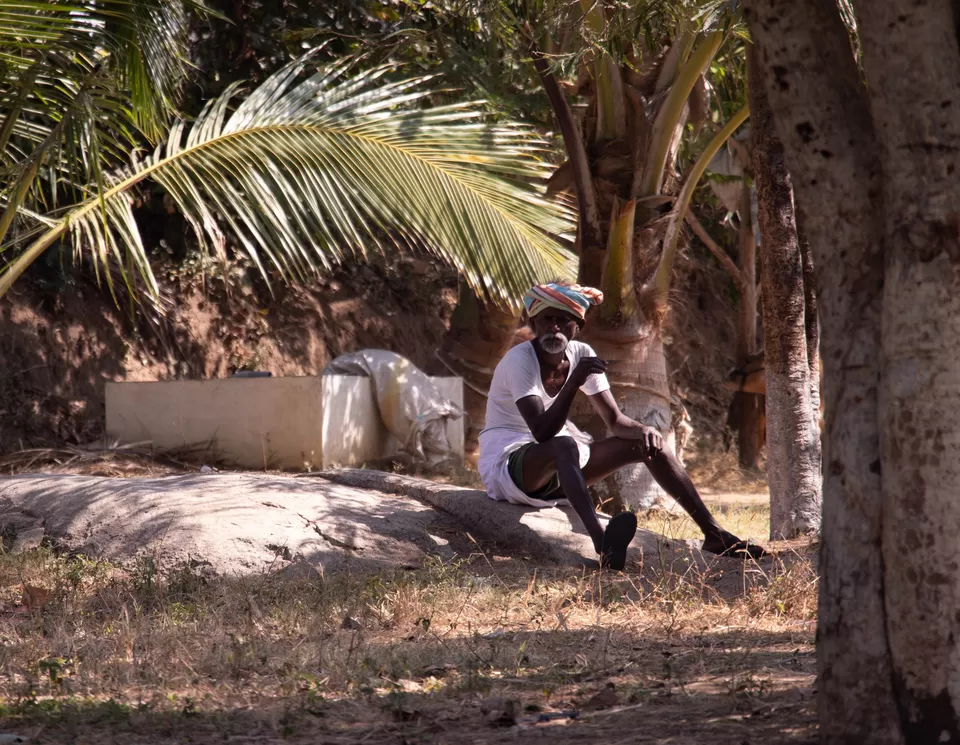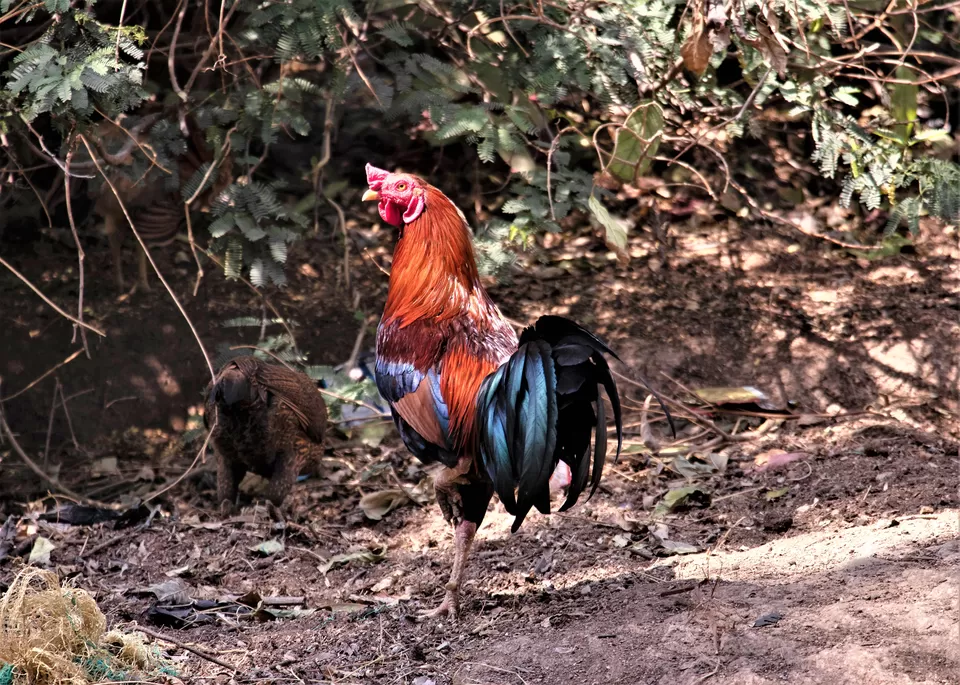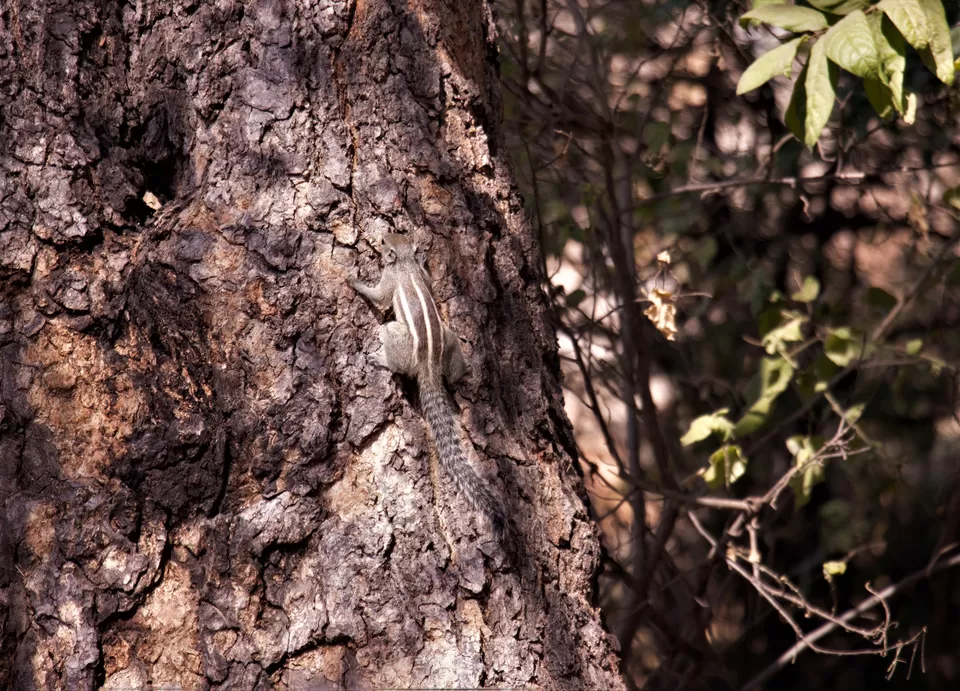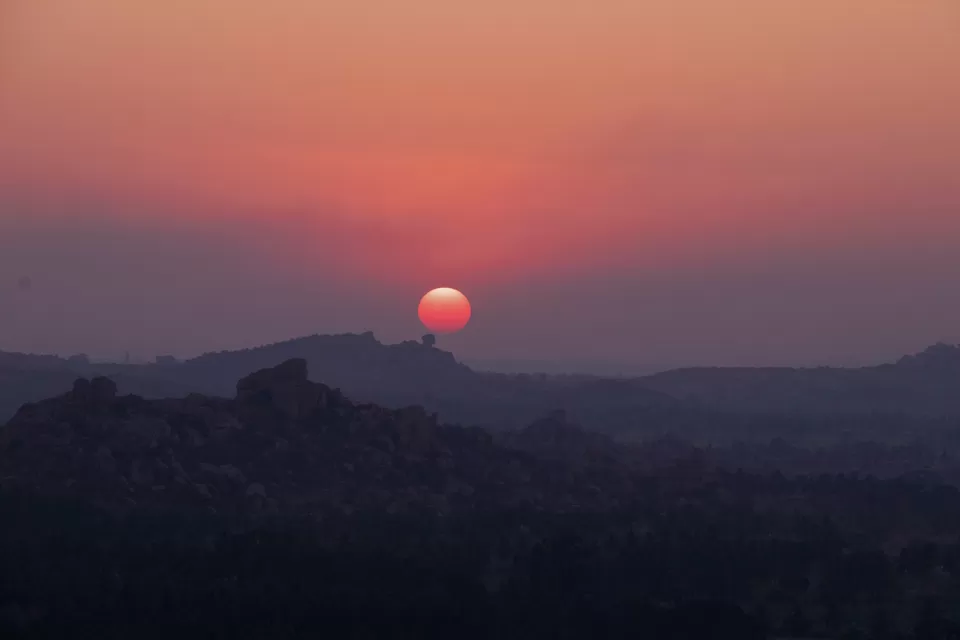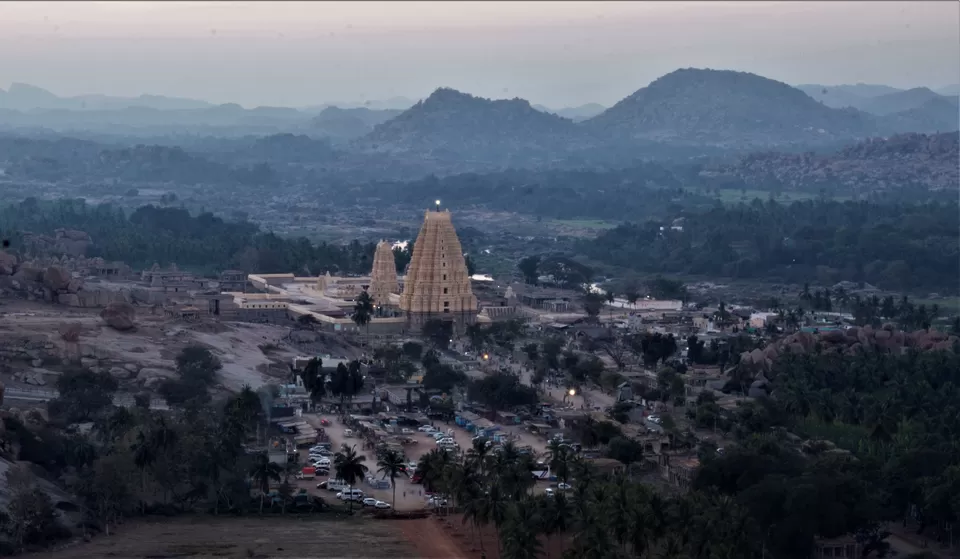 After we climbed down from Matanga hill we still had some time left for shopping and eating.It was a good idea to visit Hampi Bazar in the last day else we would have kept hopping from one stall to another . We left for Hospet at 8 pm for our return bus.
I would like to specially mention our guesthouse because it was one of the best stays I had ever had.Ramu is an incredibly good host, polite, helpful and has some very useful contacts up his sleeve.The guesthouse itself is a very relaxing place, with swings and trees and flowers, rooms are small but with all basic amenities.The dining area ,with its laid back ambiance, had become my favorite place.I could spend the day sitting there,reading a book, watching Ramu's children play, talking to them, looking at the paddy and mustard fields right outside and listening to the birds.Ramu and his team used to make delicious meals every time.At first, I was surprised at the variety of western food items being served in such a remote place.But it made sense once we looked around and realized that we were the only Indians in the guesthouse.I might just visit Hampi again just to spend a few days at Waterfall Guest House.
Contact: 9482786942
Hampi undoubtedly is known for its history and architecture, but for me the best essence of this village lies in its streets, in the people, in the huts , in the rice fields , in the air, in the simplicity of life.