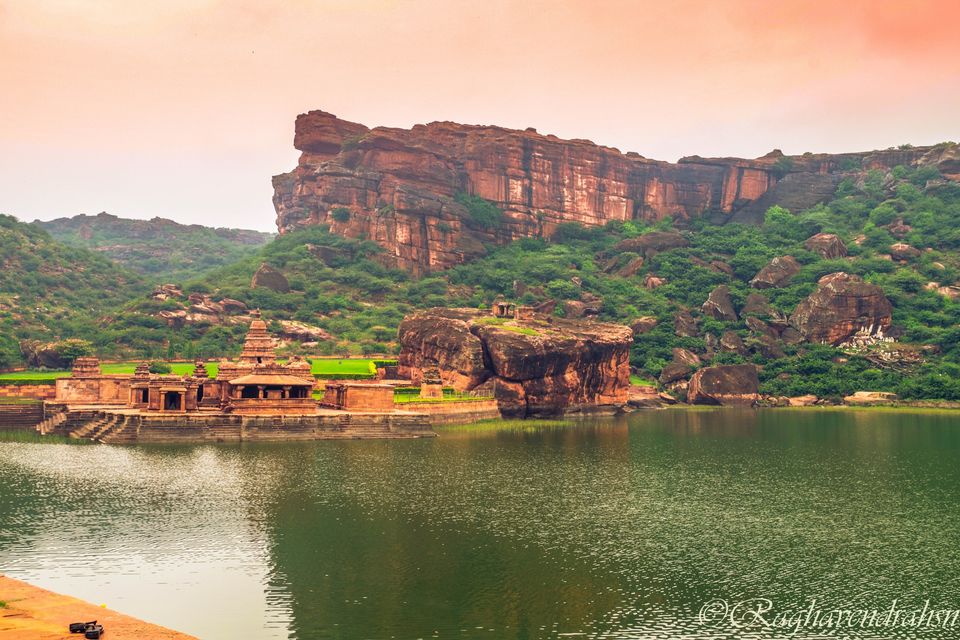 ITINERARY

Route travelled: Hubli -Badami- Pattadakal - Hubli
Places visited: Bhoothnath Temple, Cave temples & Malgithi Shivalaya at Badami and Group of Monuments at Pattadakal.
Stayed at: Mookambika Hotel near Badami KSRTC Bus stand.
EXPENDITURES
Transportation : around 500/- (only bus)
Stay: 1050/- ( Non AC double bed room)
Food: around 400/-
Total Expenditure: 1950/-
TRIP OVERVIEW
It was a cool winter Saturday evening when I decided to break free from the work place and the buzzing traffic. A Solo trip to Hampi couple of weeks earlier compelled me to go for another solo trip. This time I had chosen Badami which was around 3-4 hrs from my work place i.e. Hubli. So as soon as I finished my work I rushed to my room, grabbed my backpack and Camera and reached Hubli KSRTC busstand at 4.45pm. After waiting for 45 min at bus stand at around 5.30 PM I got on to Bagalkot bus that was going via Badami.
I reached Badami at around 8.45pm. Badami is a little backward area and the roads were bad. Fortunately I found a good hotel just opposite to Badami bus stand i.e. Mookambika Hotel but since there were no single occupancy rooms I was forced to go for a double bed room (1050/-).
As of now my plan was just to visit Badami the next day i.e.Sunday and head back to Hubli, but I thought a lot at night and didn't want to miss another renowned UNESCO world heritage site, Pattadakallu very near to it. So I decided to even visit that place. But I had kept Aihole away from my head as I just had one day to spend. Aihole had just one famous monument i.e. Durga temple so I skipped it deliberately due to the time contraint.
As it was cloudy and drizzling that night, I had no intention to wake up early the next day and hunt for some sunrise points. So I woke up late at 7.30 a.m, had breakfast in a pretty decent restaurant nearby and headed towards Bhoothanatha temple.
This temple is dedicated to Lord Shiva and it is carved out of sandstone that is situated on the eastern side of Agastya tirtha or Agastya lake. The temple is built in the style of early Eastern Chalukyas that is a blend of North Indian and early south Indian architectural styles. This temple is one of the major attractions of Badami and you just cannot miss it if you are visiting Karnataka. I took an hour to tour the complete temple and its surroundings which was completely mesmerizing.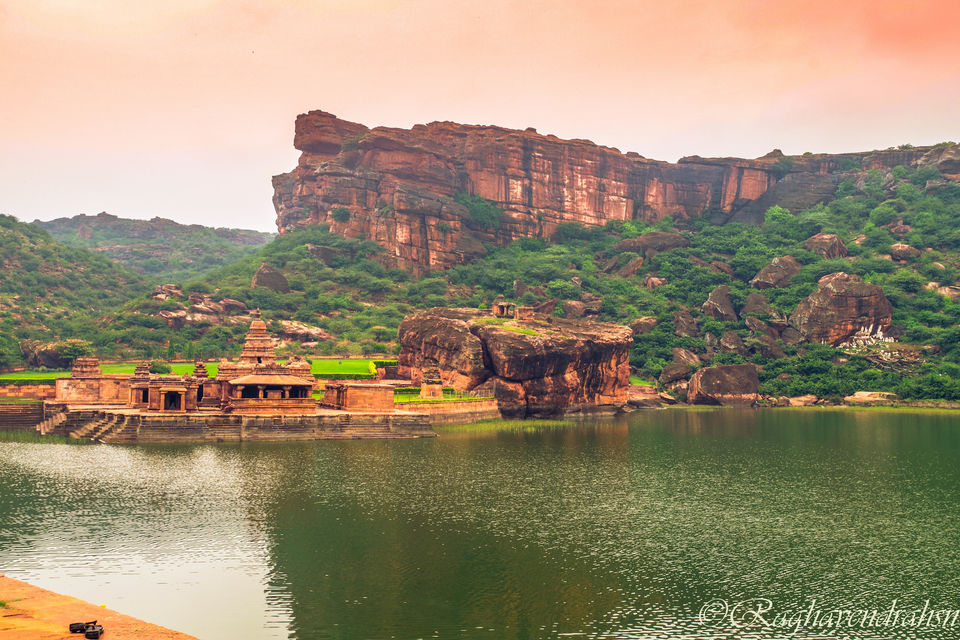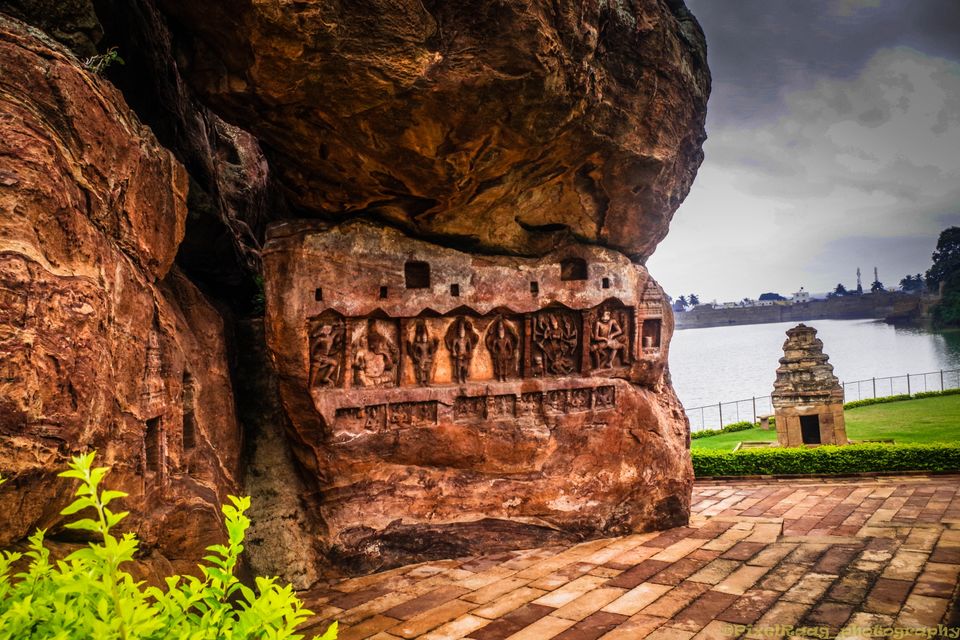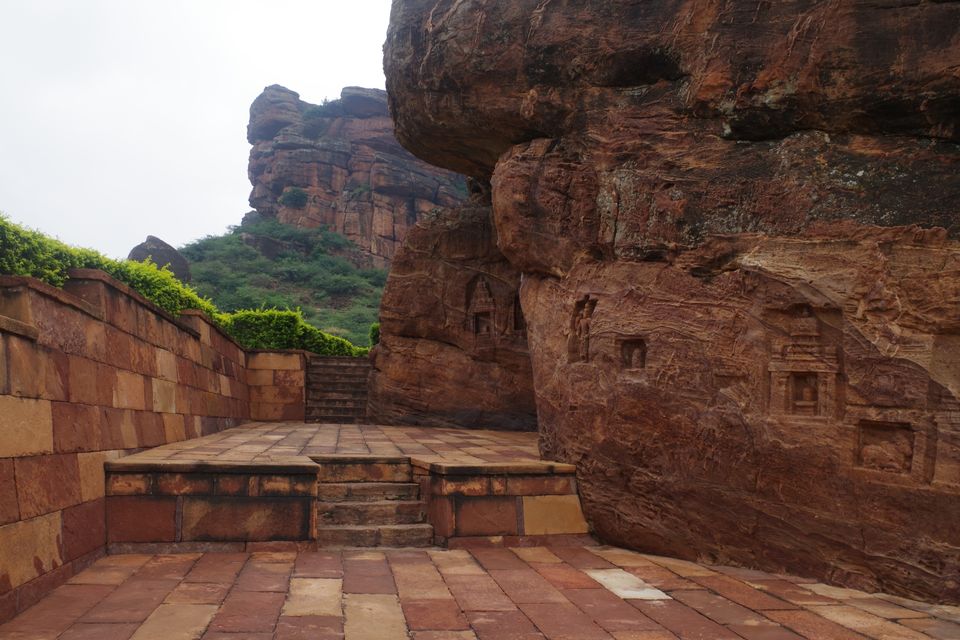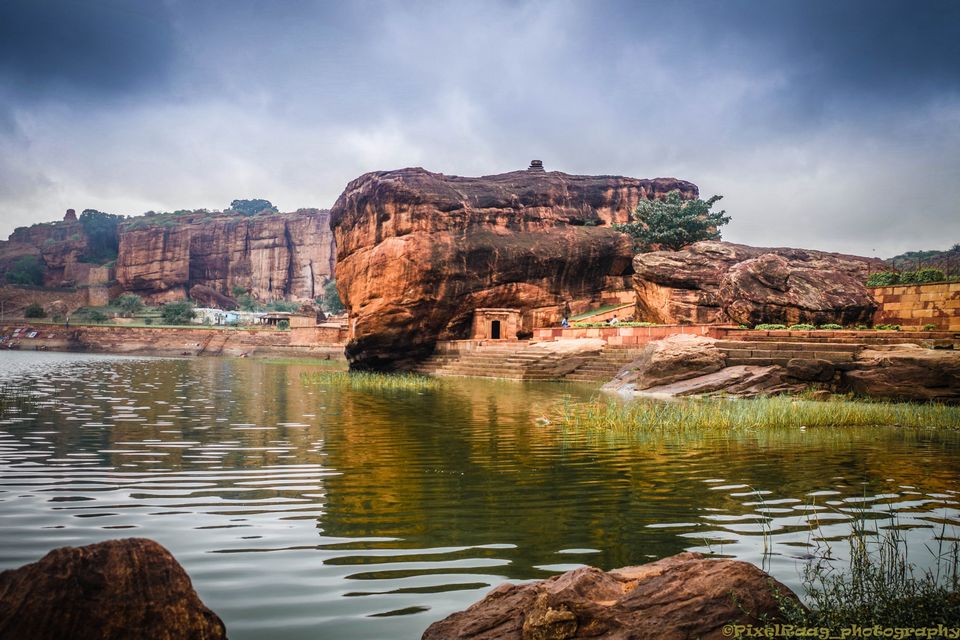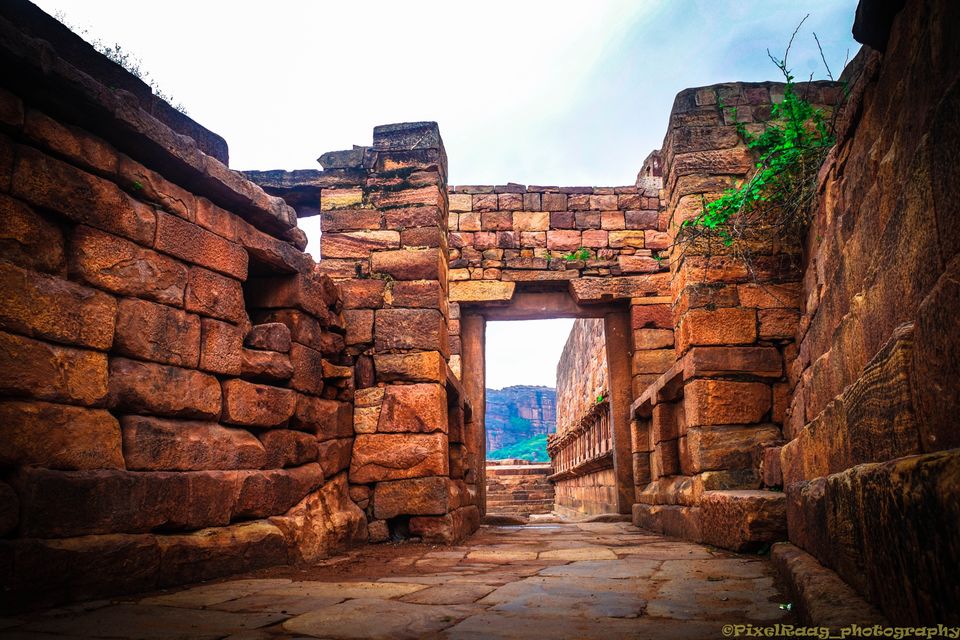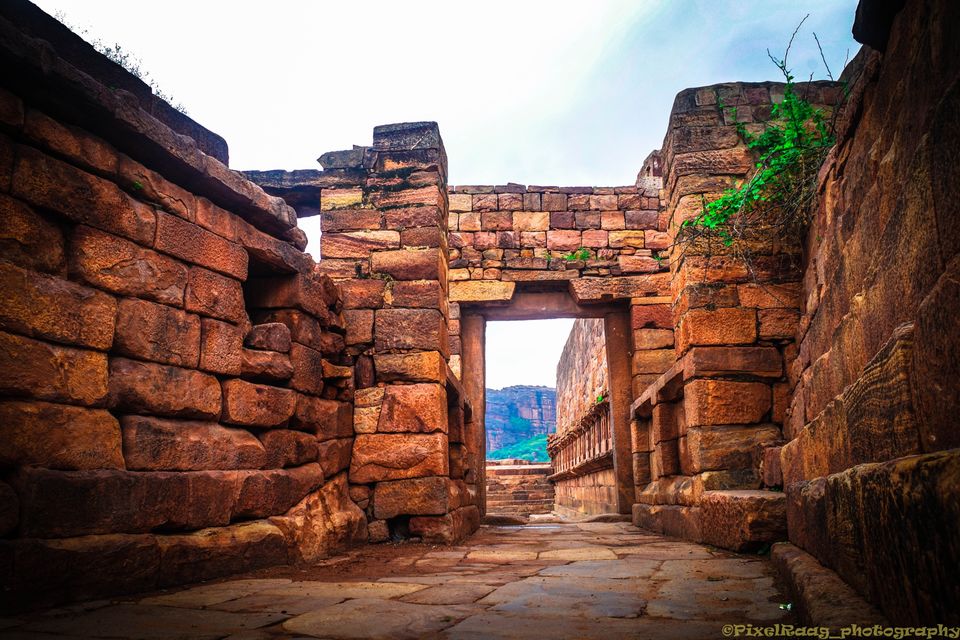 On the other end of the lake I visited the rock cut shrines or Cave temples of Badami dating back to 6th century A.D by passing through a small street that connects Agastya lake to cave temples and later by climbing up some 50 steps.
Badami cave temples enclose brilliant carvings with sculptures of Gods (Shiva & Vishnu) from the Hindu Mythology and of Lord Mahavira. There are a total of 4 cave temples and each cave consists of a sanctum, a hall, a verandah and pillars. Beautiful carvings and exquisite sculptures adore the site. I spent some valuable time in these caves and moved on to explore Malagitti Shivalaya temple which was nearby the cave temples.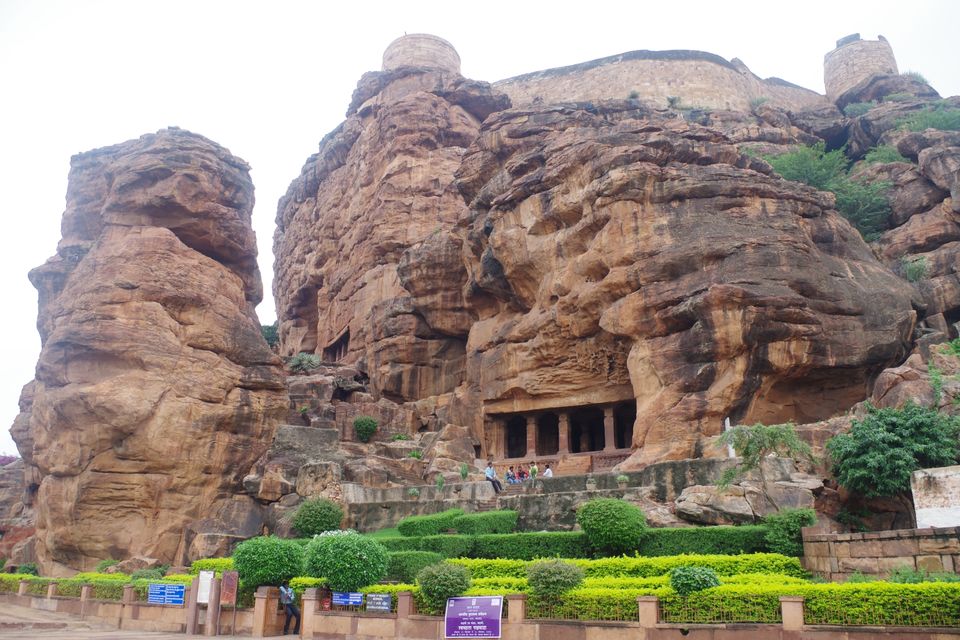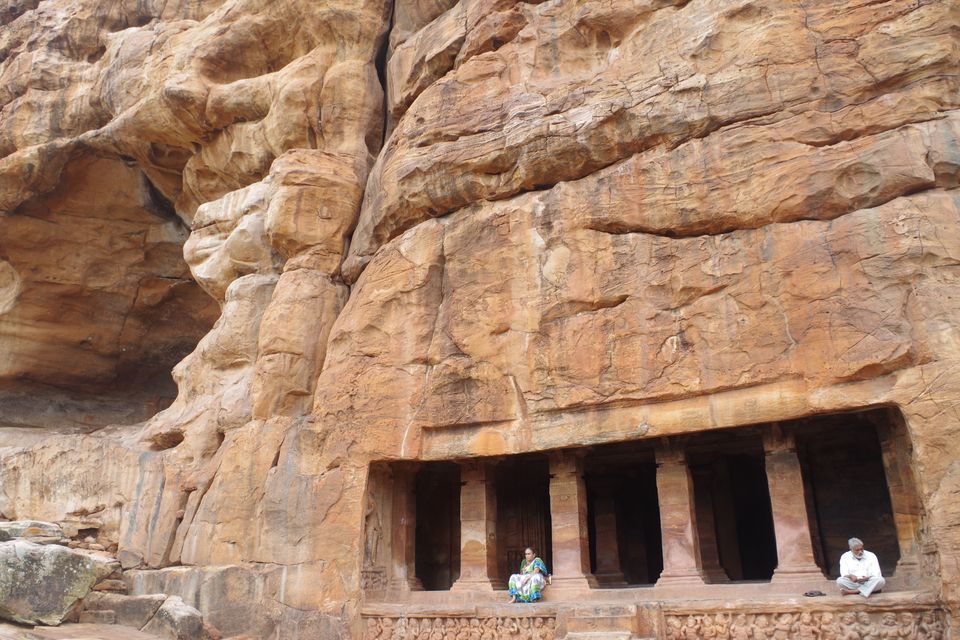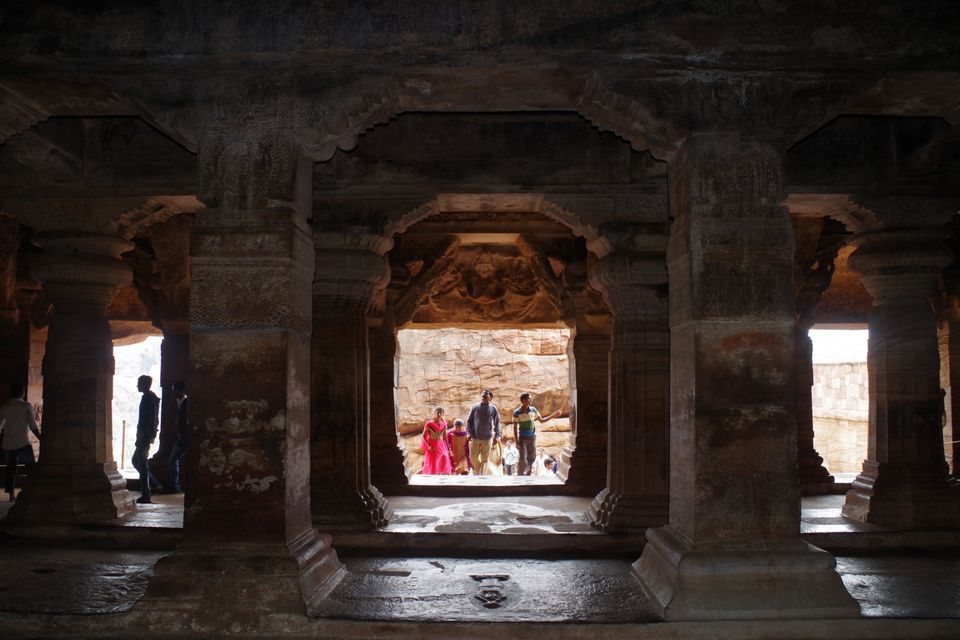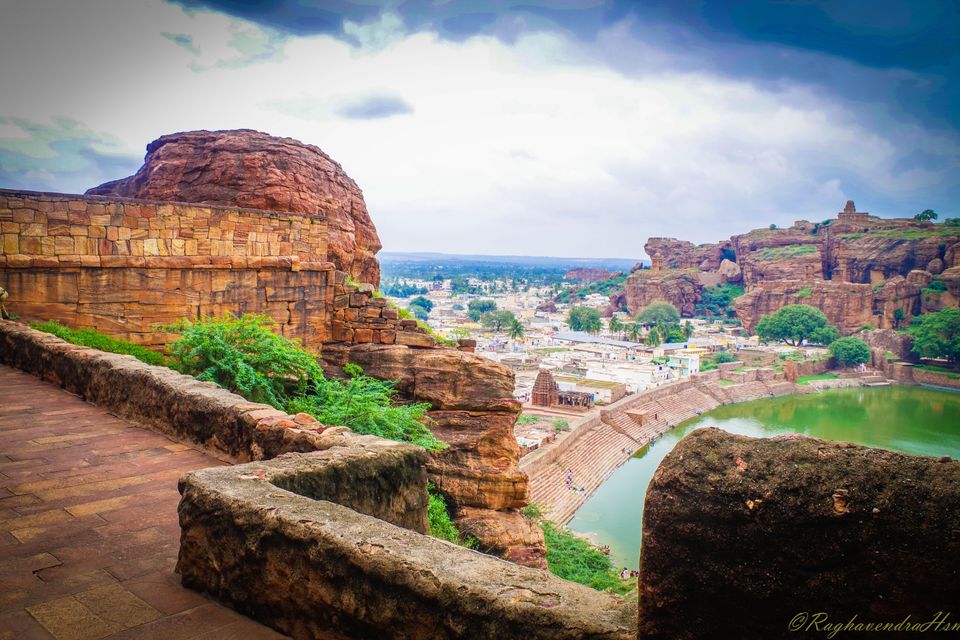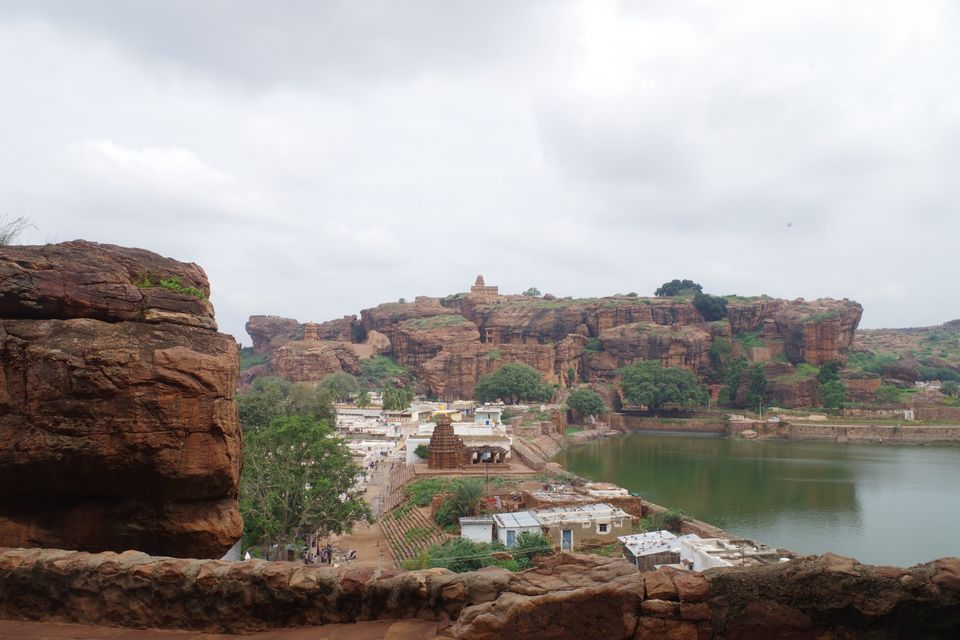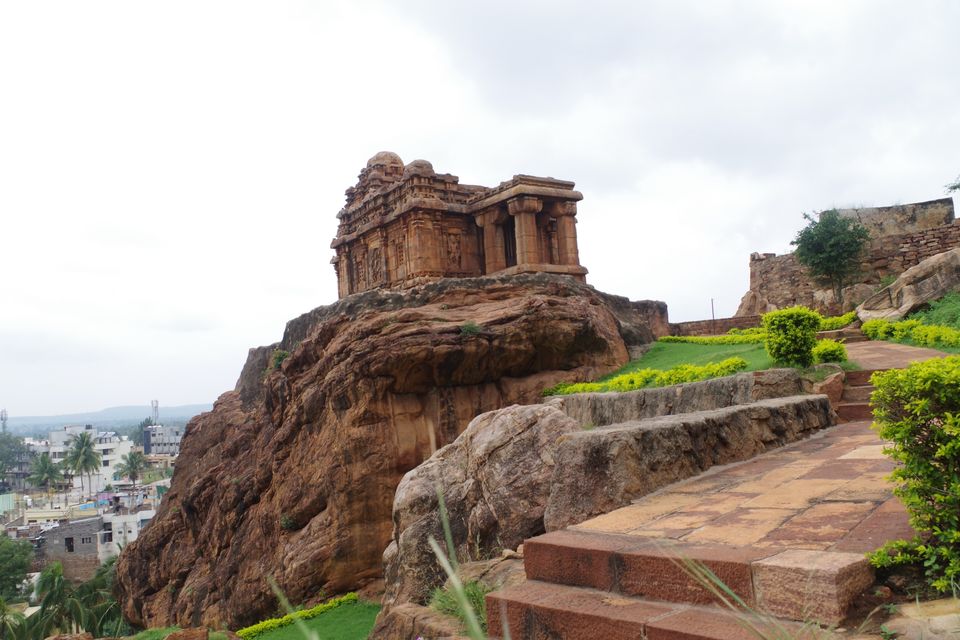 Malagitti Shivalaya Temple:
It was built on another small rock mountain in Dravidian style which clearly tells that it was built much later. The temple exterior is beautifully decorated with the figures of gods and animals.As this place was least visited by the tourists I spent an hour here in solitude enjoying the grand view of the surroundings this place offered.
It was around 2pm when I decided to climb down from the temple. Later I had the local cuisine Jollad Rotti , Chatni and Brinjal palya for the lunch in a Khanawali(Hotel) which tasted heavenly. Then I took a Ksrtc city bus from Badami busstand to Pattadakal at around 2.30pm.
Badami was the capital of Chalukya rulers during 6-7th century A.D. These rulers started building temples by carving out the rock mountains at Badami in the beginning, later they experimented the temple construction at Aihole(so called as the cradle of Indian architecture) where we could see the pre-mature architectural style temples, later they started building more matured temples in different styles (Dravida, Nagara etc) at Pattadakallu, where the royal coronation of almost 70 chalukya rulers occured. So it's obvious that this place was kept very sacred and it was their second capital.The monuments at Badami and Pattadakal are well maintained by Archeological Survey of India.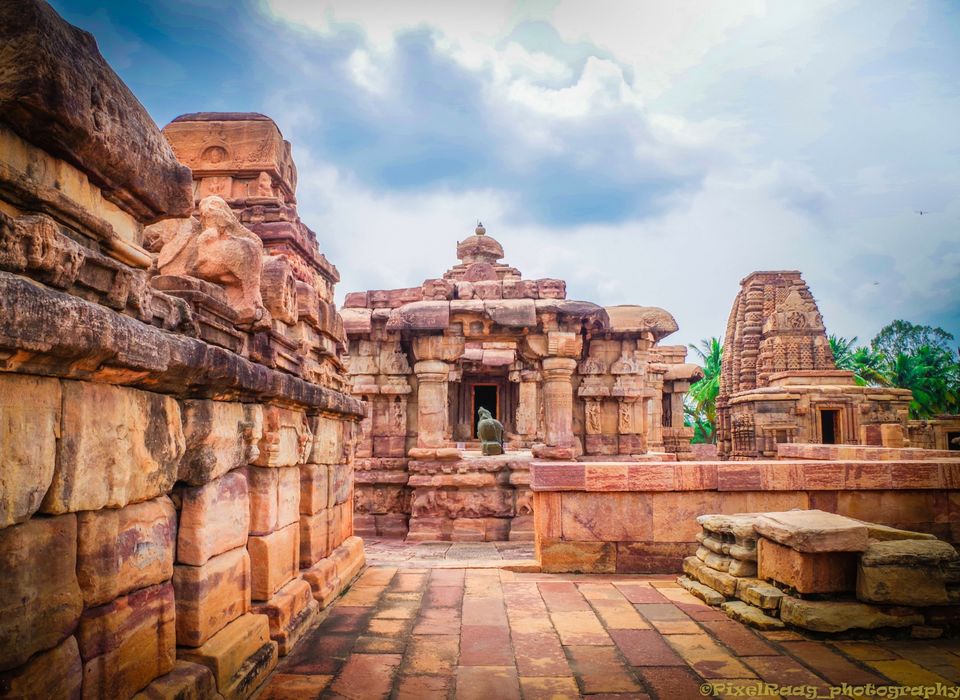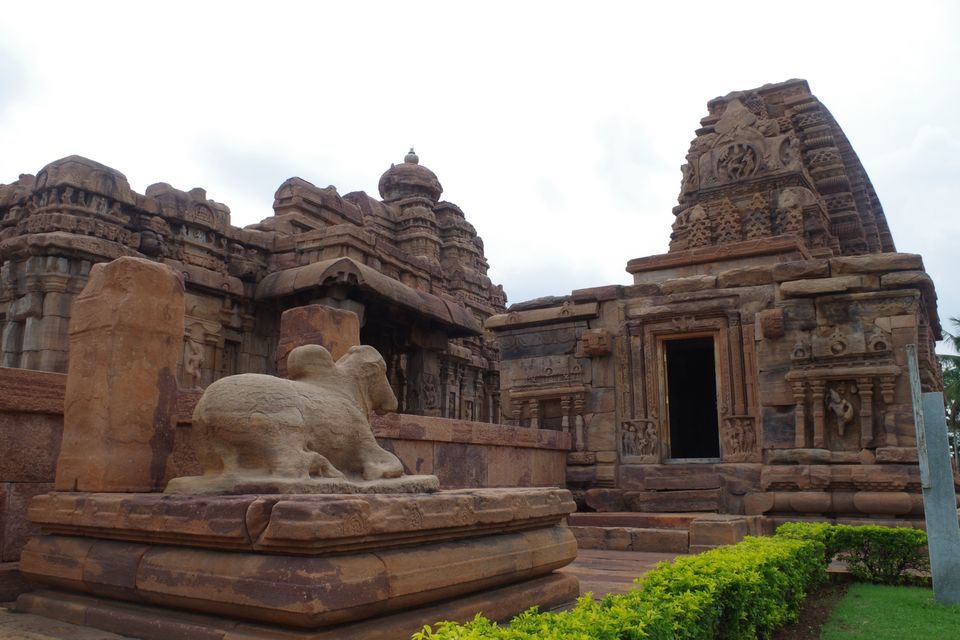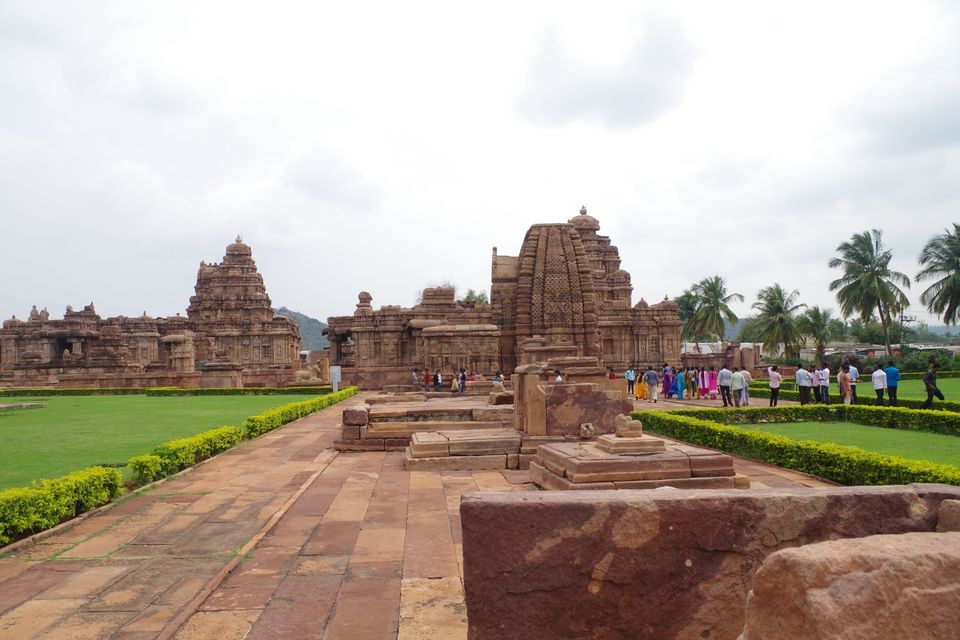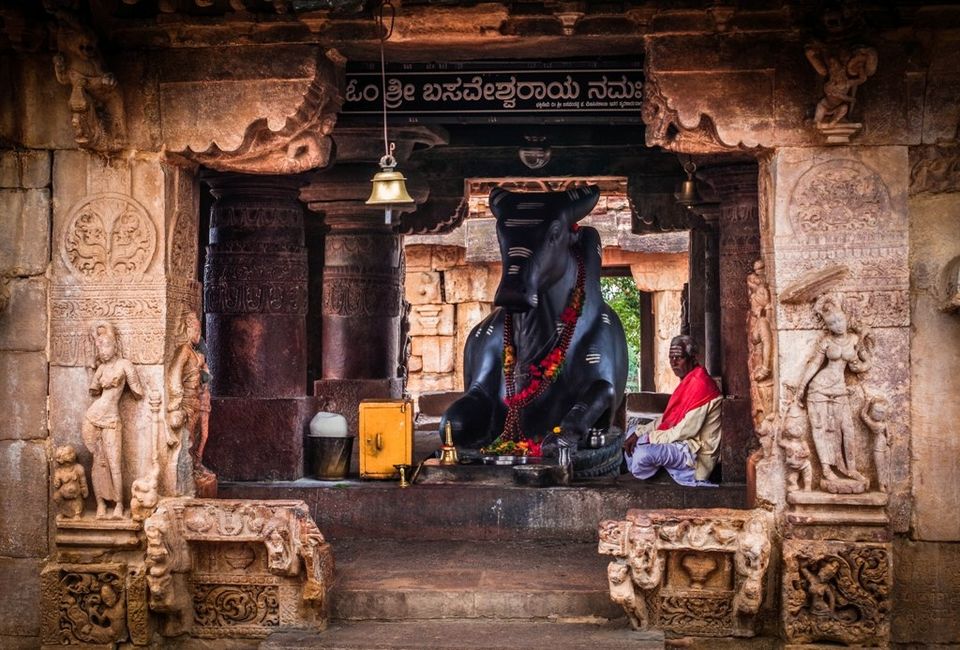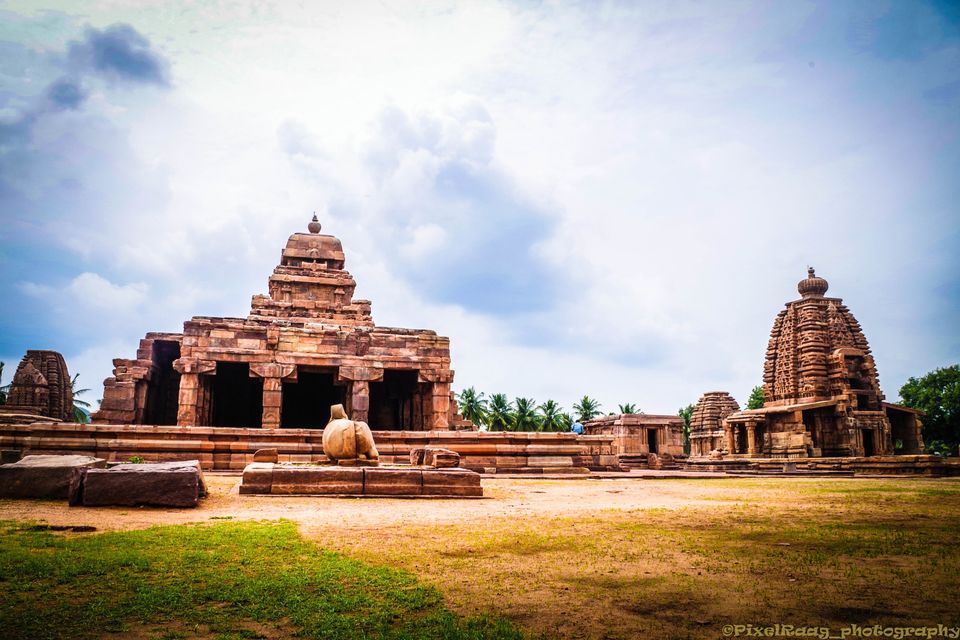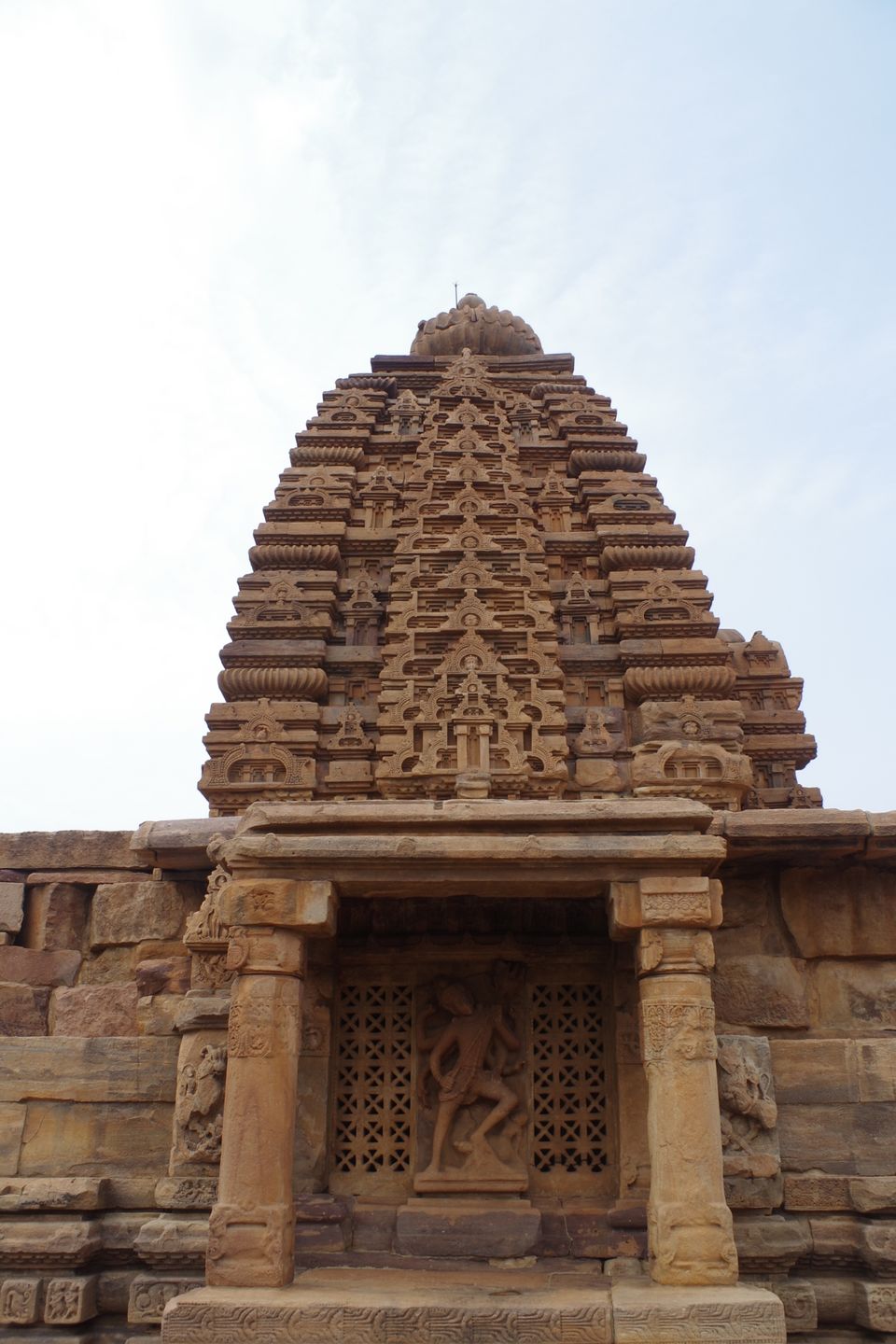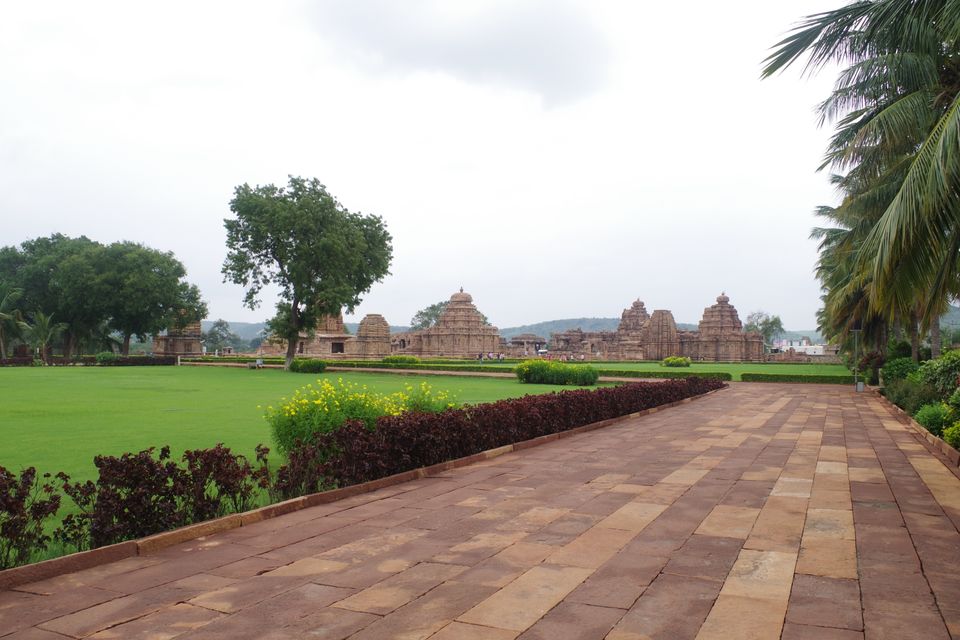 It was already 5pm so due to the time constraint and as decided earlier I skipped Aihole half heartedly.After waiting for an hour I got a govt bus in which I returned to Badami. I checked out my room at Badami around 6PM and started my return journey to Hubli.
Nearby tourist spots:
1) Durga temple & Ladkhan temple Aihole. 32Km from Badami
2) Kudalasangama, confluence of Krishna & Malaprabha rivers. 70km from Badami.