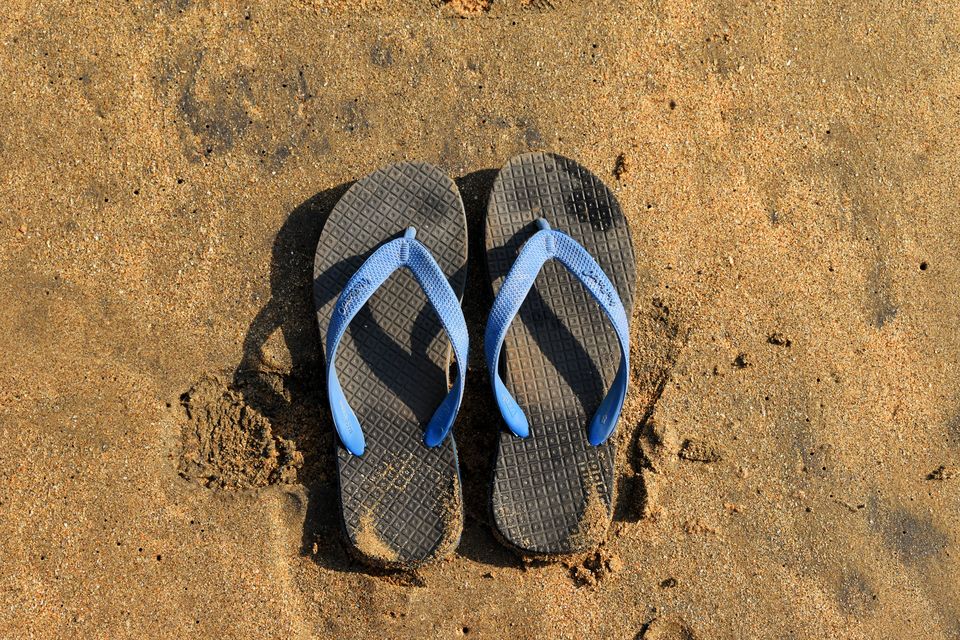 If you are tired of visiting mainstream beaches of Goa for every get together of yours, try hitting Gokarna the next time. It is a small town in Karnataka, by the side of the Arabian Sea, which has recently gained a lot of tourist attention.
Tourism in Gokarna basically started because of the famous Mahabaleshwar Temple which is dedicated to the Hindu God Shiva. However, now the locals have started discovering the potential of its beaches and a number of shacks, cafés and other tourist related activities have started popping up.
Day 0:
I took a bus from Pune to Gokarna. Not many options are available for this because as I said Gokarna is still an offbeat location for most people. I booked an 8 pm AC Sleeper bus by Canara Pinto. The bus is recommended if you're traveling from Mumbai/Pune. The timing couldn't be better because it drops you at Madangeri (Gokarna Cross) at 6. From, there I took an auto to Hostel Lavie which was my stay for 2 days.
About the stay:
Accomodations in Gokarna are mostly a bunch of guest houses and homestays scattered along the stretch of the beach. Instead of shelling out a huge load of money for a stay that is located on a remote spot, I'd suggest you stay at either of the two famous hostels here: Hostel Lavie or Zostel (especially if you're a bunch of bachelors or traveling solo). The crowd here is lively, and you get to connect with a lot of new people.
I entered HostelLavie to a sunrise like this: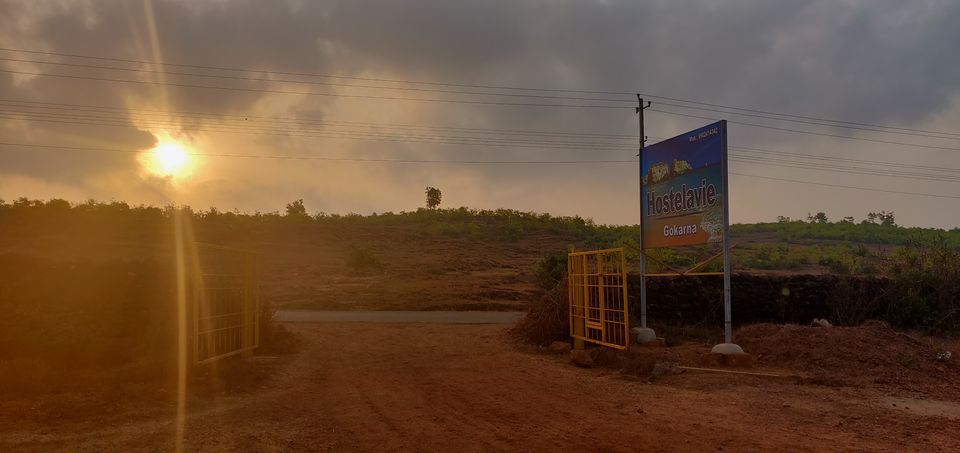 The place is vast and has a few viewpoints of its own: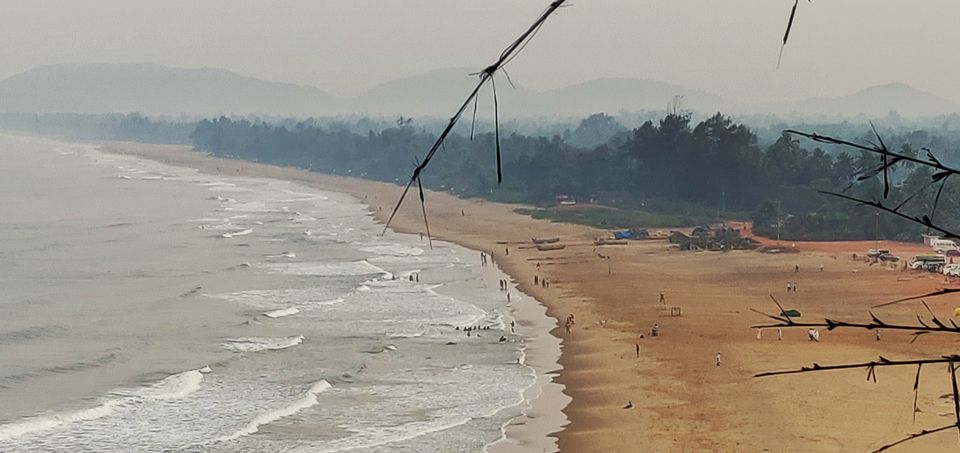 Please note that both these hostels are bustling with young people (primarily on a weekend) so it is advised to pre-book the rooms.
Day 1:
The beaches in Gokarna are not commercialized yet. Neither is there a sane motorable road to most of them. The two main beaches here are Kudle beach and Om beach. I was already staying on Kudle, so I decided to hit Om beach first. The name of this beach comes from the shape of the beach. It is shaped like the Hindu mythological symbol Om and this holds significance because of Gokarna being the land of Lord Shiva.
The beach is clean, less crowded (as compared to Goa) and the water is blue. I took a stroll along the beach and came back to have lunch at Namaste Cafe. The food is nice but the service was pathetically slow. Try their Fried Prawns if you're into seafood. Since there aren't many shacks around that place, the cafe was a full house.
After the afternoon sun had faded, I decided to trek to the Half Moon Beach. Most beaches in Gokarna are hidden from the main land by hills. Half Moon Beach is one such beach. You need to trek through some dense forests starting from Om beach, to reach this beauty.
The forests are safe and the trek is an easy one (1 km roughly). On Half Moon Beach you can find a few cheap shacks and some locals who could get you some cold beer. This was a relief because owing to the ban on serving of alcohol on beachsides, almost no cafe in Gokarna serves alcohol now. I stayed here for some while, to soak in as much of the serenity as could.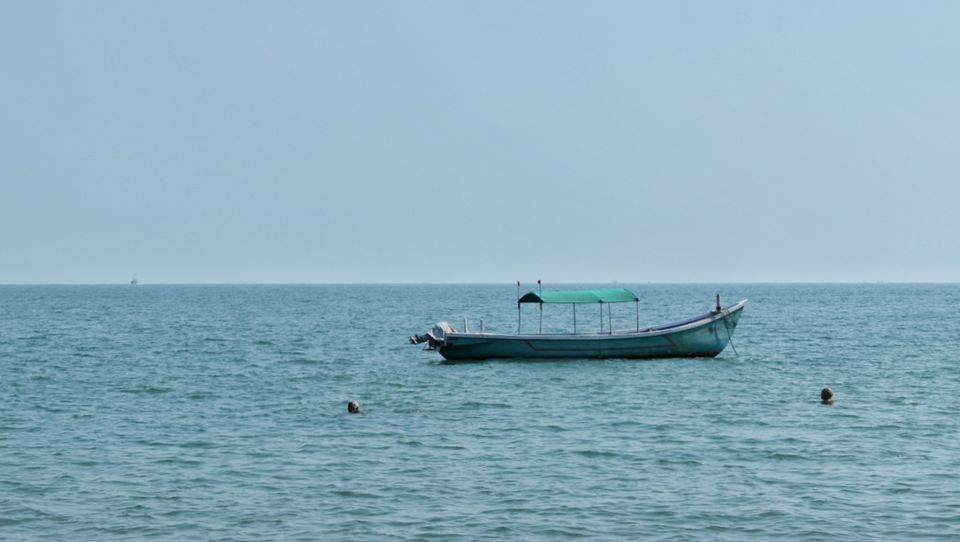 For the return from this isolated beach, I took a ferry. The route of the boat takes you along a solar powered lighthouse, a stop at Paradise Beach and through a rocky beach where you can spot a pod of Dolphins (if you're lucky enough :p).
The Paradise Beach appeared to be the most serene of all the beaches. It has a stretch of palm trees lining the beach giving it the most cliched beach like appearance.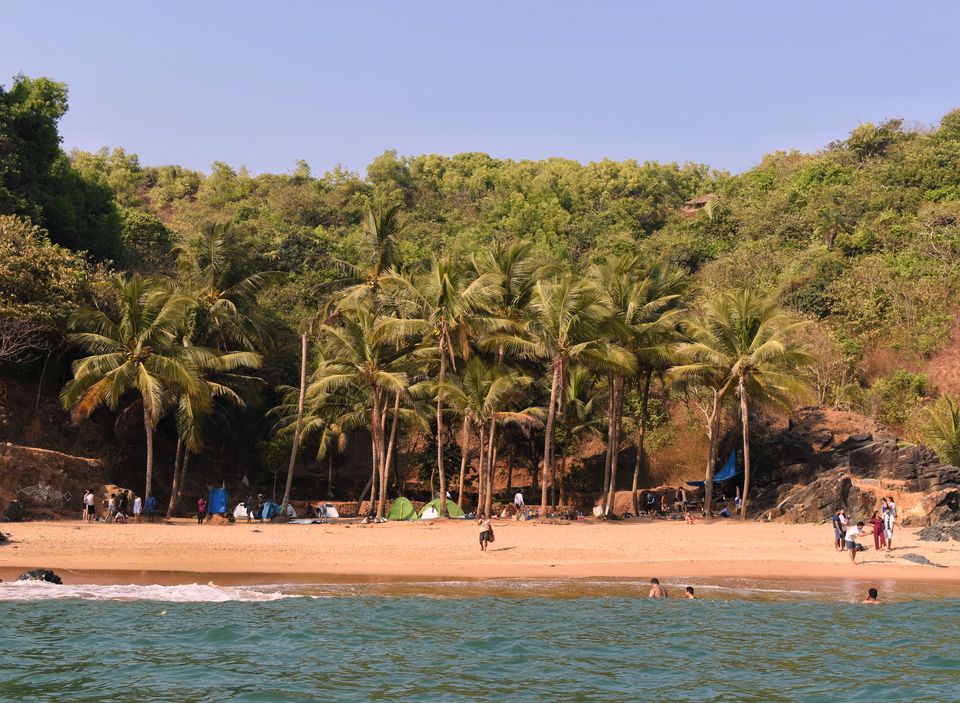 The beach is open to overnight camping and is apparently recommended by locals. This is one thing that I missed on while planning the itinerary and something that could be included.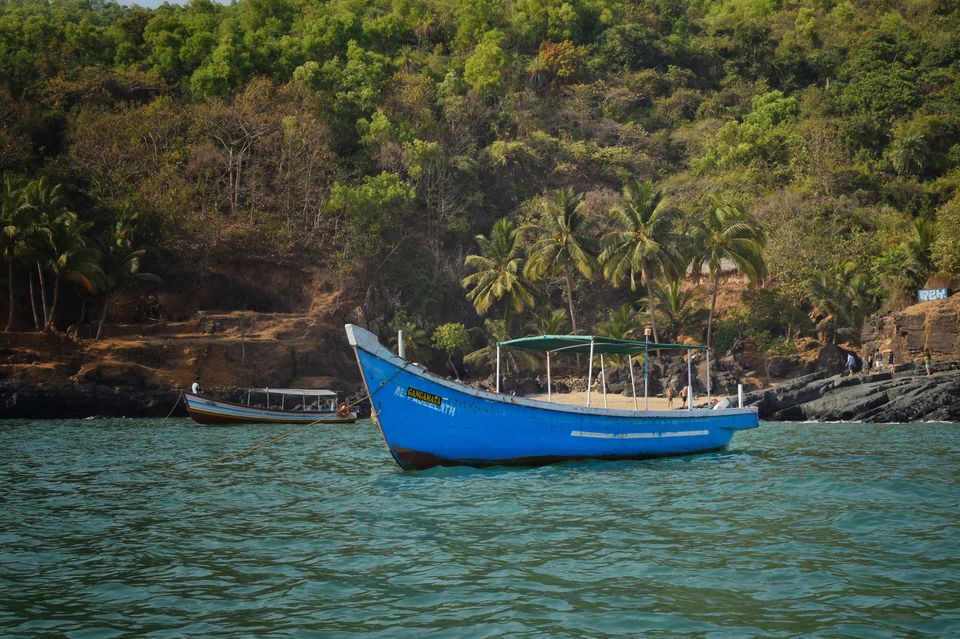 After the ferry dropped us back to Kudle Beach, I realized why Gokarna is really that buzzing an offbeat location. While I was walking back to my hostel, I witnessed people just lazying around in the sand while some where engaged in a random beach volleyball match, and most importantly there were not many people to disturb you if you had got there just to soak in the beauty of Gokarna.
I closed the day witnessing a sunset right from the lawns of Hostel Lavie and it couldn't get any better.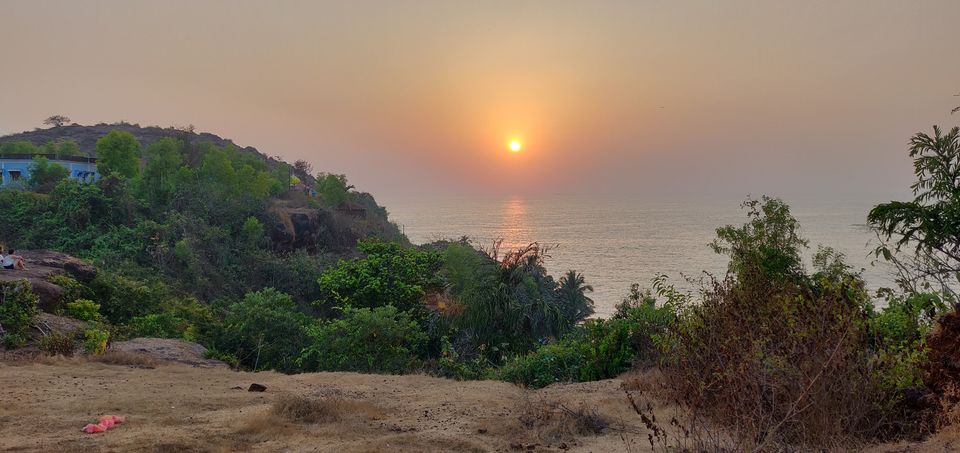 Day 2:
The second day was more about relaxing and taking a stroll down the town. I decided to stay back at Kudle Beach for the better part of it. I hopped different cafes and shacks on Kudle and tried my hands at photography.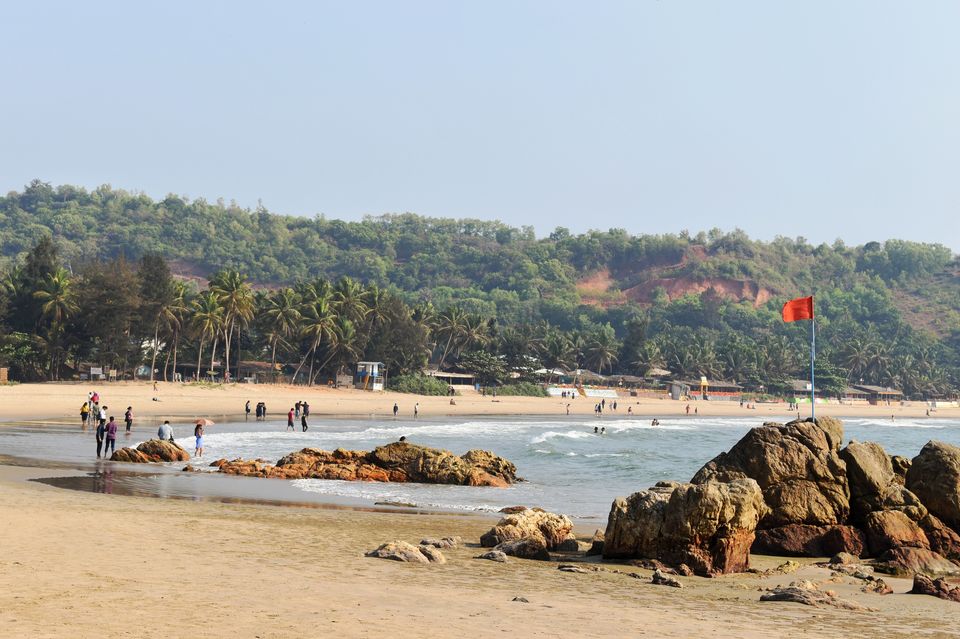 After this I stepped out on the lanes of this small town to hunt for collectibles, find out more about the local culture and visit the coveted Mahabaleshwar Temple. The lanes in Gokarna are not much crowded and there is not much to explore. Most of the shops you'd find, sell spices, metal utensils (primarily for the temple) and a few hippie collectibles.
A reknowned place around the central part of the town is an eatery, Prema Restaurant which is famous for its Gadbad Ice-cream, which is a blend of homemade ice-cream scoops, some dry fruits and fresh fruits. You can also try their South Indian cuisine.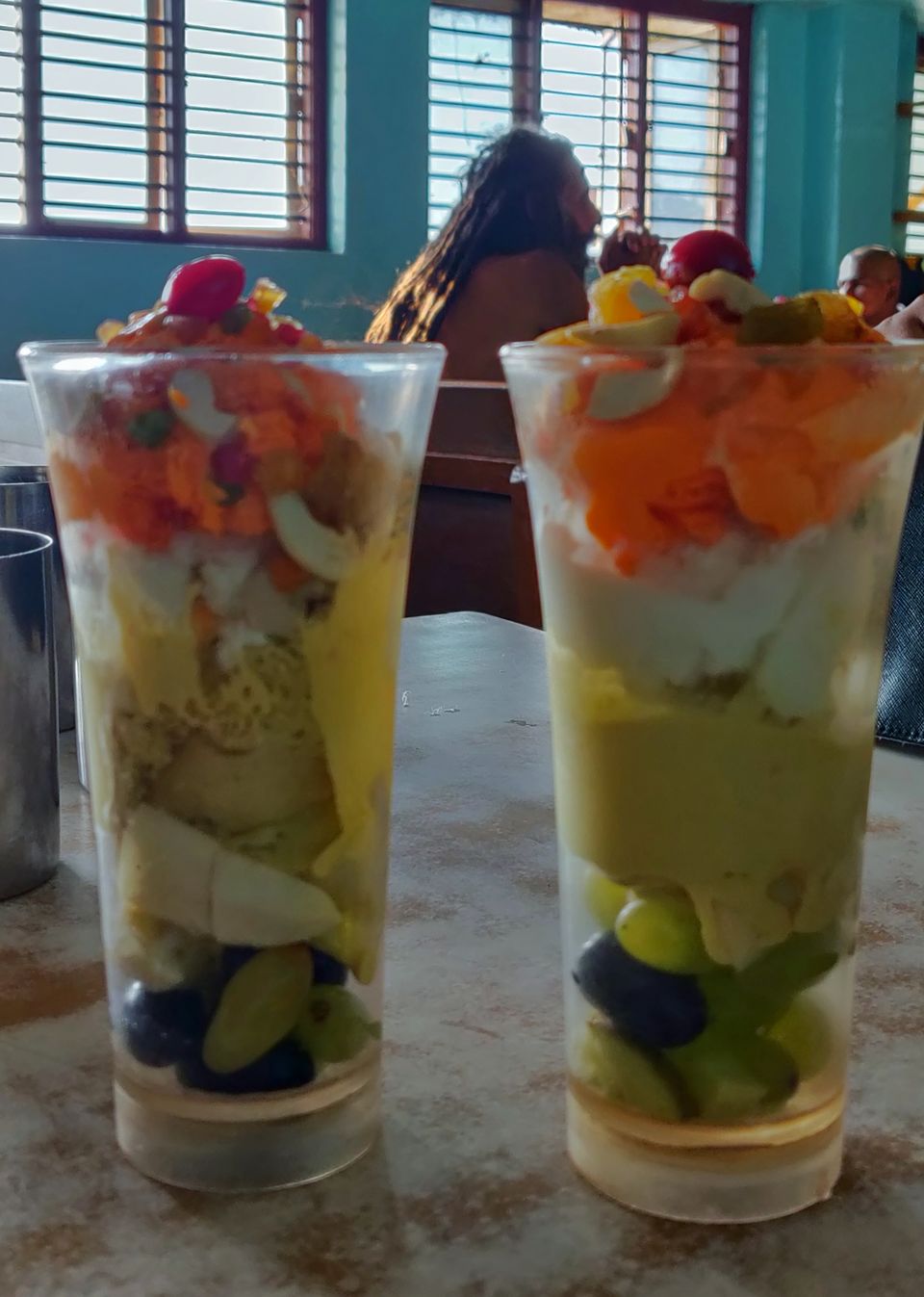 Entry to the Mahabaleshwar Temple is restricted. A male has to enter the premises with a bare torso and the females are expected to be decently clothed. Owing to this, I decided to drop the plan and head towards a cafe named Chez Christophe.
Reaching Chez Christophe is in itself a task. The cafe is not connected to any roads, and one has to take a long walk along the shore to reach this hidden gem of a place. Also, if you're lost try calling the owners and ask for directions. The cafe is run by a French couple and serves some lip-smacking non-vegetarian options. The vegetarian options are also decent. Try their croissants if you're planning to visit them.
But the food is not the catch of this place, the ambience and the crowd is. You'll mostly find foreigners in this place, and if you visit them on a weekend you might be lucky enough to witness a live performance of some Indian fusion music as well.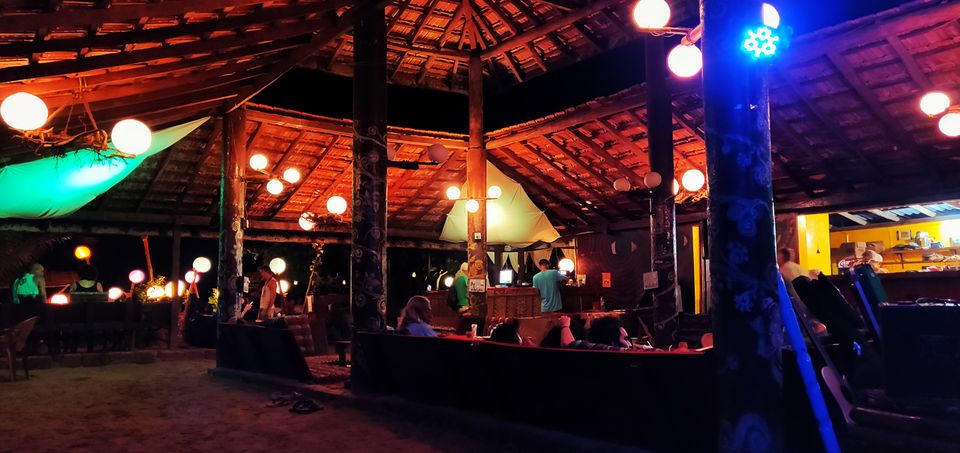 I headed back to Madangeri bus stop to catch my return bus to Pune.
Gokarna in all is a must have experience especially if you're trying to find some peace or travelling solo.
If you liked the pictures, you can follow me on instagram at @the_banarasi_nomad.
Quick Tips:
1. Carry a lot of cash as most shacks will charge you an extra 5-10% for online or card payment.
2. Don't expect liquor on the beaches. You can get some decent options at Mantra Cafe.
3. Try staying in a hostel, saves you a lot of money.
The food is expensive in Gokarna, get used to it.
4. Mahabaleshwar Temple requires men to remove their angavastram and females to come fully clothed, so go prepared.
5. Beware of the crabs on the beaches, they come out at night and they are literally everywhere.
6. There is some local law about tourists not allowed on the beaches post 7:30 PM of which I'm not sure about.