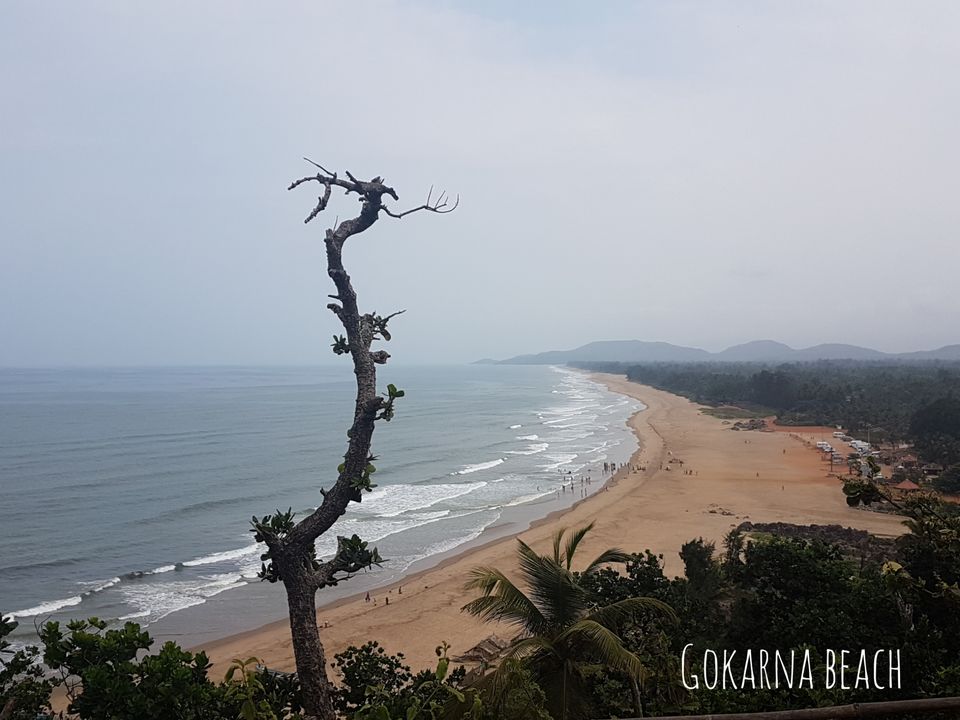 Travelling on your own is fun , challenging , vivid and exhilarating. It can be an incredible librating experience having freedom to do exactly what you want to do and when you want. But in real sense you never travel alone the world is full of friends waiting to get to know you.
Looking in to mirror i saw a happy girl was just about to go on a trip with one way ticket in her bag " life is never ending journey"
GOKARNA is more chilled out version of goa without hustle and bustle of it. It is all about temples , serene beaches and narrow lanes in small quaint town. This small town is famous for its beach trekking . The route is popularly known as " GOLDEN ROUTE". The trail will entail walking on the beach sands by the side of rocky hills on one side and arabian sea on other side. The route will pass through several beaches starting with kudle beach then goes through most popular OM shaped OM beach. you pass on to more rocky hills trail and reach half moon shaped beach or crescent beach.The beach hopping trail ends at paradise beach which is most secluded and serene. you can also visit mahabaleshwar temple to spend your morning time.The major five beach which can be explored are gokarna beach , kudle beach , om beach , paradise beach and half moon beach.
I always prefer hostel whenever i travel solo as hostels are full of solo travellers looking to make new friends who will join you on your adventures around a new city . And i stayed at  zostel gokarna  and had one of the most memorable time..
ZOSTEL gokarna was a destination itself. It is located on a hill top so views to beach are insanely beautiful. It had amazing view and vibe to this place and you can see sea from every corner of it. It is located on main gokarna beach. zostel also offer free tours and activities to help travellers get to know the new city. you can just look up at the activity board and join whatever fun outing they have planned that day and thats a great way to meet and make new friends.
MANTRA CAFE , located in premises of zostel offer some lip smacking food overviewing the beach.
Outsiders not staying in zostel can also have access to this cafe.
I spent three days at this rustic and  laid back temple town unwinding myslef in lapse of nature.It is definately a place for travellers looking out for  relaxing beach holidays.It is a mixture of sprituality and tranquility at the same time.
☆ MUST INCLUDE ☆
▪ Best time to visit  is from jully to october.
▪Minimum duration of stay  atleast three days.
▪ Must try manglore buns .
▪Try out Namaste cafe and mantra cafe for food.
▪Must include beach trekking in your list.
▪Try out some yoga session at om beach.
▪Beach camping on serene beaches of gokarna.
▪Best stay at zostel gokarna for amazing views.
▪Best sunsets at kudle beach.
▪ Spend some quuality time at paradise beach.
▪ You can rent a scooter and explore near by places like murudeshwar temple ( 78 kms), Mirjan fort ( 21kms) and vibhuti falls ( 42 kms) from gokarna for a day trip.
▪You can visit nirvana beach for some amzing phytoplanktons.