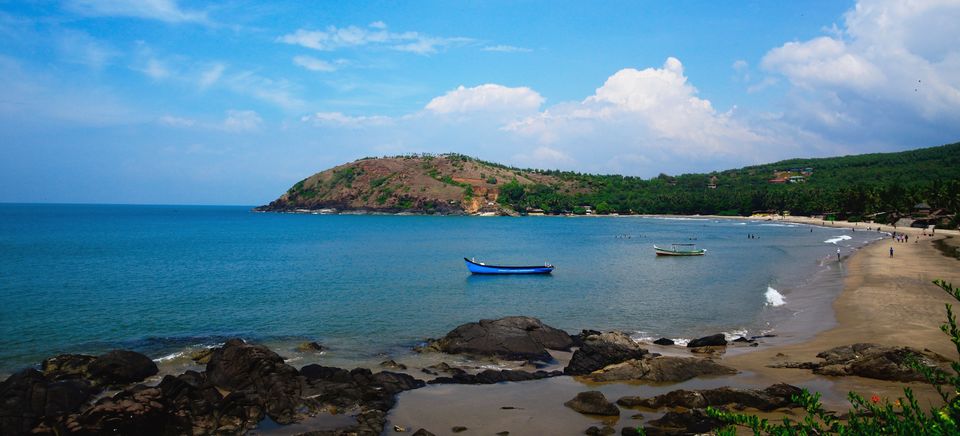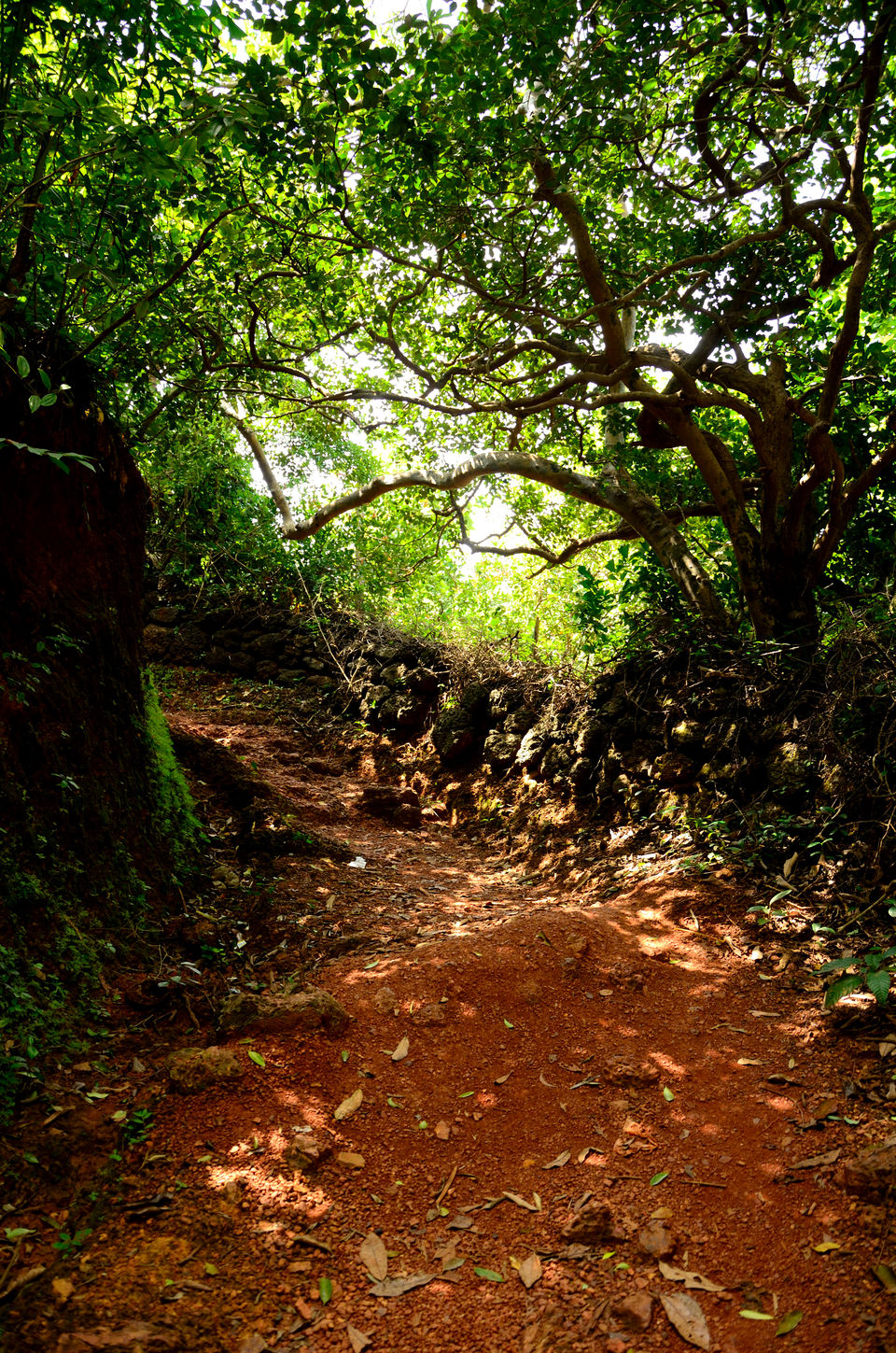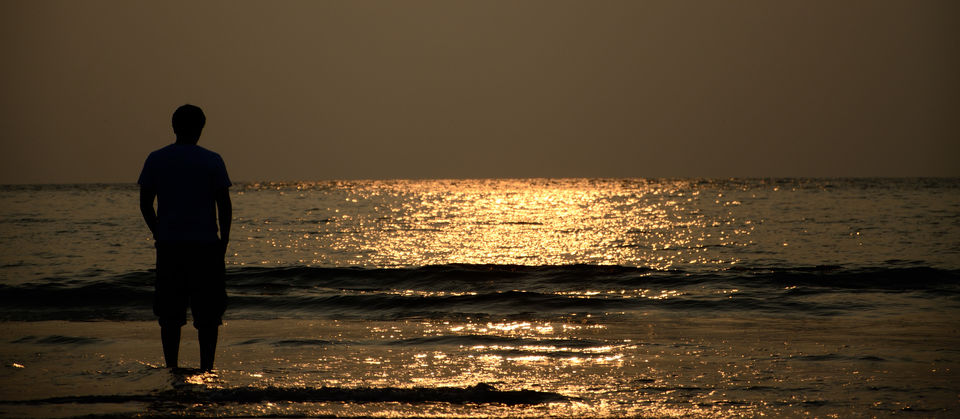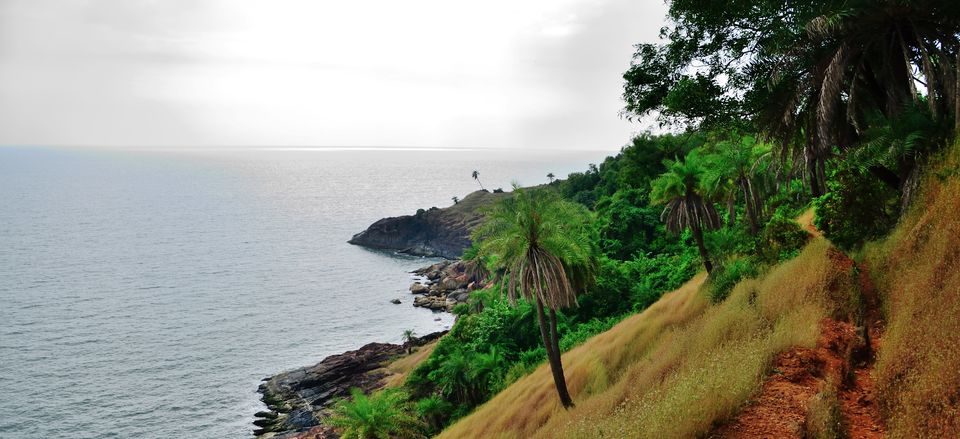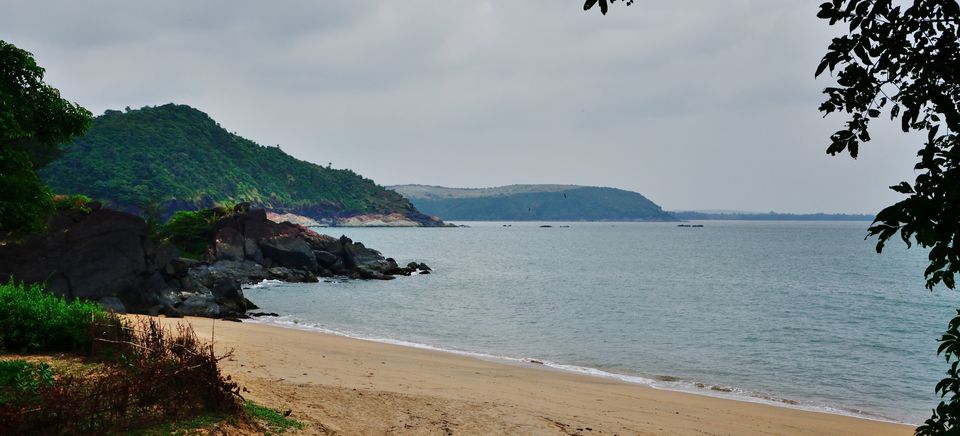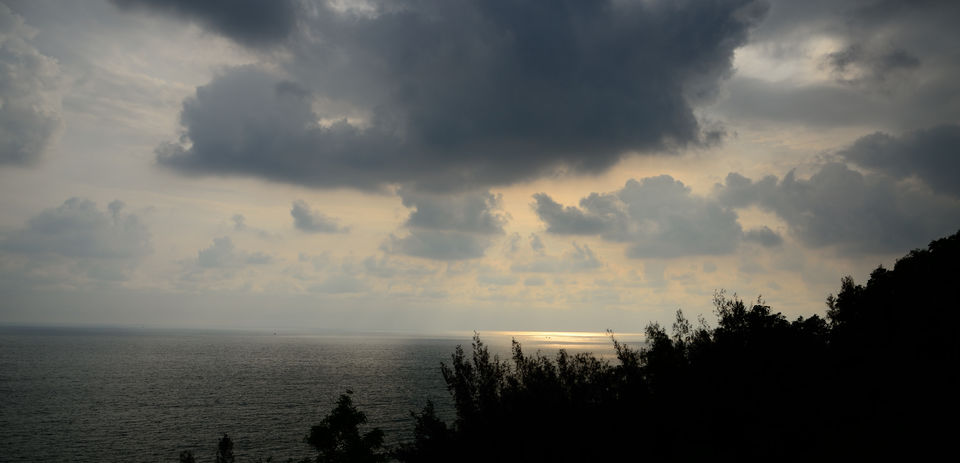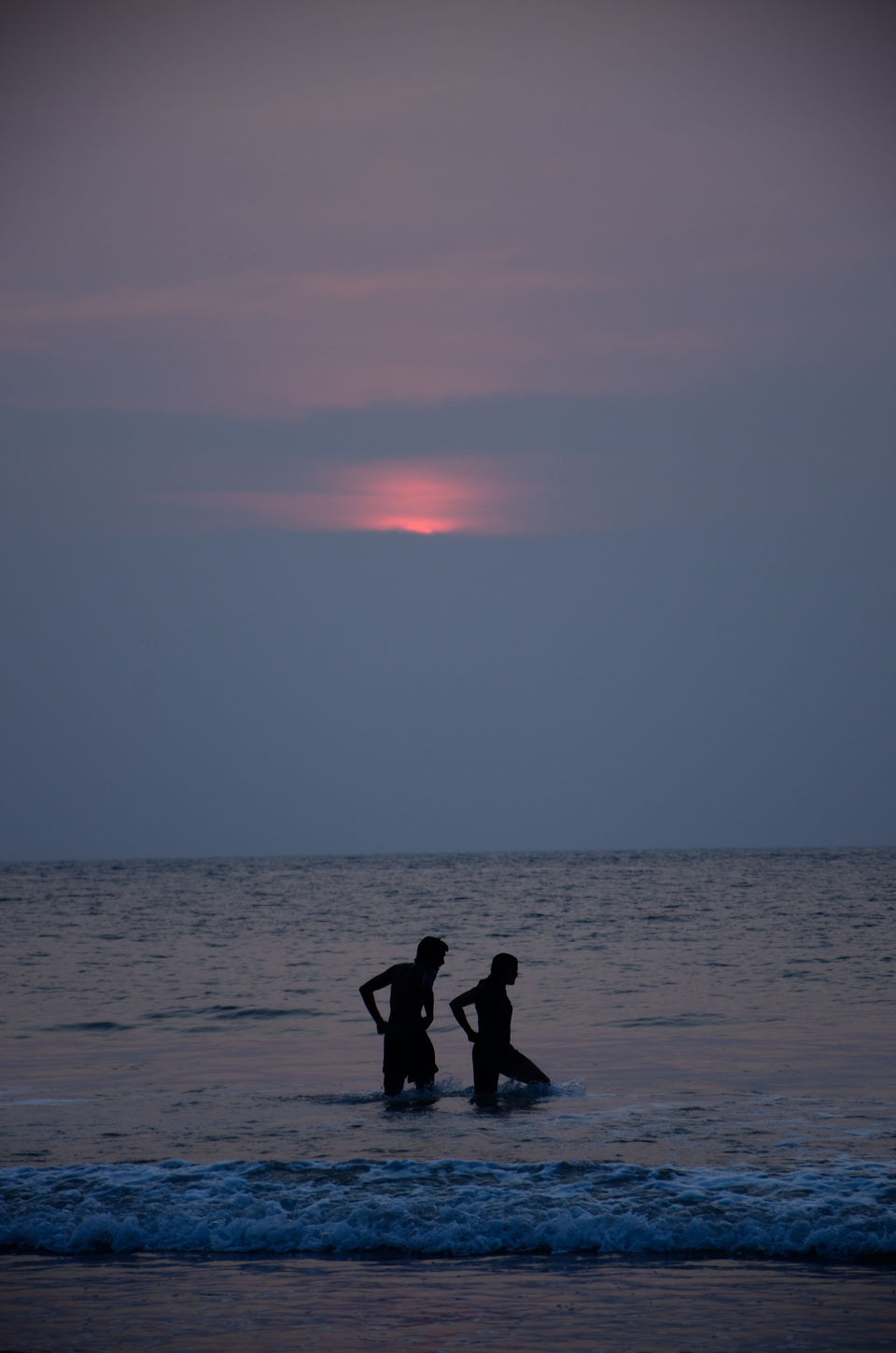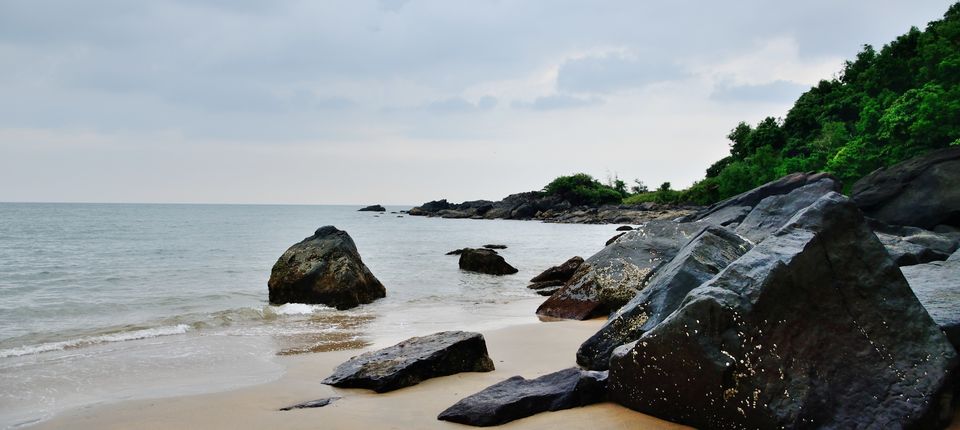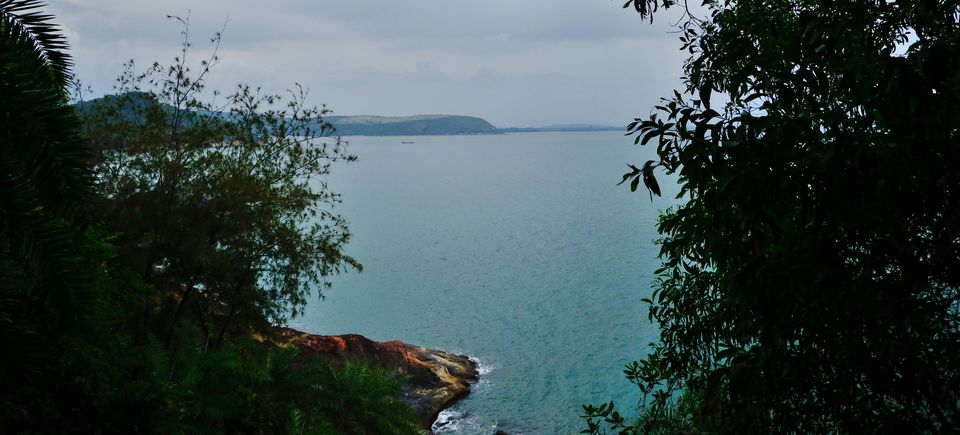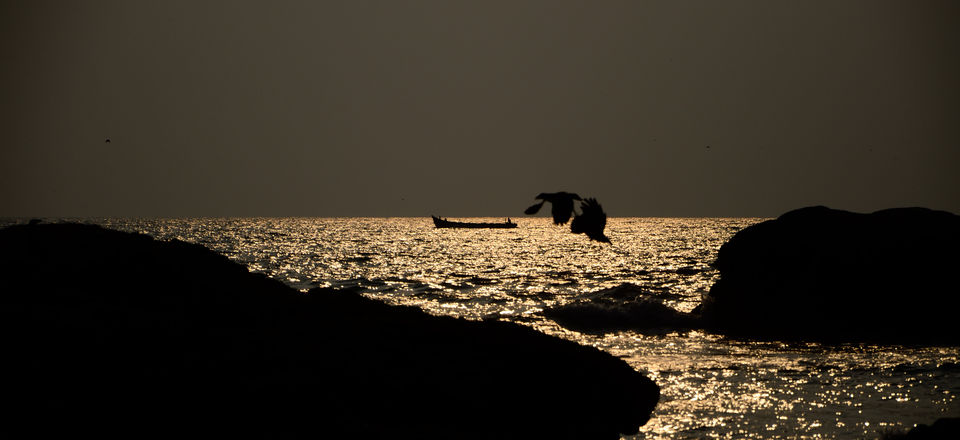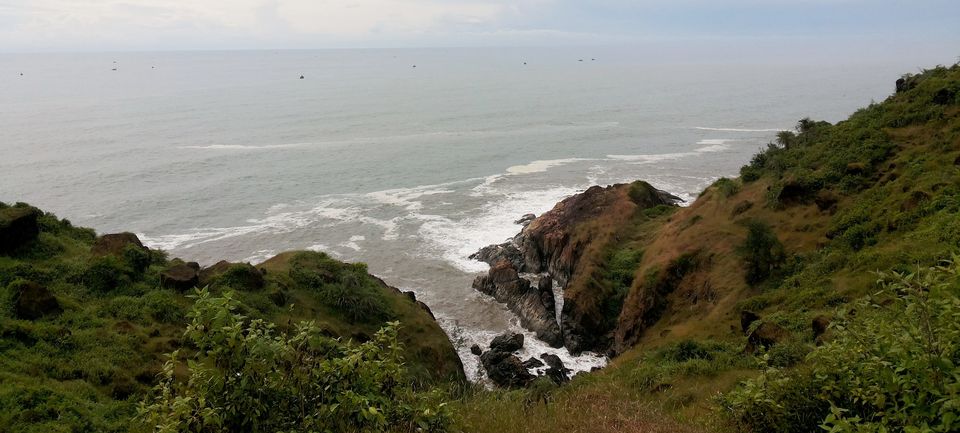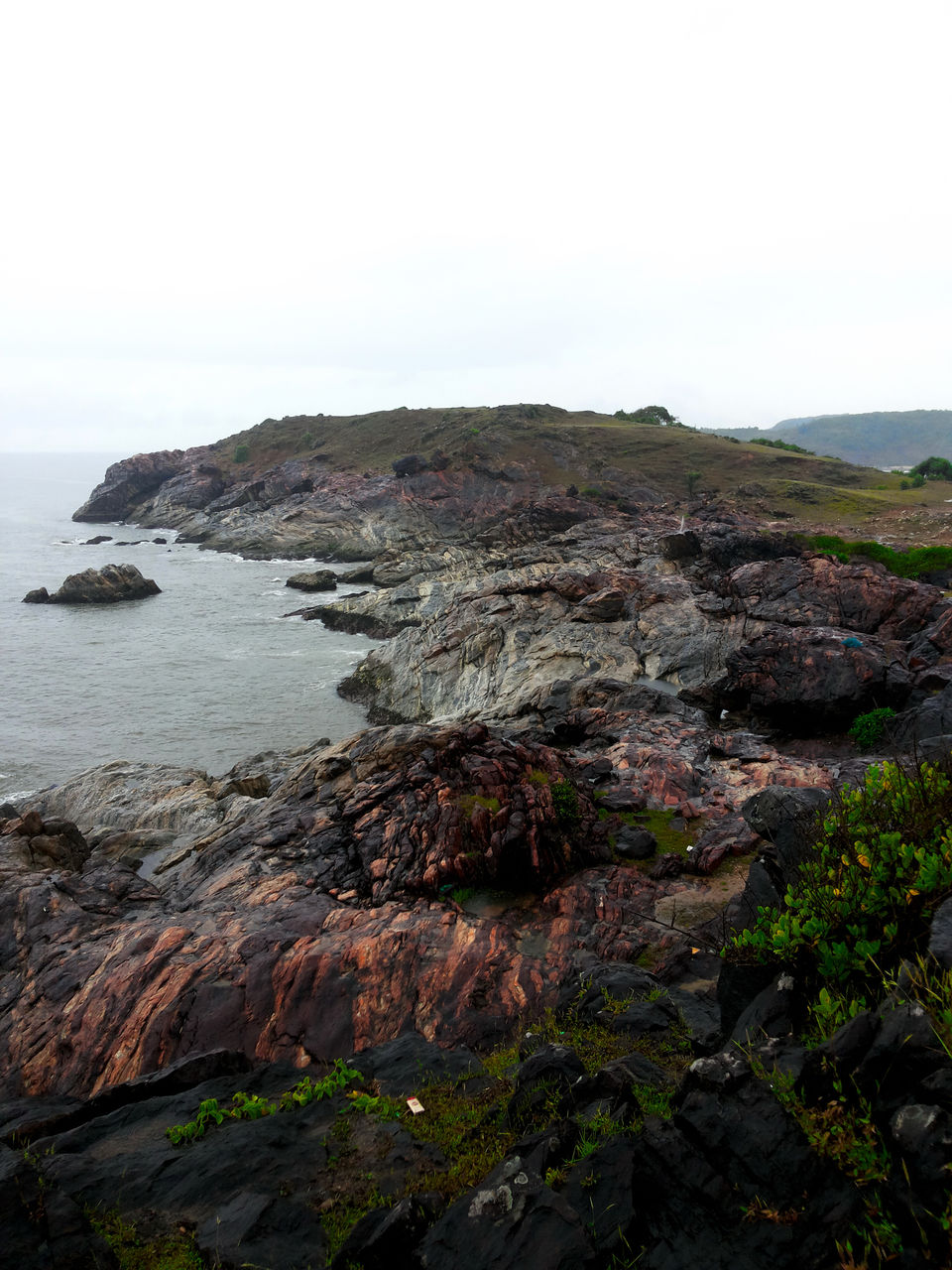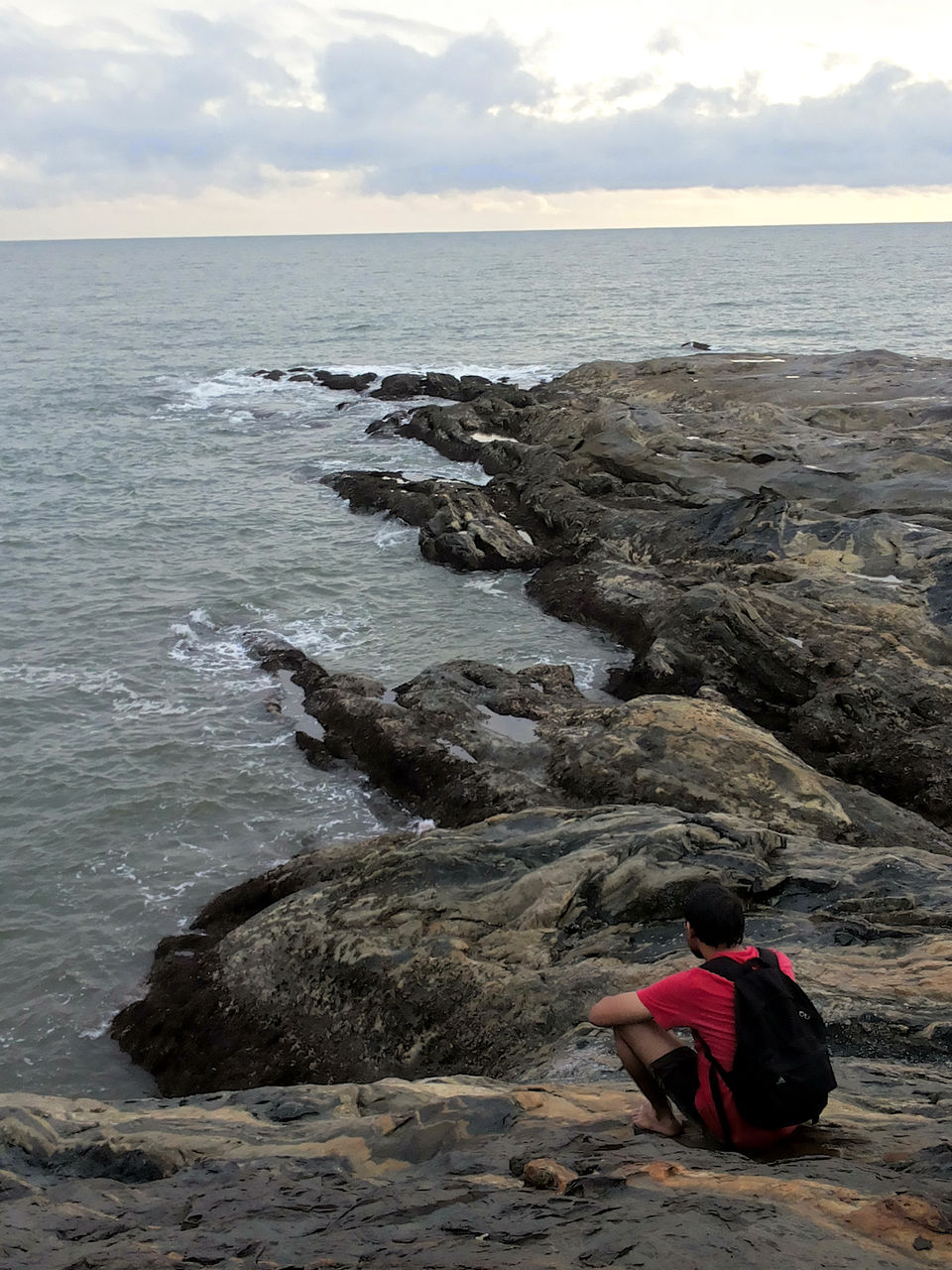 A totally chilled out and laid back trip to the beaches, and beaches alone, of Gokarna. 4 days of pure bliss, clean and calm beaches, walking in a drizzle amid lovely green surroundings, volcanic rock faced cliffs, good food and substantial amount of beer ! It was heaven on Earth, truly ! and then, spending some time with the Gods at the famous Mahabaleshwar/Ganpati temples. In the end, a very satisfying trip, filled with all the ingredients of a lovely beach holiday.
I was put up at Kudle Beach, where you can find shacks and rooms all along it's perimeter. Apart from the peak season ( mid-nov to feb ), there should not be any difficulty so far as accommodation goes. Just like me, there were others on the beach who had come down with their baggage and were now looking for a place to stay put. Not many of the shacks/rooms here accept advance bookings, and the accommodation is basic at most. You have 2 options: A basic shack ( with a double bed ) and common bathroom/toilet, or a basic room ( a double bed again ) with an attached one ( just a bit more pricey ). There's only one luxurious looking option on the beach, the Gokarna International Hotel, but I avoided it for obvious reasons ( a backpacking trip remember ! ). Pretty decent for a family though.
You can also stay at Om beach, which has quite a few options too. Famous options include Namaste Cafe and Nirvana Cafe.
Apart from the main Gokarna beach, which is very close to the town and is not maintained well ( read littered, though I heard about some shacks there as well ), Gokarna has 4 more beaches popular for their serenity and calm waters. Only 2 of these are habitable ( kudle and the famous 'om' beach, as mentioned above ), while the other 2 ( half-moon beach and paradise beach ) can either be trekked to, or you can hire a boat from Om or Kudle. They are pretty secluded and small beaches accentuated by rocks on both sides. If you have some more time, a day-trip to Kumta beach is worth it ( 40+ kms ), as the rocky cliff here is very different and very beautiful, the wind and the calmness accentuates your wonderful experience. Then there are the rocks at Yaana ( I could not manage it coz of time constraints, but ppl say it's worth it. Do check out the pictures on Google ).
The beaches in Gokarna can be covered in the following order: Kudle → Om → Half-Moon → Paradise. The distance is not much and you can do the trek in one day and get back to Kudle by sunset. Remember to avoid trekking after sunset as there's no lighting along the path and vegetation at times becomes a bit thick, while direction arrows ( only between kudle and Om ) have worn off and are barely visible even during the day. It's safe to do the trek alone, however. I started out that way !
Now about the trek route: Kudle to Om is a muddy/rocky track and one would need to be careful if it rains. The trek from Om to 'half-moon' beach is a easy one but you will need your GPS, coz there are no directions and there are at least 2 places where, according to my observation/experience, you could get lost and waste your time ! The trek further from half-moon to paradise is a bit of a risky stretch and not well traversed much except during the peak season, and I was told that you need to at times be careful with your legs and jump between the rocks.
Gokarna town itself is a half-day trip, where you can just wander around the main town street and check out the shops selling all of the usual tourist tat ( perhaps pick up a few shiva/Om t-shirts, skirts etc. ). A bit of street photography can be done here I'm sure ! 2 famous temples ( Mahabaleshwar and Ganpati, very close to each other on the main street, and pretty close to the Gokarna beach as well ) should not be missed. There are a lot of other smaller temples to be explored if you have the time and the inclination, and then there is a huge pond in the town center, called koti teertha. It is supposed to be fed from, or be the source of a thousand springs, hence the name they say. I did not find it very clean though, and surprisingly there was nobody taking a dip as well. It was not a good sight I must admit !
Season in Gokarna starts from Oct until March, and tourists start increasing after mid-november. However, this place is not as crowded as Goa during 'new years', and quite a few tourists do come up here to avoid the Goa crowd ( Gokarna is pretty close to Goa, just a couple of hrs drive ). Well deserved to enjoy the upcoming new years in relative calm if you so wish, as strict policing restricts parties, and you'll have to do with some bon-fire and fireworks !
Summary: A few days in and around Gokarna's beaches is pure bliss, and must be experienced !
When to go: Avoid summer months and rainy season. Best during winter.
Stay/Food: Kudle Beach and Om Beach. Stay and food in the town is definitely cheaper, but not a good idea unless you have family with you and have temples in mind.
To/Do: Laze around the beaches, trek between them, visit the town/temples ( 1/2 to 1 day ), visit Kumta beach and back ( 1 day ), visit Yaana and back ( 1 day ).
for better view of the pictures above,
Facebook: https://www.facebook.com/raj.abhishek/media_set?set=a.10152866214849761.1073741835.667394760&type=1&pnref=story
Read all about my trip here: http://myfreewanderingspirit.wordpress.com/2014/11/24/my-tryst-with-gokarna-karnataka-India/