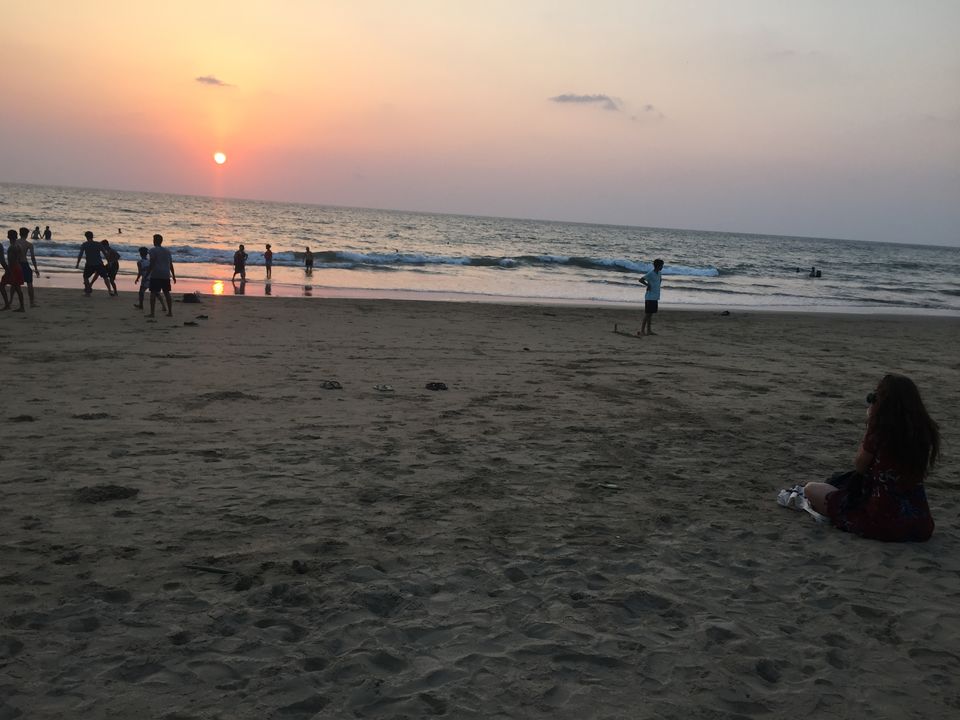 Month of Travel : March (BTW! It is extremely hot at this time about 35 degrees temperature so even if you plan to go do carry your sunscreen and hats. Best time to go is between October to February)
No. of Days : 3
How to Travel : Board Mangalore Express from Mumbai CST Station at 10 pm and reach Kumta in morning by around 10 am. Take local autos (INR 700) or local cabs (INR 1000) from Kumta station to Gokarna which is about 45 minutes from the station. You can also take a local bus from Kumta Bus Station to Gokarna Bus Station. However, another closest rail station is Gokarna Road Station (Check IRCTC website for rail availability)
The 45 mins drive from Kumta to Gokarna is stupendous with coconut and banana trees on one side, overlooking Arabian sea on the other side
Things to do in Gokarna : Stroll on the beach, Spend a night at the beach, Chill on the Shacks, Visit Temples, Shopping at the flea market
Planning a long weekend getaway? Are you bored of Goa? Looking for a peaceful beach stay?
Gokarna, a paradise for those looking for a quiet and calm place, relax at the seaside and at the same time know the local culture. It is a very small town approximately 100 kms away from Goa and is located on the south western India state of Karnataka. The place is very much visited by the Europeans and has become prominent among the Indians as well
Stay at the Zostel
Plan your stay at the Zostel Gokarna in the dorm. Zostel Gokarna is approx 1 km away from the main market and is located on the cliff overlooking Gokarna Beach which is just about a 5-7 minutes trek. It is a sea facing backpacker hostel where you will meet a lot of fellow travellers from across the world. Zostel also has an in-house cafe called 'Mantra Cafe' where the staff is very friendly and music is amazing. Zostel is usually booked well in advance, so plan your stay accordingly. Other stay options are to book yourself on some cafe at the beach
Some tip here :
Zostel private cottages are non air conditioned and the dorms are air conditioned. So make sure you book yourself in a dorm if you are planning to go in the summers
Things to do here :
Zostel organizes heritage walks in evening around 5.30 where they take you around Gokarna town walking and spend sometime at the Kudle beach
They also organize the trek from Zostel to Paradise Beach / Half Moon beach which is about 9kms to 10kms trek. You can book yourself for that trek and also plan to stay a night at either of the beaches
In evenings, Zostel organizes movie night at their in-house cafe 'Mantra Cafe' where they play 'F.R.I.E.N.D.S' show for the first hour followed by some movie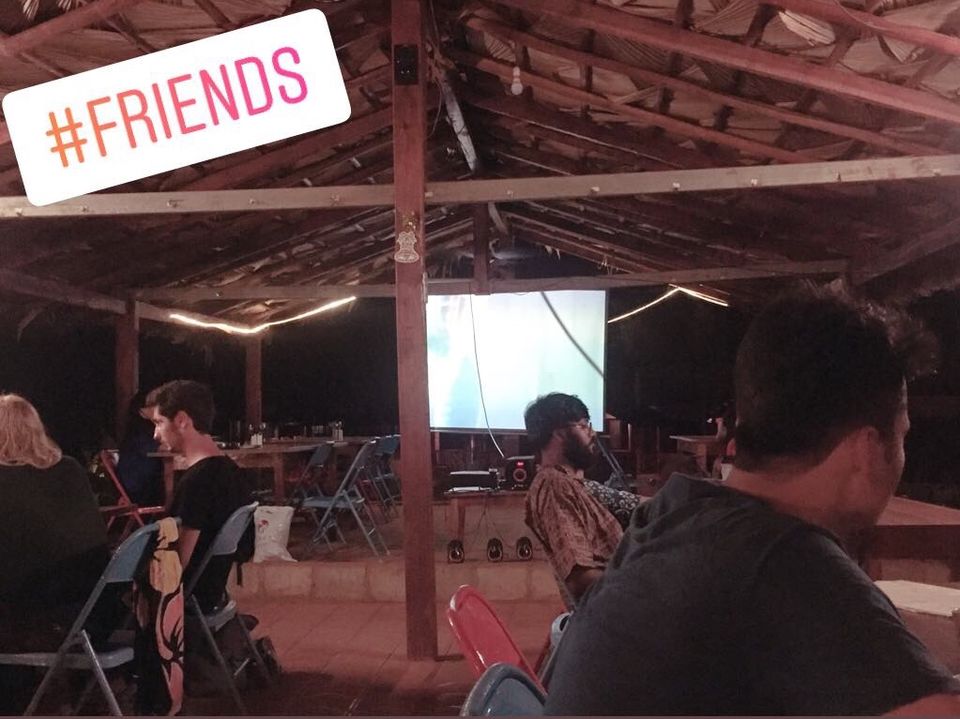 They have Games Room where you can plan to spend sometime here playing carrom board or UNO cards and many such other games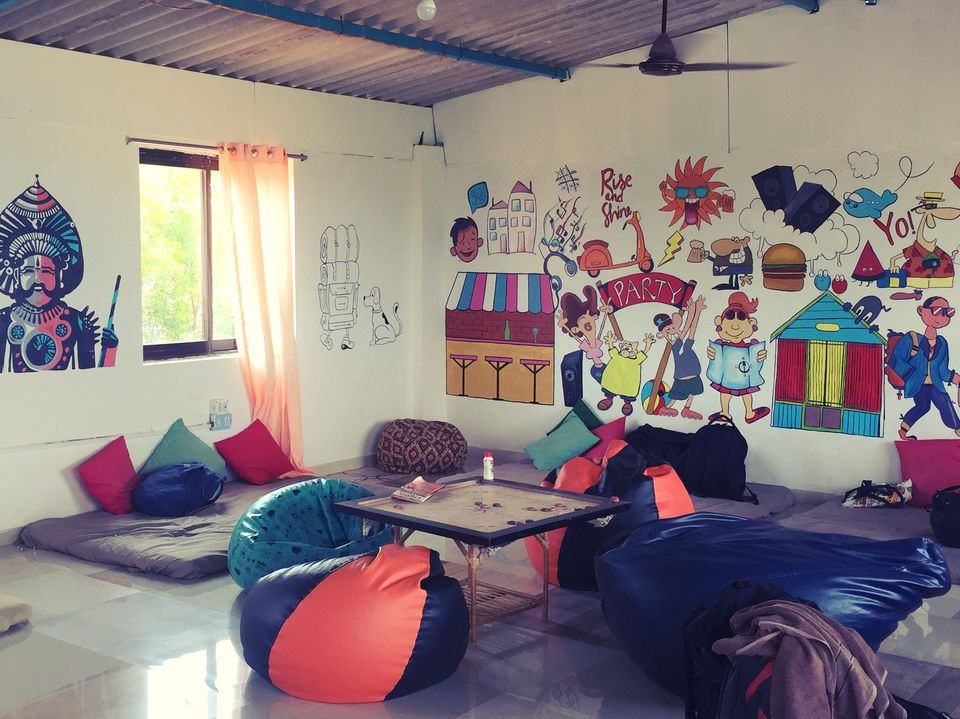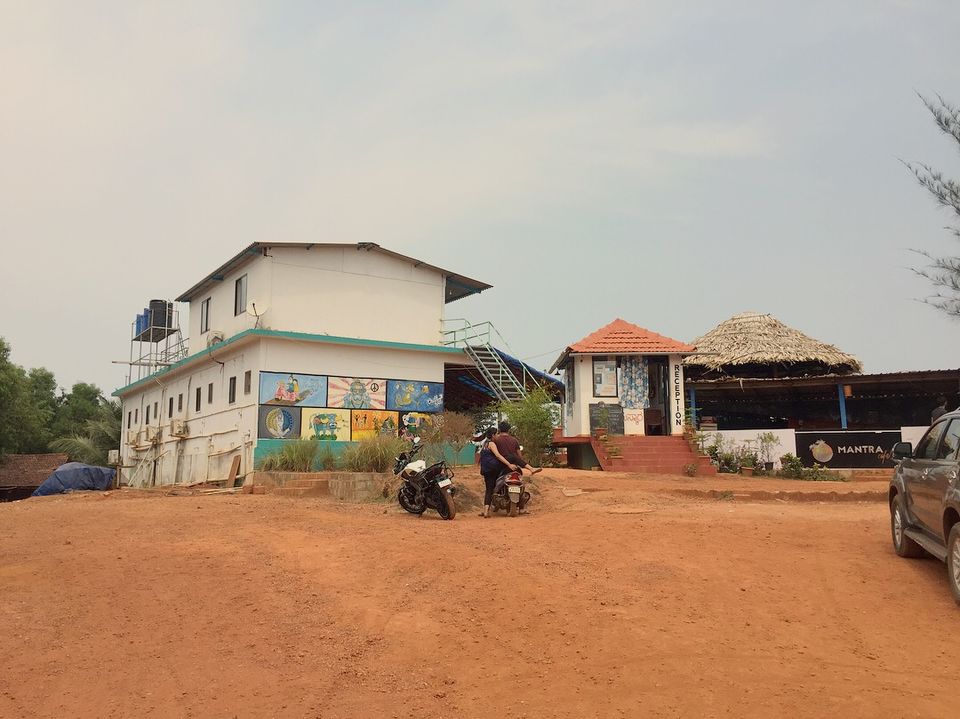 Stroll on the Beaches
Gokarna Beach
The nearest beach from Zostel is Gokarna Beach. This beach is however not very clean and crowded as the other beach in Gokarna are. Also this beach does not have many shacks to chill or spend sometime here. However Mahabaleshwar Temple is just next to Gokarna Beach, so you may want to spend a little time at the beach and also visit the temple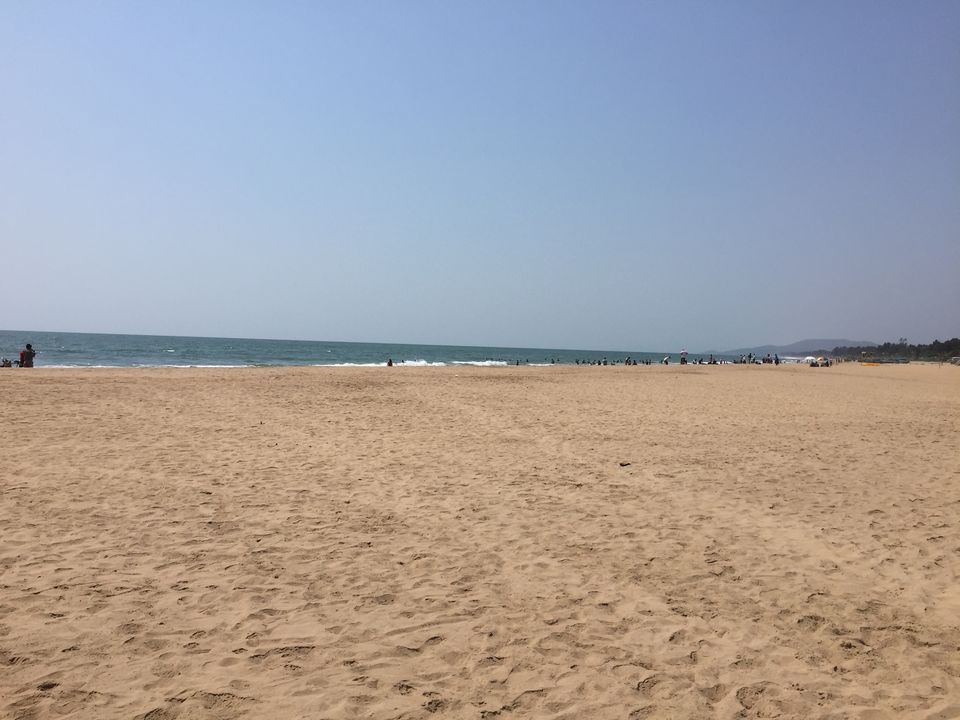 Kudle Beach
Kudle Beach is just about a 15 minutes walk from the Zostel. This beach is the most beautiful especially sunset from this glorious beach is a spectacular one. It is peaceful and ideal for a leisurely walk along the shore in the morning or the evening
Many local people prefer this beach for a morning or evening walk or practising yoga
The beach is usually crowded in the peak seasons between october to march. There are plenty of shacks at the beach where you can spend sometime chilling in the shacks having a beach view and enjoying cool breeze at the beach
The beach is a very popular haunt for a niche group of travellers. Solo travellers, adventurous travellers, backpackers – all these people are scattered across the beach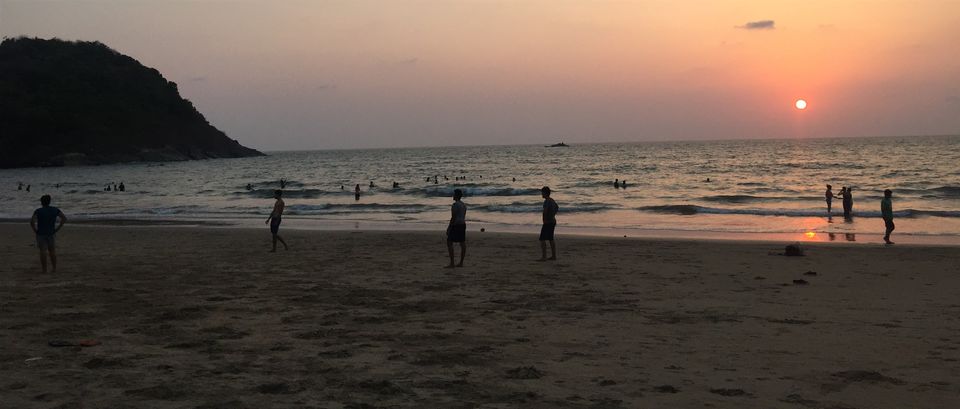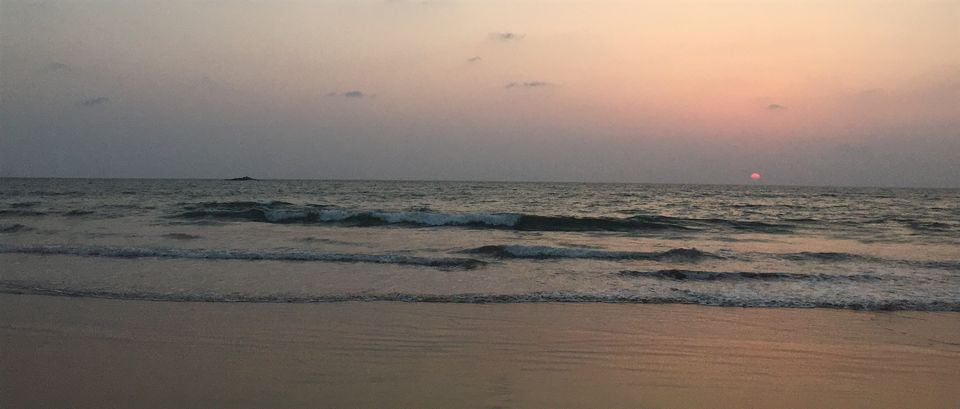 Om Beach
This beach is located about 7 kms from Zostel. Om beach has most of the water sports activities like jet ski, banana ride etc. Half moon beach and Paradise beach are accessible from Om beach. Take a boat ride from here (charge you a fixed rate of INR 300) to paradise beach, half moon beach, lighthouse and sangam point (where the sea meets river). The boat does not halt at either of the beaches but you can request the boat driver to drop at your preferred beach and spend sometime to chill at the beach! If you're lucky enough you will see dancing dolphins in the sea ????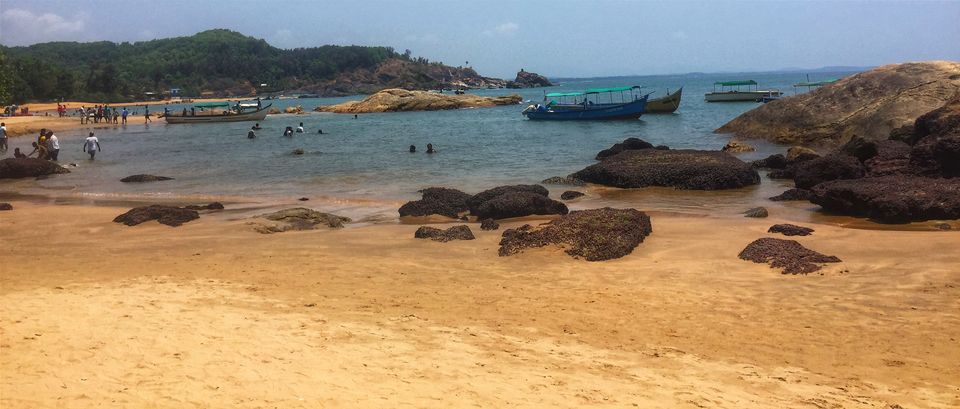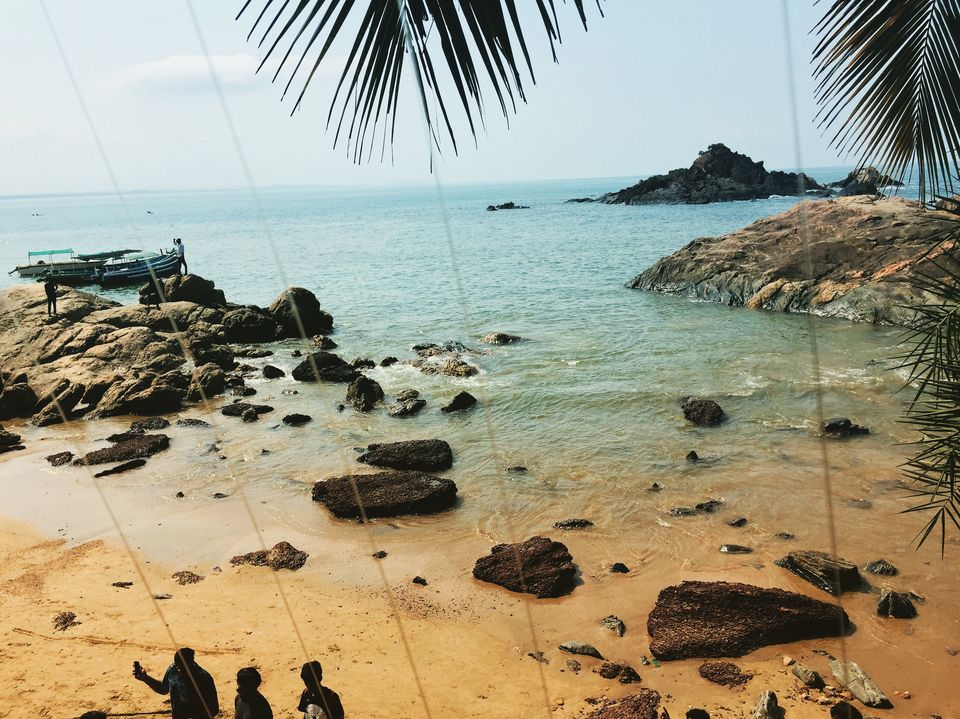 Paradise Beach
You can lay your tent here and plan to stay overnight at this beach. There are lot of chances that you will be the alone person at this beach in evenings or at night since the beach is isolated. You can either reach this beach by boat ride from Om beach or hike to reach here. The beach does not have any shacks so if you to stay here, plan your food accordingly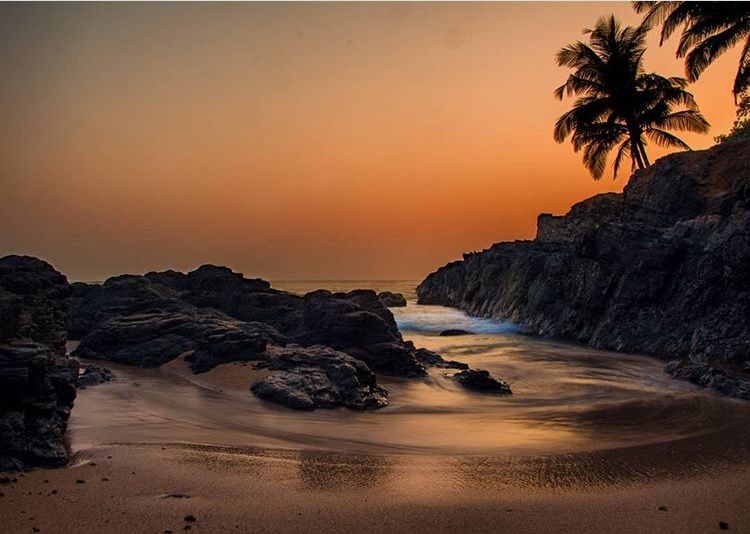 Half moon Beach
The forth beach of Gokarna – Half Moon Beach. Both Paradise and Half moon beach are away from civilization and can be accessible only via om beach or trek. Half Moon beach mostly attracts foreign hippie travellers who make this beach their shelter away from the town. It is advisable to avoid swimming too deep near Half Moon beach since the currents are very strong and there have been cases of people drowning. Sit on the rocks towards the end of the beach and enjoy the breath taking view!
Shacking Up!
If you are Kudle Beach, do spend sometime at the Sunset Cafe. This sea facing cafe serves variety of food dishes from breakfast to lunch to dinner. Also do try their Nutella Banana Pancakes! The other good food options are at La Pizzeria, Ganga Cafe, Cafe 1987!
Namaste Cafe at Om Beach – This is the only cafe at Om beach and you can try anything and everything on their at this cafe ????
Visit the Temples
Go to these 4 must visit temple in Gokarna
Mahabaleshwar Temple that is considered to be the Kashi of south is located just next to Gokarna Beach in the main market
Murudeshwara Temple is an architectural marvel and is considered to be one of the ancient hindu temple
Bhadrakali Temple is dedicated to Goddess Uma and is another popular pilgrimage spot in the town
Maha Ganapati Temple is located next to Mahabaleshwar Temple in the main market and is dedicated to Lord Ganesha
Visit the flea market! -:)
Street markets are one of the few things that every tourist enjoys at Gokarna. Gokarna market is just about 1 km away from Zostel. There are small shops on the street located next to one another attracting a lost of tourists especially foreigners with their hippy clothes. The market is also very famous for buying organic spices at very affordable prices!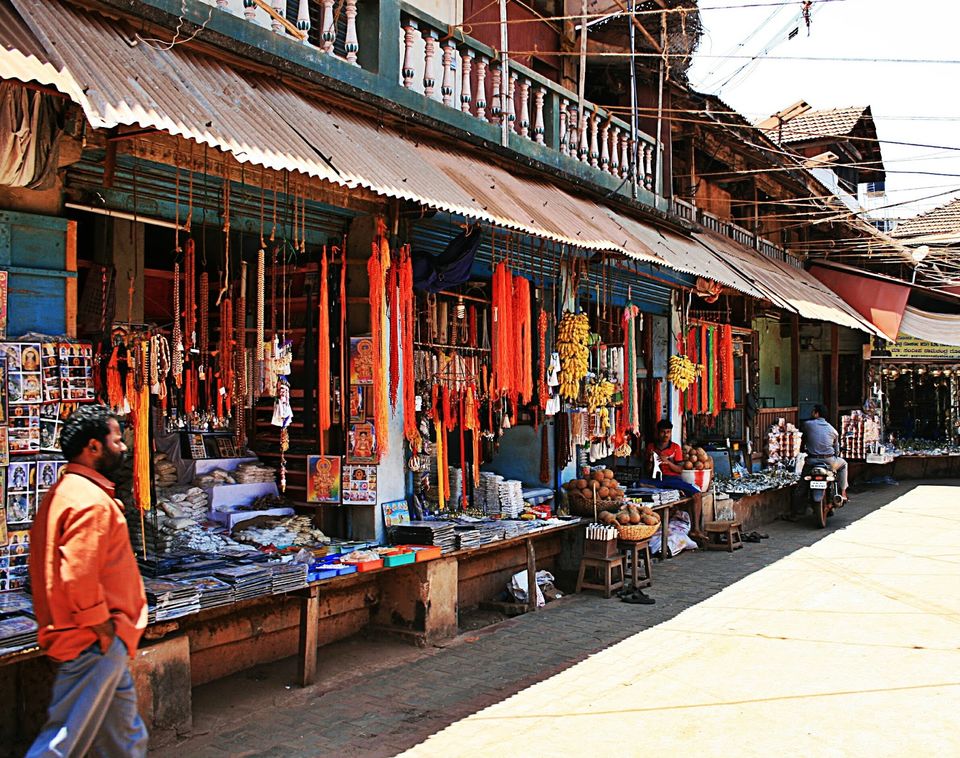 We booked ourselves on Mumbai Express that leaves from Kumta Station at 5 pm and reached Mumbai next day early morning at 5 am
We came back to Mumbai having a lot of experiences and memories for a lifelong!!
Below are the contact numbers of rickshaw people at Gokarna which may be helpful on your visit here. These contacts will be helpful when you are in Gokarna and want to take a tour at the beaches and other places in the town