Much like other seaside destinations in India, the beaches of Gokarna are no less than a paradise for people who take their meals seriously. Right from authentic wood-fired pizzas to comforting thukpa bowls, there's something for every palate. In fact, Gokarna happens to have a great deal of options for vegetarians and vegans as well. However, if you've been under the impression that Gokarna's food scene is restricted to its beach shacks, you are missing out on a whole new world altogether!
The winding streets of main Gokarna Town are lined with small and rustic joints, which make it the ideal place to experience the true flavours of Gokarna. On a recent trip to the beach town, I set out for the same and it changed the way I saw Gokarna. I cycled my way through the streets of Gokarna to explore its real flavours and here's what happened!
Hotel Mahabaleshwar, Gokarna Bus Stop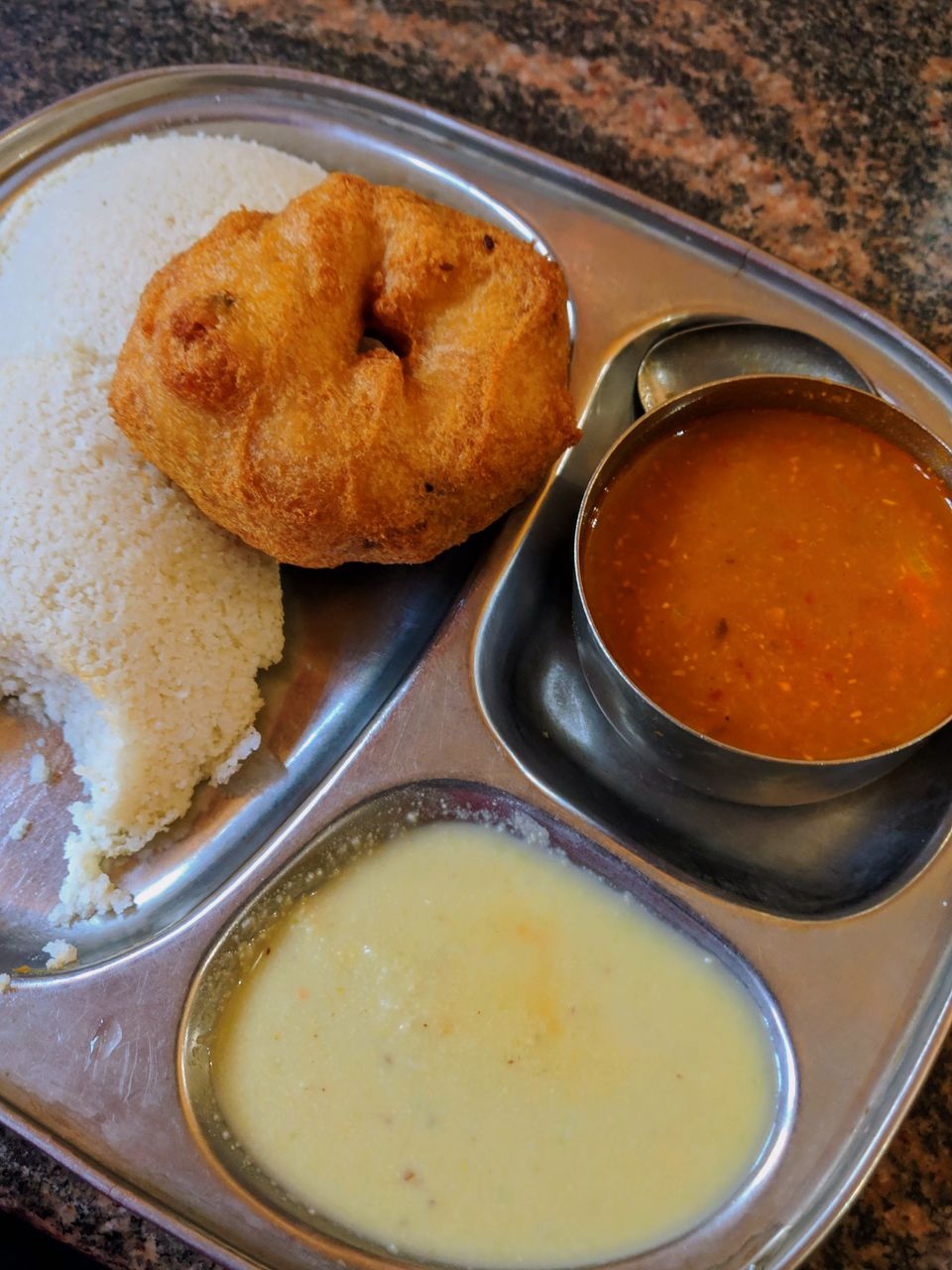 I started my day out by riding to the Gokarna bus stop as I wanted to get myself a bus ticket for the next day. It was while waiting in the long queue, that I came across Hotel Mahabaleshwar. Upon asking around, I soon found out that this place was known for its melt-in-the-mouth idlis and fluffy banana buns. Almost instantly, I was out of the queue and found myself sitting on a rickety table, waiting for breakfast.
Hotel Mahabaleshwar turned out to be a simple, no-nonsense eatery that was all about good food. Without thinking much, I ordered the house favourites and wasn't one bit disappointed. The food was fresh, wholesome and downright delicious. And the best part, one of the servers actually rejoined the queue with me and kept me company till I had my ticket.
Next, I cycled my way to the famous Dattaprasad Tiffin Canteen for the second course of breakfast. Run by a local family, the eatery enjoys a legendary status and is the go-to place for locals to grab breakfast. So much so, that most of the items are sold out within the first hour of its opening. I reached the place by 10 am and it was almost deserted. Just as I was about to head back, a voice called me in.
The family cleaned up a place for me in the courtyard and before I knew, a delectable masala dosa had been served. The dosa was one of the best I've ever had – authentic, filling and perfectly balanced. I followed the dosa with multiple refills of masala tea. As I sat in the courtyard sipping on my tea, the family went about with their daily business and the market outside came to life right in front of my eyes.
After a rather heavy breakfast, I spent the next couple of hours visiting temples, soaking in the Gokarna vibe and talking to locals about my next meal. Fish thali is a staple meal in the region and almost every other place claims to have the best one in town. However, courtesy of an extensive on-ground research, I ended up discovering a hidden gem in its truest sense!
The most heartwarming part about Honni Mane Hotel is that the entire place is run and managed by women from a joint family. Just watching these powerhouse of women of all age groups working in coordination to create magic, left me inspired. Much like the vibe of the place, the food here was simple, rustic and full of love. I ended up ordering a fish thali and a plate of rava fried prawns and they were to die for! If there's going to be one meal you have in Gokarna, make sure it's at Honni Mane.
If you are in Gokarna and call yourself a foodie, you just can't afford to miss out on the local speciality. Despite being completely full, I spent my evening scrounging Car Street market for the best gadbad in town. Since a lot of places shut in the afternoon, the options were limited. However, I soon found a nice spot, Maitreyee Juice Centre.
A desi ice-cream sundae, gadbad is a crazy concoction of three ice-cream scoops, dry fruits, raw fruits and candied fruits. I am someone who enjoys weird food combinations but the first bite of gadbad left me overwhelmed, to say the least. There was so much happening in that one bowl that it took me some time to adjust. A few bites into the sundae, I was sold. The locals around me discussed how gadbad is now an attraction amongst travellers as I, almost proving them right, happily dug in.
As I cycled back to my cosy beach shack, I couldn't help but wonder how we often end up missing out on entire elements of destinations we travel to. That being said, wouldn't life be boring if we saw all of it in the first go?
Ever gone off the beaten path to unearth a new perspective to a place? Click here to share your travel experiences with the Tripoto Community and earn Tripoto Credits.
Get travel inspiration from us daily! Save our number and send a Whatsapp message on 9599147110 to begin!