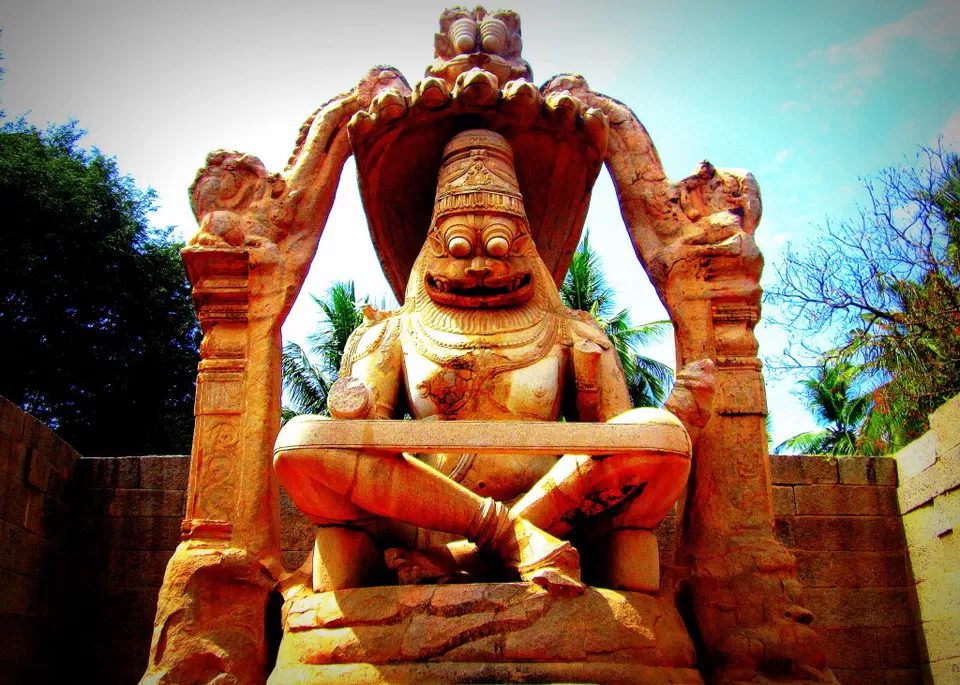 HAMPI, a world heritage town
If you are a history buff, as well a religious-minded fellow like me, a visit to the heritage town Hampi in Karnataka is ideal for you. You would love the place so much that you long for multiple visits, merely to see & enjoy its historical background, what with many ancient temples lining up your list, Tungabadra dam, abounding stone sculptures, water bodies and so on that haunt you ever. Situated around 340 KMs from the state capital Bengaluru, road journey takes around 7+ hours. Well connected by road & rail (nearest railway station is Hospet – around 14 kms away), the town is abuzz always with tourists, barring the summer which seems too hot to bear.
I briefly list out the places
- Ugra Narasimha statue, a monolithic sculpture that attracts every visitor with unparalleled craftsmanship
- Stone chariot too falling in the same category makes it impossible for you taking your eyes off it. Closeby is the Vijaya Vittala temple, probably built five centuries before - the presiding deity is Vijaya Vittala, an incarnation of Lord Vishnu, where musical pillars could be seen. But alas, the idol of the deity is no longer there now – probably destroyed or carried away by the Mughals later during one of their conquests.
- The other temple is for Virupaksha, an incarnation of Lord Shiva (one among the Hindu Trinities) situated on the Tungabhadra river bank. Built in the Dravidian style, the temple continues the daily pooja ritual, unlike Vijaya Vittala & other temples here.
- The nearby Anjanadri hill (also called Anegundi), said to be the birth place of Lord Hanuman, the man Friday of Lord Sri Rama too is worth a visit. Can reach the place by passing the river
- Your trip is incomplete w/out a trip to Tungabhadra dam, around 20 kms from Hampi town. The spectacular Sound and Light show at the dam in the evenings is a must watch.
- Kamal Mahal, another architectural splendor, placed in Zanana Enclosure precincts resembling a Lotus, is also a place we should'nt miss out.
- A slight uphill, we get into the Hema Kuta betta that gives out a beautiful sight of the ruins and temples below.
- Kadalekalu Ganapathi & Sasive kaalu Ganesh temples too are worth a visit.
These are not all, there are some more to witness but to visit them, one need to spare couple of days more.
Duration : 2 or max 3 days for the entire coverage.
Cost:- Around Rs.2,000 per person a day to cover room stay, local transport, lunch & breakfast. Road/Rail fare from your place to Hampi apart.
Best time to visit: October to March but November is most ideal, as you get to witness the grand Hampi festival that adds on to the attraction.
Then what are you waiting for? Pack your baggage & start off !!!
N.DEVARAJAN, Nanjangud, Mysore Dist (Karnataka)
6.8.2022