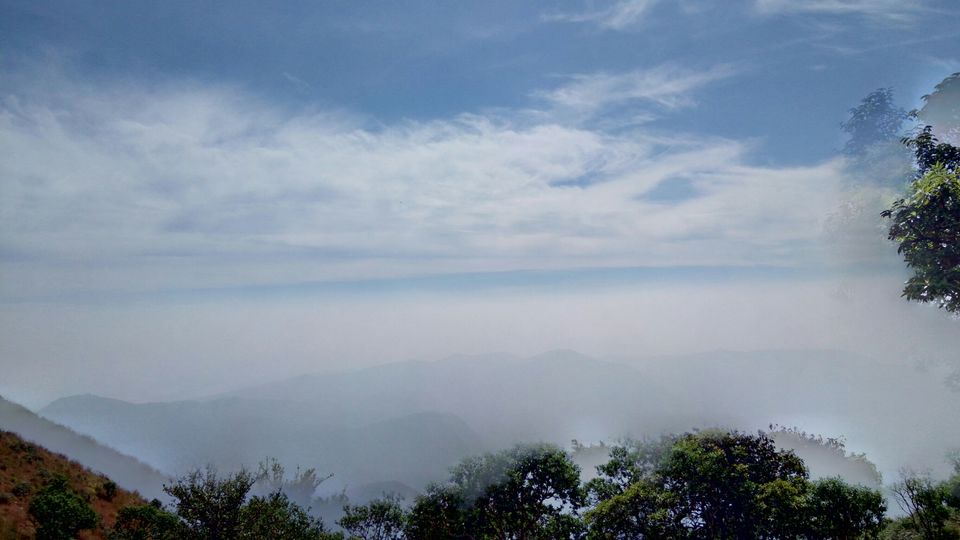 Kodachadri hills located in the dense forest of western ghats. Kodachadri trek is a three and half hrs journey from Mangaluru. There are two routes to reach this place. One route is to reach from Shivamogga to Kodachadri. For us nearest route is through Kollur.
A small town in Kundapur Taluk, famous for ancient Sri Mookambika Temple surrounded by its scenic beauty and amidst thick forest of Western ghats. There are lot many buses run between Mangaluru and Kollur . We group of five girls left our place at around 4.30 pm. By the time we reach it was around 7.30pm. As soon as we arrived at Kollur we checked into a hotel and rushed to Mookambika temple as it was about to close. Luckily we reached on time and had darshana of goddesses Mookambika, it was divine to see the god. After that we roamed around the temple streets and went back to our hotel. Next day we had planned to leave early morning for the Kodachadri trek.
KODACHADRI TREK
Kodachadri is accessible only by Jeep or Bikes till some point. To reach the peak you have to trek around 2km. Usually, trekekers start from the base point which takes around 9 km one side. In the Morning at mid of the main street Jeeps will be available. We wanted to visit Hidlumane falls but we did not hire the whole jeep for ourselves so we had to skip the waterfalls. We went to the last accessible point and started our trek. We had a wonderful roller-coaster ride in the jeep, till now I haven't experienced and we enjoyed it throughout our journey. Yes, on a serious note from the base point till the top it's a challenging road for two-wheel riders. Only experienced drivers could take us on that road.
Once we reached starting point we started walking towards the top. On our way small vendors who were selling buttermilk, pineapple etc. Buttermilk had heavenly taste, it was cold as if it was just taken from the cooler. One of my friend who doesn't like curd, buttermilk even she drank more than 2 glasses. pineapple, gooseberry, of course, buttermilk etc was our food throughout the Kodachadri trek. Meanwhile lots of chitchatting, laughing, competition to take solo pictures for our social profiles, in between warnings from another group of women for taking pictures at the edge ( we were aware and careful still we got warnings).
We reached the top after walking one hr and spent some time at the top. There is a small temple called Sarvajna Peeta, where it is believed that Shri Adi Shankaracharya meditated at the top. There is a saying " best view comes after hardest climbing" in our case it was not that hardest climbing still we got the best view with mountains covered with clouds, thick forest, cool breeze. Overall it was mesmerizing. After some time we were back to the starting point where our jeep was waiting for us. Then back to Kollur, checked out our hotel and with little tiredness, we headed back to Mangaluru thinking that next time we would cover waterfalls and start the kodachadri trek from the base point.