I had never heard about Hampi before and it happened so that once as I was going through a whatsapp group chat and one of my friend just asked if anyone interested in visiting Hampi? And I immediately looked up for it online. After seeing the stone-made chariot image and boulders in Hampi, I could not say no to this, without further discussion, we booked ourselves on a bus to this wonderful destination on December 1st. complete details here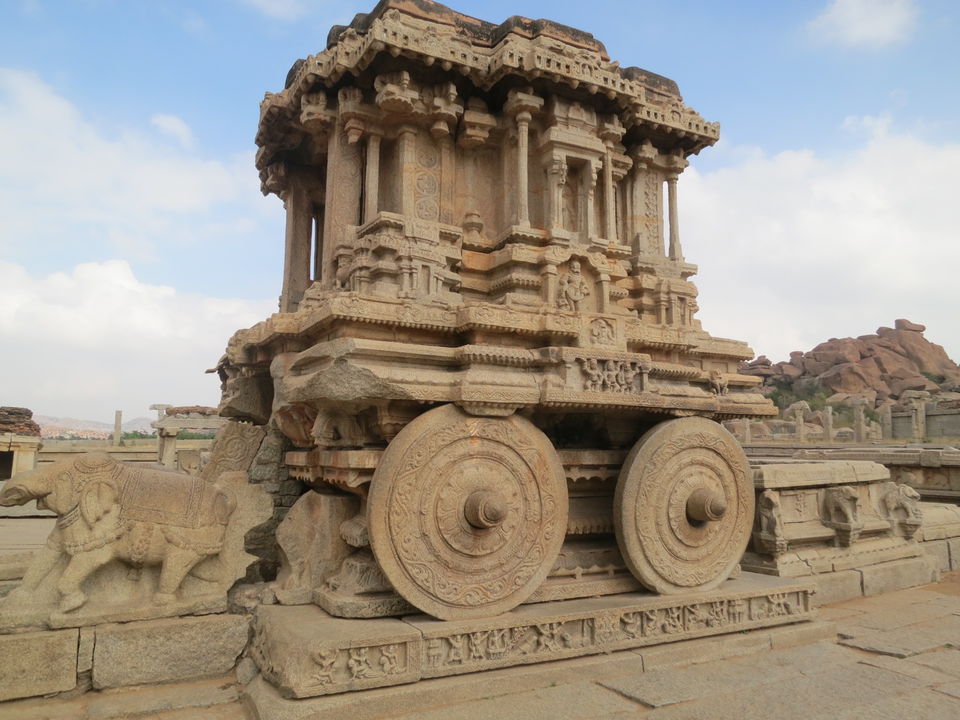 We began our journey from Borivali - boarding point for our bus- to Hospet. The ticket cost us Rs.1100(A/C Volvo). We boarded the bus around 17:00 and reached by 07:20 next day. Once you reach Hospet, it takes about 2 mintues from the bus stop, where you will get a bus to Hampi in Rs.16.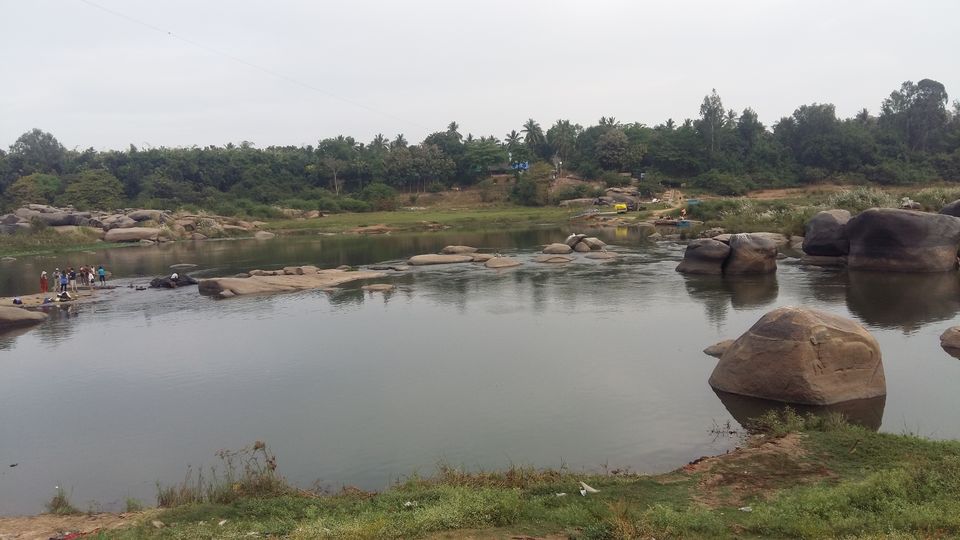 We had cup of tea at Hampi bus stop and gathered some basic information regarding the area. We decided to stay for one day on the other side of river and two days in Hampi. We boarded a ferry to go on to other side of the river & the ticket per person was fixed at Rs.30 after bargaining. Between 10-5pm they charge Rs.10per person and with backpack Rs.15. We had booking in Gouthami hotel at Rs. 700 for two persons ( for 3 people in a room they charge Rs.900). After checking in, we freshened up, grabbed some breakfast and headed towards sight seeing for which we rented 2 bikes for Rs.200 each and filled petrol worth Rs.90 for each bike.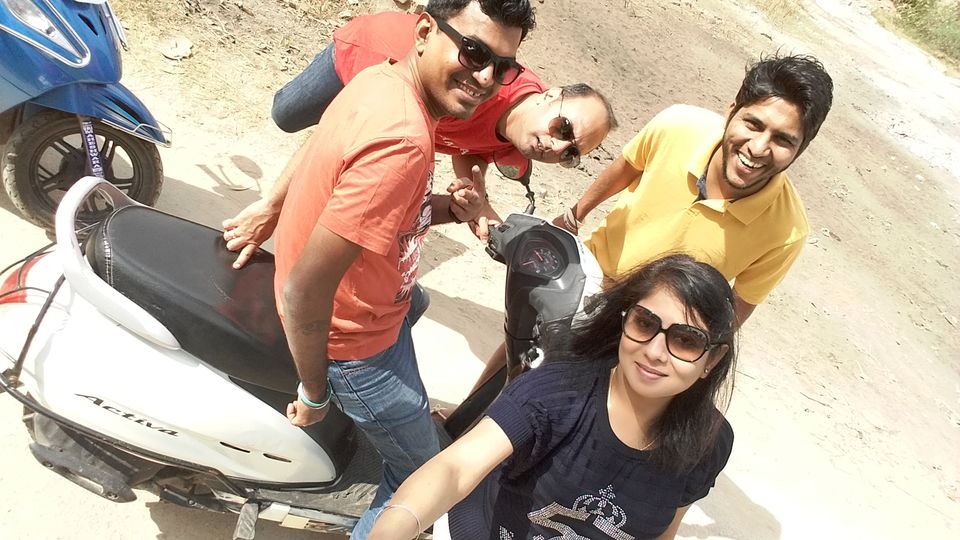 We visited Durga and Laxmi temple where we had our lunch at no cost as there was some occasion going on. Form here, we hiked towards a point where you can see the city of ruins and to the right hand side you can check out a tunnel way.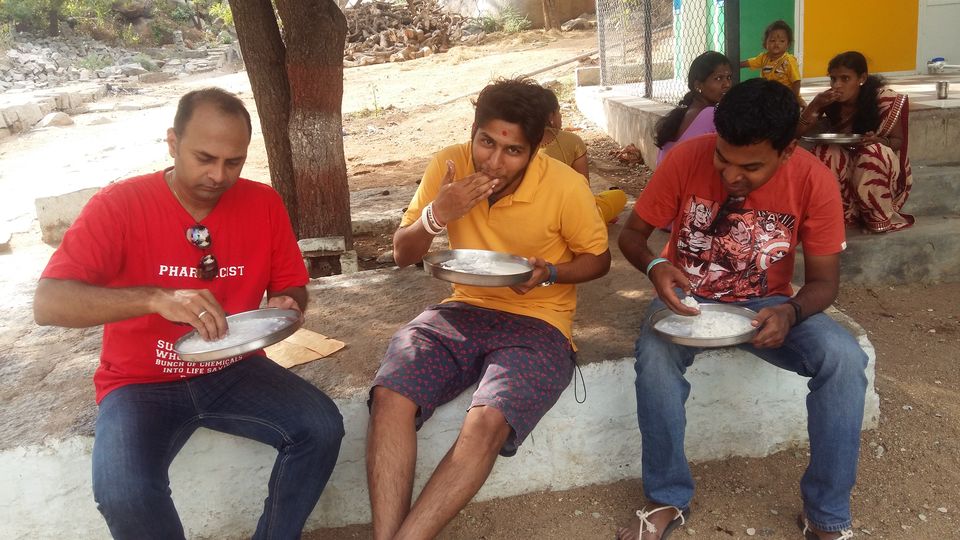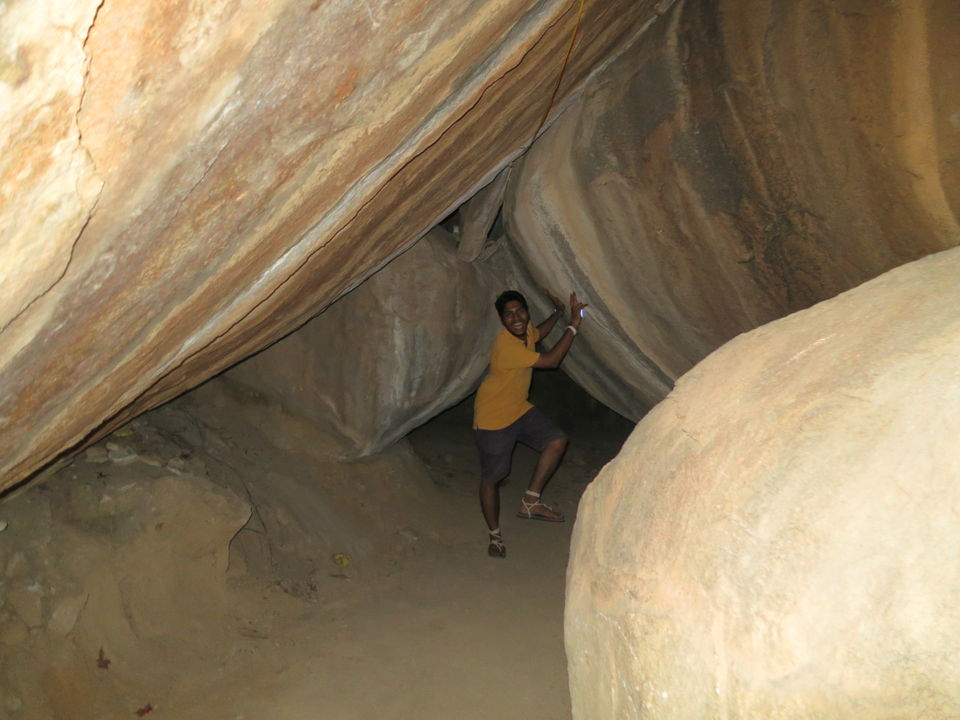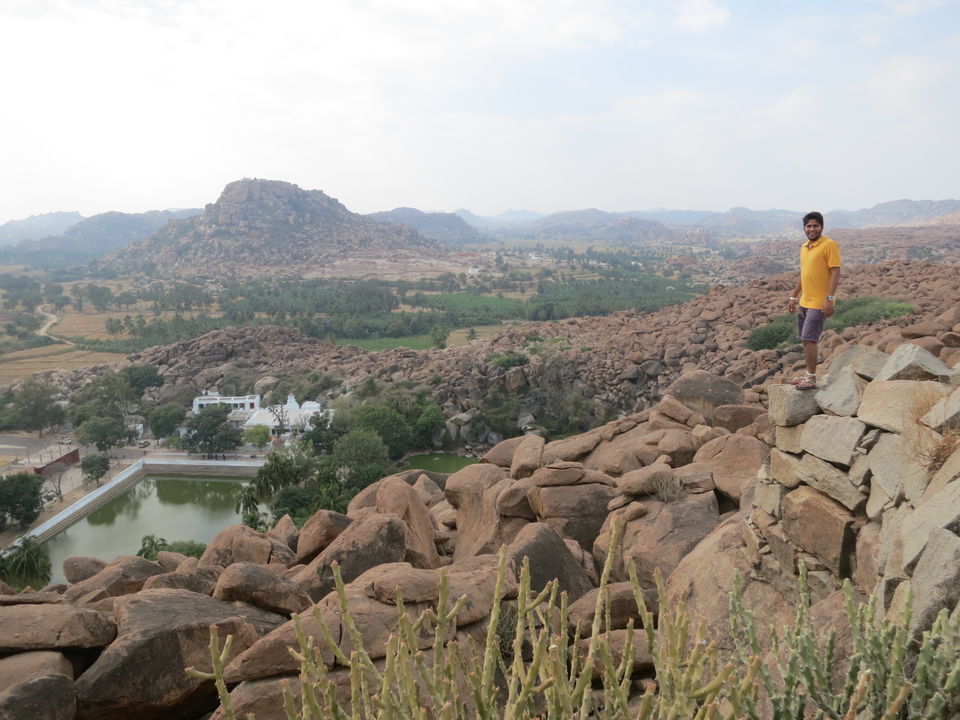 After this we saw Anjani Hill(Anjani is mother of lord Hanuman) & it was here that we experienced a mesmerizing sunset and just right above that , we saw the floating stone in the temple(see the image below)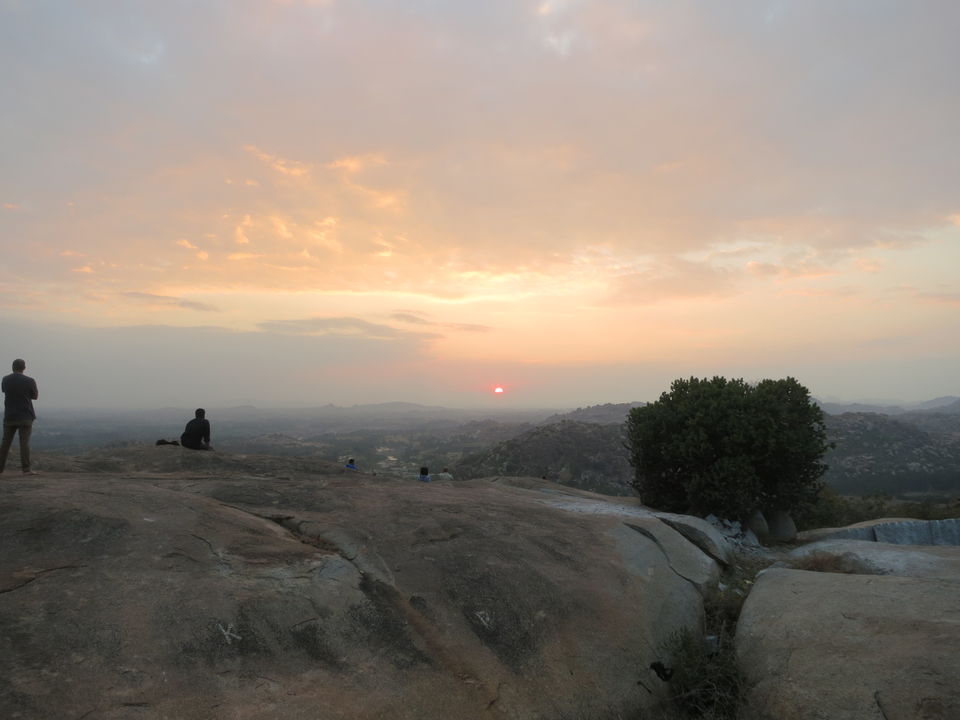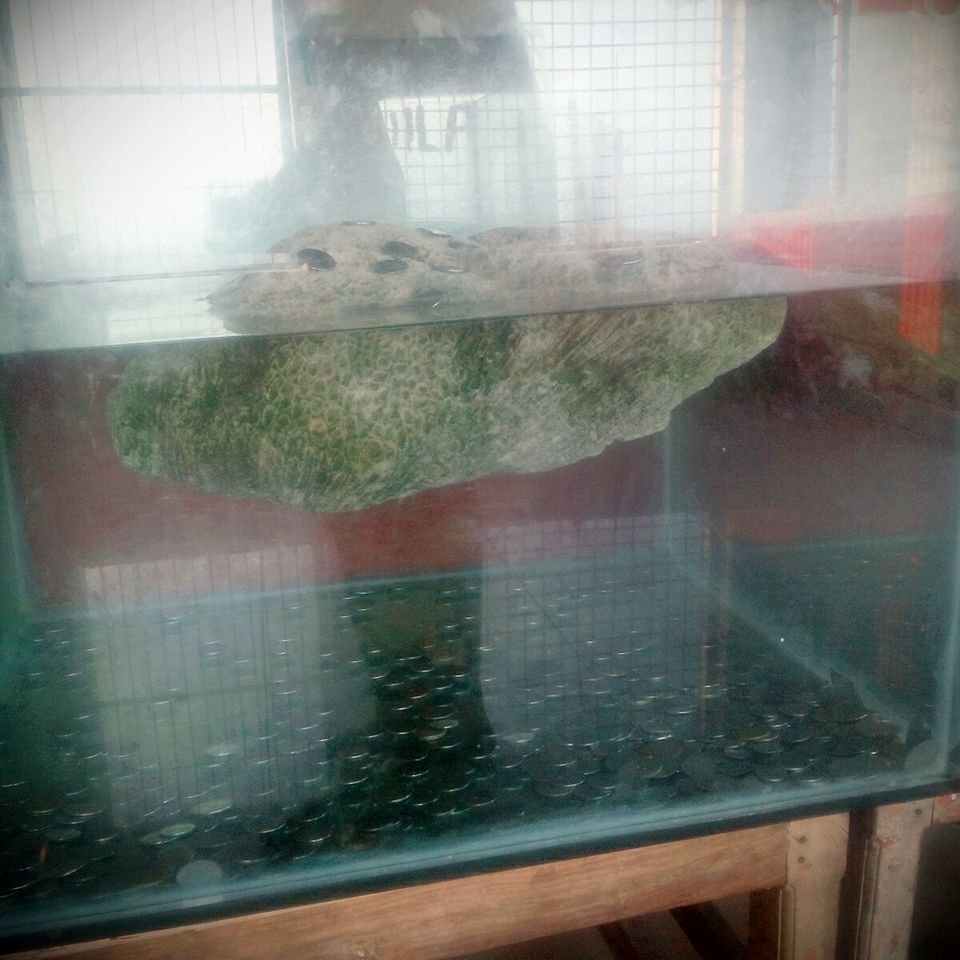 Before we headed back to our hotel for the night, we had dinner at a placed named 'Laughing Buddha' , which offers a very relaxing ambience and an awesome river side view that will wash away all your tiredness.
Next day, we boarded the ferry to get to the other side of the river. The ticket for the boat ride costed us Rs.20. Upon arrival, we took a stopover at Sagar Hotel (I strongly recommend) for breakfast of simple yet yummy delicacies comprising of idli, gundpangle with spicy chatni and potato bhaji. An ultimate taste-bud enticing experience at just Rs. 50 per person.
We had a pre booking at Netra guest house (Rs. 450per room for two person). But upon our arrival, we realized that there were no attached washrooms with the rooms. So we cancelled our booking and moved in search of rooms and landed at Pushpa guest house (you can look up for this guest house on Google or can contact me). They offered us room at Rs.750 after negotiations (originally the price was Rs.900), which was totally worth it as the place was comfortable & came with attached washroom. We dumped all our luggage in the room and got back to our adventure of exploring this region - Hampi.
The first thing we did as we stepped out of the hotel was to get a map & an information book so that we could be our own guide. You can cover all these places by walking - Virupaksha Temple, mustered Ganesh, Krishna Temple, Badavi Lingam, Ugranarashima. (refer images below)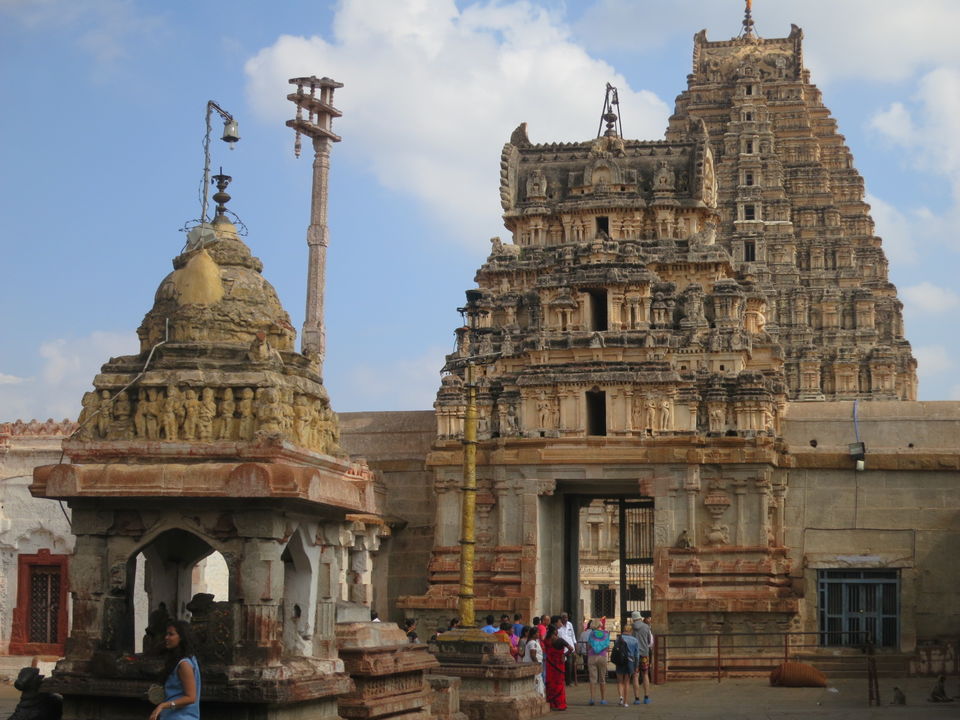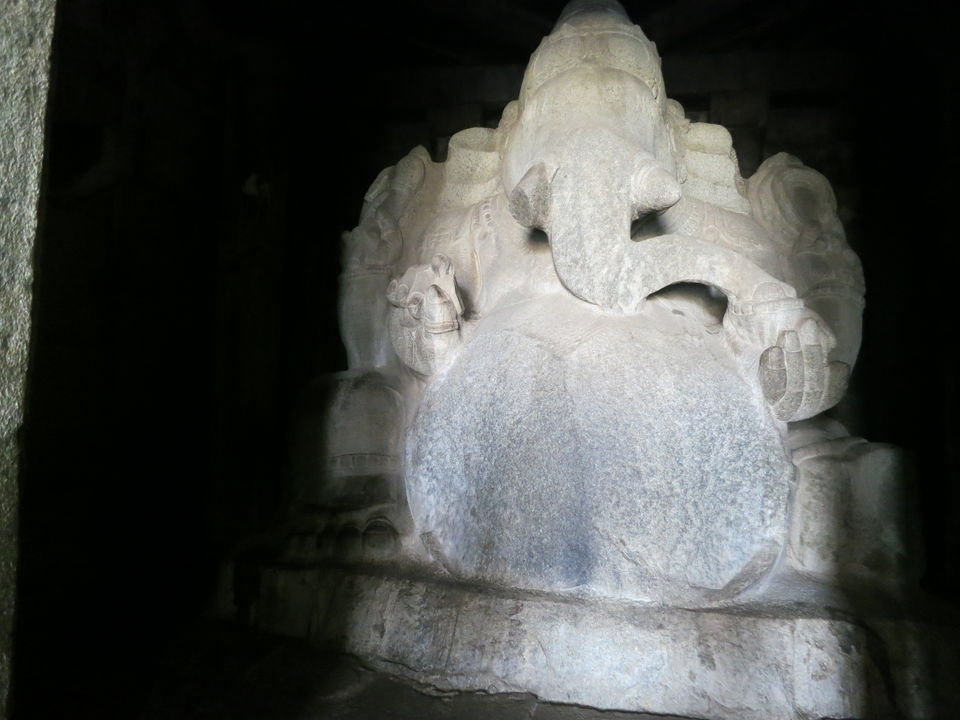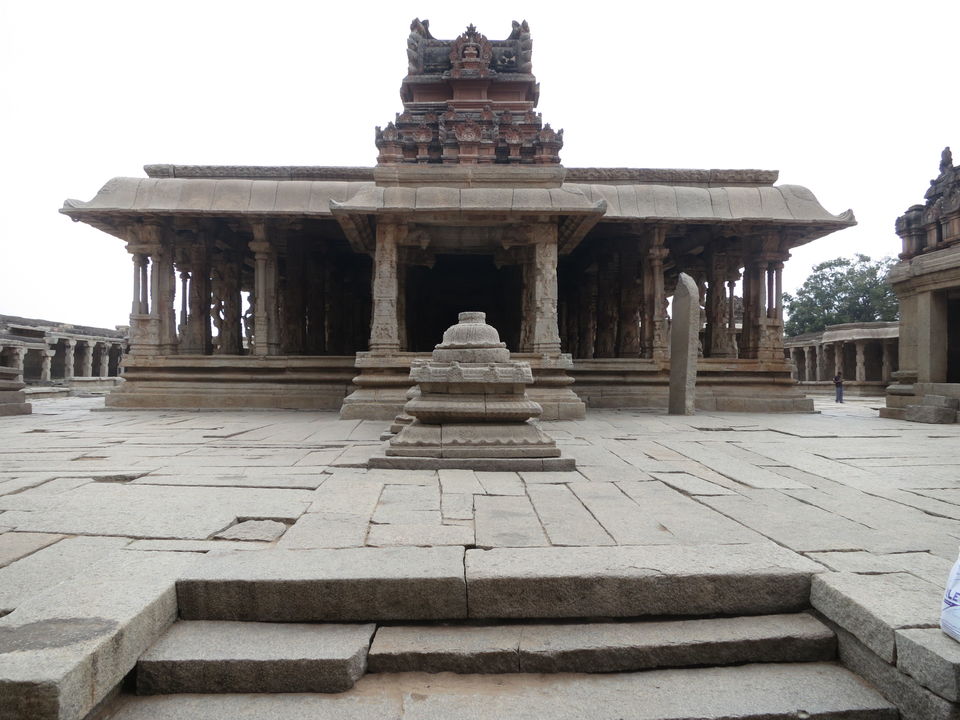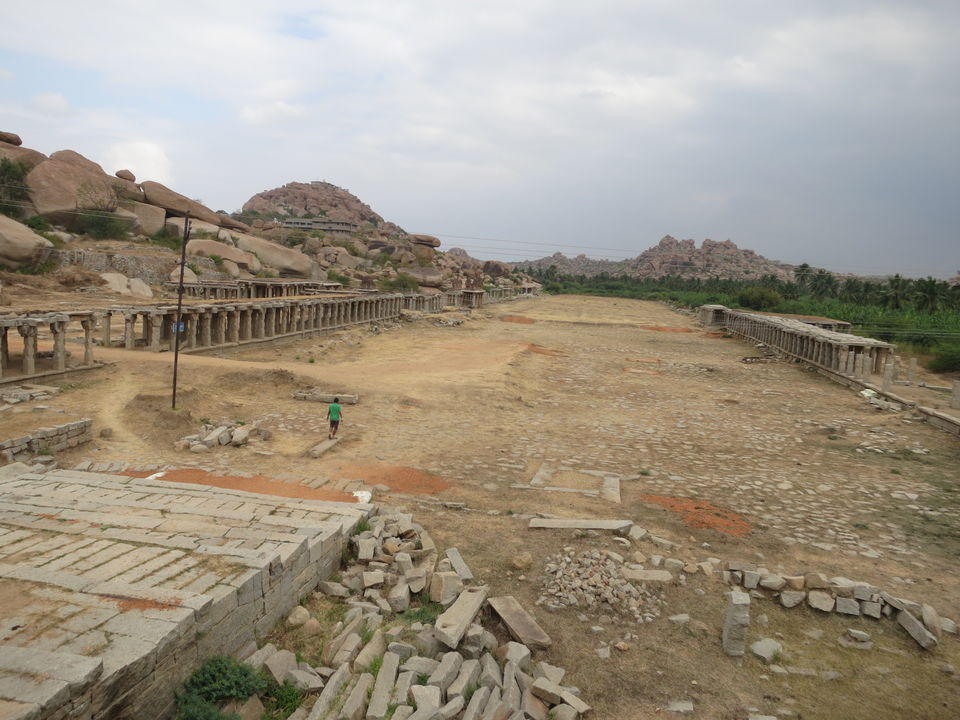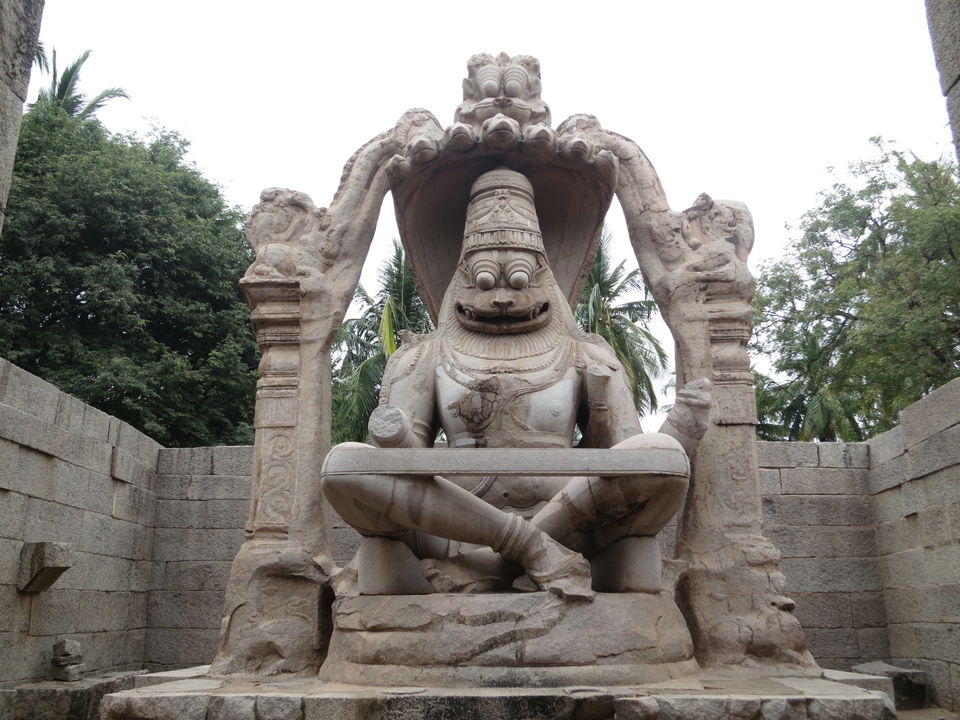 I purchased some hippe type of clothing for myself which was a fair deal for me. Then we headed to Mango Tree restaurant located in Hampi bazaar & ordered 3 varieties of veggies, couple of chapatis with bucoffee pie (I strongly recommend) for desert which costed us Rs.150approx. After this scrumptious meal, we decided to call it a day and headed back to the hotel for rest.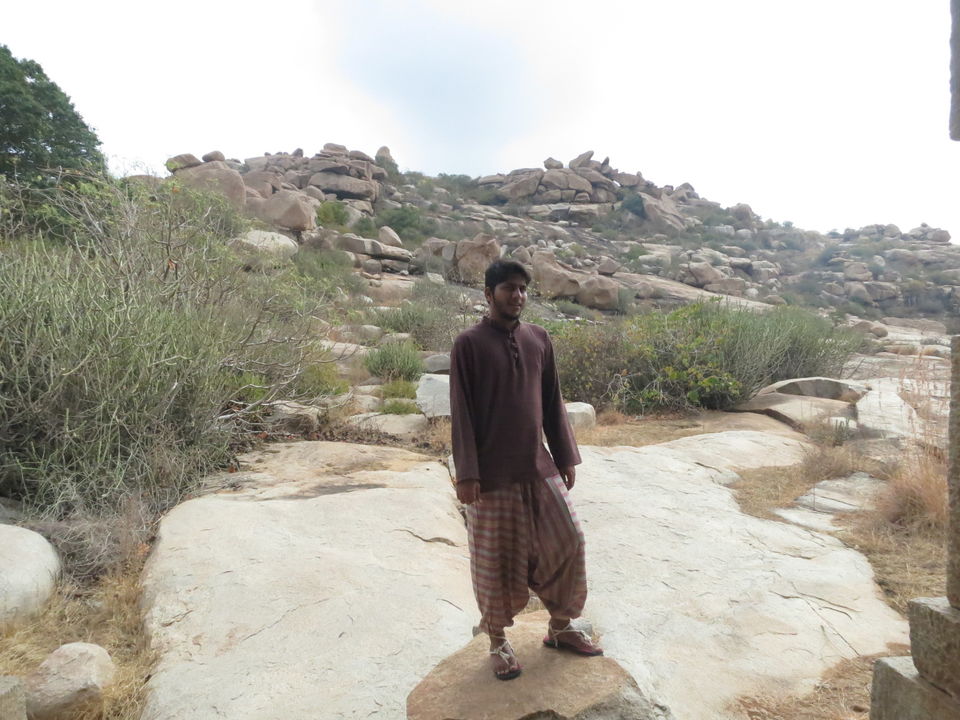 The next day, we only kept our luggage at the guest house(as we had to stay only for one day), hired cycles and pedaled our way to explore the remaining monuments in Hampi. We saw Monothilic bull then kings balance, Matanga Hill (sunrise point), the Vittal Temple , with entry ticket costing only Rs.30, we also saw the chariot made up of stone and the tuning pillar. After visiting the Vittal Temple, we boarded an electric car to reach the main road which is around 1 km far from the temple and it costed Rs.10 each. We had some refreshments like sugarcane juice (Rs.20), lemon soda (Rs.20), fruit dish (Rs.20). From here we rented a rickshaw for Rs.140 to reach the Queen bath, then we walked some distance to the Lotus Mahal, Royal Enclosure, Pushkarni, elephant stable, museum from archaeology dept, Sisters Stone.( Refer images below).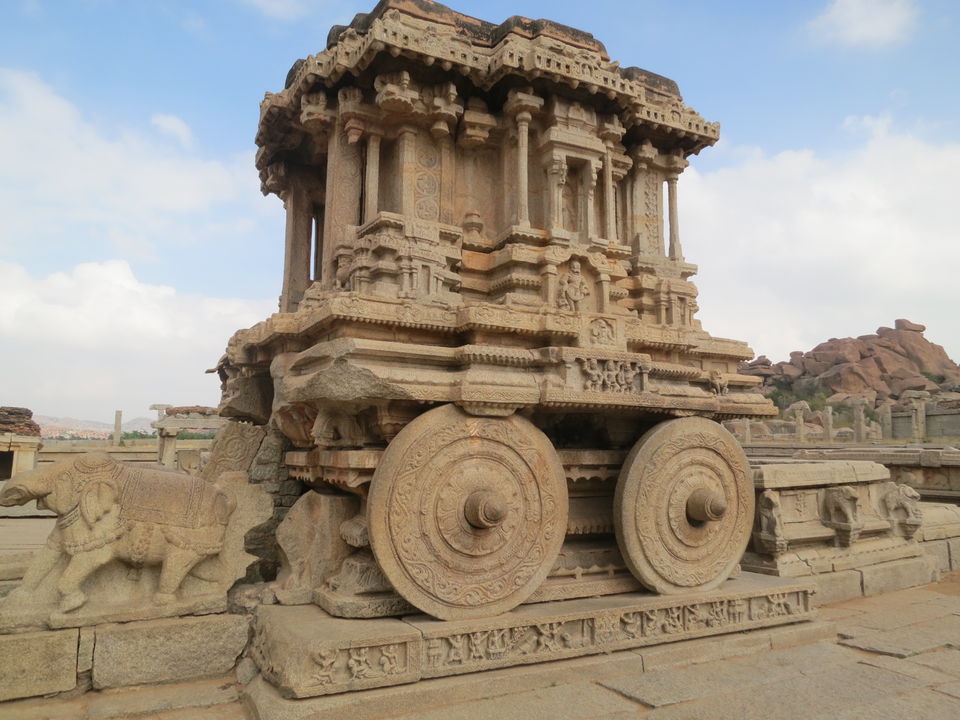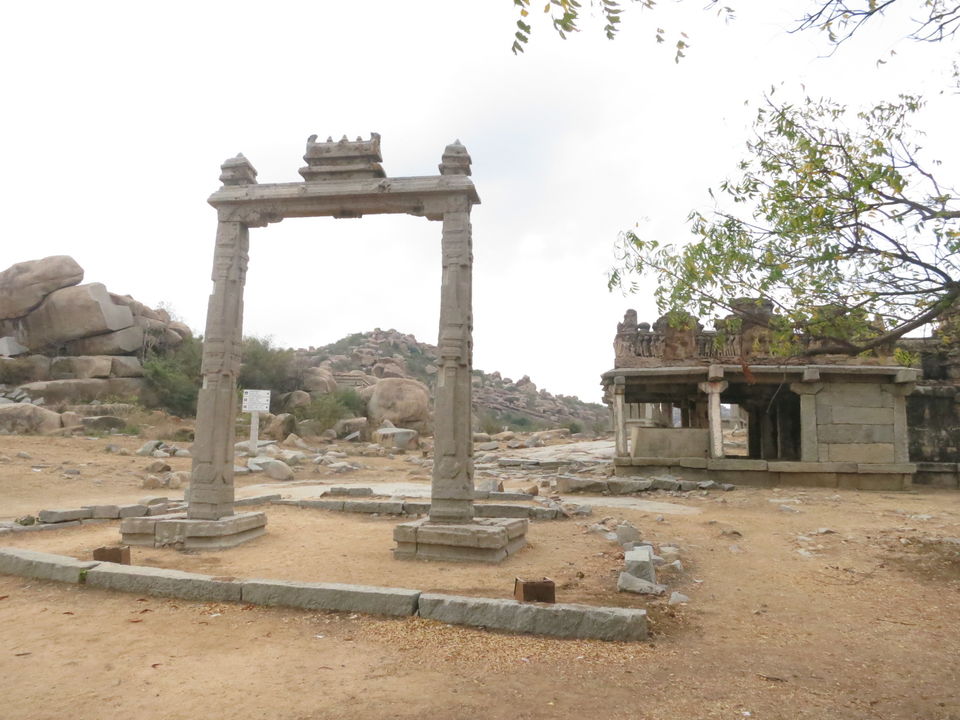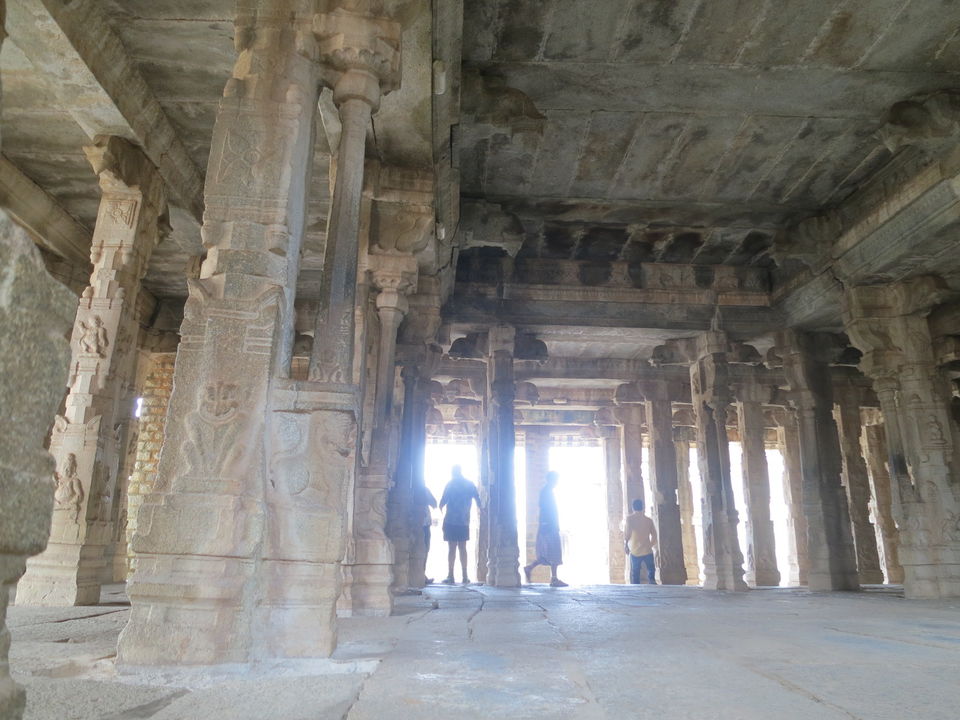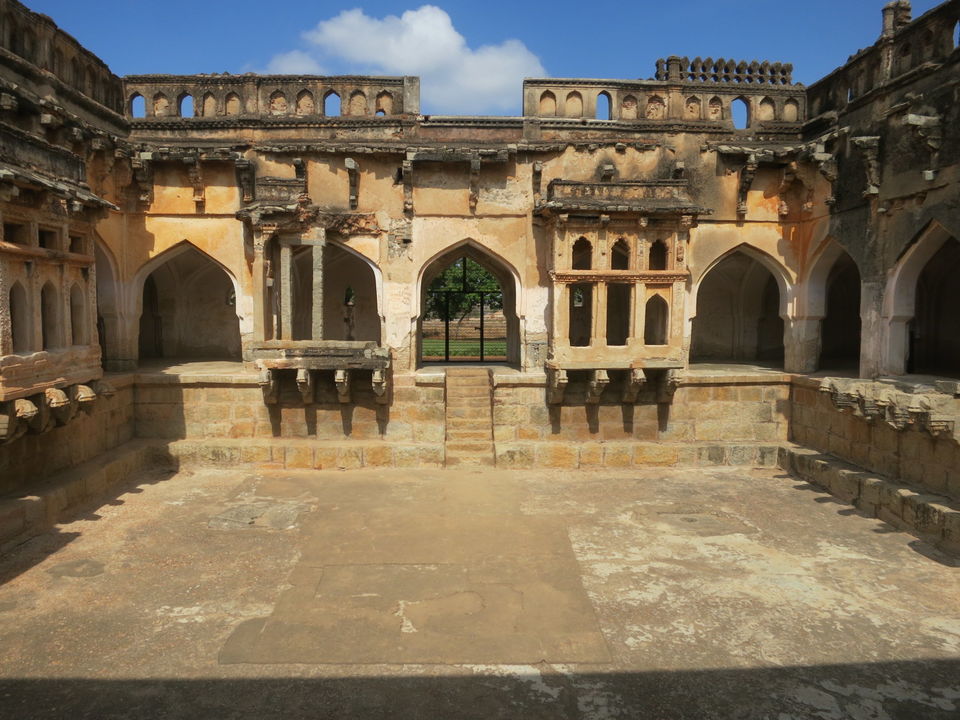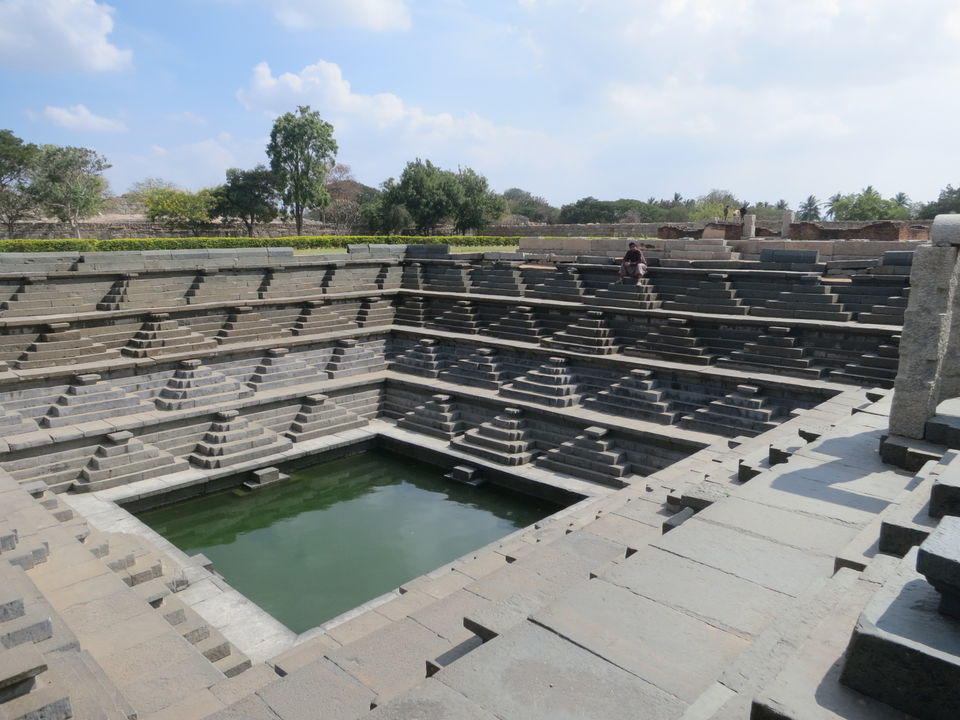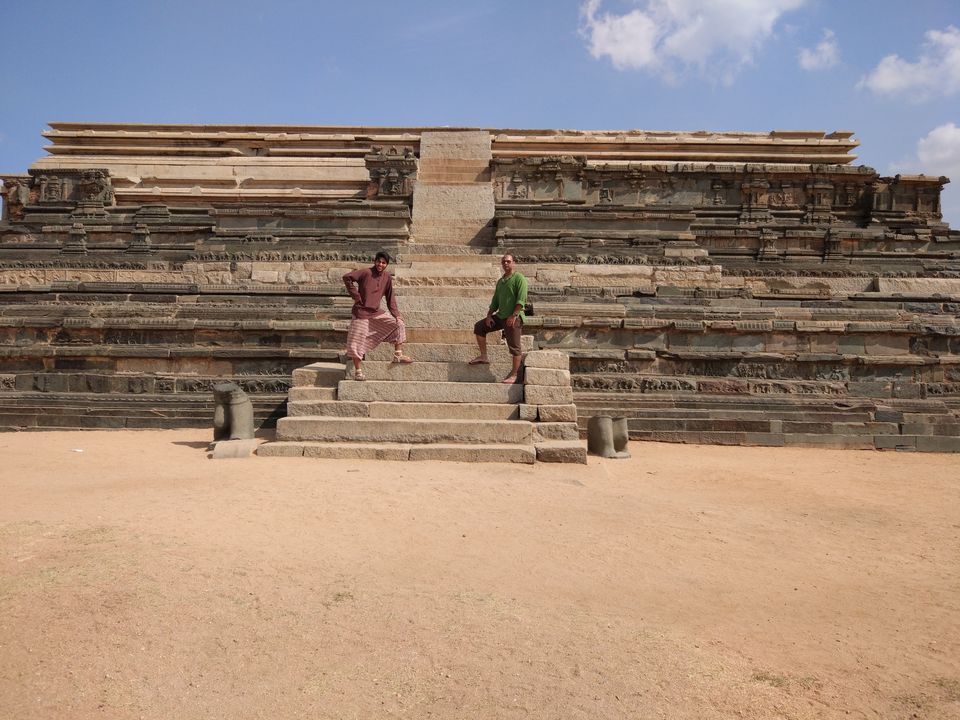 With this, we ended our trip in Hampi as we headed towards Hospet by bus ticket (Rs.13). From Hospet, we began our journey to the next destination I.e. was Badami, Pattadakal, Aihole, Allmatti dam, kudal sangam and Bijapur, which will be covered in Part 2 of my blog.