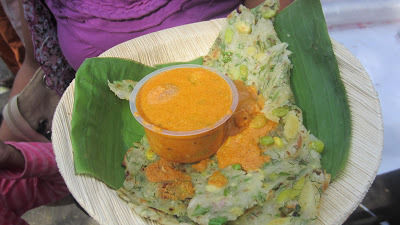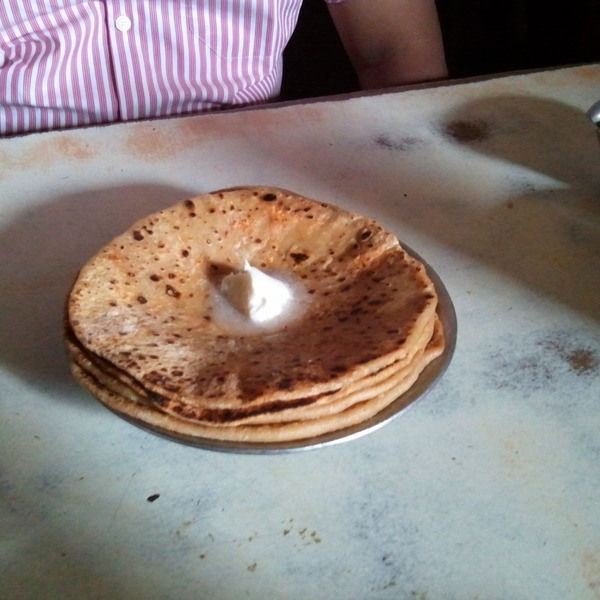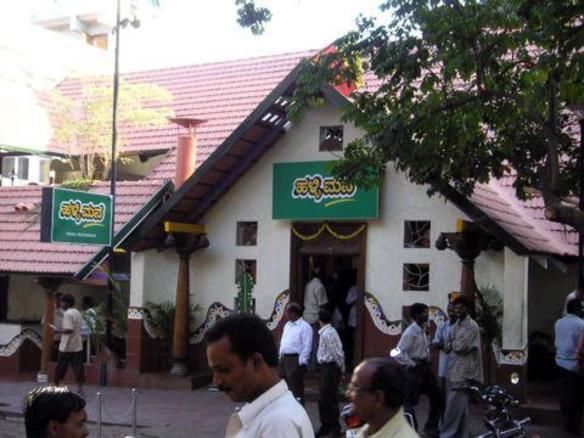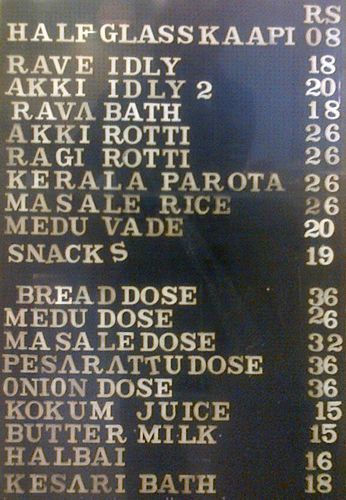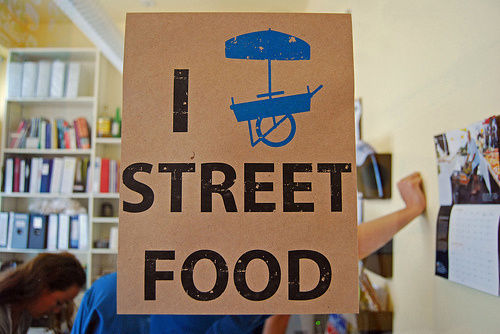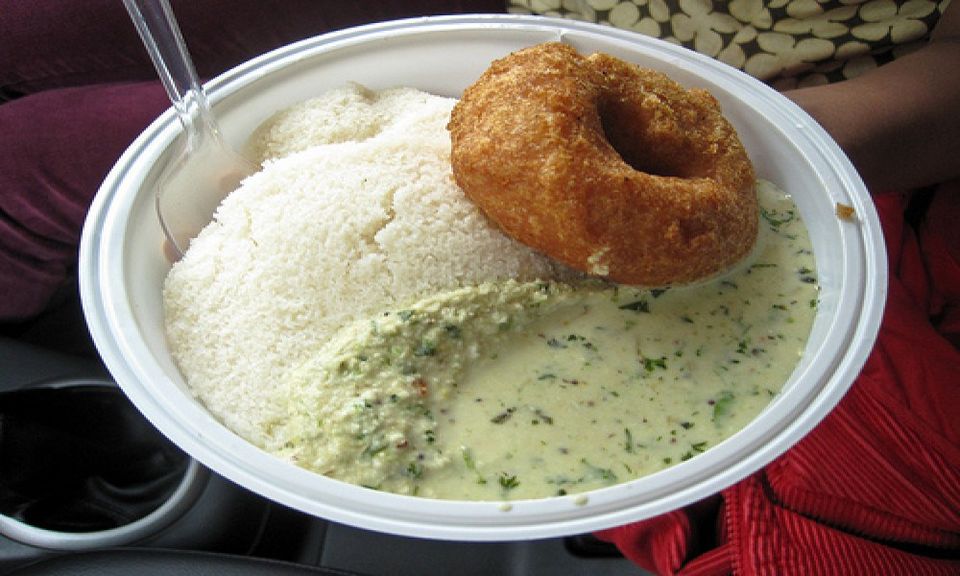 "There is no love sincerer than the love of food." - George Bernard Shaw
Bangalore is a foodie's paradise, no doubt. In the last one and a half years in Bangalore, I have been able to get a decent taste of this paradise! I'm a foodie. And I feel lucky to be in a country that keeps my taste buds titillatingly happy.
I'm a big fan of street food. One of my favorite things to do in a new country or city is to visit the local street food vendors. Indian Street food is a perfect way to sample India's vast cuisine and culture. You get to stand around a food cart and watch the magic of vendors slinging ingredients together to make their local delicacies. You get to see the love and attention that goes into food and food consumption.
Well, each area in Bangalore is a city in itself. It has its own popular eating joints too.
Here I list some of our(me and VJ) favourite places (in no particular order) – both street food and restaurants. I'll keep adding to the list as and when we discover more places
1. Mavalli Tiffin Room(MTR):
Possibly the most popular South Indian restaurant in Bangalore, MTR has acquired cult status for its unique taste and purity, with people queuing up even early in the morning to get in.Earlier it was a single location restaurant(near Lalbagh gardens) but recently new outlets are being opened, notably in Indiranagar and Forum Value mall, Whitefield.
While I do feel it's overrated at times, it has an authentic taste.
I love the bisi bele bath, khara bath and filter coffee here!
Taste: 7/10
Service: 7/10
Value for money: 6/10
Location : Here
2. Halli mane:
Yet another cult restaurant in the beautiful Malleswaram area, I was impressed with the ambience of the place. It's quite spacious too.
One of our good friends introduced us to this place after a long 30 km cycle ride. The restaurant is a visual treat too with its village style atmosphere.
My favourites here are Mangalore buns, crispy dosas and the filter coffee!
Taste: 7/10
Service: 7/10
Value for money: 7/10
Location : Here
3. South thindies:
A darshini type restaurant in Basavanagudi, it's one of my all time favourites! How much does ambience and service really matter? For me good food is all that matters. If you are like me then you shouldn't give this restaurant a miss at any cost.
I have had some of the best idli sambar, vada, dosas and Mangalore buns here!
The pesarattu which is usually a Andhra delicacy is served here with different texture which is good.
And there's the awesome filter coffee to wash it all down the throat!
Taste: 9/10
Service: Self
Value for money: 9/10
Location : Here
4. Veena stores:
If you a great fan of the great Indian dough-nut shaped delicacy called thevada, then this is the place you should visit! They have some of the crispiest vadas in Bangalore!
It's a small roadside shop in Margosa road, Malleswaram and one simply needs to walk up to the shop order the food – get the token after paying the bill and collect your food and eat while enjoying the surroundings. I think for decades they have been serving the same food with the same quality.
My favourites here are the vada, pongal and khara bath.
Taste: 8/10 (10/10 for vadas
Service: Self
Value for money: 8/10
Location : Here
5. Brahmin's coffee bar:
This is one of the old joints which is still famous and running. Located in the Shankarapuram area in Basavanagudi, they serve some of the softest idlis in town. With a limited menu and quality food it's a must visit for those who love south Indian tiffin. There is a dedicated person sitting outside for serving chutney!
My favourites here are idli and khara bath.
Taste: 7/10
Service: Self
Value for money: 8/10
Location : Here
6. Bobby da dhaba:
Do you want to have the best parathas in Bangalore? Then this is the place to go to! I just love the hot and spicy parathas with that dollop of white butter on top of them. Perfectly sinful, I know!
Earlier it was located right next to the Ulsoor gurudwara, now the place is shifted to St. John's road and is quite spacious now but with basic ambience. Cleanliness needs some improvement.
All the varieties of parathas are a must-try. So are Baingan da bartha, kadi pakoda and kheer. A glass of buttermilk to accompany these is a must!
Taste: 8/10
Service: 6/10
Value for money: 8/10
Location : Here
7. Eat street aka thindi beedi aka chat street:
Just a 400m stretch of road flanked on either sides by old buildings, Bangalore's famous VV Puram eat street is a paradise for street food lovers! It only opens up after sunset when the vendors start rolling up their shutters and pushing out their carts. It has the perfect street food ambience.
You can start at one end of the road with the more common idli, vada, dosa.
Don't miss out the paddu, mosaru kodbele, akki rotti, ragi rotti and thatte idli! If you like eating spicy food, don't miss the mirchi bajji and other bondas.
The congress bun at VB bakery has etched an important place here. Butter gulkand fruit salad icecream can serve as a perfect dessert! You can wash all these down with a glass of masala soda!
At the end of every year, an Avarebele mela kicks off at the eat-street and is a culinary and visual treat for fans of the humble 'hithakabele'. Almost 63 varieties of snacks and sweets and made of the humble avarekaalu(field beans).
Even if you are not a foodie, the gastro rich vibe at eat street is worth watching!
Taste: 8/10
Service: Self
Value for money: 8/10
Location : Here
8. 99 variety dosas:
This is one hidden gem that we happened to discover in Indiranagar 7th main during a leisurely evening walk. And eventually realised that there were similar joints in various other places too, notably, Koramangala 6th main, BTM layout, Bannerghatta, etc. And hats off to their ingenuity. These guys can actually create 99 varieties of dosas with the most awesome ingredients – Paneer, corn, mushroom, capsicum, potato, cheese and even noodles!
Watch them as they expertly toss in the dosa batter, add dollops of butter and then mix in whichever ingredients you like, to create one hot, melt in your mouth dosa!
Hygiene is maintained to a reasonable extent too.
Taste: 8/10
Service: Self
Value for money: 8/10
9. Chakum chukum:
Unarguably one of the best Calcutta rolls in Bangalore, we were introduced to it by one of our expat friends who just loves these rolls and says these are one of the best things about Bangalore!
The Kati rolls (kolkatta style) be it Veg/ Non veg come with loads of varieties that every single time you visit, you have something new to try. Our consistent favourite has been paneer egg followed by chicken egg. The rolls are quite filling and always cooked to perfection.
Taste: 8/10
Service: Self
Value for money: 8/10
Location : Here
10. Ali Baba cafe:
Do you love the Middle eastern cuisine? Hummus, babaganoush, etc? Well, VJ just loves it and off late I've started liking it too. This tiny, less popular joint in Frazer town was introduced to us by Highway On My Plate(HOMP) in NDTV Good times.
After searching for a good half hour we finally found the place. It's not so easy to locate the place for first timers who are not familiar with the area. One important landmark which we found out later is Richies Rahhams restaurant on MM road. The entrance to the restaurant on 1st floor is through a narrow, dark stairway and I wouldn't be surprised if someone says they were skeptical to proceed. However, as you enter that restaurant things look a little better.
The decor is interesting, in that it doesn't look like your typical restaurant. It shows that they have made an effort to do up the interiors. The modified ceiling, antique looking furniture, the curtains, artifacts, give the place a middle eastern look.
They specialize in 3 types of cuisines – Arabian, Persian and Bhatkali. As such, their menu is quite exhaustive, and most of the items were alien to us except for the few Arabian dishes. We had the awesome Persian yogurt or the Doogh. We were completely bowled by the Mezzeh platter that we ordered. It was the best one we have had till now!
And the simple dessert of Shaufa pana pudding completed a happy meal for us!
Taste: 8/10 (For Mezzeh platter-10/10)
Service: 7/10
Value for money: 8/10
Location : Here
What do you think of the list? Tell us about your favorite eat outs! We'll check them out
Frequent Searches Leading To This Page:-
weekend trip cost from bangalore, bangalore weekend trip cost, bangalore tour packages, weekend holiday tour cost from bangalore, weekend getaways from bangalore