Hello Guys,
As an Indian and a true admirer of Indian Heritage I want to share my first trip to Mysore with you.
My trip started in the early morning at 7 O' clock with my family in a rented Innova from Bangalore. It was a beautiful winter morning with a promise to unveil some mystery of its own.
Distance From Bangalore-
If you are an avid supporter of road trips then cover the Bangalore to Mysore 144 km (3 hrs 30 mins)distance by road
Mysore, The city of Palace is a glorious reminder of the Wadiyar Dynasty's remarkable achievements and dedication to contribute towards great Indian history.
On our way to Mysore we made stop for breakfast in an A2B restaurant ,for those of you who are new to Bangalore if you want to have food of your liking please checkout their menu.
The road to Mysore is full of greenery ,multiple food court and refreshment centers for tourists.
Ranganathaswamy temple-This temple is one of its kind because lord Vishnu deity here is in sleeping position(Anantsayana) and also bewitchingly beautiful. The peaceful temple has a out worldly pull to its amazing architecture.
Summer Place of Tipu Sultan - Summer in India can be tough. Even the Royals of 17th century were no different. Its a sprawling mansion with bamboo chick blinds for a cooling effect. As you enter the palace you have to purchase a ticket worth
For -Indians 15 rupees
Videography 25 rupees
Foreigners 200 rupees
After entering through the gate and taking a long walk up to the Mahal the first thing you will notice is the beautiful wall paintings. Interesting fact is that those are food colors used by artists in 17th century.
Inside the palace essentials used by Tipu sultan are displayed inside glass boxes. You have to move with the crowd and take all the beautiful ornament and furniture of then sultan .Its like taking a walk through memory lane of 17th century. you will feel the sudden temperature drop inside the palace premises as the name suggest. The greenery surrounding the palace is so breathtaking you can not keep your camera without taking some snaps yourself.
Chamundeswari Temple-Next on your list will be the Mysuru Chamundeshwari Temple, Situated on the chamundi hills above sea level. Upon reaching at the temple we went for a quick darshan making a line which grew every second.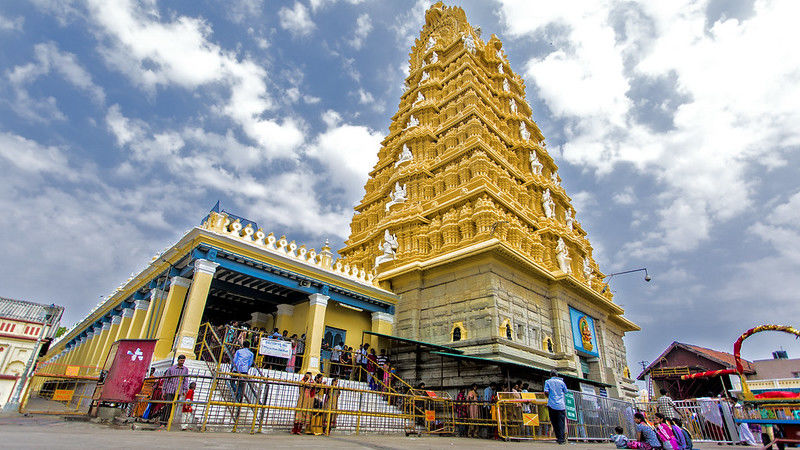 They sell ladoos and silk sarees outside the temple that you can buy from. Please take a picture with your family infront of the temple to cherish the memory ,You can also have the prasad served by the temple on your way out .As it was getting late and we have planned a one day trip we made our way to have some lunch and then visit the heart of the city The Palace Of Mysuru.
Mysuru Palace-This sprawling mansion was built by Maharaja Krishnaraja Wadiyar of Wadiyar Dynasty. High ceilings, magnificent structures, never ending corridors are reminder of a time when luxury was a must for royal families.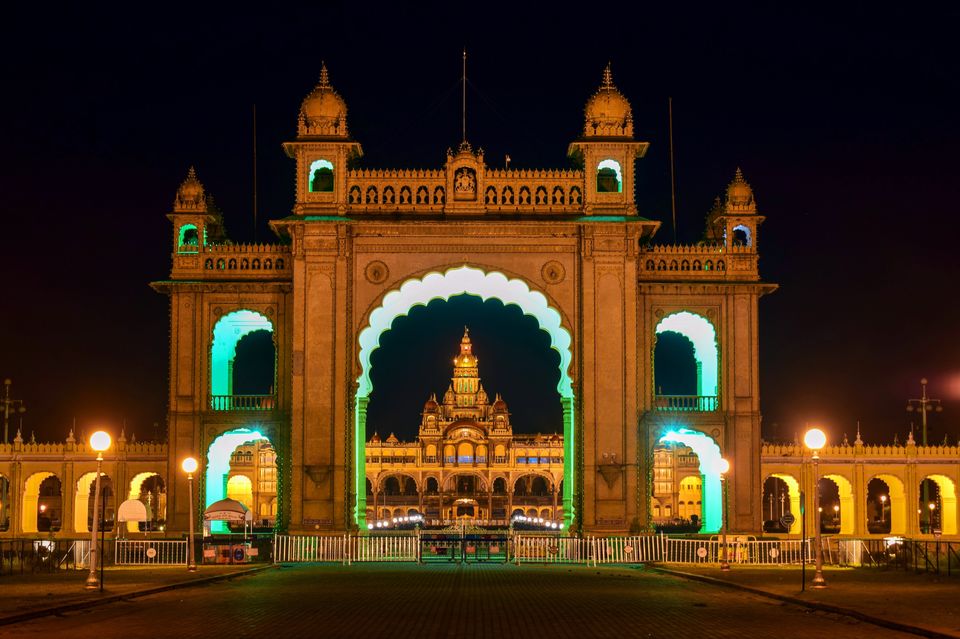 Your journey into the beautiful palace beginnings when you take first step through those majestic doors .While turning left you will be seeing paintings of generations of royal family adorning the corridor walls. This lavish home of royals can overwhelm you with its elegance, timeless beauty as if it hasn't aged a bit since its first opening. The more you explore the more you realize this royal resident is another world in itself .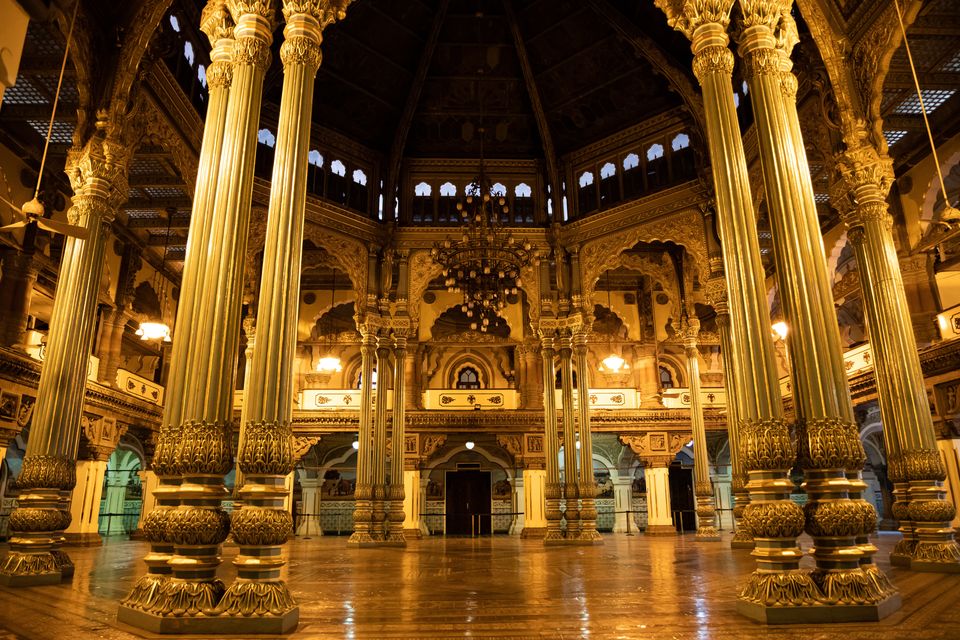 The palace courtyard is enclosed from the visitors and is a vast open space with staircases guarded by jaguar sculptures which is a site to behold.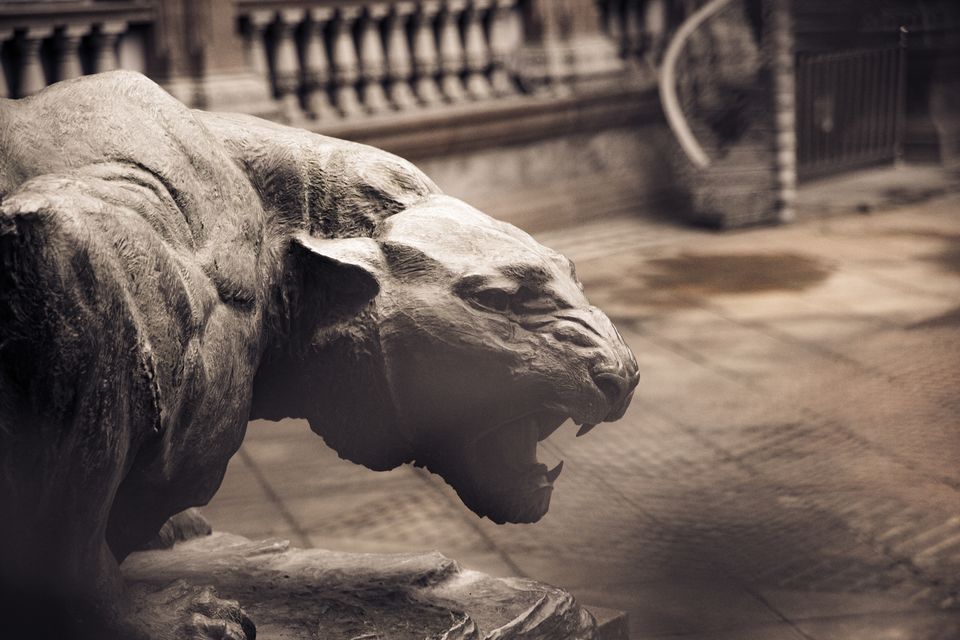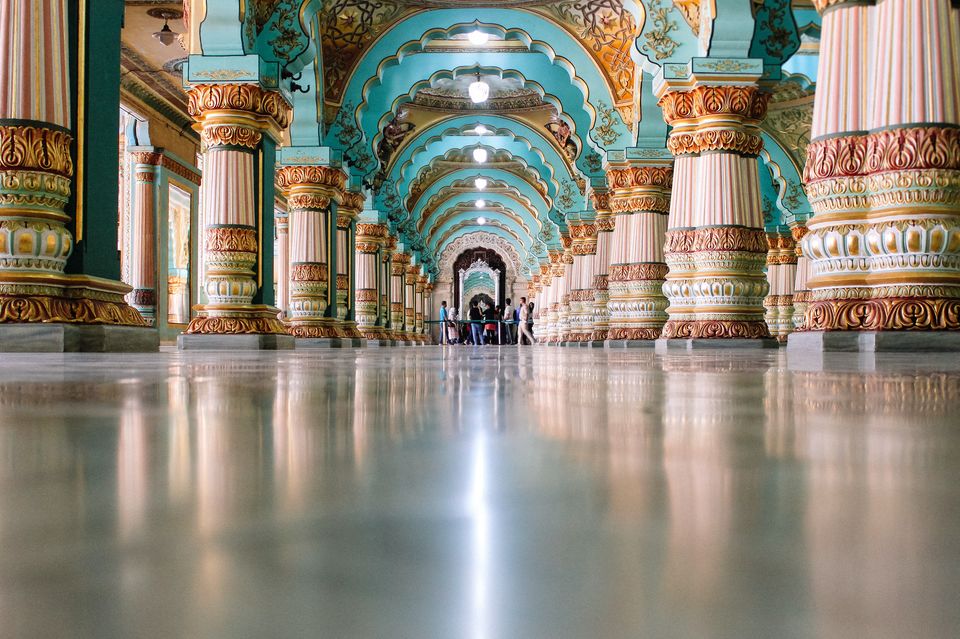 Brindavan Garden-The next place to visit was famous Brindavan garden for its water and light show. Adjacent to Krishnarajasagar Dam this garden is flocked by nearly 2 millions tourists per year. This garden is inspired by the Botanical Garden of Bangalore and a major attraction of srirangapatna.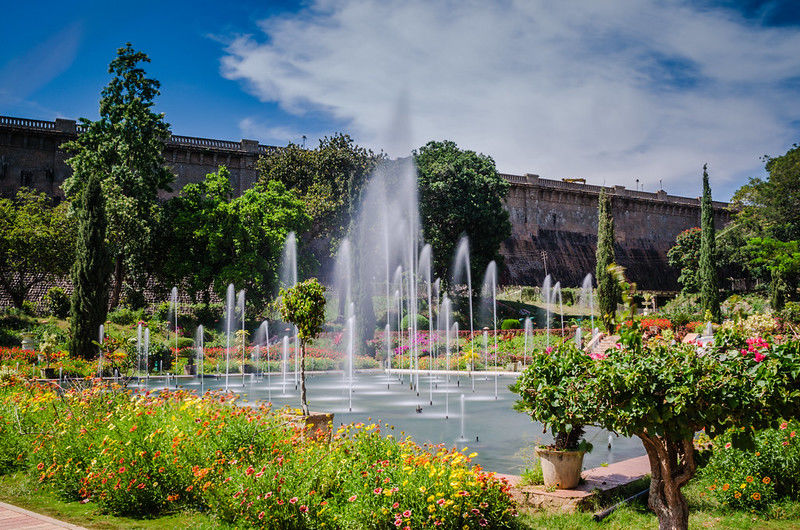 The mind refreshing ambience is enough to keep your mind and soul engaged till its time for the light and music show in the evening. Daily thousands of people watch the show without getting bored for a second. The evening view of the garden with all of its light lit up will be etched up in your brain forever.
At 7 'o' clock our tour came to an end and we bid adieu to the city and its mind boggling monuments. While returning to Bangalore we ate our dinner at the nearest eatery and head back home.
Visiting Mysore will always a pleasure because of its grandeur and hospitality. I did visit the city to strike off a wish from my bucket list and never regretted it.