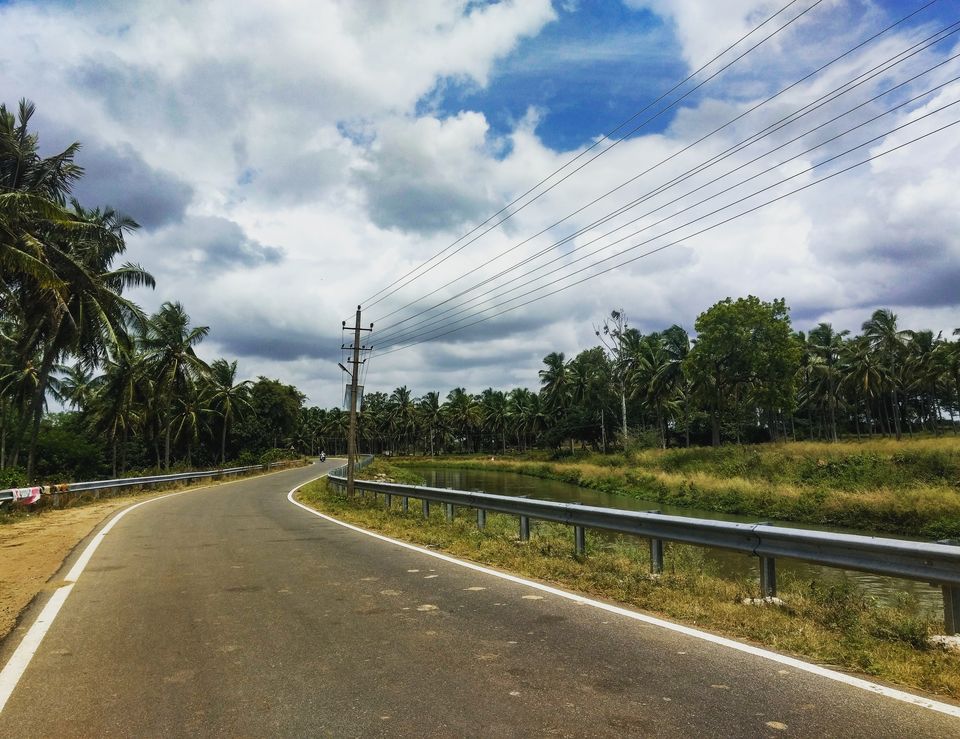 This story is not about the trip itinerary or 'how to visit' stuff. This is about my first solo travel experience. Why Mysore? Because the weekend was only two days ahead and I was already exhausted from work. Mysore was the only escape I could think of that moment.
Stepped out on hushed roads on Saturday at 4:45 AM (that was spooky). Took a cab to Majestic where I had to wait for one and half hour for the bus (private travels are seldom punctual). On the way to Mysore, I realized that I crossed Srirangapatna which was on my 'To Visit' list. Disembarked near Sidhalingapuram and waited for the '303V' bus. Used all my 'Spoken Kannada' skills asking the co passengers for the directions to Ranganathittu. I received the help that I was seeking. Reached toll gate from where I boarded '307' bus to Pakshi Dhama (Bird Sanctuary). The very first scene is a big idol of Shiva in a canal that flows under a cement bridge. Right to it is the arch and road to Ranaganathittu Pakshidhama.
Started my 15 mins walk along a canal on my left and verdure farms on the right. Birds chirping at a distance and my heart in gratification to the essence of freedom. The lens that I was carrying has focal length of 55 to 250 mm and the gate keeper told that I will be charged for carrying >200 mm lens. I was not ready to pay 500 bucks for 50 mm additional focal length. Convinced with my words, they had let me in without charging.
Ranganathittu welcomed me with a pond full of lotuses and trees full of musical birds. I observed that love birds visit this place often (pun intended). Hopped onto a boat in Kaveri River that took me close to crocodiles and sea birds in Pelican's island (close enough to take good pictures though). I have spotted diverse species of birds like Little Egret, Cormorant, Oriental White Ibis, Yellow Breasted Chat and so on.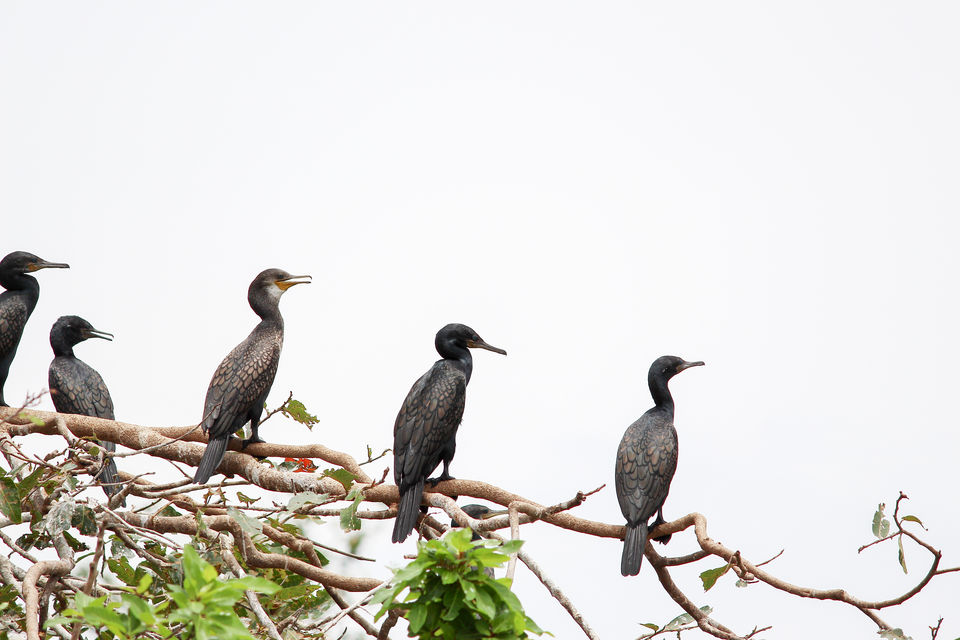 Walked back to arch and waited just for 5 mins for the bus. Thanks to my impatience I started walking to the toll gate on foot and then a person stopped by to offer me lift. He understood that I am alone and looking for a bus stop to catch Mysore bus. He drove all the way from Ranganathittu to Srirangapatna bus depot just to help me board a bus.
Mysore seemed to be a clean city as I read it online. I checked in at Zostel and found that my roommates are from France and Ireland. They visited India to learn Mysore style Ashtanga Yoga. Later I have spotted many other foreign Yoga students in Mysore. After a nap, I headed to Mysore Palace in the evening for the light show. Unfortunately, the light show was cancelled as former Tamil Nadu CM Karunanidhi expired on the same day. Later an autowala took me to Cauvery Emporium where I understood that I would never be able to afford sandalwood items.
While returning to zostel, I asked a lady for restaurants nearby. We talked about my solo trip on our way while she guided me to a café. She even invited me to her home. That night, I met 6 other people in zostel with whom I visited 'Depth and Green' Restaurant owned by a Punjabi family. All of us are from distinctive regional background yet assembled on one table. I had the best Mango lassi there. The restaurant serves Italian and Mexican cuisine.
Next morning, I headed to Mysore Palace where I was awestruck by the splendid palace architecture and royal life of Wadiyar family by looking at exhibits. After lunch I took an auto to Mysore railway station and boarded the mail express to Bangalore. It was one of the best train journeys I have ever experienced. The wide-angle view of Kaveri river and when the sun rays gleamed over the paddy fields seemed mystical to my eyes.
Frequent Searches Leading To This Page:-
Birds in mysore, bird sanctuary in mysore, wildlife tour of mysore, Mysore is the Ranganatittu Bird Sanctuary, Best Hotels Near Ranganathittu Bird Sanctuary