Day 1 - We boarded the Matsyagandha Express from LTT at 3:20 PM, started our journey on Christmas day from Lokmanya Tilak Terminus (aka Kurla Terminus), we did not have a legitimate railway ticket as booking a Tatkal ticket was a failed attempt. With no better options available we had to travel in General coach (aka chaalu dabba). Though we did not have a seat each for 3 of us, I believe this is the best way to travel with friends, it gets you talking with some help from weak/poor cellular networks. Also this is great opportunity to observe unique individuals.

Day 2 - Any-who, we reached Gokarna Road station the next morning at 4:45. We were sleep deprived hence we were planning on resting for another couple of hours at the railway station itself, but, then one of my friend who was hell bent to be more of a traveler than to be a tourist ( Remember, in a new place, where we were struggling with language constraint), said that we can walk the 15 kms stretch towards Kudle Beach and the other 2 said let's do it! It was dark, the Sun was not keen to come out in open in the wintry morning. All 3of us were excited as the trip had started we left the station, walking with 1 heavy rucksack, 1 expensive rucksack and 1 backpack borrowed from someone. As we reached the main road, we got our torches out, because streets in remote areas are still waiting for lamp posts or lamp posts with working bulbs or lamp posts with electricity. As we were walking, we could see houses, temples and then we had dogs who are forever known as guardians of the streets in dark. Though I love dogs, but not when they growl or bark or come charging at you. More than me the other 2 were much scared of the dogs barking at us. They would loose their shit and walk faster than their normal speed and this behavior intrigued dogs. Now, if these 2 start running then I have to too. So as we were scared of dogs, we decided to stop and wait for a bus or an auto to arrive, after around 1 hour, as it was lighting up we got in a bus and reached the Gokarna Bus Stand. We took an auto to reach the Kudle Beach. As we got off the auto I could get my camera out of the bag and hence -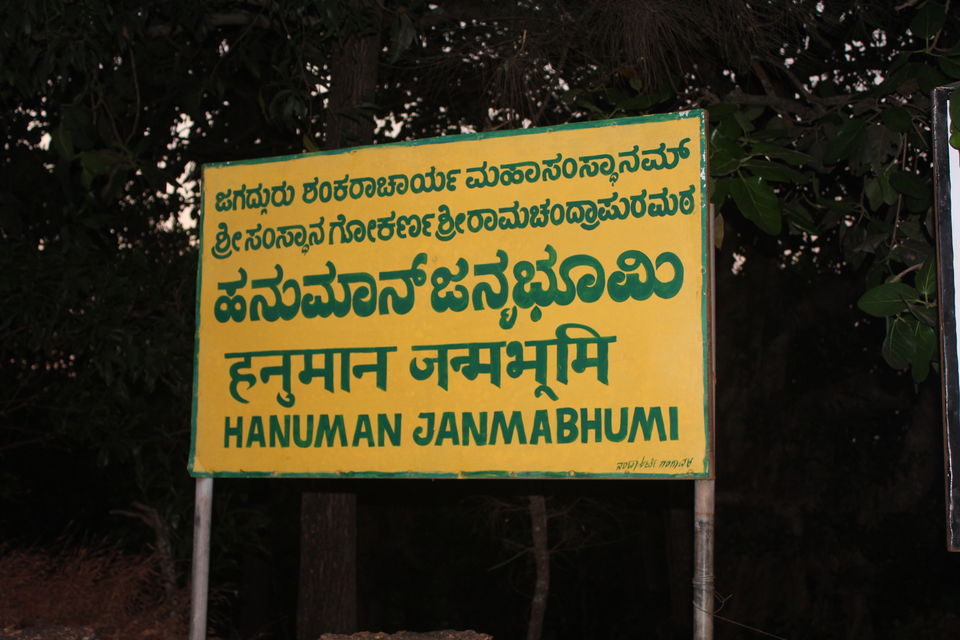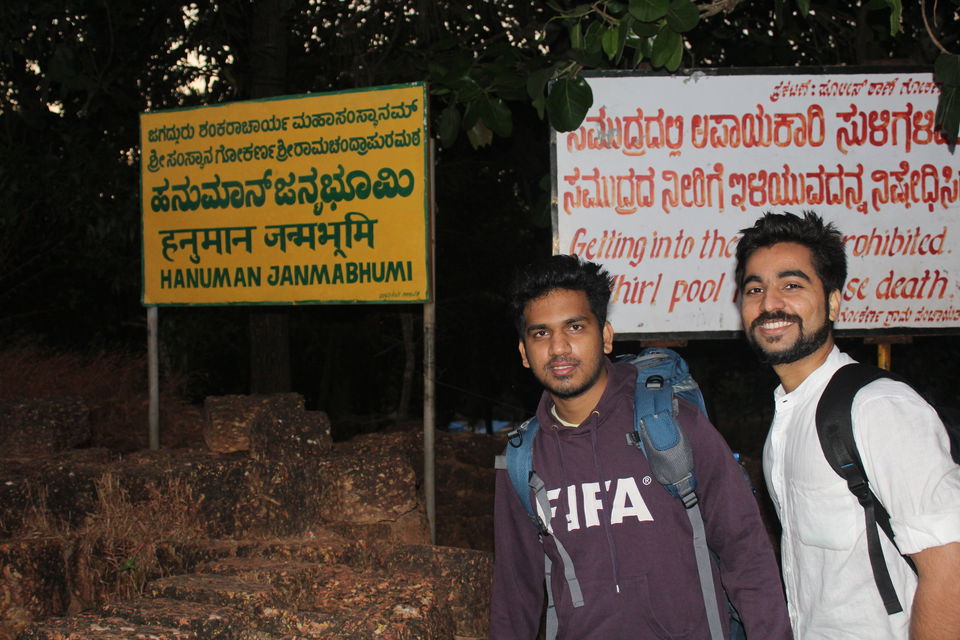 Once we reached Kudle beach, we dropped our bags, soaked in the beautiful view while we were still hoping to get some sleep. But hey, who's here to rest, right? We stepped in the water to check the temperature. But as we earlier saw the pictures of people drowning to their death on Kudle beach we were wary of taking a dip/swim.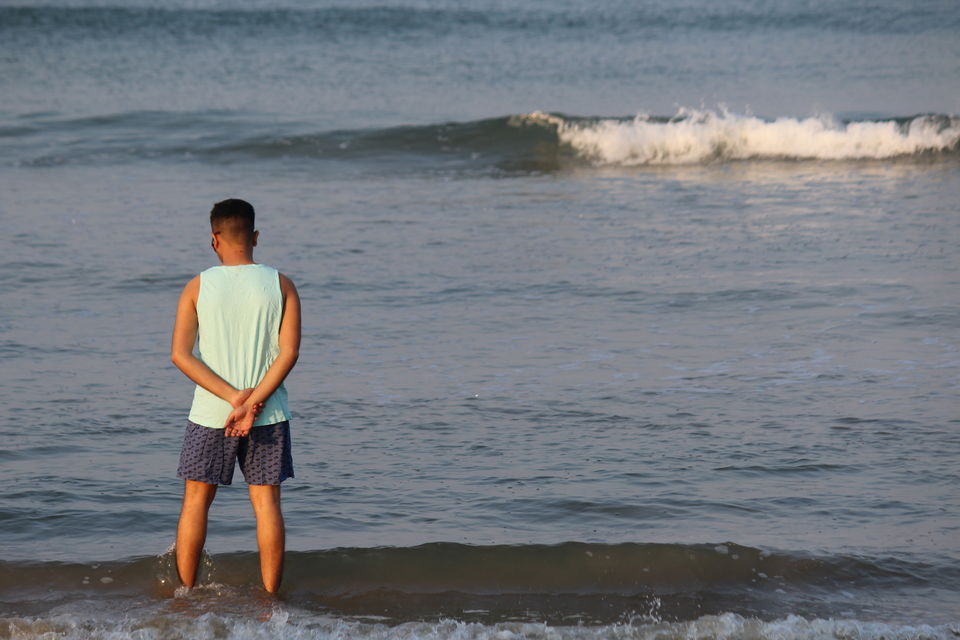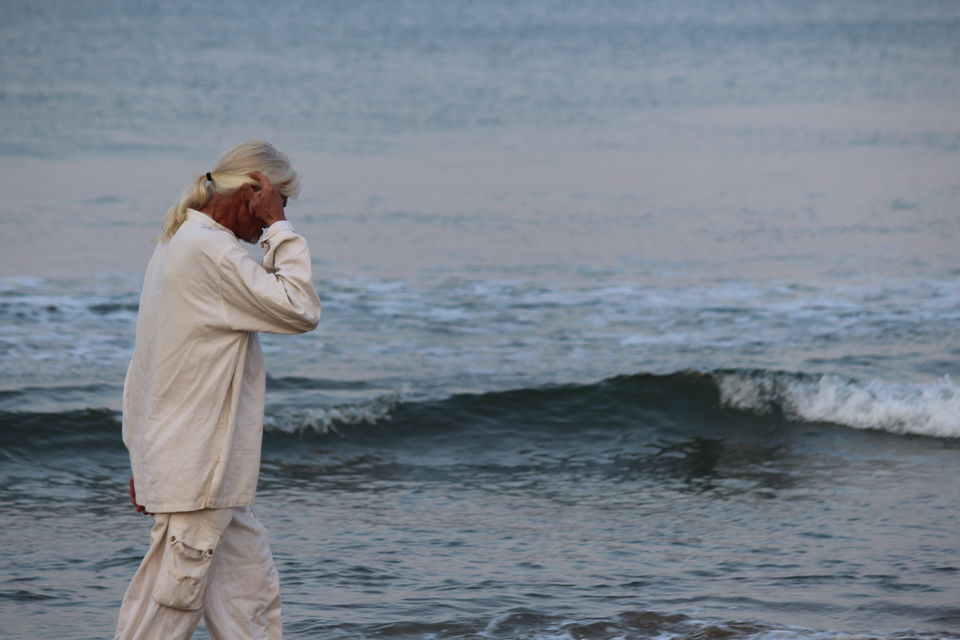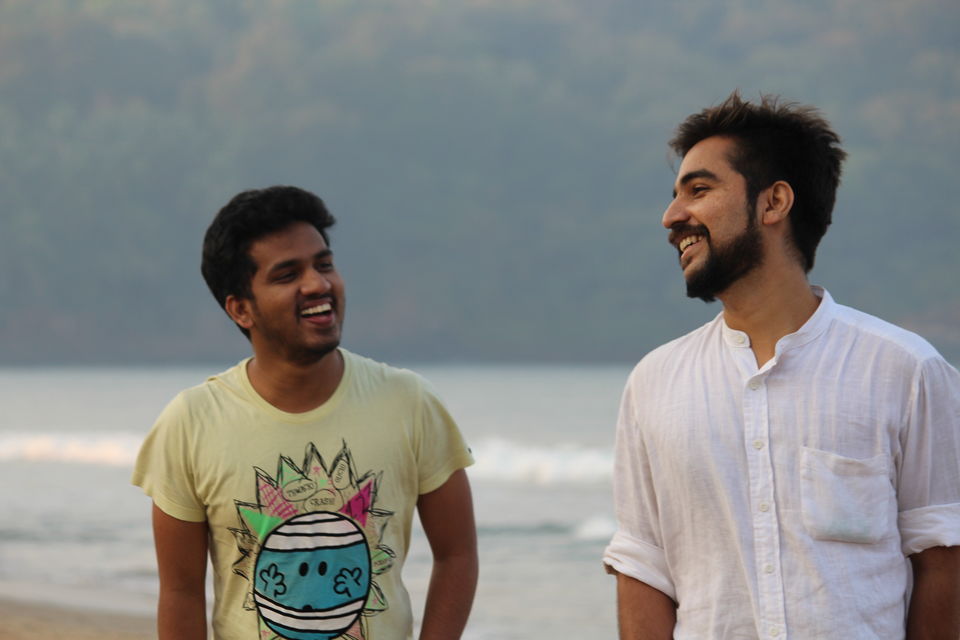 We came prepared with a tent. We wanted to camp, so there was no question of looking for a place to stay. Also we had decided to cook at least once and for that we went back to the town and started shopping for meat, spices, coal go barbecue and other things. We had some breakfast - idli, wada, upma, dosa, uttapam.; authentic south Indian delicacies are delicious. The people are the best part of this beautiful place, really helpful and kind, we were struggling to make them understand that we are looking to buy coal, when this particular auto driver understood that we want 'massi' (coal in Kannada) he took us to an ironsmith, the ironsmith guy himself needed the coal for his daily tasks, yet he sold some of it to us, gem of a people.
We went back to Kudle Beach, and started with recce looking for a nice place to set our camp, to set our makeshift barbecue. And to star gaze in the night.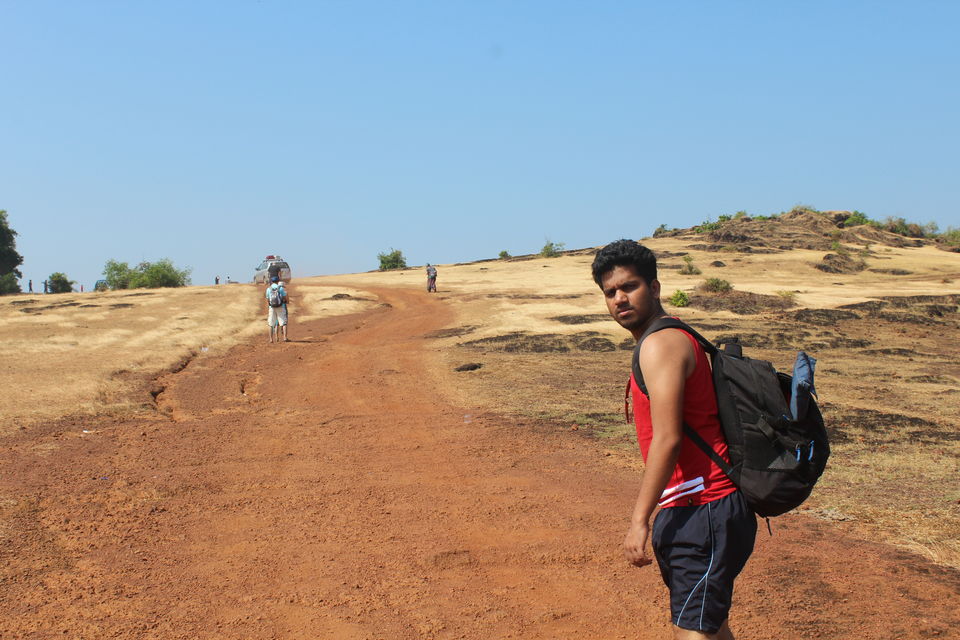 We found this piece of heaven!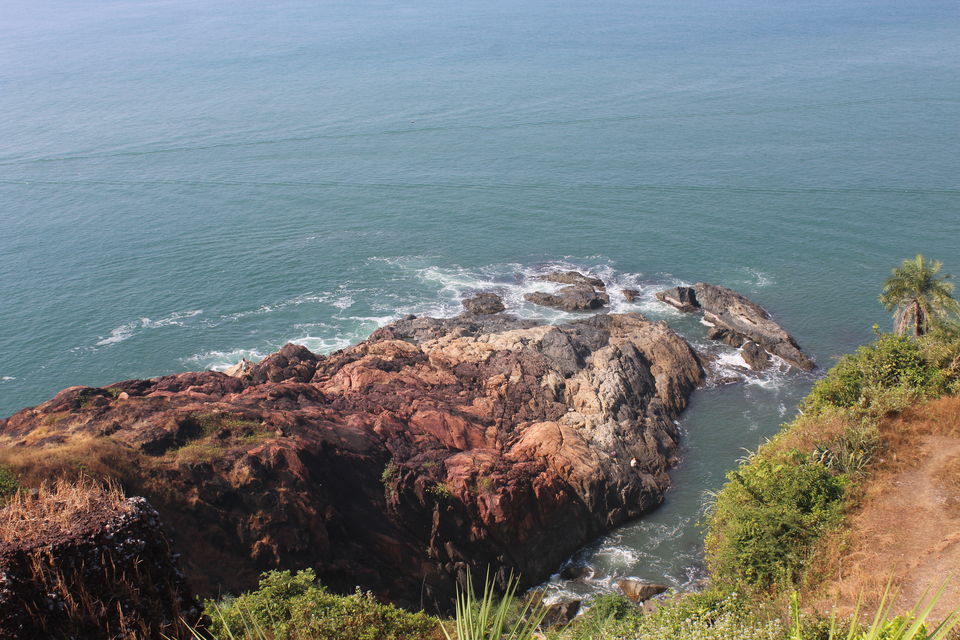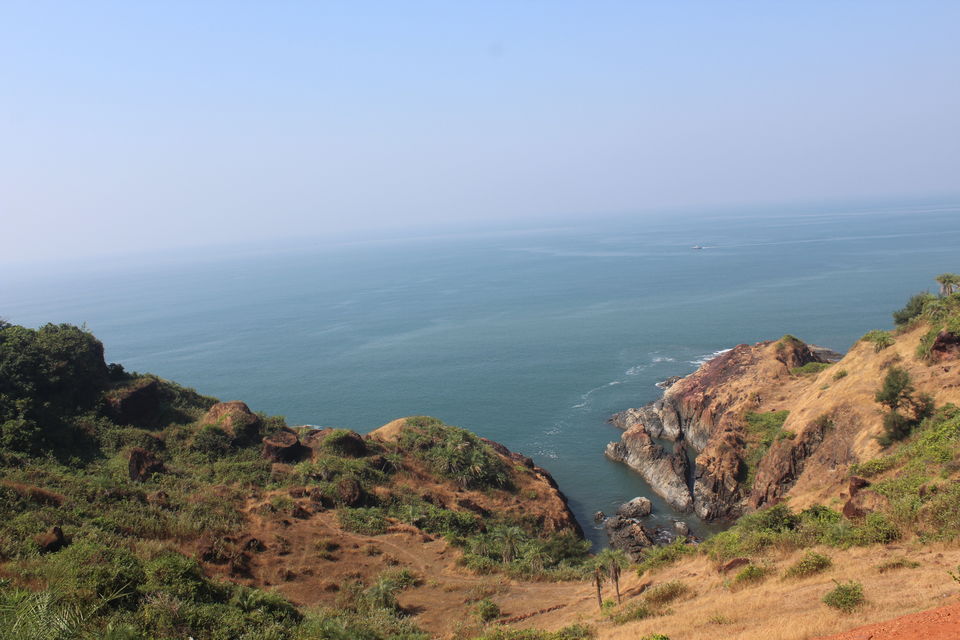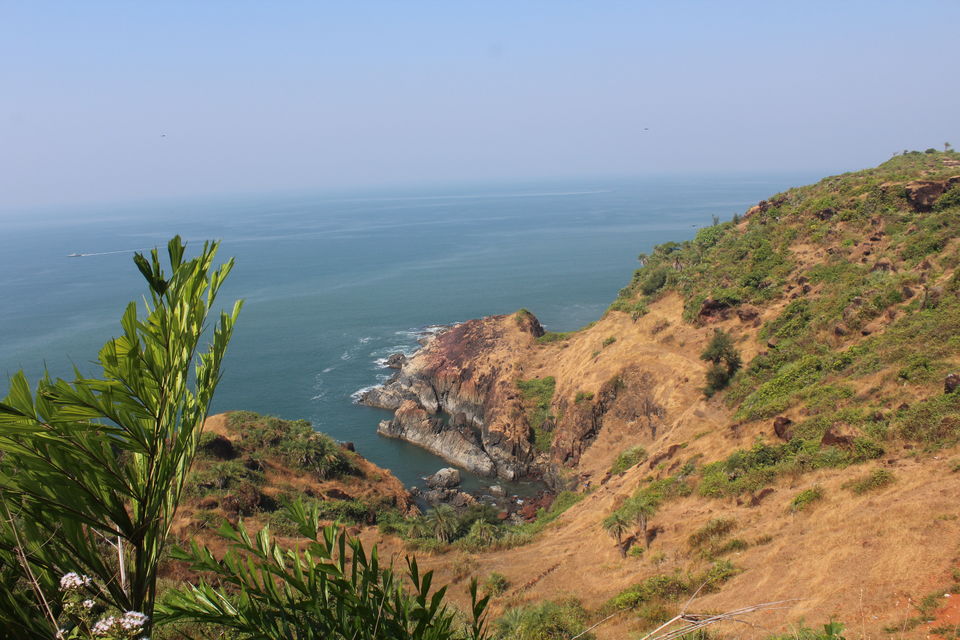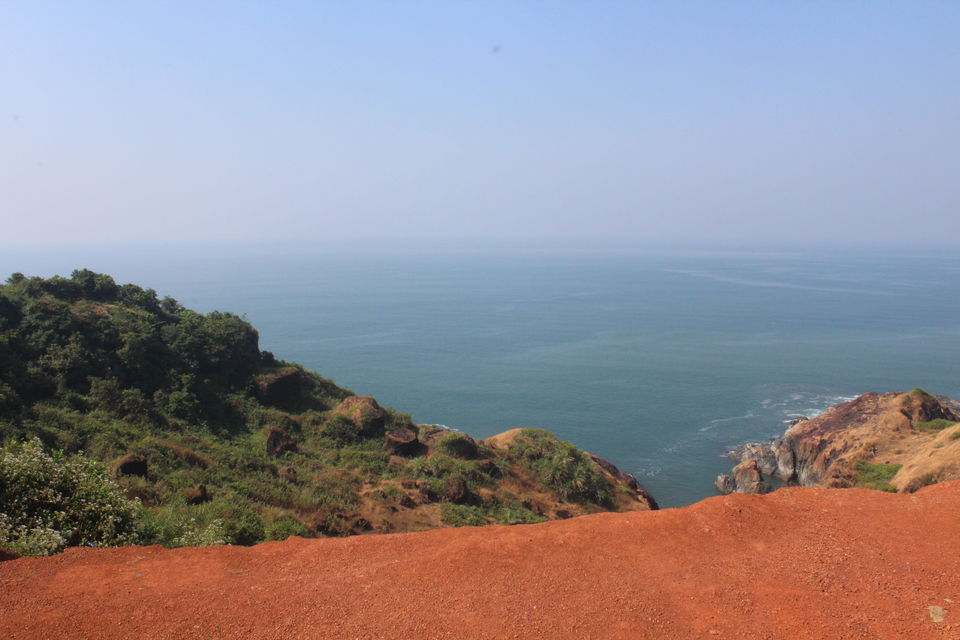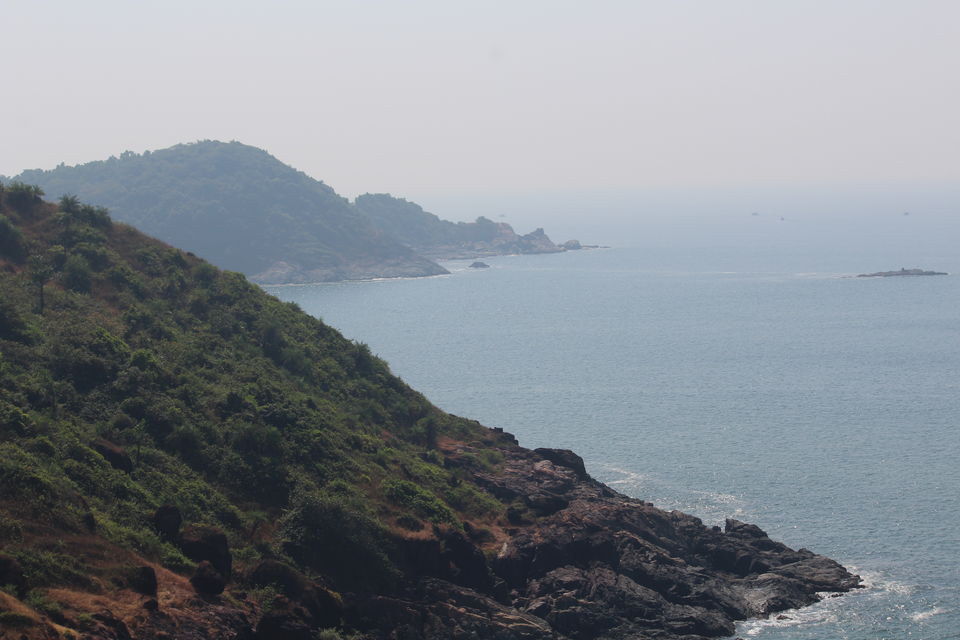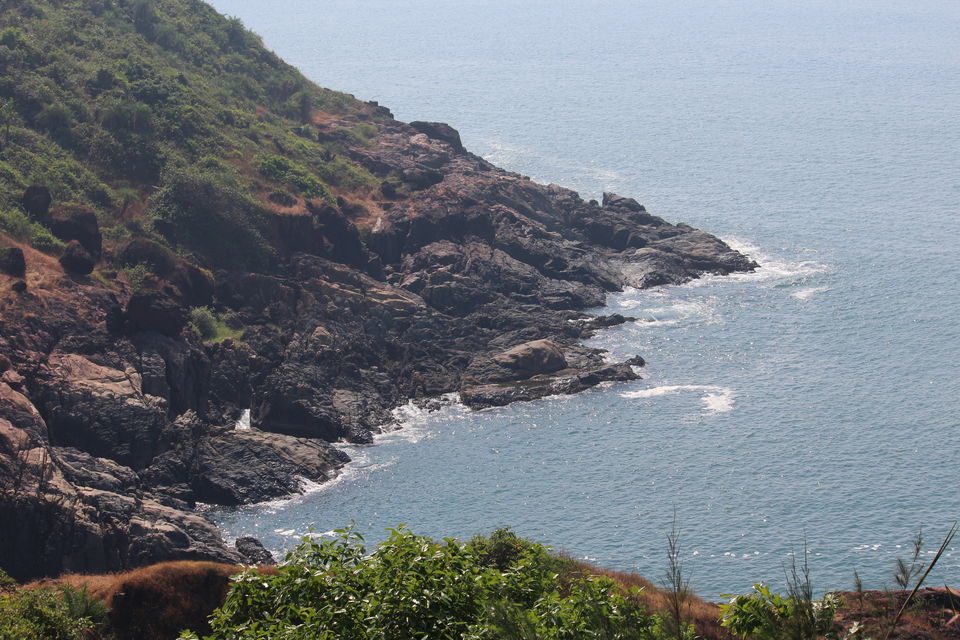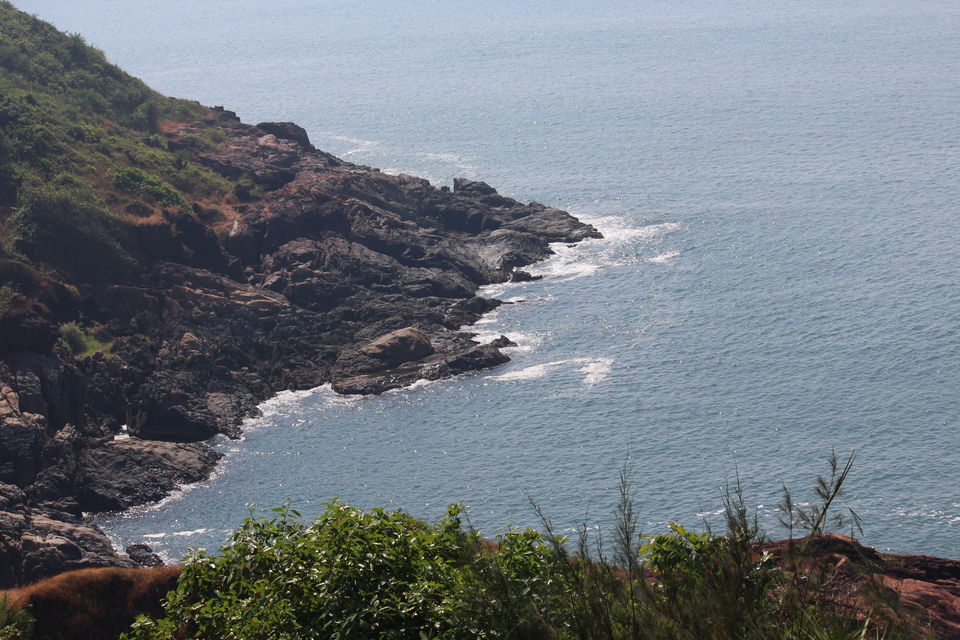 We checked with few people for the possibilities of camping on hilltop. Most of them said go for it, as cops hardly come to check over here. And that's all we wanted to hear ;)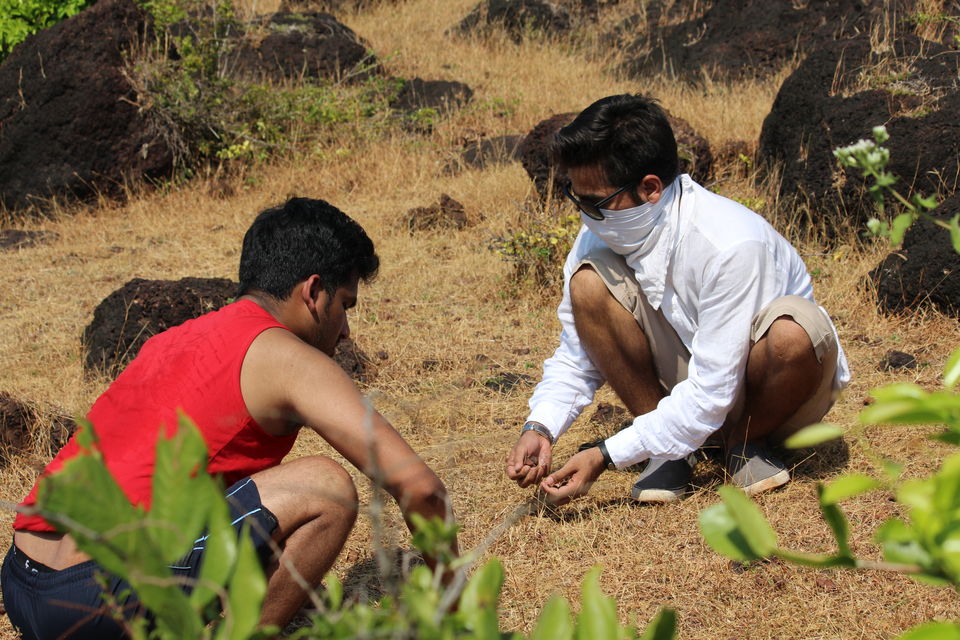 As this was our first hands-on experience for setting up a tent, we were struggling. We tried to do it on our own but after couple of failed attempts we decided we need help, in comes YouTube! A big thank-you to Jio cellular network. We watched a video to set a tent and followed the instructions.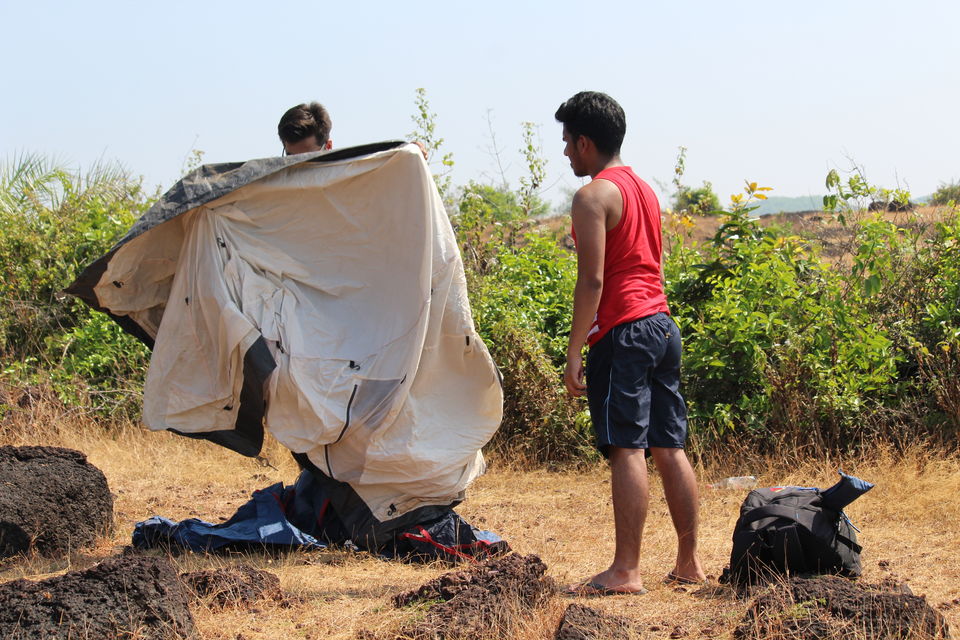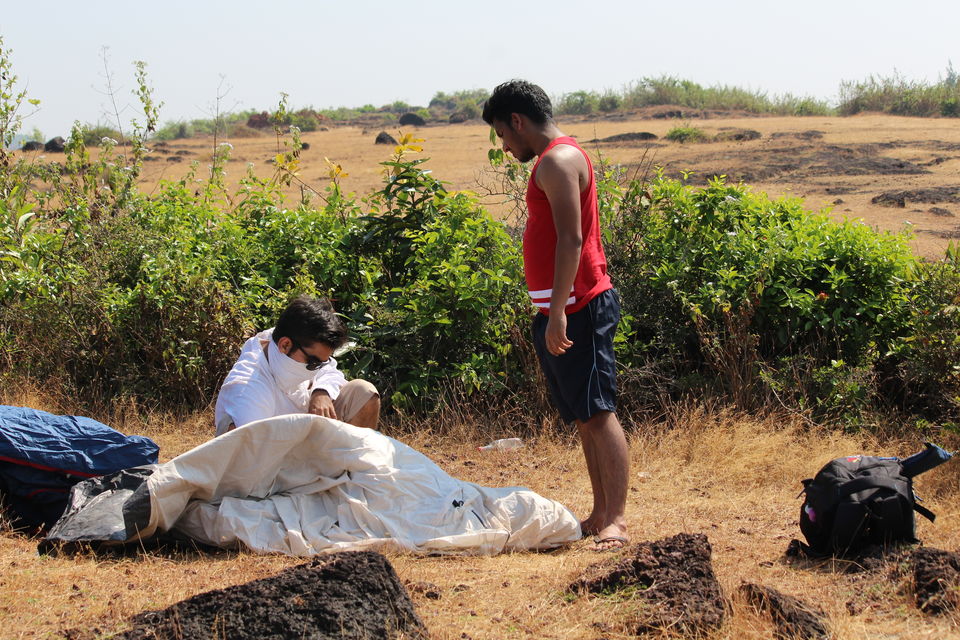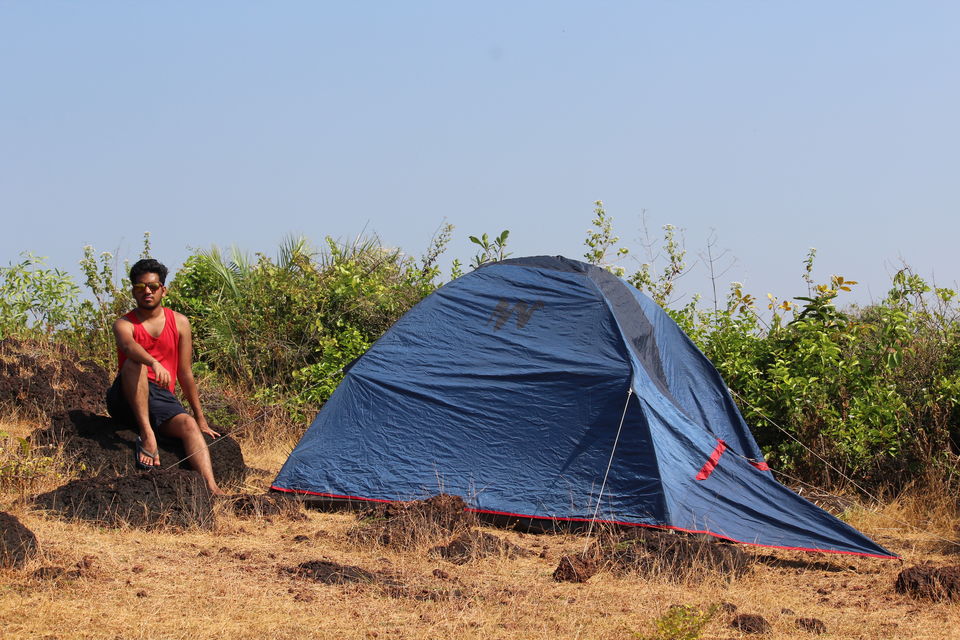 Our first successful tent set up calls for some celebration!
As the Sun was showing off his brightness these 2 started to feel the heat and also started to crumble like cookies. So much for being a traveler, eh? This began a new discussion - should we camp at some other place, while I was fine with the heat, I had to think of well-being of these 2 as the trip had just begun. We decided to take the heat and not move anywhere, wise decision. As the sun started to be kinder, we started setting up our barbecue. We borrowed bricks without asking, we decided to put it back the next morning before we leave.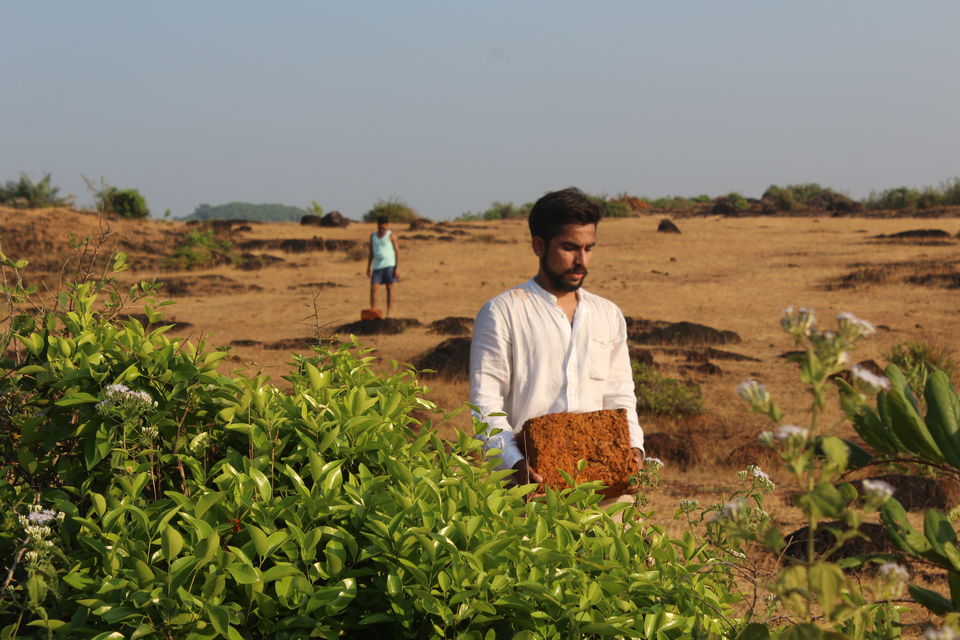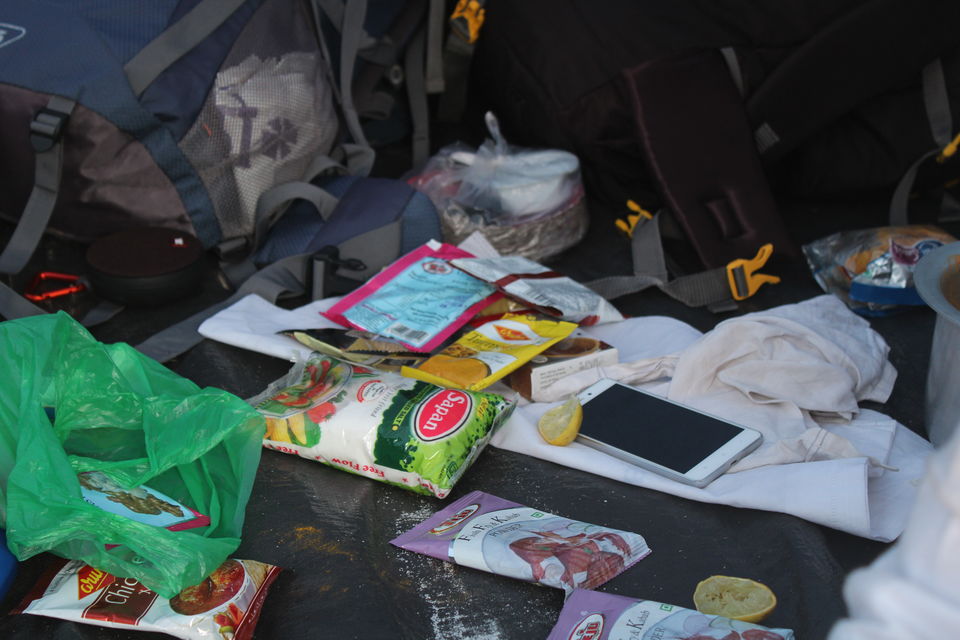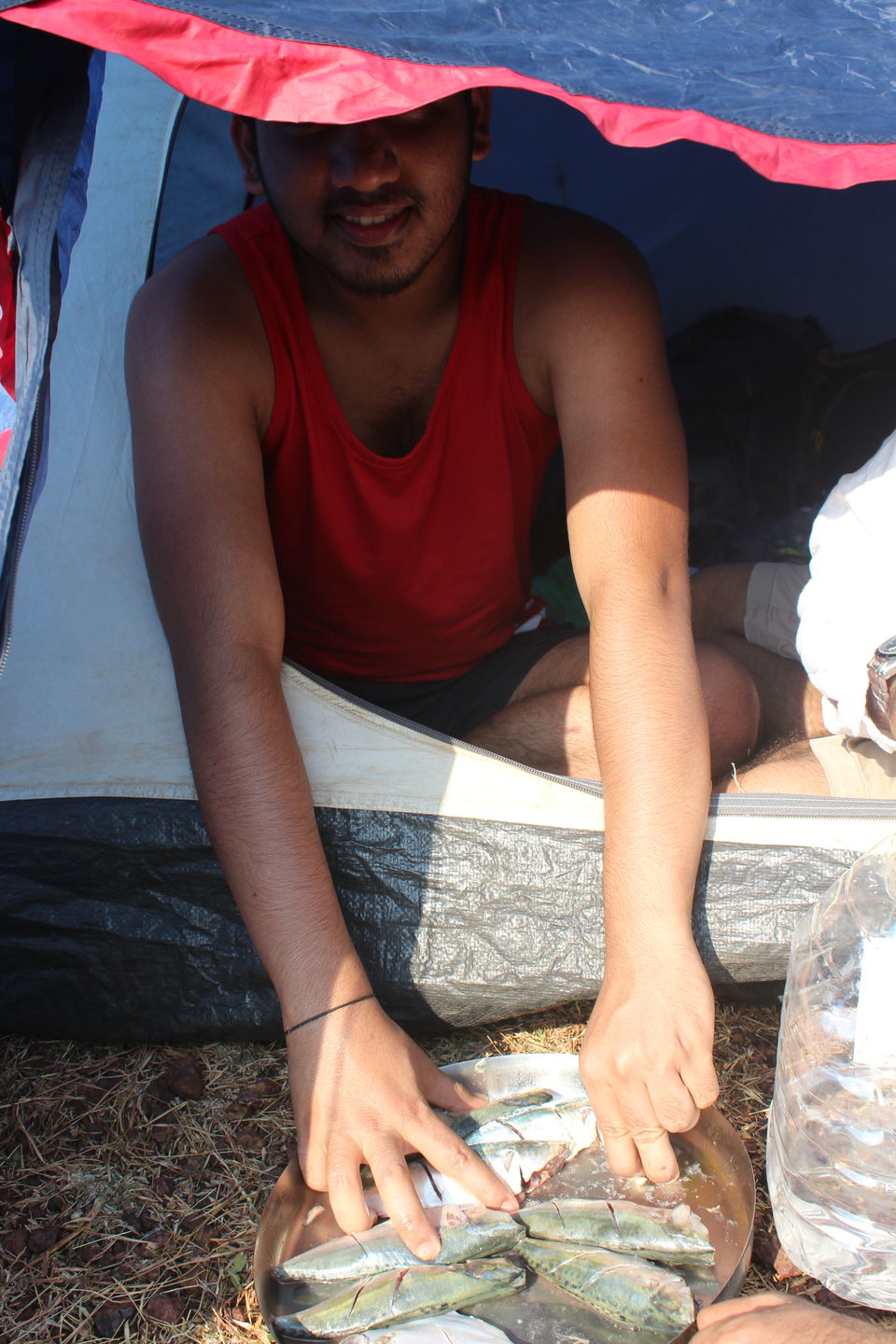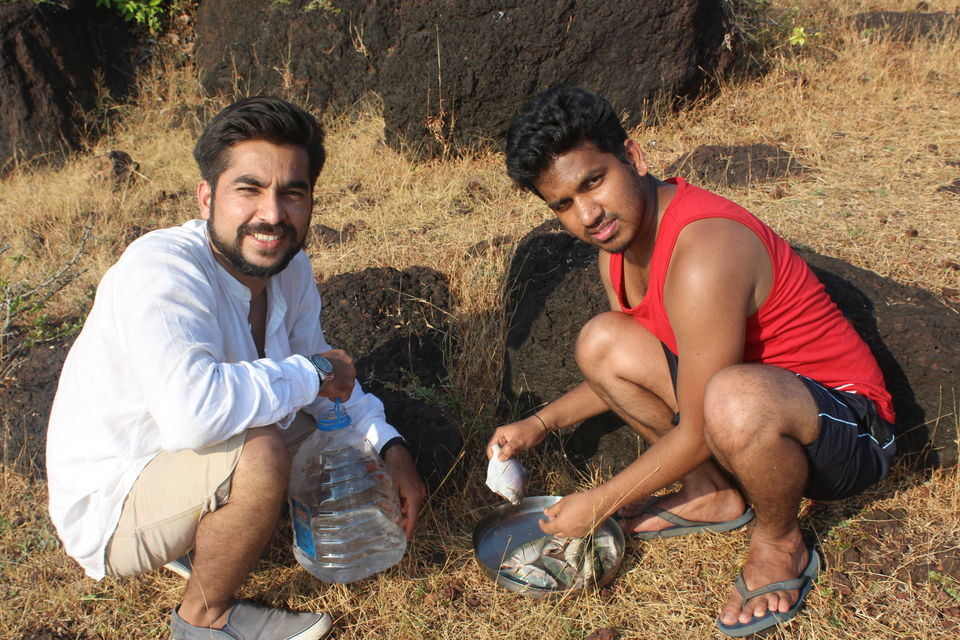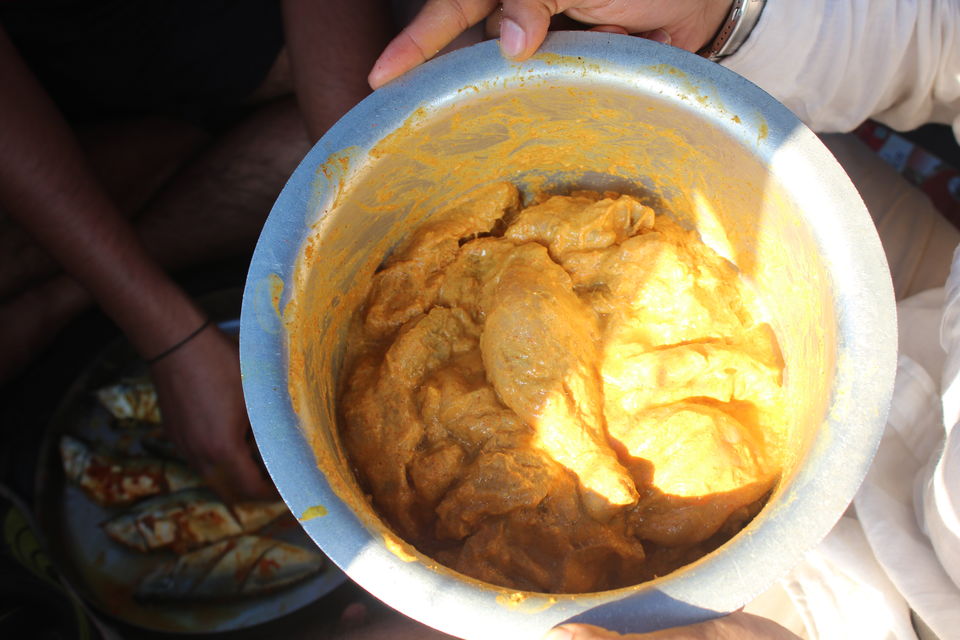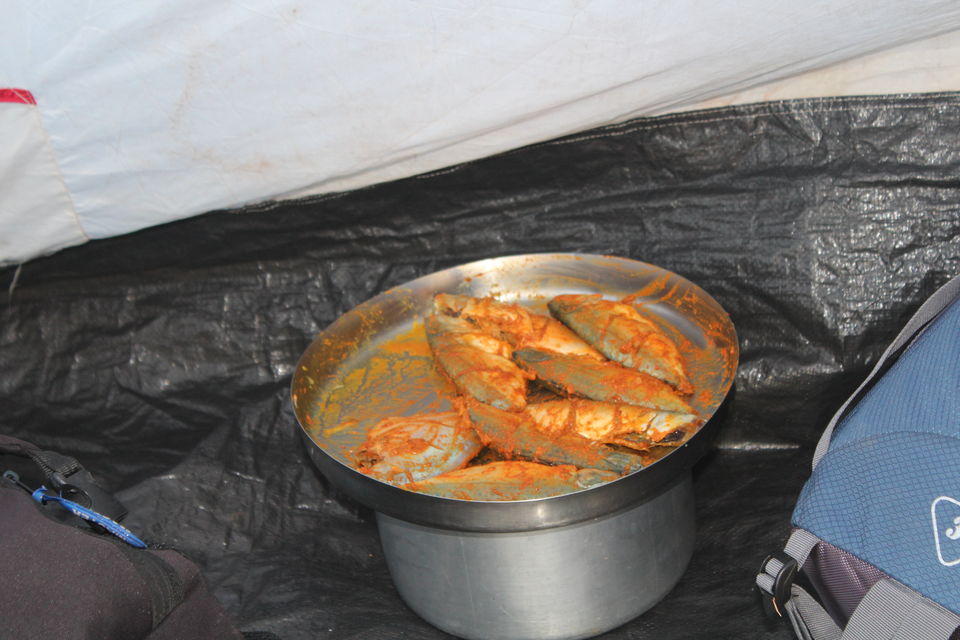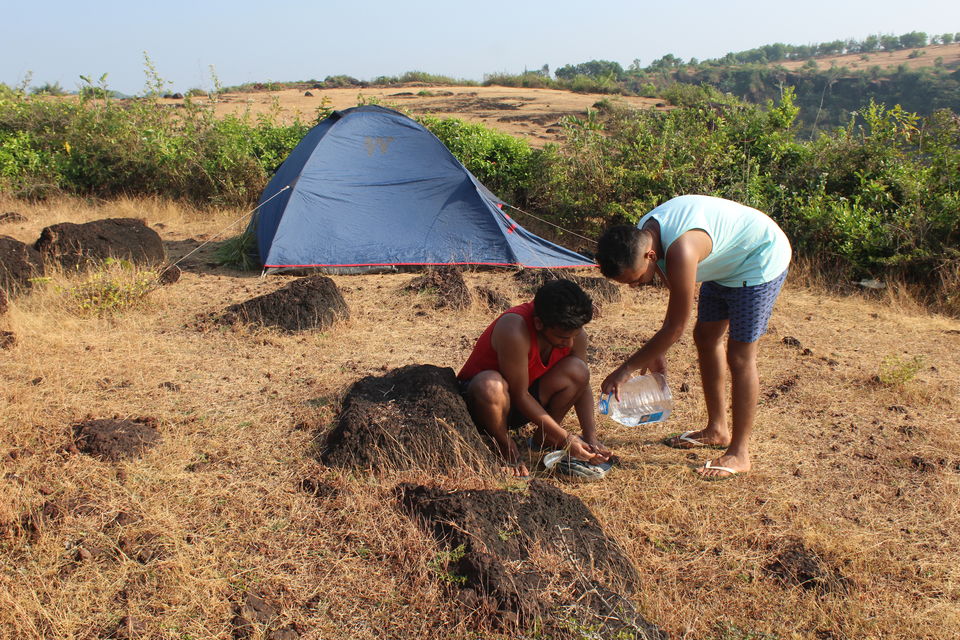 After finishing marinating chicken and fish we took a break for a while. Enjoyed the beautiful view, took in the fresh air as much as we can.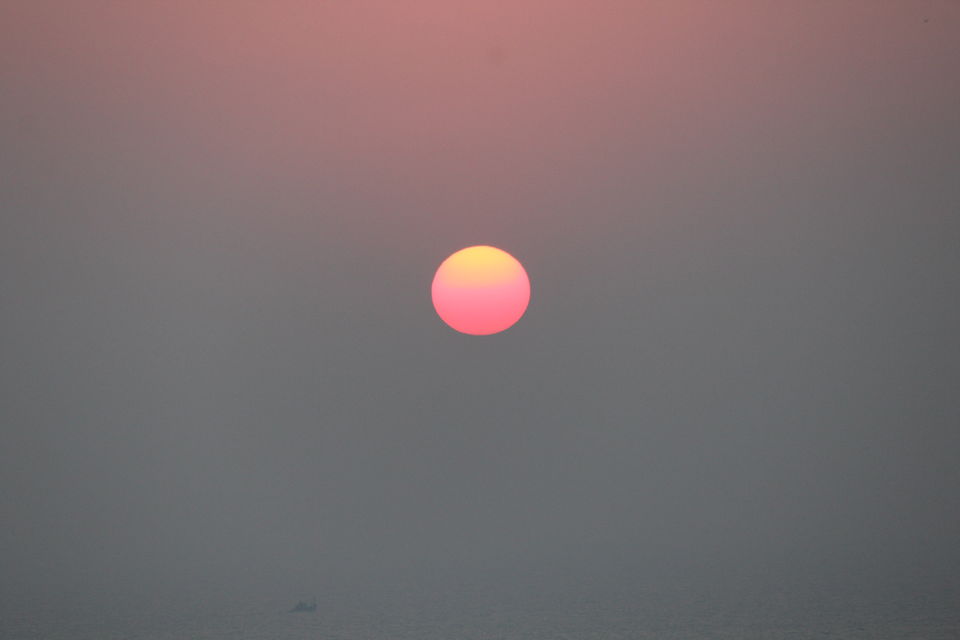 We saw one of the most beautiful sunsets, ever. And then we started preparing our makeshift barbecue. The meat was deliciously cooked.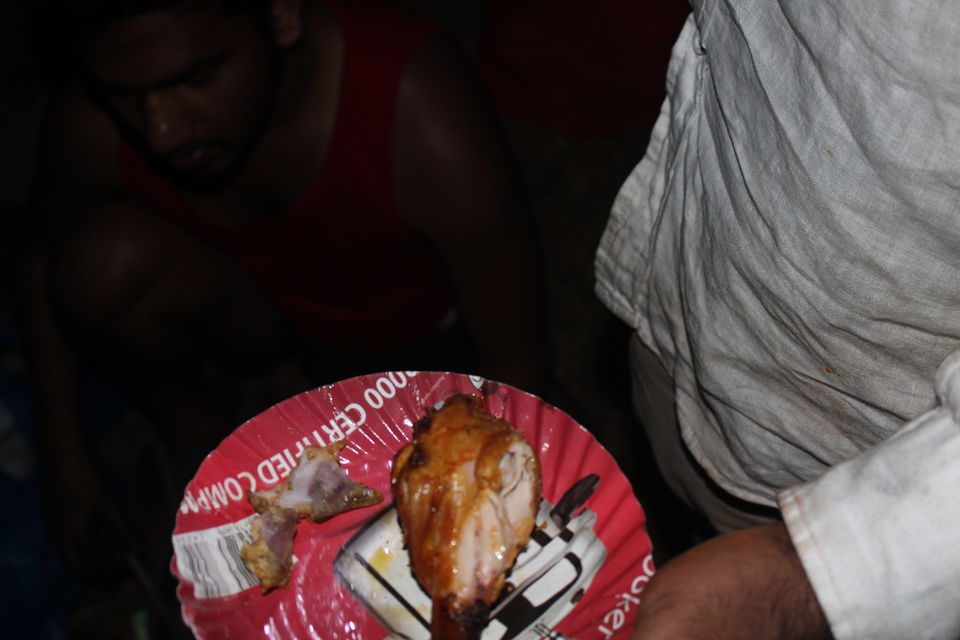 As we were still coking some of the fish, we heard some noise. Long story short, we scooted out of there within 15 minutes. In that 15 minutes we packed our bags, packed the tent, left everything that wasn't necessary and started walking rapidly towards Kudle beach. We spent our night at Kudle beach. After all the hard work we had a sound sleep.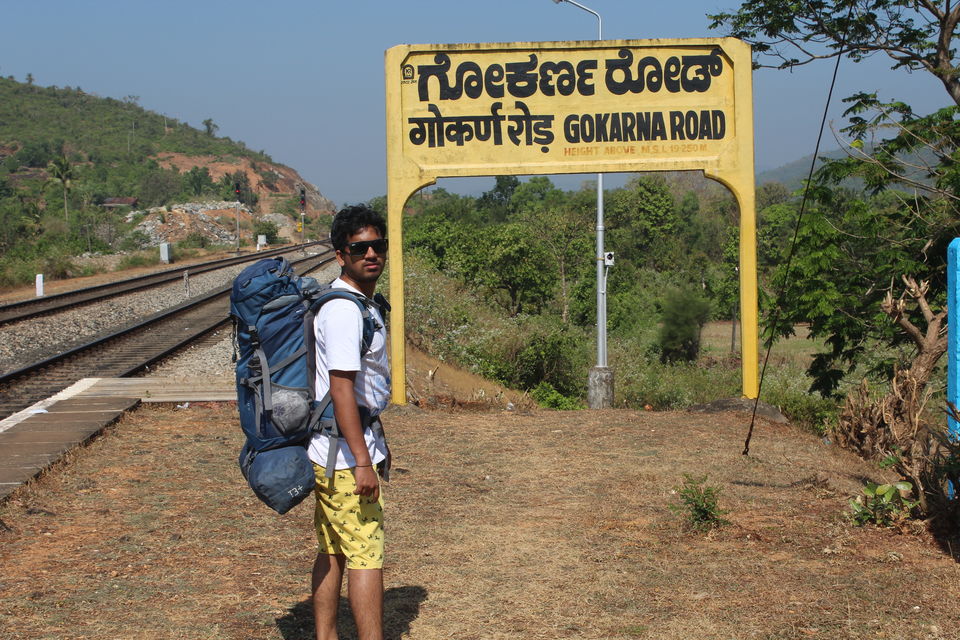 Day 3 - Next morning we did our breakfast in of the shacks at Kudle Beach and then left for Karwar, there is a Amrit Restaurant in Karwar which is popular for its marine cuisine. We had some delicious fish prepared with local spices, as it was hot outside we rested in restaurant itself and left in the evening. Strolled at Karwar beach which is just well maintained sibling of Juhu beach, very clean beach but not the water. We headed back to Gokarna via state transport bus. We reached Gokarna Bus Stand late evening and from there we took an auto for Paradise beach!!!
Paradise beach is no accessible by vehicle, you either trek or take a boat ferry. We had in advance decided to trek. As we got off the auto, it was getting dark, we saw a guy walk past by us, he had a head lamp, and by the time we started to get ready to walk we lost him!