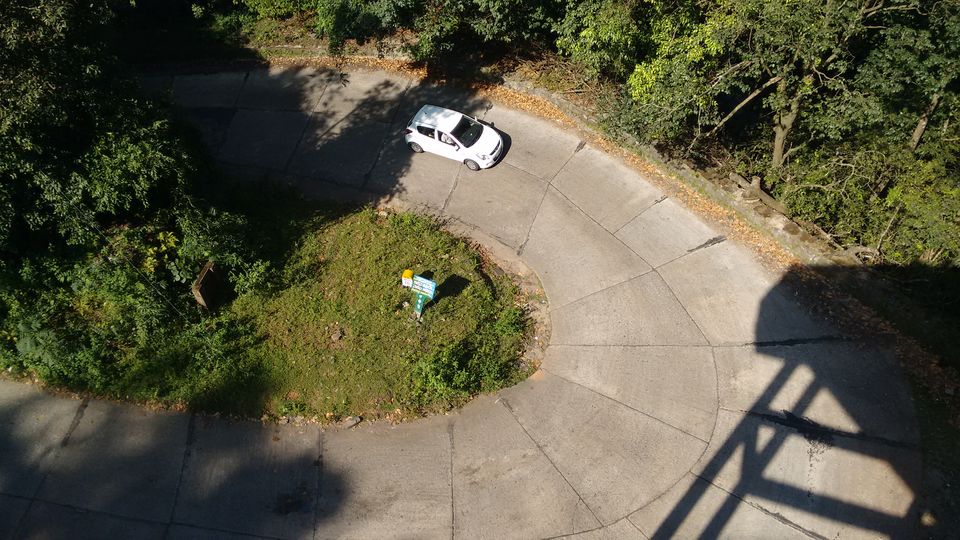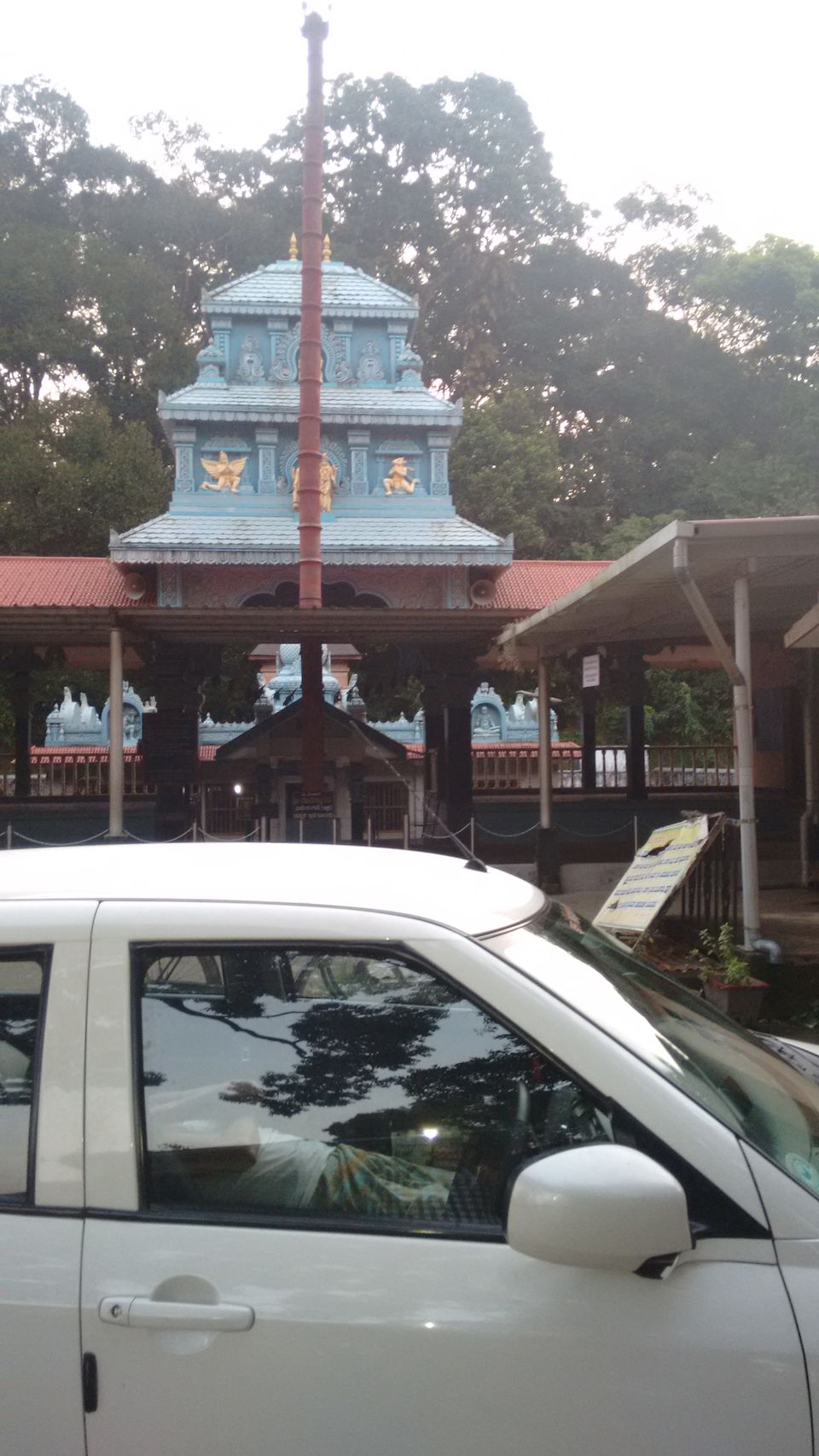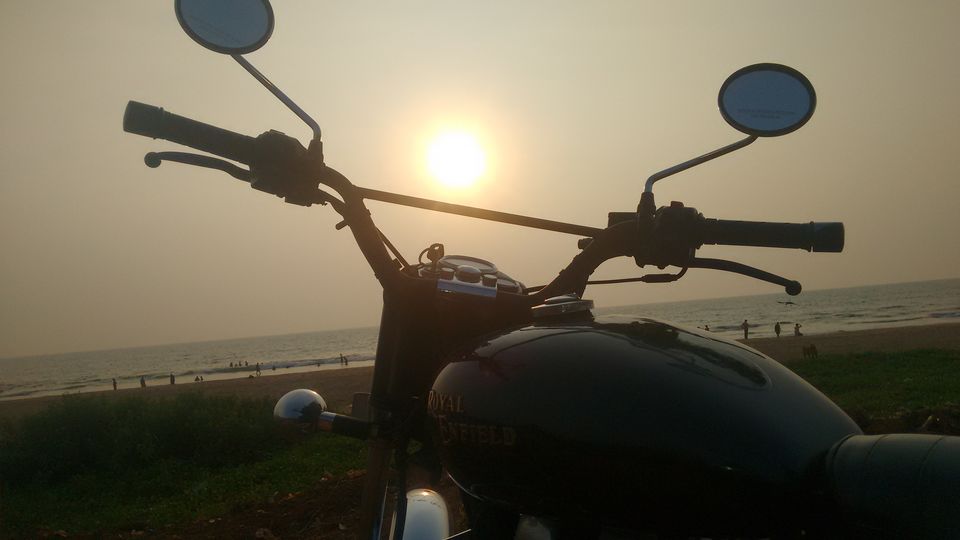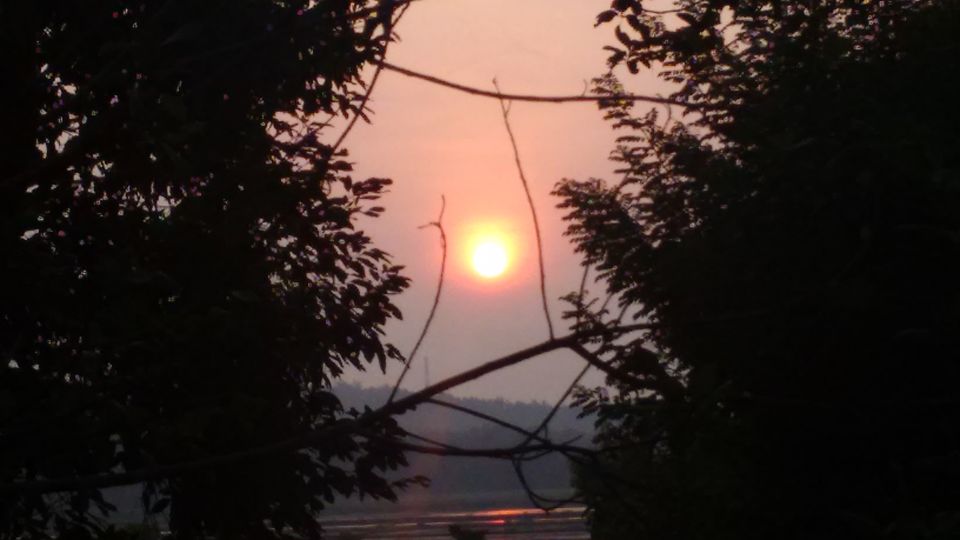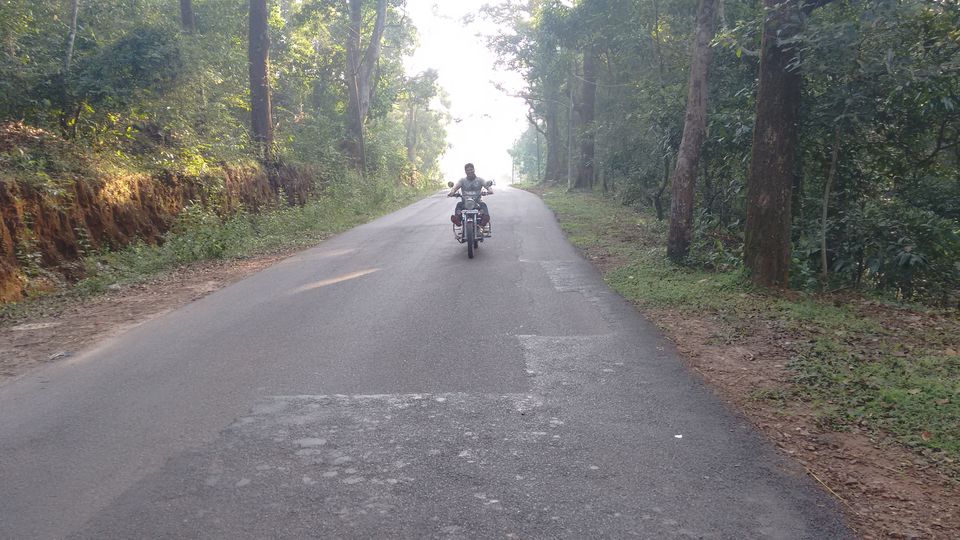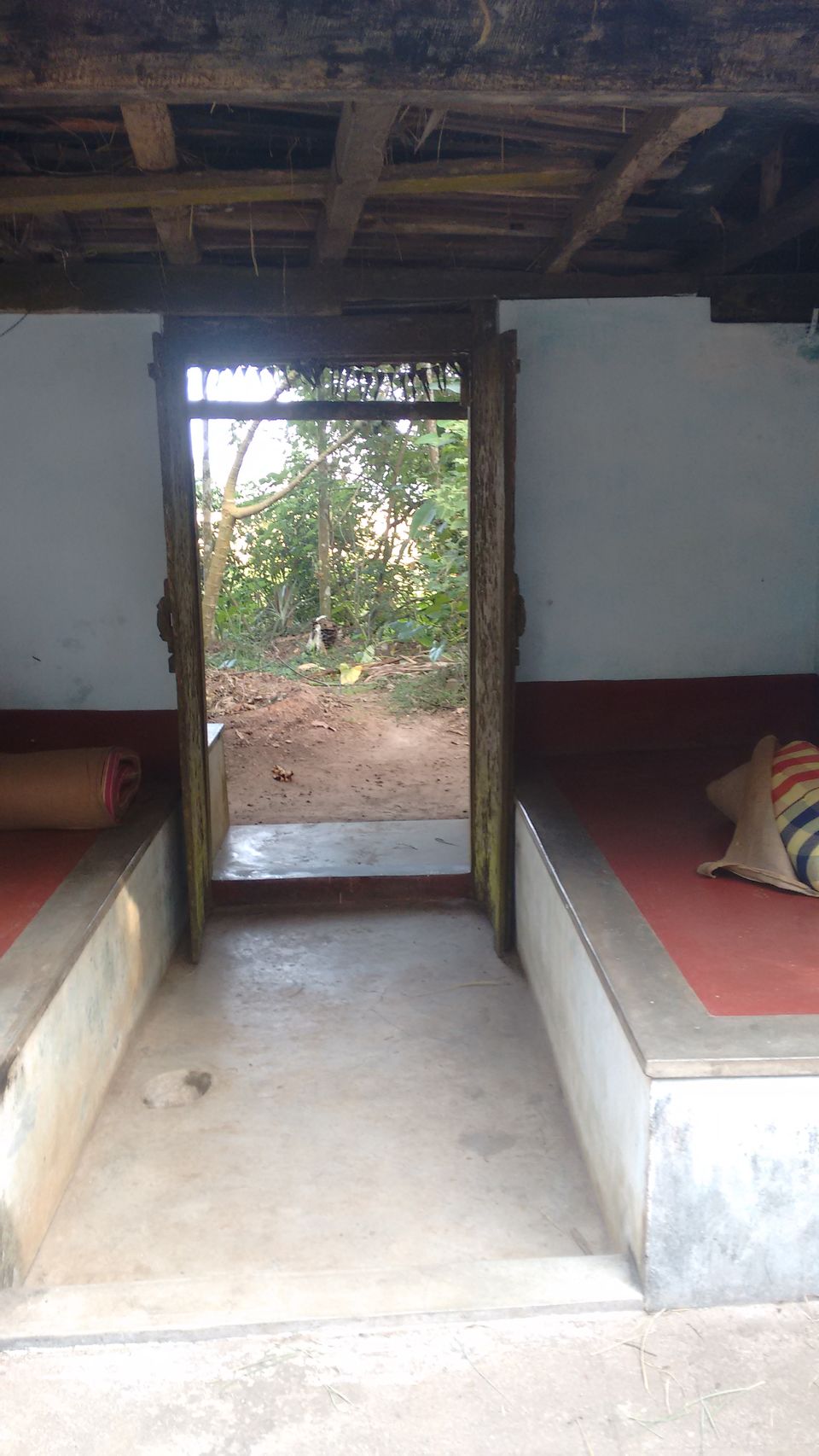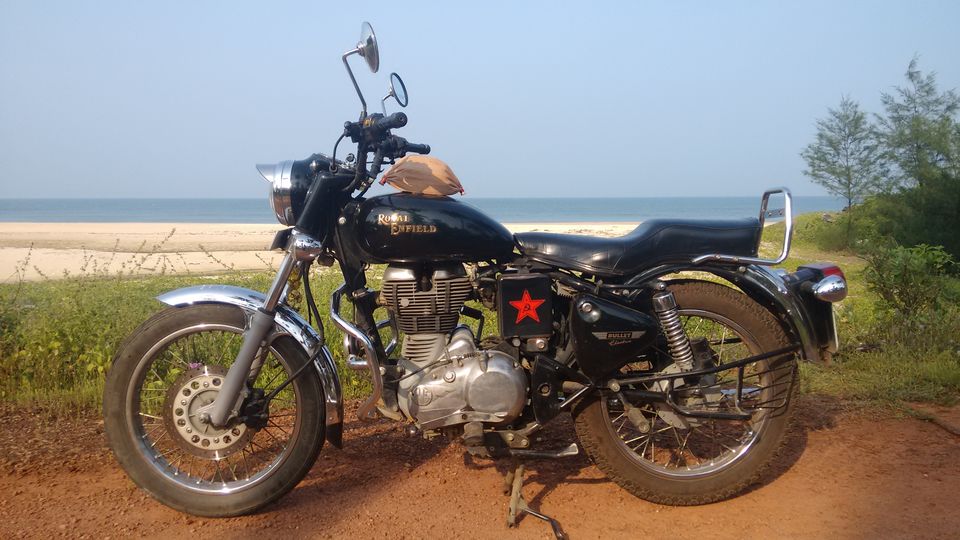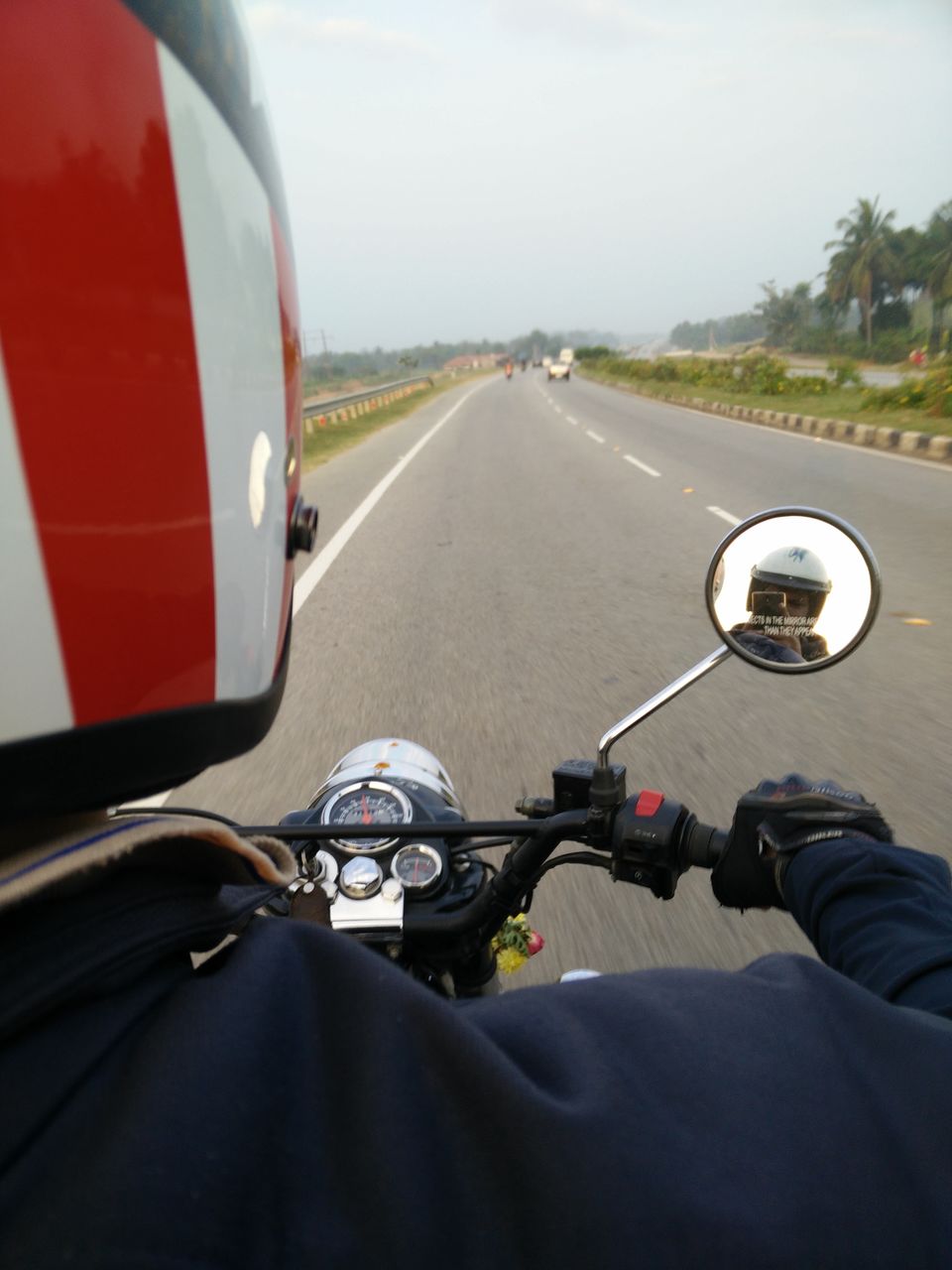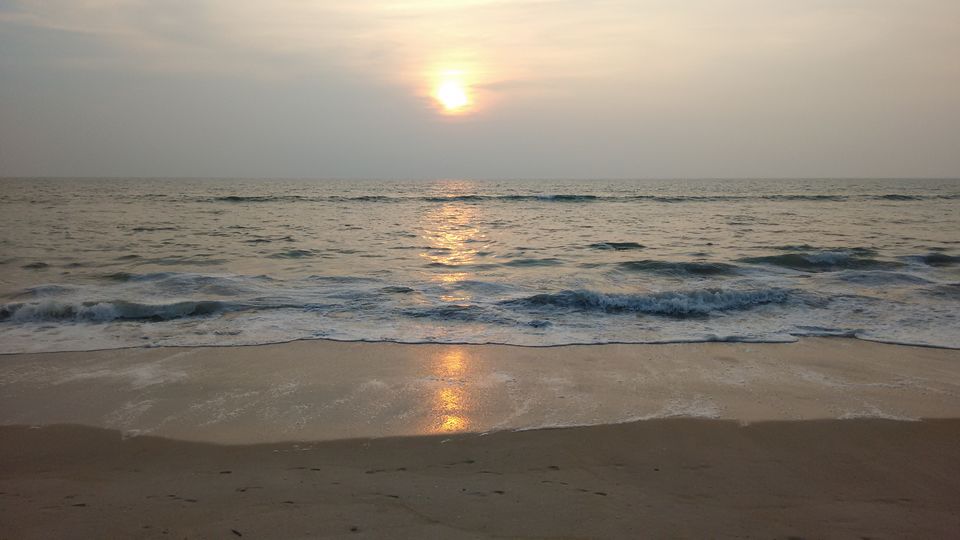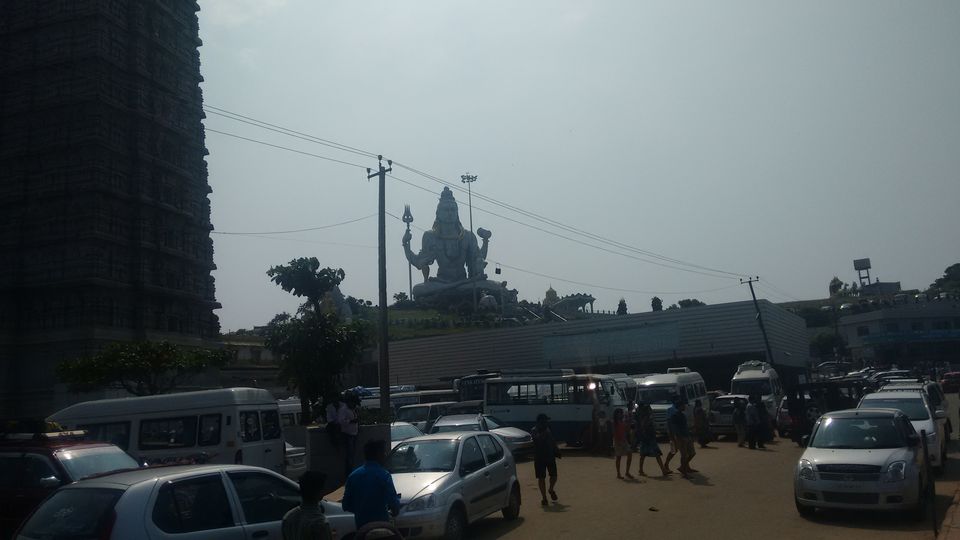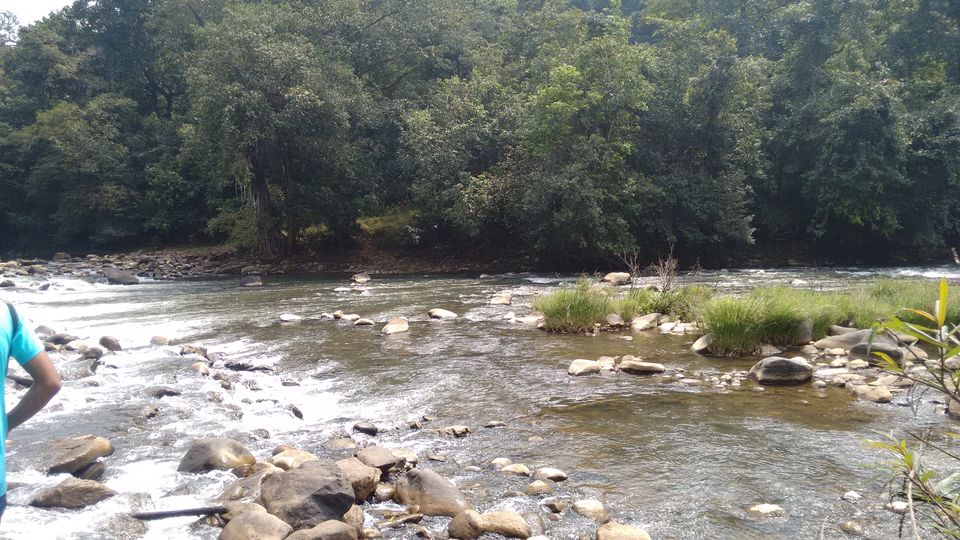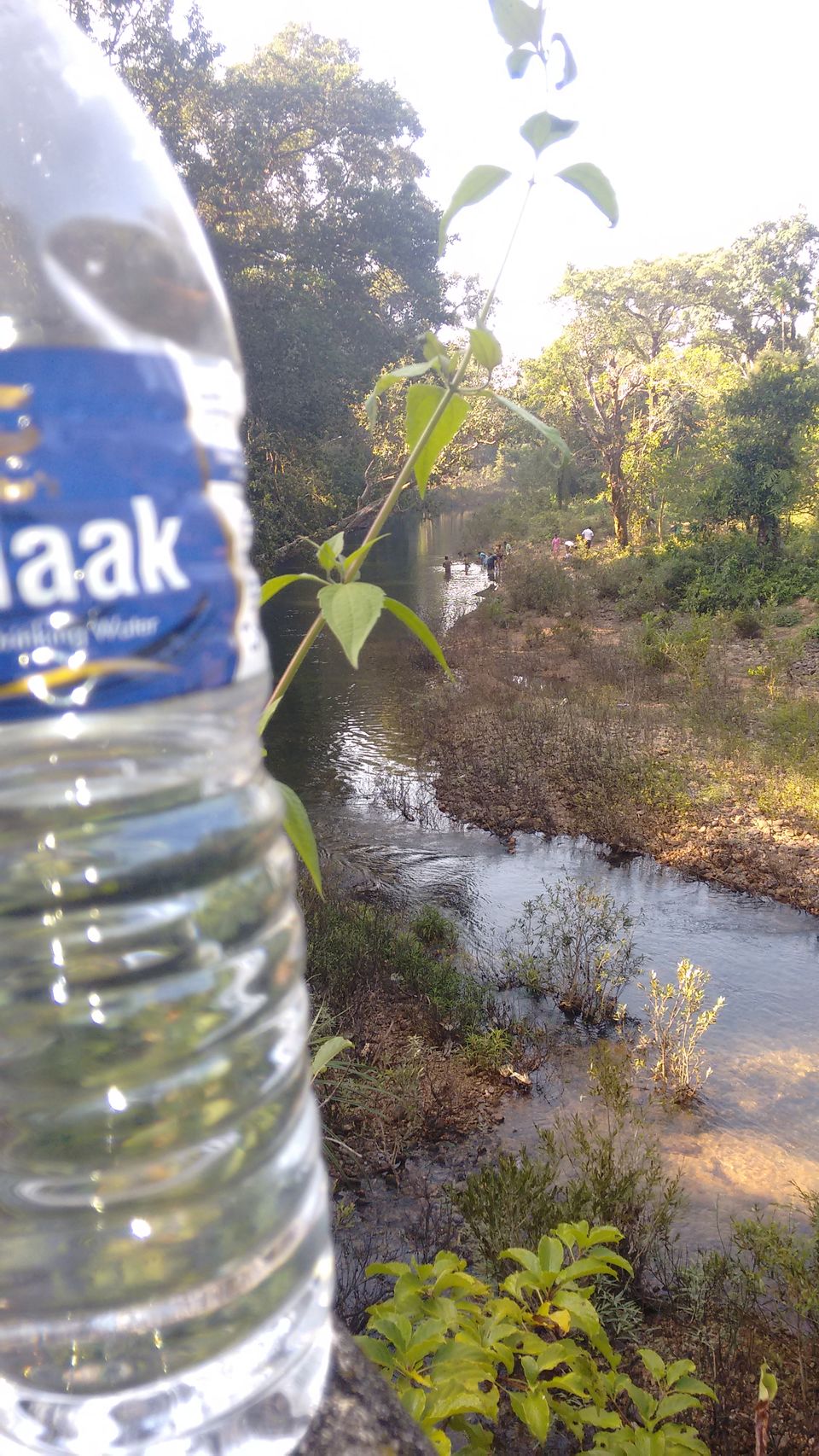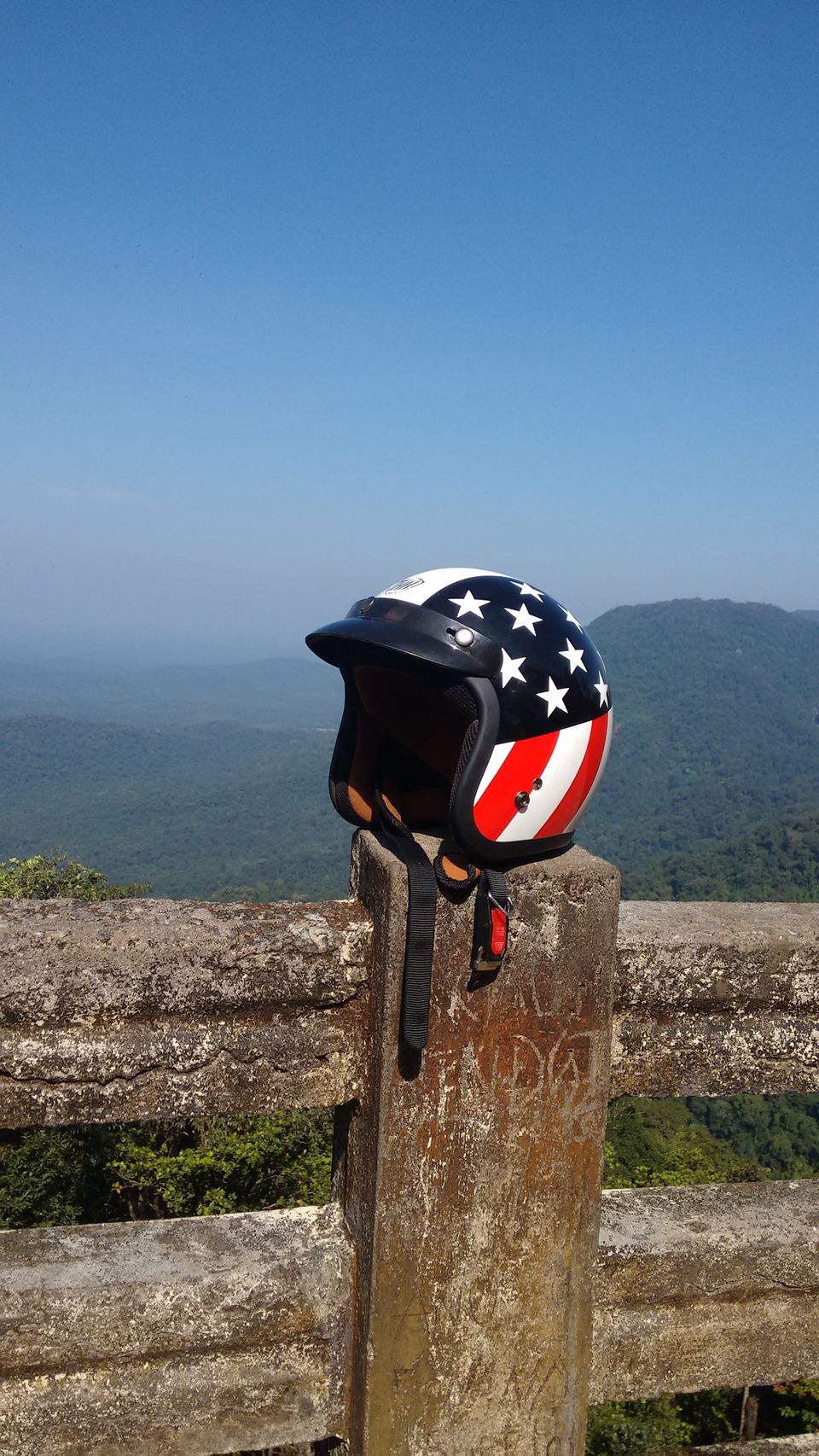 This blog is not to harm any of your thought process. Everything here is a perception of my thoughts. This ride was a wake up call for me.My friend and myself had decided do to this stretch to Kundapura,his native.We decided to do this in my Royal Enfield Bullet.Asked many of my friends,many of them had other plans others had some problems due to which it was only me and My friend Vivek. A week before the ride we got to know we gonna do it alone. I really thank my friends who encouraged me for this ride and also the people who said we wouldn't finish the ride.We did it,we did it in style and it has changed my life altogether.
So at 3 am on 22/10/15,woke up to the sound of the alarm.The ride day chills pricking my spines. So my friend was still sleeping. I did Ayudhaa puje to my bike, my dad's car and left home with vermillion on my forehead. Called my friend who was sleeping and asked him to be up at 4:20 am.Another friend had promised to see us off from our adda,and gave us his precious backpack to carry it for the ride. So after a smoke clicked a picture of the odometer. It showed 31038.So around 5 left Bangalore in the chill, took the tumkur road to Mangalore.Mangalore was 355 km ahead. A quick smoke after entering the toll road had us quite in the mood.
Somewhere near Kunigal to the left of the highway a bit of a steep track,a lake set in the back drop of the lush greenery. Took time out to visit the lake.
What one should look forward to is the morning dew on the leaves. The highway on the contrary where everyone of us try to reach somewhere, somewhere in the chase of our past, present or future. The nature stands still, laughs through the day in the glory of sunlight at all of us trying to reach somewhere, somewhere. But do we really know where??Certainly not.

Straight from there landed to a small hotel en route to Sakleshpur from hasan.Akki rotti and Vade was ready to feast on. Had a plate of each and continued to the dangerous single lane road of sakleshpura. This is where the real Malnad of Karnataka starts. The curving roads offer leverage for banking of the bikes. But yes,a lil late,to make your ride straight it would be a hopless fate. Stopped at a lake, took a break. Headed further only to spot an accident of BMW with swift. Not focusing on the details now, both parties survived but one of them got seriously injured.
Heading further down sakleshpura,you will be welcomed by the Shiradi Ghats. The stairway to the coast. Climbing down in the best of the best cement roads. Am sorry what? Yeah....Shiradi ghat roads are a awesome to ride on now,epic work has been done on the road,unlike it was back in the past years.However,the irony was we wanted to climb down the charmadi Ghats but din take a deviation due to lack of GK.
En route to uppinangadi, took a deviation to left to head out to the banks of Netravathi river.Pristine water,sweat glistening on the forehead started to go for a 100 metre off road. Almost lost control on the spherical rocks but somehow managed. The potholes of Bangalore have taught enough lessons in this regard. The river is beautiful, yet dangerous.....also I don recommend off-roading here.
Leaving the place reached uppinangadi.Now,one finds the drastic difference once you climb down the Ghats to reach the coast. Weather is pretty humid. Sweat starts irritating you a lot. Pulled up my t shirt's sleeves, wanted to carry a sunburn home, started riding the stretch after a break. Reached Mangalore by 3:30 had a fried rice at a local restaurant and to top that up,a Gobi .
Now heading towards kundapura on the Edapally Panvel road,found the first water body so to say. Took a hard left ran to reach it.It was a beautiful waterbody,an island like, reachable by boats plying from either side. Smoked a cigarette. Now you might think am propagating it, but now both smoked and it beats off most of the stress while riding at least that's how we feel.
Reached kundapura korady beach by 5:20 Pm.What a 'beach'? Woooow the sun was going down, the tides rising up. And my bike still going on strong. We did 457km that day. Every single stop every experience was it. The joy of reaching a place where we had planned to is such an overwhelming feeling.Slept off til 7:30PM in the beach listening to songs. My friend's mother's native is quite nearby to the beach.2km reached the place, only to find their astonishment.
In their coastal slang, they asked us how gutsy we were to reach such a distance in a bike. A cup of coffee and a lil bit of catching up in the backdrop of an old village home just had us going for more.
Stay was planned at his paternal uncle's place which was an another old beauty. Reached the place had the talks and introduction. Very nice and friendly couple. Made us chapathis and chutney. Both of us ate 4 chapattis each, without a word cos we were like hungry from all our exhaustion. Slept on the 'jagali' a small cement structure used for sitting outside the home to talk, used to store stuff. Peace was all we could utter.

Woke up by 8 in the morning, brushed and drank a cup of coffee. So what plans?? Let's go to the beach.Beejady it was. It is a 'beach' located just 2km from this town (Aanegudde/kumbashi). The beach was excellent. On the way to the beach my friend got cheated for a pack of cigarettes from the shopkeeper who was almost staging a play we only realized it when we reached the beach and wanted a smoke.
The beach was clear and a sight to see against my bike standing in front of me.Sweating the water out, we spent almost an hour or two. Came back home. Took a nice bath. If any of you are from Karnataka u can relate to 'hande snaana'. Refreshed yet sweating, decided to hit the road without all the baggage and carry the sunburn a bit far.Well,we actually did too much. Without entering kundapura city, took the highway around 15 km is the Trasi beach of the famous turtle bay resort. As it was my ancestral town it was a must visit for me.The beach is a bit crowded and all the people from Bangalore and Mangalore swarm here for their holidays.So,here the decision was made. We panned to take the road to Murudeshwara.

Now scaling up the south canara,we get Bhatkala and then murudeshwara.It was heavily crowded. But to. Our surprise.it was just 40km from kundapura.We couldn't digest the fact and craved for more.Yes,so let's hit Gokarna.Oh shit,my engine oil is due for about 400km from now. After a discussion I said k let's do this. Took on the saddle after a nice banana milkshake. On the way you get the town of honnavara, Kumta.Beautiful unexplored places of the North Canara. Had our lunch in honnavara,took on to kumta,smoked. Took on to Gokarna. Enquired about 15w40 Oil,but in vain. Reached The Gokarna beach. Did not go to the famous Om Beach tough .Stood and enjoyed the setting sun for a while.
Booom,I realized that I just rode from south Canara to north Canara like puff!! We were just 80km away from Goa.What a feeling it was. Man has conquered nature with a simple 10kilo engine??Sit on the saddle, throw some money on the petrol you can go see anything and everything. Is that all?? Definitely not.We often do not give credits to the roads being made, the hills being dug up for the same.Nature has compromised with us in so many aspects but we give back is just plastic bottles, used condoms, plastic packets. Does she deserve all that??IS THAT ALL WE CAN POSSIBLY GIVE BACK?
Our evolution was probably the start of the end of this planet.the resources the bio diversities,the beaches,the hills.This might just make our moments brighter with our friends but who knows if it has a limit too?Who knows where our great grand kids would travel to in search of peace and solace?To the concrete buildings of the cities?We have lot the patience to look up and see how lucky we are to be alive in such a planet.The blue skies,the green coasts,the red earth. We should realize that we all started crawling out of the same thing and get into divided to small fragments of the same when we die.
With the nightfall setting in, started to ride around 6:30 pm again.....the cold breezes started. An eventful night ride. Had tied gifts for my for girlfriend and engine oil for my other girlfriend on the back rest. My friend hit a bad pothole and my engine oil was now the property of the open road. The gifts were too.Only to realize both incidents happened before we realized it.
Took a stop on the highway near honnavara on the way back to kundapura talked about life, friends family and every possible thing. That conversation for 1:30 hour made me realize that there is something more important in life than career, than money, than fame. There's life after all. You got to live once and only thing you do is form a career, marry off and have kids?? Or just sit and crib about how things aren't going according to plans? Y should it after all??
The tide of time sets everything in place. Every creature, every man every being is a function of time and has to obey it and go with the flow. Back to his uncle's place did not have dinner, all left for us was a pack of cream buns in trasi beach at 10pm on the way back. Talked til 1:30 n dozed off to wake up at 4am.Snoozed it to 4:30. So, now Bangalore was waiting with it's hopeless grin(shhhh my dad too).started off the third day with a visit to Ganapathi temple of Aanegudde.
Prayed the lord for our well being. Started off with a smoke and tea. My friend insisted on buying a juice made of some seed which is called 'tampu beeja'.Not sure of it's English name. But very tasty and keeps you away from excessive heat.
Decided to take the Agumbe Ghats to enter shivmogga.It was 7am.in the morning. A deviation which goes to Kollur takes you to Shankarnayana,Halady and someshwara forest reserve further connecting you to Agumbe.The roads are picturesque with neat tarmac. Covered by thick green on the either of it's side. it is almost the stairway to heaven. We took a lot of pictures for the remembrance of the feeling. The thump of the bike and the heart was one at certain times.The morning sun swept away the darkness of the night, while my bike banked on the ghat roads. The slow winds swept across our faces took away the fatigue of the previous day. As ERNESTO CHE GUEVARA says:" what do we leave behind when we travel: each moment seems split into two: Melancholy for what was left behind and the excitement of entering a new land. Yes it maybe a haluscination,a strange fiction but yet a better story than Monday morning meetings.
Reached the foot of Agumbe Ghats.'Nervously' I had two plates of neer dose and a vade,a tea and a smoke at a local restruant.The ride just got interesting only til a Maruti 800 hit me on the crash guard getting scared of an approaching tempo in the first hair pin bend.Luckily,nothing went wrong.
  Everybiker should try this ghat.It is a feather on your cap if you conquer it. The roads are quite steep with lots of hairpin bends and have no room for Impatience, fast riding. Climbing up the hill,a strange feeling of minuteness started in me.The peak,the thick rain forest,What brutal force can stop the dangerous yet distinctly beautiful,as such? Maybe nothing,nothing at all.If it decides for an avalanche where would we even be??Maybe we have taken over nature by artificial means called technology, because of the fact that there is no way we can match it's might.

The roads at some place have major potholes which can even lead to damage of bearings (yours too). Well we reached atop on the sunset point when someone next to me asked who is doing the sunset?? Why am I not finding it now?? At around 10am in the Morning. We laughed n started to teerthahalli.
Searching for the Kalinga foundation, the breeding point of The king cobras, we found that we were lost in a jungle. However it was nearby to the highway so left the place immediately as too much silence would definitely kill us. Reached shimogga by 12pm had lunch at a hotel opposite to the bus stand. Took the badrvathi route to screw up our asses more. Excessive heat from badravathi to arasikere made us grow tired and our pants almost caught fire. We reached tiptur with a lot of strain.After that the ride to tumkur and to Bangalore was a cake walk as the roads were pretty good.Had a plate of masala Puri in tumkur and straight from BH road entered Rajkumar road and then to hosakerehalli.Our friends were waiting til ,the time we reached at night,in our popular adda.The odometer said 32315.It was my first long distance ride.I had covered 1277 km.After a smoke dropped my friend back home,told everyone a Goodbye and slept.I was at peace with myself.
Looking back now, the coast taught me that nothing in life was going to be permanent.Life wasn't permanent after all.Problems,happiness everything are the small silt particles which are carried off by new waves again and again to the shore,yet again they try find their way to the banks of the heart.But again,deep in the ocean a new wave is coming to hit you and take the silt off.
My relationship with my Motorcycle became more concrete after the ride. I admire it just standing in the parking lot. The tiger eye lamps waiting to get lightened up under the blue sky. Wandering through rough terrains with the decent yet sophisticated thump.It has taken me to places unknown,trough toughest terrains,through rains and guts of wind.It deserves a big hug, a kiss, a pat on the petrol tank. It's been my best buddy always.
My friendship with Vivek grew stronger from our conversation of the night.No bad thoughts please we were two men talking about life. It's just that people and their perceptions matter a lot.His thoughts could easily assemble in my mind.The experienced we shared together enriched those 3 days. Everyone are free to think and draw inferences. These are all my perceptions about the nature, people and my ride.

All the bikers please pack your bags the coast is waiting for you. Experience it for the trill of nature and the trill of BEING LOST, YET FINDING YOUR OWN SELF.
Be safe keep thumping.