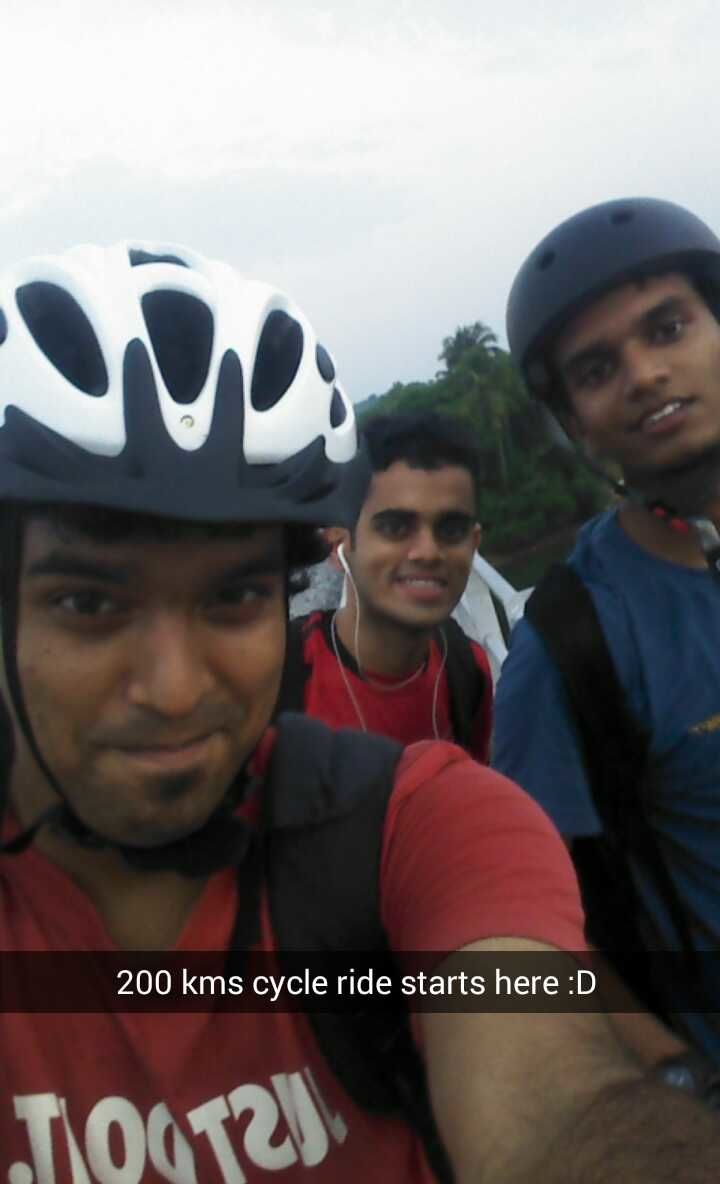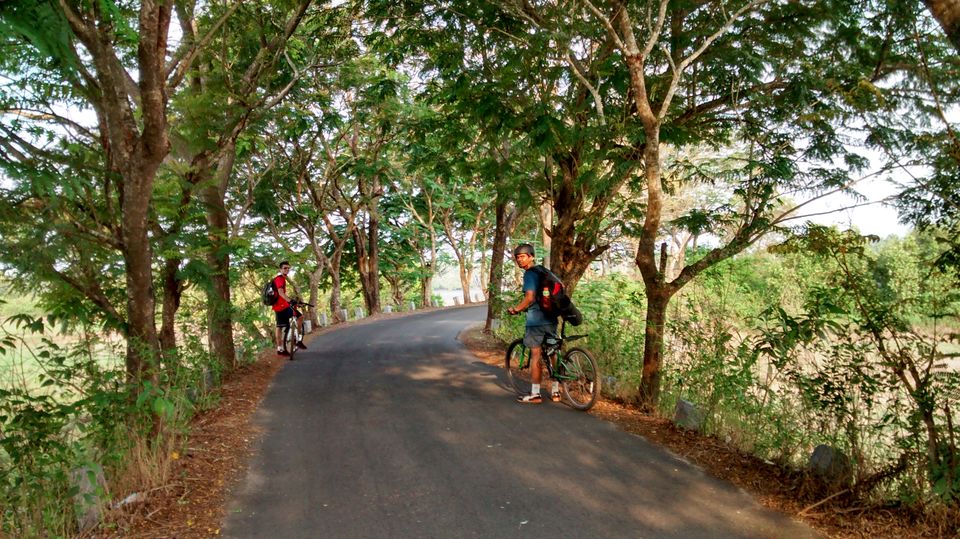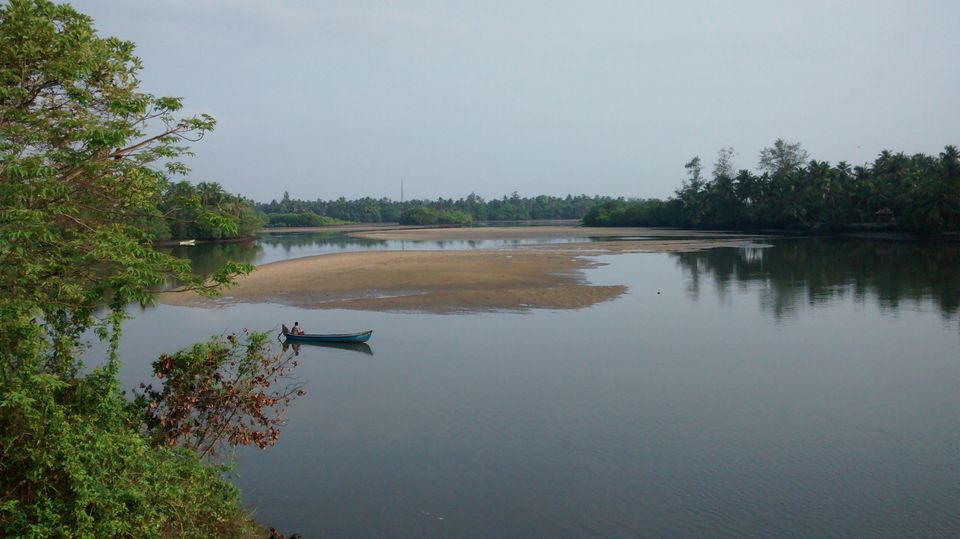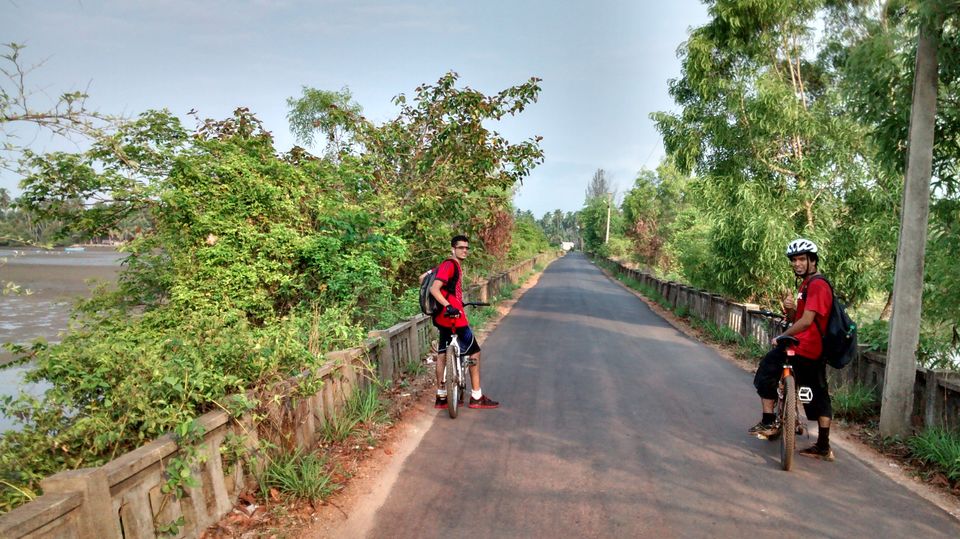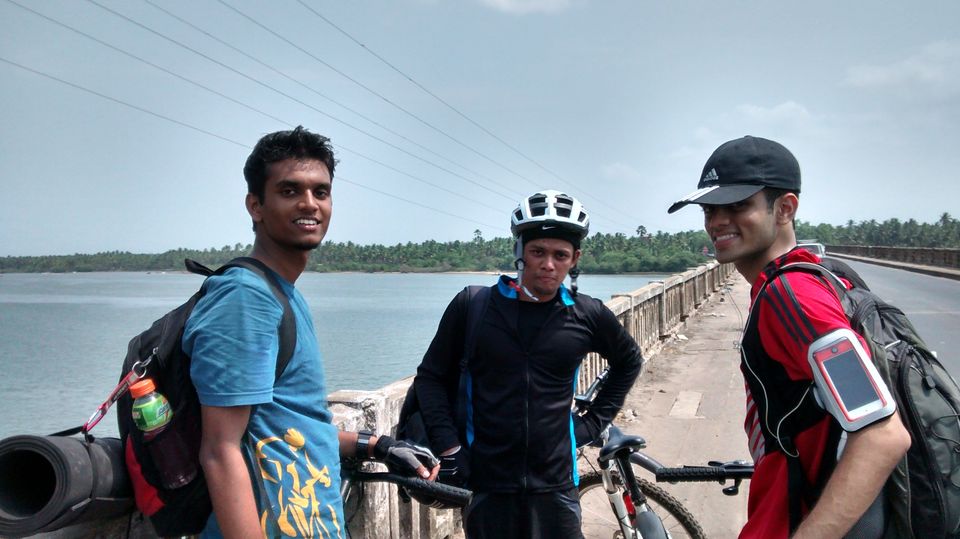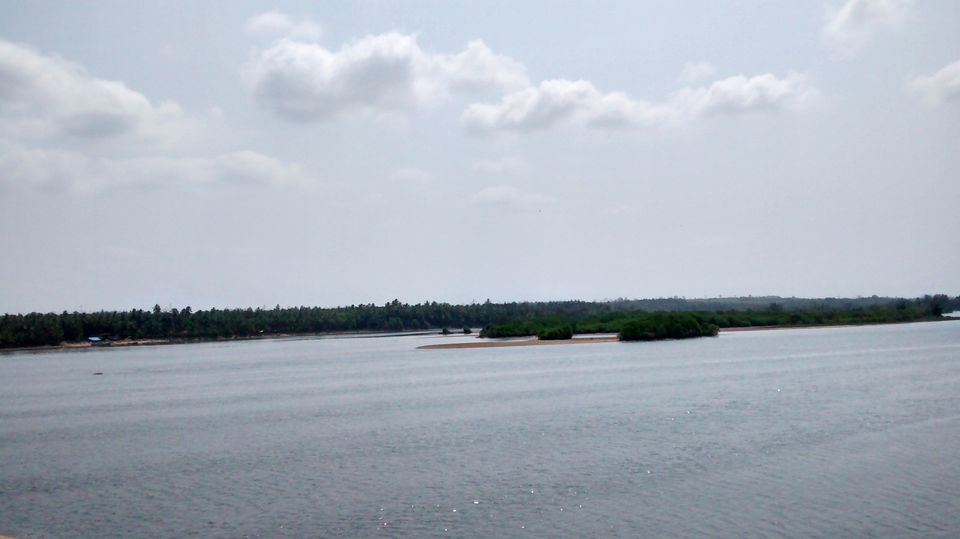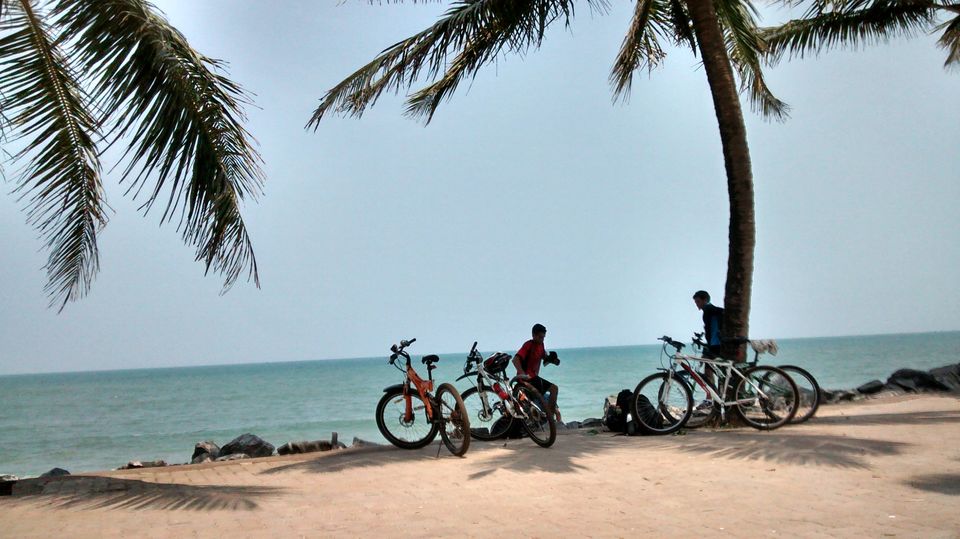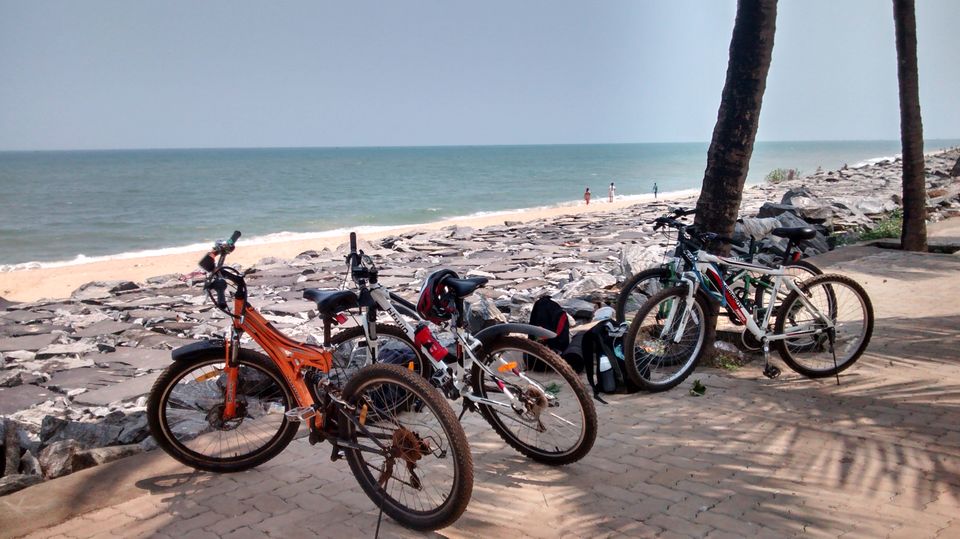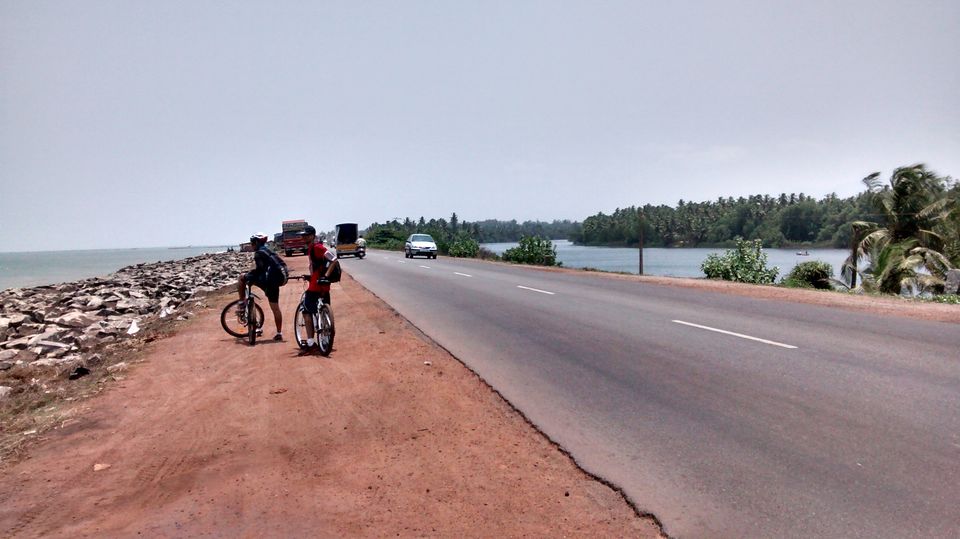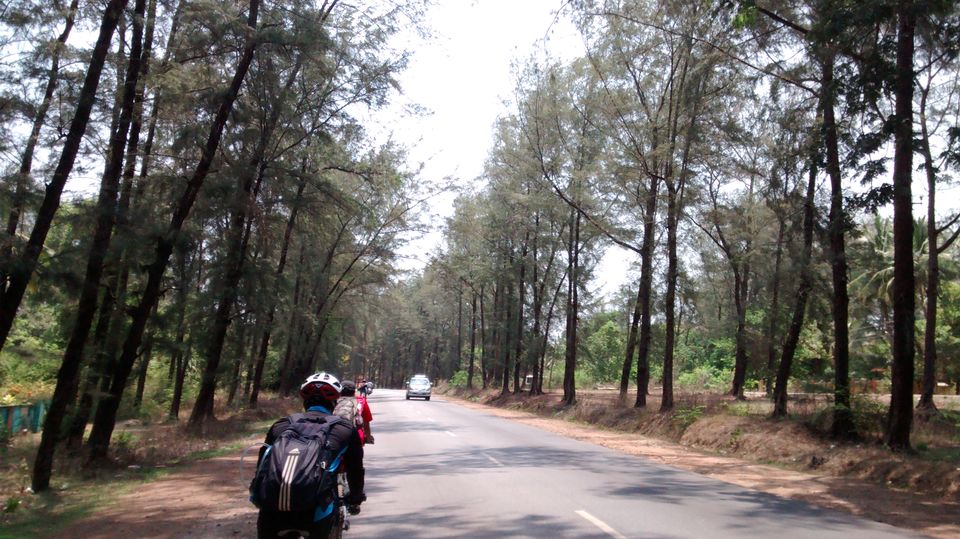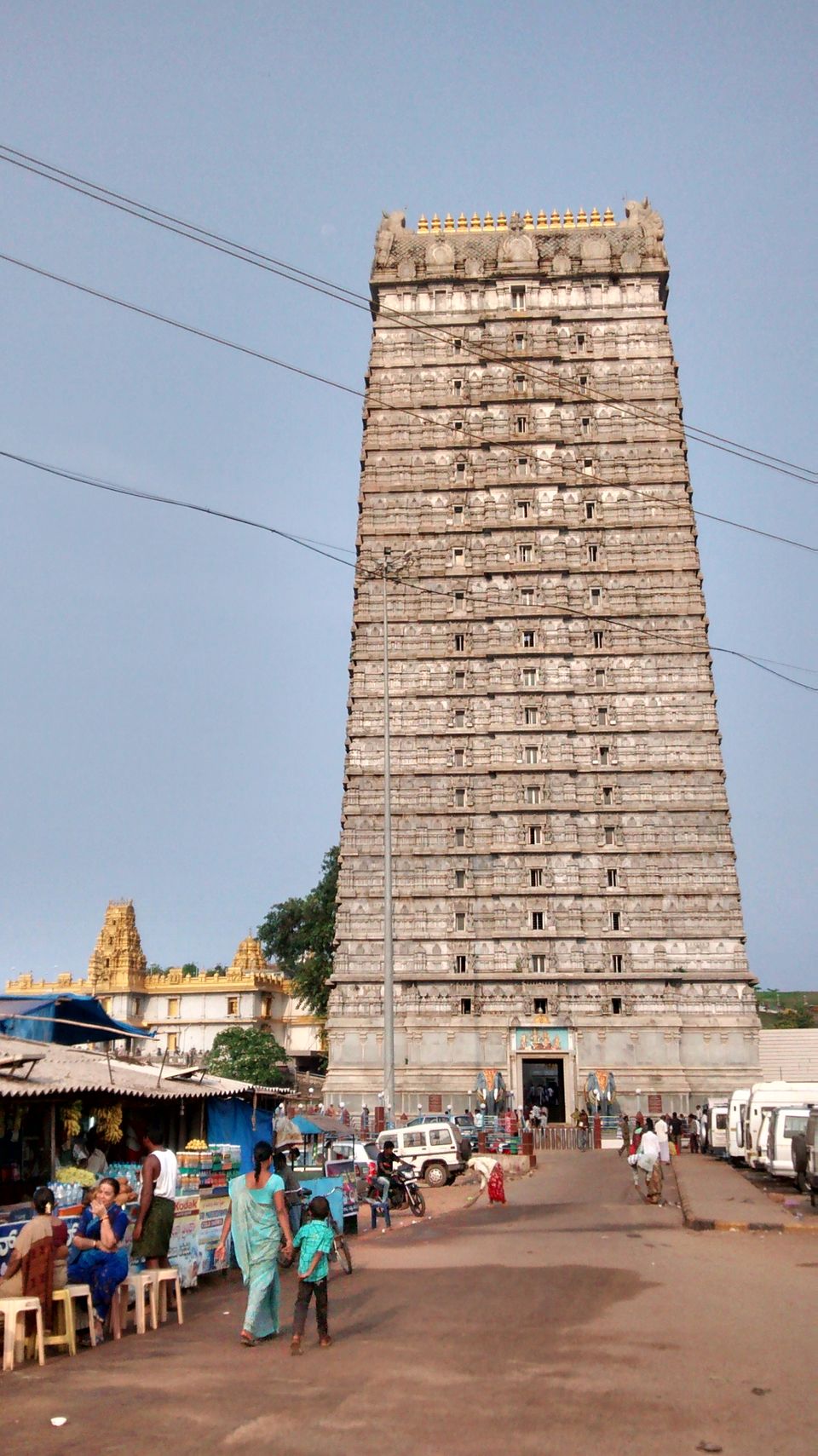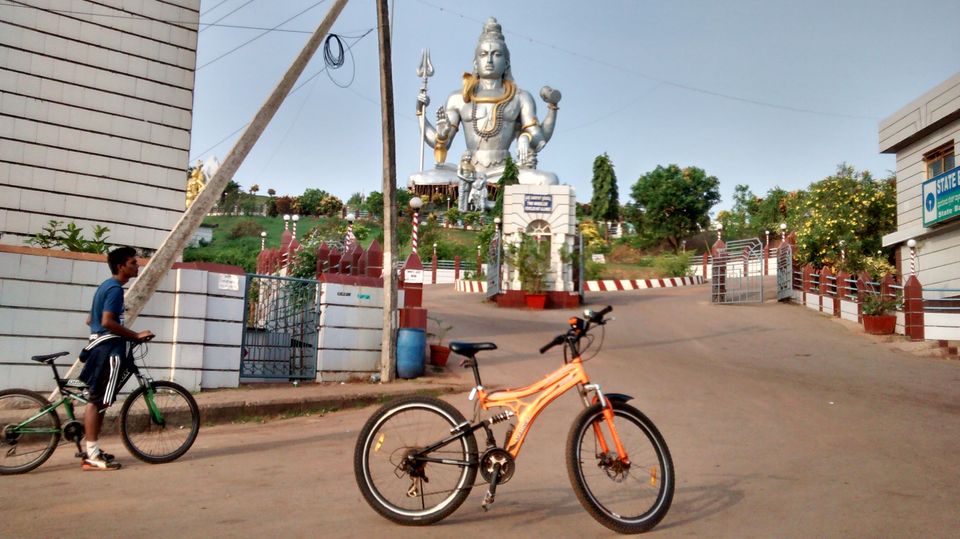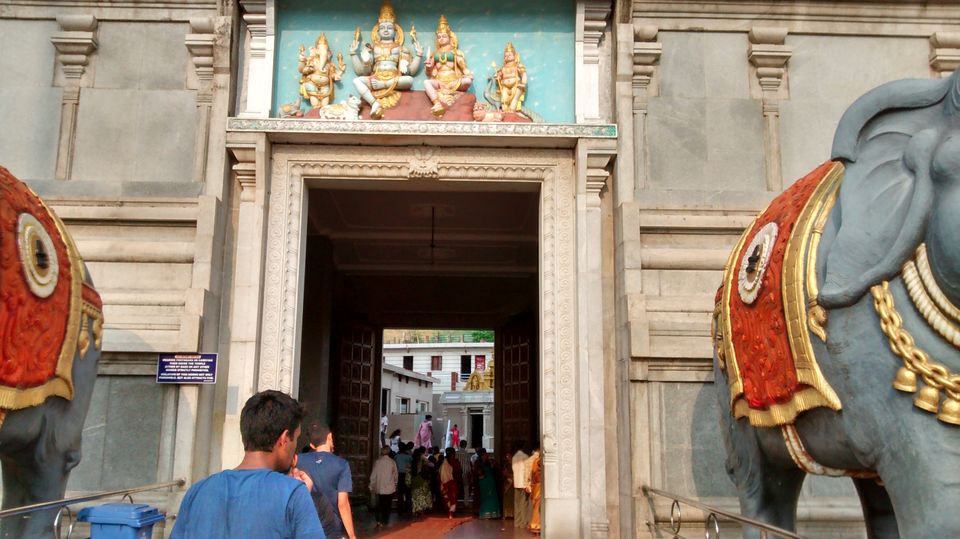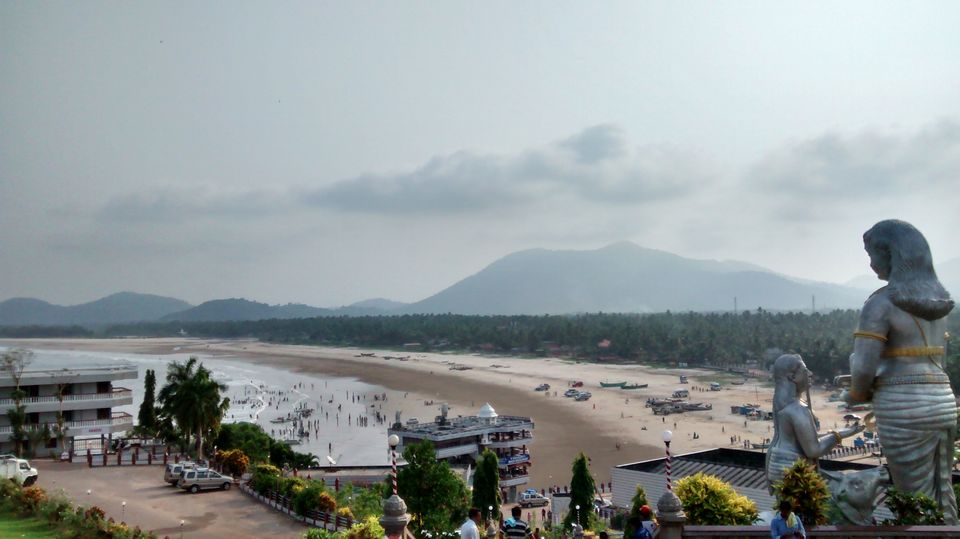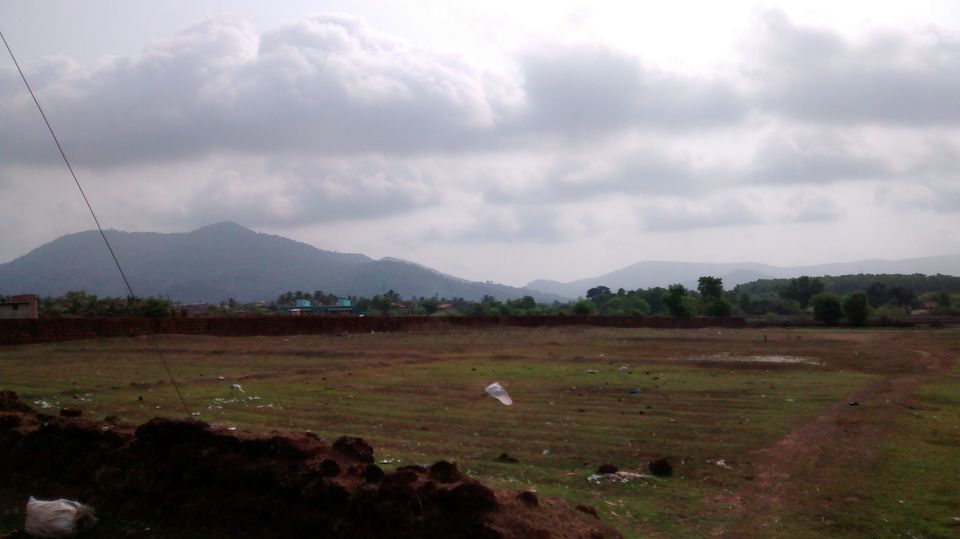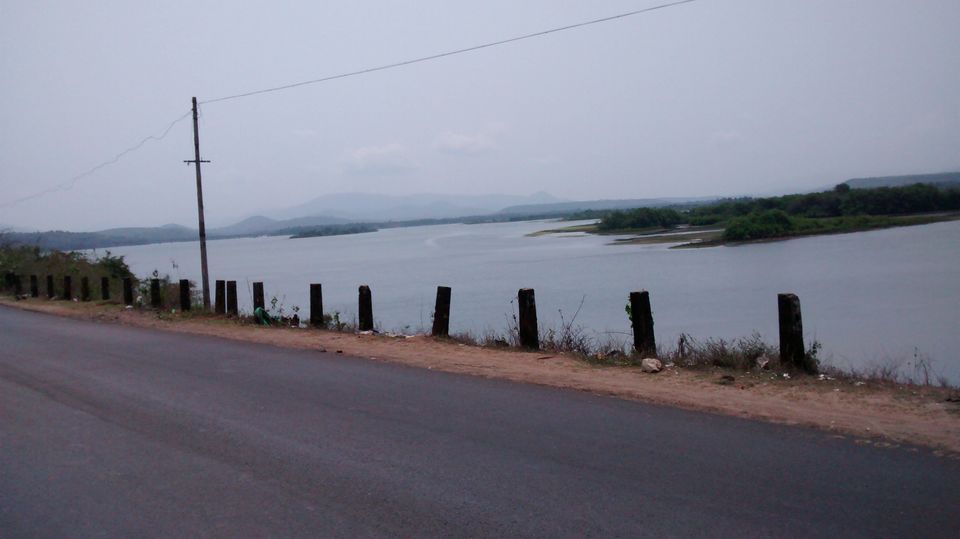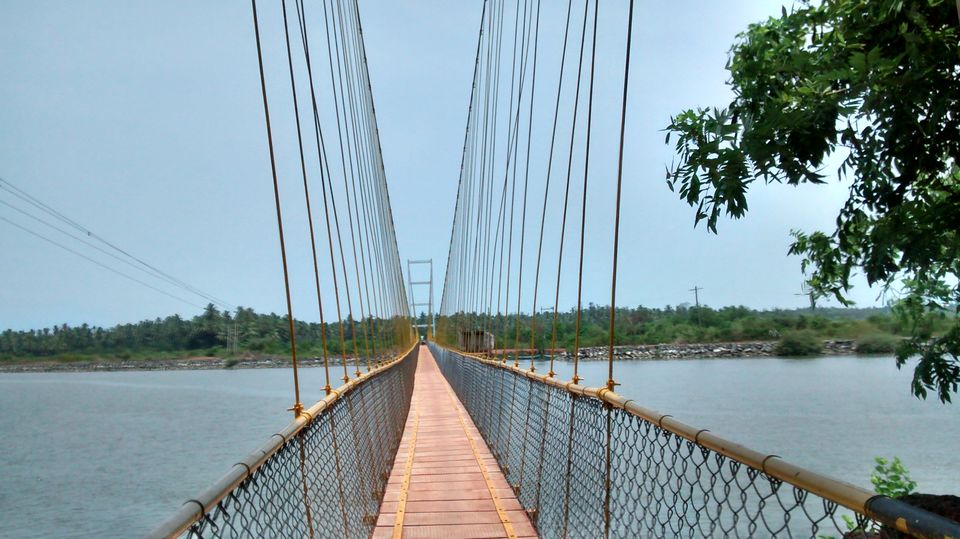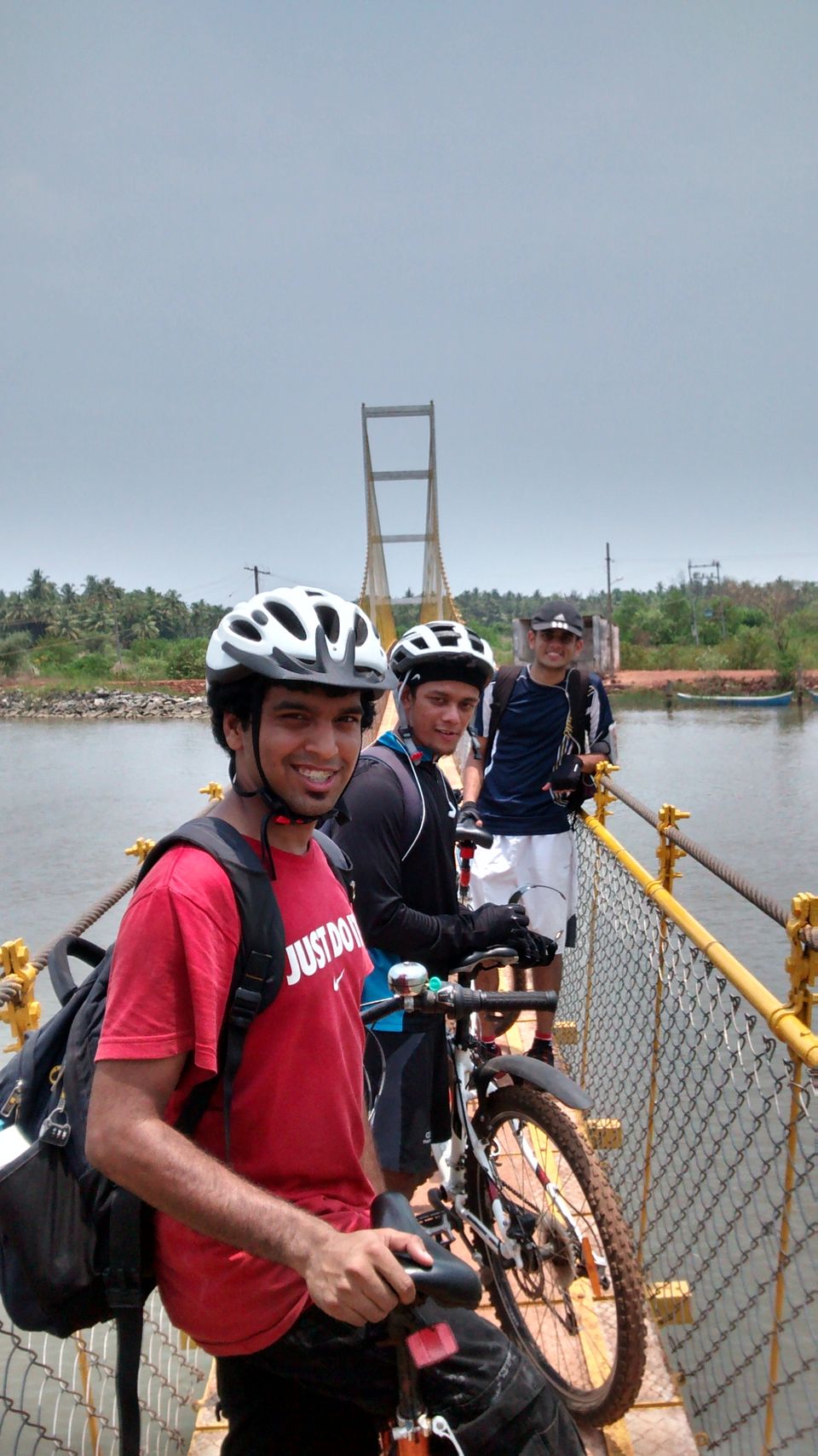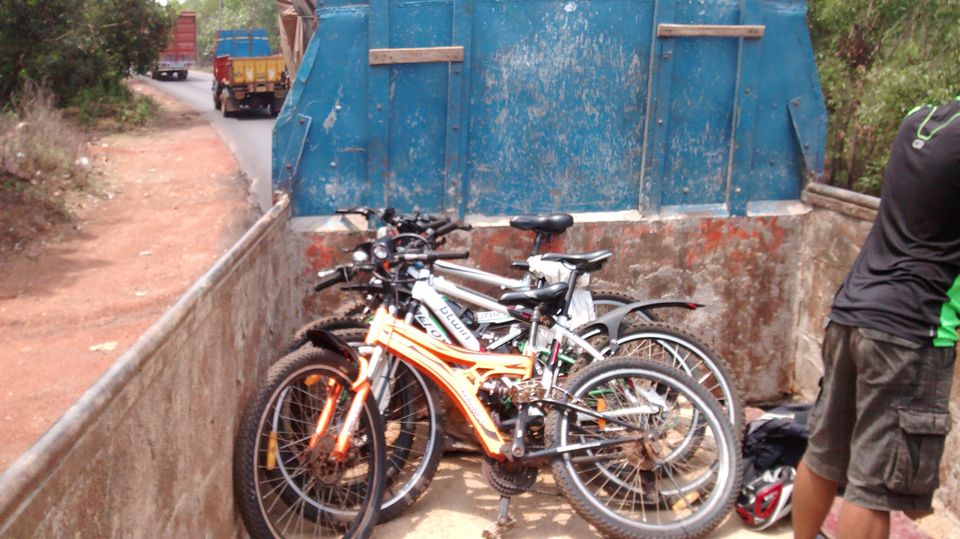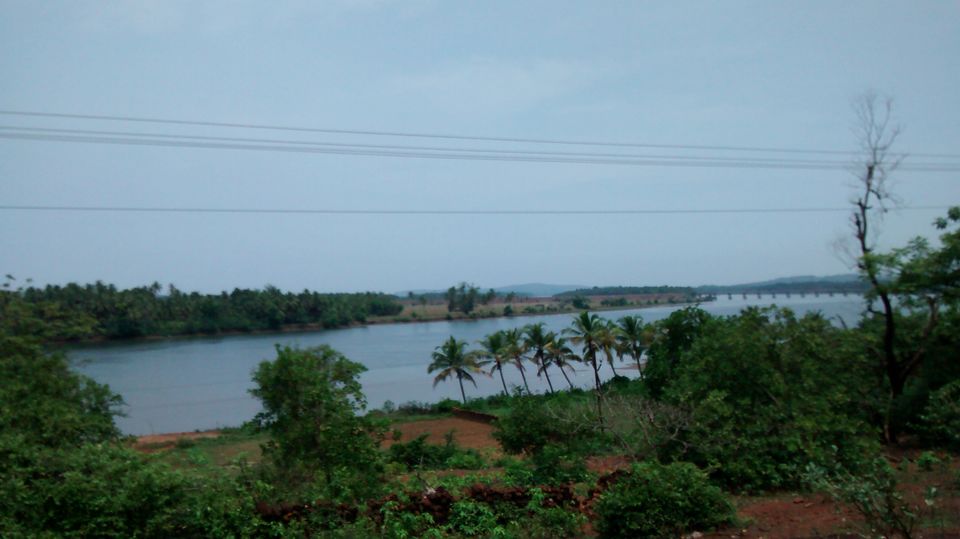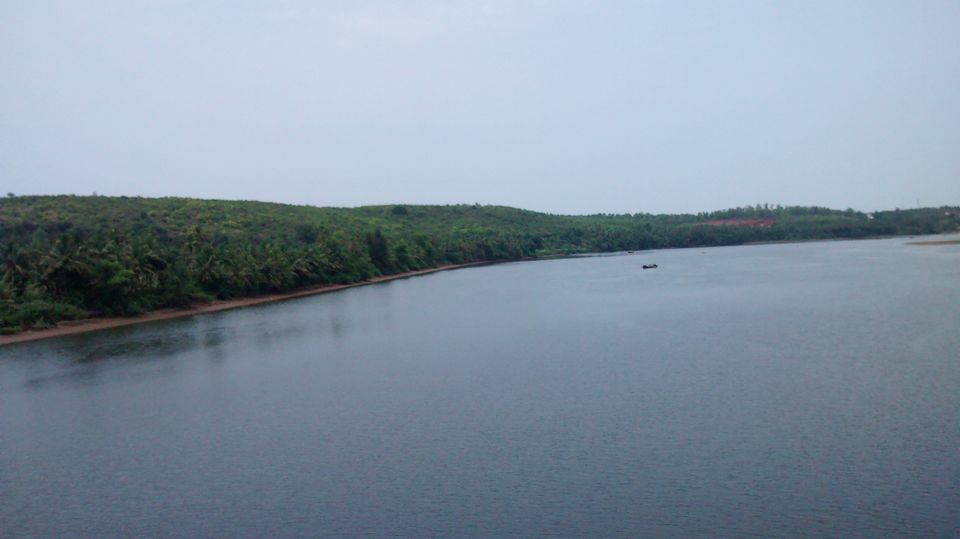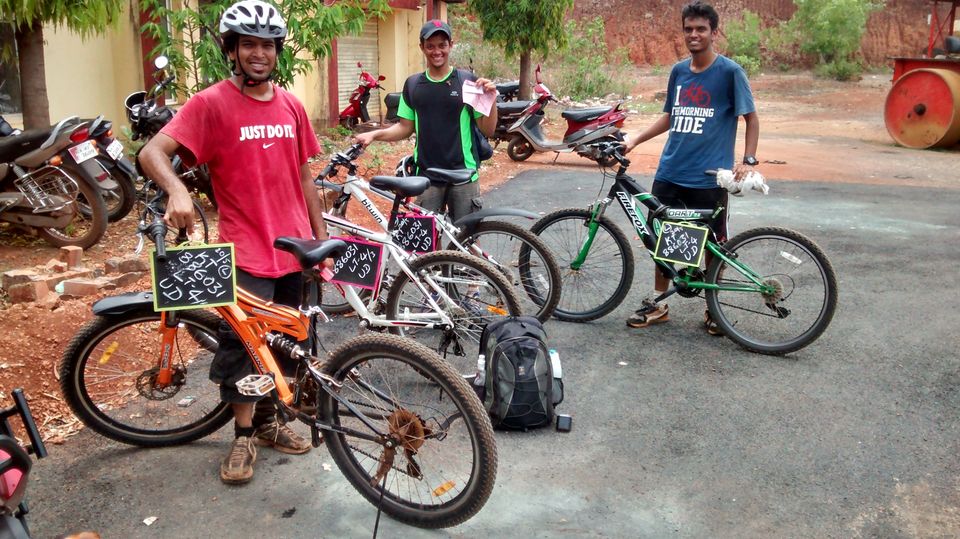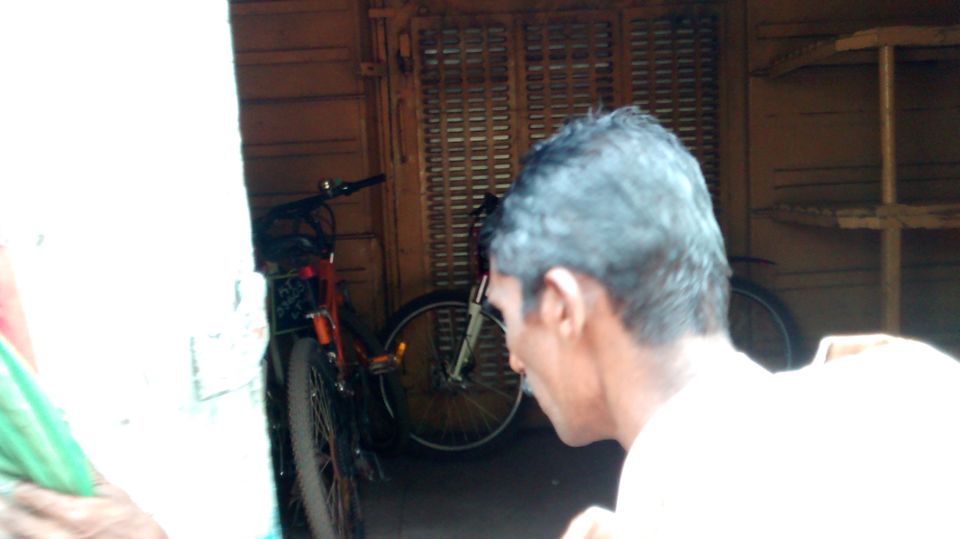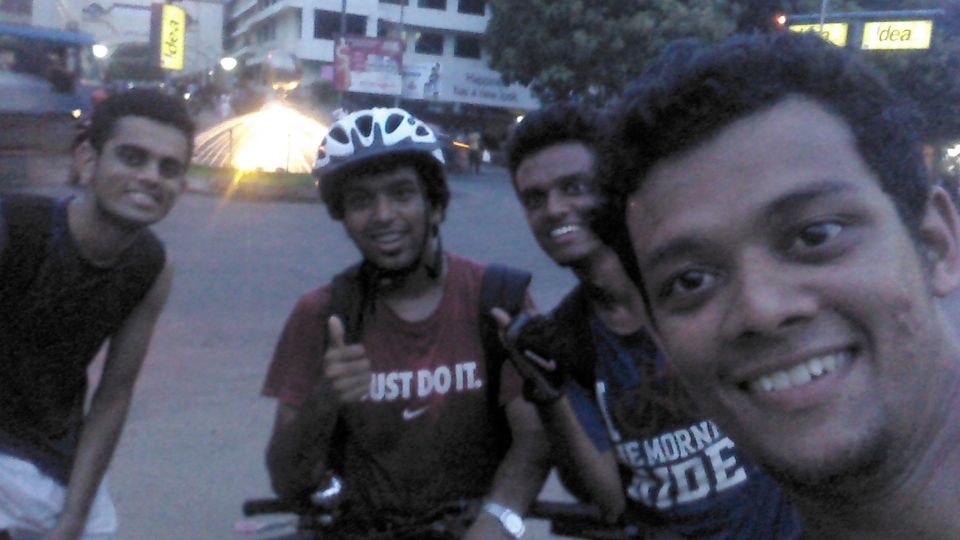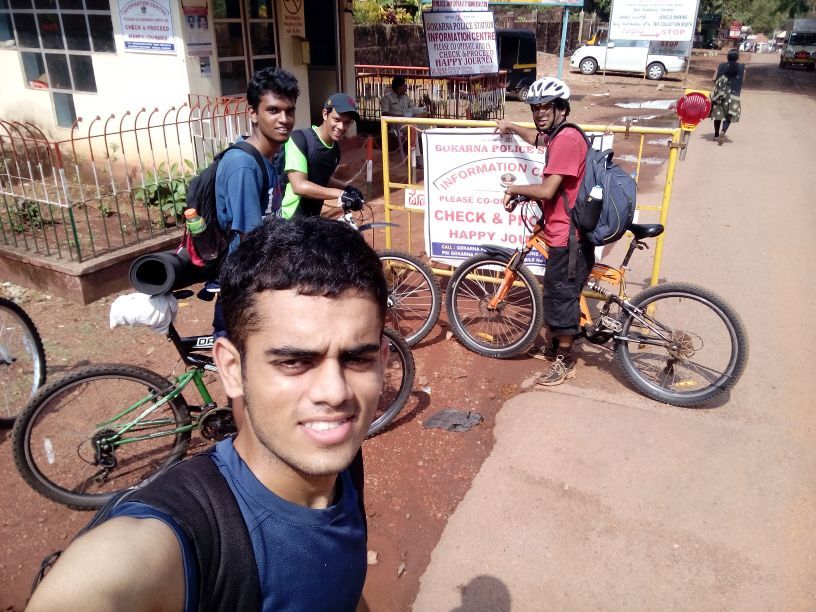 Manipal to Murdeshwara (Day 1): http://www.strava.com/activities/142613495
Murdeshwara to Gokarna (Day 2): http://www.strava.com/activities/143039693
We were a bunch of amateur cyclists studying in Manipal Institute of Technology. I am usually the one who looks up for places to goto for our Sunday rides for our cycling club - The Manipal Cyclists. One day, i decided to look at whats beyond the 40 kms that we usually ride to, and i saw some brilliant pics of places in and around the Konkan. I asked my friends if they were interested in staying back in Manipal a few days (instead of going back to their hometowns) after the end semester exams in May, and 3 of them agreed, namely Tushar, Mithun and Niranjan. It took a lot of planning on what spares and equipment to take and a lot of referring to Google Maps to finally decide the route we'll take. We had no idea back then, but it was going to be one hell of a ride.
So we started off very early in the morning on 18th May, a day after Arsenal won the FA cup. Me being a gooner, I was up till 1 am to watch the match and subsequently bask in the glory of the win, but made it to our rendezvous point by 6 am. We left, took the route via Perampalli railway bridge, hit the highway and reached Kundapura by 9.30 am. We took a breakfast break, and Mithun, who woke up late and had the best cycle amongst all of us, caught up with us by the time we left Kundapura. We struggled a bit when the road towards Maravanthe beach sloped up, but then it slid down again and we took a breather whilst enjoying the view at Maravanthe beach (a beautiful beach, that too). Around noon, we continued ahead and the heat started weakening us a bit. So a bit before Baindur, we had lunch in the first hotel we found around the place (since Baindur itself was a little further ahead and we were tired). After an average dinner and a weird conversation with a guy trying to show off, we headed out with no stops for a while. Then the hard part hit us, and that was the slope right after Baindur station. And the worst part is, our asses started paining by this time because we had been sitting on that small, narrow, default seat all this time and none of us had special seats or that gel cover, so it was something we didn't expect initially, but beware of this, if you ever plan a long cycling trip. That slope was a big slope, i'd say average gradient of 8-10% maybe? We took a breather after reaching the top of that, and then it was pretty much no stops until snack time at a restaurant in Bhatkal. We left Bhatkal at 6-ish and made it to Murdeshwara by 7ish, just before to started to rain a bit.
Murdeshwara was a small but nice town. Filled with pilgrims, as you'd expect. We found a small hotel (i cant seem to remember its name) but we got a cheap room for 4 in 1000 rupees and stayed there for the night. For dinner, we went to this lovely seaside restaurant by the temple and the breeze there was just too good! A nice dinner later, we headed to our rooms, too tired to do anything else and the fact that we had to get up early the next morning.
I wanted to leave Murdeshawara by 7 so we could reach Gokarna in time, but we got up at 7 itself. We went to roam around in the temple and looking at the famous giant statue of Shivaji, something you can see from the train while travelling along the Konkan line after Goa. After we were done with that, we had breakfast, we took some supplies, namely a lot of water and some food and headed out again by 9. The road ahead of Murdeshwara was a little sloping up at first and then kept varying between some minor climbs and some downhill slopes, but the cloudy weather that hid the sun helped us battle through the day. I had initially planned a few detours at a few places, to go and look at some spots that might be interesting, but we were so drained we had absolutely no time for any of them. We cycled through the day, a little tired and a little tough journey on our amateur geared cycles (Mine was the worst, I am literally surprised how i made it all the way with that cycle. It was no better than a Hercules or something). We had the strength to carry on for a long period of time without slowing down the average speed, and finally reached Apsarakonda waterfalls, a place right before Honnavar i wanted to check out. We went to the other side and found the beach to be nice, but to reach the waterfall and the park and the beautiful view i had heard so much about, you had to walk and climb stairs and go to the other side of a hill. With so much exhaustion and time limitations, we decided to skip it. So we rode back and reached Honnavar in another half an hour or so, after we passed the beautiful bridge over Sharavati river.
After a good lunch at Honnavar, we headed out to this place I wanted to check out. Manipal also had a small hanging bridge over a river, but this one at Honnavar was bigger and better. It was peaceful, the view whilst standing there was good, you could see the river flowing into the sea. So we really liked that, and then we headed out for our final segment. The roads after that were relatively flat, and didn't pose much of a challenge. Gokarna was not that far away. Up till Kumta, it was a fairly decent ride. We saw some bikers with their leather jackets and their Royal Enfields. They passed us and gave us a thumbs up, appreciating our efforts. We reached Kumta around 4.30-ish and some good snacks at the first good hotel we saw. The road to Kumta curves up, and that was the first indication of the type of roads we were going to get ahead. We enquired at the station about the possibility of putting our cycles in trains, and they said it depends on the luggage that would already be there and the only way to know was to reach there the next day morning. I dont remember when we left Kumta, but I remember going ahead and then having to wait for my friends to catch up because they had some bike issue. And i remember the roads. Ups and downs and ups and downs. Every metre of climb was exhausting. At one point, there was this 50 metre climb with a gradient of around 8-10%, and when you're using such basic cycles as ours, that is not an easy climb to do. But we did, the subsequent slope was fun, and then the road flattened out a bit till we entered Gokarna. From the highway to the city is about 7.5 kms (and i made a segment on Strava), and it had some ups and downs again. My friend had a flat, around 5 kms from the city and we had to wait for him to change tyres. And once we entered the main city after passing the famous salt pans around there, we were relieved! 13 hours of cycling covered in 2 days on very basic cycles. And finally, there we were.
Gokarna as a city isn't all that great, atleast that was the first impression i had entering the city. The streets were narrow, the roads were slopping and hotels were a bit expensive. We found one for cheap (800 Rs for 4 of us) but later on found out it wasn't that worth staying there. After having dinner by some restaurant we found in the streets (They served brilliant homemade cheese too), we had a terrible night because not only was it raining (the early western May showers), but there were mosquitoes in the room and our power kept going out, so I hardly could sleep. We couldnt open the windows thanks to the more mosquitoes threatening to enter so none of us had proper sleep, and i was up at odd hours, sitting out on the corridor where there was some ventilation and cool air coming from outside.
After a disastrous night, we went out early morning to see if buses from the bus station would carry our cycles back. The main reason is 2 of us had a train back to our hometown (Bombay) on 20th night at 10 pm. So we went to the bus station and our Kannada speaking friend, Niranjan, asked the conductors but they said it wasn't really allowed. We called VRL and other bus services the previous night and they said they too don't allow cycles. So train was the only option. After a breakfast by 9 am, we headed out to the highway to see if we could hitchhike a ride to Kumta. The petrol station on the highway, just before the turn and the entrance to Gokarna was where we stood. By 11-ish, after 30-40 minutes of waiting, we found an empty truck willing to hitchhike us for 25 Rs per person. More than good enough. We made it to Kumta in half an hour or so, ran to the station and enquired about the possibility. Luckily the 3.15 train to Mangalore had space, and the train master allowed us to carry the cycles. He gave us a slip, and we had to buy slates and chalk for him so that he could write the destination and some number and hang it on the cycles. After that, it was lunch at the nearest place we could walk to, and waiting till the train came. The train arrived, the station guard help put our cycles in and we boarded the closest compartment to the cycles (we had a sleeper ticket obviously, but the luggage charge was like 75 Rs per cycle from Kumta to Udupi, and the ticket for us to travel was separate). In 3 hours, we travelled back to the place from where we started 2 days back. The train stopped at Udupi for 2 minutes only, so we had to run back to the luggage compartment, get it opened and get our cycles out. There was someone else who wanted to put luggage in, so it was a little bit of a hurry, but we got it out finally, the station master checked our receipt and we were free to go!
All in all, a spontaneous trip along the Konkan with totally basic cycles, but we showed that it can be done, and not only was it fun, but i got to see a side of India i had never imagined I would! So if you're ever planning on doing the same, go ahead! There's a whole world out there worth exploring.