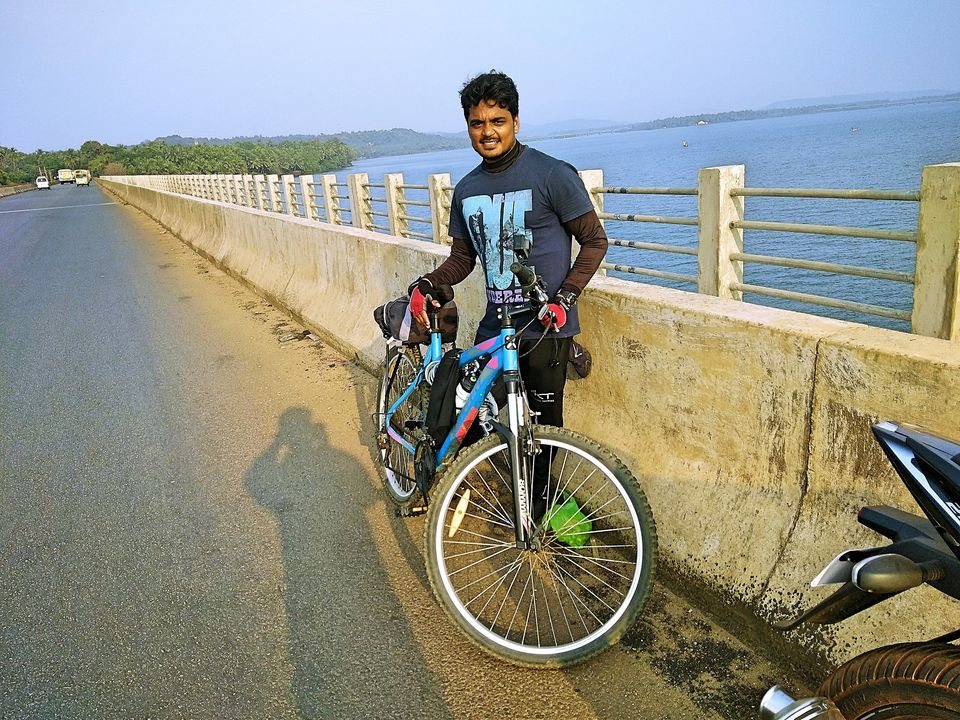 This was my second time on the highway riding solo on my bicycle, with an aim of cycling all the way from Karwar to Udupi on NH – 66 on the west coast road which connects almost entire stretch from Panvel to Kanyakumari passing through Maharashtra, Goa, Karnataka, and Kerala. This was a long road all its way which could pose more challenges and also it was under widening process for long time. As I had already cycled on East coast road from Chennai to Pondicherry, (The link to that trip is here https://www.tripoto.com/trip/solo-cycling-on-east-coast-road-597c73b090cab) I had a dream of cycling in this route also. To fulfill this cycling dream I chose over a weekend of third week of November, and booked a seat in night bus from Bangalore to Karwar along with my bicycle on the roof of bus.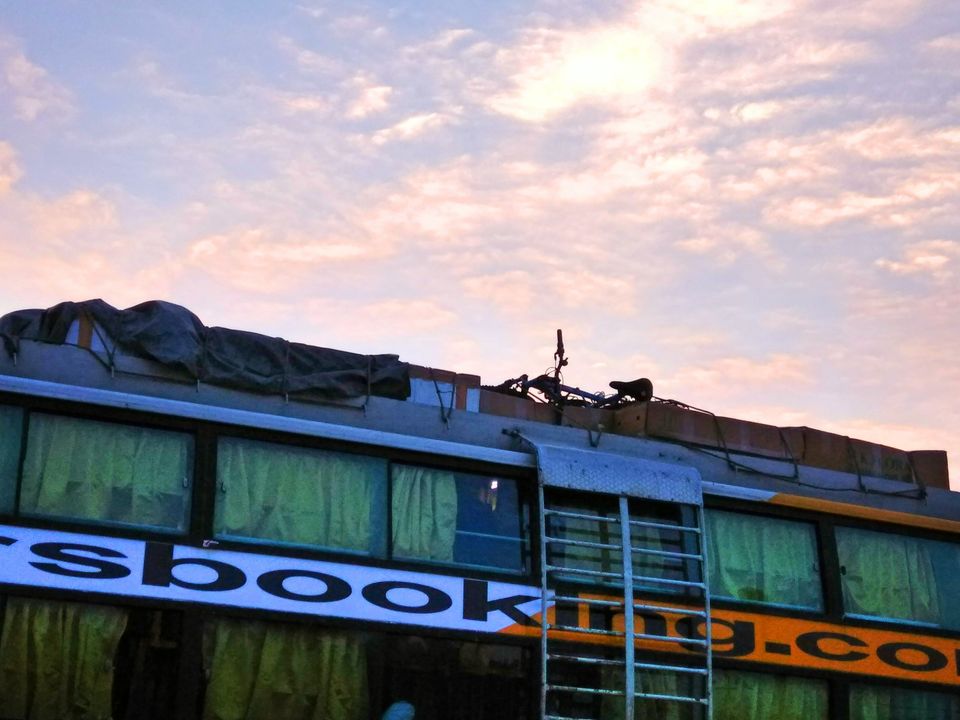 Day 1:-
The Initial hurdles and success:-
The day started late for me as the bus I boarded from Bangalore was 3 hours late to Karwar and this had a huge set back later that day. It was 7.00 when the bus took a break in Adlur, a place which is on the Karwar-Hubli highway and I was yet to reach my destination from where I had to start riding. It was at that time I could see how my bicycle was tied on the roof of bus and was super excited with the thought of cycling 100 odd kms for the day. Every extra minute the bus took its time to halt at the highway, I was worried of the longest day I will be facing later. Luckily the bus started its journey towards Karwar by 7.45 a.m. and it took us an hour to reach the destination. Usually SRS buses which ply to other districts in Karnataka from Bangalore carry cargo on top of them. The helper took his sweet time of another half an hour to get my cycle down, still ending up detaching the carrier which I had pre fixed the previous day in Decathlon to carry my bag on the ride. So I had to put my backpack on shoulders and ride my way to the next destination to get my bicycle fixed later in the day. Didn't think much about other stuff and directly started riding from the SRS office and came to highway in 10 minutes. Once you get into the highway of Karwar you get to see the Karwar beach. The fishermen were busy checking their nets and Karwar being a port and harbor also, I could see big ships and containers anchored in the sea. With just having a look at the sea for 10 mins I started my journey to the next stop where I could get my bicycle fixed first as it was tiresome to ride along with the backpack. Later after 10 kms I got to know that the rear wheel was low with air and I had to push a lot on the roads with more crests. Luckily after cruising along for 20 odd kms I could find a cycle repair shop and was happy to see it. Just headed into the shop and got my cycle fixed with air and rear carrier. It didn't take much time to get them fixed and later I was on highway again passing the naval base of Karwar. It was 10 in the morning by this time and sun had already set himself up high to make my ride a lot hotter and hotter. As it was a coastal area humidity also shook hands with sun and made things a little to worry for me. Now the sign board to the left of me was showing Murudeshwar as 93 kms, which I had a plan to reach by 5.00 p.m. and to witness the sun set along the coast.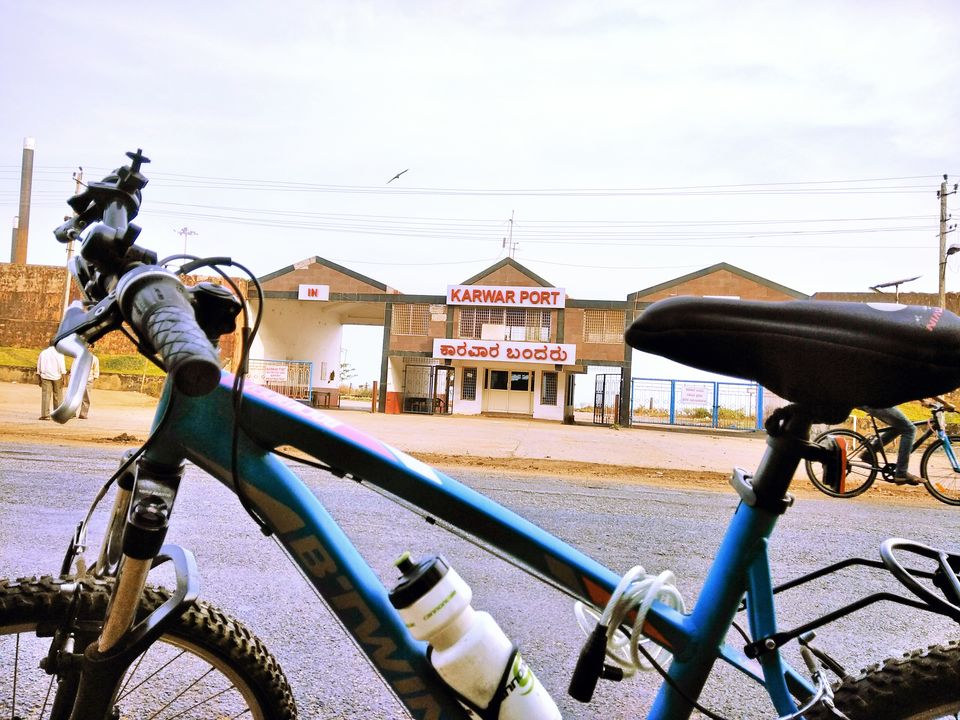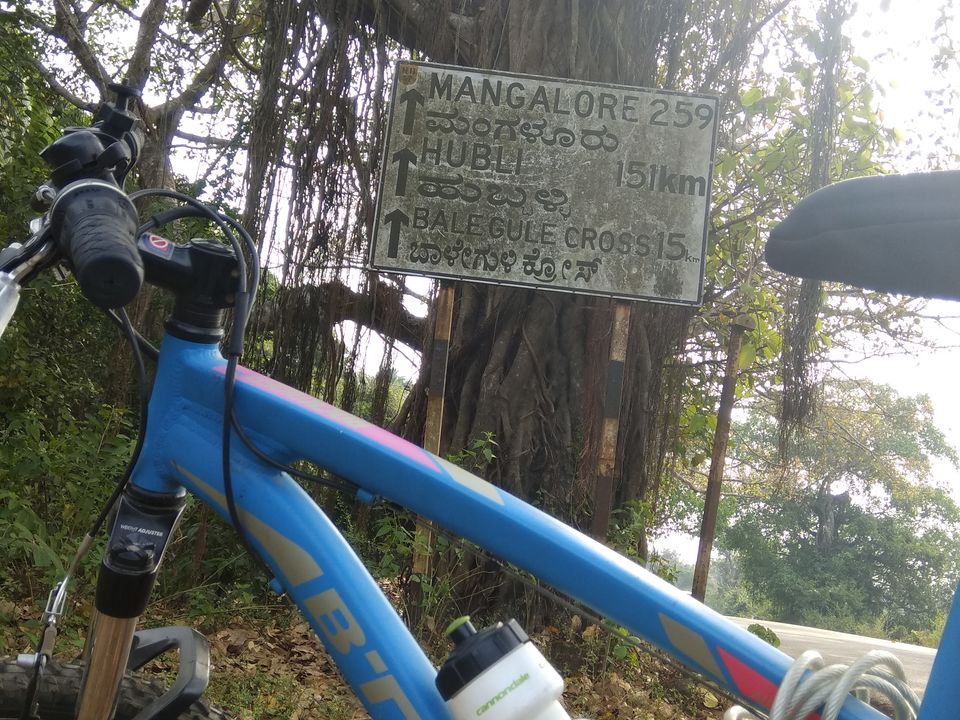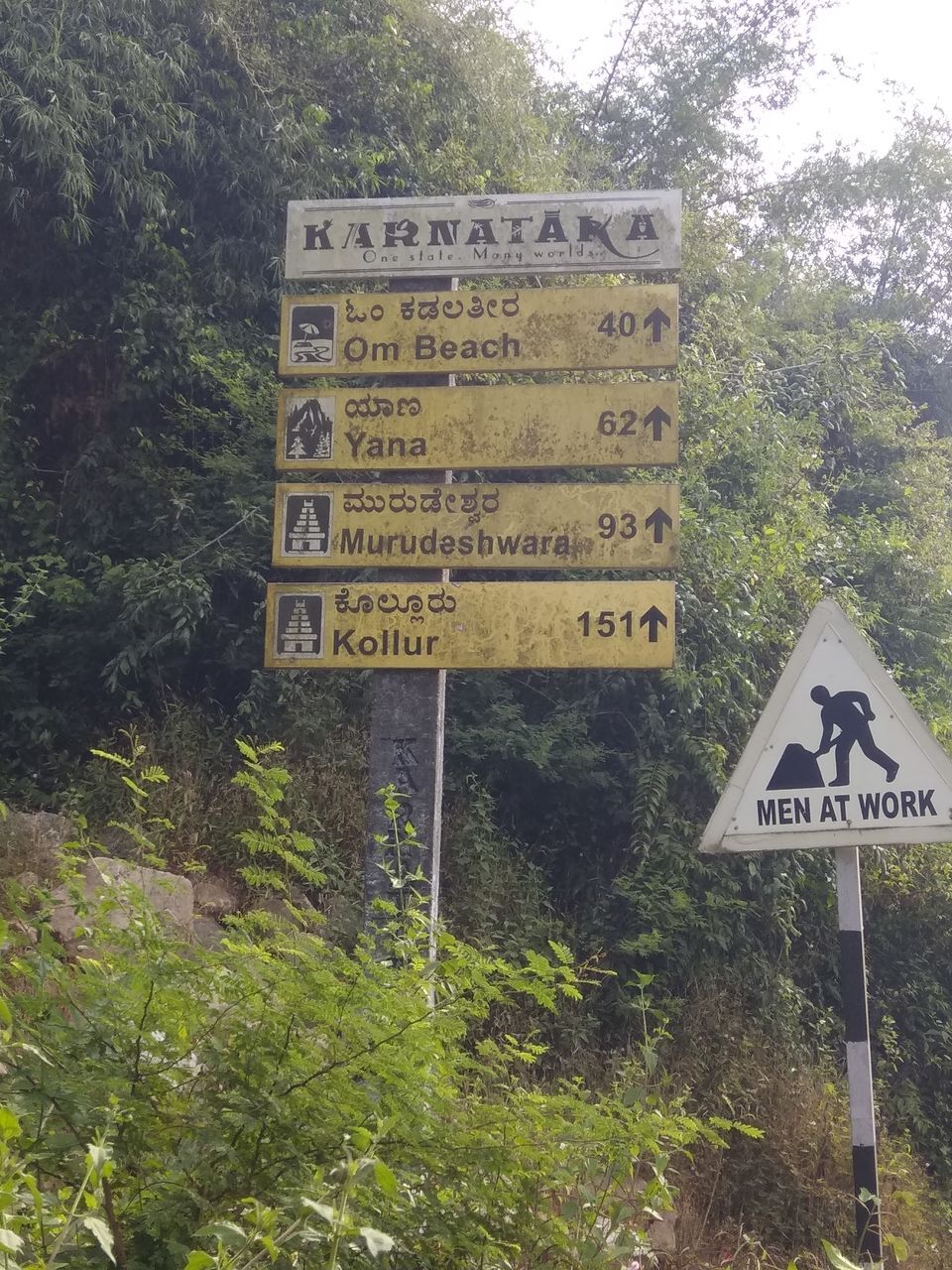 Unforgettable and harsh climate:-
After a short break for one more cup of coffee and filled my water bottle with chilled water, which was necessary on the way, I started again on the muddy roads full of potholes nearing Ankola. This stretch was so bad and also sun was high on top of me with no mercy and gas tankers with high raised containers passing one after the other, made the ride tough. The clock ticked 12.30 p.m. and I was somewhere near to a water body. This was river Gangavalli which had a bridge built on top of it and the river was also big in its width through its flow. It was now too hot and unable to control my thirst I took a 15 minutes of shelter near a shop where I also drank two coconut waters and quenched my thirst and also could regain a bit of energy to resume my ride. Crossed the bridge and headed towards Bargi where I stopped to have lunch. By this time sun had no mercy and the hot air mirage was visible on the burning tar roads.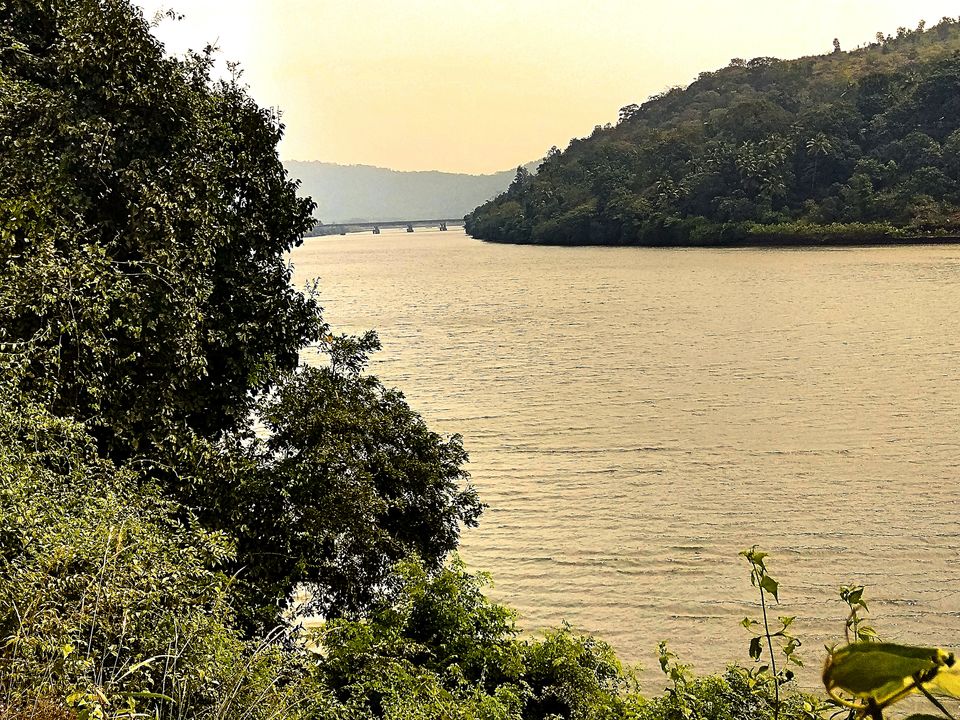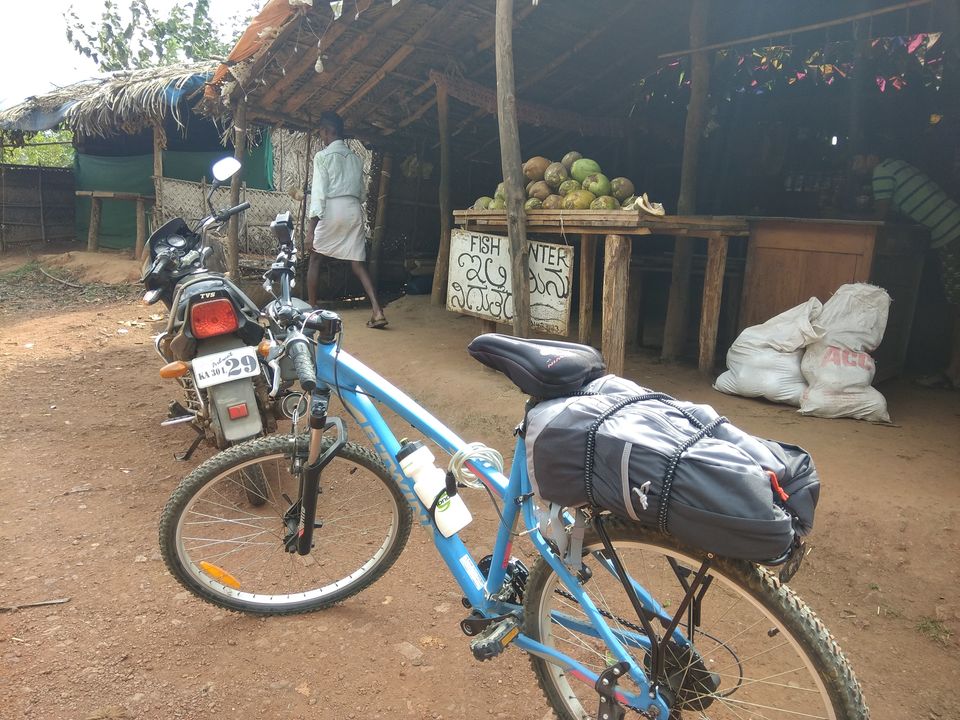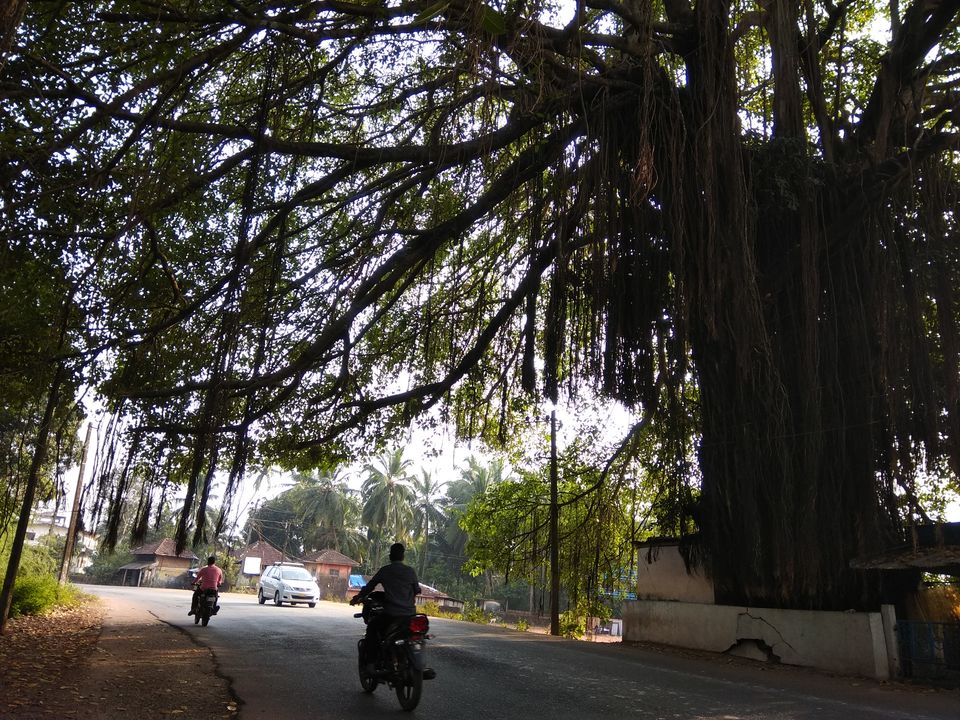 A Soupy evening:-
Once done with my lunch I was back on the road now cruising almost only 10 kms per hour, courtesy the scorching sun and the hilly roads which went all in once half a kilometer making a crest and then all the way down as a trough. It was challenging but still the view of the vehicles passing by and the towns I got on the way reduced my pain. By 4.30 p.m. I had made it to Honnavara Sharavathi River Bridge which has river on one side and the Arabian Sea on the other side. This Bridge is so long and vibrates when a heavy lorry passes on it. After reaching a mid-portion of the bridge I stopped my cycle to have a view of the small islands created by river on her way to the Sea. The sun was already ready to set and I was still 27 kms far from my destination for Day 1. Now I had given up the hope of reaching Murudeshwar by 5.00 p.m. to see the sunset, hence decided to make it slow and steady to the last stop. After getting a picture for myself on the bridge with my cycle, I resumed my journey on the highway. After 40 more minutes of cycling I reached Manki and had one more coconut water, filled my water bottle and again set on the last leg of journey on Day 1. With all the pain and facing the hot sun, I made it to Murudeshwar by 7.00 p.m. By this time my legs were trembling and I was badly in need of a hot shower to shred the pain of my legs. Went into a local hotel and booked a room and immediately took bath and was bit relieved that night. After this couldn't stop myself from heading to Murudeshwar temple at 8.00 p.m. and with a good food filling my appetite, I went early to bed thinking of the next day coming up.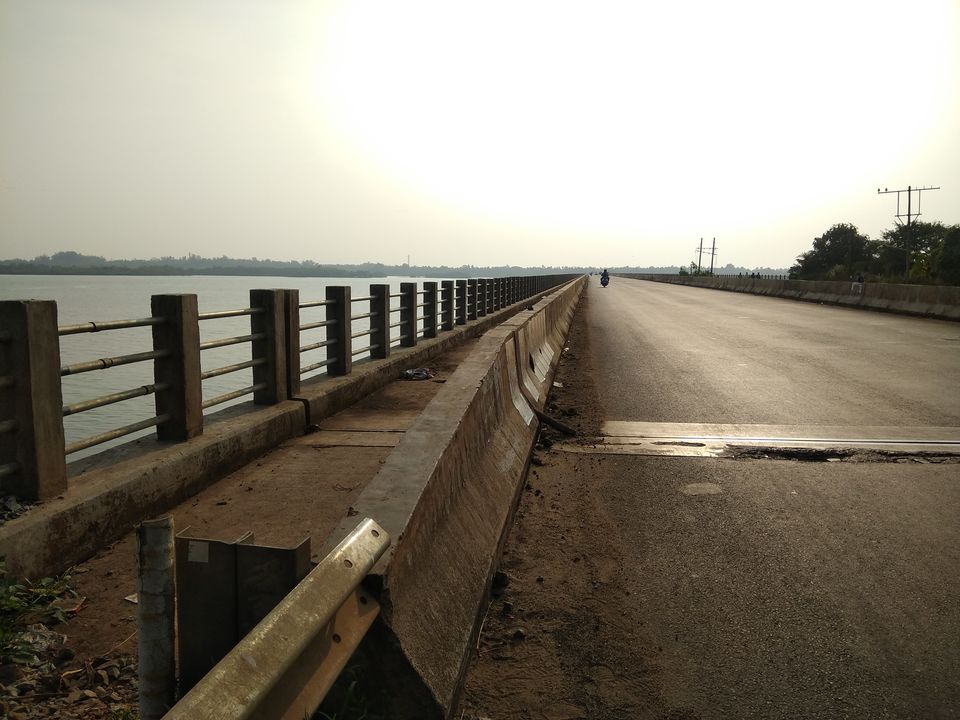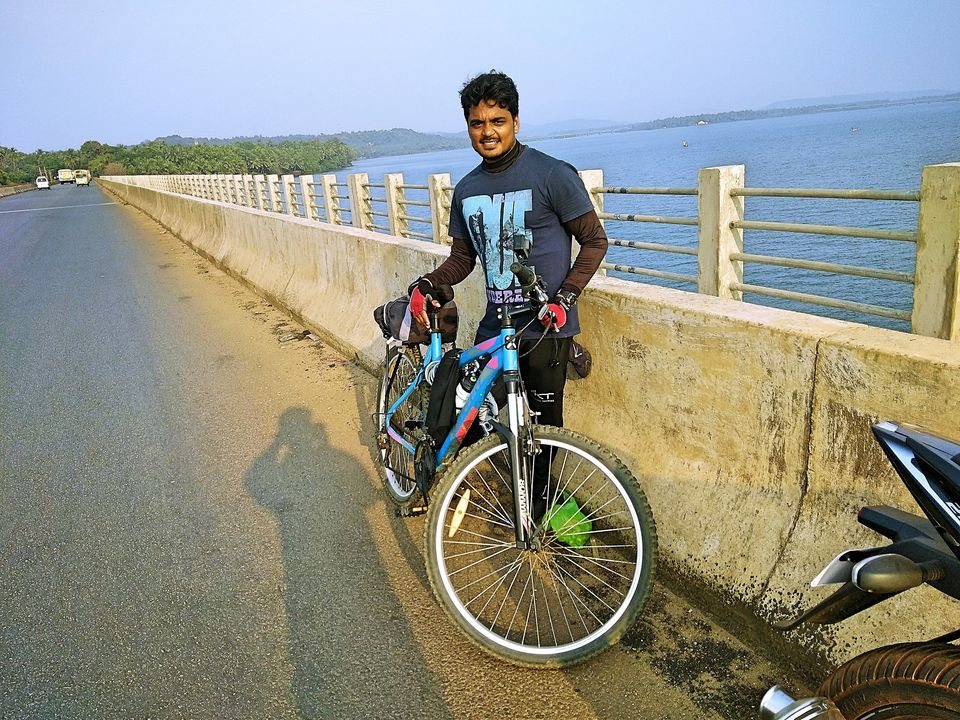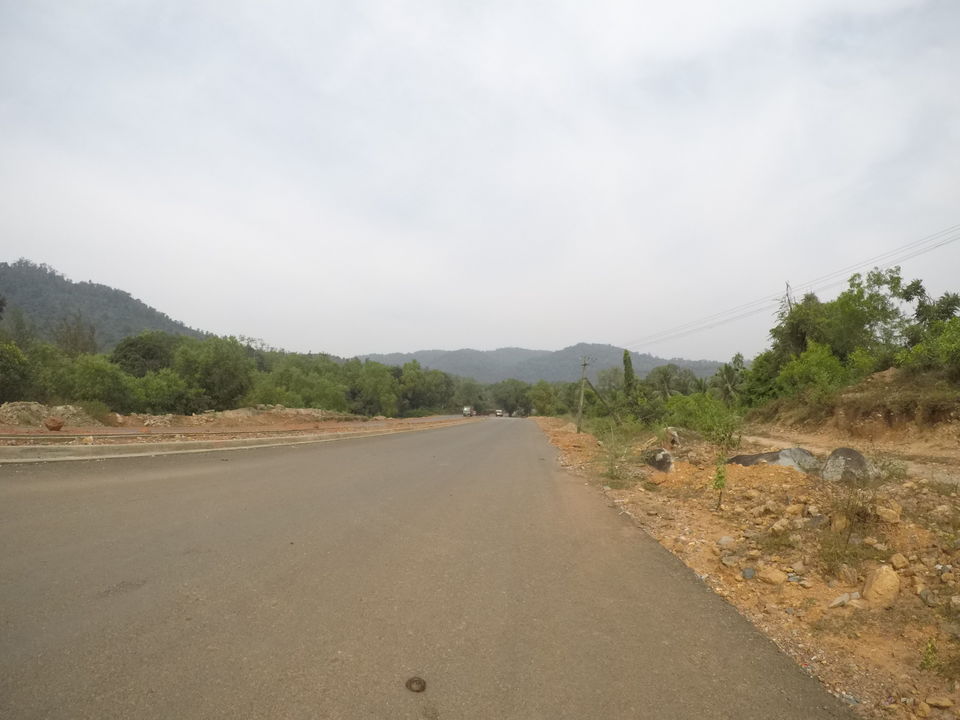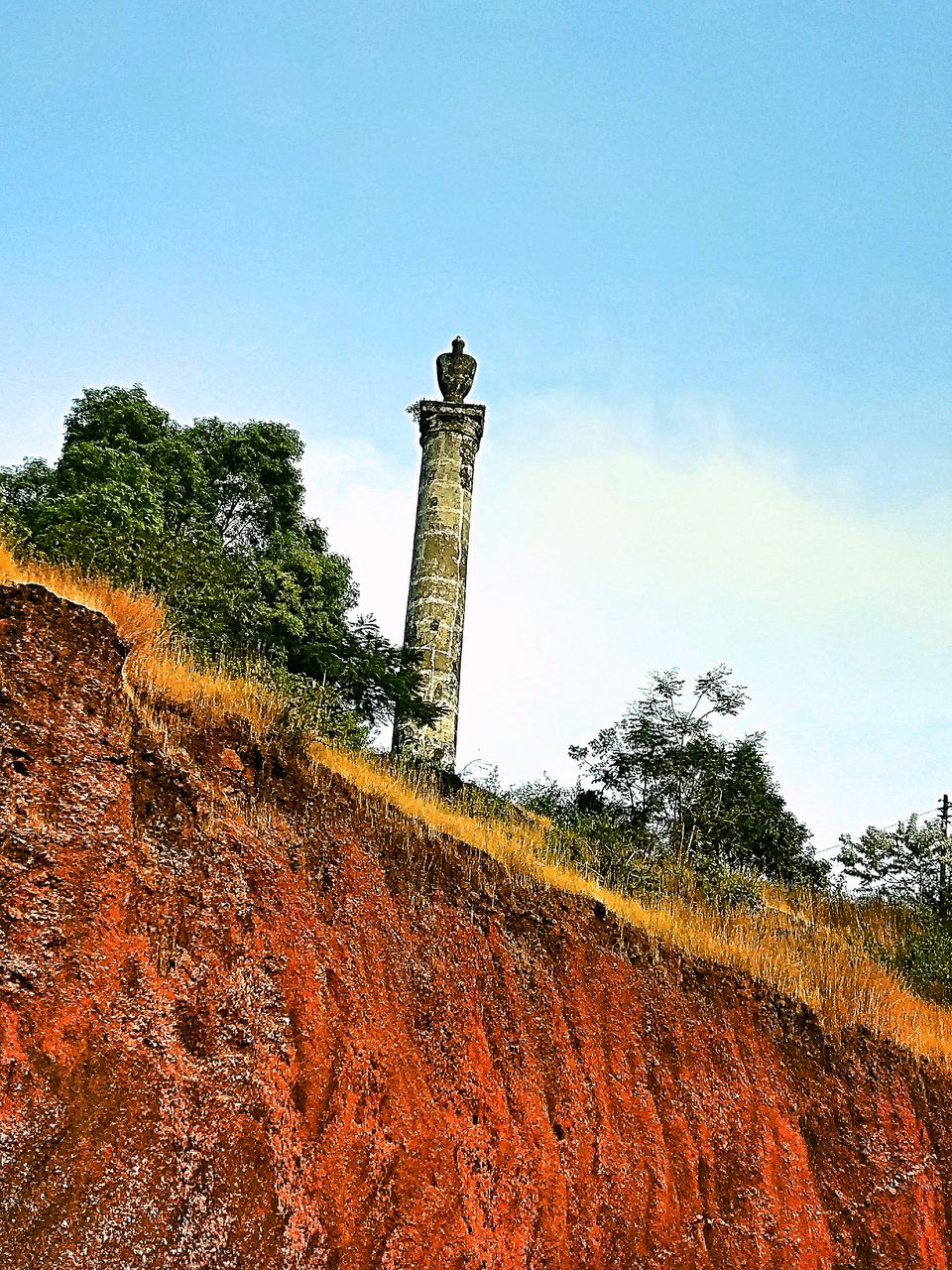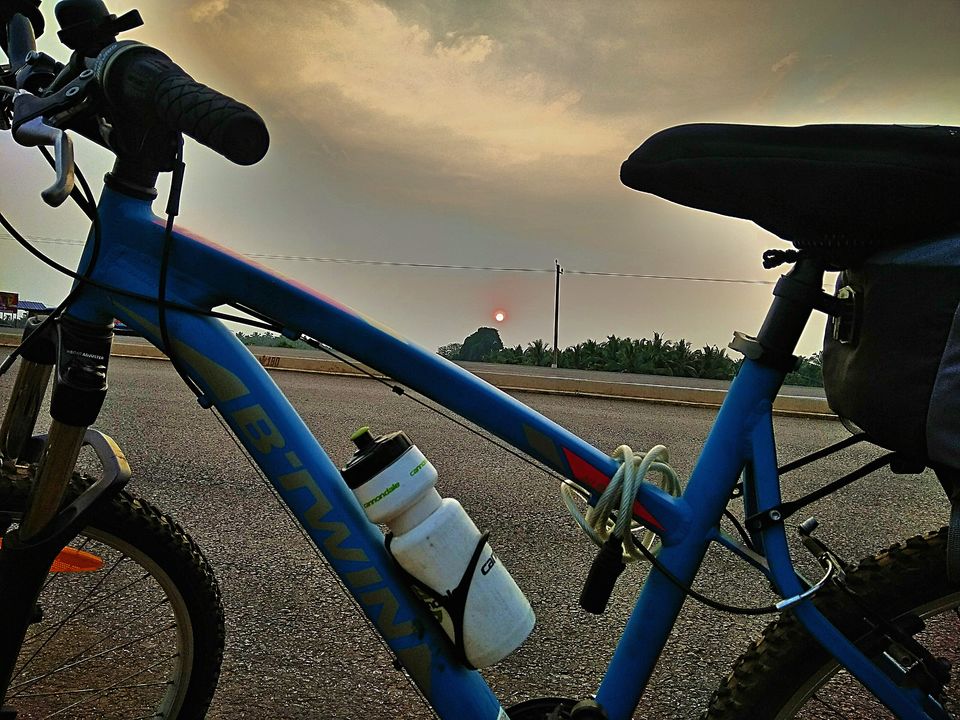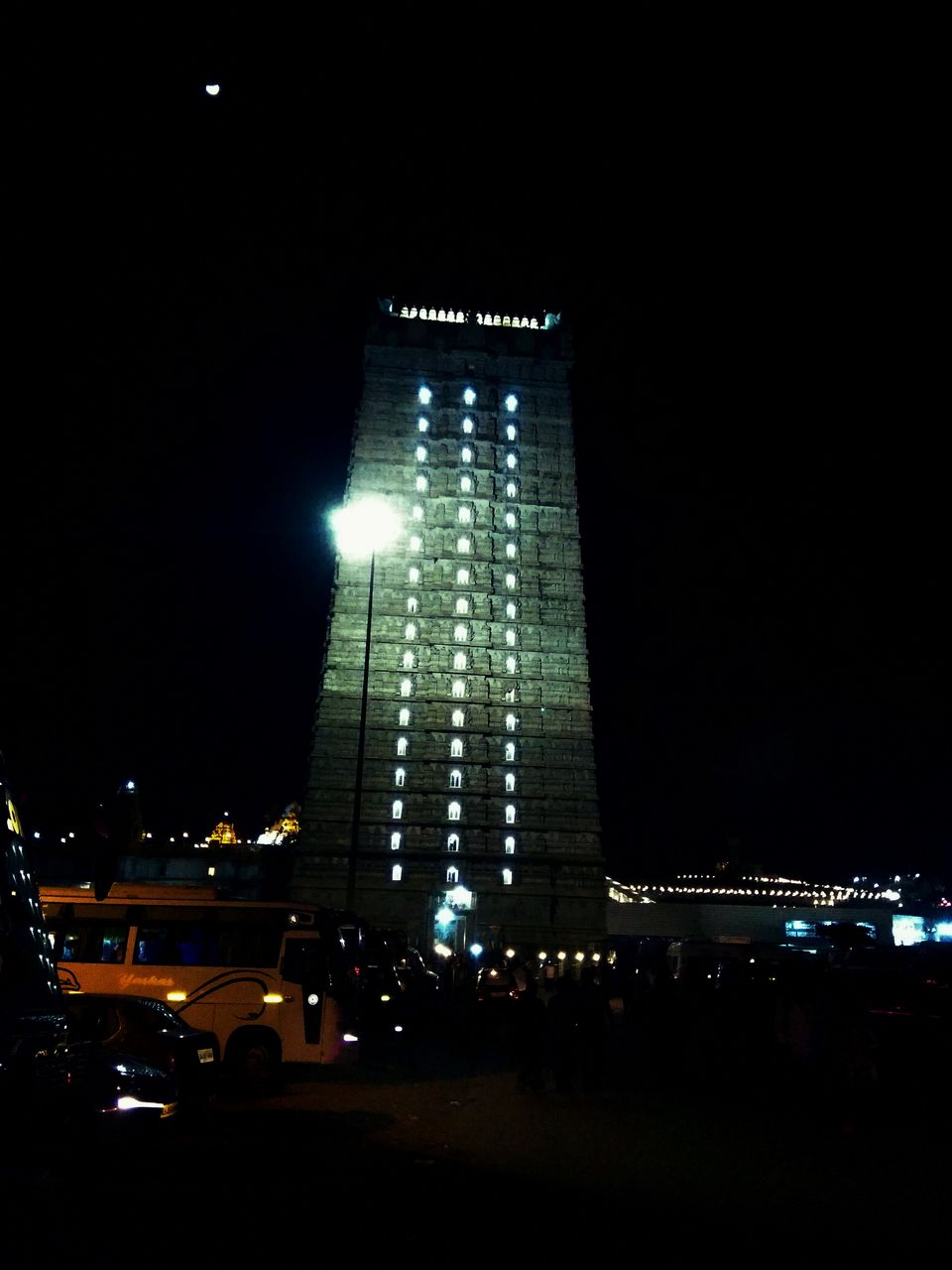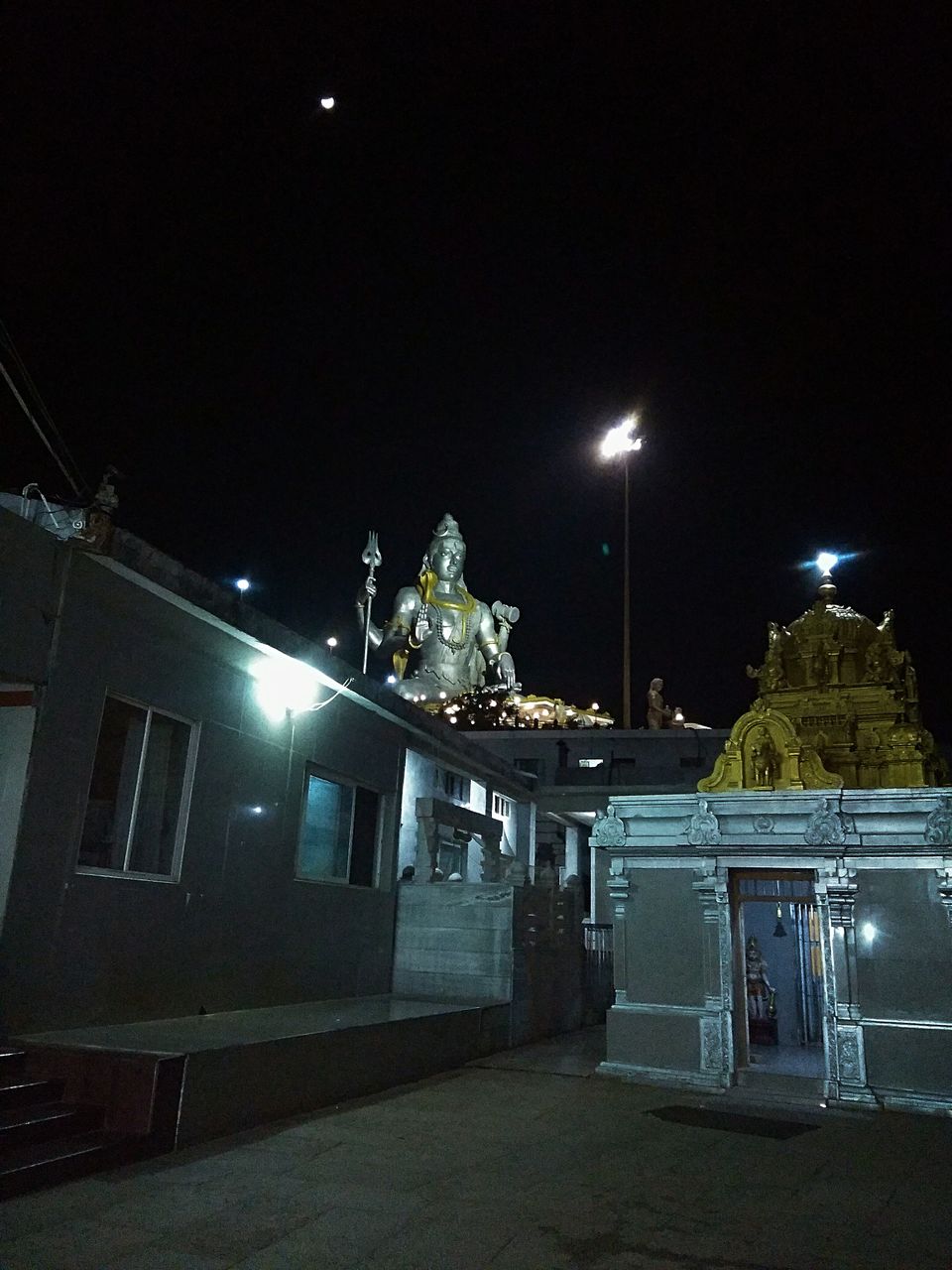 Day 2:-
A non-stop ride:-
On this day my plan was to cycle all the way down to Udupi from Murudeshwar covering 100 odd kms and winding up my west coast journey. So woke myself up by 5.30 a.m. and headed out by 6.15 a.m. on road after taking a hot water bath. Headed out in the breeze cool morning on the highway with sun slowly started his rise of the day. After cycling for 5kms I took a small break for a tea on the road side shop. By this time the sun was on his rise and the view was much better for big vehicles and my risk of going unseen on the road was less. After crossing Bhatkal by 7.30 a.m. I headed towards Shiroor where I had my breakfast. Once I crossed Shiroor and on the way to Baindur and Uppunda there were two stretched which went all the way up and were also serpentine in the shape. This stretch was too much for me to bear the pain of riding, so got down and pushed myself and the cycle in the corner of the road. At few instances a thought of asking a lift from a lorry or any goods carrier also crossed my brain. But without losing hope I made it to Uppunda and halted there for one smaller break. Once done with this road the next few kms were fine for me pushing all the way till Maravanthe beach which lies adjacent to Arabian Sea. Once I saw this beach it was all worth of me cycling and taking this adventure this far solo and facing all the heat of scorching sun. It was 11.30 a.m. still, and had a lot of time for myself to view at the sea and click few snaps of my cycle. The time passed bit quickly gazing at the sea, and I made myself back on the road to my next destination Kundapura.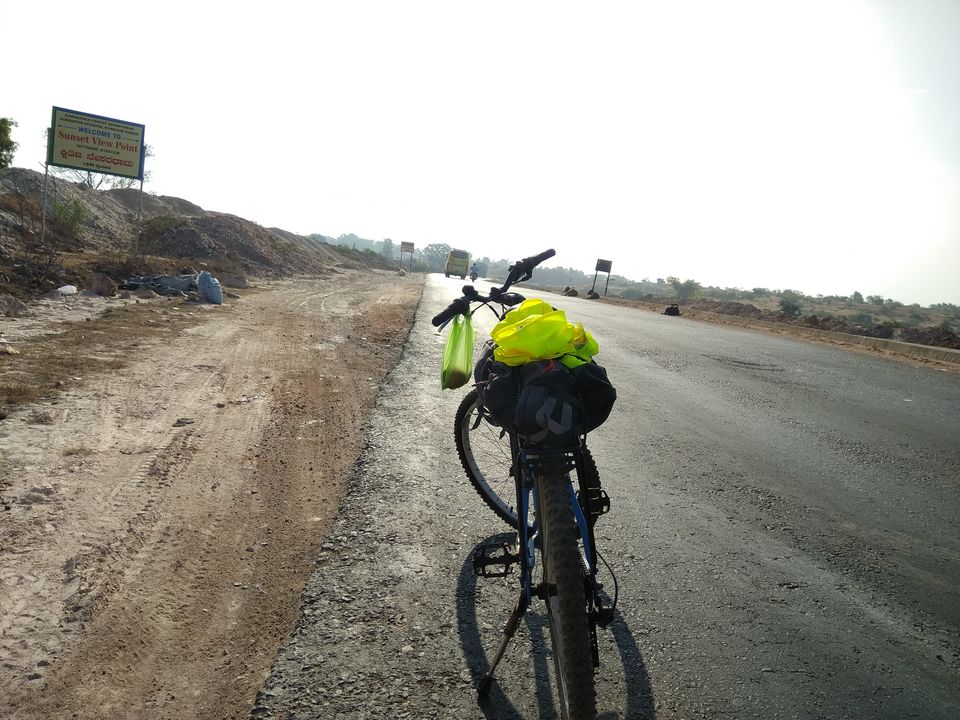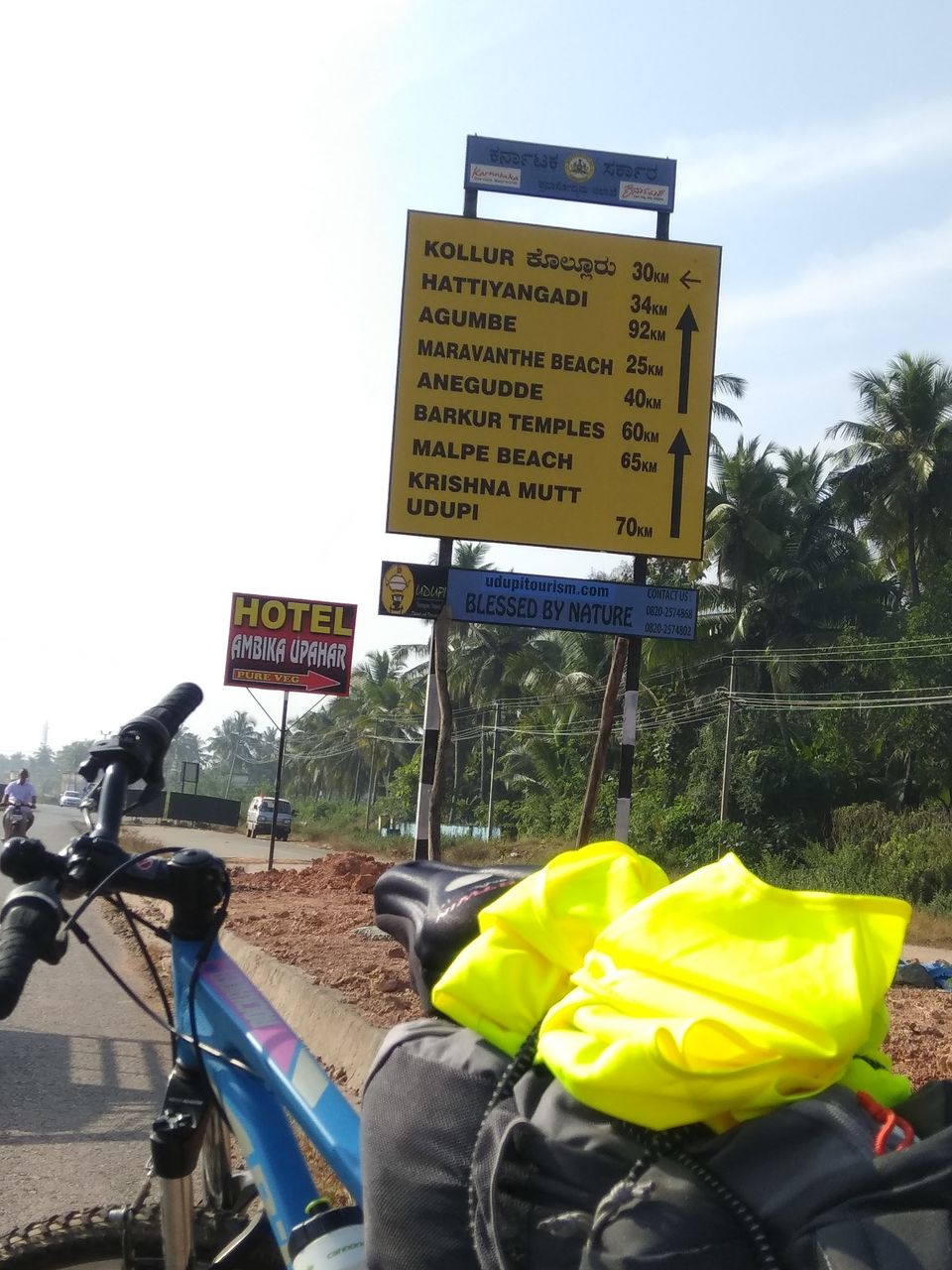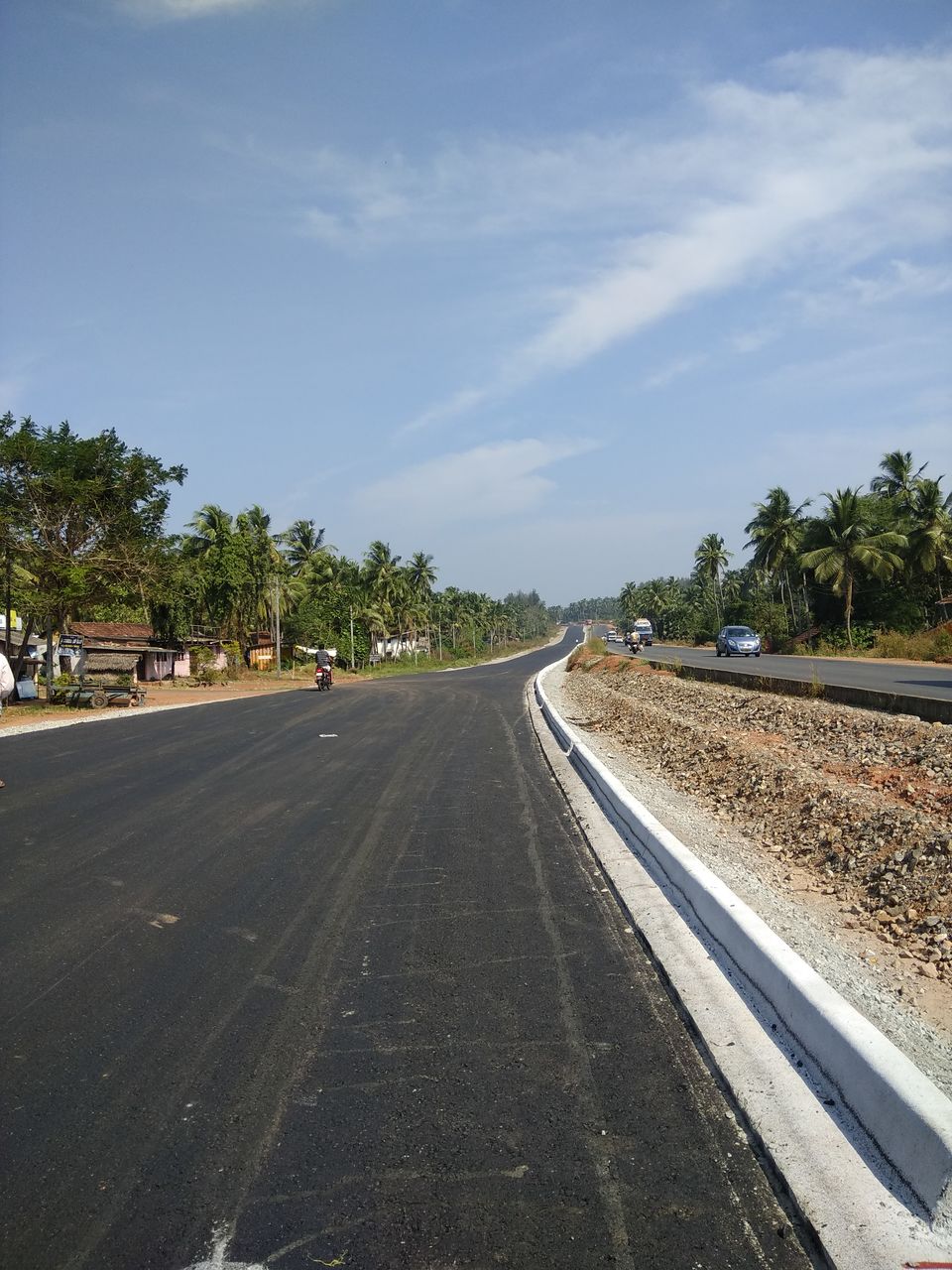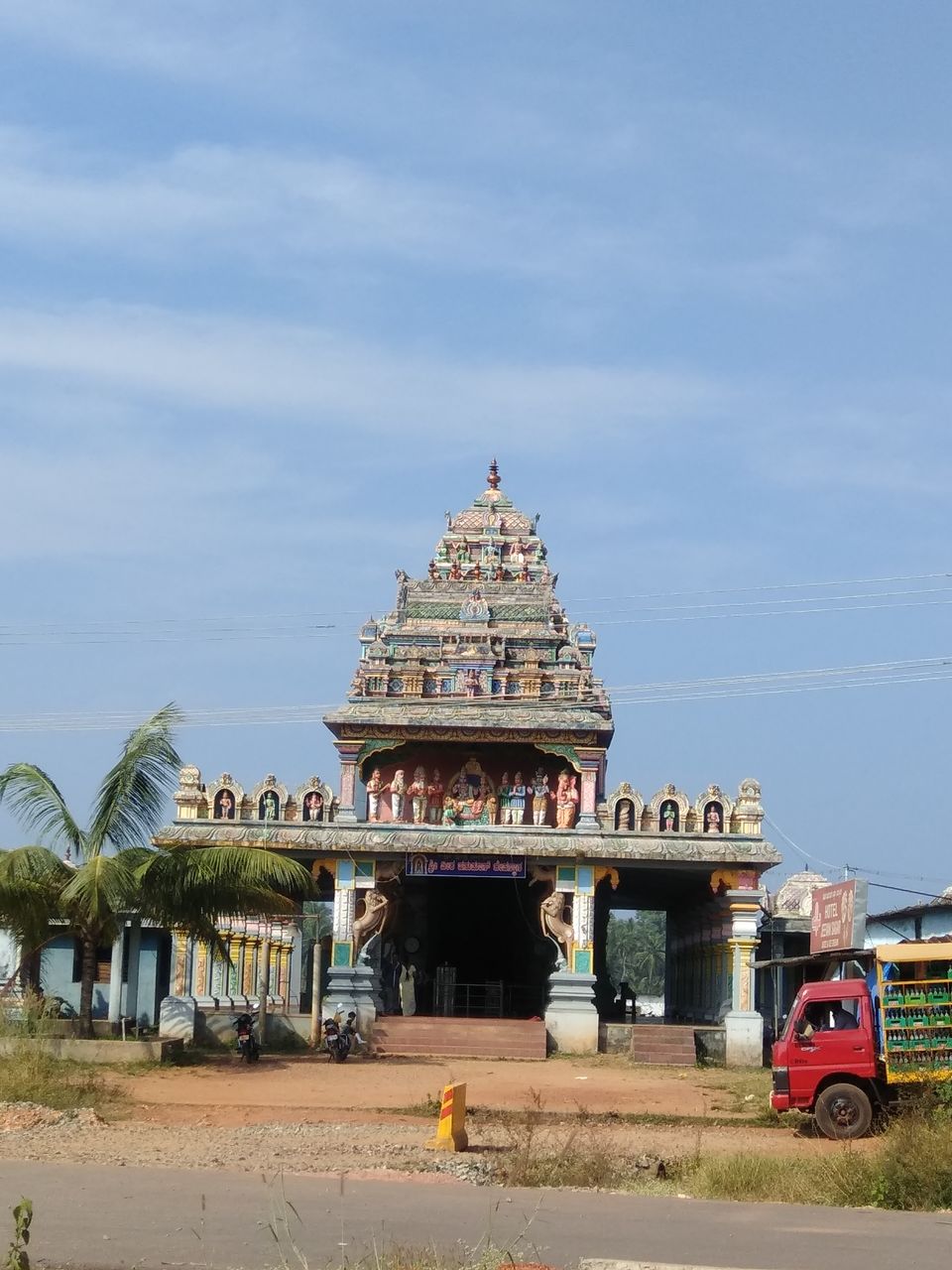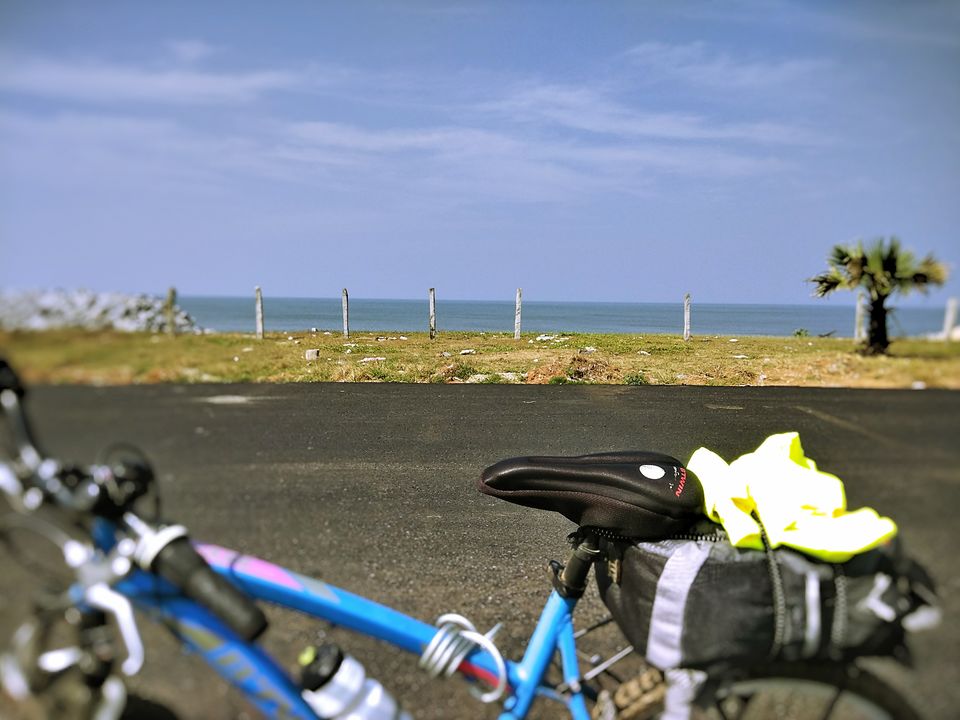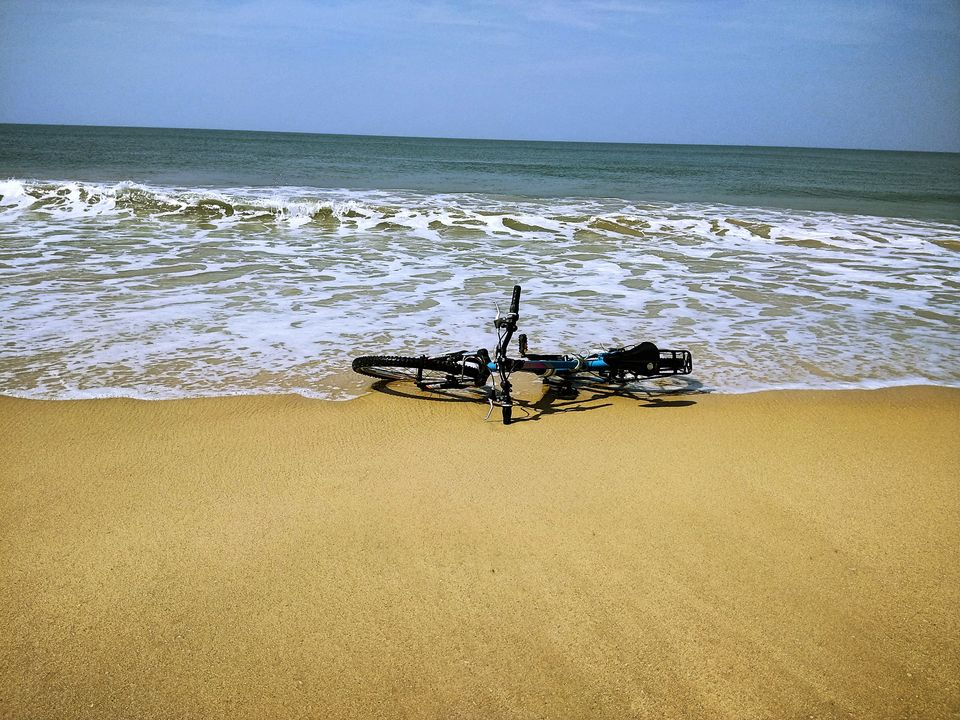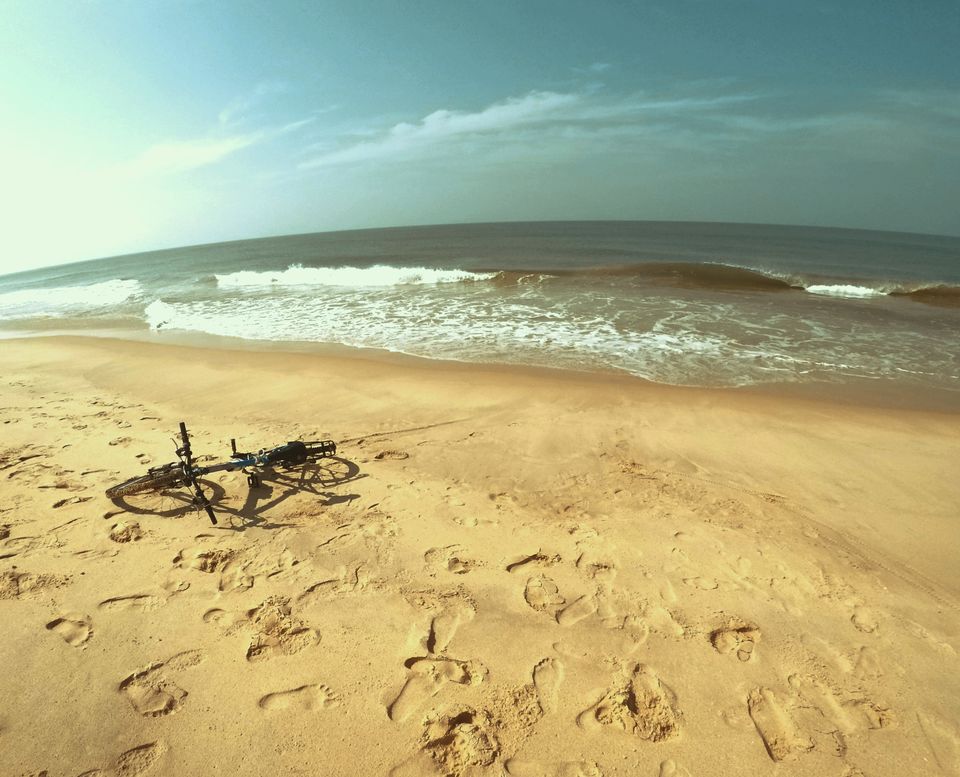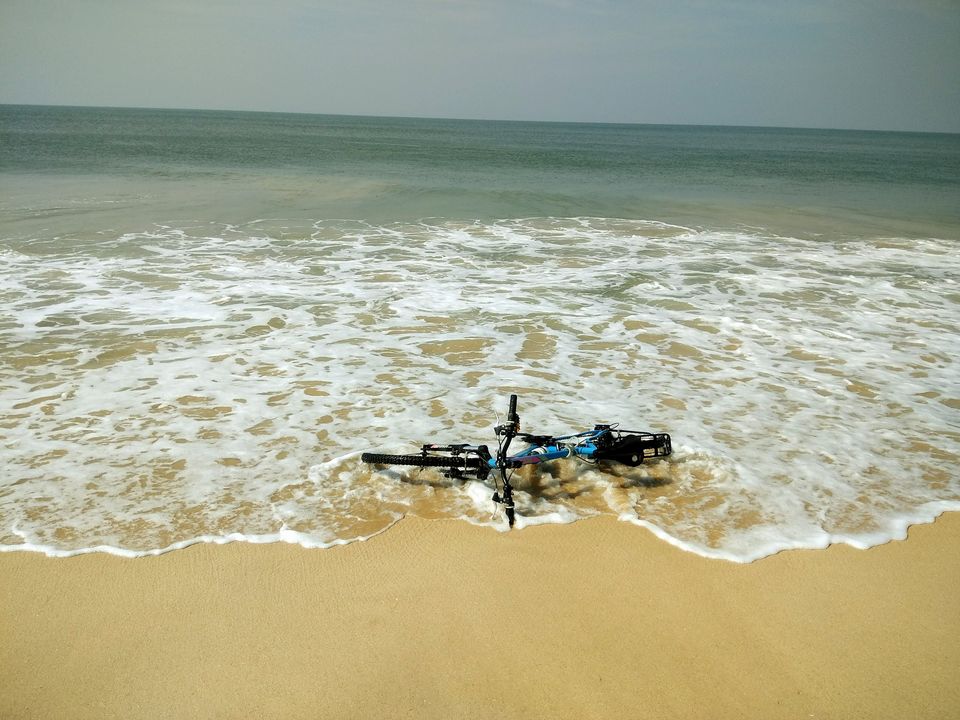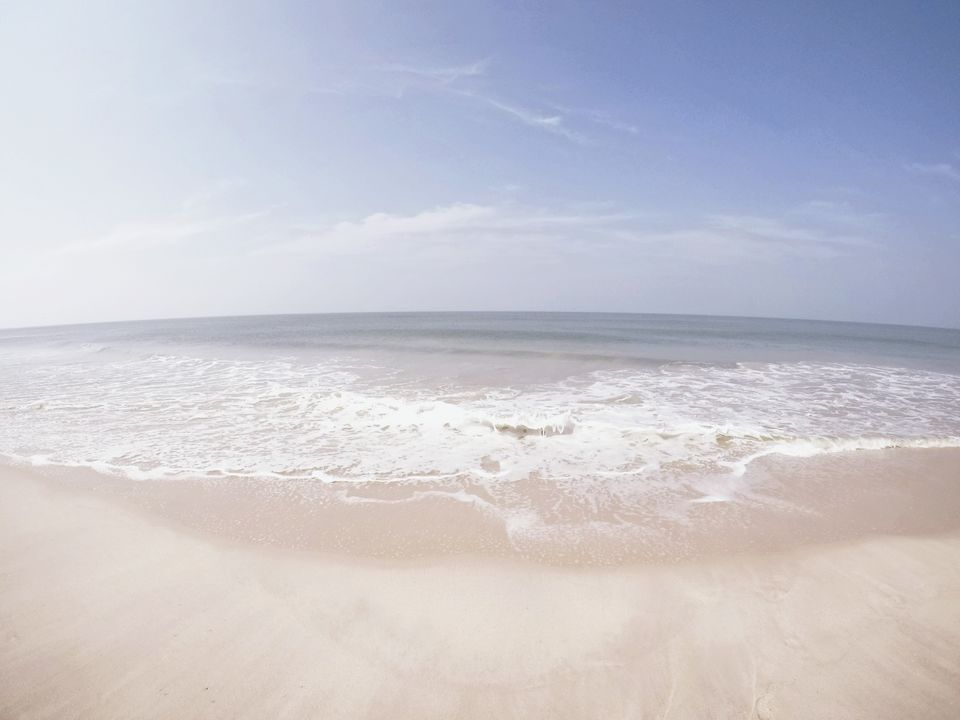 The view of this wonderful beach from the bridge is breath taking. Once you are one the bridge you can have a good luck of Souparnika River on to your left and Arabian Sea on to your right. The Outlook magazine has rated this beach as one of the most beautiful beaches of Karnataka. After crossing this beach I started to feel my head weighing a lot, might be due to the sun. Every peddle took an enormous amount of energy from my body and my legs were trembling already. I felt something wrong happening to my body and had a shelter in a road side shop nearer to Kundapura. The sun was in full form and giving all his blessings to me, making me go berserk over my situation. By this time my dream to making it to Udupi was shrunk and I had to wind up my journey in Kundapura itself. I had rode 75 kms all the way from Murudeshwar to Kundapura and had given up here. But still I was happy with my piece of achievement and went on to search for a bus back to Bangalore. Booked my cycle on to SRS cargo services where the guy told me that it would take 5 days for them to deliver my bicycle to Bangalore, and later I took a KSRTC bus to Mangalore and from there to Bangalore the same evening.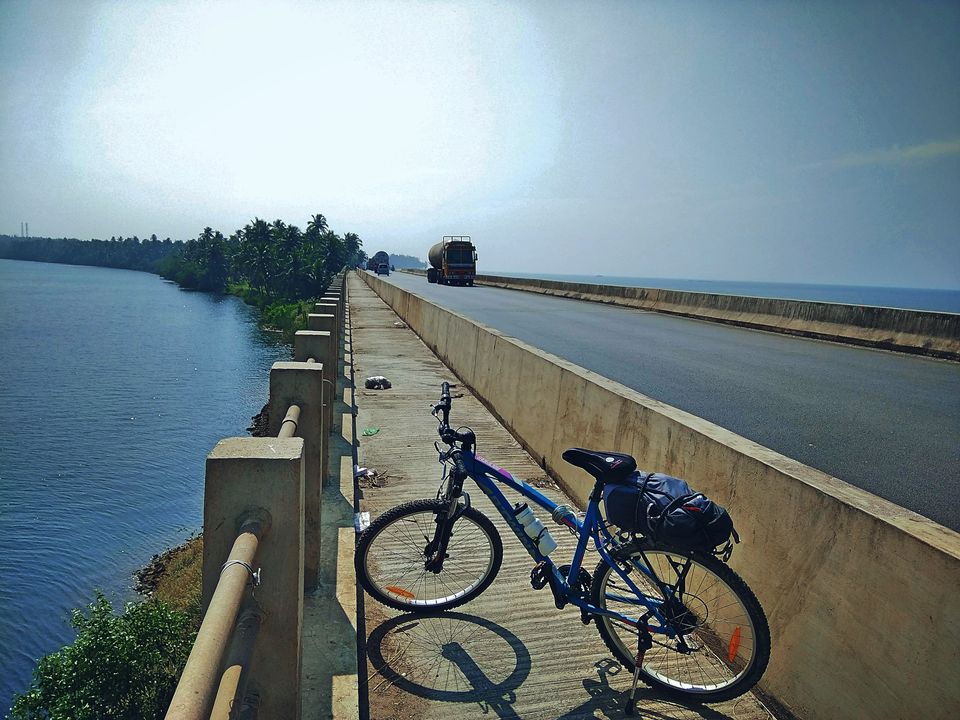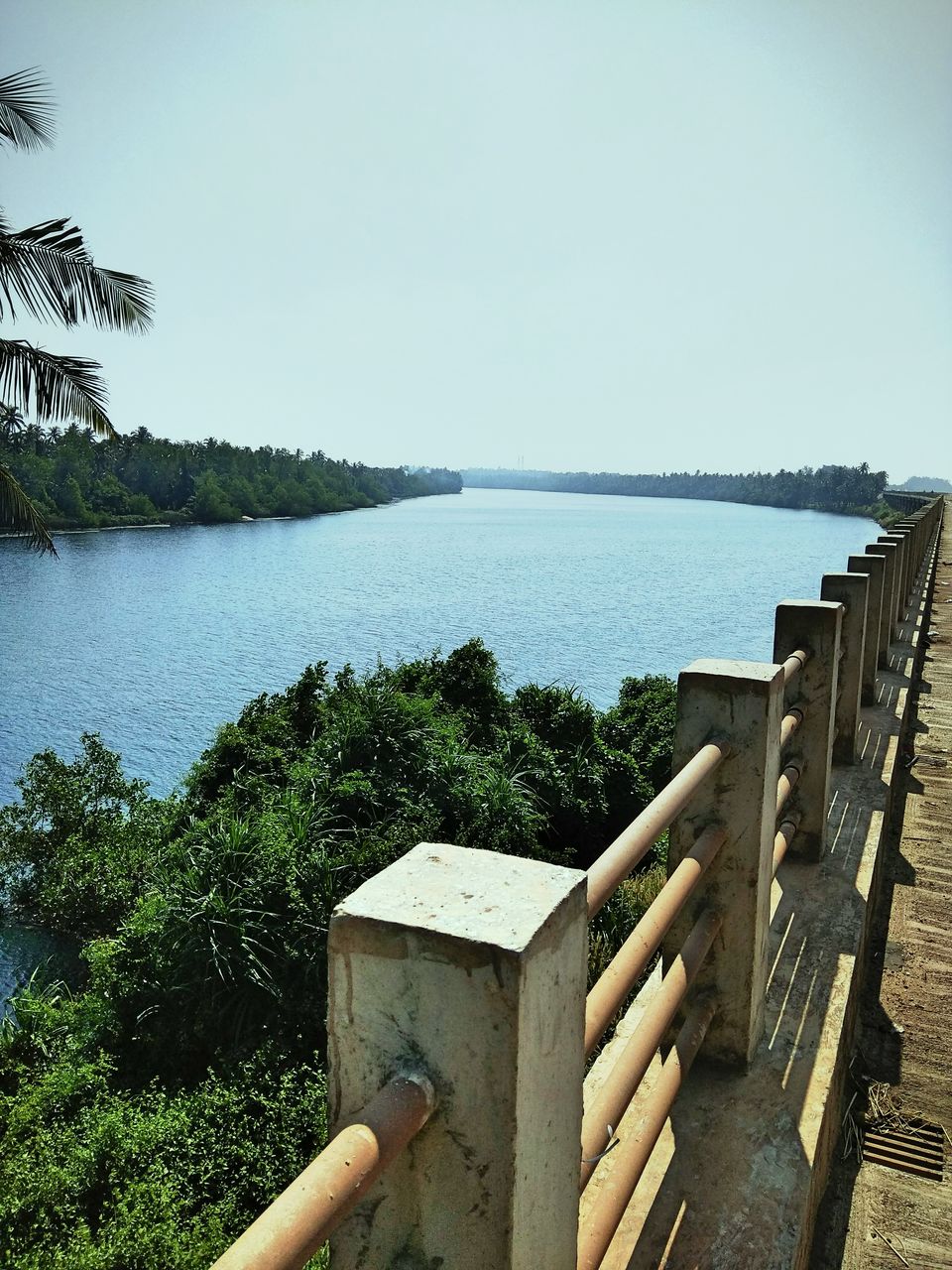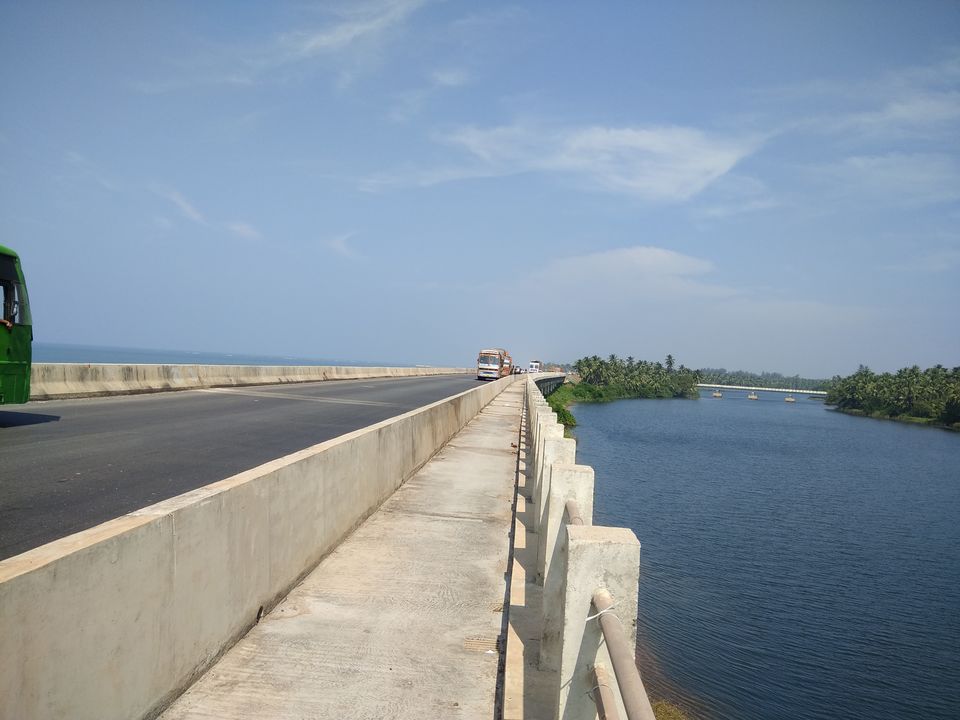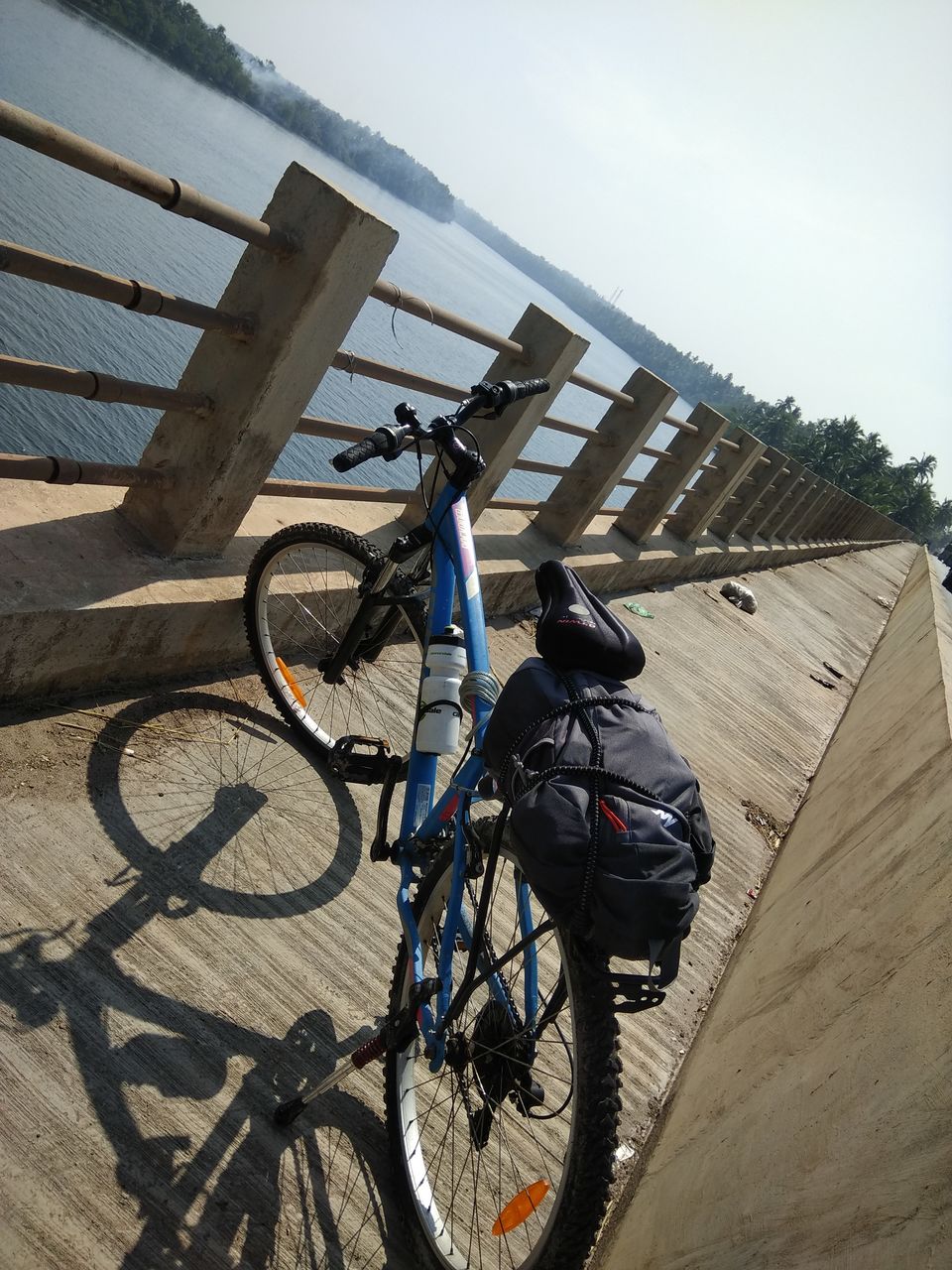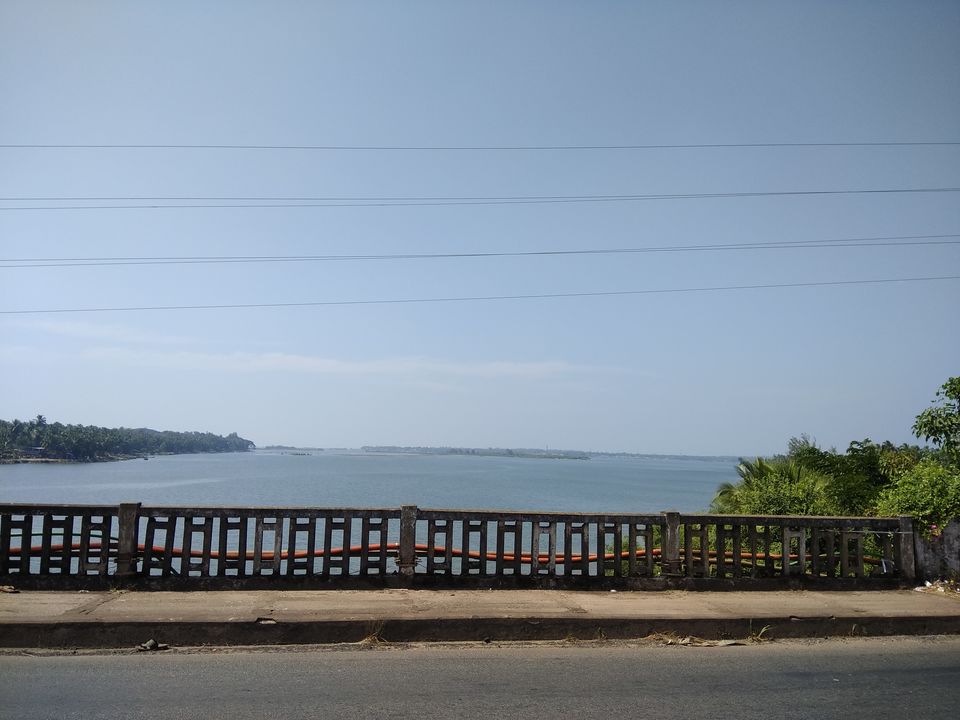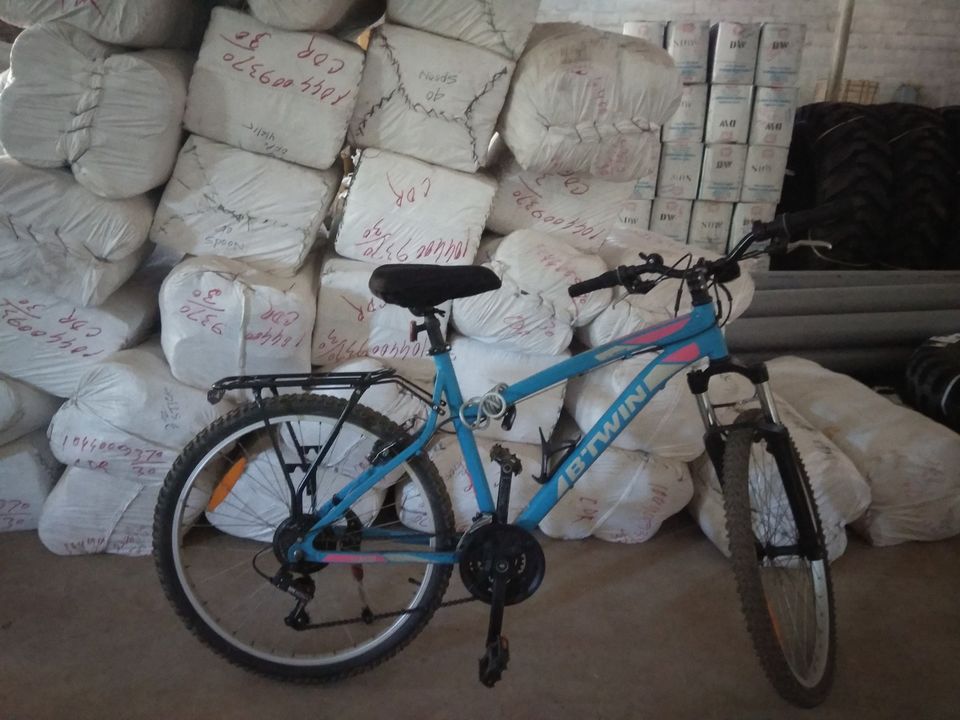 By this one more solo cycling trip of mine was completed. An advice from my end if anybody wants to cycle solo on this stretch is, please be completely fit before deciding yourself to ride here. The shops on this stretch s also less, so store good amount of water and energy bars with you in prior. Apart from that be careful about the speeding vehicles also.
Happy Travelling!!!