Ruins are always fascinating for me, its like story teller. If you look these ruins, you will amaze how these beautiful structure ruined, what was the reason behind, how beautiful it was before ruined or how beautiful it would have been if not ruined. All these kind of ruins always have a mysterious charm.The walls of ruins might have seen many generation, knows many stories and wonder how much this world change.
Rosary Church in Shettihalli is one such ruin. This Gothic looking church is now turned into eerie ruins. Church was built about 200 years ago on the banks of Hemavathi River near Shettihalli village, Hassan. In 1960 Govt decided to built a dam to channelize the river for irrigation and in process Govt had to relocate many villages including Shettihalli. While the villages relocated this church stands still and gets submerged as the waters in the reservoir rise during the rainy season every year during mansoon.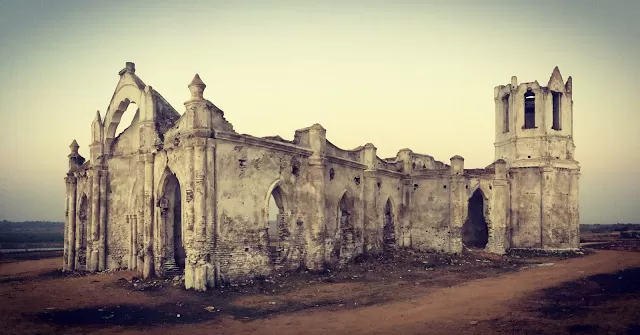 Its been more than 200 years when church was built and more than 50 years when dam was built.Though lots of damage has been done, the roof has fallen years ago but somehow this church is still surviving.
Shettihalli Church is located in 6-7 km from Hassan. Near the Shettihalli village. The roads are narrow, road condition is not good as there are lot of potholes. Once you pass the village, you can have a look at the church. A narrow road to the left reaches the church.The place is mostly deserted.
By the time I reached this place it was 4am, still dark.This Gothic style church ruin currently make you feel spooky and no wonder if you feel like transported to the set of any horror movie. At the first glimpse you will wonder how this holy place became like haunted ruin. Haunted or not, holy or not, this church is certainly priceless treasures of Gothic architecture.For the average tourist this place may not be worth while but I am sure this place is photographer's paradise. I just hope that it remain forever