Ever since I moved to Bangalore 4 months ago, I was hoping to go on a backpacking trip in Karnataka to experience adrenaline rush and the sense of openness it creates in your mind to perceive other side of your dream world. Backpacking might not be everyone's cup of tea but those who experience will tell you the kind of fun and adventure they have on their way.
Though I relish both group and solo travels, solo backpacking has a golden star in my heart which I like for the kind of independence it offers without much pre-planning.
There comes one Thursday evening where things aren't in place which stress me a lot, literally wanted to move away from my staple life. The next moment Mysore is the place comes to my mind for a short weekend gateway.
Next Morning, picked the list of places to visit in the planner had set me in excitement mode and at the same time was little apprehensive during Friday night before leaving. Believe me, all that flew away once I step out on the road to railway station.
Day 1
Taking a train was my first choice, come on train journeys are so much fun and its more convenient mode of transport at least to me????. It was a three-hour journey with exotic views on the either sides from lush green lands to sugarcane farms and the cleanest railway stations passes by every now.
Listening favourite podcasts by munching vada and a hot cup of chai made the journey less tiring. Reached Mysore station at 9.45 am, walked straight to railway museum since it is nearby also had to kill one hour before my check-in. To my surprise museum is closed for renovation so booked an auto to the hostel which is 2.5 kms away.
I decided to stay in this hostel which had great reviews online, The Mansion 1907. This place is overwhelming for solo backpackers which located in the center of the city, going anywhere is easy by walk. I like exploring places by walk if weather is in favor of my side.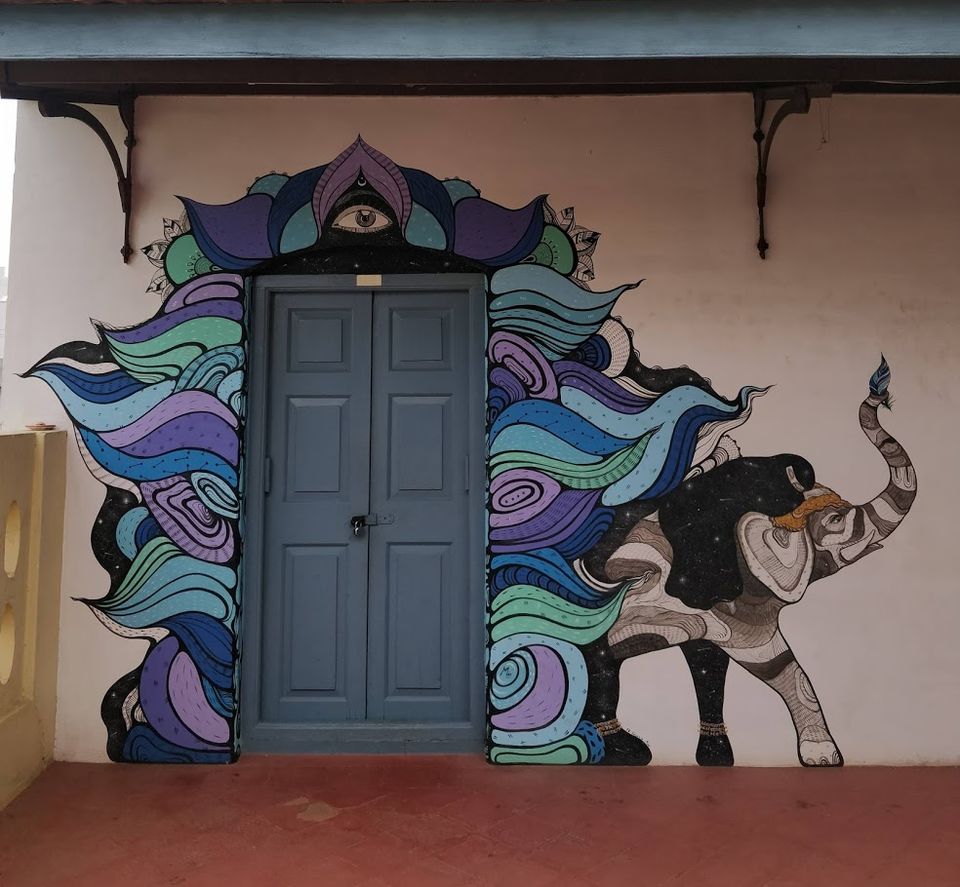 Checked in six bed female dormitory room, after a short refreshment my stomach started to play music wanting some food. Enquired in reception for best Mysore dosa and could observe the sparkle in her face when she says try Mylari dosa which is just 5 minutes' walk from the hostel.
Hotel Mylari, Masal dosa
There I found famous Hotel Mylari which had two compact rooms with just two items (plain & masal dosa) on the menu. I instantly liked the place and there comes hot masal dosa with butter on top, absolute bliss for my hungry stomach in 40 rupees. Must try for all dosa lovers, comes from great dosa lover who can eat dosa all day.
First destination is Mysore Palace which is 15 minutes' walk from breakfast spot, happy thoughts are running through with a smile on face.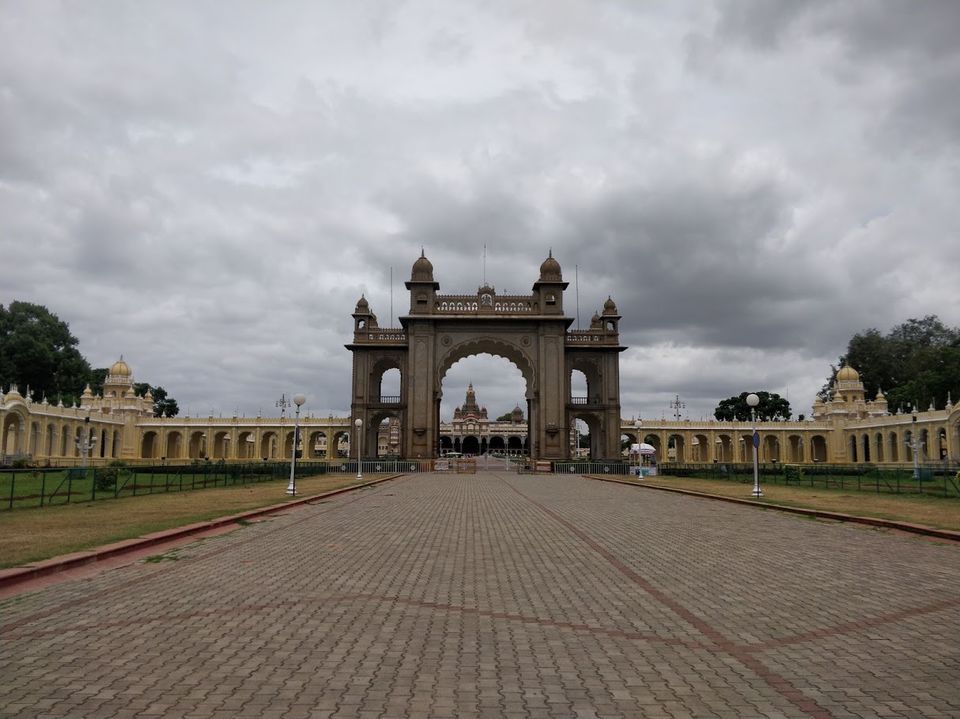 Mysore Palace Gate
Entry ticket is 70 rupees and there I stand in front of stunning palace I have ever seen. I wandered around the palace which had good shades on the sides before entering inside. Placed my shoes in the footwear area, walked inside the palace. I took my own time looking around and imagining the life of a palace resident or being queen. Darbar, paintings, stunning ceilings, silver doors, architectural pillars, portrait of Wadiyar family which takes visual sense to all the historical movies I watched since childhood.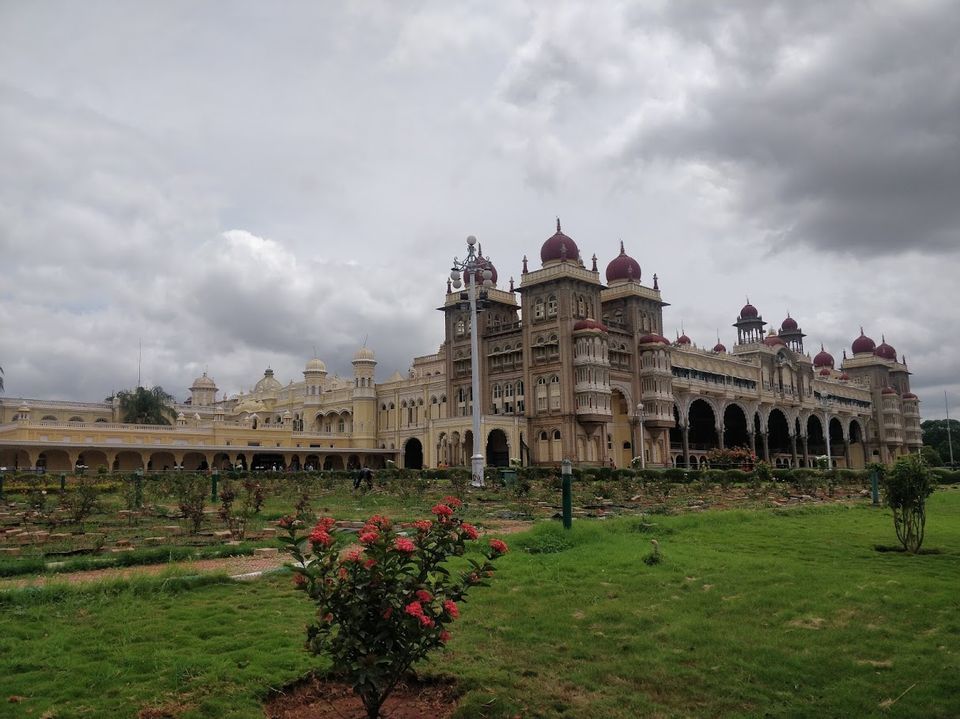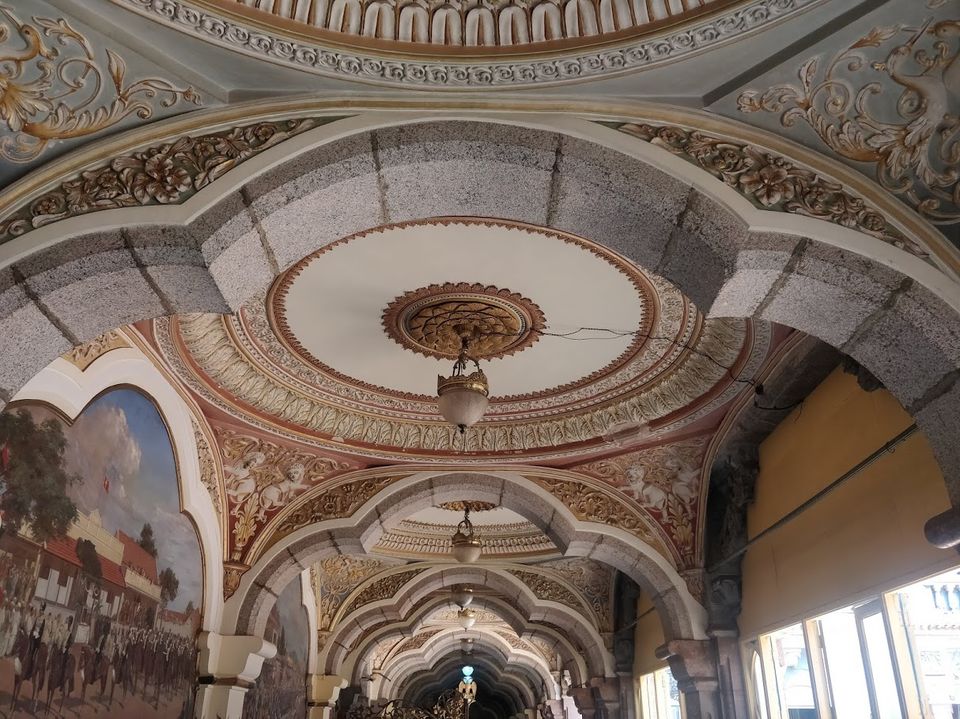 Mysore PalaceRoof artwork inside Palace
Collected my shoes, walked around the palace in search of a shaded place to rest up sometime. On the way saw kids taking a camel ride, jumps screaming when the camel starts moving and parents on the side consoling them to stay calm. Lost in my thoughts when I sat under a tree where most of the family and tourists are enjoying their snack time.
After a while, took an auto from palace to St. Philomena's Church which is 2 kms from palace and one of the main landmarks in Mysore. The church is one of the oldest and largest in the country designed by Frenchman Daly in Neo Gothic style build 200 years ago. Great architecture, no photographs are allowed inside the chapel.
Lost in my own thoughts when I sat there with absolute silence, cold breeze rushing through the open windows along with birds chirping around. Spent nearly one-hour gazing in and around the church before I leave to the next spot Chamundi hills.
After some negotiations, one auto man agreed to drop me in Chamundeshwari temple which is in Chamundi hills. The ride is scenic, and you can view the entire Mysore city from the top. He was so friendly and kind enough to stop in some of the view points to explain the history of the place.
By this time am little exhausted, looking around to have a mini snack and this local shop with colourful chairs fascinated me. Hot cup of chai and two medu vada for 30 rupees, had to tell you best chai I had in the last few months.
The temple was decorated with colourful flowers and filled with locals, tourists and people from different cities for divine Dharsana. Followed the trails of crowd to the entrance which leads to long queue, be ready to witness lot of monkeys around the temple hills.
After 1.5 hours of waiting, blessed with dharsana, didn't knew that its auspicious month for the goddess. As it started drizzling in the hills didn't spend much time later so walked to the bus stop and boarded bus back to Mysore which costs 30 rupees (AC bus). I declared this as day 1 and didn't had any further energy when I laid back in my dorm bed.
In all this chaos, I forgot about my lunch and was damn hungry so prepared myself to walk down for light dinner and spent the rest of the time gazing the murals in the hostel walls and a fun conversation with fellow mates.
Day 2
Woke up to the sound of birds chirping next to the open window and trilled to start the day to one of the most stunning archaeological places in India. Grabbed a cup of coffee and ragi dosa from hostel kitchen before leaving for a long 35 kms bus journey to Somnathpura. Packed my bags and was ready to check out after waving good bye to the pals I met previous day.
After 10 minutes' walk, boarded into KSRTC bus from Mysore to Bannur (platform 9) which costs 30 rupees one way. There is no direct transport from Mysore to Somnathpura unless you hire a cab/bike or a tour package from an agent.
I was skeptical at first and must say it's the best mode if you are on a budget trip. It takes approx. 40 minutes to reach Bannur bus stand, enquire with locals and they will direct to a place where share autos are available from Bannur to Somnathpura costs just 10 rupees.
The ride is a visual treat with mellow green agricultural land and coconut farms on the either side. Takes 10-15 minutes to reach Somnathpura village. Such a clean village and well-maintained temple. Entry ticket is 25 rupees if you pay cash and 20 rupees for cashless transaction, all debit and credit cards are accepted in ticket counter, Digital India I say ????. There I stand in front of a spectacular Keshava temple which is a perfect model of Hoysala style of architecture. I pat myself for not wanting to miss this place in this trip, no words can explain the mesmerizing stone art carving behind each pillar, ceilings and one must experience this with own eyes.
It is primarily an archaeological place build in 13 th century depicts Hindu mythology is a Vaishnava temple of Lord Vishnu. After spending 2 hours of walking around the corridor, gazing the ceiling and pillars of the main mandapa decided to relax in a stone bench under a shady tree for a bit before leaving this calm place.
With this, I was at the end of my two-day trip. Followed the same trails to reach Mysore and a train back to Bangalore. Yeyyy!! Physically exhausted but I feel lot better than past few months in life. Each one equipped with different perspective towards life, do what your mind wanders, it feels heaven !!!Hoping for a next trip soon, see you !
Frequent Searches Leading To This Page:-
solo trip to mysore, mysore solo trip, backpacker travel to mysore, mysore backpacking trip, alone travel to mysore