Hey all
Travelling down "SOUTH"....... huhhh??? I was never sure.......apparently the only reason; not a big fan of "South Indian Food".......... I know it's hilarious.......but a wicked truth.......hahahaha!!! But finally "South" happened, this July.
"Devanshi", bestie, my soul sister started working in Mysore(Karnataka). So, from last October "Mysore" was very much on cards. Lucknow to Bengaluru, and then another 4 hrs and Mysore. Approximately 2100 kms away from home, everything seemed different, fascinating and exciting to me. I was totally in "LOVE" with this new surroundings; be it the lovely weather, the rich greenery , the coconut trees, or the attire of locals(specially the gajra's). I was anxiously looking around like a happy kid.
I was picked up by Devanshi from bus stand, and we commenced towards home."Pinni", the street dog, plumpy cute dog, welcomed me with wagging tail; so called the owner of their home(hahaha)!! and later in evening got to meet Nidhi and Kanishk.
Much aware of the fact that the next four days in Mysore going to be the best days of my life. Memories to be cherished, preserved and stored in my "HEART" forever and ever!! So much heard about state 'Karnataka', now it was my turn to hunt it down.
Mysore is relatively small pleasing city with excellent climate throughout the year, but specially in monsoons. The extraaaa "GREENS" during monsoons just add a wow factor to the entire state of Karnataka. Mysore is definitely one the cleanest city I came across (Gangtok-Sikkim being one of them) and easy to approach.
"Trin Trin-Public Bike Share"
Simply got my eyes onnnnn.....Mysore to become the first city in India to have Public Bike Sharing system. More than 400 bicycles operational with "Docking Stations" all across Mysore!! One of the best ways to explore Mysore :)
For more details-http://www.mytrintrin.com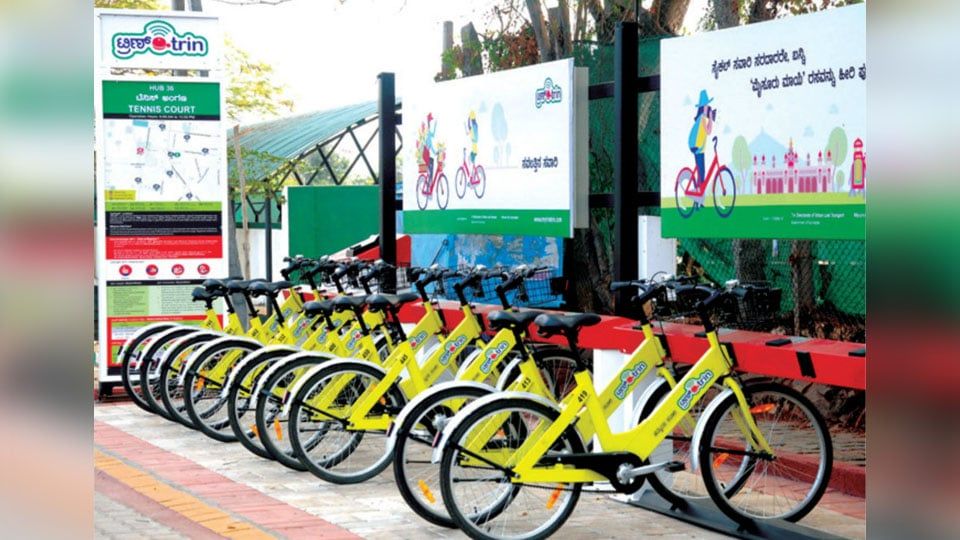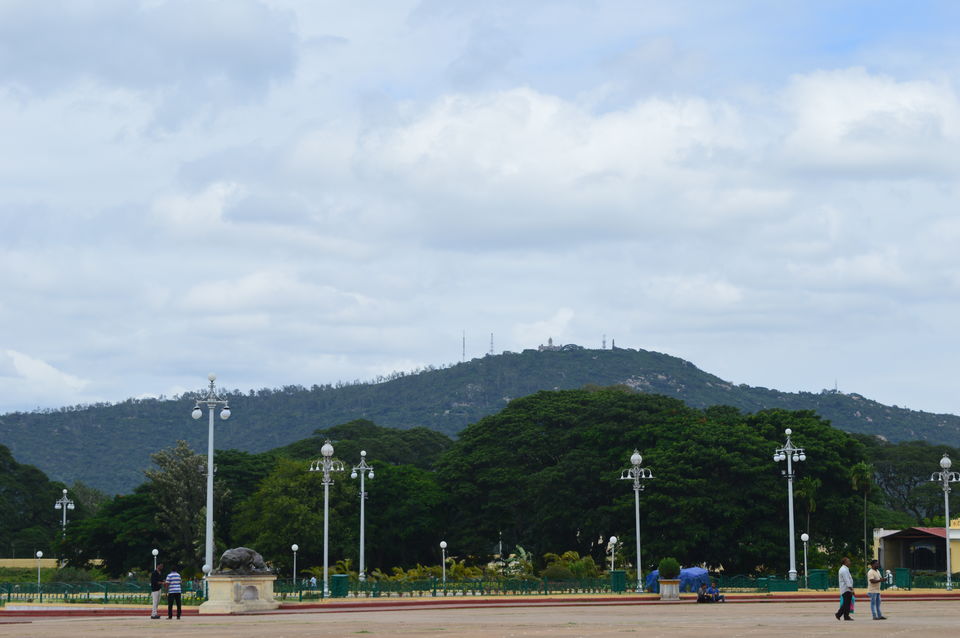 My Mysore sightseeing started with "CHAMUNDI HILLS". Goddess 'Chamundi' killed the demon "Mahishasura", that's the very origin of Mysore. Chamundi Devi temple is not only visited by tourists in big numbers but also by locals, due to it's religious importance. One has to stand in long queues for the darshan, even in the VIP(Rs. 300) lines. One of the main attraction of Chamundi Hills is the statue of demon Mahishasura; painted with vibrant colors, it's so eye-full.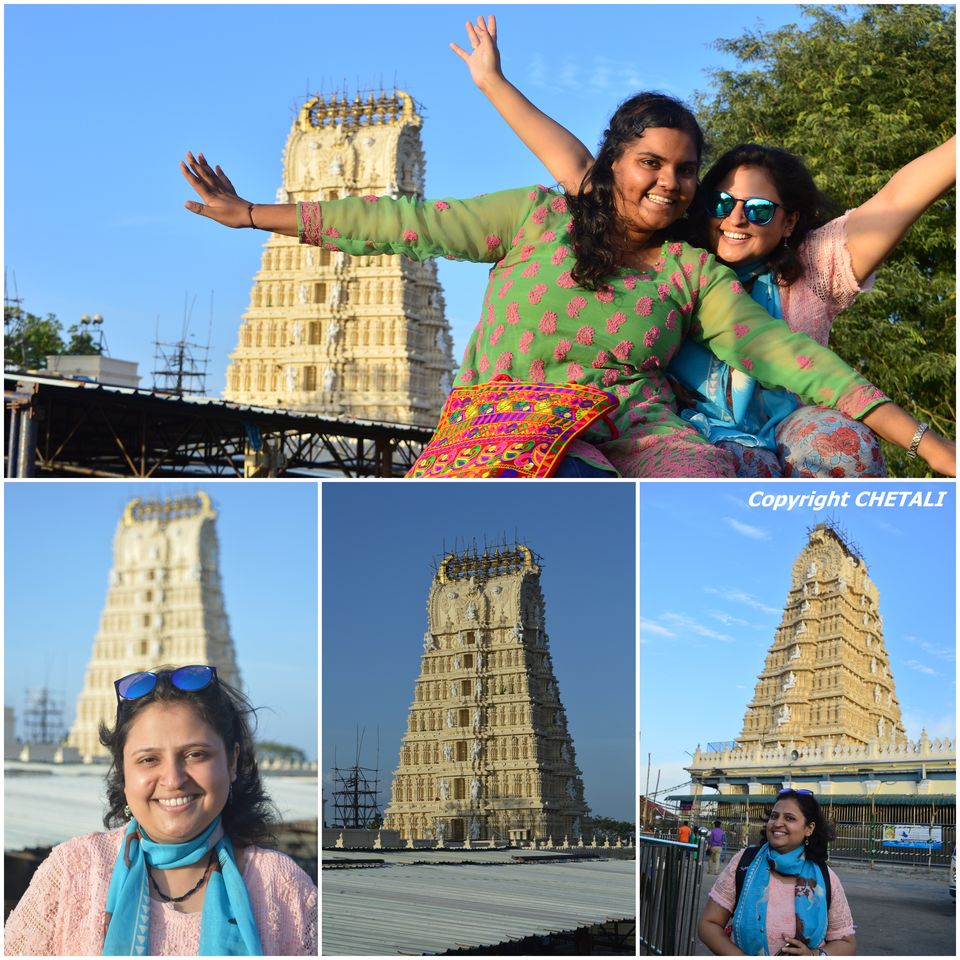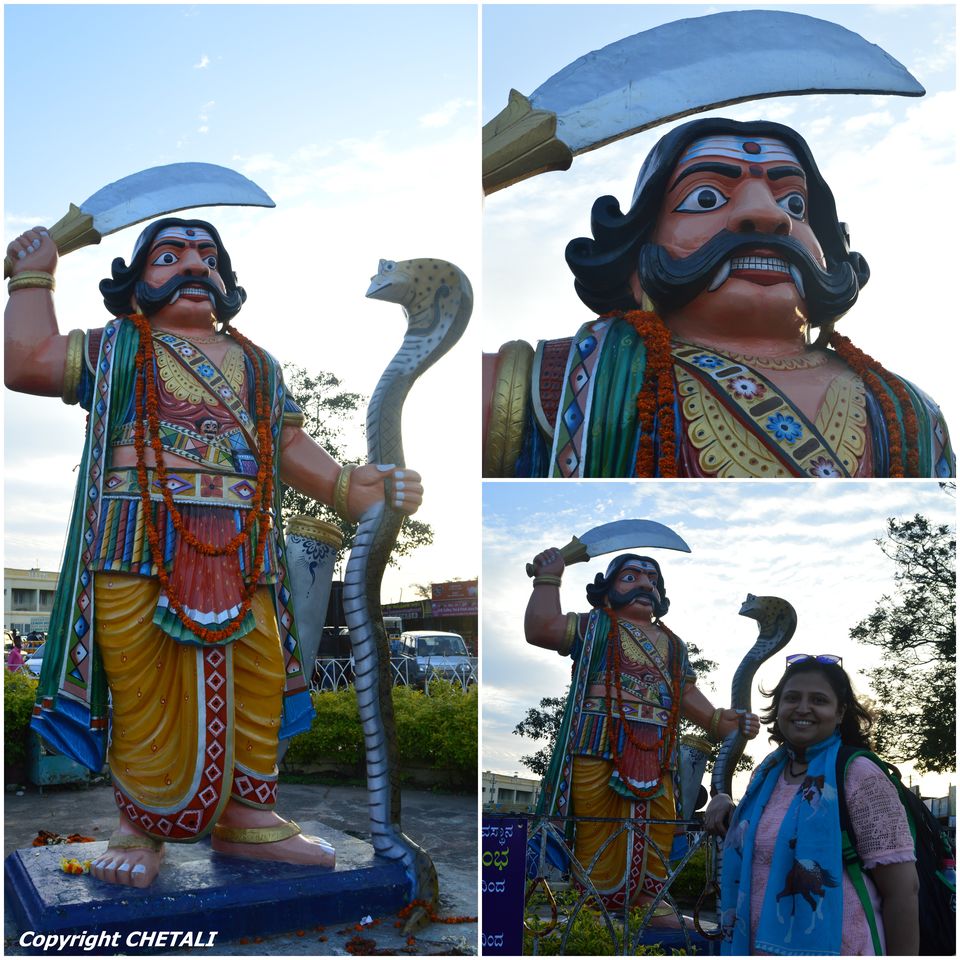 Chamundi Hills is the best place to enjoy the aerial view of Mysore city!!! It witnesses the best sunsets, and looks spectacular with the lights up. So enchanting!!
I can sit for hours, doing nothing....that's an aura of this place.
MYSORE PALACE
Whoo Whoo Whoo!!! Now it was time for ultimate beauty, the splendour of Mysore. Yes you guessed it right; it's "The Lightening Palace", the Mysore Palace. Situated at the heart of Mysore city.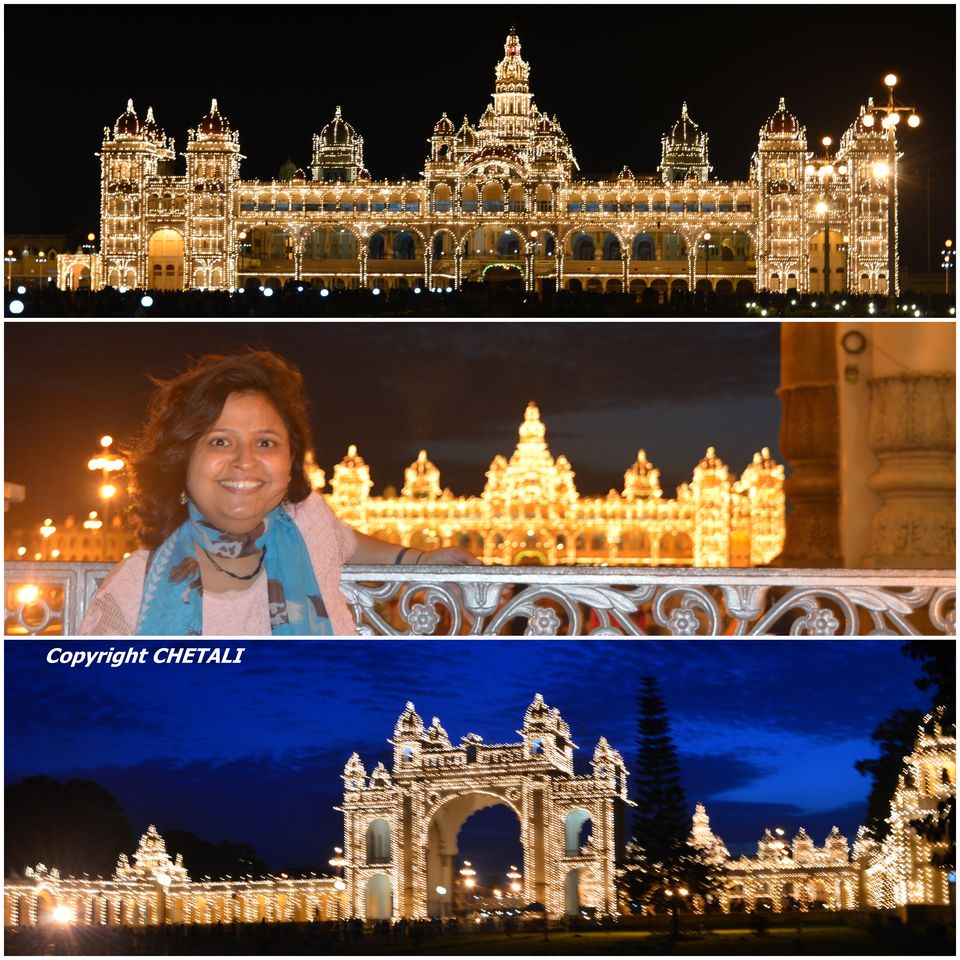 Funny Tale- It was Sunday!! The Lightening day for Mysore Palace(timings 7pm to 8pm). Afternoon we went to Chamundi Hills, it was 6:55 pm by now, and by no means I would like to miss the Lightening show. We boarded the bus from Chamundi Hills and were waiting eagerly to move on, but ............Ewww
Finallyyyyyyy the bus commenced and I literally said to the bus person.... "Anna drive fast...Mysore palace....lights.....it was absurd but definitely fun (since no hindi for him and no kannada for me...hehe).
Finally by around 7:20pm we reached Mysore Palace. Just like me, thousands of visitors were there to witness the Lightening Palace. For a moment I got dumbstruck by its amazing structure and architecture.... thousands of bulbs spruce up together to light up this place. It was so beautiful......and the winds....... doubled the fun.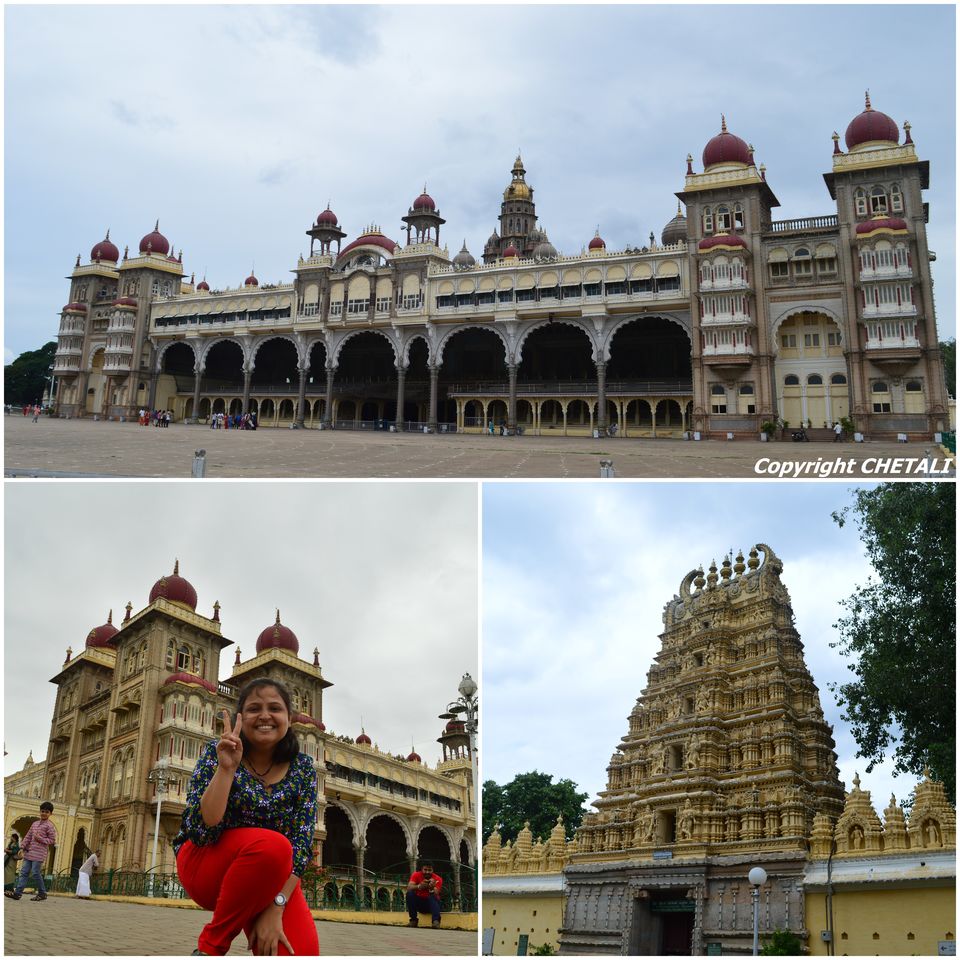 The previous day went super crazy with so much of excitement, honestly speaking more than what i expected..... literally. This day too was in the name of "Mysore Palace". Yes I can't get enough of it! Rs. 40/- is the charges!! Today i explored the palace by my own, oppsss can't forget to mention my "Travel Buddy" for the day..... My Mini Tripod ;).....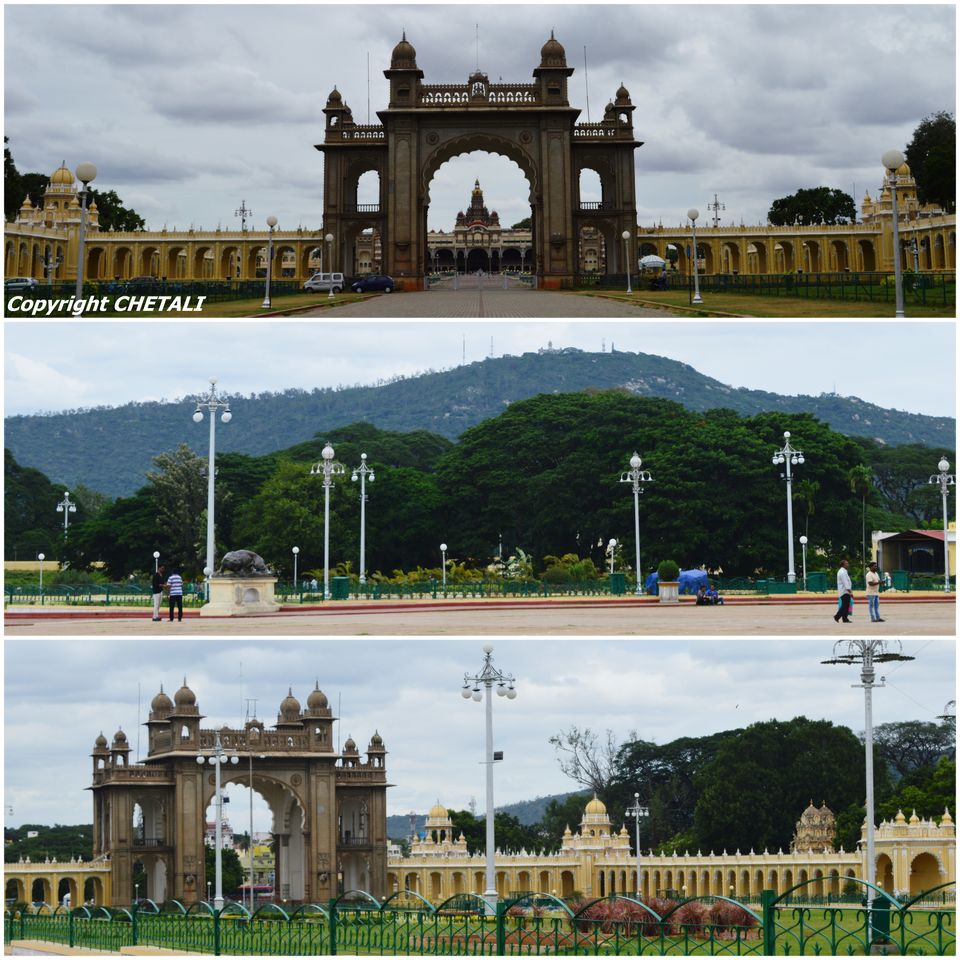 Better known as "Amar Akbar Anthony" church, one of the most renowned movie of old times. St. Philomena's Church is beautifully built. "Goa", better known as the land of Churches; but to be honest, St. Philomena's Church over-shines the Churches of Goa, when we talk about structure and architecture. It's hardly 10 mins from Mysore Palace..... a must visit.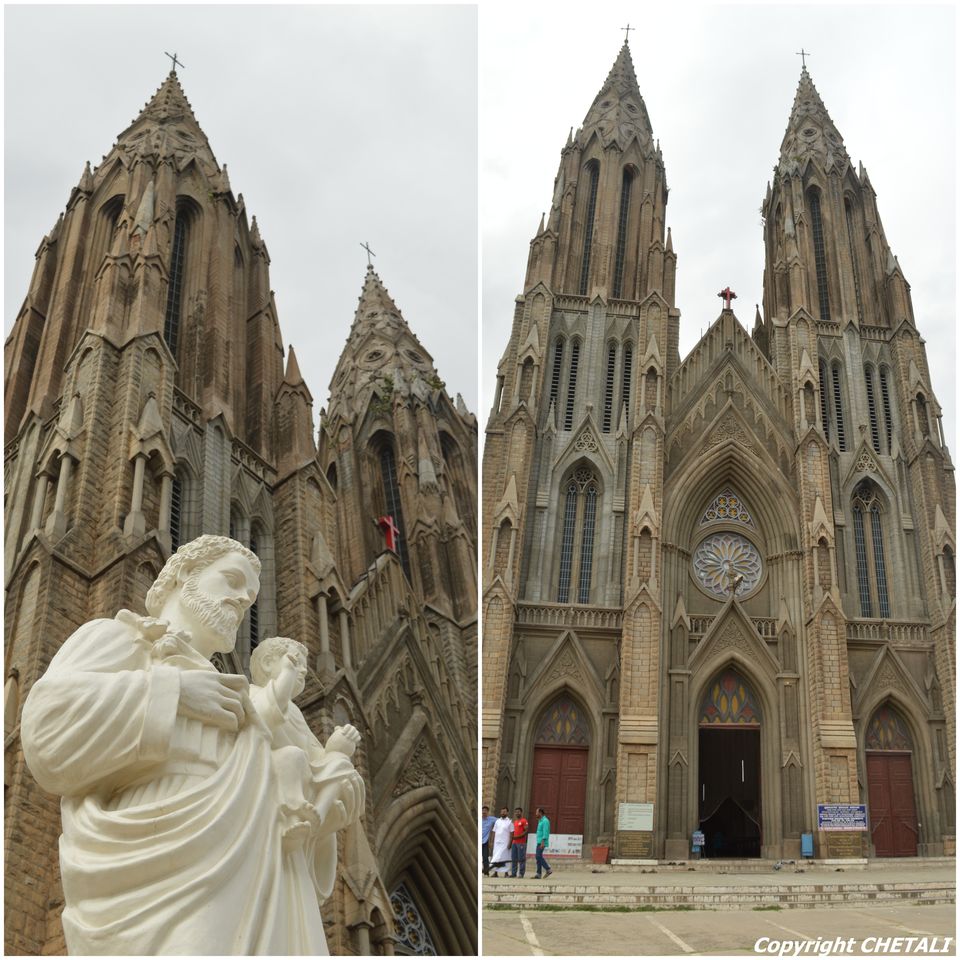 Let's get to the roots of South....and what better than visiting "Devaraja Market"!! The essence of Local culture, the aroma of Mysore is here. Devaraja Market is local market of Mysore. Filled with colors of life. The narrow lanes are filled with wedding garlands, gajra's, ample varieties of other flowers, Holi colors, spices, huge vegetables and fruits market. Situated next to the City Bus stand.
Tale of the Local Boy- This boy in picture below was so avid to see my Mini-Tripod!! His mind was constantly struggling... what the hell is this??? As I caught his eyes and smiled; much relieved, he tenderly asked....."pointing towards my Tripod".....Whats's this??? With explanation, I took his permission to click him. Shy but happy, boy looked into my camera to give his best shot.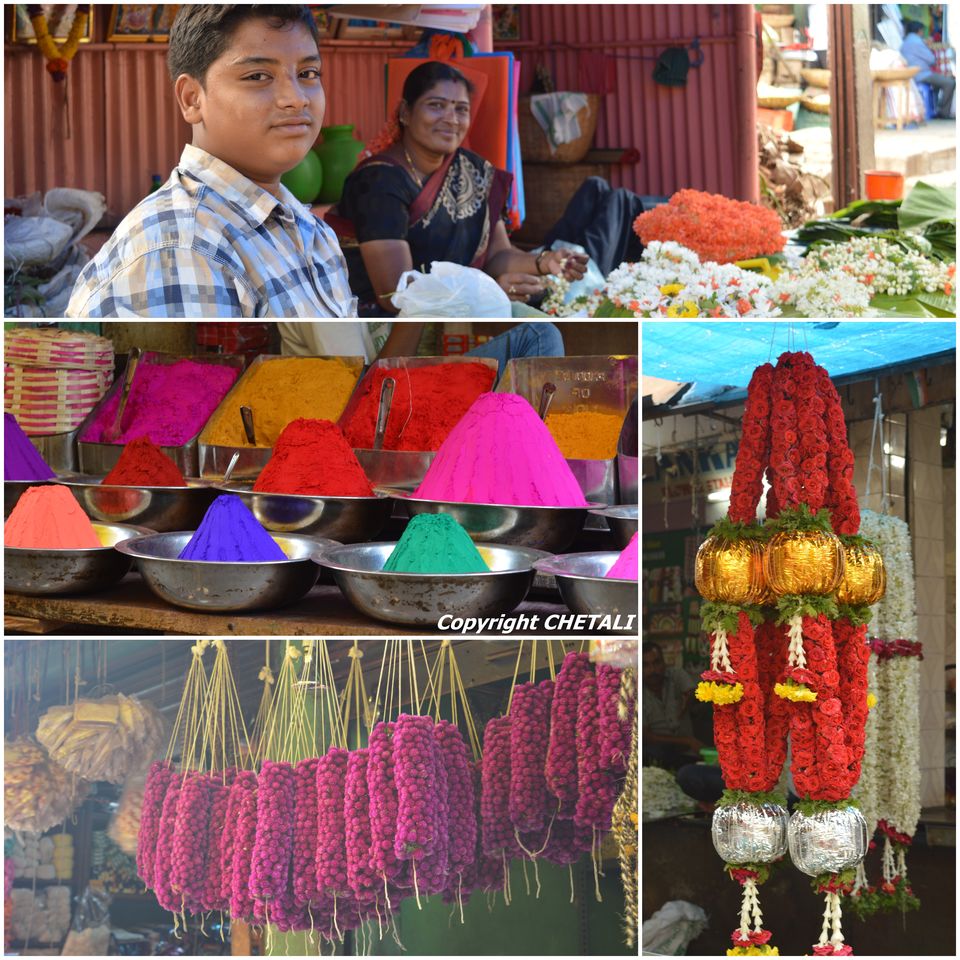 Seriously from last 2 months Mysore was all over me. But how time flies... it was time to leave Mysore. These 4 days spend in Mysore were unbelievable and full of cheerful memories.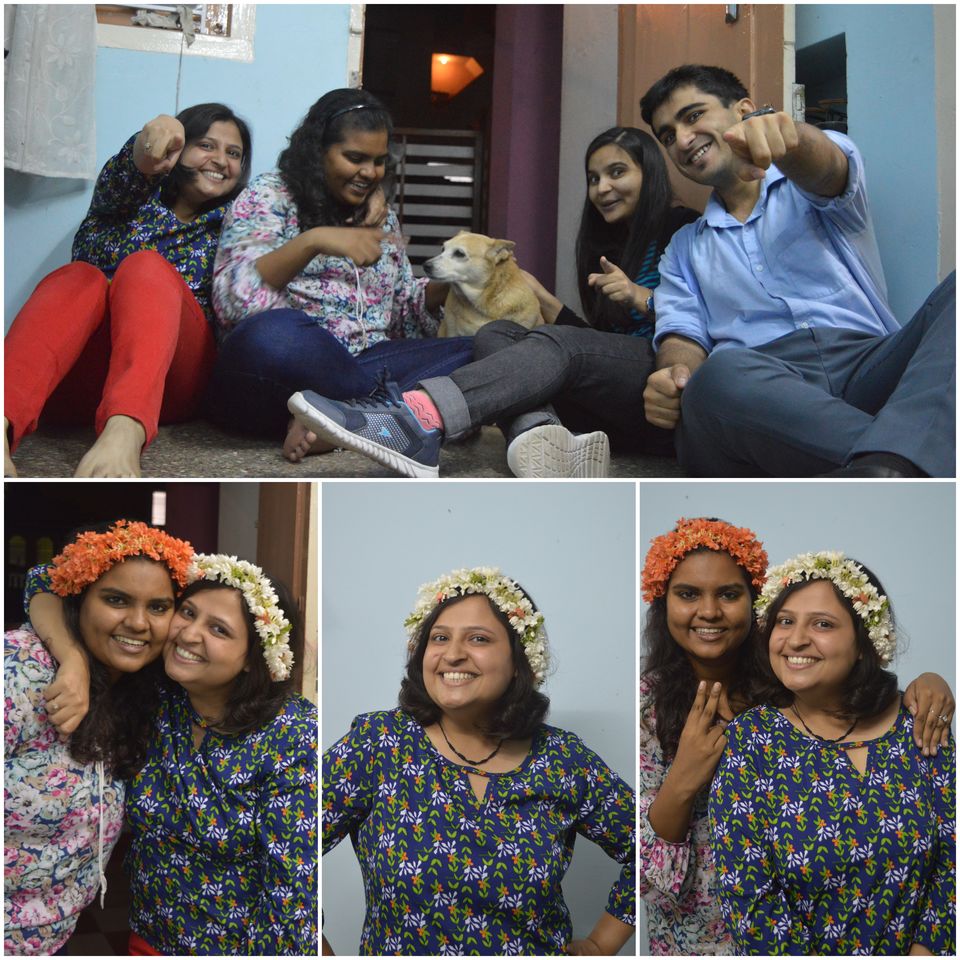 The last day was photoshoot day, afterall family picture is a must. Me, Devanshi, Nidhi, Kanishk and offcourse our darling "Pinni"(the star dog)...haha
And when in South, one has to try Gajra's ......but in our own very style.
P.S-Special Thanks to Devanshi Nigam, Nidhi Dwivedi and Kanishk Mehta
Frequent Searches Leading To This Page:-
Mysore temple tour packages, family tour of mysore, 1 Day Mysore City Tour Packages, mysore city tour package with price, travel packages for Mysore