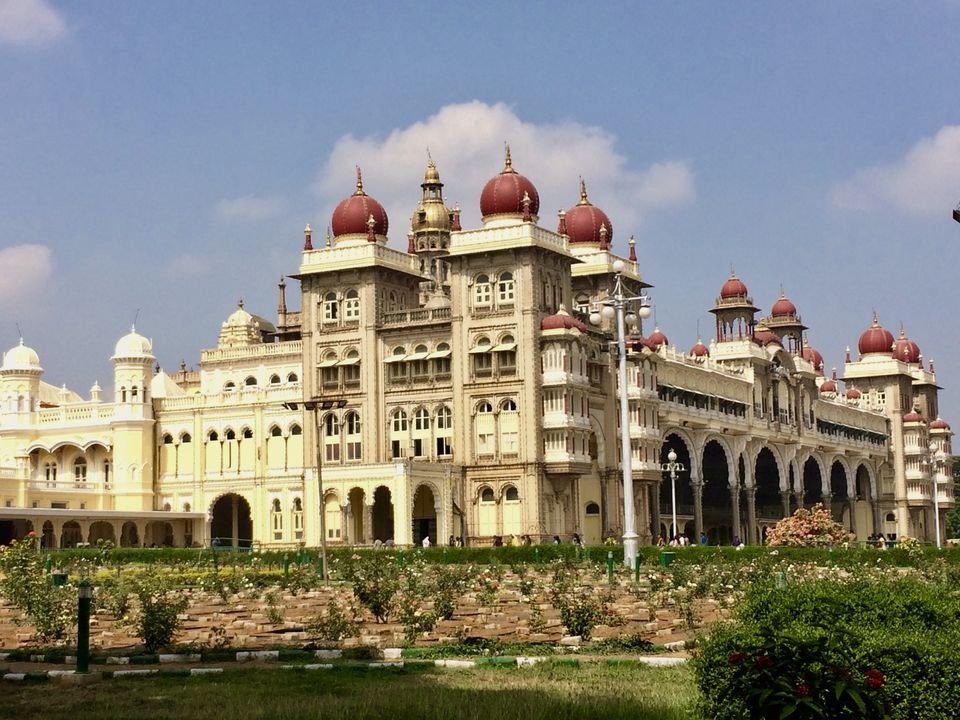 This was a road trip with the family. The day before we left, father had scratched the car. Now mother refused to go if he were going to drive. He got offended that she did not trust his driving even after 24 years of marriage! This fight happened while we were at the mall. Embarrassing! Finally some ground rules were set. No driving like a daredevil, no overtaking vehicles on the road and no driving at night. And then we set off. Mazel tov!
Mysore is the perfect weekend getaway from Bangalore and other nearby places. The thing I liked best about Mysore is that it has still retained its old world charm! We drove from Bangalore. You might wanna leave early in the morning to beat the traffic. We made use of Google Maps for directions all throughout the trip. The voice of google aunty was followed like a siren's call. Bangalore to Mysore is around 150 km.
(Travel tip - If you're using google maps, stick to it religiously. But it may happen that you'll get confused. So when in doubt, ask the locals. Don't assume.)
Channapatna - The Land of Toys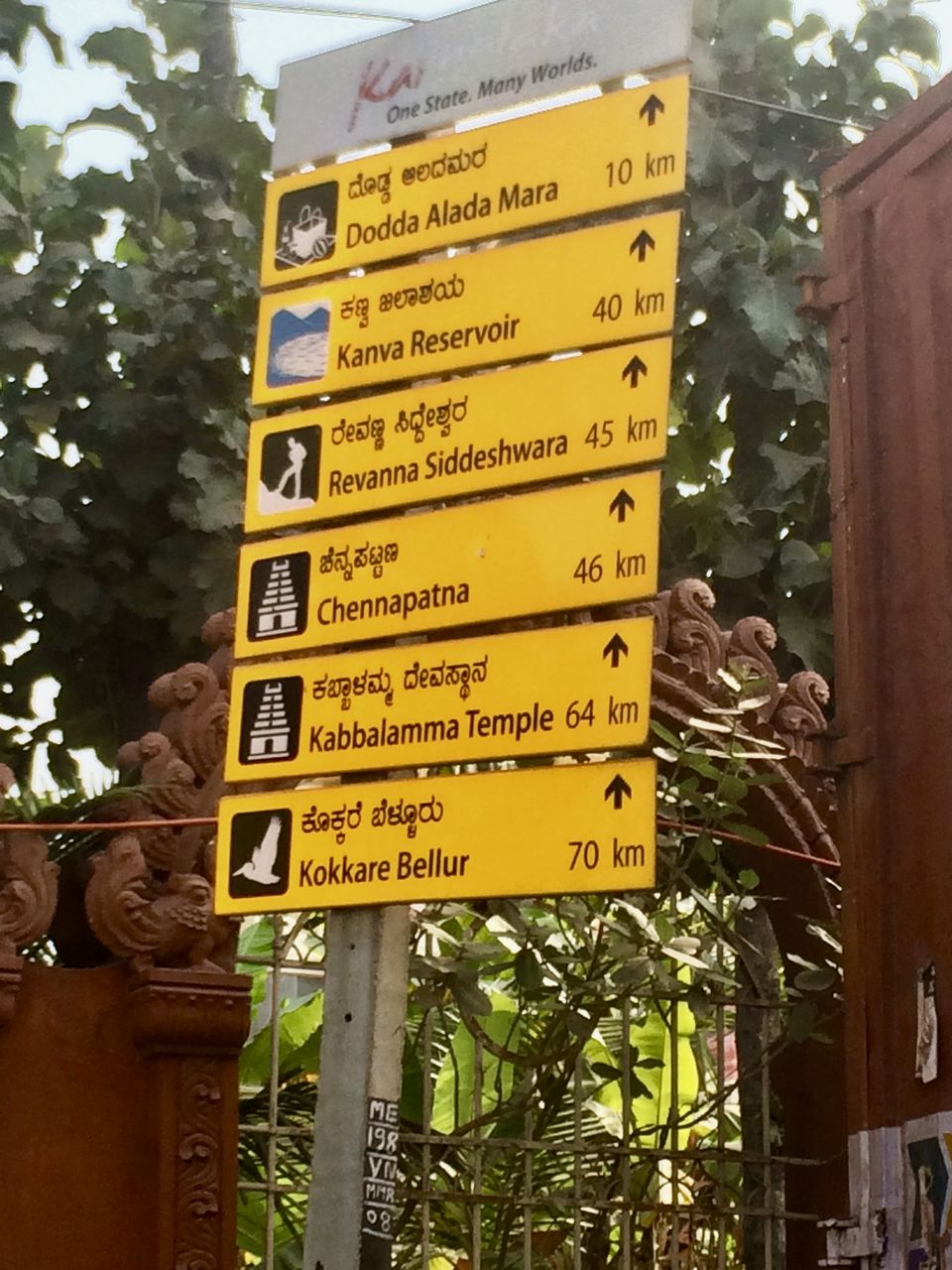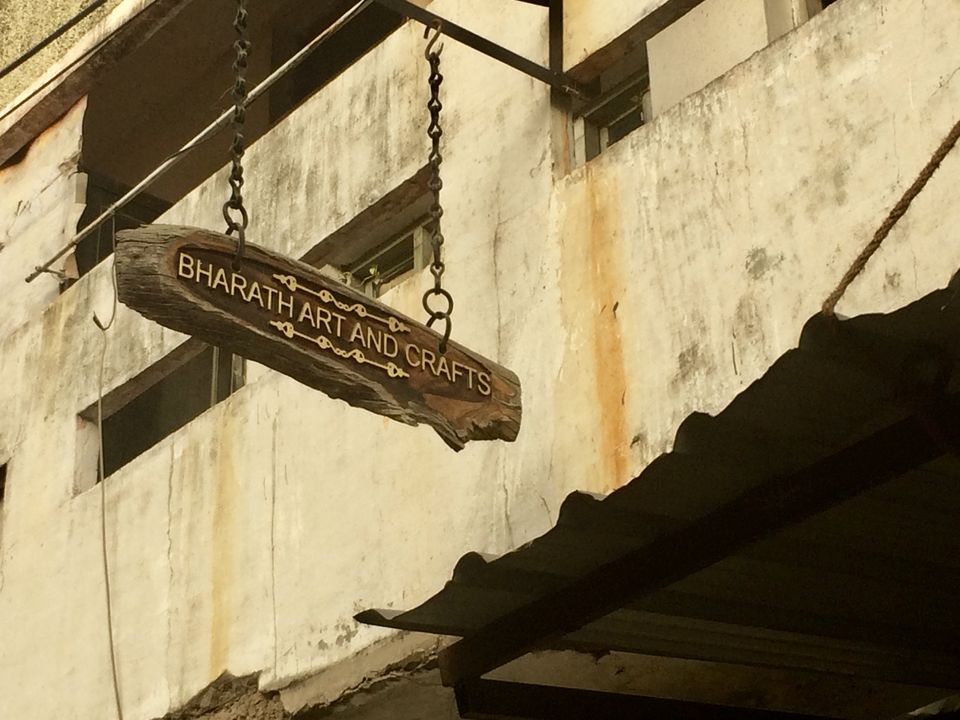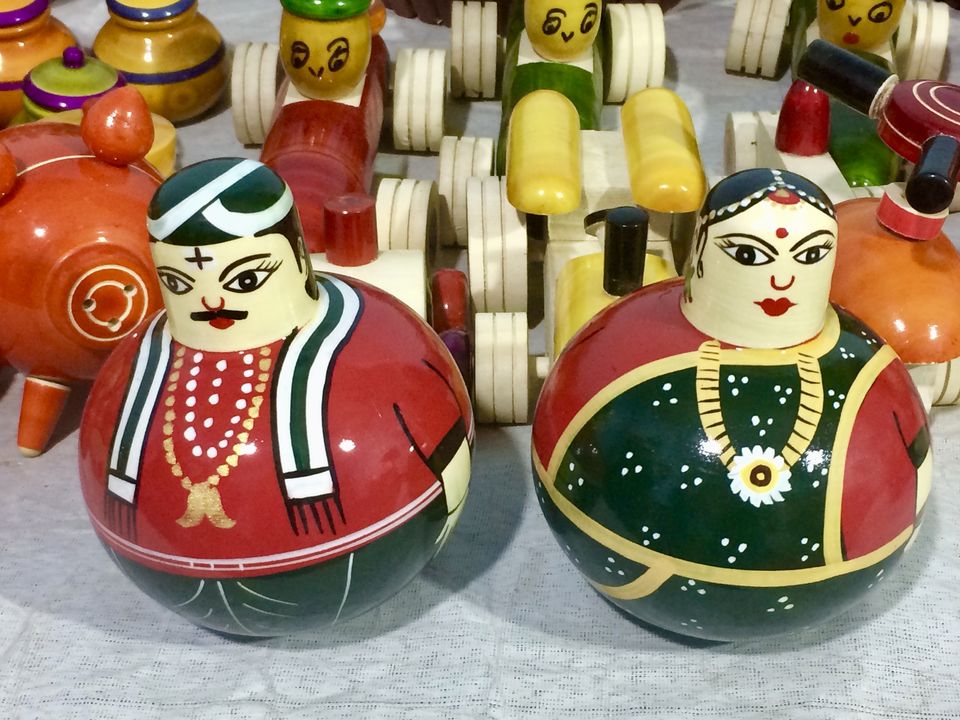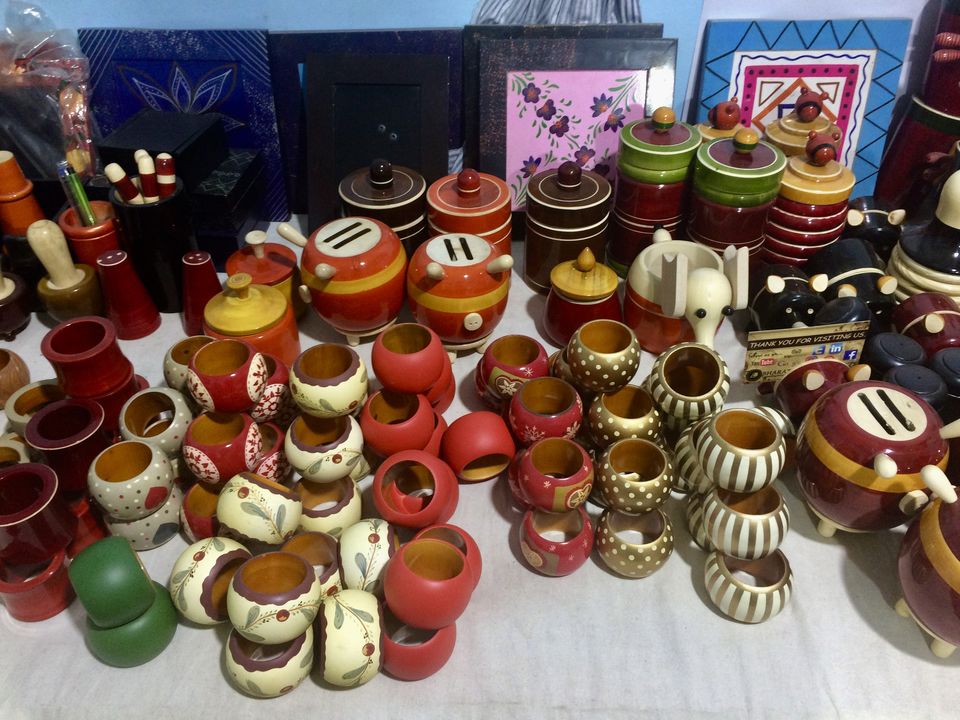 Channapatna is the land of toys. It falls midway from Bangalore to Mysore. Generations of families have been working in this cottage industry and they make sandalwood, ivory and other wooden toys. We went to Bharath Arts and Crafts. The entrance to the shop might be unassuming but inside is a wide variety of colourful toys from spinning tops to fridge magnets to dolls to bangles! The best part is that they are 100 % organic and eco-friendly. We also saw the process of making these toys at a factory next door. The toys are not cheap but rather priced reasonably. Its a local art form. I really liked the whole experience. One day workshops are also held if somebody wants to make the toys themselves. They teach you the process on slow machines. The owner of Bharath Arts and Crafts can be contacted on the phone number given below. Local trains are available to and fro from Bangalore to Channapatna and a day trip can be made if one wishes to learn to make and get to know the toy industry of Channapatna.
Address : 1549/2, Bharath house, Nizami chouk, Channapatna Phone : +91 9916777324 Accommodation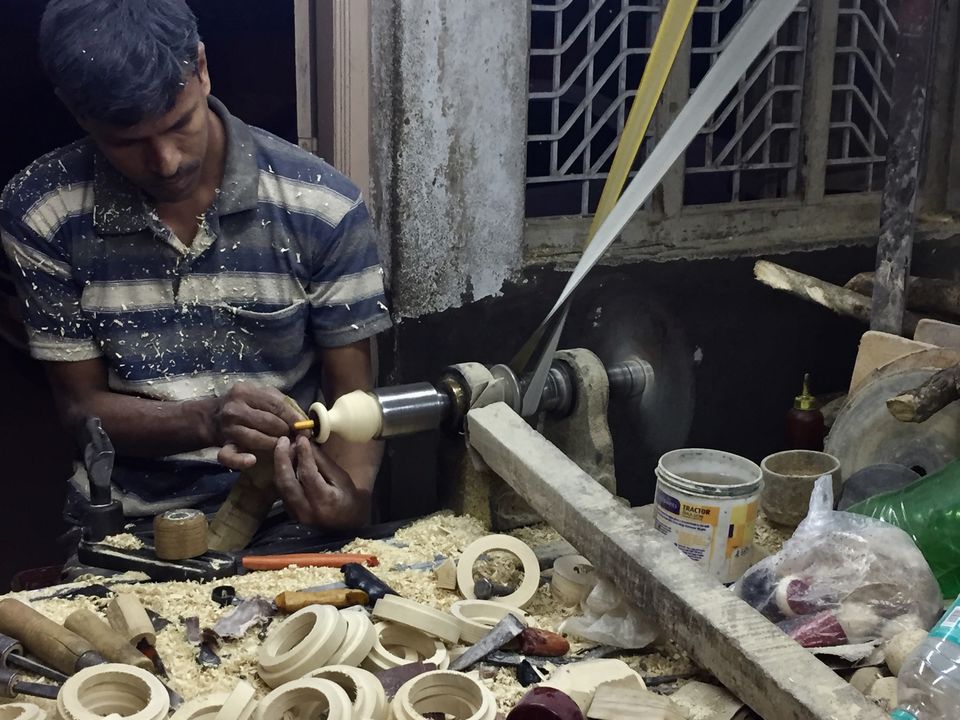 Accomodation
Since I was travelling with family and mother did not want to stay with "all the hippies", we stayed in a hotel (*shaking my head wryly*). But for those looking for budget accommodations, Mysore has got some pretty good backpacking options. They even have a Zostel branch. Check out http://www.hostelworld.com for more options.
Now if you might want to shell out some more money, The Green Hotel in Mysore is an amazing choice! This is a palace converted into a hotel. Its eco friendly and boasts of sustainable tourism. I had originally wanted to stay here but because it being the holiday season, it was completely booked. The hotel also has Malgudi cafe inside it which serves delicious homemade cakes. When we had gone there to eat, even my parents lamented that the hotel would have been a cool place to stay at! If you have it in your bucket list about ever staying in a palace and feeling like kings and queens, this would be the perfect opportunity to tick it off! Their smallest room is the Traveller's room which starts from around 2.2k and then they have rooms like the writer's room, princess room, etc.
Day 2
Mysore Palace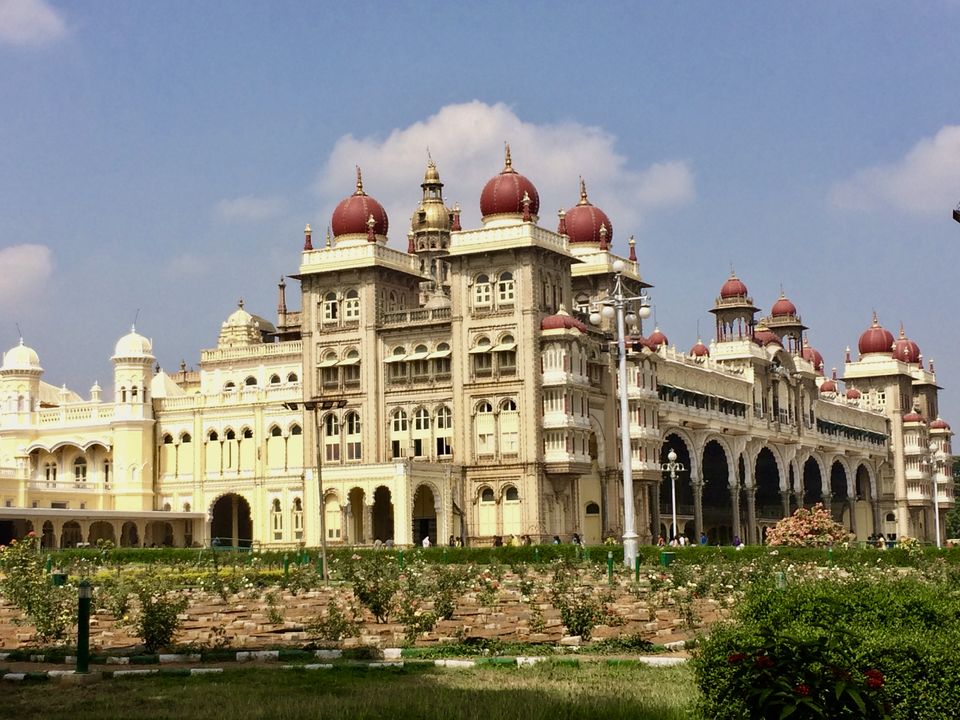 The next day we started by visiting the famed Mysore Palace. Built by the Wodeyer dynasty in 1912, it is sprawled around a total of 72 acres. There are 26 temples on the palace grounds. There are electric car rides available inside if one would like to take a feel of the entire grounds, before entering the palace, with a running commentary from the driver. I would recommend taking a guide inside the palace as there are interesting bits to know about the history and events of the palace and its rulers. Hiring a guide would cost around 300 Rs. Audio guides are also available for hire. It is easy to imagine how the people in the early days lived without electricity as there is ample of cross ventilation inside the palace which makes it quite airy. The Mysore Palace museum is nothing to write up. The only interesting thing I found there was the royal Mysore Guides logo which reminded me of my own Scouts and Guides days back in school. Its perfectly alright if you give that museum a miss. On the weekends the palace can be seen lit up from the outside after 7 pm. It being the weekend we were able to see it lip up at night. The palace is supposed to be in its full splendour during the famous Dasara celebrations in Mysore.
Mysore Palace Timings - 10 am to 5 pm. Entry to the palace costs 50 rupees.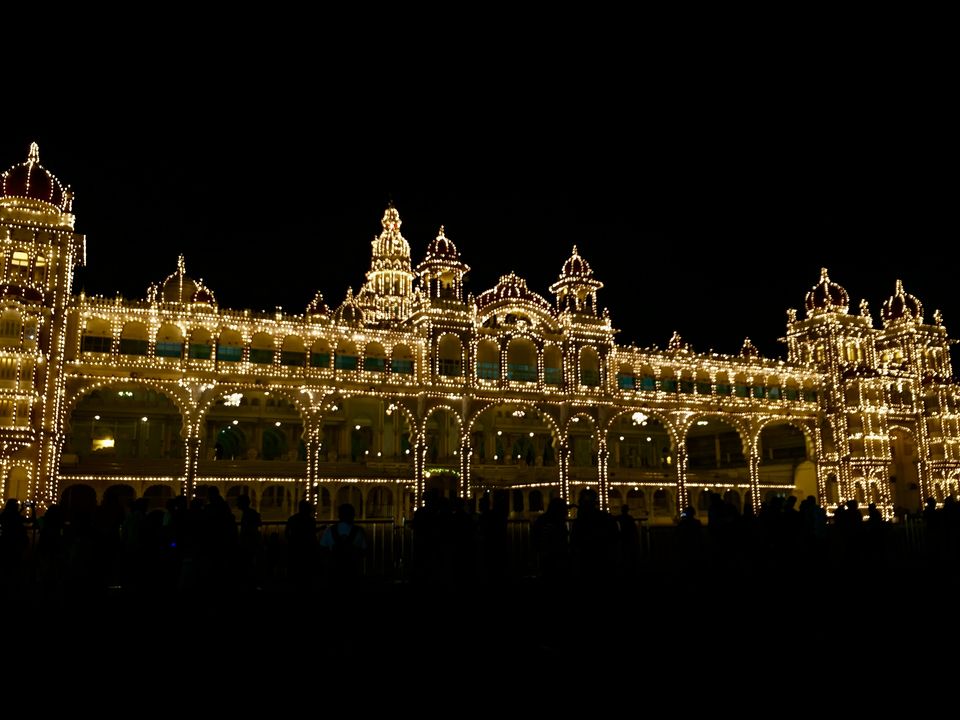 Lunch at Kamath Madhuvan
On the way from Mysore Palace to Shukavana, we stopped at Kamath Madhuvan to have a traditional North Karnataka thali on a banana leaf. The thali meals on an average costs around 130 rupees in all the restaurants here and nearby.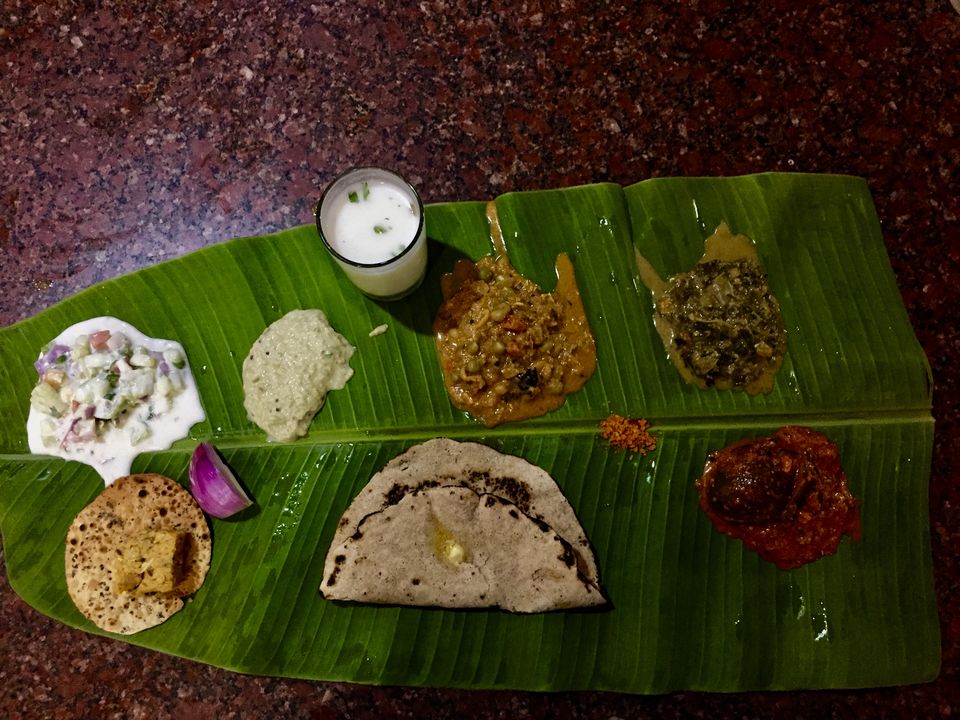 Shuka vana
Shuka vana is an aviary located inside the Ganapati Sachchidananda Aashram in Mysore It houses 468 species of birds from all over the world! From macaws to cockatoos to toucans to parakeets and many more! Seeing so many birds species at the same place was a first for me. Photography is prohibited inside but their in house photographer clicks pictures with birds on your arms. A family picture with the birds cost us 200 rupees.
Timings : 9:30 am to 12:30 pm and 3:30 pm to 5:30 pm. The entry is free.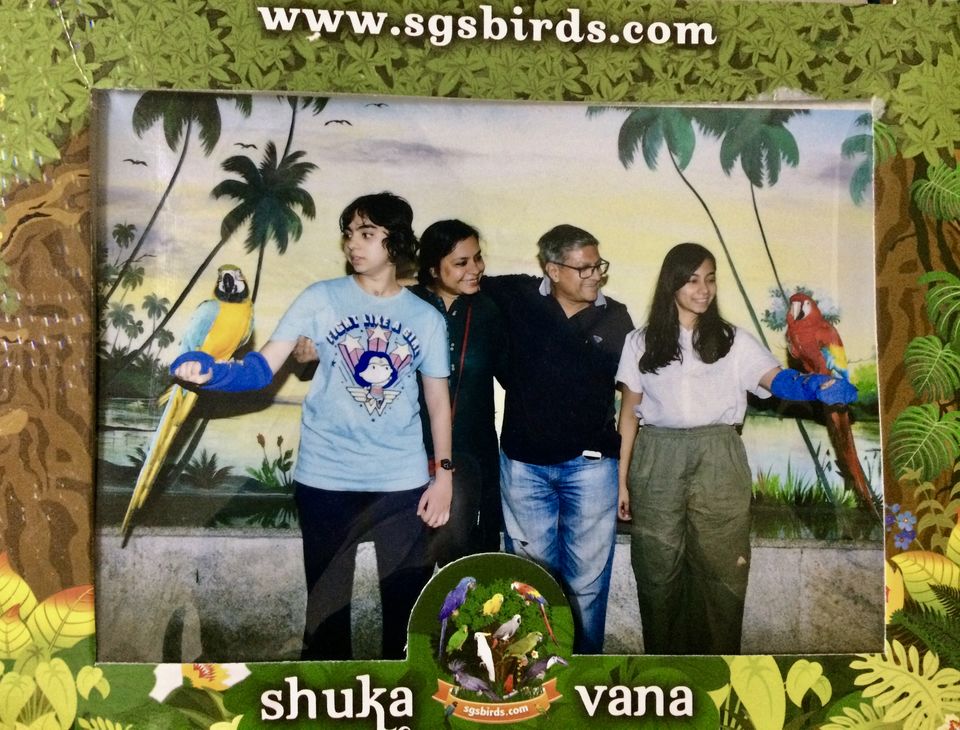 Vishvam Museum
Also located inside the Ganapati Sachchidananda Aashram, is the Vishwam Museum. It is one of the best museums I've seen till date! A must visit in Mysore. Its three storeys includes things from all over the world! A chess set from Greece, a porcelain vase depicting Orpheus playing the lute, stalactites, stalagmites, trilobites fossils, shells, stones and geodes are just some of the treasures here. A definite attraction for geography and biology lovers. One of its floors is dedicated just to Philately!
The entry is free. Timings - 9:30am to 12:30 pm and 4 pm to 6:30 pm. The entry fee is 25 rupees.
Day 3
Being in Mysore, I wanted to buy an authentic silk saree but naive me did not know that the cost for these sarees starts from 14k! ???? So did not buy one, pch. But those interested in buying them should go to the Government of Karnataka outlets. Here you will find authentic products at a reasonable rate. Even for buying sandalwood products, the Sandalwood Oil Factory is the best option. These factories though are closed on Sundays and I was disappointed that I could not visit them. Had I gone on some other day I might even have been able to see a silk saree being made!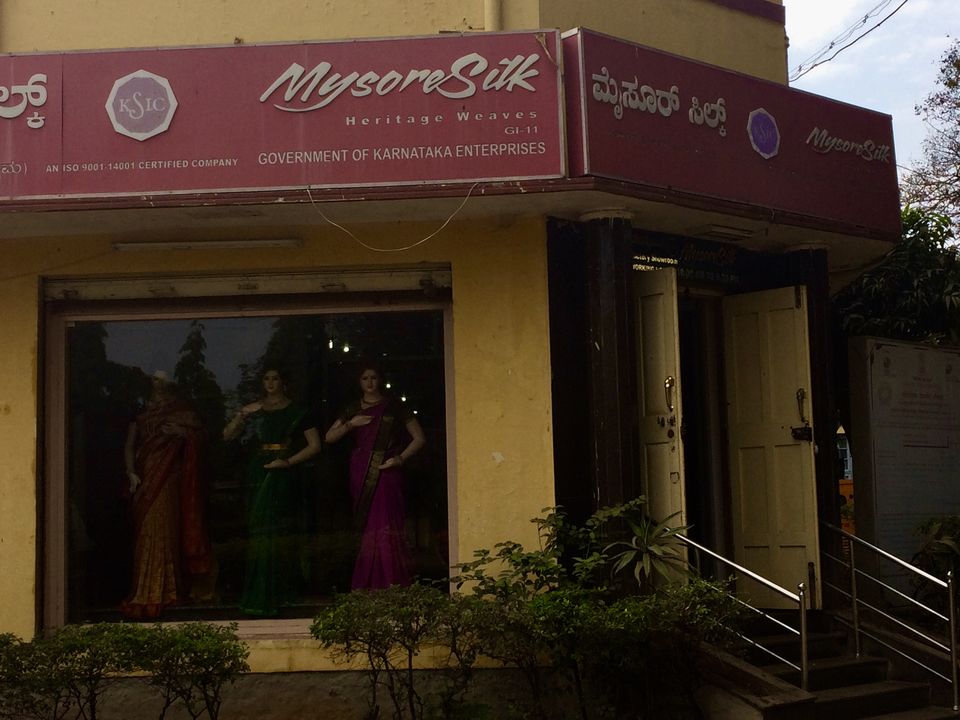 The next stop was R. K. Narayan's house. He is my favourite Indian author. Sudha Murthy comes next. Like most, the first novel I read of R. K. Narayan's was Swami and Friends. But my favourite novel of his is Bachelor of Arts. I have always loved how easily and beautifully he has been able to portray the common man in his stories. It was quite a memorable experience visiting his house in Mysore. His house has been turned into a museum filled with his personal belongings, his bios, his books, quotes and what his friends and family have said about him. It is easy to imagine him writing in solace in this spacious bungalow. I got to know a lot of interesting tit bits about my favourite author. It was an experience that would be best described as tranquil. The only other person visiting the house apart from us was a schoolboy. I don't think a lot of people know about this place but for all bibliophiles out there I would say this a must visit in Mysore. My parents enlightened me that apparently his novel 'The guide' had been turned into a famous Bollywood movie starring Devanand. I have to watch it asap.
Address : D 14 Vivekananda Road, Yadavagiri, Mysuru. Timings : 10 am to 5 pm.
St. Philomena's Church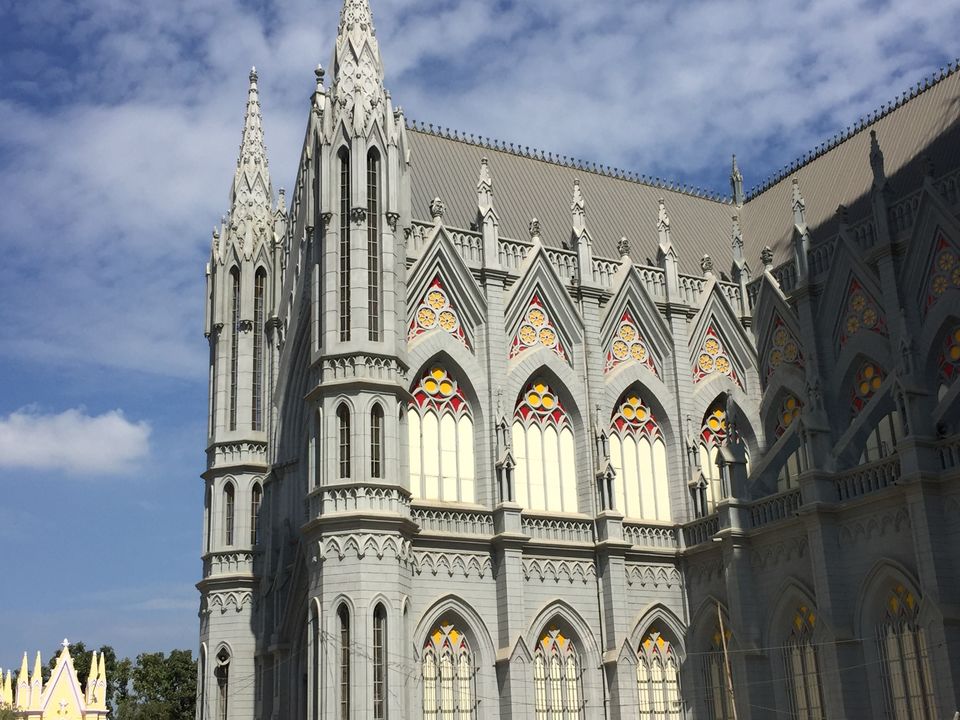 From R. K. Narayan's house we visited the St. Philomena's church. I had an ulterior motive for going there. It was very hot outside so I wanted to go there because it was cool and airy inside the church. To jus sit for a few minutes on the pews ???? St. Philomena's is the second tallest church in Asia! There is a crypt inside which apparently contains the remains of St. Philomena. She was a consecrated virgin who was killed by the Roman king when she refused to marry him. There is scaffolding all over the outside the church because of some construction work that is going on. This is one image I was able to take of the church from the side without any scaffolding in it. I really liked the red and the yellow colours in between the grey of the church. This is me being pretentious that I can actually understand architecture. Mother who is actually an architect told me this.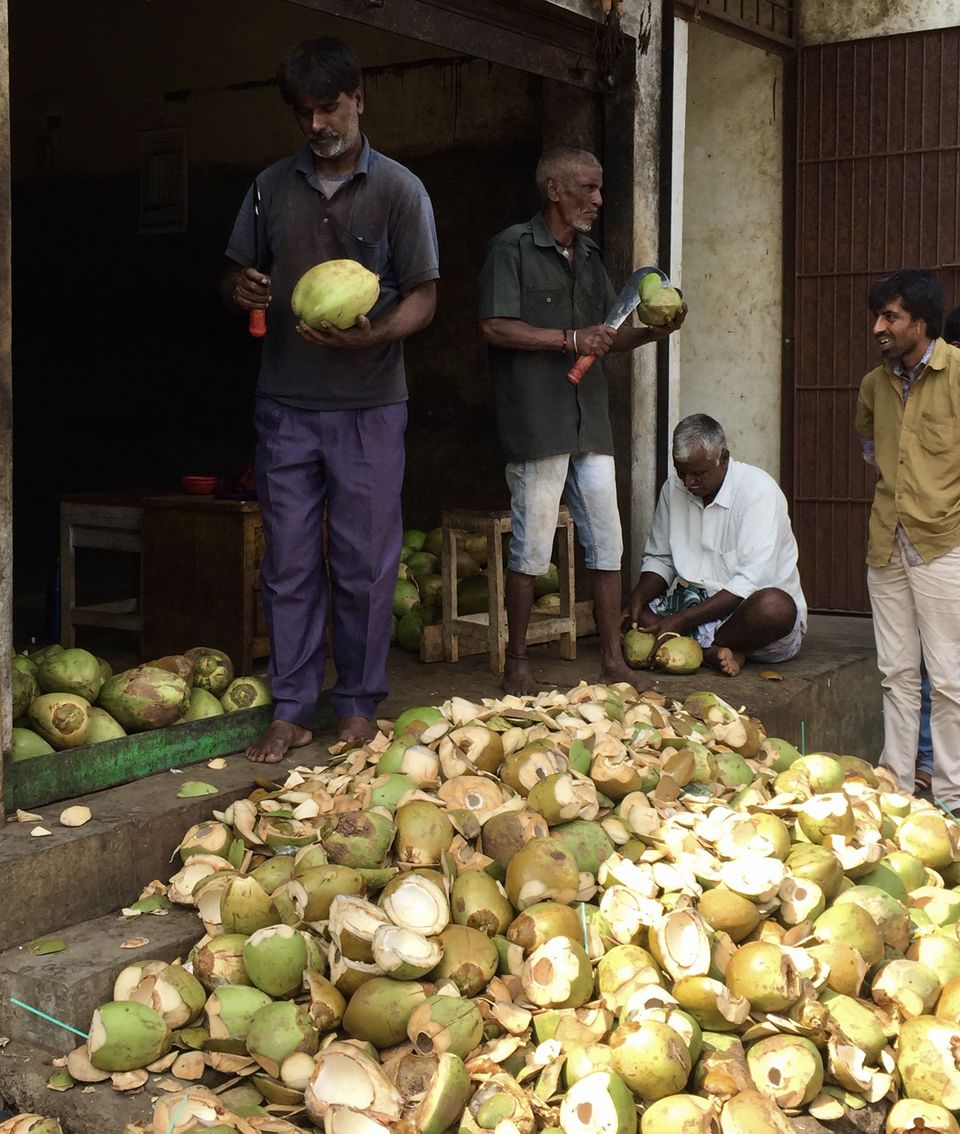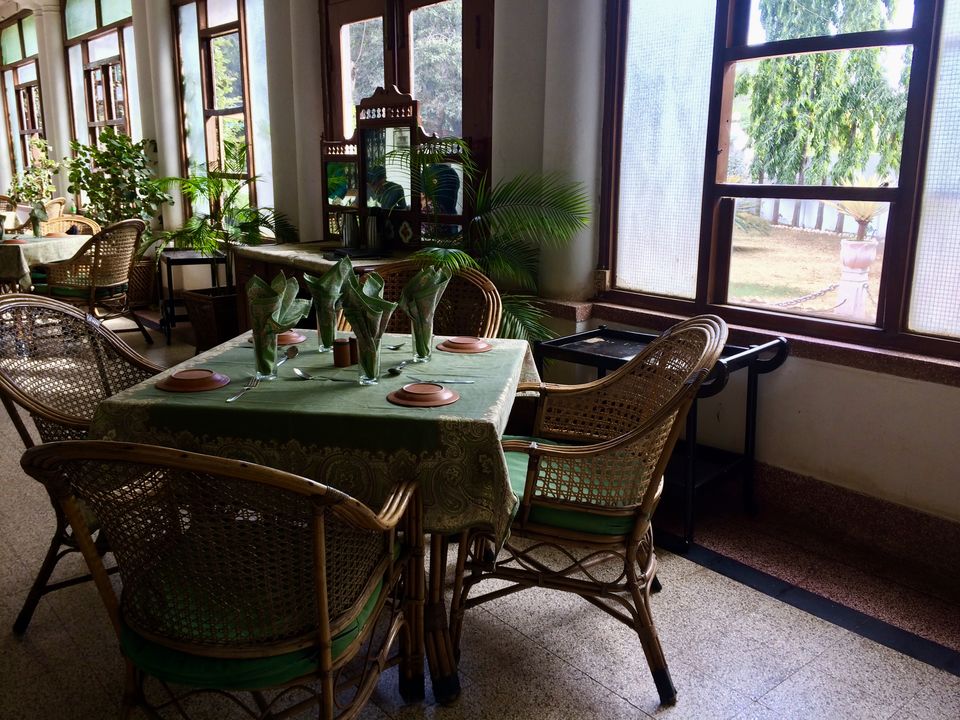 Malgudi Cafe is located in the Green Hotel in Mysore. Reviews had told me before that the homemade lemon drizzle cake here is mouthwatering and indeed it was. The apple pie and chocolate brownie were delicious as well. Unfortunately they had run out of their chocolate cake when we had gone. The cafe is located amidst the spacious grounds of the Green Hotel. The ambience of the cafe reminded me of a bygone era. In the hotel grounds there's both Malgudi Restaurant which serves lunch and Malgudi Cafe which has a coffee shop. The coffee shop is perfect for the evening for some tea and cakes.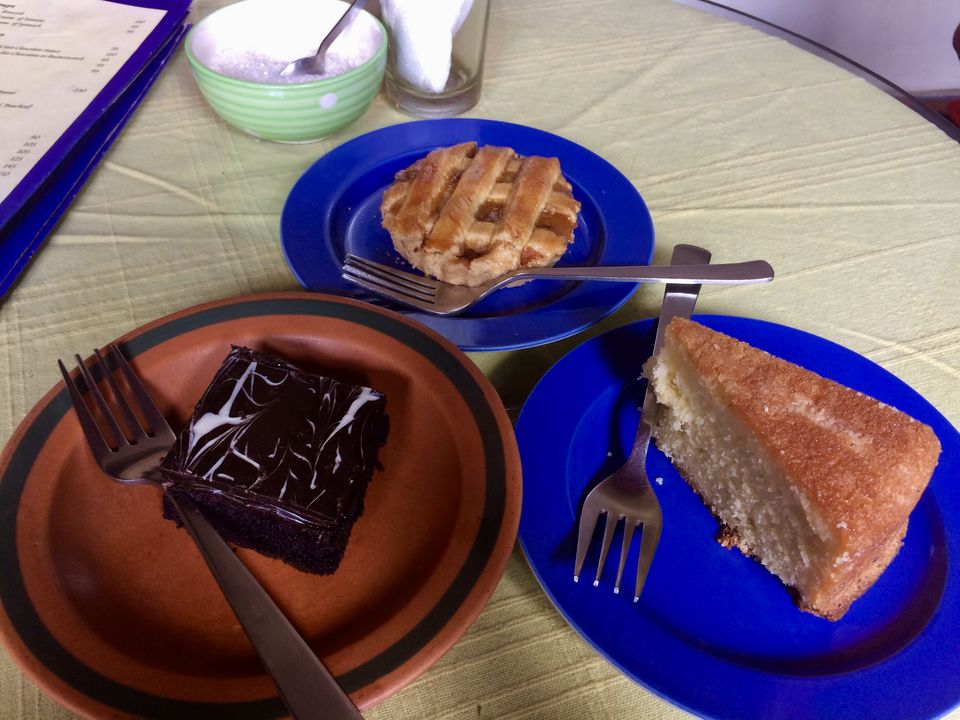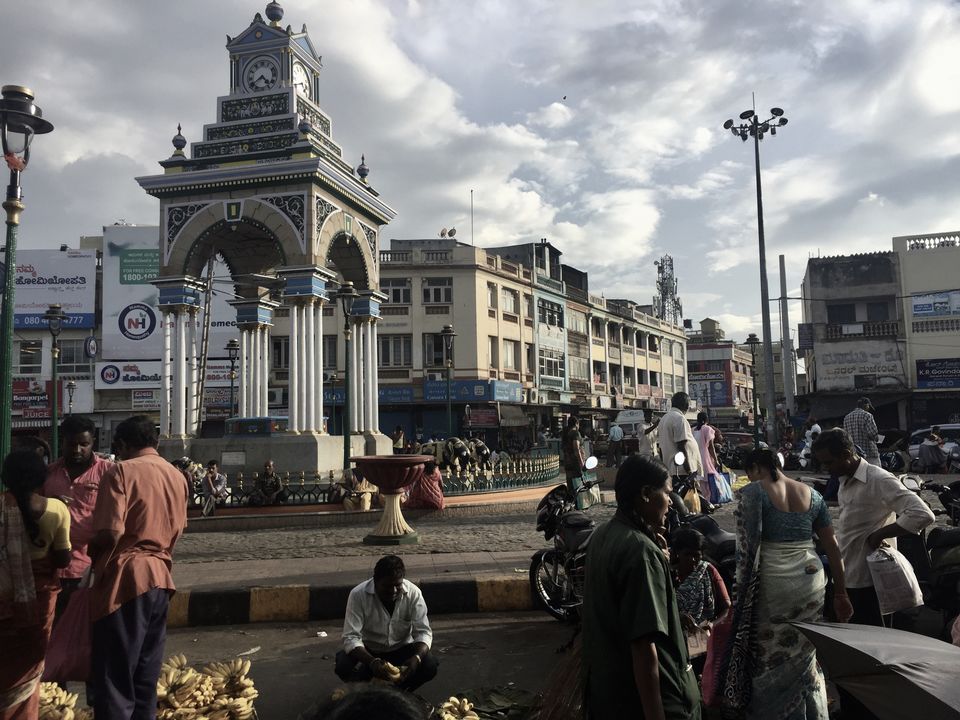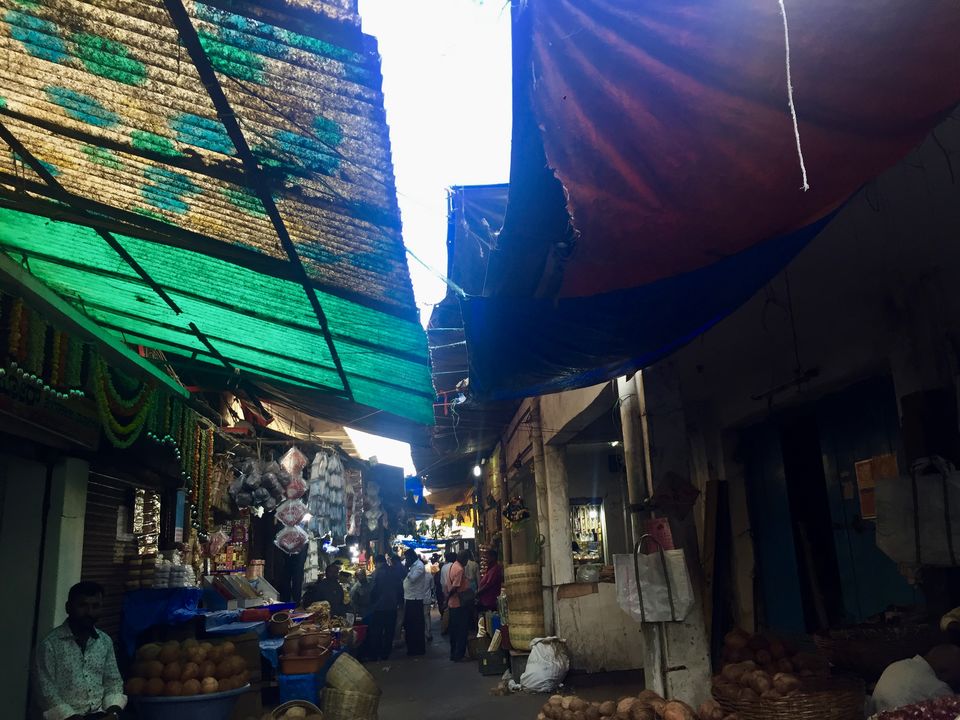 Devaraja Market is the local market of Mysore. It is full of life! The hustle and the bustle, the loud voices of shopkeepers calling the customers and the customers haggling for prices! Just walking in the market lanes was an experience in itself. All your Mysore shopping can be done here. I bought Sandalwood incense sticks for 50 rupees and a bhoot bhagao mask for 100 rupees ????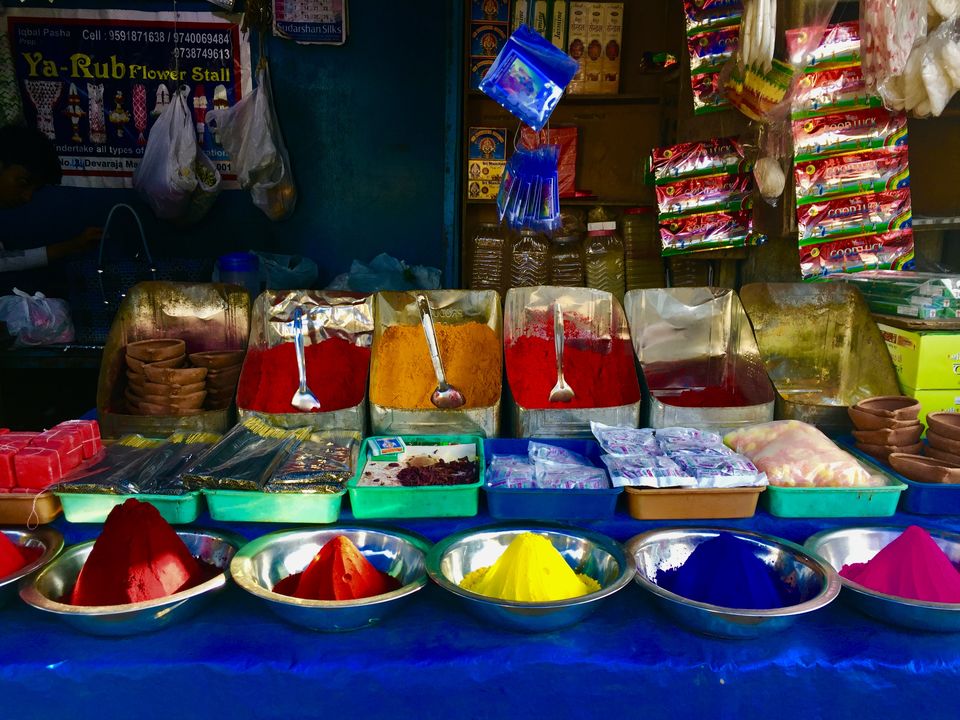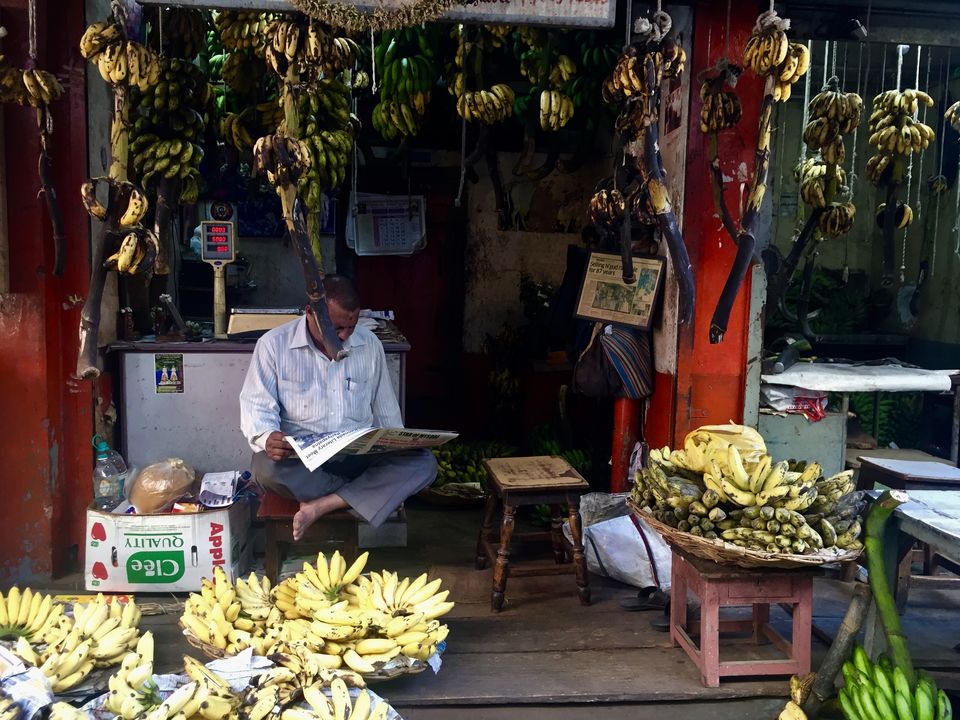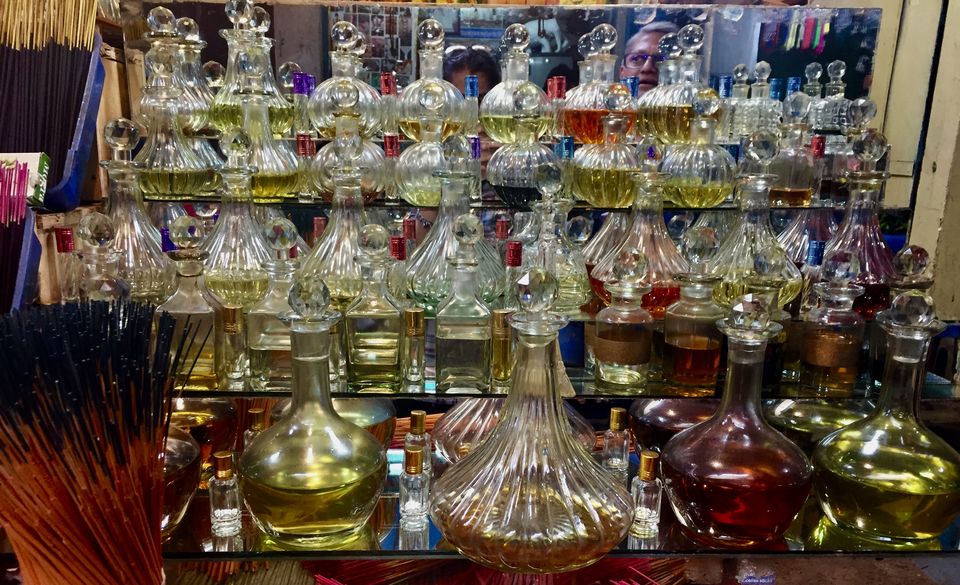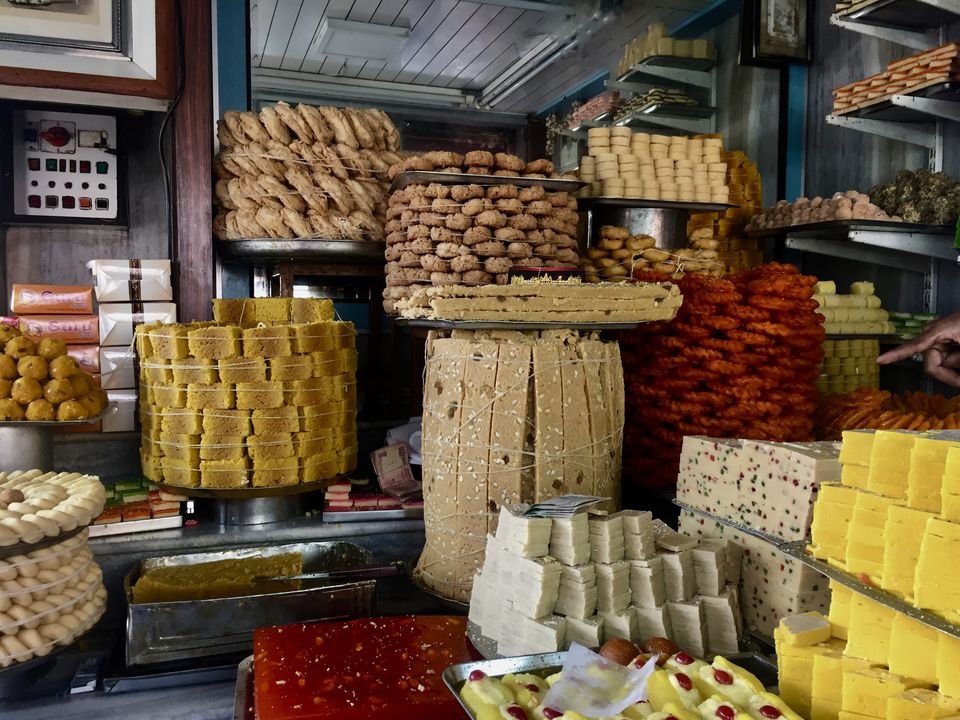 Mysore Pak is a traditional Indian Sweet made of ghee. A piece is available for 20 rupees at Guru Sweet Mart.
Chamundi Hills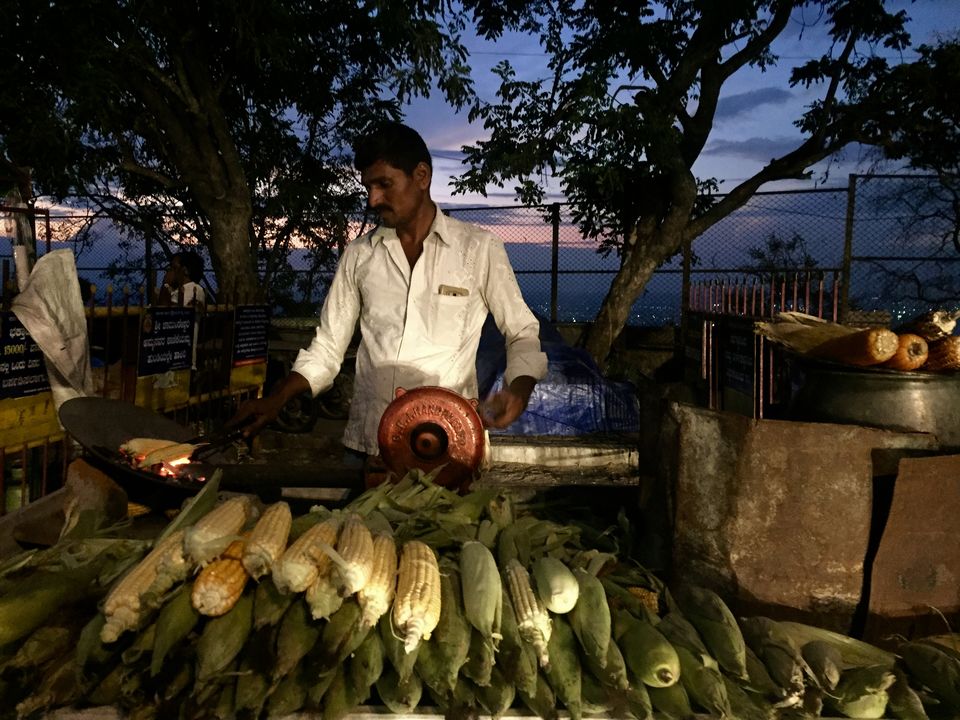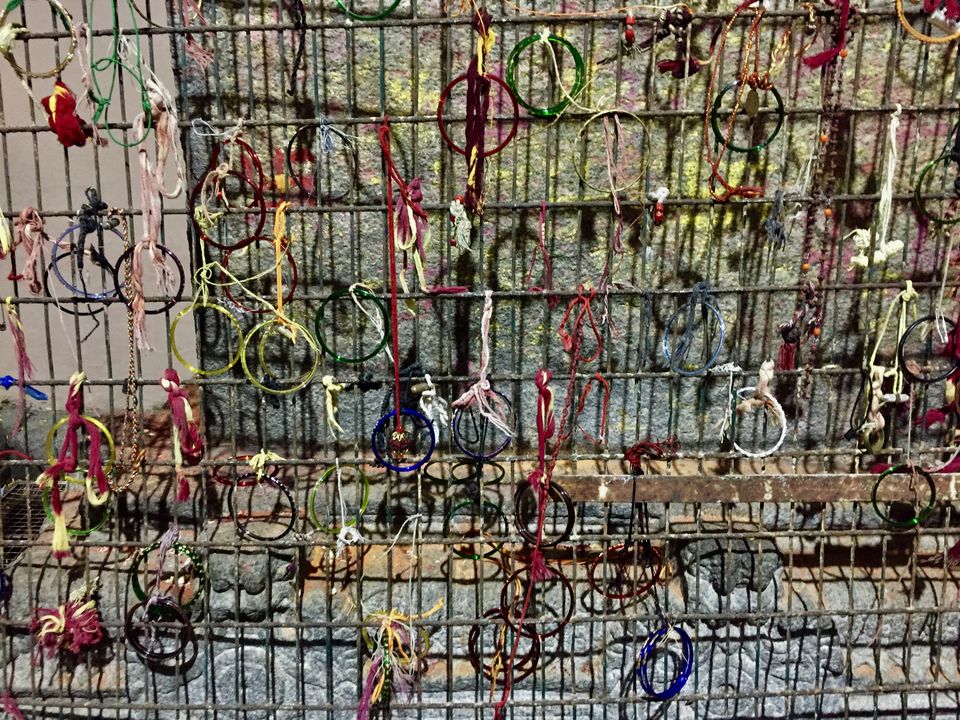 At first I thought the Chamundi hills were a bit of hoax. My motion sickness had set in going round and round the hills to reach there. So I wasn't in an agreeable mood. Plus the crowd and the filled parking space was making me dour. But then the parking issue was sorted and we followed the crowd towards the temple area. The wind felt really good! And although the sunset view wasn't very clear, the chill in the air made up for it. Chamundeshwari Temple was crowded af with people pushing and pulling each other. I did not want to enter that crowd but father said that we've come all this way so we should we go see it. And it was indeed an experience. We took the 'Special Darshan' for 30 rupees :p I would recommend taking this special Darshan ticket or else you will have to stand in a really long line! All these religious spaces do have an aura of peace around them. Sitting on a cool stone slab inside the temple area even for a few minutes helped me experience the quiet even though the area was bustling with activity.
Later we had dinner and slept early. We left the next morning at 5:30 to beat the traffic. On the way we stopped at Maddur Tiffany's for breakfast and then it was back to Bangalore.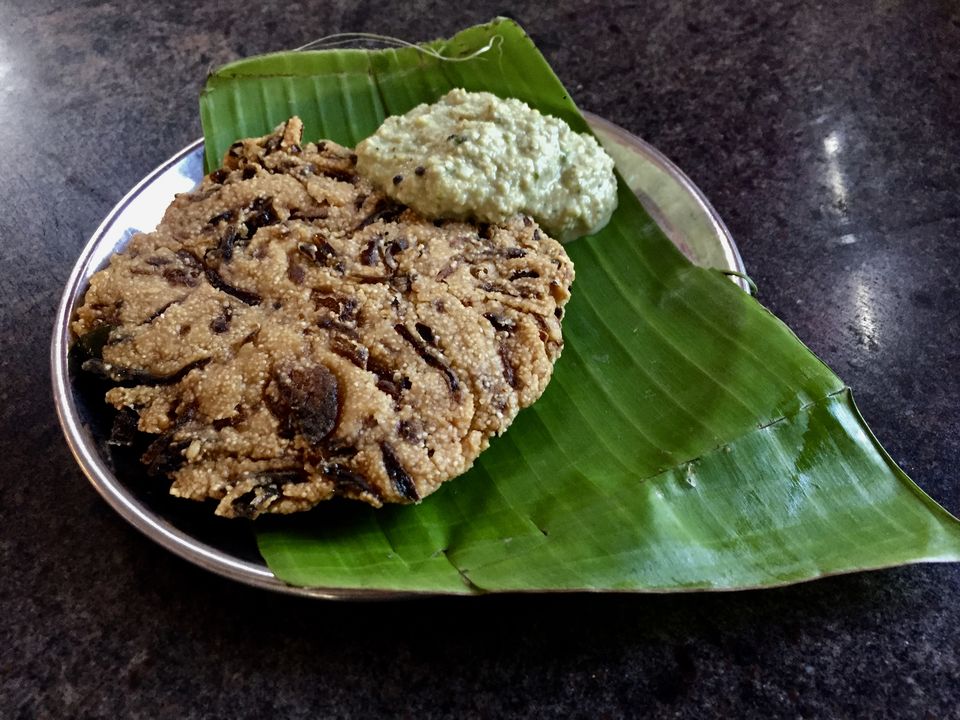 Mysore Bucket List
1)Mysore Palace
2) North Karnataka Thali
3) Shuka Vana
4) Vishwam Museum
5) R. K. Narayan's House
6) St. Philomena's Church
7) Malgudi Cafe
8) The Green Hotel
9) Devaraja Market
10) Mysore Pak
11) Sandalwood perfume
12) Silk saree (optional)
13) Brindavan Gardens is another tourist spot that can be seen
14)Chamundeshwari Temple
15) Channapatna
The town of Malgudi awaits you!
Follow my blog at https://backpackinguides.wordpress.com
I.g- @backpackinguides
Frequent Searches Leading To This Page:-
Weekend trip to mysore, mysore road trip, weekend road trip to mysore, bike trip to mysoare, a road trip from bangalore to mysore