When people travel on Mysore Road, they can't help, but notice a narrow passage of dark coloured stream running parallel to the road, which they often mistake for a gutter. As disturbing as it may sound, the very stream of untreated water is the ancient River Vrishabhavathi.
River Vrishabhavathi, a pre-eminent tributary of Arkavathy, has fabled to have originated from a spring at a Temple Kadu Malleshwara in Malleshwaram. Flowing through 96 wards of Bengaluru including significant areas in the city like Rajarajeshwari Nagar, Kengri and Bapuji Nagar, the river meets the Arkavathy near Bidadi at the Outskirts of the city. Earning the moniker "Kengri Mori " amongst the indigenous population in this region, the river is currently identified as "Vrishabhavathi Nala" in Google Maps.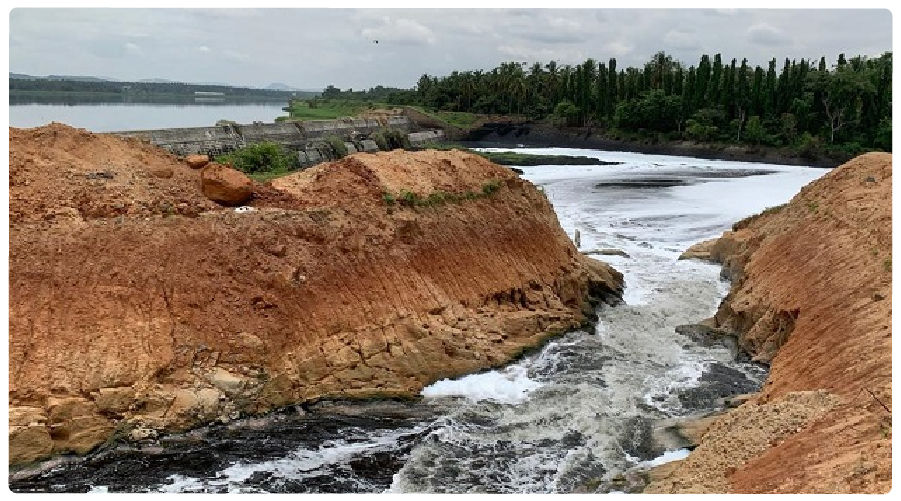 However, this sacred river boasts a great significance, as it was once too pristine that its water would be used as a 'sacred drink' by the local masses and Gali Anjaneya temple. The river which was once considered sacred with mentions in ancient texts, today narrates a different story all together. The current predicament of the revered water body is quite ponderous for which humankind is held responsible.
Vrishabhavathi is derived from the Sanskrit word 'Vrishabha', which means Bull. It is said that the river originates at the feet of the monolithic Nandi statue at the Big Bull Temple in Basavanagudi. Hence it is titled 'Vrishabhavathi'. The unblemished, tranquil waters of the river and its eventual merging with River Cauvery, made it a favourable nerve centre for human settlement and a fulcrum for religious activities.