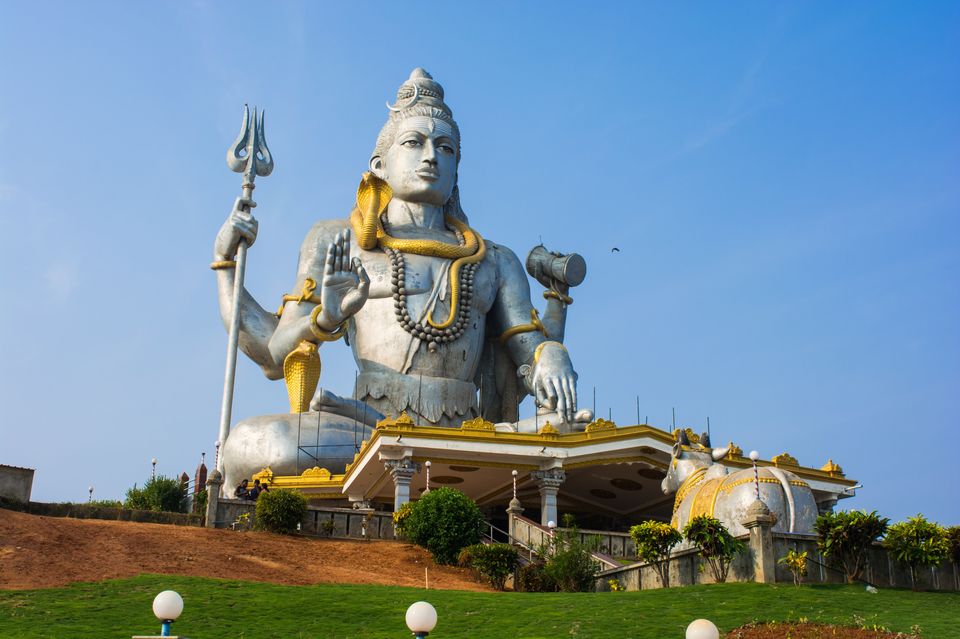 This post is about day 2 of this trip. You can read the prologue and day 1 of our trip in Bangalore to Goa Road Trip - Day 1.
Day 2 (27th Jan 2018): Bhatkal to Vagator via Murudeshwar and Gokarna
Despite sleeping for over 9 hours, I was feeling very tired when wifey woke me up at 06:30. I had no recollection of where we were and had never loved the bed more than in that moment. I was just very drowsy and wanted to slide back into sweet slumber.
I looked at my wife as if asking, "Why are you bothering me, it's weekend, let me sleep." And she looked at me like: "Get up you idiot, we're going to be late. Don't you remember where we are?"
With barely half the neurons firing, I got this brilliant idea of chucking the plan, having breakfast and going straight back to sleep for another couple of hours. Thankfully, after some prodding by the missus, I got my brain working again and it soon occurred to me, how ridiculous my idea was: the complete Konkan highway lay ahead and I was thinking of sleeping. What a donut.
The plan for the day was to start "early" so that we can spend some time at Murudeshwar, then Gokarna and still reach North Goa by 2-3 PM. Like that was gonna work - read on.
We were already late per our plan - duh. I hastily got ready and we checked out by 07:20AM. We decided to have breakfast before starting the drive for the day. The hotel has 2 restaurants: Royal Olive and Royal Athithya. Only the latter was open, so we went in and ordered all-time classic: masala dosa and tea. Nothing freshens me up like a typical south Indian breakfast.
There were no other customers and the staff was still setting everything up for the day. For a small town, we figured, it was still early for people to be crowding restaurants; not everyone lives in Bangalore you know...
Every once in a while, it feels good to be in such a place and enjoy the simple life. Realize that people around you are not in a hurry, and you don't need to be in either.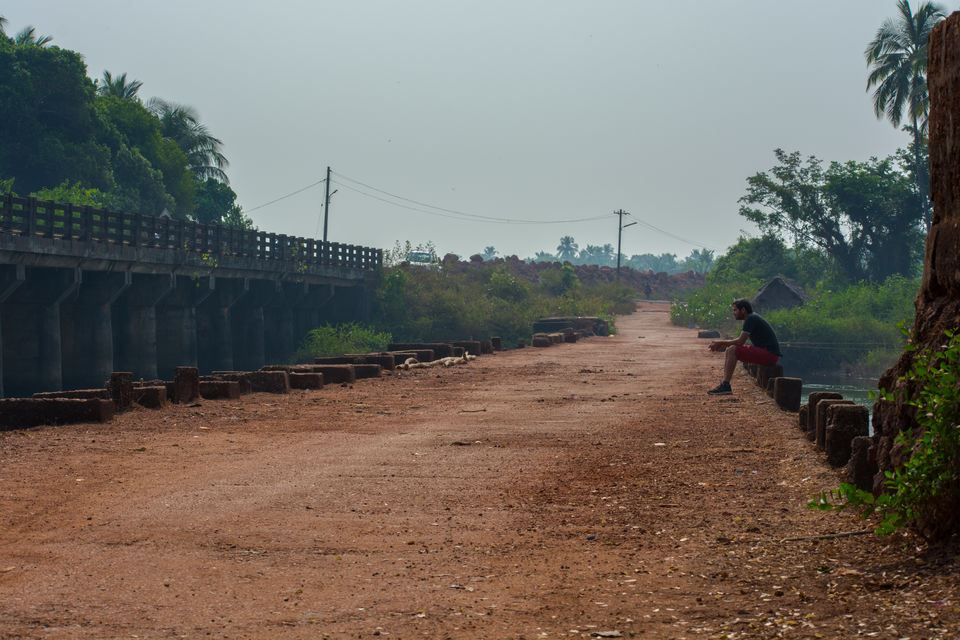 We spent a good 40 minutes finishing our breakfast. By 08:10, we came out and settled in the car, got some things arranged - water bottles, camera, snacks etc. and in another 5 minutes we were off after a quick tire pressure check near the hotel.
Our first stop for the day was the Murudeshwar beach and temple, which was a mere 12 KM from our hotel and we reached the entrance in about 15 minutes.
The temple is about 2KM from this entrance on the highway. The road to the temple started out nice but deteriorated quickly. It'd be cheating to call the last 500 meters a road. To add to that, the parking in the temple compound was super crowded.
Typical to most tourist attractions in our country, stalls of all sorts - food, souvenirs, toys and whatnot had encroached the whole compound - especially the parking area. There was even a full-sized bus parked on the approach road to the parking and some of its occupants had set up a stove and were busy cooking on the side of the road. Dodging all this madness, we somehow managed to find a spot, parked the car and proceeded to the temple. Pictures:
While at the temple, we made video calls to our respective parents and showed them around. They couldn't be happier - for one, they were earning all the "Punya" from the comfort of home, and two, their agnostic children were visiting a temple at long last.
You can never over-appreciate the pace at which technology progresses and the impact it has on common people's lives. A mere 10 years ago, this would have been impossible to afford for a majority of people. Yet now, it seems so casual and natural. Thanks to Jio, other companies were forced to follow suit and provide half decent service for the prices they charge. I remember the time when calls to RCOM customer care, to deactivate the "service" that I had never activated in the first place, were somewhat of a weekly thing for me.
Talking about technology, if you love to travel and also maintain a balcony garden at home, take a look at How I Built an Automated Garden Irrigation System with a Raspberry PI to water my plants when I go road-tripping.
Well, nostalgia aside, we did not spend much time at the temple after facilitating "remote darshan" for our family, and soon came back to the parking lot. It seemed better than an hour earlier. We quickly started the car & drove towards the main highway. In no time, we were back on the highway and cruising at 80KM/h towards our next stop: Gokarna.
The Konkan roads are a treat to drive on. Even though there was road work going on in patches all the way from Murudeshwar to a few KMs before Gokarna, we did not face any traffic jams / bad roads. The diversions were sufficiently wide and clearly marked and they always diverted to the opposite lane, which was super smooth and, again, wide enough for 2-way traffic.
We were thoroughly enjoying the smooth tarmac and the lovely morning breeze. We made a few stops along the way for photos or just to enjoy the surroundings. Some pictures below: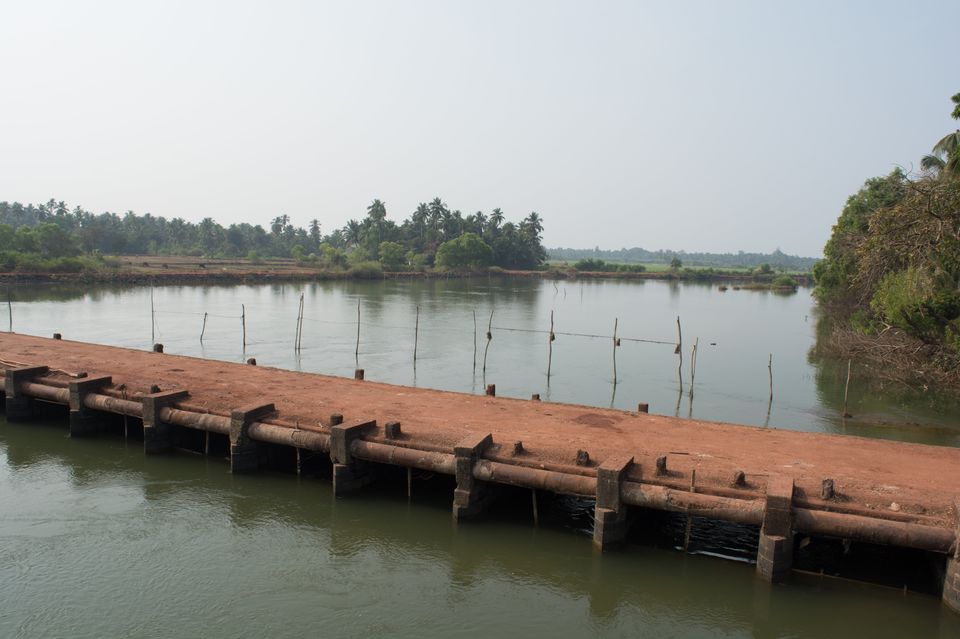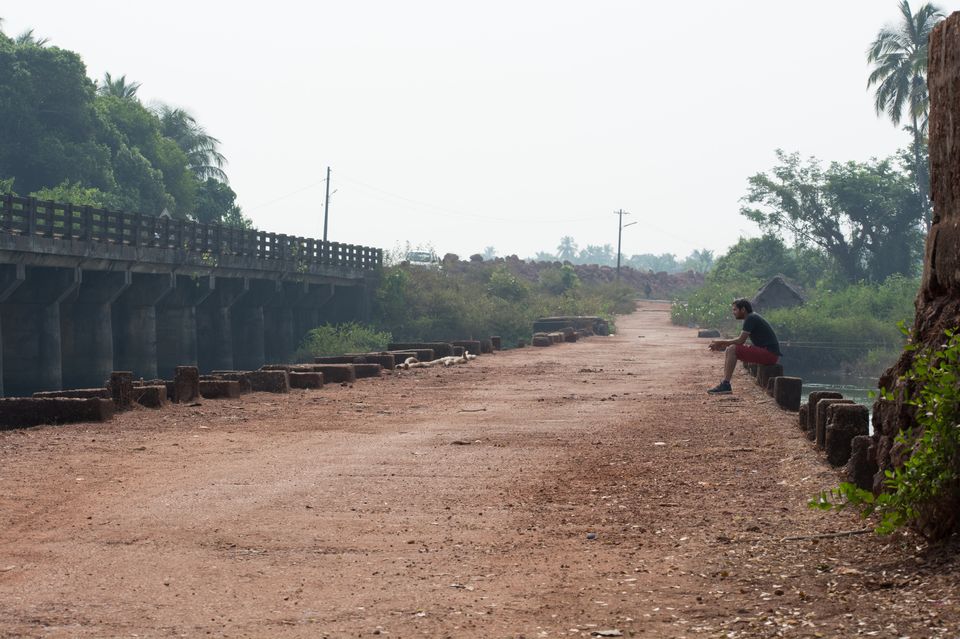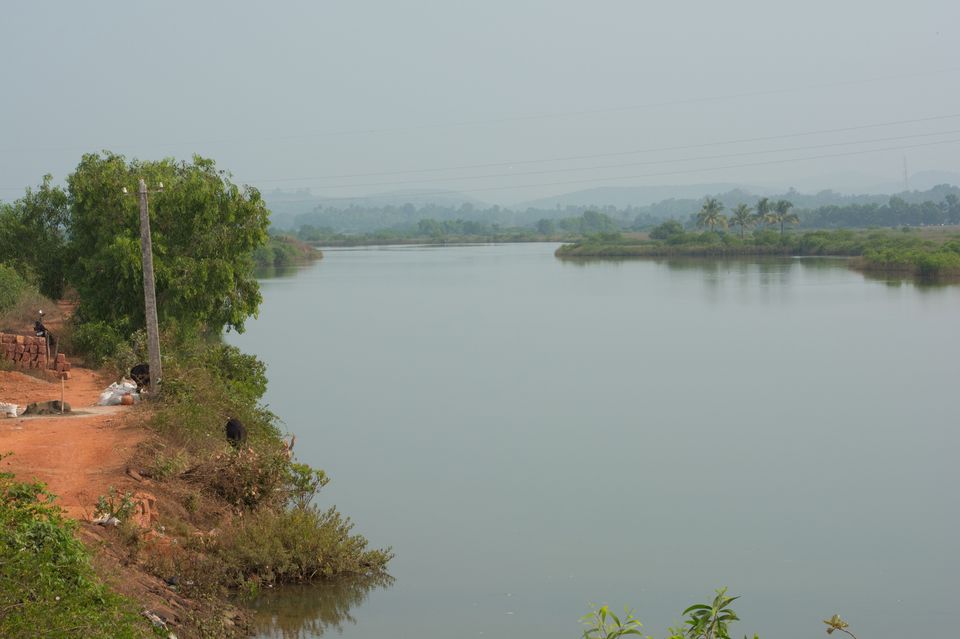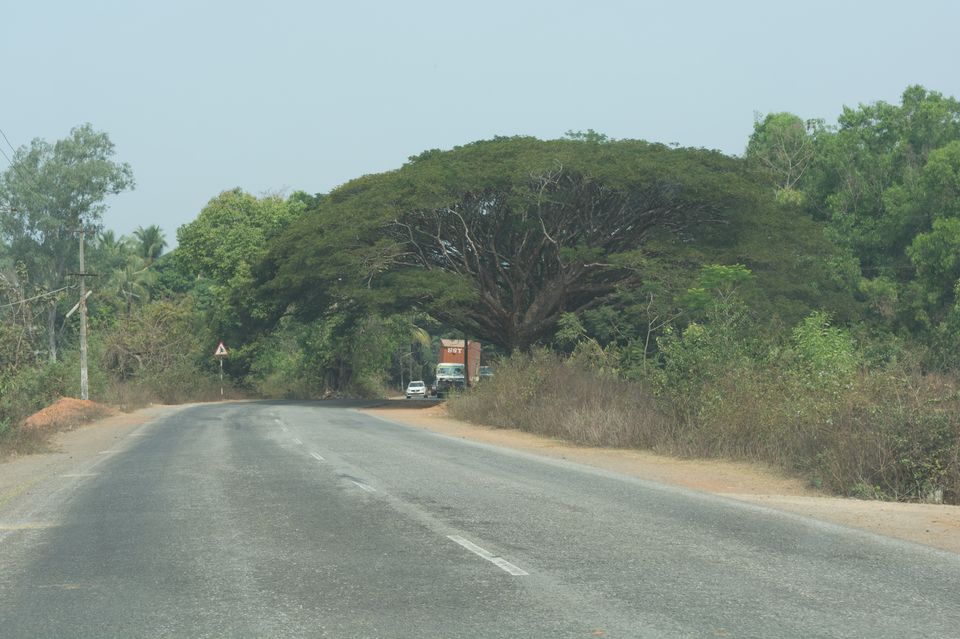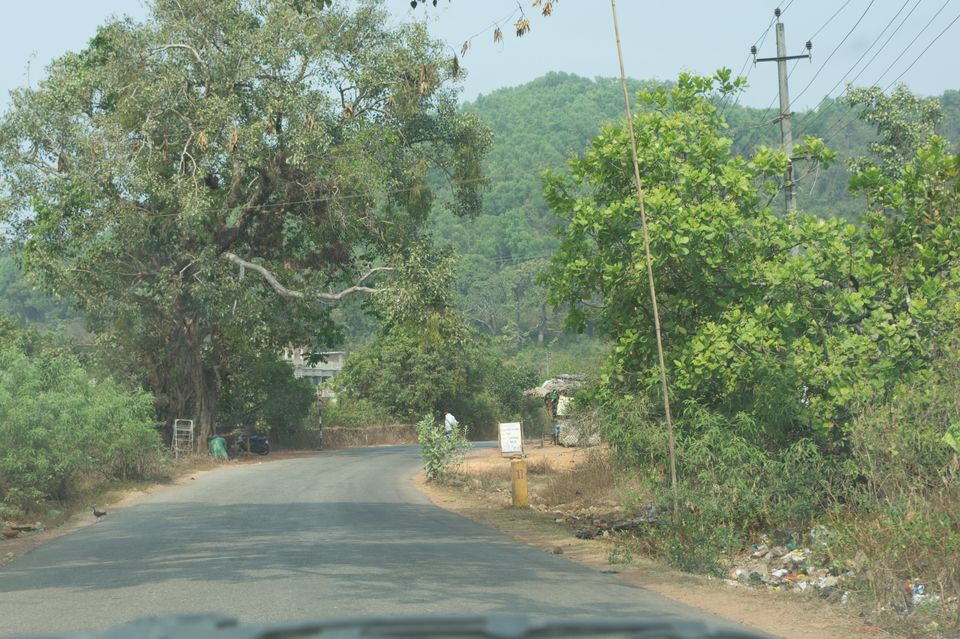 We were in no hurry to reach Gokarna - after all, this is what a road trip is all about, isn't it? It's about the journey and not the destination. Take your time, go slow and enjoy the scenery.
Along the way, I would find many sights or objects that would get my inner amateur photographer excited, but the driver in me would always come up with a reason to not stop - we're going 80KM/h or there's not enough space to park or noticed too late, we're already a few meters ahead etc. Luckily for me, the home minister favors the ambitious photographer more than the monotonous driver and encouraged, or rather pressured me, to stop multiple times where I wanted photos. Not that anything super-cool came out of this exercise - but hey, practice makes perfect right?
We reached Gokarna town at about 12:00 PM. We didn't have any idea about the parking situation, so we were just following GMaps. We had navigated for the beach parking, but after entering the town, Maps went crazy and started rerouting every 10 seconds. And on each reroute, it'd direct us towards a new direction. I didn't wanna get stuck on the thin-as-hair roads and cause a traffic jam in an unknown place. After spending a few minutes driving around, we spotted a bus stand and decided to follow other vehicles going in. We found some space outside the exit gate of the bus station where other cars were also parked. We decided to park there and headed to the beach on foot. The beach was about 1 kilometer from where we parked.
The walk to the beach was almost magical. The sights, the scents and the amalgamation of people from various cultures and backgrounds offer a unique sense of relaxation and peace that I'd never felt before. The weather wasn't so friendly though, and we were sweating profusely by the time we reached the beach. We noticed there was a huge parking area near the beach. I was still happy though with our parking choice as the idea of tackling those narrow streets didn't excite me.
We spent some time at the beach taking photographs and just roaming around. Not before long, though, the hot sun forced us to retreat from the beach. It was 1 PM and we were starving. Quickly checked GMaps for nearby eateries and found one Hotel Mahalaxmi near the beach. It's a small place run on the rooftop of a home. The setting is nice as it's very near to the beach and you get the nice sea breeze cooling you off. I cannot say the same about the food or the service though.
Had a relaxed lunch, went back to the car and started for Goa at 02:10 PM. Here we were past 2 PM, just outside of Gokarna, when as per our plan, we should have been arriving in Goa by then. We had covered less than a 100 KMs in the last 6 hours. So, with no more stops planned till our destination, and missus trying to catch some zzz, I put my foot down and soon we were doing 80 KM/h on the speedo.
We reached Karnataka-Goa border by 03:15PM. Missus woke up for the mandatory border picture and went back to sleep again.
This made me hopeful that we still might be able to reach our destination ( Santonio Resorts, Vagator North Goa) before dark. Though Google maps seemed to disagree. We had covered about 70 KM in the last one hour and still had 112 KM to go. I estimated that we should be able to cover the remaining distance in 2 - 2.5 hours. Google Maps, however, was adamant that we're gonna need more than 3.5 hours for the same.
As we kept going, the roads got narrower but still remained smooth and relatively devoid of traffic. The terrain though, was more hilly now, prompting a reduction in the average speed. We were on the Panvel - Kanniyakumari highway which passes through Palolem, Margao, Verna, and Panaji to reach North Goa.
It was all going fine till we reached Verna (Vasco Area) where we first encountered heavy city traffic on this trip. It was like Bangalore all over again. The seemingly endless queue of vehicles went several kilometers from Cortalim Bridge (that connects Verna to Panaji and) all the way through to the Mandovi bridge on the other end of Panaji and beyond. Seemed like we had chosen a particularly bad day to enter Goa. By the time we crossed the traffic and reached Vagator area, it was past 06:30PM and the sun had already set.
Thankfully, GMaps navigated us correctly through some crazy-narrow streets to our resort but not before tackling some more traffic jams due to idiots being idiots. All things considered, it took us another 45-50 minutes to reach the resort, which was a very welcome sight after this tiresome driving session. Didn't take any photos of the resort as it was dark and I was anyways too tired to do anything other than lie down and take a quick nap.
After about an hour of rest, I felt better and we decided to explore the nearby area on foot and get dinner somewhere. After some exploring, we landed in Hotel Sri. Once again, very nice ambiance but super slow service. But, their food was simply amazing. Finger licking good.
After having a scrumptious meal, we headed straight back to the resort to get some much-needed sleep. Although we had planned this day differently and we wanted to spend some time exploring Vagator by reaching early, this turned out to be a very good day in itself. We traveled at a comfortable pace and more importantly, enjoyed the journey (except the traffic) rather than just rushing from point A to B.
This marked the end of the second day of our trip as we went to sleep early considering some relatively early-morning activities we had planned for the next day: A visit to the Chapora Fort and the Vagator beach followed by some water sports at the Baga beach during the day.
Day's Summary:
Total Distance Travelled: 273KM
Total Time including Breaks: 11.5 hours
Stay tuned for the next blog post detailing Day 3 of our trip. Follow me so you will not miss the post.
You can also read this post on my blog at www.randomgarage.com
Frequent Searches Leading To This Page:-
Bangalore to goa road trip, bangalore to goa packages, bangalore to goa trip for couple, holidays to goa from bangalore, bangalore to goa holiday packages, weekend getaways from bangalore