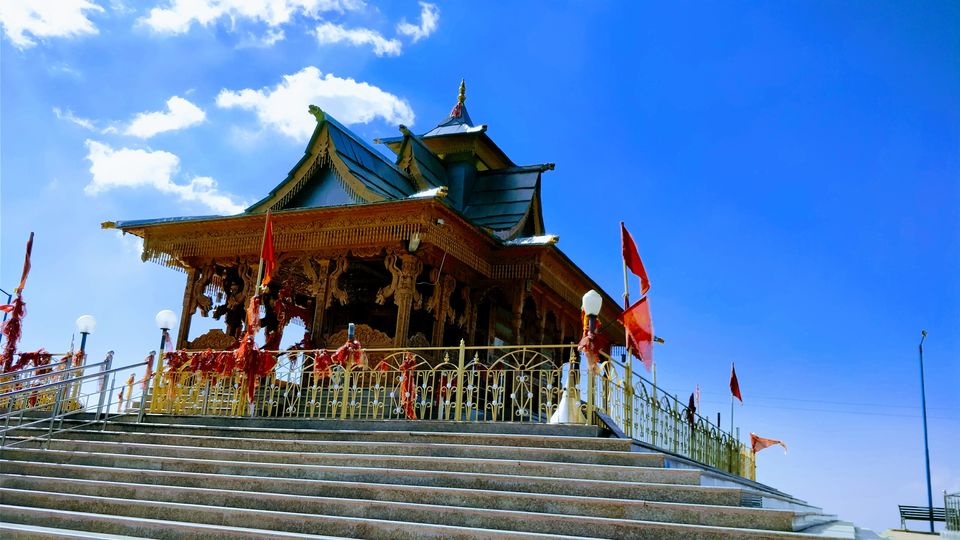 THE PLANNED-UNPLANNED TRIP - TWO GIRLS AND COUNTLESS MEMORIES
SEPT 29 TO OCT 2, 2017
GURGAON-KASAULI-SHIMLA-NARKANDA-GURGAON
THE PLAN
A long weekend it was for those who live their lives by 5/6 days working and 2/1 days living their life. Gurgaon is home to millions of such dead souls. The Dussehra long weekend was arriving and stars started shining in eyes thinking of going on a trip.
It was much needed after I was ditched for a previous trip at the last moment. So, a friend of mine offered me few days prior to join her with a group of friends of hers to trip to Himachal. The plan was Kasauli but itinerary was not on table yet. I wanted to escape from the boring office schedule, Monday-Saturday working. And, it was an opportunity, so I agreed. Although, I did not ask for leave at my office as last moment unplanned leave was my idea to go for it.
So, one day before, I booked the Tatkal ticket for me on Kalka-Shatabdi as first day plan was to stay at Kasauli. The preparations were on and excitement could not be held. And then came the twist, we (my friend and I) came to know that her other friends are cancelling the trip and the painful kick was to know that they cancelled their tickets too.
Frustrated, but determined to go to trip, we packed our bags. We tried searching some groups who could be travelling but due to long weekend we got no luck. And for the places, where seats were vacant, we were not interested to travel there. So, the decision was made to catch the first metro in the morning and hit the New Delhi railway station to try the luck and travel anywhere.
DAY 1 (SEP 29th)
A morning packed with enthusiasm, we reached at metro station to start the journey. With just one ticket in hand, we thought of convincing TC of the train to allot a seat and we got it luckily. The first adventure of the journey as it was an illegal way of hopping into the train and travelling.
And to our luck, my friend got the seat next to me (this was the first magic of trip), so we enjoyed the train journey together. Had our breakfast while enjoying photo sessions and soothing our eyes with sceneries outside.
We reached Kalka by noon and started further to Kasauli by taking a local bus. Reaching Kasauli was a beautiful experience although we had to walk and search everywhere for the hotel in our budget. Luckily, we found a place to stay for a night, not very convenient but enough to spend a night. We got fresh and headed outside to eat something and enjoy the cold and foggy weather. The small, old dhaba Sher-e-Punjab (a must try for parathas and chai) was rescue to our hunger. Delicious paratha with makhan and chai made our tiredness of the day fade away. The dusk came and we roamed through the Mall Road and went to Church there. It was a magic to eyes watching fog fade away in seconds. The weather in Kasauli can be very unpredictable but pleasant.
We met a lovely old couple too who came to Kasauli to celebrate their 30th anniversary recreating their honeymoon memories. I wonder how some people come as a flash and leave their marks in your minds. Kasauli is a small hill station so meeting this lovely old couple was not just once that night. They also watched us doing insane dance moves on the roads at night, funny yeah.
The day was tiring, and it was dark too, so we had to come back to our hotel to get a good sleep and rest to get re-energize for next day.
DAY 2 (SEP 30th)
A fresh morning welcomed us with sunlight in the balcony outside. We got ready for the day and headed to the same dhaba to have breakfast.
From the local folks, the local sights-seeing list was created. We headed to Sunrise point, although very late because the sun was already over our heads. But they say, journey is more beautiful than destination. And we believed that this would be fun and walking up through the road to the Sunset point was the only option as there is no local transport available.
Since Kasauli is a cantonment area so you would see many soldiers around, we met a group of soldiers the mid-way and captured many photos during the trail. Reaching there was the breathtaking view as you can see the entire hill station in front of your eyes. Greenery everywhere, blossoming flowers and a sweet cold weather was the thing we were craving for.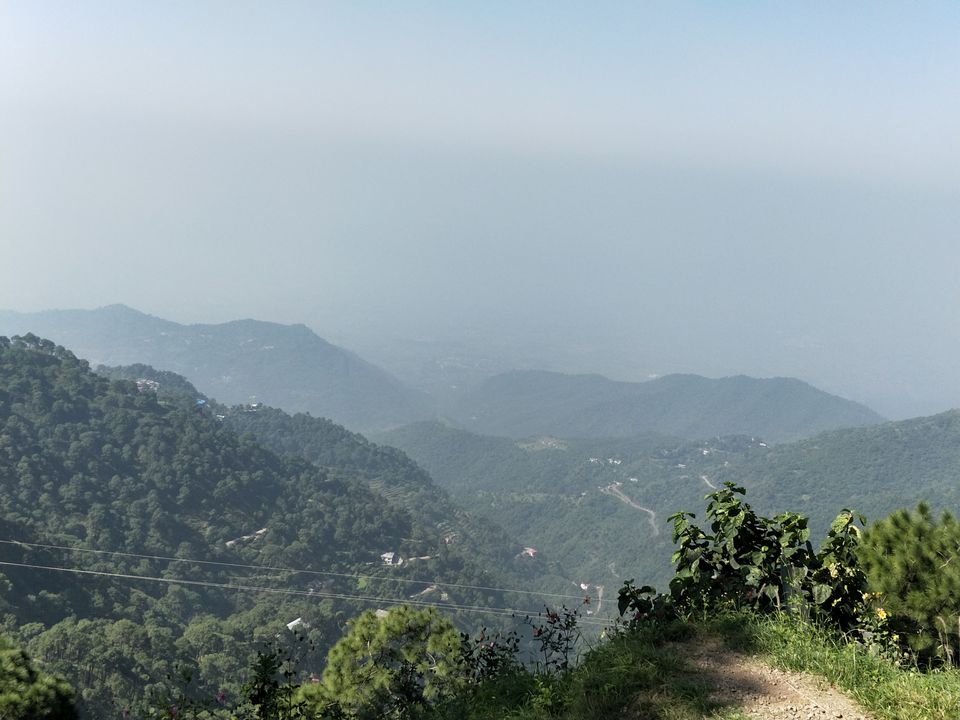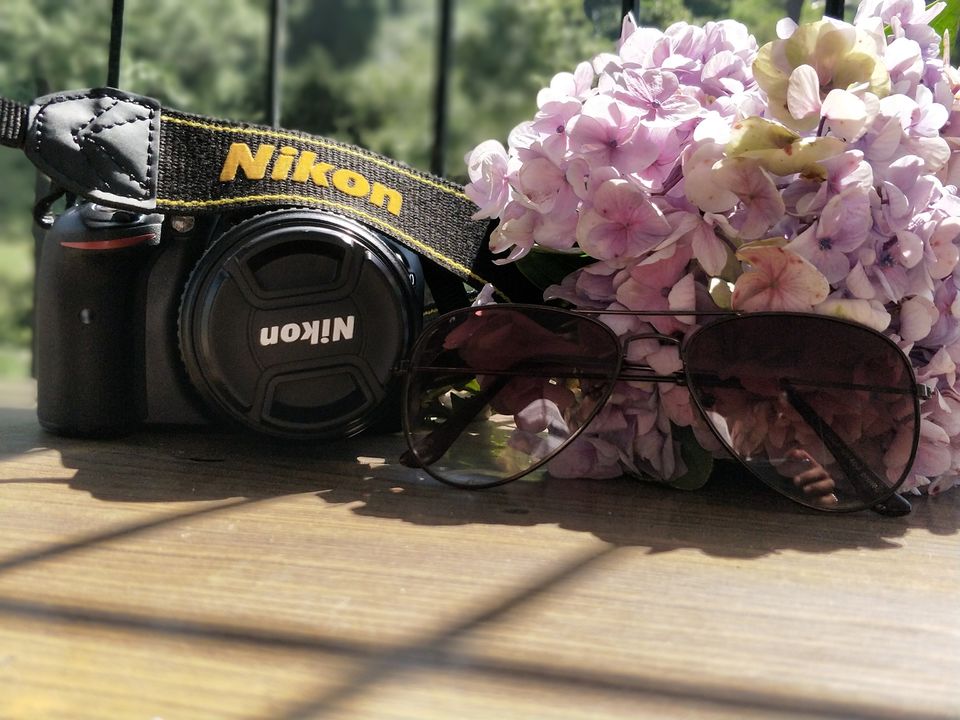 The next part of journey was to be planned and I told my friend about my wish for camping under the stars and trekking. She got ready to give it a try. I Googled about it and we got few numbers. I contacted at a number and got the confirmation that we can do camping at Narkanda. So, here was the next part of the trip planned.
Checked out from hotel, got into the bus that would drop us at Solan (as there is no direct bus to Shimla or further from Kasauli) and reached. There we had our lunch and got into the other bus that would take us to Shimla. I checked with one of my friends about the camping idea as he is from Himachal and he suggested to stay at Shimla this night otherwise it would be very late to reach Narkanda so we agreed this way.
Shimla, the only thing I could say about this place is that it is very overrated. I could only find it very crowdy and expensive. I guess I'm a peace-loving traveler, so such places don't charm me. And the real pain was to find a decent place to stay there. But I always knew that when every door close, you still have doors open at Gurudwara. I convinced the baba ji (priest at Sikh Temple) for a room to stay (although all rooms were booked) to stay. Thanks to the Sikh community, they never let anyone go empty-handed.
We got fresh, it was Dussehra although we could not witness the event but could hear the loud sound of crackers. I went upstairs to Darbar to thank God for His continuous blessings. And then we headed to see the most famous The Ridge aka Mall Road of Shimla. It was already late evening and we had to come back on time else the main door of Gurudwara would be closed.
It's a very high climb to reach The Ridge, but it's worth it. It was bearable cold outside, and we were hungry too. And munching on pakoras with kadak chai was the best idea. We stopped at a café and munched on the snacks. The taste was just good, but it was overpowered with a cute boy's smiles around. I was successful to snap a few pictures of him too, it's fun to be bit mischievous sometimes :p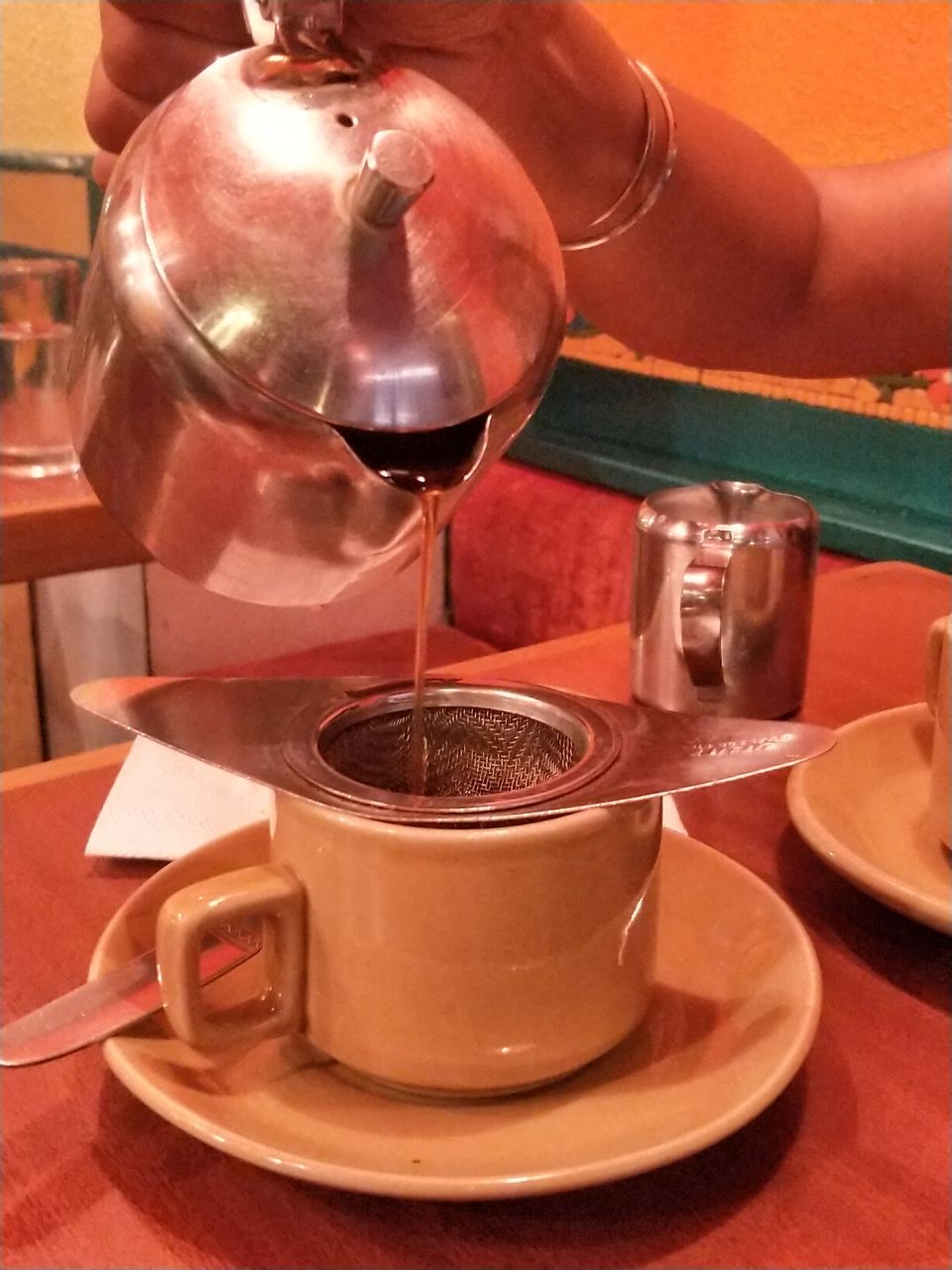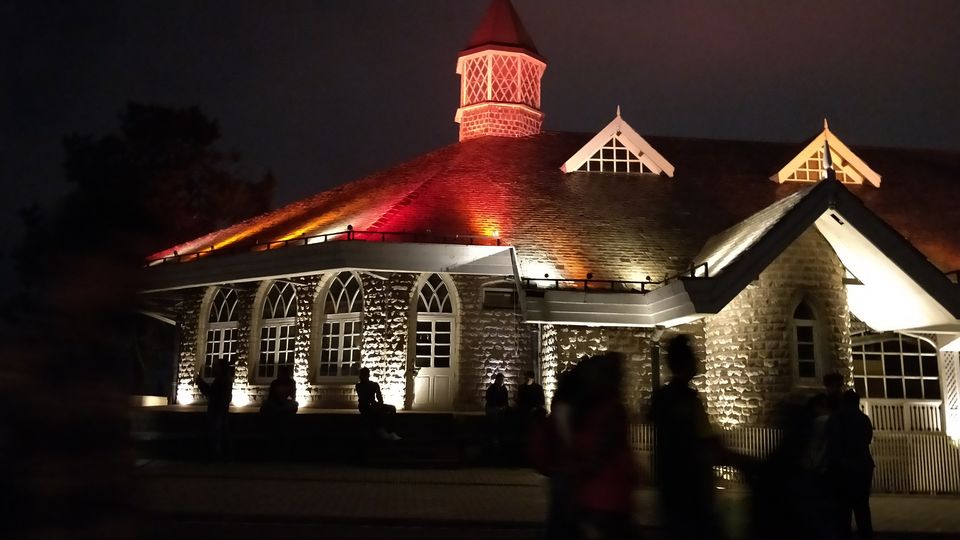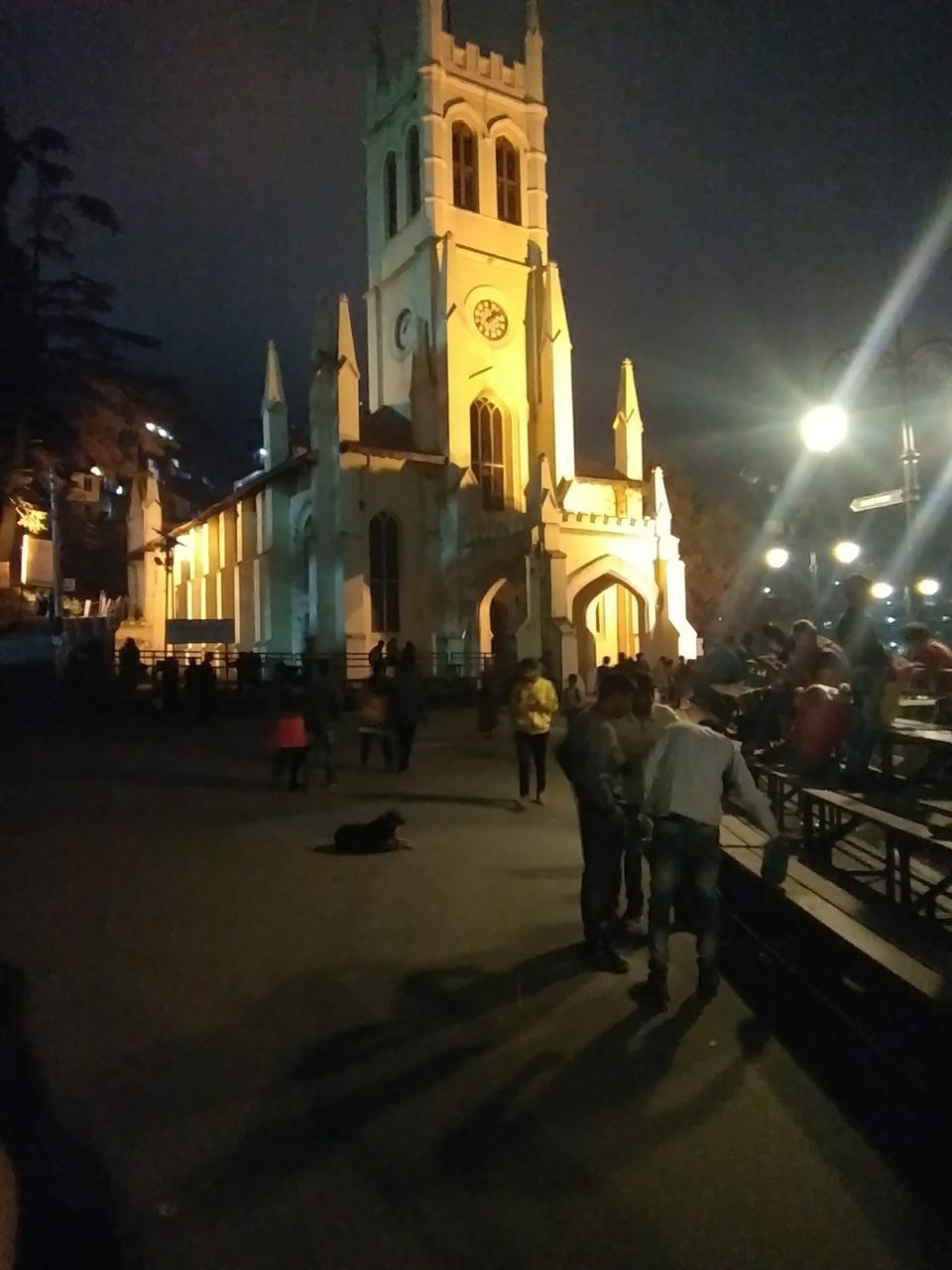 Clicking some pictures, having a look at beautifully maintained British architecture, and exploring through beautifully decorated market, we came back to the Gurudwara to spend the night before getting ready for next leg of journey. Although Shimla was not up-to the expectations as it's a tourist (I mean crowdy here) place, but we were excited for the next day.
DAY 3 (OCT 1st)
The beautiful day started, and we got ready for our next exciting leg of journey. Hopped into bus towards Narkanda from Lakdi Bazar, Shimla. The journey is beautiful towards the town but here the phrase 'journey is more beautiful than destination' was reversed. We reached at our campsite 'The Highland Orchards Retreat' at Narkanda by 11 am that's in 2 hours. The campsite is very beautiful, camps are actually set up under apple trees and this was a lifetime experience.
We were asked to wait till the camp owner arrives to allot us the tent. There were apples fallen all around the ground and our inner souls were reaching the heights of happiness. This was what we wanted to see and experience. The efforts and risks came to its fruits when watching the heaven on the mother Earth.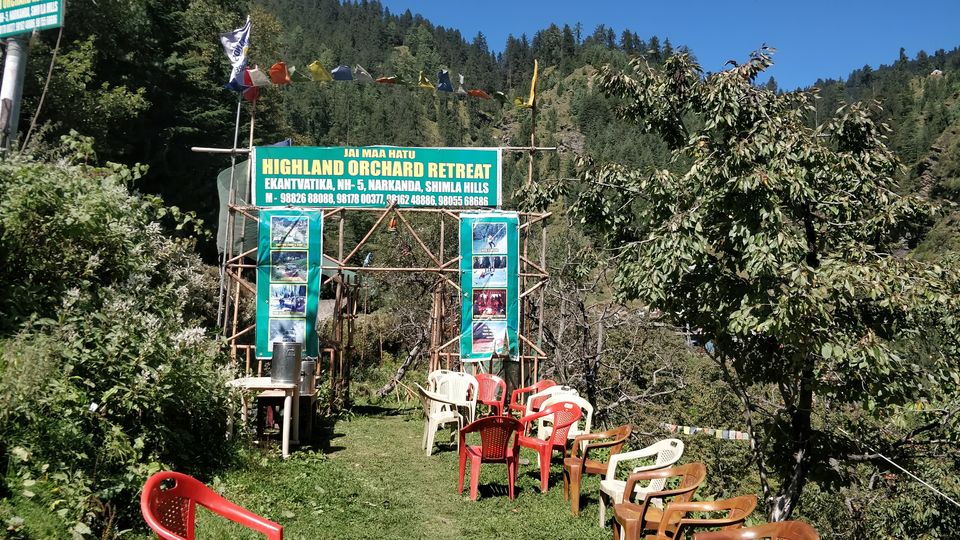 Soon, the camp owner Mr. Vikrant Shyamji arrived with team on his classic green jeep. The next exciting task was to learn setting up a tent and I was on it. They teach every enthusiast the basics of setting up a tent and believe me it's a mix of art and logic.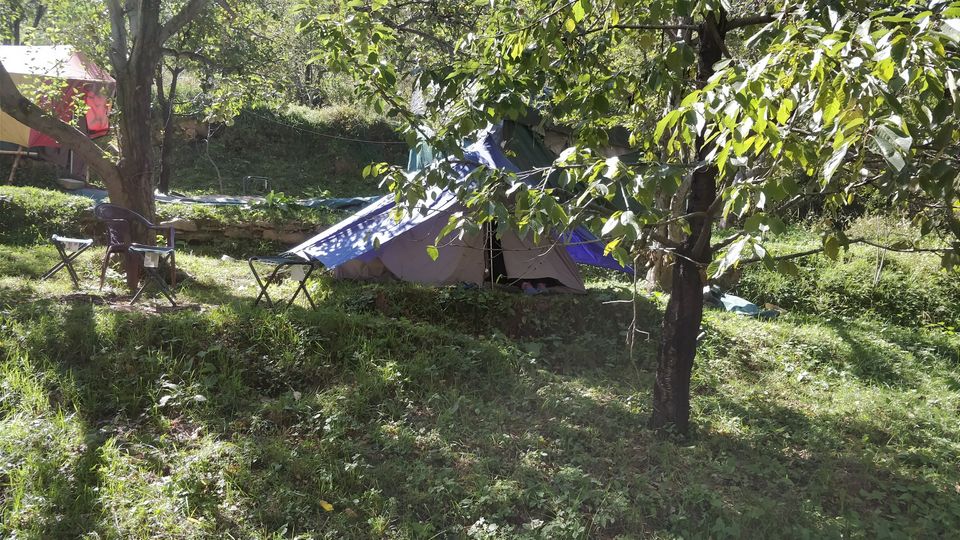 We had a talk with Mr. Vikrant about trekking around and as this would be our first trek, so he suggested us to practice it on an easy trail first that was not far away. He dropped us to the base of the trail, that's a beautiful grassland that converts to skiing ground in winters. And also handed us Decathlon trekking sticks from his accessories yard.
This trail was test to our strengths and only if we could reach on the top and clicked the pictures of flags there, we were considered fit for trekking and can trek to the holy Hatu Devi Temple. So, this was it and we accepted the challenge.
My friend and I promised to each other to get the best experience out of it, whether we reach on top or now. It just seemed an easy climb but was not at all. When you don't have habit of exercising daily, not even walking, only then you realize that its much necessary for you to be fit enough for trekking. There was not even a single soul without two of us on this whole hill, except few monkeys. It was fun but scary too. After the struggling trek of approx. 1 hour, we were successful to reach at the top. And trust me, this was a feeling like we had won a war or climbed the Mount Everest.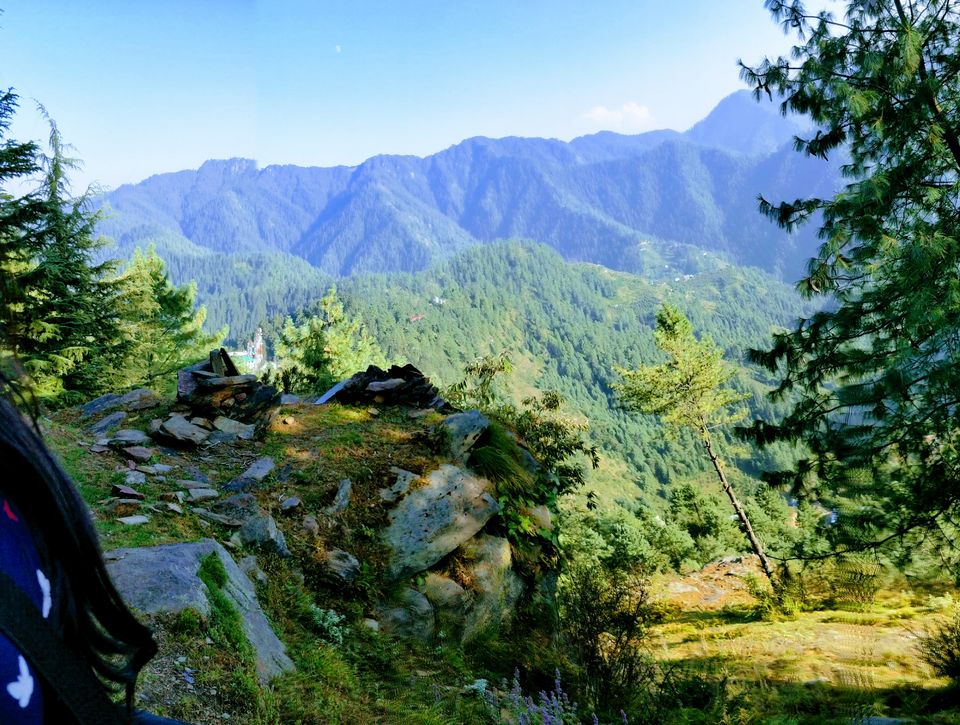 The first trek of my life can't be described in just words. It's more than a trek, it's a respectful feeling, a beautiful memory that I can cherish throughout my life and I feel proud telling people about this. And to make it more memorable, we danced our hearts out on the top, at the edge of the mountain. We could see the whole range of mountains around and sitting there was the calming experience. And as a memory, we collected some beautiful pine flowers that's still with me as my first trek award to myself.
Soon, it would be dark, so we had to return to the base. We trekked down to the office cum restaurant of Shyamji. Reaching at the office, we told about our experience to him and we were awarded with the scrumptious chai and pakoras. It was a tiring day and we were dropped back to the campsite with some knowledge given about the next day trip. The Sun was set and it was dark already. This whole campsite was full of trainees from some government institute who hailing all around India and given a treasure task as part of their training. It was interesting to talk to them and know their experience during the dinner and campfire with dancing around. Now, it was time to settle down in the camps and we were ready to lay down into our sleeping bags. Narkanda is at a good height and is the coldest region around. And it was not easy to spend the night there, I remember I could hardly get any sleep.
Day 4 (OCT 2nd)
The next morning, when we woke up, it was not the good news as someone left a tap open and there was no water in the washrooms. But hats off to the team who is managing the camps, they resolved it very soon. Also, to the surprise, they have very unique set of heating utensil that heats up water for people staying there. They really are heroes to people like us.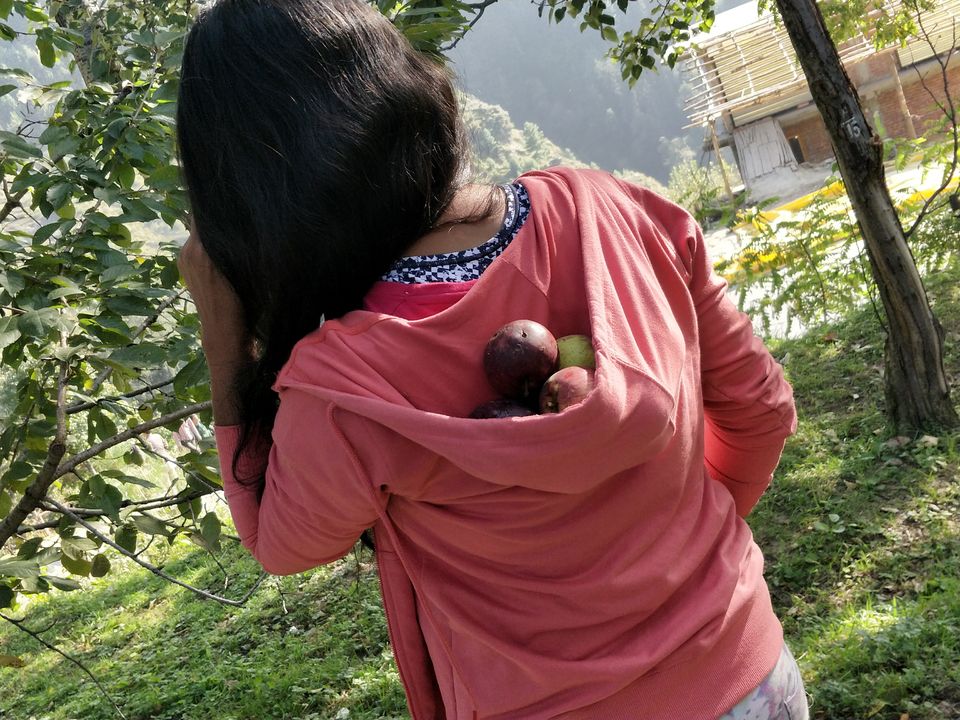 Meanwhile, we explored around in the apple orchards and picked some delicious apples from the tress on our own. It was also part of the camping stay. We got ready when the water was available again. And we were encouraged by few trainees there as they were surprisingly happy and proud to know that just two girls alone have reached there to trek. It felt like a 'winning' moment.
Like they say, Himachalis are the heartwarming people, it is true to its sense. We were being hosted by and taken care by the best people around. Before the trek, we were given the delicious apples from the orchard and water bottles and some chocolates as our snacks as there is nothing available during the trek and at the top.
The final leg of journey and the most struggling but exciting day started. We were going to trek the 7 km trail to the top to the Hatu Devi Temple and this trek is known as Hatu Peak trek (second highest peak in Shimla, 2400 m i.e. 11,152 ft above sea level). Hatu Devi temple is devoted to the holy deity Hatu Mata and the temple is a beautifully carved wooden structure. Mr. Shyam dropped us to the base of trek and given us some best instructions.
"It feels good to be lost in right directions"
A lifetime experience it is when you started trekking. No other experience can be compared. You get to know the real world, the nature, your inner peace can be touched, you start knowing yourself, to find yourself getting lost into the nature.
Although, there is a well-maintained road laid out to the top but what's the meaning of trekking if you're following roads. And, we climbed through the beautiful forest, looking at the high pine trees, peeking down through the deep valleys. It was not easy to trek when we started towards the destination but courage inside us kept us walking towards it. And they say,
"When everything feels like an uphill struggle, just think of the view from the top."
In the middle of the trek, you reach at a place called small Lal Tibba. It's a calming very small pond surrounded by pine trees and a dhaba or chai corner that is closed. We clicked some pictures there and resumed.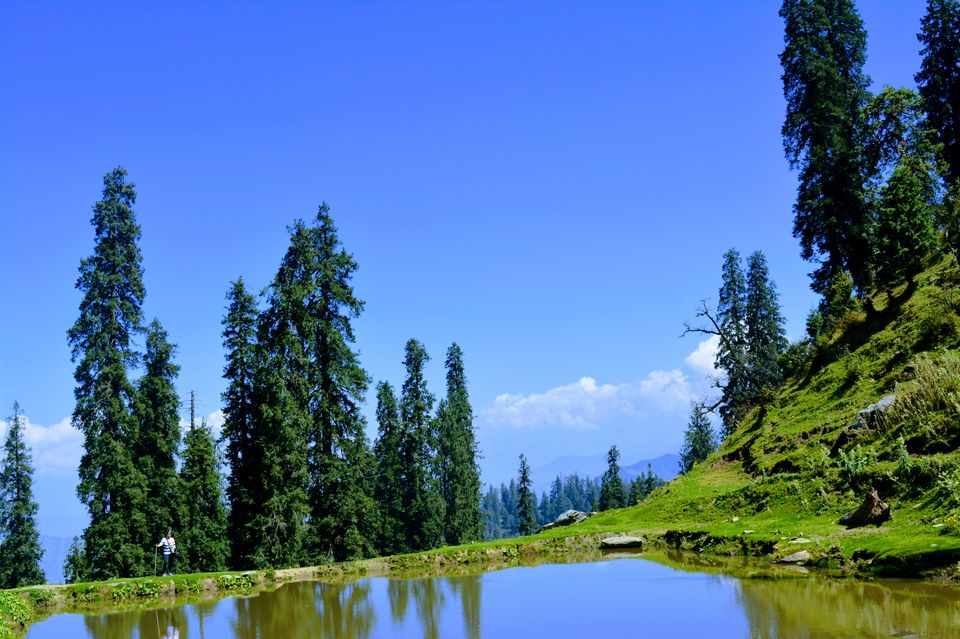 The journey itself was very serene that cannot be written just in words. You should go there to know its real worth. The locals respect the place with their heart but it's we, the people from cities, who do not even think once to ruin the beauty around. Some filthy people have dirtied it by throwing plastic bottles, chips packets and none the less, you can also see the broken beer bottles near the temple and on road. The people who just come for fun cannot feel the pain our nature is going through. Let's please start paying respect to our mother nature who nurtures us. Or we should remember that the beauty has the power to turn itself to the most powerful beast.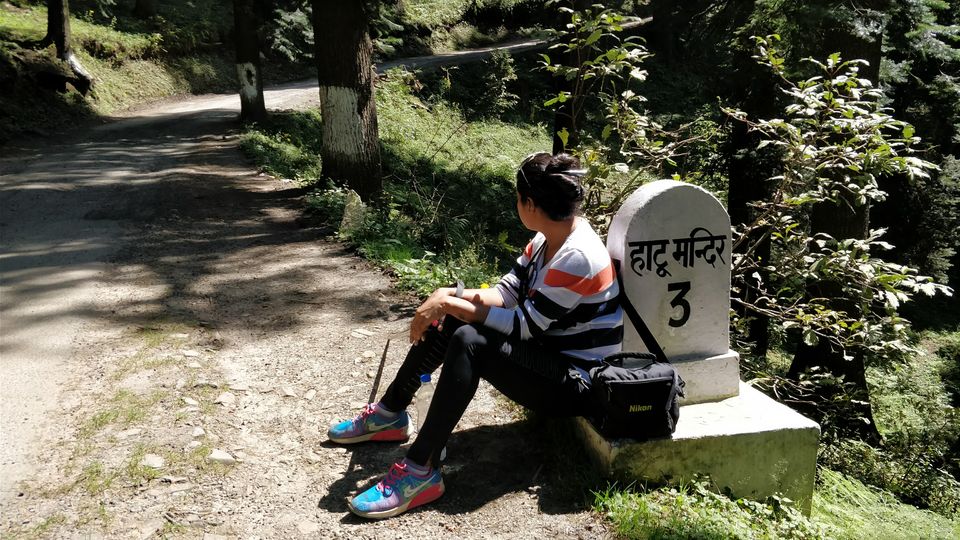 The last quarter of the trek is not very easy and it tests your ability and dedication of your inner traveler. We almost broke down but did not want to go back at any cost after reaching this close.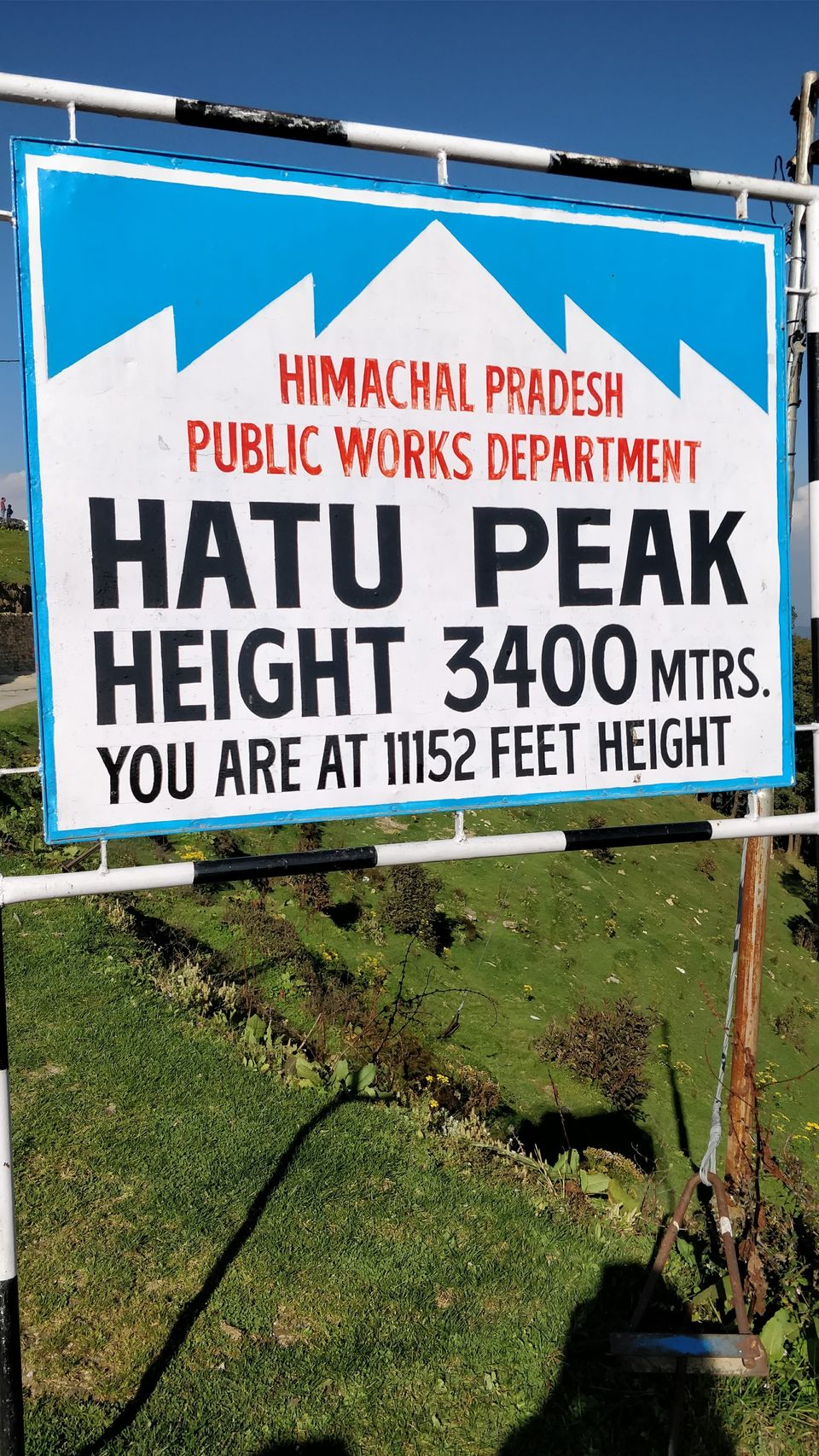 This experience was serene, calming and memorable when you get to see the craftsmanship along with religious feelings that wakes your inner human to thank the Almighty for the blessings.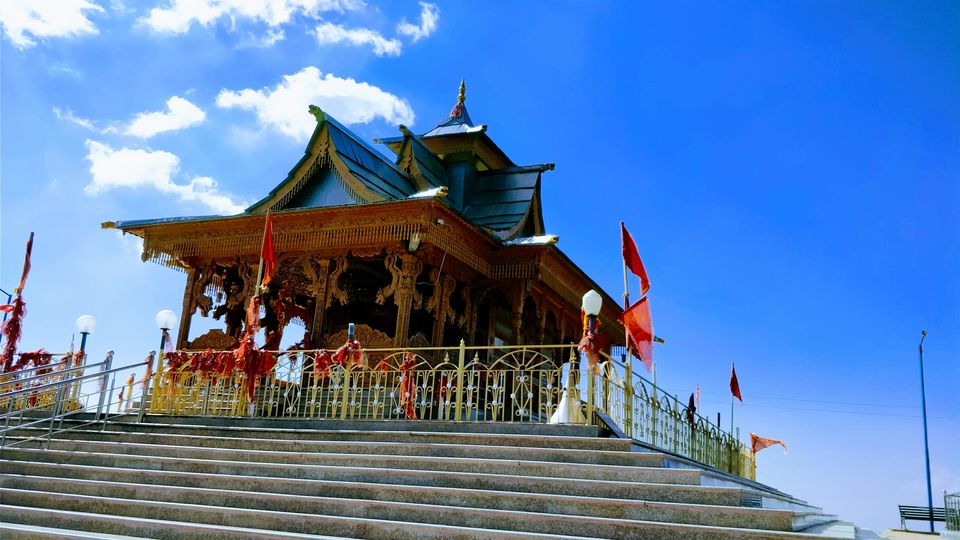 Witnessing the soothing views, breathing the pure and fresh air melts down all the tiredness. I'm thankful to everyone who were, knowingly or unknowingly, in the moment to made me feel the moment. I could never be able to be there without their contributions and my efforts of being a rough and tough traveler.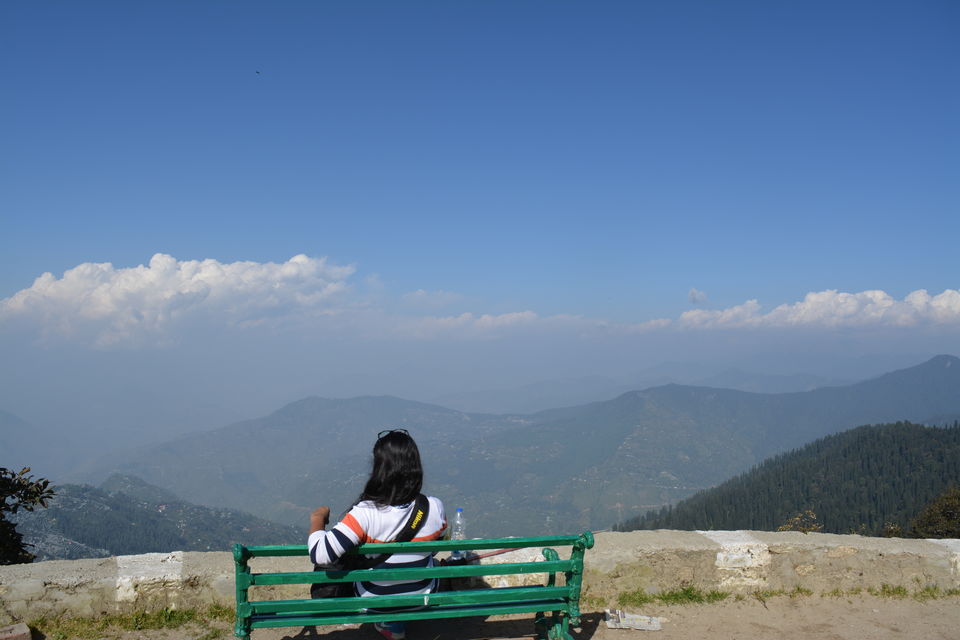 We spent around an hour or a half more before coming down. As it was late already, and we had to board the bus back to Delhi, so we started climbing down. For the general information, the road is very narrow to the top so it's better to safe drive and abide by the rules so that others can drive easily, and all can be safe.
We hopped into the bus for overnight journey and were back in the morning.
It was end to the memorable trip now, but I collected lots of memories and witnessed magic. We were guided by our angels through the whole journey, we did not even face a little problem. Though, nothing was planned in advance, but everything fallen into place at its own time.
This trip did not just relax my mind but strengthen my belief in humanity, my willingness to become a lifetime traveler and adding more dare to my dream of becoming a solo traveler.
Thanks everyone for becoming part of this journey by reading this experience. Will meet you with a new blog soon.