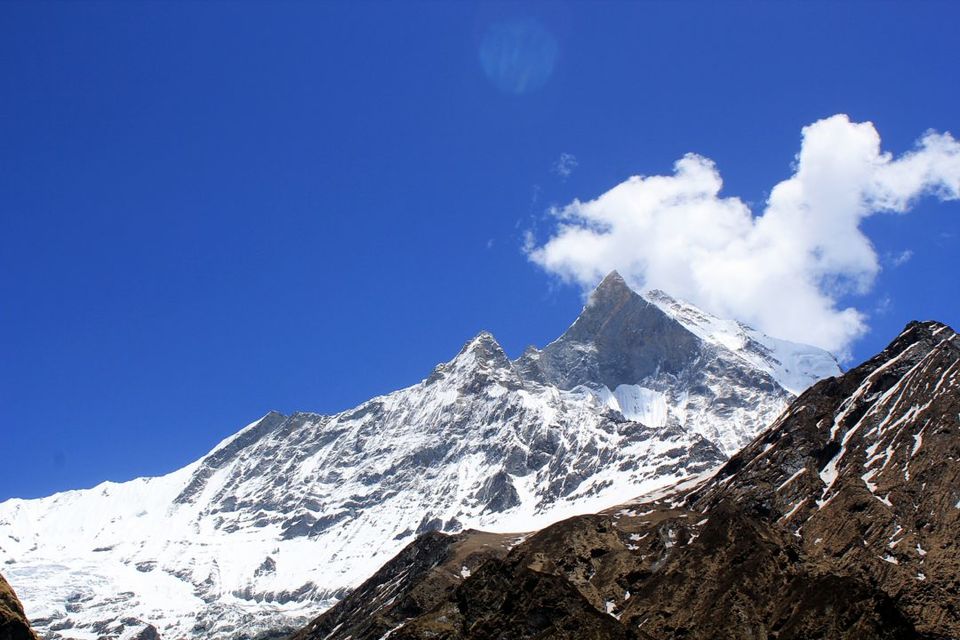 " And all she knew was exactly how to look at the brighter side of life"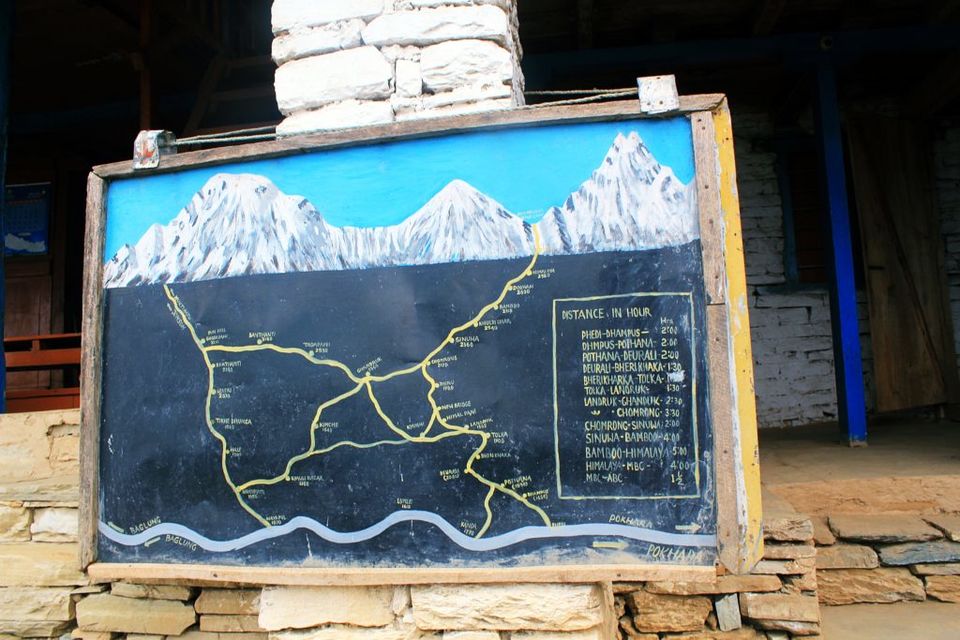 The Map to ABC
I am not a mountaineer, I have not done the mountaineering course, neither do I belong to the mountains. I am city girl who was born in plains, who had no extra ordinary fitness, infact I suffered Asthma as a kid and I also have a backbone with no cartilage between my spine and my tail bone, I had to quit Food and Beverage and Kitchen while I was working for the Hospitality sector because I couldn't carry heavy weights. I love the mountains and that's all I knew - a kind of love that I never felt before and will never feel again, mountains drive me to be me, mountains drive me to go above my nerve, every time!
My life is not a bed of roses, nothing has been served to me on a platter, I have worked hard for every piece of happiness I own today, I have had dark times, we all do, and they never end, and sometimes you have to go through them alone. Mountains taught me one thing, and that is to keep going no matter what. Two months down starting my dream project - a travel company of my own, I was in losses, and it's my baby, yes I can't fail. Everything started going wrong and people who I thought would stand by me were the first ones to back off. But I was alive with strength in my mind and my legs, and every time someone turns their back to you, few angels show up to save your grace, and that's exactly what happens, we just need to learn how to count our blessings, the day we learn that, our lives will change, we will be happier and nothing else matters more in life, but to be happy!
The Annapurna Base Camp Trek was on my mind since long, and after a lot of thought and discussion I decided to take it in spite of the fact I was running losses. I wanted to do it solo and unsupported. I knew I was going to really really have it hard, but I guess that's what I liked, to survive through hardship, there is some sort of a pleasure in it.
Arrived at Kathmandu, spent a day there, prepared for the trek, and left the next day morning for Pokhara. The bus ride to Pokhara is almost 6-7 hour ride from Kathmandu. Reached Pokhara and decided to start the trek the same day. So here goes my day wise story to my journey to the ABC.
Day 1: Australian Base Camp

"Be open to new people and new experiences, without fear"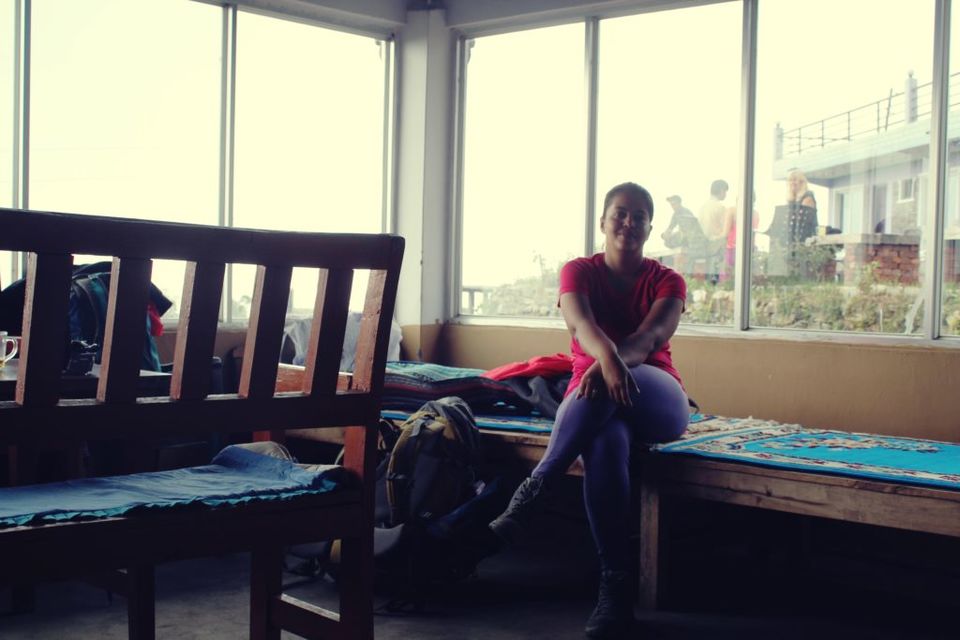 Me at the Australian Base Camp
This was the beginning of the much awaited trek, and I knew I was going to walk for the next 8 days at-least and that thought was really scary, however I decided to take each day and not count the no. of days. This was the first time I trekked in the dark, this was something new I was doing, and surprisingly I wasn't feeling scared at all, in fact I was quite fascinated observing the species in the forests which were very different from my experience of trekking in India. Since they trek began from a low altitude, it seemed more like a tropical rain forest. In an hour and a half I reached the Australian Base Camp - My first pit-stop. Found a pretty nice lodge and good food.
Day 2: Landruk "Hope for the best, be prepared for the worst"
Lodge at Landruk
The morning was quite cloudy as the Australian Base Camp, with no one going further up. Clearly it was going to rain, however I was high on energy and I had to keep going, so I did. The walk was a mix of ups and downs at a comparatively low altitude region. Just and hour short of Landruk, it started to rain and the rain was not rain it was a thunderstorm and everything I had including my shoes got completely drenched in the rain. I walked in them with water pumping out every time I took a step. When I reached Landruk I found all my clothes in my backpack were wet too, I usually pack them in a plastic, but this time I didn't, I was cursing my self for not doing so, took out everything and put to it dry, the sun showed up for a bit, rest was luck.Prayed while I was sleeping for the weather to be good, I had to make it to the ABC, I just had to!
Day 3: Chhomrong "You are stronger than you think you are"
Sunrise at Landruk
I woke up at 5:30 am and my prayers were answered, saw the first view of Annapurna Main and I couldn't have been happier. This was a longer and harder day, I was in good spirits, but my shoes were still wet. So I decided to hike in my floaters, didn't have a choice. The altitude started increasing and the terrain started getting demanding. The never ending climbs started to begin and then the descends and then the climb again. Reached Jhinu by lunch and it was a clear uphill climb to Chhomrong, Which I was scared of, but I did it like it was a cake walk. It wasn't that hard or may be I was stronger. I had my backpack all this while. My confidence got a real boost, I started to believe I am going to make it.
Day 4: Himalaya "A champion is someone who gets up and moves, when she can't"
Morning view from Chhomrong of Annapurna and Machcha Puchhre
Woke up to clouds, another rainy day. The Annapurna Main and Machcha Puchchre did show up for a while and then disappeared. It rained through the day and true to God, this was the hardest day. The rain made the trail slippery, it was a constant climb and I was not in my best shape for some reason, the altitude kept increase, it was cold and damp, the moisture levels were high, everything wet would not dry, my shoes were still wet, and there did come a point were I thought I just couldn't go any further. I was breaking down, I started feeling the weight, but did I have a choice, no! I had to keep going, so I just kept going, thinking that a miracle would happen and I would feel more energy. Made it to Himalaya, extremely tired and everything wet, it was cold. I immediately changed all my clothes which also seemed like an effort and just crashed. I was really unsure as the next day was the day I reach The ABC, I was hoping for good weather and a stronger me.
Himalaya from a distance
Day 5: Annapurna Base Camp " Sometimes you just have to take the leap of faith, jump and trust yourself, because you are all that you got"
On the way to Deurali
The Himchuli Straight up
Woke up to a bright sunny day, and I decided I will take it easy and slow as the altitudes where increasing. So began walking quite early and made it to Deurali in 2 hours. The next stop was MBC( Machcha Pucchre Base Camp). As I kept walking the view started getting so so breath taking that it completely kept me distracted from everything else, it didn't matter any more which part of my body was hurting, or the weight or anything else, I was coming closer to my love - the mountains and that is all that mattered. Stopped for lunch at MBC with a straight view of the Annapurna South, it was breath taking. Post lunch I started my trek to ABC, the last leg, a dream that was coming true, and within less than 2 hours, I was there! I had tears in my eyes, I made it! in one piece, inspite of all odds, these moments of life are what you love for. I forgot how tired I was, I dropped my bag and picked my camera and just left to click, It was magic! The night sky was clear and I saw the moon rise, It was a miracle!
Machcha Pucchre from MBC
Annapurna Base Camp
Annapurna Main (8091 mts) at Dusk, the 10th highest mountain in the world
Day 6: Dovan " You are on your own soul journey, not competing or racing with anything or anyone"
Hiking to Dovan
Sadly I had to leave The ABC next morning, I was happy I survived the night there as many couldn't, they decided to go down due to altitude sickness, which I didn't suffer from, I am a slow walker and thats what saved my life. The morning was bright and sunny, but as we crossed Deurali it started to rain again, and I had to stop before. It rained heavily and continuously, taking a stop was a good idea and I also decided to take some much needed rest, so all I did was sleep!
Day 7: Jhinu " Energies make you or break you, choose wisely"
Maccha Purchre from Sinuwa
Since walking back is not so much fun I decided to break some trekking rules and plug in my ear phones. It was also a walk the talk with myself, on my life reflecting upon my personal and professional goals and decisions. We all want friendship and love, we all thrive for it, break down in it and yet never give up. Because love makes this planet a better place to live, but trust you me, no relationship is as important as your relationship with yourself, because no one is ever going to respect you or value you like the way you would. And please start loving yourself first, you are all that you got. When you are in the worse times, yes there are few who help, but its you who pulls yourself out every-time out of that dark and bring yourself back on your feet. While I was lost in thoughts I happened to peep back just to get an amazing sight of the Maccha Puchhre ( Fish Tail literally). Love yourself enough to be happy, and choose happiness, everyday! On that thought and with music, I had happily made it to Chhomrong, I was quite fast. Jhinu was an hour away and so were the hot water springs ????
I made a friend, and we traveled together, those times are my favorite, strangers who become friends ????
Day 8: Siwai
"Be the best version of yourself, wherever you go, heal and spread the love"
On the way to Siwai
It was the last leg, and it was harder than I thought, may be I knew in my head it was the last leg. I just wanted to get done now. Reached Siwai in a few hours and I was done. Finally! I made it to THE ABC and was back in one piece. I had decided to get to Pokhara and shower first, then just treat myself and celebrate my little victory.
Why do I trek solo? because it gives me a feeling of freedom that nothing else does, I feel stronger and more of a survivor. We live in a country with women living under various conditions and societal pressures and I don't ever want to be bonded, because I always have a choice, and thats the choice I make for myself, because I am all that I have.
Fear is nothing but a state of mind, being brave pays off, everything in life comes for a price and that price of often painful. Its the pain you choose to take, the pain of being conditioned and living a life dictated by others and yet never being appreciated for it or choosing freedom, which brings uncertainty and loneliness, but you live the life you choose, and you deal with the consequence. It is always the choice you make, pain in inevitable and pain is good ????