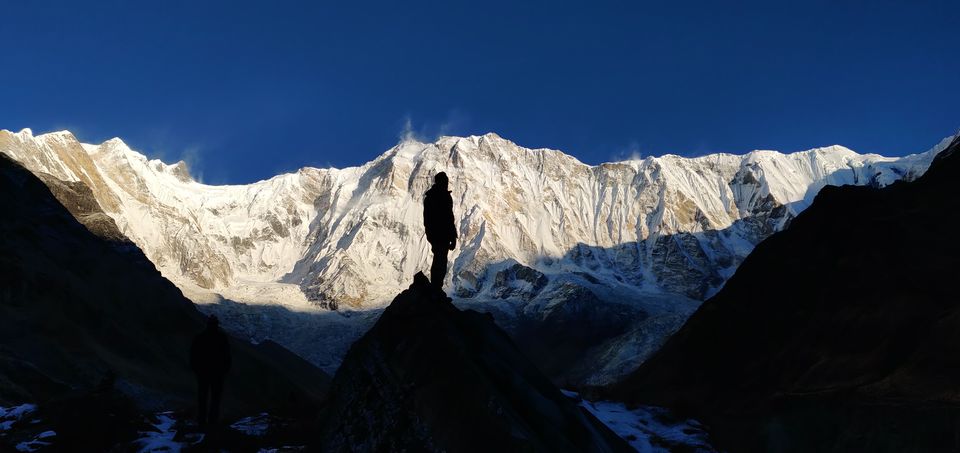 *NOTE*
This itinerary is made in consideration to experienced trekkers. If you do not have much experience of any medium difficulty treks, please do not follow the same instead gather the information that can be necessary for your journey. This article can be helpful to those who are willing to complete the trek in less time.
Do not forget to go through the highlights, which can be really helpful to you in minor details.
Intro:
Annapurna Base Camp trek is a moderate level trek near the city of Pokhara in Nepal. And offers you an amazing walk through the diverse landscape and culture complete with rich mountain vistas, terraced fields, quaint Gurung villages and a wide variety of flora and fauna. The trek can really be challenging at times but also provides some magnificent views of Annapurna 1 (8091 m) bringing you to face off the World's Tenth Highest Mountain, starting from the forested area to the river bank lies dense forest of many beautiful species of flowers and bamboo. The trek gives you some breathtaking views of Mt. Annapurna 1, Annapurna 3, Annapurna South, Gangapurna, Hiunchuli and Machapuchare (also known as the fishtail). It is one of the most popular walk on the earth.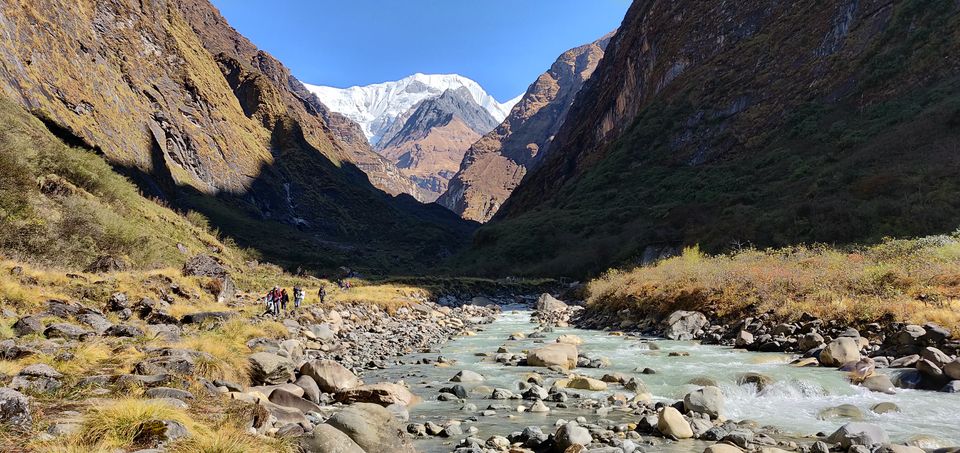 Itinerary
Day 1 - Pokhara to New Bridge
Day 2 - New Bridge to Bamboo
Day 3 - Bamboo to MBC
Day 4 - MBC to ABC
Day 5 - ABC to Sinuwa
Day 6 - Sinuwa to Pokhara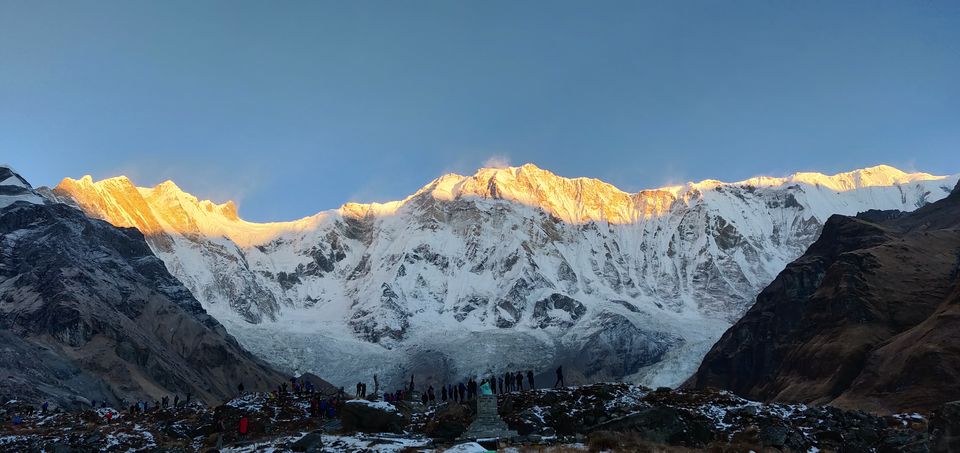 Day - 1
The aim is to start early everyday so that you can complete according to the mentioned itinerary. On first day you have to take a cab to bus stand near Zero Chowk, the charges from lakeside to bustand is around 250 NPR for the cab. From bus stand you have to board the bus to Ghandruk, which is around 4-5 hours. The bus takes you through Nayapul which is also the starting point of the ABC trek, here there are 2 checkposts where the bus stops for verification of your permit for the trek.
The bus drops you at Ghandruk which is the base point, you will also see some tea-shops here. But I would suggest you not to spend much money there, instead start your trek directly to New-Bridge (1500 m) which is around 2 hours of normal trek.
We stayed back in the Kalpana Guest House which had decent rooms with rates as cheap as 300 NPR for a 3-bed room, the owner and his hospitality was perfect, the washroom was clean, low speed wi-fi, and very delicious and economical food. The place had indoor and outdoor sitting with very beautiful sights, and vegetation all around the stay.
*NOTE*
1- If you do not want to board the bus you can hire a cab directly to Ghandruk, for which the charges are around 5-7k NPR, depending upon the size of the car.
2- You can also register for the permit of the trek before hand in Pokhara through a travel agent (for which they take commission), or you can also choose to get the permit at the checkpost. The first permit costs 600 Npr/head. And the second permit costs 452 Npr/head.
3- Keeping in mind that the second permit will cost you double the price originally which is 200 Npr. Because you did not choose to book in first hand. For both the permits you need 4 passport size photographs and your passport/id.
Day-2
Like everyday routine we start early and leave from New Bridge to Bamboo. Today can be a hectic day as we have to cross a major part of the trek that is Jhinu (1780 m), Chhomrong (2170 m), Sinuwa (2360 m), which is an ascending altitude of nearly 1000 m.
The most part of today's hike include stairs. If you don't like climbing much stairs, today is not your day as you might have to face the most difficult kind of journey of nearly 6000 steps. But with hardship comes the sweetest fruit, you'll have one of the most memorable suspension bridge walk and a walk through the most beautiful village of the trek i.e. Chhomrong. After this village lies another village of Sinuwa which is also an ascending hike. As soon as you cross this one you'll be relaxed to know that next stop is Bamboo and its way is through the most puddly forest of the whole journey and some mesmerizing views of Mt. Huinchuli and distant waterfalls, when you least expect them.
After this 'breathtaking' hike of today you'll reach another beautiful village of Bamboo, as you're approaching towards the village you'll understand why it is named as such. In this small so called village there are only 5 cottages for all your needs, we stayed back in the first one named Buddha Guest House which had a decent space for all kinds of comfort zone. The food was good but the prices were a little up which is common as you ascend up. The price here for a 3-bed room was 600 NPR. The prices for hot shower is 350 NPR/head.
Day-3
Starting the day with a walk, through a beautiful forest can't get any better. As you leave Bamboo you'll encounter one of the best kind of Bamboo forest. After a hike of around 1 and a half hour you'll reach a place called Dovan (2600 m) which is just a cluster of some tea-shops. As you hike further, in another 1 and a half hour you'll reach Himalaya (2920) which will be the first place where you can the feel the true aura of The Annapurna Sanctuary. After another 2 hours of hike, you'll reach Deurali (3230 m), during this trek from Himalaya to Deurali you'll find yourself amidst the impeccable beauty of this sanctuary crossing a glacier as well. The destination for tonight is Machapuchare Base Camp (3700 m) which is at quite a good altitude, if you do not wish to spend the night here you can stop at Deurali. But as we did, we stayed at MBC to watch a wonderful sunrise from here.
There can be reasons to stay back at a Deurali as it is at low altitude and it is better to acclimatize there, as the journey from Ghandruk to Deurali had been quite rushing. The hike from Deurali to MBC is a breathtaking walk through the bank of river, at first it seems like an easy walk but as you descend for another half an hour, you'll find yourself infront of a very steep ascend. In MBC, we stayed at the second cottage, which was another 5-10 mins. of hike but provided some glorious views of Mt. Machapuchare and Annapurna South the next morning.
Day-4
If you stay at MBC, you could rest for a quite longer time and start your journey late for next morning. The hike for today from MBC to Annapurna Base Camp (4130 m) is not that challenging and is only 2 hours, so if you start late even you can reach ABC with quite a fun walk. As you complete half the journey your destination will be very clearly visible to you, which sort of takes away whole of the tiresome. In another few minutes you'll reach a point saying 'We Achieved' which is actually an achievement and Mt. Annapurna will welcome you with both its arms wide open for you. Today is a rest day and you can enjoy it surrounded with the company of Mt. Hiunchuli, Annapurna South, Annapurna 1, Tharpu Chuli, Ghandarwa Chuli and Machapuchare.
It is better to stay at ABC for a night and enjoy the sunrise next morning, also because you can have whole day for rest and I believe if you're going there to have a visit do stay a night to seize all that you can from this moment. It actually makes sense to stay and if you do not wish to, then I think it is not much of a happening trip if all you did was to rush. We spent our day there and luckily we were blessed with the first snowfall of the year. You never know what you'll find. We stayed back at the Snow Land Guest House and a 4-bed room costed us for 800 NPR, the food was delicious, the time spent here will be the most memorable time of your journey.
Day-5
Don't forget to get up at 6 am to enjoy the sunrise. As soon as you're done with it have your breakfast and start back at the trail. Today can be quiet rushing but as you're descending you won't feel the same amount of hectic burden on yourself. Starting from the ABC, you need to reach Chhomrong today which is quiet possible if you manage to leave on time. At most you'll reach Chhomrong by 4pm if you leave by 7 am. Also depending upon your pace, I managed to reach Sinuwa by 2 which was quite satisfying. You may also keep an option to stay here, as reaching chhomrong and climbing those steps can be really hectic. We stayed back at Sinuwa, also because the view was quiet satisfying considering this as the last day of all the rushing.
Or if you really wish to stay a night at Chhomrong, you can choose your way, as Chhomrong is the major village on this whole trek and has quiet better options for everything you need.
Day-6
All your worries set aside, this is the last day when you need to be a little careful to reach your destination on time which is not that far now. Descending from Chhomrong you reach Jhinu, where you can prepare yourself to have a bath in hot spring which can be very relaxing after whole of this journey. Remember not to carry all your baggage and things, because the trail to the hotspring descends you down near the river but when you ascend back up to the original track it can be very hectic and unsatisfying after such a good bath.
As soon as you cross the Jhinu and head your way towards the New Bridge, look closely at the end of the bridge. Here you'll see 3 trails to get off the bridge, first one is the same that you came from which descends down the bridge, and two more that ascends up. One goes to the right that leads you to Ghandruk and the next one on the left that leads you to the base where you can get the bus or jeep to Pokhara. This trek is just another 1 hour and is quite normal. The first bus arrives at 9 am and the last at 5 pm. If you cannot make your way for the bus, you can also opt for a jeep which fits in 8 people and costs around 6000 to 8000 NPR. Obviously the bus is cheaper but there are chances you won't get a place to sit in there specially in the first one. If by any chance you get late which is quite not much possible but it happened with us as some of our members were left behind. There won't be much issue as there are some tea-shops which also provide accomodation for 250 NPR/head.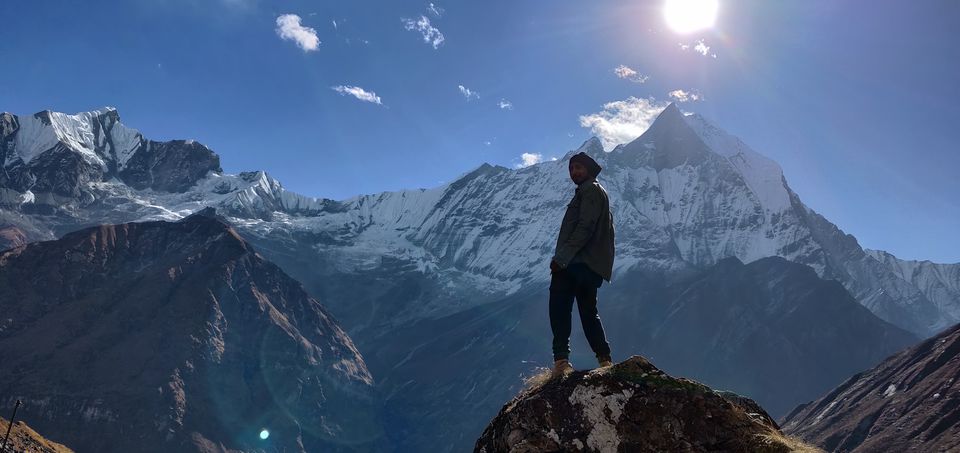 A brief about the villages
1- New Bridge: It is a beautiful place to stay a night, the wi-fi is free but low speed, the food is good and cheap also, whole place is covered with alot of landscaping which is quite a rejoicing experience. Base point to New Bridge 2 hours of descend & New Bridge to Jhinu 2 hours of ascending stairs.
2- Jhinu: It is a small village which also has a hot spring, many lodges here accept visa & mastercard. Food & accomodation available. Jhinu to Chhomrong 2 hours of ascending stairs around 2500 steps.
3- Chhomrong: It is the major village in the sanctuary, there are many cafes and lodges for all your fancy needs, almost each of them accepts visa & mastercard, a checkpoint to verify the permit, from here onwards you'll be charged 150 NPR on charging your devices, 300 NPR for unlimited wi-fi, and 110 NPR for hot filtered water. Keeping in mind these prices will hike up as you ascend. Chhomrong to Lower Sinuwa 1 hour of descending steps around 2500 and 1 hour of steep ascend. In total 2 or 2.5 hours.
4- Sinuwa: There are basically two villages named sinuwa categorized upon their altitude, Lower Sinuwa & Upper Sinuwa respectively as you ascend towards ABC. Both of them with very good cafes or tea-shops, with scenic views. They both are suitable to stay for a night, if you do not wish to stay in Chhomrong, the food is also good. Lower Sinuwa to Upper Sinuwa 0.5 hours of ascending hike and Upper Sinuwa to Bamboo 1.5 hours of descending hike.
5- Bamboo: This village is situated within dense forest near the river, with very beautiful & unique experience of accomodation in a lively forest life. The place has beautiful landscapes with good comfortable facilities. The food was also good with hot shower available for 350 NPR. Bamboo to Dovan 1 hour ascend through dense marshy Bamboo forest.
6- Dovan: This village has 4 cafes with good food and accomodation options that has pretty waterfalls & landscaping views. Dovan to Himalaya 1 hour of ascend.
7- Himalaya: The place has 2 cafes, with good food & decent accomodation and scenic views of Mt. Mardi Himal & Machapuchare. Himalaya to Deurali ascending hike of 2.5 hours with scenic views and waterfalls.
8- Deurali: It has around 4 cafes, with basic and economic food and accomodation available. Deurali to M.B.C. is a mixed hike of ups and downs of around 2 hours.
9- Machhapuchare Base Camp: Mbc has around 3-4 lodges for all your needs. It provides magnificent views of Mt. Machhapuchare, Ghandharwa chuli, Mardi Himal & Annapurna South. M.B.C. to A.B.C. is around 2 hours of easy walk trail.
10- Annapurna Base Camp: It has 5 lodges that provide good comfort and good food. The base camp provides a 360 degree panoramic views of Mt. Machhapuchare, Annapurna 3, Annapurna 1 & Annapurna South.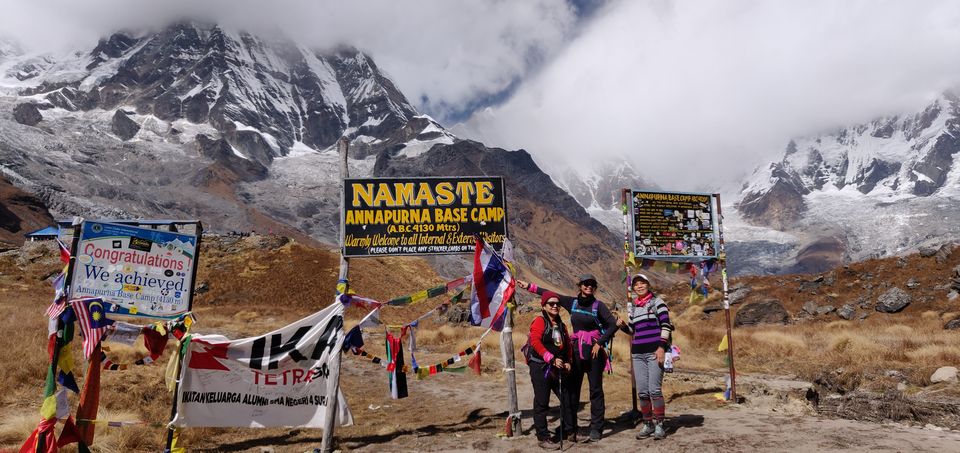 HIGHLIGHTS
* Do not forget to carry hard cash, online payment available at Chhomrong only. (For Indians, keep in mind that you cannot make an online payment through your card. Check the backside of your card which states 'Not valid for payment in Foreign Exchange in Nepal & Bhutan')
* Carry some snacks at all time of your trek, I would suggest you buy these from pokhara as you ascend things get expensive.
* The key to achieve this itinerary is to start your trek early in the morning.
* There is a hack to skip 1 more day. According to which you need to start your trek from the end of the road, where the bus or taxi drops you, just follow the road till the end. Do not listen to the villagers telling you to take the route downwards because there aim is to send you to New bridge from a longer route so that you stay in the cottages on the way to keep their business running. If you follow the road till the end, it's just an hour of a trek to New Bridge while the longer one take around 3 hours.
* It's ohk to purchase things on the way though it is expensive, but it helps the locals that stay there for the whole year. As it is difficult for them to stay and most of the stock is gathered through helicopter to ABC, which is quite not affordable for them everytime.