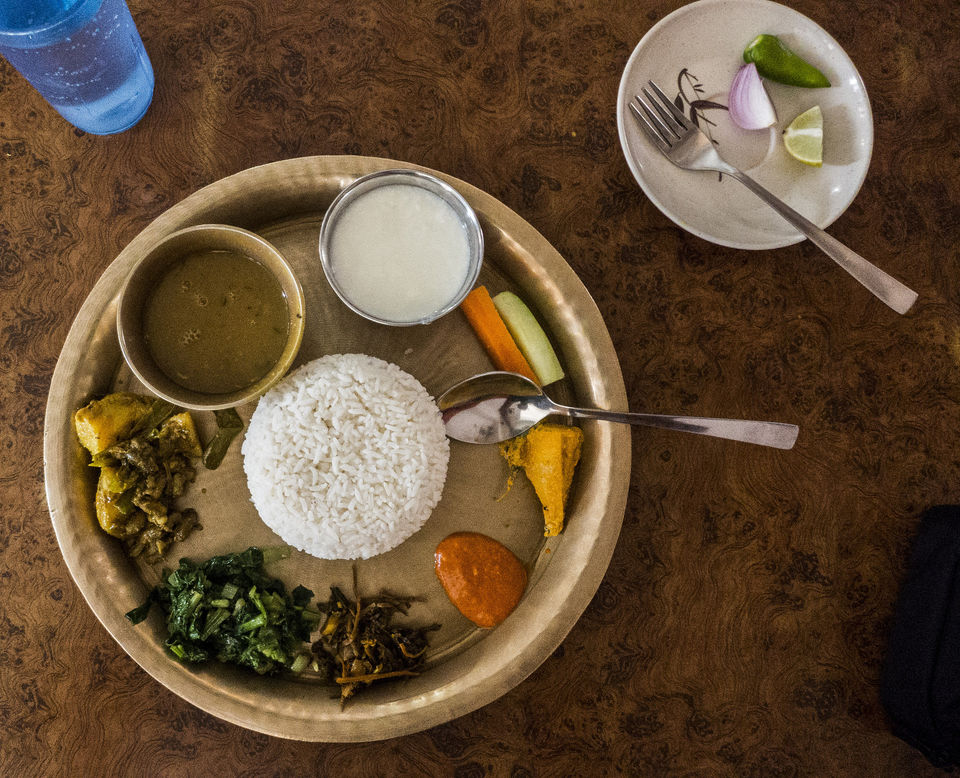 Travelling is not just about destination and places to visit but also its culture, traditions and ofcourse food. When we talk about Nepalese food culture, we are mainly limited to Momos, Pulao and Thukpa. But if you look deeper into Nepali household, you will discover loads of dishes in terms of local cuisine. Surrounded by India, Tibet and China, food dishes in Nepal are highly influenced by the neighbouring countries. Nepalese food is a perfect blend of flavours, traditions and interesting history.
Nepalese dishes are generally healthier than compared to most other South Asian food items. Set against the backdrop of mighty Himalayas, common ingredients found in a Nepalese cuisine are potatoes, lentils, tomatoes, peppers, garlic, chillies, coriander, cumin and mustard oil.
Here are top 7 food items in Nepal that you must try on your next trip to this vibrant Himalayan country. From small eateries to luxury dining, checkout the best food spots in Nepal where you can taste below mentioned authentic dishes.
Sel Roti
Commonly found at road-side snack stalls, Sel Roti is a doughnut-shaped food item and one of the most relished local Nepalese dish especially made during festivals (like Dashain, Tihar) and marriages. This rice flour bread is deep fried which gives it crispy texture from outside and soft from inside. Coated with sugar syrup, Sel Roti is a great option for quick munching and tastes amazing with dippings made with yogurt and alongside vegetables.
Where to try-
Local street vendors in Chhetrapati (Kathmandu)
Best for-
Breakfast, quick bites
Samya Bhaji
A cuisine passed from one generation to another, Samya Bhaji is one of the major attraction in Nepal's food items. This traditional dish belongs to Newari community in Nepal and served mostly during auspicious occasions like Indra Jatra festival. Samya Bhaji is a complete meal containing several food items like beaten rice, barbecued buffalo meat, spicy potato salad, dried fruits and boiled eggs. Each food item in this plate represents different qualities like longevity, good luck, fortune and health.
Where to try-
Shree Trishakti Newari Restaurant (Kathmandu), The Village Cafe (Patan)
Best for-
Lunch
Gorkhali Lamb
Planning to go Nepal, then must try Gorkhali Lamb if you are a non-vegetarian food lover. This authentic Nepalese food cuisine tastes best during winter season when the country experiences extremely cold weather. Gorkhali Lamb is a filling and intense dish which involves slow cooking the lamb chops, potato wedges and roughly chopped onions in a chunky curry. The curry is best enjoyed with rice and roti.
Where to try-
Nepali Chulo (Kathmandu)
Best for-
Lunch, Dinner
Yomari
Pointed fish shaped dumplings stuffed with a sweet molasses mixture, Yomari is a special Nepali food item having its own festival by the name Yomari Punhi. This winter delicacy belongs to Newari community of Nepal and made of rice flour to fight cold weather in mountains. No doubt, Yomari makes it hard to resist for the people with a sweet tooth.
Where to try-
The Village Cafe (Patan), Bhat Bhateni Supermarket (Patan)
Best for-
Quick bites
Chatamari
Also known as Newari Pizza, Chatamari is a type of rice crepe and traditional dish of Newar community in Nepal. This popular snack is prepared during festivals and special occasions. Chatamari is a rice pancake topped with a variety of delicious toppings like chopped onions, fresh coriander, ricotta cheese, minced meat, eggs and spices.
Where to try-
Jhigu Bhoe Chhen (Kathmandu)
Best for-
Lunch, dinner, quick bites
Tongba
Your culinary journey in Nepal will always remain incomplete without trying out Tongba. Tongba is a millet-based traditional alcoholic drink belonging to Limbu community in Nepal. Also called 'Tibetan hot beer', served in a cask-like vessel and sipped through a bamboo straw. This hot beer is prepared especially during ceremonies or to welcome guests. Tongba is sour in taste and consumed to fight chilly atmosphere in Himalayan region.
Where to try-
Yak Restaurant (Kathmandu)
Best for-
Have it alongside lunch or dinner
Gundruk
Gundruk is a national dish of Nepal made by fermenting green leafy vegetables. Mostly used as a side dish with the main course meal, Gundruk tastes like slightly mushroomy and salty. This Nepali food item goes best along the popular Dal Bhat and curries. Gundruk is a local pickle known as Nepali kimchi in which turnip, radish, cauliflower and mustard are wilted and then stored in a tight earthen pot.
Where to try-
Any local Nepali restaurant
Best for-
Have it alongside lunch or dinner
Craving already to try all these delightful food items? So just forget everything and pack your bags for a trip to Nepal right away.
Share your memorable trip experiences here.
Have some tips or travel-related questions? Feel free to ask your questions, get answers, meet other travellers, and share your advice on community forum.
Follow Tripoto on Youtube for a visual treat.