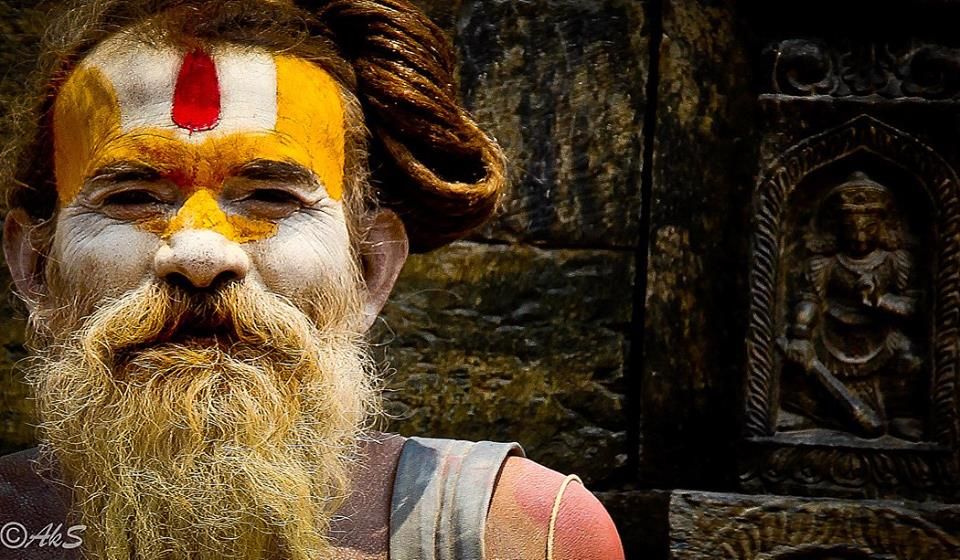 It was quite sad that I had just 1.5 days in Nepal, definitely not enough to explore this beautiful country so I just focused on Kathmandu and nearby areas.
In order to make most of the available time, I planned my route efficiently keeping minimum time for to & fro travelling. Boudhanath - Pashupatinath – Bhaktapur – Thamel – Swayambhunath - Kathmandu durbar square – Airport.
On the first day, I started with Boudhanath stupa – the largest & holiest stupa in Nepal. You can spend 30 minutes there. Circle around the stupa, push prayer wheels to release positive vibes into the universe, bask in the peace of Buddhism & lastly check out some souvenir shops for beads, incense, singing bowls or Buddha eye fridge magnets.
Tip: Nepalis are very much like Indians so try all your bargain tricks & skills to get best deals even if that means talking about Bollywood superstars. It actually worked in my favor.
From there, my next stop was Pashupatinath temple. For Hindus this is one of the most sacred temples but more than a religious significance, I wanted to go there for its rich history and being up close with the 'life & death' reality.
The pagoda style temple in itself is the finest example of Nepali architecture, covered with gold, beautiful carvings on wood and many small-small temples existed since 400 A.D. There are many such things which make the temple complex really magnificent.
Cross the Bagmiti river to watch the Hindu cremation ceremony. This surreal experience will definitely shake you up and bring you closer to the life truth and more appreciation to your life.
There are many sadhus seeking to attain nirvana and are quite famous among tourists & their cameras. You might have to shell out some money to take their pictures.
If time travel is true then it can be true in Bhaktapur, where things are still the same how they were centuries ago. Just an hour drive away from Kathmandu this heritage site is a must see despite of getting severely damaged by the last year earthquake. Bhaktapur durbar square is mainly dominated by Newari style architecture. Don't miss 55 windows palace, temples - it even has its own mini Pashupatinath temple. Erotic temples, you will find many erotic temples in Nepal and the main purpose for these carvings was sex education for children since child marriage was quite prevalent back then.
Nayatapola- the highest pagoda of Nepal. Take a highest spot and watch the world around you pass by; just how Nepalese like do.
Bhaktapur is also quite famous for local art. Go to a pottery place and watch artists at work. You can buy pashmina & local paintings to take memories back at home.
To cover the entire square at slower pace will easily take 3-4 hours and once you are done and ready to leave, cool yourself down with delicious Juju dhau also known as King's curd. That's a Bhaktapur specialty which you will not find anywhere else.
I came back the same day to Kathmandu. If you have more time then you can consider staying there for a couple of nights.
I ended my day unwinding at Thamel, the buzzing district of Kathmandu popular among tourists for local street shopping, nightlife, great food & booze and of course for the Everest stories.
Tip: Try some Nepalese local beer, they are really good & cheap and also khukri rum made with local twist. Also, if you are in mood to try local food then go for Newari thali apart from momos.
Next day, I started early since I had only a couple of hours. First I visited Swayambhunath temple or the monkey temple, perched atop a hill and you have to climb more than 300 steep stairs to reach the top to watch the Kathmandu valley. The view is definitely worth an early morning climb. Be careful of monkeys, they are not only cute but also good mobs.
Last destination in my itinerary was Kathmandu durbar square. It is one of the major victims of the earthquake but still a worth visiting for some rich history as well as local lifestyle experience.
My short sojourn in Nepal was beyond my expectations. It has so much culture, history and warmth to offer. Hopefully, I visit this country soon again and can accommodate Pokhra & an up close experience with the great Himalayas next time.