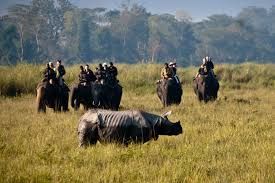 GO, VISIT KAZIRANGA AND HAVE A GREAT TIME!
Declared a World Heritage site by the UNESCO, the Kaziranga National Park in Assam is undeniably a must-visit wildlife sanctuary for people who love to wander in the woods. It is home to the one-horned Rhino. And it is only in Kaziranga in the whole world, this endangered species could be found.
Kaziranga is flung open to the visitors from November 01 to April (until the onset of the monsoons), when travelers can enjoy the myriad of flora and fauna. The climate becomes pleasant, the surroundings dry, and there is an air of infectious festive fervor in the air. Not only Indians, but even foreigners flock to this beautiful sanctuary in droves— during this season.
The cost of visiting this sanctuary isn't much compared to most other places in India. Even budget travelers can have a royal experience amidst the friendly and docile natives in and around Kaziranga.
Just a few hours of drive from the capital city Guwahati (depending on your vehicle type), one can explore Kaziranga and have a gala time—enjoying local cuisine, shopping for local artifacts, learning about Assamese culture and relax in the lap of nature. There are upscale hotels as well if you are paranoid about being bitten by bed bugs.
TIP: Take both the rides—the jeep safari and the elephant safari. If you have to make a choice, go for the elephant safari, because the elephants go sauntering inside the jungle and breeze past rhinos grazing gleefully (in hordes).
So, go and discover for yourself rather than read somebody else's experience. The proof of the pudding is in its eating—this goes perfectly well in travel.
https://indiaasyoutravel.blogspot.com/2018/10/go-visit-kaziranga-and-have-great-time.html