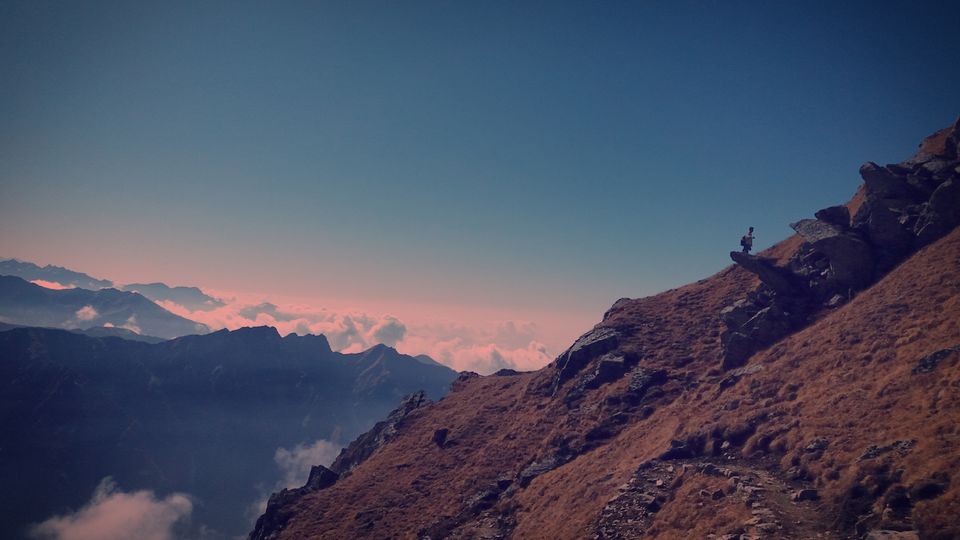 When you feel lonely, you are not alone.
Looking in the mirror, staring at reflection, a sense of loneliness and uneasiness grew. I decided to have a journey to somewhere I wanted to go for quite some time. Vasuki tal (Uttarakhand) via Kedarnath.
It was a winding drive, looping up the Himalayas. Expansive views of surrounding areas covered with tall, pointed Deodars at one side and Ganges flowing on other. Bus ride spanning over 10+ hrs took me right through city traffic and onto the abode of Himalayas. Last stop was Sonprayag. From there, it was a short jeep ride to the base of Kedarnath.
Trek in itself was a mild hike through meadows. Alongside, I saw people riding on mules and few with basket on their back carrying old people. Very few were walking, mostly because I was starting up very late at about 11 AM. Amidst the sound of the flowing river and chirping of birds, I continued my ascent. Somewhere in middle, it turned into a steep climb snaking to the top with a nature's bridge connecting it to other mountain. I had no one in sight by now on either side, with fast winds blowing and temperature dropping rapidly. Several miles ahead there was a group of 20-30 people, who were carrying a transformer upto Kedarnath. There was no electricity in Kedarnath due to issues with old one. I walked few meters alongside them, took some information regarding situation in kedarnath and continued ahead. By now some light drizzle had started, so I hurried since it was close.
Light drizzle created a dense fog around and it was hard to look past it. It was all a dreamscape at this point. Walking ahead, there were some camps with people around and that was my cue. I have finally reached kedarnath. I asked around and arranged for lodging. Freshened up, had some food. Attended evening prayers in temple, talked to locals and took in all i could amidst no electricity and thick fog.
I gathered from locals that up there, in vasuki tal, sunrise was 5 AM and by about 9:30 AM it gets covered in a dense fog. If I don't manage to start my descent before fog starts to set in, it could get very risky. There have been cases of missing people almost every year up top.
Few suggested guides but several told me to do it by myself as a guide tends to make excuses and may bring me back from halfway. Few even told me the way, pointing towards one of the peaks." Climb that one and you would see another peak right behind it with a winding path to top. Reach to the top of that one to see another peak which is going be a steep climb. On climbing it there will be another one which is again a winding pathway. On reaching atop of that you will have to go down. There will be a large crater like area with volcanic black rocky hard surface. Follow that path for 2km and you will reach vasuki tal ".
Next morning I was up early and was feeling fairly confident to do it by myself. I picked some essentials and was on my way by 5:30. Followed the path I was told. In about 3 hrs going through rocky path, steep climb and slippery climb, due to dew on grass, I finally reached on top of last peak. Standing there I wondered about the loneliness I was feeling back in the city. To fight it away, here I was standing in a place where there was no one. Holding on to the thought I continued my descent from peak towards Vasuki tal.
It took me about 15 minutes to finally reach the Tal. It was surrounded by the elusive Brahmakamal(rare variety of lotus) on all sides. Air was filled with an aroma that would tickle your senses. Water was at such an eerie calmness that one could mistake it for glass. And here I was standing on the sidelines, staring at my own reflection.