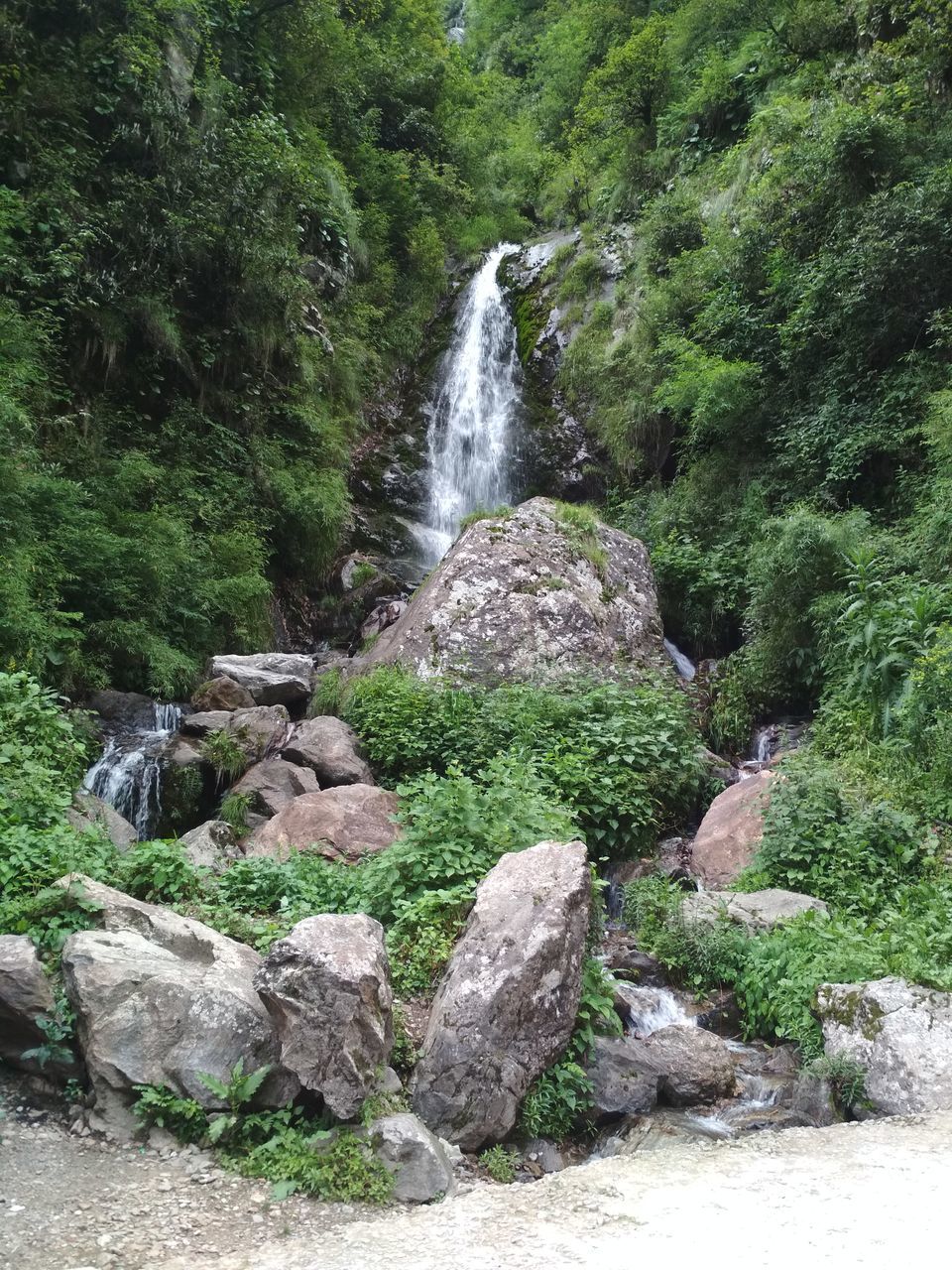 Day 1 (5th July): Delhi I.S.B.T. to Guptkashi
Trip Started at 9 pm from Kashmiri gate I.S.B.T. (Ticket cost Rs 630). Due to monsoon season the bus was half empty. I could sleep at the last seat, where no one is ready to sit for long bus rides. That's the main advantage of travelling in non-peak season. Considering the comfort, I say we get extra by paying less.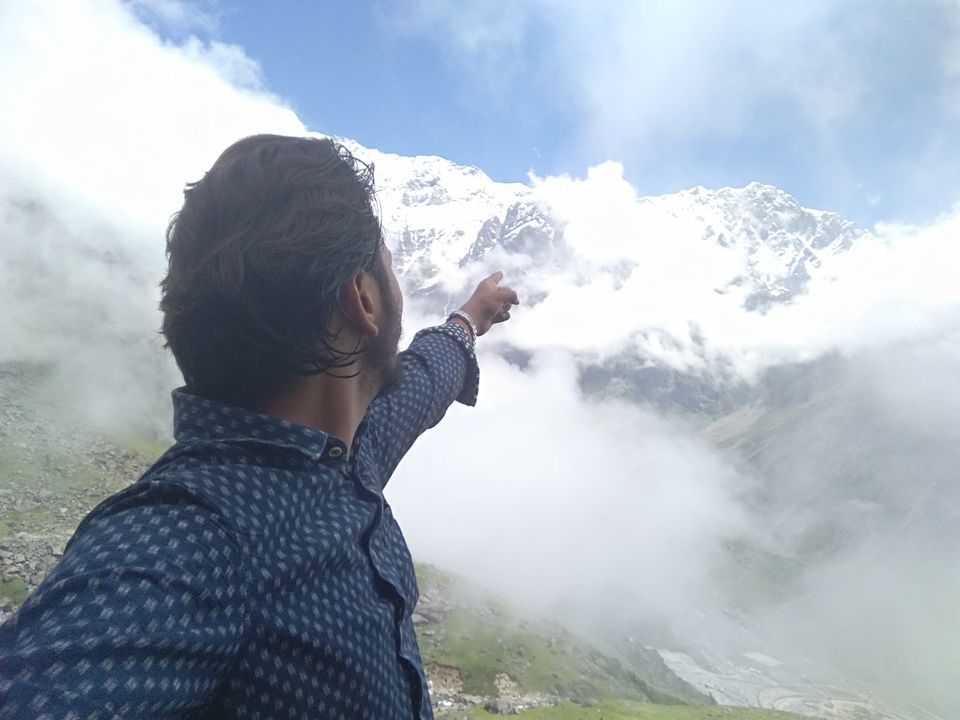 Day 2 (6th July): Guptkashi to Gaurikund and trek from Gaurikund to Kedarnath
Reached Guptkashi at around 12:30 pm (I was supposed to be there around 10 am but because of landslide near Rishikesh bus was delayed by 2:30 hrs). At 1 pm, I took a shared jeep (cost Rs 100) and reached Gaurikund by 2:15 pm. At 2:30 p.m, I started trek to Kedarnath from Gaurikund. The total trek path is 16km and its very steep. Google could give me limited information on Vasuki Tal, so I asked few locals about it for more details. I met a middle-aged guy, who warned me. He said Vasuki Tal is not an easy trek because on majority of days, its full of fog/clouds and one can barely see anything. Very few travelers attempt for that trek. He thought either I was a fool or too fearless to be willing to go on such trek alone. He tried to persuade me to take a guide and drop the idea of going alone. I would have considered that but I am a budget traveler so hiring a guide was not an option for me. The guide was charging Rs 2000 for that trek (this was my approx. budget for the trip)! I thanked the guy for his concern and moved ahead.
Moving ahead, I was amazed to see the number of waterfall on the trek! I could find one for every mile I crossed. On the way up, I found a group of old men, all aged 55+. These guys were on a "Char Dham Yatra". They noticed my heavy bag pack and started questioning me on why I was travelling along, what is in the bag, blah blah. After chit chatting for a while, I started liking them! That was a group of some crazy old men, some of them were totally "rangeen". One of them said "sab kuch karne ke baad paap dho lena chahie" Hahaha. I agree with him. I completed the whole trek with the group of oldies and reached by 8:15 pm to Kedarnath base camp. By this time, I become so found of them that I decided to share a tent with them. They bargained with the dhaba wala for stay and food expense. Finally, the managed to convince him for a lower price. As now I was officially the part of their group this bargaining favored me.
I had to pay Rs 100 for a night in that sharing tent and Rs 100 for dinner.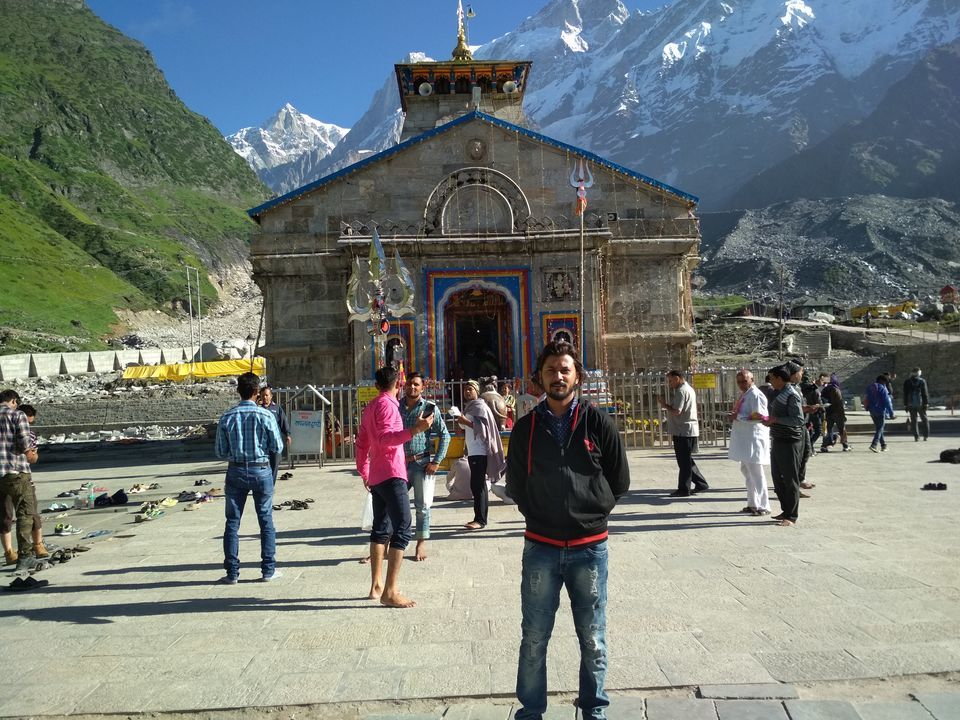 Day 3 (7th July): Trek from Kedarnath to Vasuki Tal and back to Kedarnath
Next day, I woke up at 5 am. Said good bye to the oldies as they were leaving for some other destination. then they left the temple. I had my breakfast and packed my lunch (Cost Rs150). 9 a.m I started trek to Vasuki tal. It's a 7 km trek out of which 6.5 km is totally steep. Initial 0.7 to 1 km trek path was completely wiped out due to heavy rainfall. This costed me some time to find the trek path but I did not give up and moved ahead. I could not find a single person on the trek. It was completely foggy, I guess the visibility was not even 50 Mts. I saw some sheeps and dogs on the way up, which gave me hope of finding a shepherd nearby.
I got scared by the fierce winds (not too strong but more than normal), shooting stones which I can't see due to foggy weather but can hear the falling sound. To calm myself, I took out my phone and started listening to Shiva Tandava stotra song which I usually listen when I was scared or sad. This really made me feel better and finally I could notice the beauty around me. The biggest disadvantage is travelling alone is there is no one to click your pictures ☹ Just before 1km from Vasuki tal, I sat for couple of minutes wanted to capture the beautiful background (yeah, I get bored of taking selfies). I picked some stone and place my phone on the them and set timer. I ran just in time to come in the frame ha-ha. (I am good at clicking pictures that way ).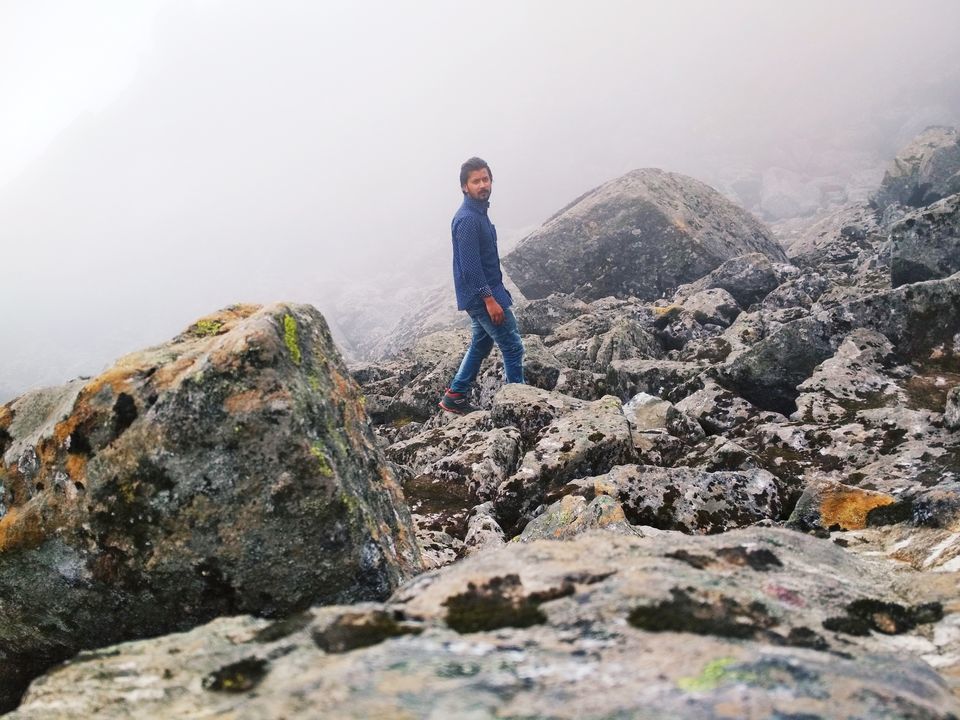 When I reached Vasuki Tal, the weather cleared a bit (reached at 1:30 pm). I Stayed there for 1 hour. 1 hour to peaceful cloud gazing and admiration of nature's beauty, amazing experience!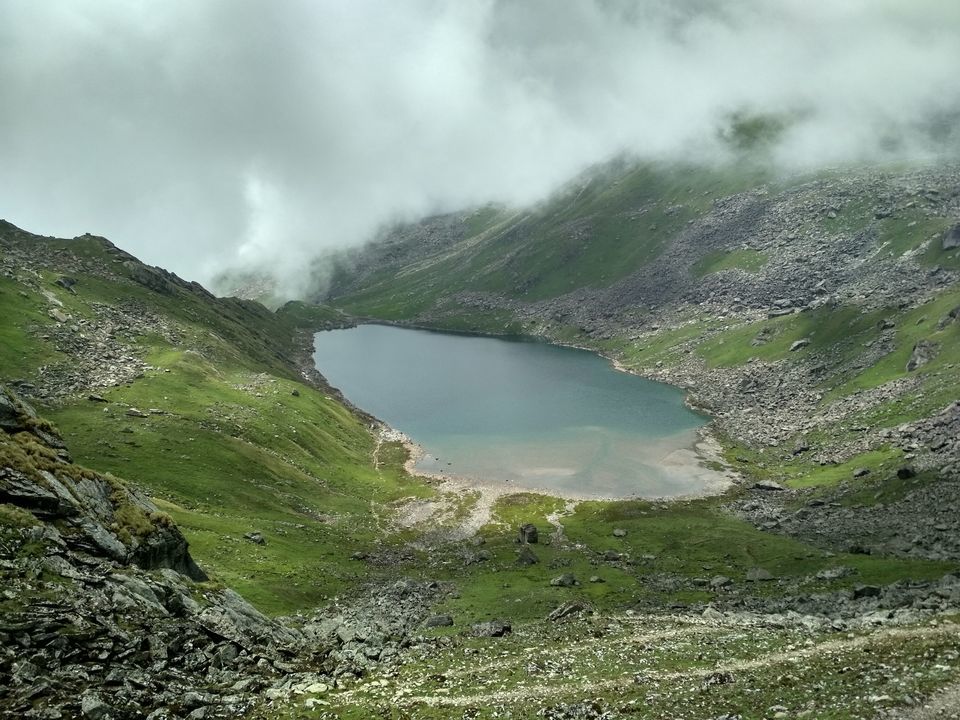 Travelling solo helped me pick up a few survival tricks. When I was doing solo trek to Dodital (Called as birth place of lord Ganesha) in March, I offered biscuits to a dog which I saw on my way. This gesture made the dog follow me through out the trek. So, when I decided to return from Vasuki Tal (at around 2.5 pm), again I saw a dog and offered him some of my biscuits. The mountain dogs are usually very smart! If they follow you on such dangerous trek, they can get you some help if something goes wrong.
The weather was getting worse, with visibility going down to 20-25 meter. I tried to walk as fast as possible and reached Kedarnath around 4:30 - 4:45 pm. I was exhausted! This was really not an easy trek after all. Still, I would say it is an amazing trek (Kedarnath and Vasuki Tal both).
After coming back to the camp, I sat with the dhaba wala discussing things in general like business, politics all efforts to kill time and boredom haha. I stayed in that camp for that night as well. (Dinner and evening snacks rs 100+80 and night stay Rs 100)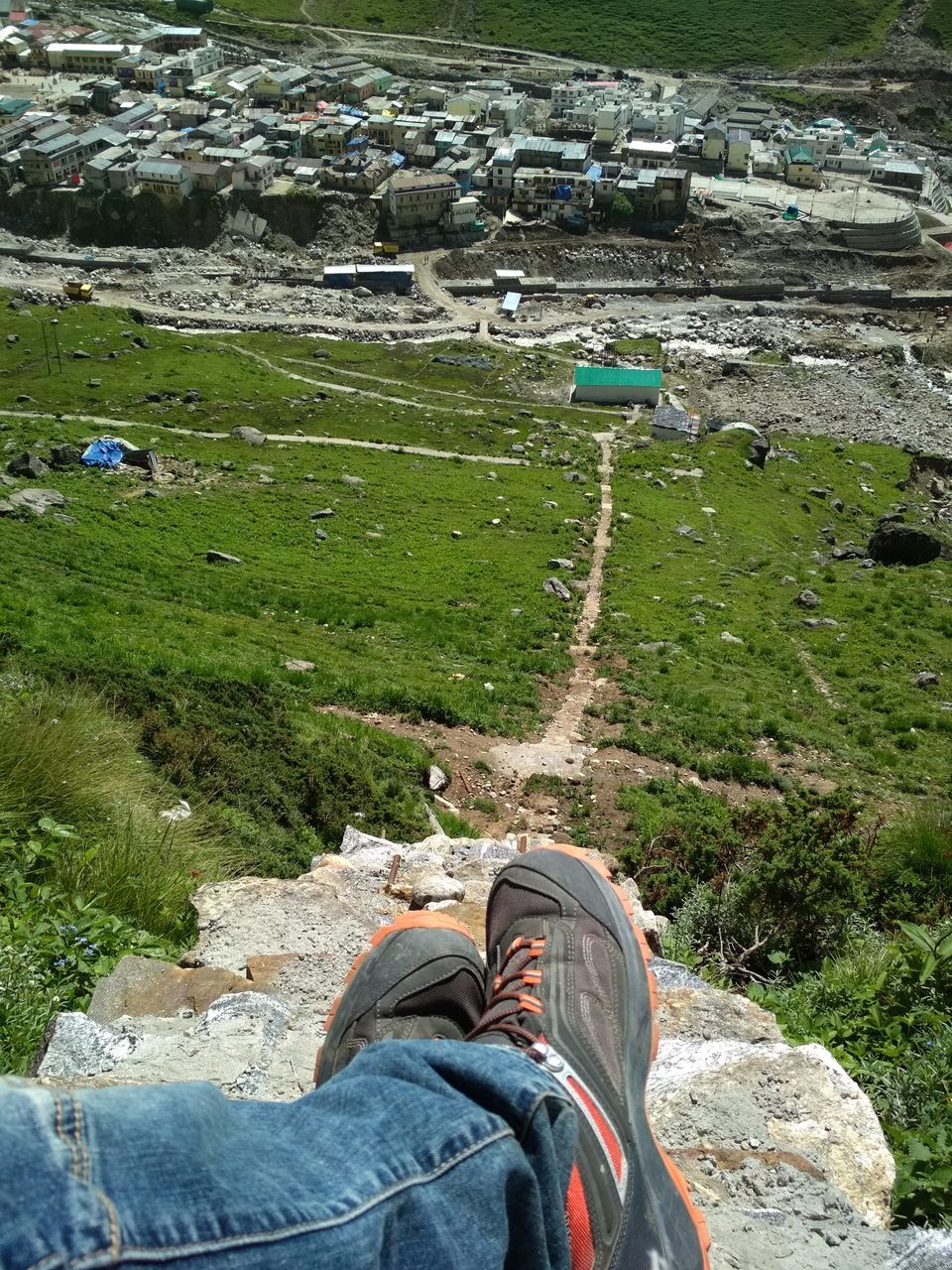 Day 4 (8th July): Downward trek from Kedarnath to GauriKund and to Delhi
Woke up at 4:30 am, got freshen up and started downward trek to Gaurikund. On the way down, I again met the same guy who warned me about the trek to Vasuki tal. He asked me "have you completed the trek?" to which I said yes. I don't know why he get so happy after knowing that I completed the trek. He said good bye with wished me luck "Jai Bhole ki" Reached Gaurikund by 8:45 am, and took a shared jeep to Guptkashi (Cost: Rs 90). Got the bus to Rishikesh at around 10:30 am (Cost Rs 330) and reached there by 5 in the evening. As it was not a direct bus I had to change for Delhi (Cost 282). Reached Delhi by 11:45 pm.
There ends my one more solo trip!.
This place is suitable for 2 kinds of people either for devotees or for trekkers. As its monsoon season there were very few people, otherwise this place is full of devotees. The trek path is narrow. So, if anyone planning then plan accordingly keeping rush in mind. For cheap stay try to get accommodation at some dhaba. There you can get 100-150 per night on sharing basis. There are government shelters as well but they are charging 250-1000 per person. For food u can negotiate as well, it will be cheap.
Keep Smiling and keep Travelling
Thanks
Personal Blog: www.travelwithbhagat.com
Frequent searches leading to this page:-
kedarnath solo trip, budget for kedarnath trip, kedarnath travel cost, kedarnath trip cost, kedarnath tour packages with family