Have you ever wondered yourself surrounded by lush green tea gardens, cold breeze and a cup of hot tea/coffee OR witness a beautiful river meet sea, and give treat to your ears by listening to birds chirping at the same time OR simply having fun with an elephant?
To take you through all this and more, get aboard the Kerala Express…LOL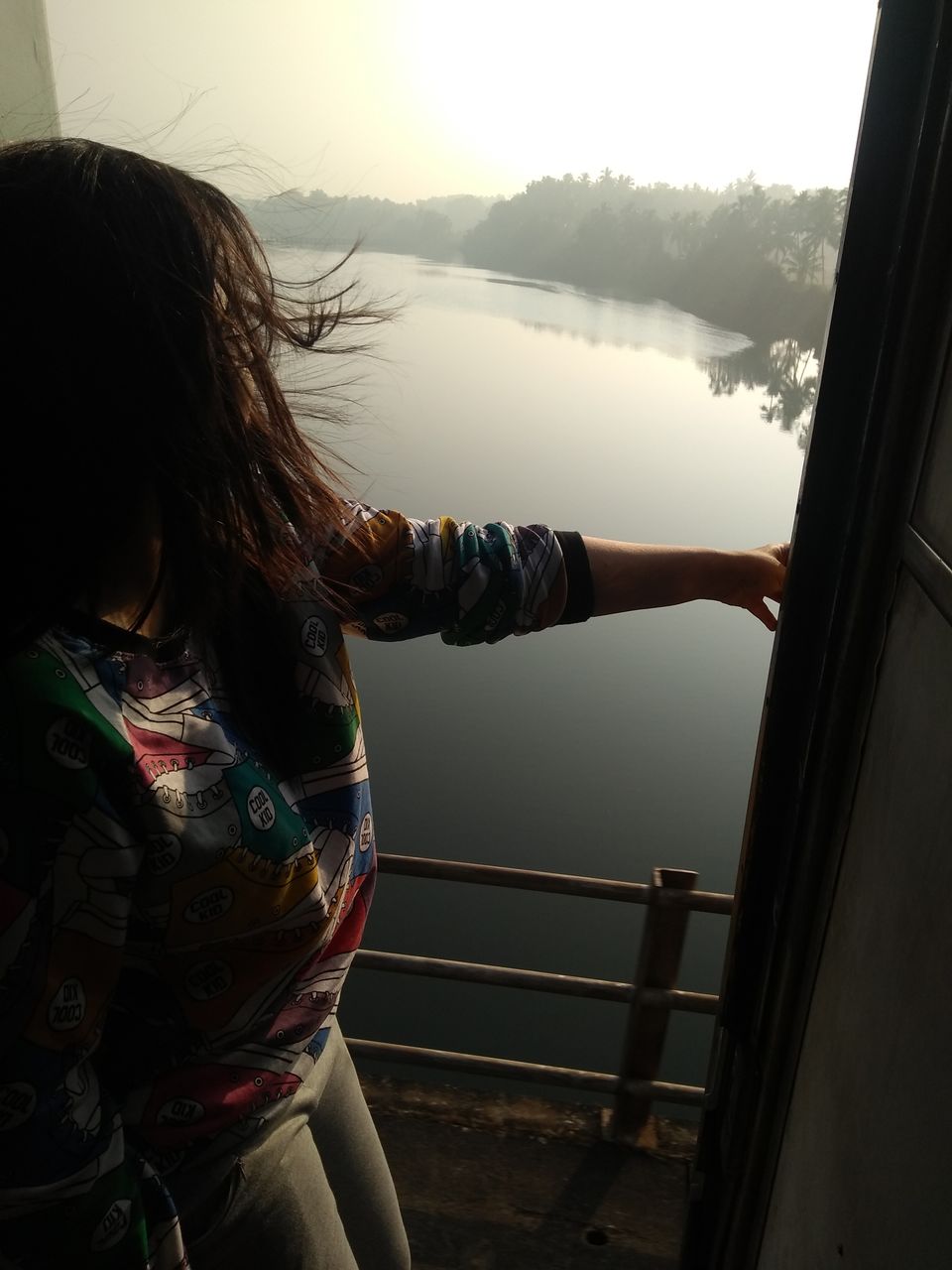 I've heard its good to get out of your head and write from your heart, and in this blog, I'll just do that. Along with the information and itenary of my trip, I'd love to just share my fun filled experiences of Kerala trip.
My Trip was a 11 days long carefree and fun vacation. Cochin>Munnar>Thekkady>Allepey>Madurai>Rameshwaram>Kanyakumari>
Kovallam>Trivandrum>Back Home ☹
There were 5 of us… me, my friend, my mom and her friend with her husband.
Our journey just started in train with lots of fun, playing Dumb Charades, cards and loads of gossips, with munching on.
Actual trip started with a very funny incident and hotchpotch, as we got down 1 station before our destination. We were really wondering why other passengers who were supposed to get down at the same station are so relaxed and not blocking any door way? But still, we confidently got down and ended up spending some extra bugs in reaching to our driver who was waiting at Ernakulam station.
After making ourselves and our luggage comfortable in our car, we decided to roam around Lullu mall rather than directly checking into the hotel. It is the largest mall in India in terms of area. Since, we were quite late, we couldn't roam much, but certainly in bits and pieces. After just little window shopping, we rushed to the food court and had some yummyyy…. burgers in burger king with extra cheese and lot of ketchup :P and then, left for our hotel, which was Holiday Hotel Charai in Cochin.
It just felt heavenly to have bath with hot water and having a cup of coffee after that, with my mom and friend and simply lazing around on the bed, after which I couldn't help but doze off.
Next day, the morning for us started at around 6 am, unlike any usual day at home, I was excited to wake up this early, since we had to go to the beach for a walk. Since, it was such early morning and we wanted our driver to rest, we took lift till the beach and that too, was quite fun.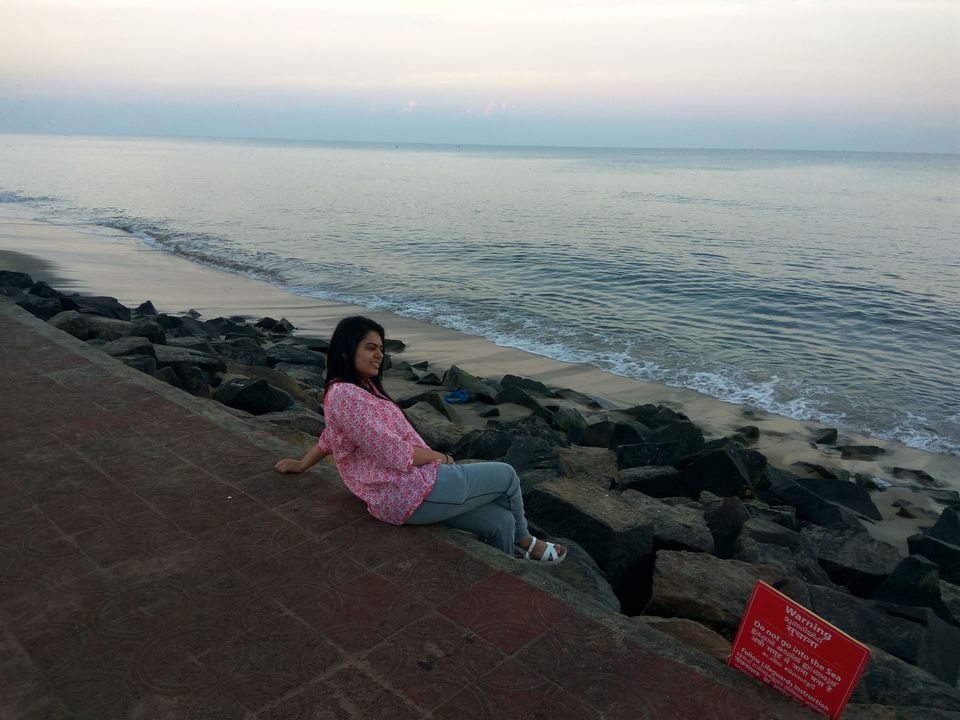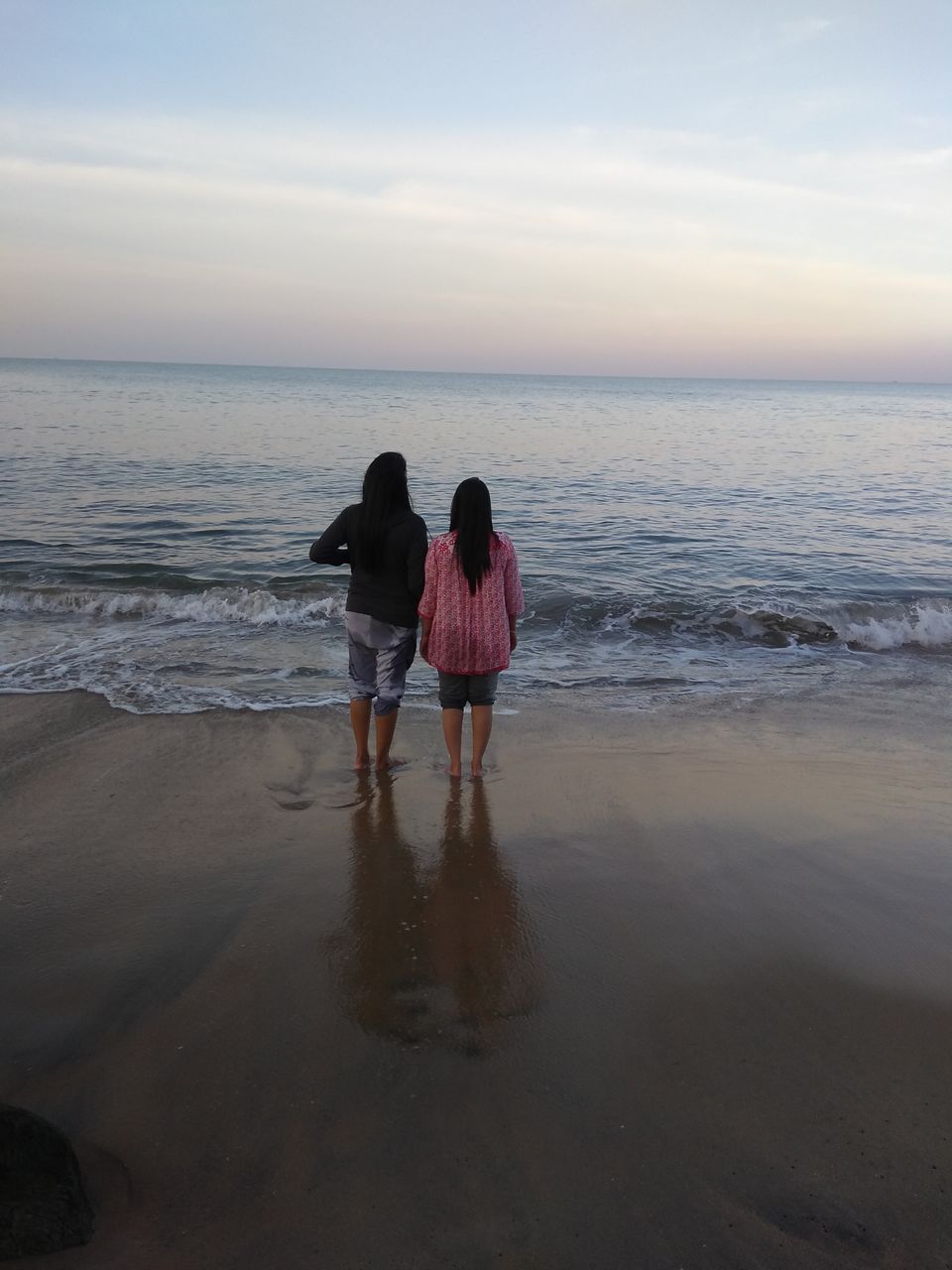 The Cherai beach was the closest and it was clean and beautiful. Cool breeze, coconut water and good company, what else could I have asked for!!! May be good breakfast…so, after returning, we got ready to leave Cochin and headed directly to the dining room of the hotel for hot 'n' tasty Idli Chatni, Orange juice, followed by some toasted bread butter with little bit of coffee after a while.
On the way to Munnar, was a scenic route and when summed up with all the fun that we had and some good music, made it worth. After almost 2 hours we got down the car for visiting Athirapally falls.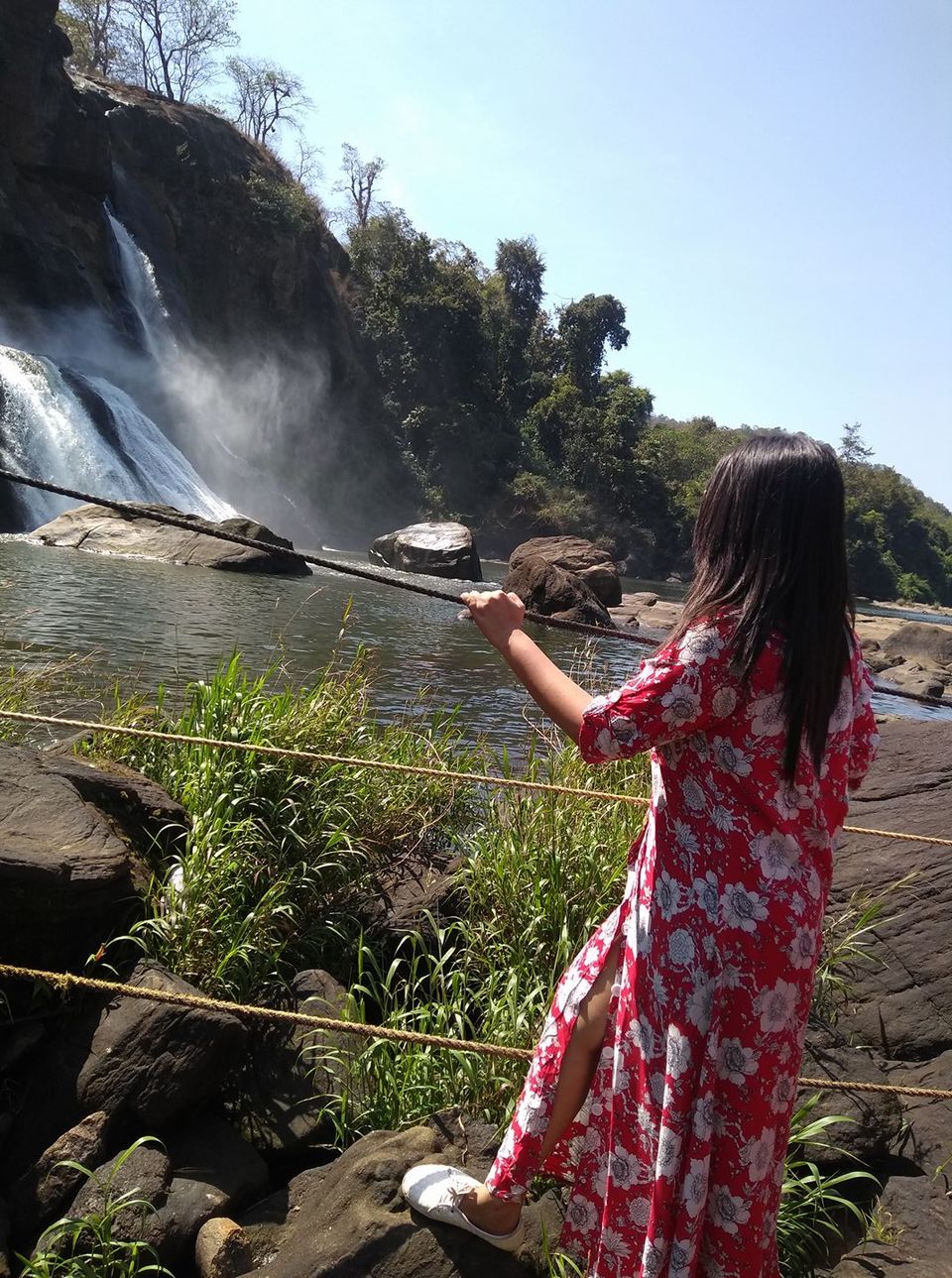 One needs to get down from the mountain for about 100 meters, to reach the falls. Timings are 8-6 and Fee is around 15-20rs. On the way we could see sooo… many monkeys and it was fun feeding them with bananas. Athirapally falls were just ok, as I have seen better ones, or may be the season that we went in, wasn't too full of water, but the overall experience was quite fun. It's said that Bahubali was shot here.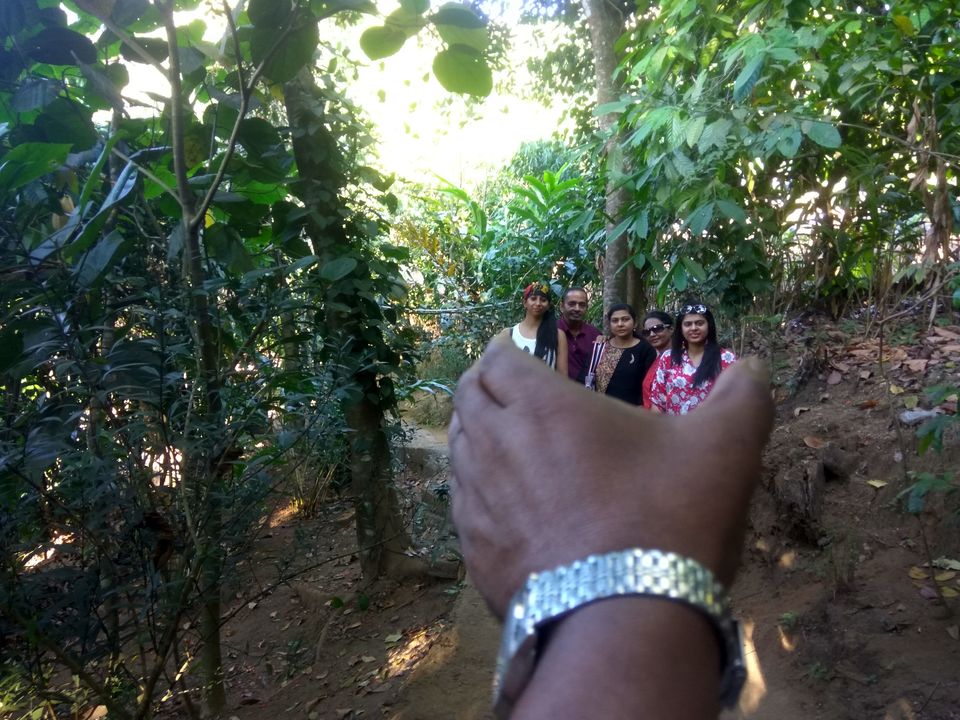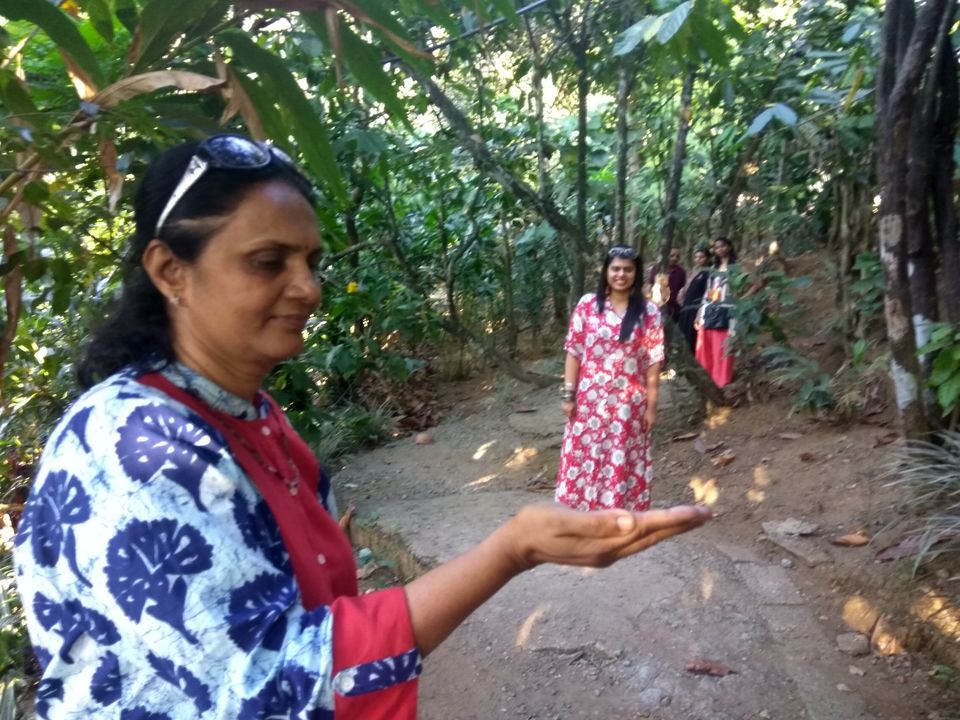 Again, we headed towards our car and resumed our journey. Next stop,… Spice plantation. If you are traveling to Munnar from Cochin, there are few spice plantations at the foothills, and we went in one of them. These farms offer guided tours of the plantations and they grow so many species of spices, herbs, ayurvedic medicinal plants, etc. After the tour they take you to the shop wherein you can buy a lot of it and lots of things made out of them. They charge almost around 100-200rs for a guided tour and honestly, I found it more useful for them to market their products, but still a good experience overall. Infact our guide, shot quite interesting pictures for us and was fun to see them. So, after quite a lot of shopping, we headed back for Munnar.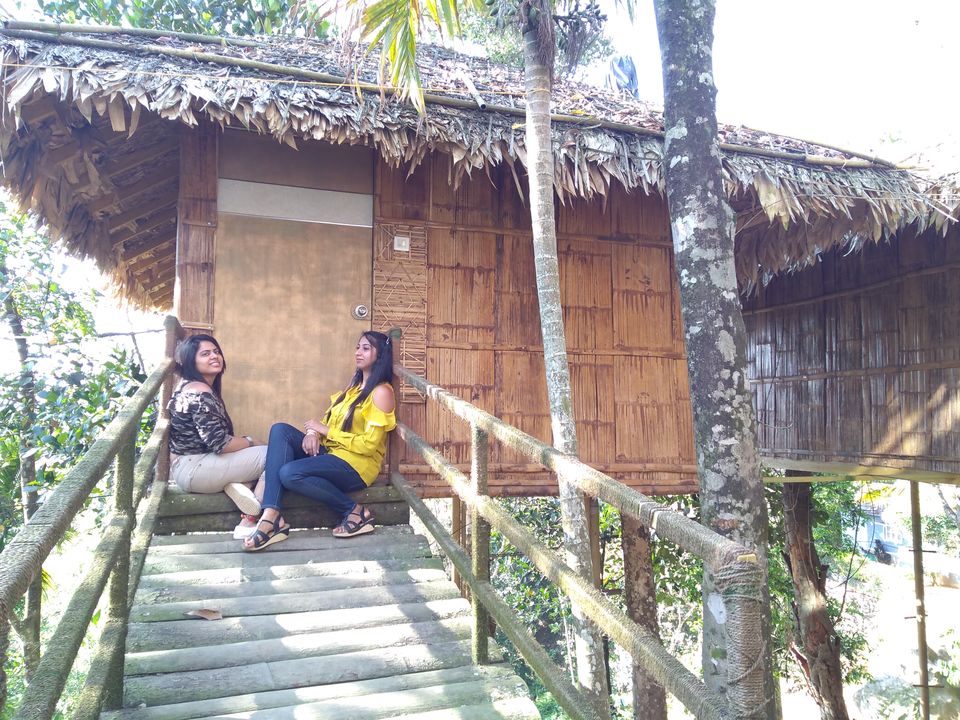 Finally, we reached Munnar wherein, we lived in Green Trees resort which was quite decent. We freshened up and again went out for some saree shopping, since we had a leisure day, rest of the time. My friend was soon going to get married to a south Indian guy, and thus our hunt for her perfect wedding saree had begun and we finally found not 1 but, many sarees for her, after hopping from one shop to another.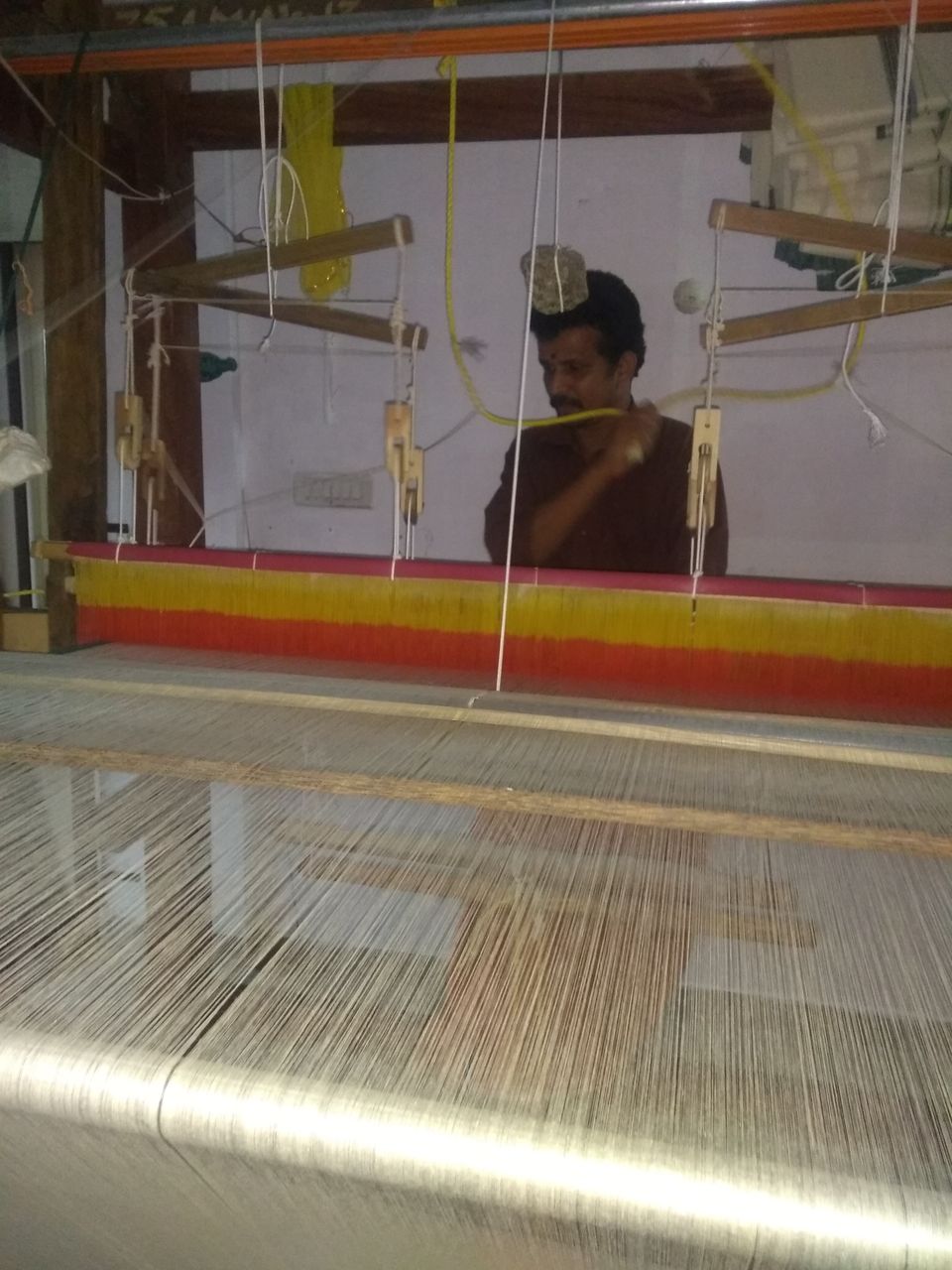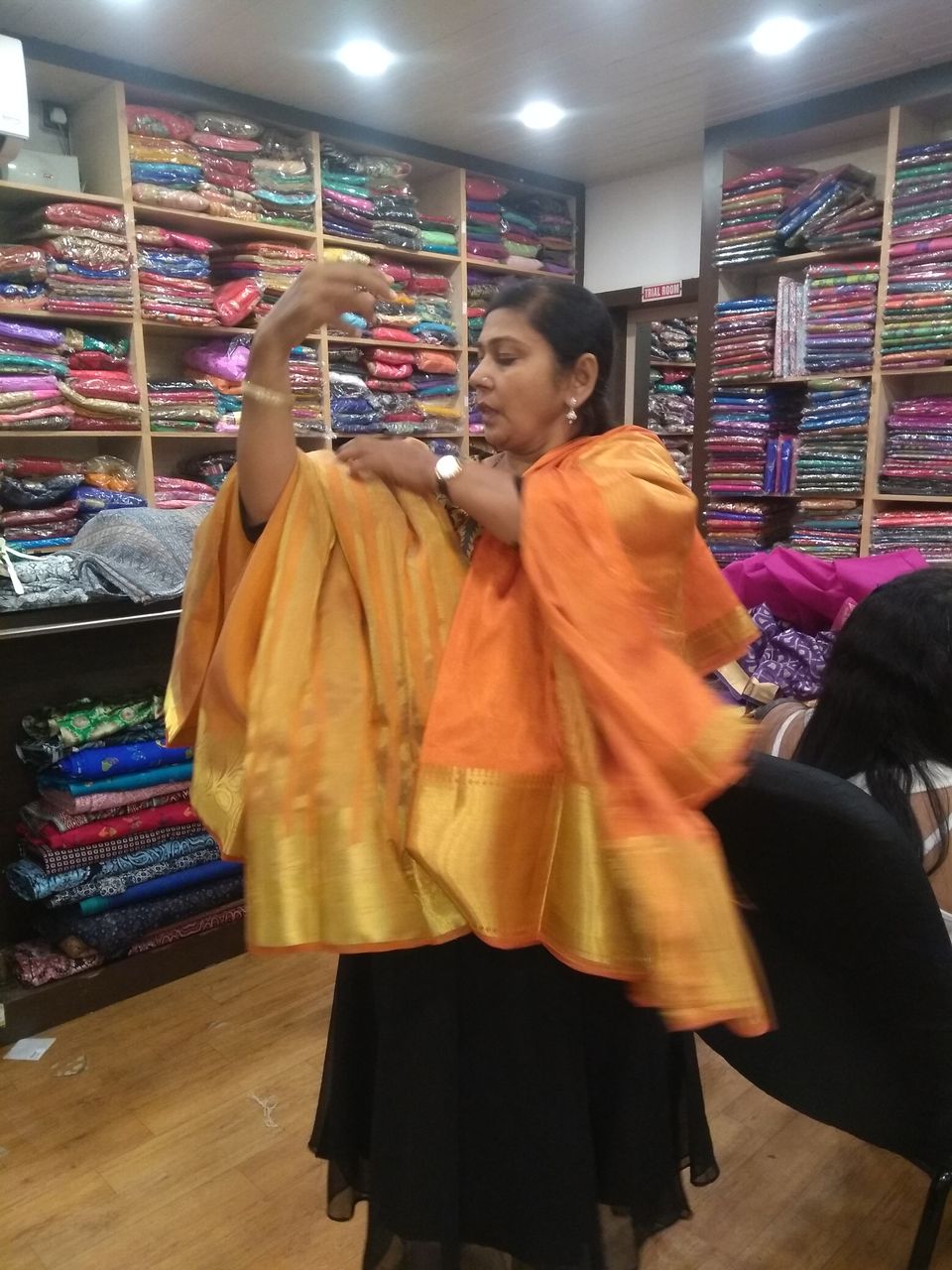 Now, we were totally craving for North Indian food, and after finally finding a good restaurant, we had some delicious North Indian dinner.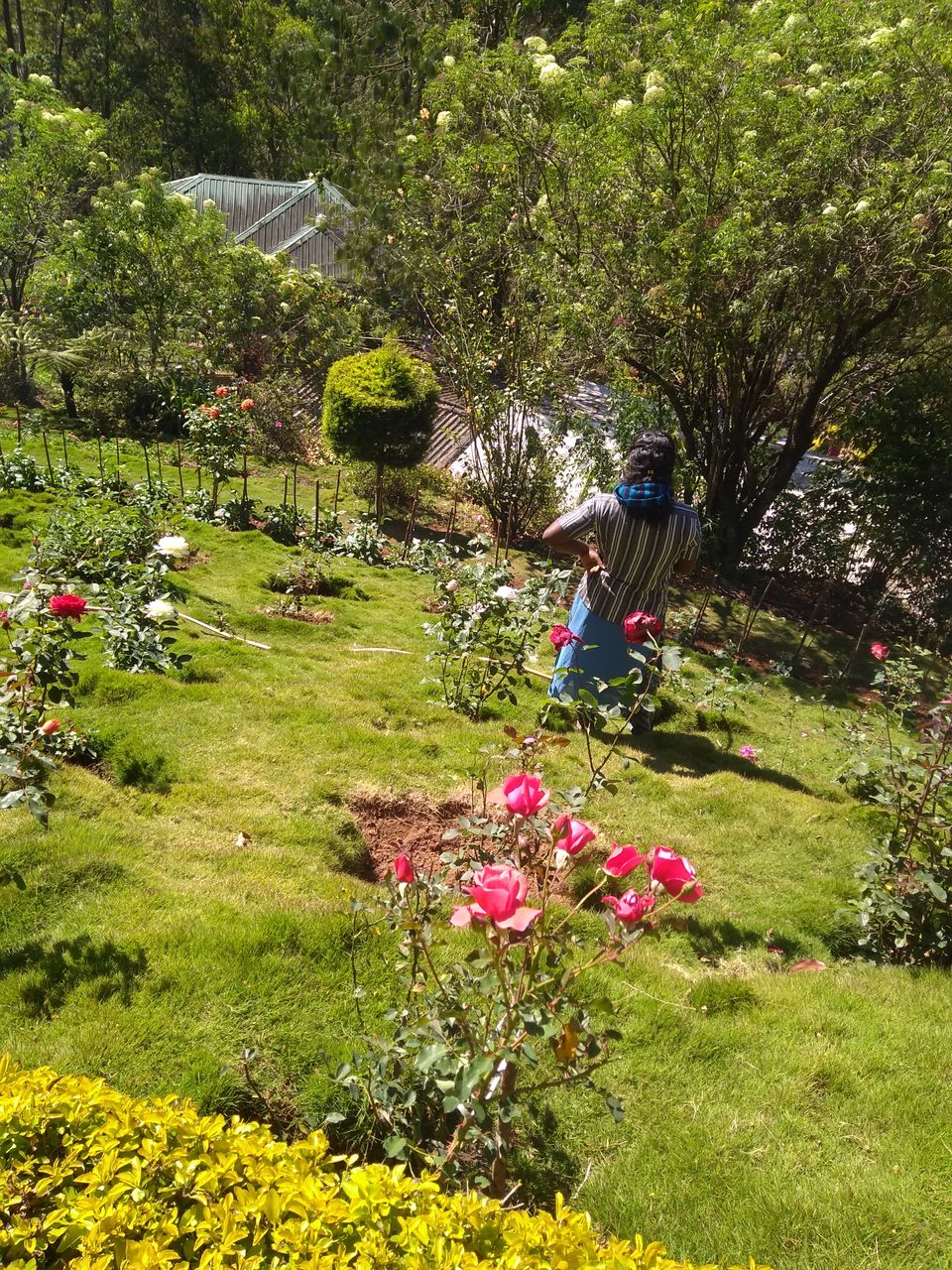 Next morning, we had good and fulfilling breakfast in the hotel and started with the sightseeing. Firstly, we visited Rose garden, and its timings are from 10 am to 5 pm and could take you somewhere around 1-1.5 hrs to explore all of it. The fees was around 20rs and charges for camera was around 30rs.
From there, we headed towards Mattupetty Lake and Dam. It was quite lively, since it was full of tourists, with some people playing loud music in their parked cars. Infact, I remember listening to this punjabi song called Backbone, along with the view of the dam and enjoying the taste of sour star fruit. It's a good place to chill out, relax, go for boat riding, horse riding, etc.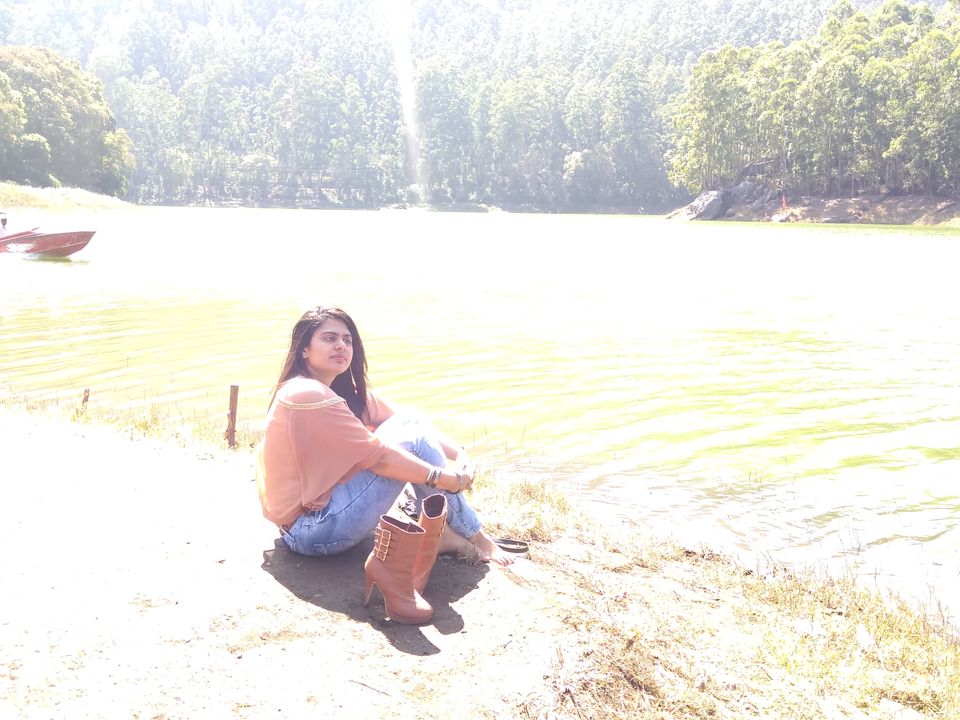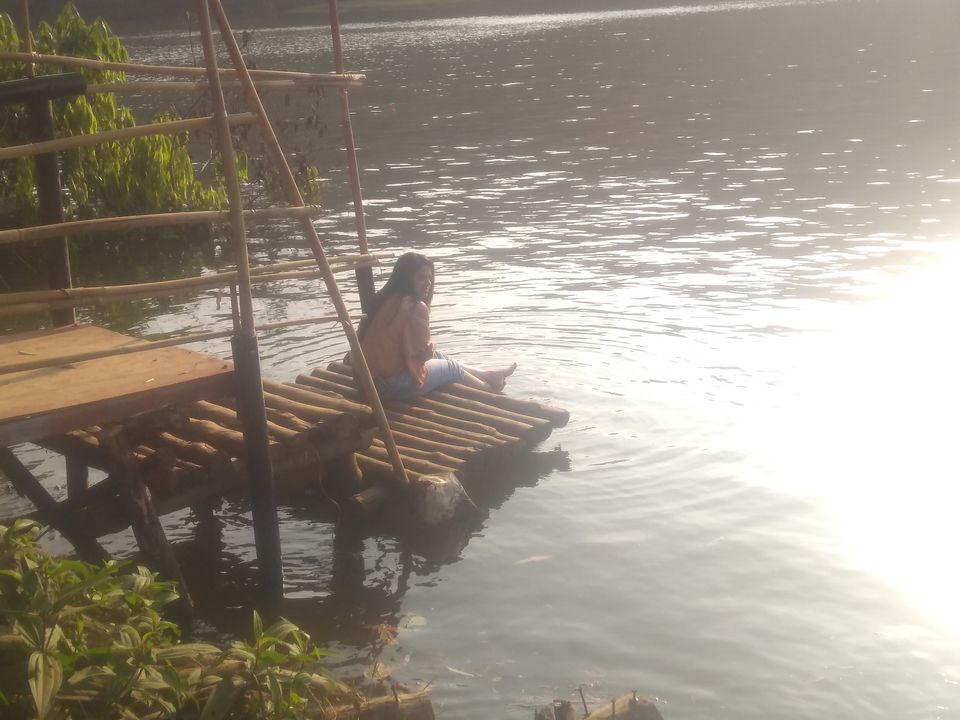 We honestly didn't do any of the activities, as we just wanted to relax. The lake was nearby and the ticket for the lake was around 10rs.
Post lunch we went to the echo point and, gave a loud shout out at the point, obviously to hear the echo …LOL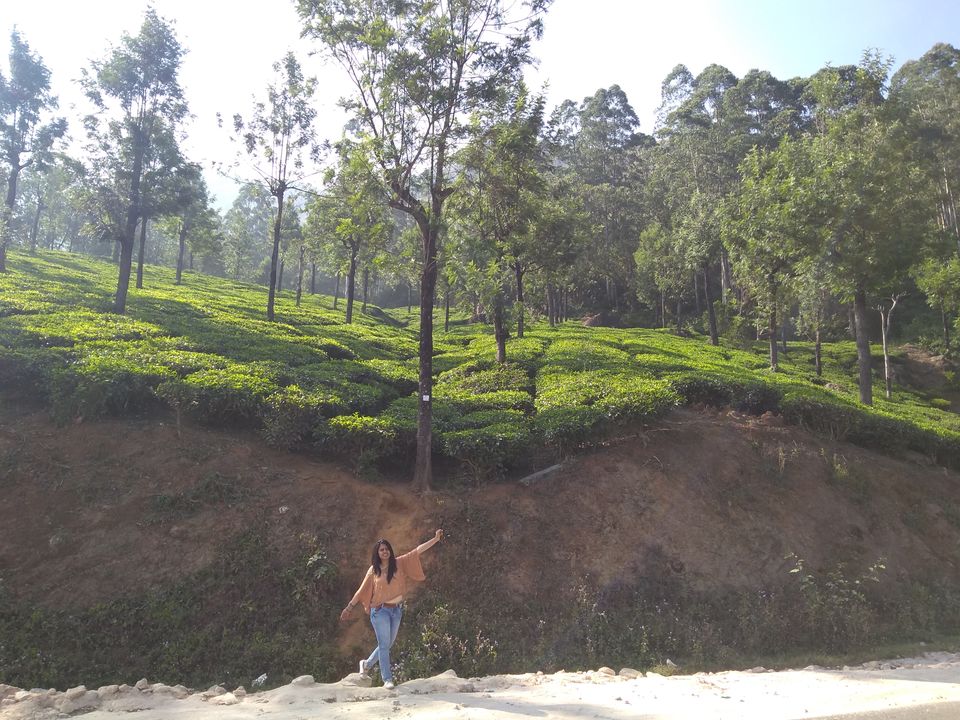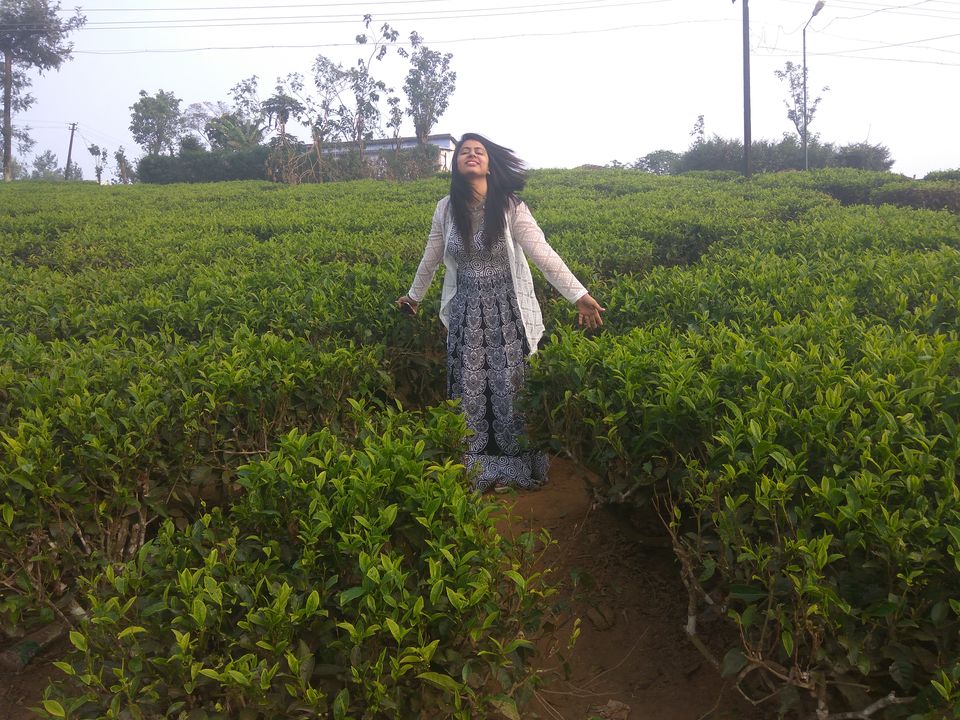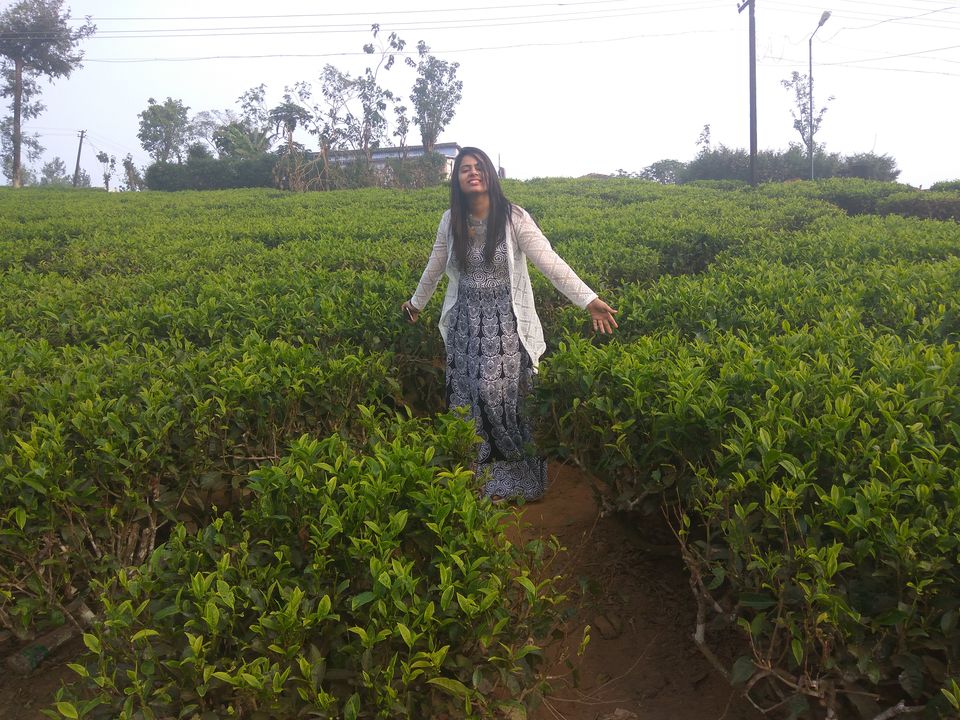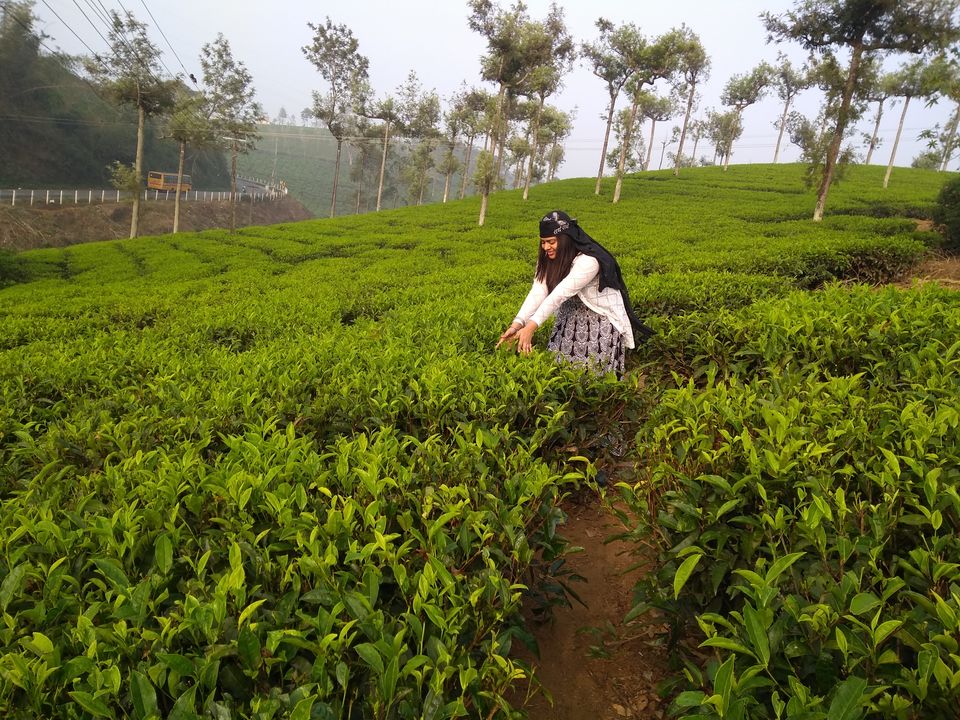 After which we found a small tea stall/ shop which had an enduring view, right behind. Lush green tea gardens just behind us and hot tea in the hands was just perfect for me.
Now, we decided to treat ourselves with Abyangam massage. In Munnar, there are several places to have massage in, but we choose the one which is one of the oldest massage centres in Kerala, although, I apologize for not remembering the name. The massage centre was quite decent, wherein they had separate room for each person, and you get a massage from someone of same gender. The price range is usually from 1200 to 4000, depending on the time, type and with/without steam. We had opted for almost 60 minutes of massage and were charged almost around 1500-1600rs/person.We were almost sleepy and just lying on the bed caught us sound sleep.
Next morning we were all bucked up, to have fun with the elephants. Yes, you guessed it right, next stop was Thekkady. After almost 3 hours of drive we reached. One can either pre-plan and book the tickets online from https://thekkady.org/booking or even enquire and get the tickets booked there itself. There are several packages and, we had opted for elephant shower and elephant ride, for which we paid around 900-1100rs/ person.
It was suuupppeeerrr great time there, and was adorable having shower with an elephant.
After we got shower from an elephant, we changed our clothes in The changing room which wasn't too clean, but for having an experience like this, it's worth bearing these small things.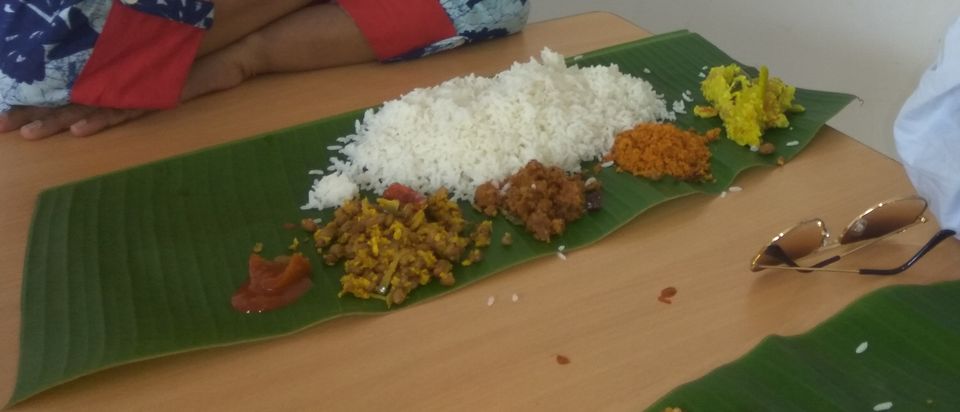 After that, we headed for a typical south Indian meal served in a banana leaf. Some sabjis were yummm…. And even Pysam was goooddd….After the meal we checked in to our hotel, got freshened up and chattered over a cup of authentic filter coffee and, got ready for enjoying the kathakali show. One can find about these shows almost anywhere nearby or even in the hotel and can do the booking. There are generally two slots of shows 5pm and 7pm, we opted for 7 pm show, and we spent around 200-250rs/person. One can also enjoy watching Martial arts (Kalaripayattu) and its timing is generally 6-7pm, and charges are around 200-225rs/person.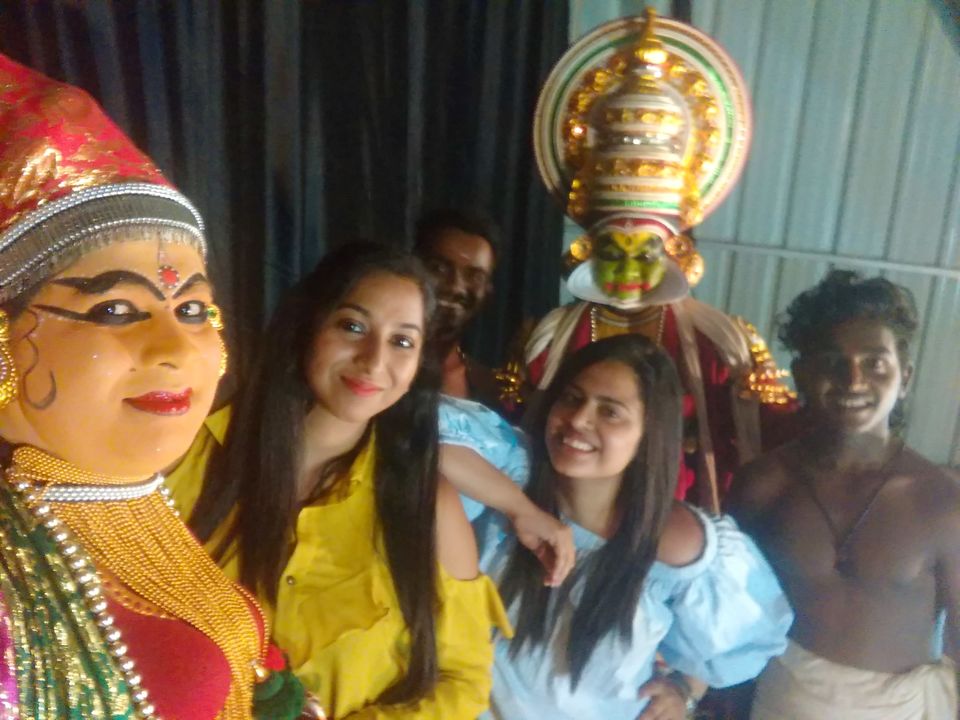 Before the show actually started, we visited the kathakali performers backstage, chattered with them and clicked pictures with them.
The highlight of the show for me was definitely when, they call someone from the audience and talk with them just through the expressions, and the person from audience has to do the same, it turned really funny.
So, after the show and a good night sleep, next morning we left for Allepey, which was equally awaited, as we were going to say in a houseboat. Upon arrival, we were served a welcome drink and followed by which, we eagerly took a round of the entire houseboat and finally the boat started. We were given deluxe houseboat which had 2 bedrooms and fixed timings for A/C, mostly from 8pm to 6am but, it wasn't a problem for us, since it wasn't as hot in January. A request for special menus like, pure vegetarian food, Jain food, North Indian cuisine, etc. can be placed in advance. We were served delicious hot lunch and post which we lazed off in our rooms. Later in the evening after tea and snacks, we played some good songs in the music player that was present on the boat and started dancing, it was sooo…much funnn…Then, we made the most of the beautiful scenic lake view, by just sinking in to that calm and peaceful feeling.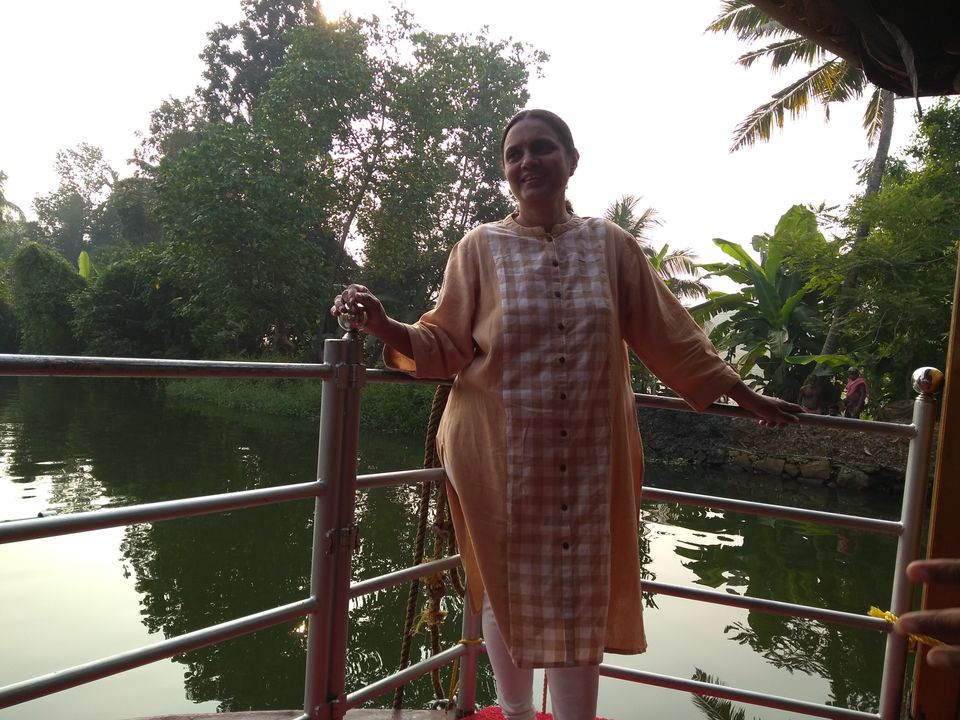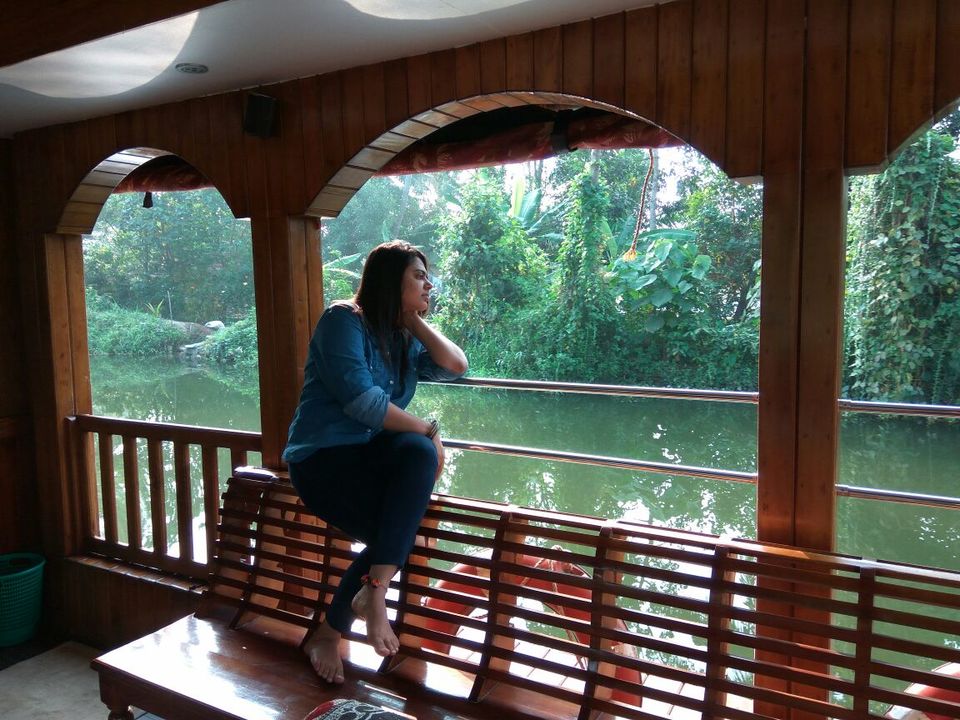 Since ours was an overnight cruise, houseboat was anchored at the shore of a backwater village at around 7-7:30 pm till around 8-8.30:00 am of next day. So, after some gooood time, dinner and sound sleep, me and my friend woke up at around 7 and went for a walk in that village for sometime and after coming back, we were served the breakfast and then was the time to checkout ☹
That's how we were now ready to leave Kerala and head towards Madurai and, other places in Tamil Nadu.
The trip till here was through a travel agent and they charged us around 9900/person, which covered our stay, breakfast and transfers, and otherwise with each and everything inclusive,like one way ticket,stay, tickets of the activities,massage,food,etc. it almost costed me around 17000/-
That's it for now, since this blog has gone so long, I'll continue with the later part in part2 of this blog 😊 See you!!