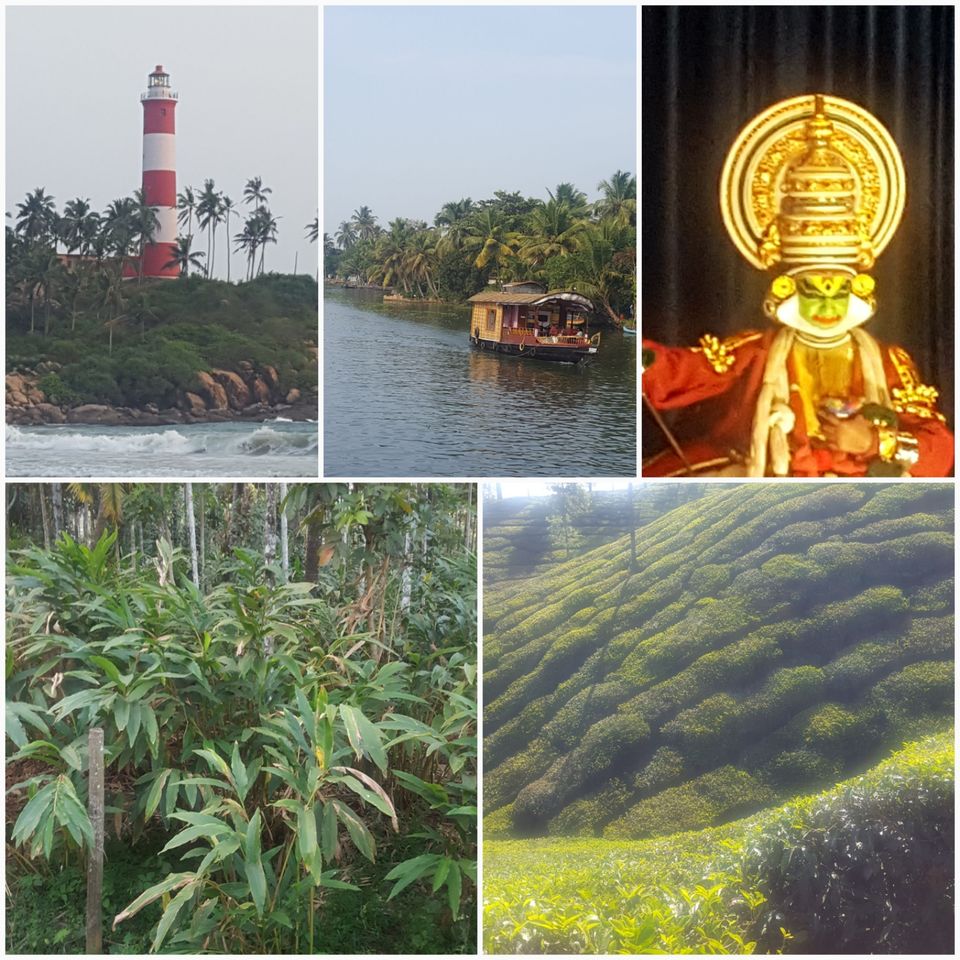 After my last solo to Europe, I wanted to do a all girls trip and what could be more better when the other two girls with me were none other than my mother and daughter. Kerala was always on my Mom's bucket list and we decided to tick it off.
Here is my 7 days detailed itinerary to the friendly and welcoming state of South India.
We reached Thiruvananthapuram -the capital city of Kerala from Mumbai through Jet Airways sharp at 9 :00 Am. Jet was bang on time with great service and food.
My trip was arranged by BlueDuck Holidays and their driver was waiting for us at the airport with his Verito sedan.He was playing the dual role of driver as well as our guide. As suggested by him we headed to Padmanabha Swamy Temple before moving to our hotel in Kovalam. What could be the better start of the trip when you have your mother along.
The temple has great history and is known for rich belongings and assets it owns which was recently discovered by Govt. Built in 16th century,this beautiful temple has a touch of Kovil architecture from its neighboring state of Tamil Nadu. The main deity is here is Lord Vishnu and is the place of worship for the royal family of Travancore.
Tradition Indian attire is compulsory, we can rent dhotis at the entrance of the temple.
We headed to Kovalam and checked-in to our beautiful hotel Sagara Beach resort. The property is just on the beach with sea view rooms. The staff was very friendly and helpful. Food was good too.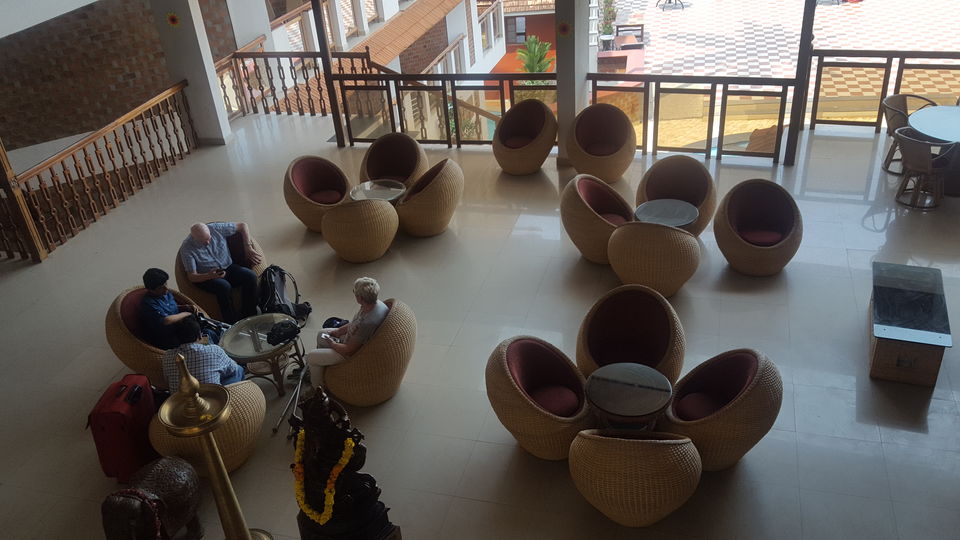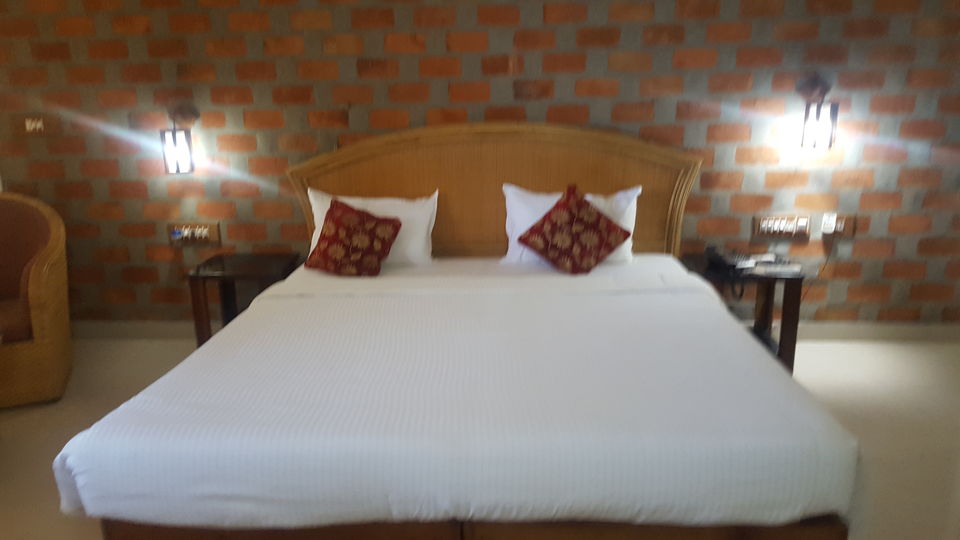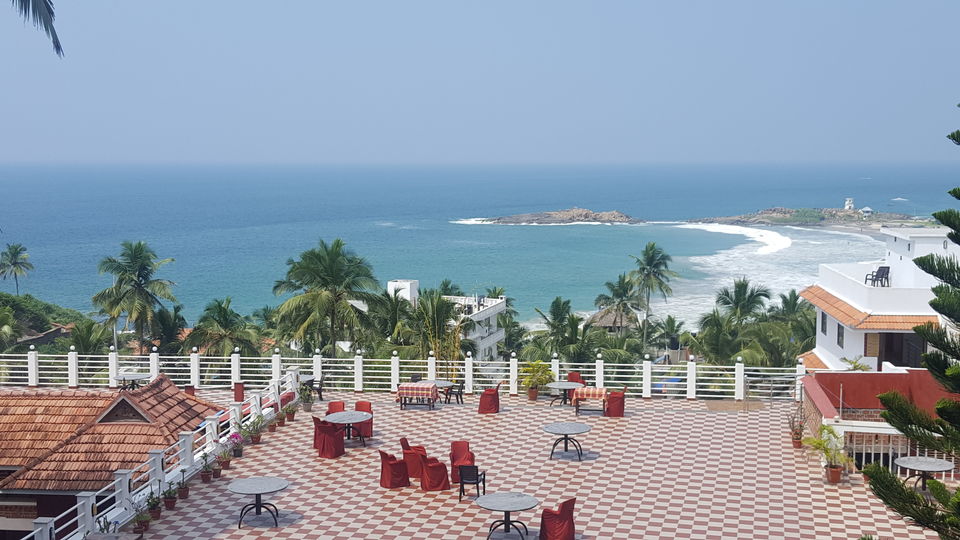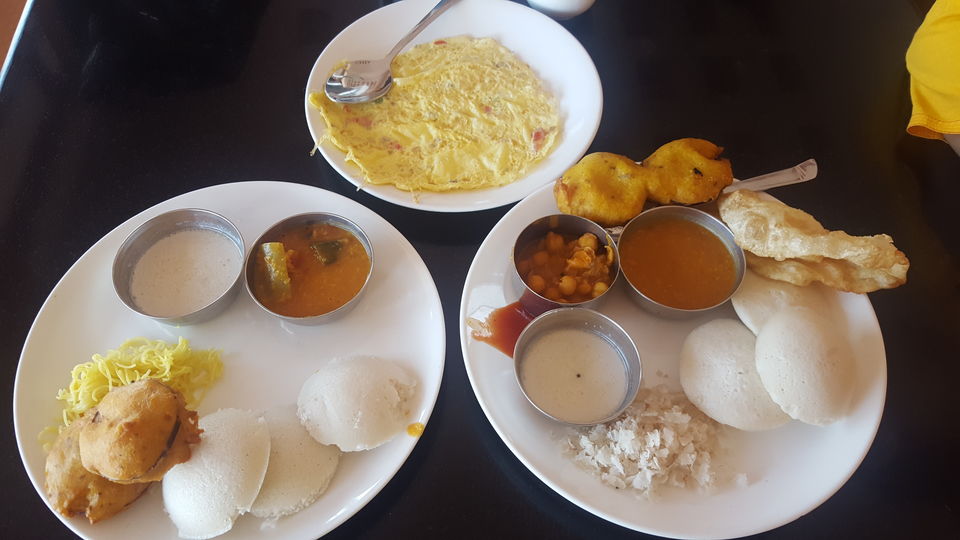 As the name suggests, this beach is known for its light house. Loved by the foreigners, you will find lot of them just relaxing with book or a drink under hundreds of umbrellas. Silver sands lining along the shores, the aqua blue water of the sea and the setting sun adding the shimmer to the water, everything was just so serene. The cafes at the beach are lively and served lot of global cuisine with great music.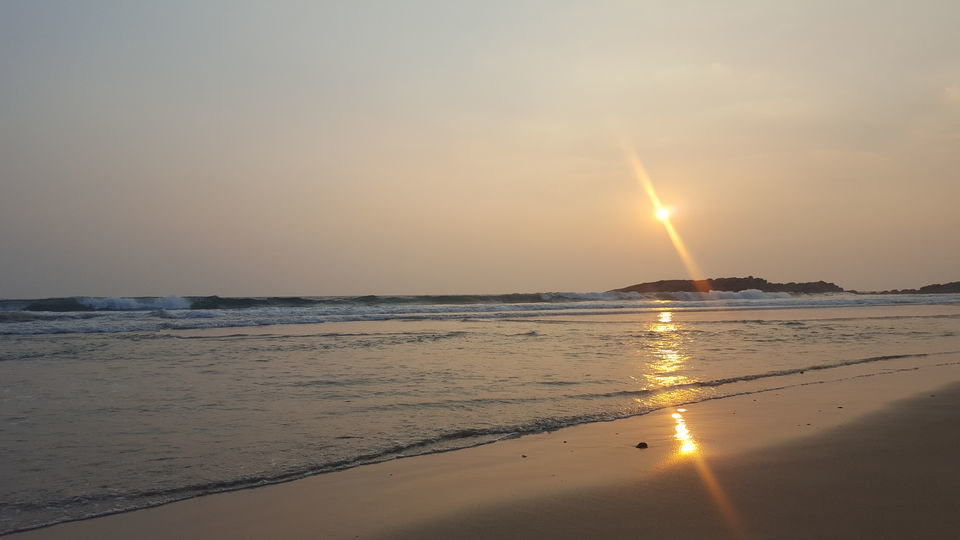 After visiting the temple we decided to visit the Napier museum and Zoo. Unfortunately both these place were closed as it was Monday.
After our lunch and a short nap we headed to the Light House beach which was just 2 mins away from my stay.
Day 2 was going to be both exciting and tiring. Visit to the southern most tip of the country was exciting but the long journey was tiring. Kanyakumari is approximately 80 kms. away from Kovalam in the state of Tamilnadu. We started at around 10 Am. from our hotel and reach the destination by 2 Pm.
The main attractions of Kankyakumari is Swami Vivekanand Rock Memorial and Thiruvalluvar Statue both standing in middle of the sea. KanyaKumari is also known as the meeting point of three water bodies- Indian ocean, Arabian sea and Bay of Bengal. This sangam can be clearly seen from the rock Memorial and can be differentiated with its water colours - white, green and aqua blue.
Other places to visit in Kanyakumari:
Mahatma Gandhi Mandappam- Gandhiji's ashes were kept here.
Kumari Amman Temple - Goddess Parvati is worshiped here.
Our Lady of Ransom Church
Kanyakumari Beach
Pamanabham Palace
Do visit the small market near the boat ride ticket counter - they sell good products made from coconut. Also the small restaurants there serve some authentic and cheap food.
We returned back to our hotel in Kovalam at around 8:00 Pm completely exhausted by the long journey.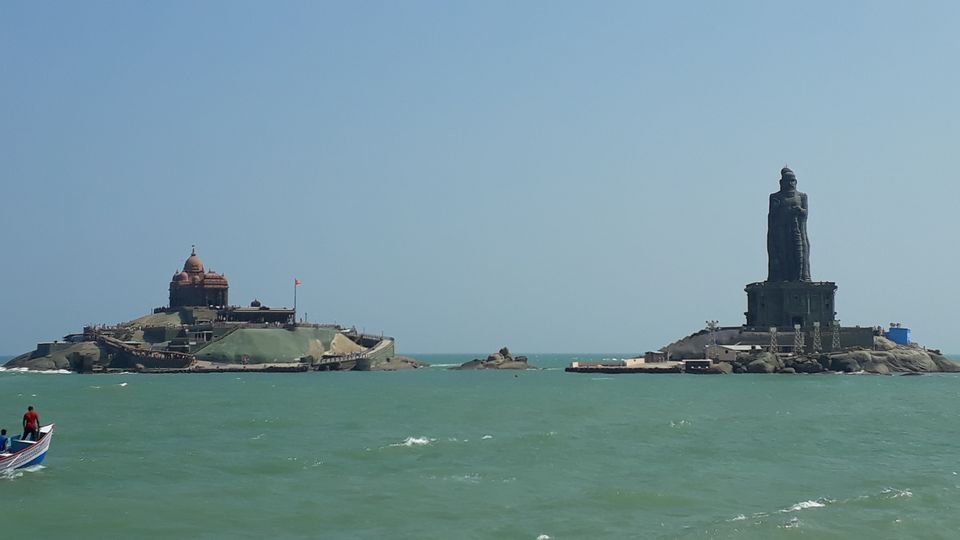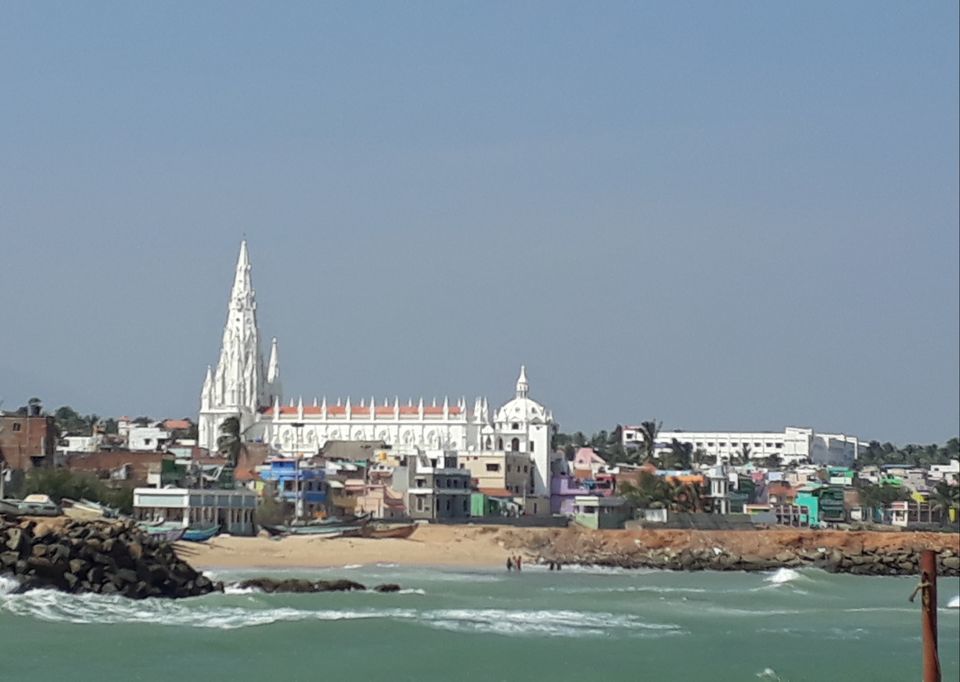 Exciting day for my little one as we were heading to Alleppey or Alappuzha as it is called in Malayalam for the overnight stay in houseboat.
We reached Alleppey at around 12:00 noon and checked in to our personal houseboat operated by the company known as Swagatha.
Houseboats are available as per the group size. As we were just 3 of us, we had our private one.
They sail into the backwaters and all we have to do is sit back,relax and enjoy the lush green coconut grooves on both the sides,the country life and awsome authentic food.
It was a well maintained and beautiful houseboat which began to sail at 12.30 pm into the backwaters of Alleppey. They served us welcome drink on arrival and lunch after an hour. Lunch had options of both veg and non veg. Non-veg food had fresh karimeen fry in authentic kerala style. Karimeen is a very tasty fish and a part of staple diet for the locals.
Tea and veg fritters were served at 5 pm while the boat took us deep in the backwaters. Sun was about to set and we enjoyed the view while sipping the tea.
As per the Govt. Law the boat had to be parked by 6.30 pm. One can chose to check out of the houseboat and book a hotel nearby,however we decided to spend the entire night there.
Our houseboat had a small but cute bedroom and a very organised kitchen.
Dinner menu was 2 vegetables, dal, roti, rice,Kerala style chicken and salad which was served by 9 pm. Off to sleep for yet another beautiful day.
Other things to explore in Alleppey:
Alleppey beach
Vembanad Lake - the longest lake in India
Bird Watching.
After enjoying the beautiful sunset we went to one of the cafe along the beach for dinner and went back to the hotel for a sound sleep to wake up fresh for our next destination Kanyakumari.
Other activities in Kovalam, if you have a spare day:
Water sports enthusiast can indulge in various activities like parasailing,jet skiing, swimming, surfing and many more.
Scrumptious breakfast of waffles, milkshakes. pastries and pancakes at German Bakery.
Ayurvedic Massages to relax your body.
Street shopping - antics, handicrafts, magnets and souvenirs for gifting back home, spices and much more..
Visit other beaches and temples around.
Visit to Poovar Islands
We woke up with the knock on the door and it was our caretaker with a broad smile and tray of bed tea. The boat began to sail again while we got ready. Our breakfast was served on the upper deck of the boat for us to enjoy the morning view.
We checked out at 9 am. Our driver picked us up from the entry point for our 3 hour long journey to Thekkady.
On our way to Thekkady we visited a very beautiful tea estate owned by Goenka. After posing for few photos in the tea plantation we had a tea factory tour where they showed us how different types of teas are produced. We bought some tea packets for back home.
Cost of the trip : Rs.100 per person including guide charges.
We reached Thekkady at around 2 pm. We found a restaurant called Sandra in the city centre to have our lunch. We had Kerala parotta , veg kadhai, egg masala, egg fried rice and icecream just in Rs.650. Good value for money with some awesome food.
We checked into our hotel Grand Thekkady which is again in the heart of the town. Thekkady is a small town surrounded by the jungle. Its a complete tourist place and apt to visit with families. The weather is pleasant.
We had lot of activities planned for the evening and all of them take place at single spot so no hassle of finding places.
Detailed activity plan:
Periyar Tiger Reserve - 2 to 6 hours jeep safari starts from Rs.2200 onward depending on duration of the safari. I skipped this.
Periyar boat ride : This is a 1.5 hour boat safari in Periyar lake which passes through jungle and is operated by Forest department and KTDC. Morning rides are always better.
Timings : 7:30 Am - 3:30 Pm ( you need to wait in long queue for the ticket)
Cost : Rs. 225 per Adult; Rs. 50 for child below 11 years.
Kathakali Show: Must watch as they show you everything from getting the dancers ready to a very beautiful story narration.
Cost: Rs. 200 per person for 1 hour show.
Magic show: Good for family with kids.
Cost: Rs. 200 per person for 1 hour show.
Kalaripayattu show: This is a worth watching as you see famous marshal art from Kerala.
Cost: Rs. 200 per person for 1 hour show.
Elephant ride: Again good for kids. They take for a ride in jungle. You can spot various birds and white monkeys.
Cost : Rs. 350 per person for 25 minutes ride with photography.
Elephant bathing: I skipped this one too.
We ended our day by treating ourselves with a relaxing massage at Mayura Ayurvedic Centre. We indulged in Deep tissue full body massage with steam bath.
Duration: 60 -90 Mins
Cost: Starts from Rs.1200 depending on the massage you choose.
We woke up with some white monkeys knowing on our balcony doors in our Thekkady hotel. Post our breakfast we got back into the car for another long journey to Munnar, a hill station in Kerala.
Roads from Thekkady to Munnar were covered under thick layers of forests and sprawling tea & spice plantations. the cool breeze and the soothing silence was adding utmost peace and tranquility to our souls.
Calm and serene town of Munnar has lots of spots for sightseeing. Some of the must see tourist spots are listed here.
Mattupetty Dam And Lake: 13 Kms from Munnar, this is one of the famous tourist attraction. This picturesque place is a good picnic spot with lot of water activities for water sports lover.
Time : Anytime.
Cost: Free
Mattupetty Indo-Swiss Farms - known for more than 100 varieties of high yielding cattle.
Visit Time : 9:00 Am.- 11:00 Am. and 2:00 Pm.- 3:30 Pm.
Cost: Rs. 5 per person
Pallivasal- First Hydro Electric Project in Kerala.
Eravikulam National Park - It covers an area of 97 sq kms of breathtakingly beautiful evergreen forests and is a home to Nilgiri Tahr . The tourism area of the park is known as Rajamalai and the tourists are allowed to explore the wilderness of the forest.
Visit Time : 8:00 Am.- 4:30 Am.
Cost: Rs. 65 per person
Forest is closed between Mid Jan to 31st March due calving season of Nilgiri Tahr.
Top Station - Located 35 km. away from the city this is the highest point in Munnar. Known for its panoramic views, this place is paradise for photographers.
Kolukkumalai - Highest tea plantations.
Kundala Dam and Lake: Famous for its Kashmiri-Shikara boat rides and pedal boat rides, this picturesque spot is feast for eyes.
Cost :Rs. 10 per person for the lake
Boating Charges: Rs. 350 for 15-20 mins.
Echo Point - Situated at a serene lake bank Echo Point is located 15 kms. away from Munnar, on the way to Top Station.
Cost : Free
Rose Garden - Very well maintained beautiful flower garden.
Cost : Rs. 30 per person
Photo Point -Located 2 kms from Munnar, this place has dense tea plantation and ideal for photography.
Cost : Free
Waterfalls - Munnar is known for its gushing waterfalls. Attukad, Chinnakanal, Cheeyappara,Valara are worth visiting.
Tata Tea or KDHP Museum -Located in the Nallathanni Estate of Tata Tea around 2 km from Munnar, the KDHP Museum is the great delight for tea lovers.
Visit Time : 9 am to 4 pm. Closed on every Monday.
Cost: Rs. 75 for adults and Rs. 35 for kids.
Ponmudi Jeep Safari - Covers the places like the spice plantations, Nadukani para view point, picnic point, Water lily pool, Ponmudi dam, the hanging bridge, etc.
Duration : 3 hours.
Cost : Rs. 3000 to 3500 per jeep.
Visit to Spice Gardens - Just like Thekkady, Munnar is also known for spice and coffee plantations. There are many spice gardens here to visited. I had visited Kerala Farms and had a wonderful experience.
Visit to the local Market - Munnar town has a busy market with large number of shops selling varieties of spices, oils, teas and handicrafts. The street food here is famous and lip smacking.
Try local Food- Relish the Malabar cuisine in hotels like Saravana Bhavan and Gurubhavan.
Ayurvedic Massage - Ayurvedic massage centers offer various relaxing massages and perfect way to end the day. I visited Swatic Ayur Care Centre, for one of the best message I ever had.
Cost : Rs.1300 onward for 60 mins.
The active day ended with peaceful sleep.
Last day of the trip. We again had a long journey to Cochin for our flight back to Mumbai. we checked out after the lavish breakfast. We visited couple of waterfalls on our way to Airport. We halted at a small restaurant on Munnar- Cochin Highway for best authentic Kerala style Fish Pollichathu - Meen fish cooked in banana leaf with spices.
We reached airport at around 5:00 Pm only to know my Air -India flight was 4 hours late.
Renowned for its beautiful locations and scenic beauty, Kerala surely took my heart away with its backwaters, beaches, waterfalls and wildlife. Blessed with rich culture, this coastal destination has lot to offer to every type of tourist.
Kerala truly lived up to its phrase - God's Own Country.
Frequent searches leading to this page:-
Cochin packages Kerala, Kerala tour packages 2 nights 3 days, Kerala government tourism packages, Kerala tour packages for family, cheap honeymoon package in Kerala, Kerala tour packages with price from Mumbai
We stopped at a Periyar Spice Garden on the way. This was the huge property with variety of spices plantations and Ayurvedic plants. The guide gave us the detail information about each and every plant and its medicinal uses. The shops there were selling some authentic and quality products. I picked up few spices and essential oils.
We reached Munnar at 4:oo Pm and checked into this beautiful resort far from the crowd located in the lap of mountains with the breathtaking view of Attukad Waterfalls. We spent our evening visiting the flower garden and the local market and returned back to the hotel .The sound of the waterfall in the night was soothing making the stay just perfect.