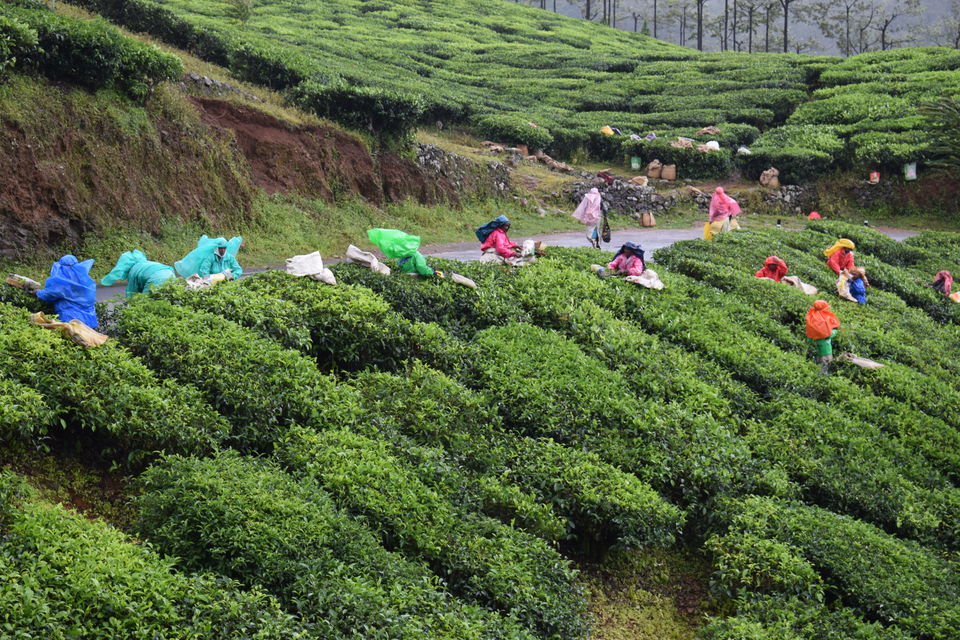 For a long time over the past one year, I had been seeing snippets of a small, but relatively unknown hill station situated between Idukki and Kottayam district. This year when a friend suggested we visit there as part of my birthday trip, I was quite elated at the prospect of celebrating my birthday in Vagamon. Surrounded by lush green plants and trees everywhere we were lucky to see a waterfall in the distance as well.Although I wouldnt recommend the monsoon season to visit Kerala, we were lucky that at the time of our trip, there was only a light drizzle, on and off. On the road, along the way were several small stalls selling different types of tea powder and chocolates as well as plastic toys.A kilometre or so , away are the pine forests which run alongside a river.
Kuttikanam, an hours drive away from Vagamon is surrounded on all sides by tea estates. Compared to the popular Munnar it offers a similar experience for those who dont want to travel all the way.The only drawback is the lack of water during the summer season.
Things to keep in mind before going to both these places
1. Dont always rely on GPS.My friend and I would have almost gone over as landslides occur quite frequently in this locality thereby destroying roads in the process.
2. Layer up and carry rain wear as well. Wear clothes that dry up fast.
3.Post monsoon would be the best time to visit here.If you're planning to visit during the monsoon season, check the weather forecast ahead of time and always be prepared for any changes.
4.The roads here do wind at times due to the sharp pin turns, however they are not as bad as the Munnar turns.
5.There were quite a few eating places along the way but my favorite was the Barbecque place situated at the base close to the nearby college.You can choose between either South Indian food or opt for tandoor dishes instead.
6. Post the trip in the pine forests do check for leeches.
7.It's very easy to get lost here and up on an off road the way we did, even though you might be familiar with the terrain, so do be alert at all times and try to get back to your hotel/homestay/hostel before dark.