Mitra Café
Well, the next in line of cabin restaurants happen to be the century old Mitra Café which was founded by a gentleman names Sushil Roy way back in 1920. The idea of "Mitra Café" was conceived keeping in mind that all customers are friends. In Sanskrit/Bengali "Mitr" means friend. This is how Mitra Café came into existence. While Roy's grandson has now expanded the business to catering services along with a few other outlets, the original café at Sovabazar continues to reach out to a large number of clientele.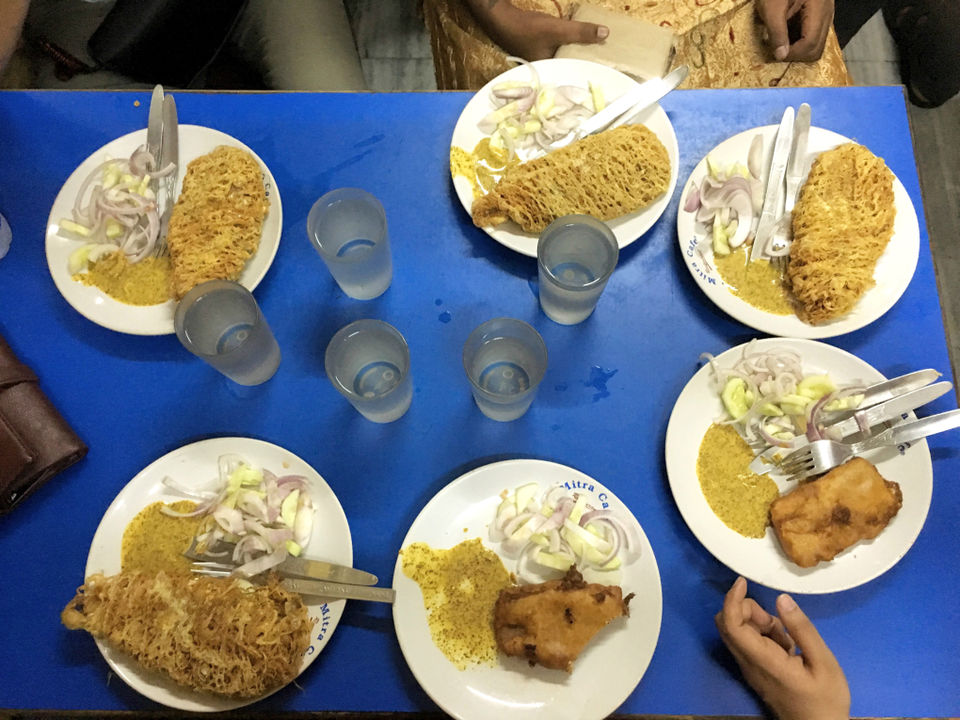 This north Kolkata cafe was once a regular stop for many renowned celebrities. From Uttam Kumar to Anjan Dutta to Bratya Basu, this place has welcomed a lot of Stars. Therefore, it is a great old world charm in old Kolkata. The typical style of 'chop cutlet' placed with the old marble top tables and jaded plates and cutlery. Amongst the variety of special items, some renowned items are Mutton Chop, Brain Chop, Mutton Cutlet, Mutton Curry, Mutton Kasha, Mutton Moglai, Dry Mutton Chop, Dry and Gravy Mutton Moglai Do-peaji, Kabiraji and Afghanis. They have the entire repertoire to transport one back in time by 40/50 years.
The fare is astoundingly magical to foodies. Many special items of this cafe are simply go out of stock within an hour of opening. Perhaps the only letdown is their tight space which quickly fills up at rush hours!! So book your table as early as possible to enjoy a bite from the 'past'...a taste which will linger in your taste buds for a long long time!
Address: 47, Jatindra Mohan Avenue, (Near Shobha Bazar Metro), Kolkata-700005
Basanta Cabin
If you are on a tour of Kolkata, do remember to try its culinary delights such as the moghlai parantha, and one of the best places to have it is Basanta Cabin. This small eating joint has been serving Kolkatans for decades now. Even during times when air-conditioned malls and fast food joints have cropped up all across the city, eateries like Basanta Cabin continue to attract some loyal customers. This restaurant has retained its traditional cabin set-up. While the interiors are somewhat shabby, the delectable fish kabiraji makes up for the loss.
Started in 1890, there were five such restaurants, and after feeding Calcuttans for decades, the restaurants shut shop one by one. There are only two of the five Basanta Cabins in Kolkata now. College Street, Moulali and then the one in Bhowanipore - which peaked in the 60s and was patronized by Uttam Kumar and Basanta Chowdhury. This is another place where people used to flock for "adda" along with good food.
Today the famous Basanta Cabin stands in the midst of a buzzing College Street pavement, and the passersby hardly recognize it.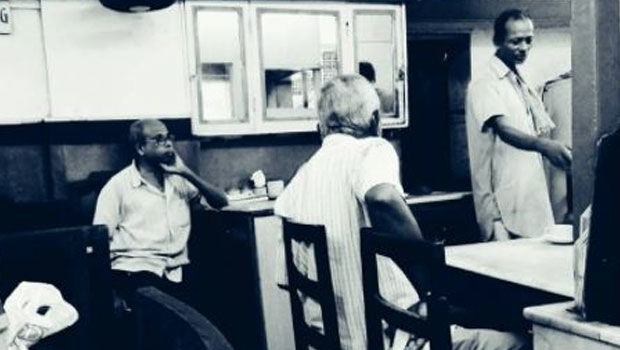 The food Moghlai Paratha and Aloo Dum, Chicken cutlet, parathas, chicken kasha, and fish fry are good in taste. Here, parathas are thin but tasty, chicken kasha is delicious. This might not be the place for stylish tourists, but someone who wants to get acquainted with Kolkata's cabin restaurants for an absolutely different kind of experience would enjoy a visit to Basanta Cabin.
Address: 53 College Street, Kolkata 700073
Das Cabin
A tiny restaurant with small seating arrangement—the Das Cabin has been serving its dollop of loyal customers for nearly eight decades now. Way back in the 1960s and 1970s, the small cabin restaurant used to be frequented by some of the Bengali intelligentsia such as Sunil Gangopadhyaya and Soumitra Chatterjee. It used to be their favourite hang out in south Kolkata and of course they made Das Cabin quite popular.
The mutton kosha with plain parantha and the chicken kobiraji is simply to die for here. Needless to say that with
Address: 17, Gariahat Rd, Ballygunge Gardens, Ballygunge, Kolkata, West Bengal 700019
Bonophool
Bonophool is one of the remaining cabin restaurants in and around SP Mukherjee Road in Kolkata. Operational since almost eight decades now, the restaurant continues to serve locals of the region; yet at the same time facing stiff competition from its modern counterparts. Earlier knowns as South Hall restaurant it was later renamed after the famed Bengali writer Balai Chand Mukhopadhayay whose pen name was Bonophool.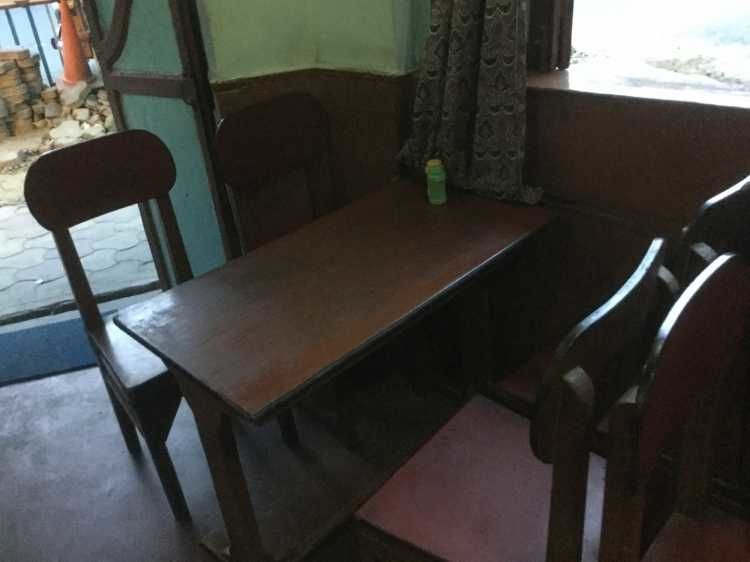 The menu here is almost similar to that of other cabin restaurants such as the fish and chicken kabiraji, cutlet, chop and moghlai parantha. Other items include soups, chowmein and chopsuey.
Address 28A, S.P. Mukherjee Road, Bhawanipur, Kolkata

If you are on a spree on exploring the "crumbling culture" of Kolkata, you can always choose to visit these traditional cabin restaurants. You will not only get to seep into the heritage of the places but also taste some sumptuous delicacies.