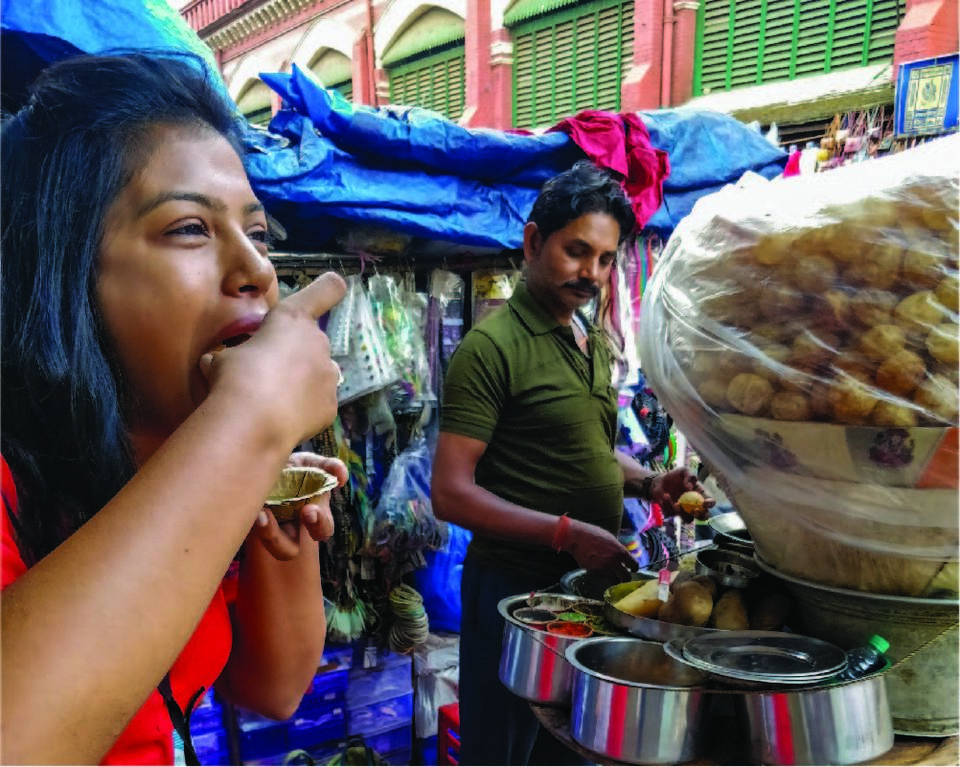 We Indian are obsessed with street food. We can literally live on it. You won't find a single person in India who would say no to Street food anytime of the day (Unless they have an upset stomach). Even though we have a full meal prepared at home, but instead would choose to eat from the street stalls if given the option. The love for street food is that real! And talking about the best place to actually try it and go through unending options for those has to have KOLKATA on the top of the list. If you haven't tried the street food of Kolkata then your trip is absolutely incomplete. In my opinion a trip to the city of joy has to start with a breakfast of kachori and chai. Did that just make your mouth water? It's gonna do so even more once I finish telling you about all the must-try things when in Kolkata. Let's begin :

1. PUCHKA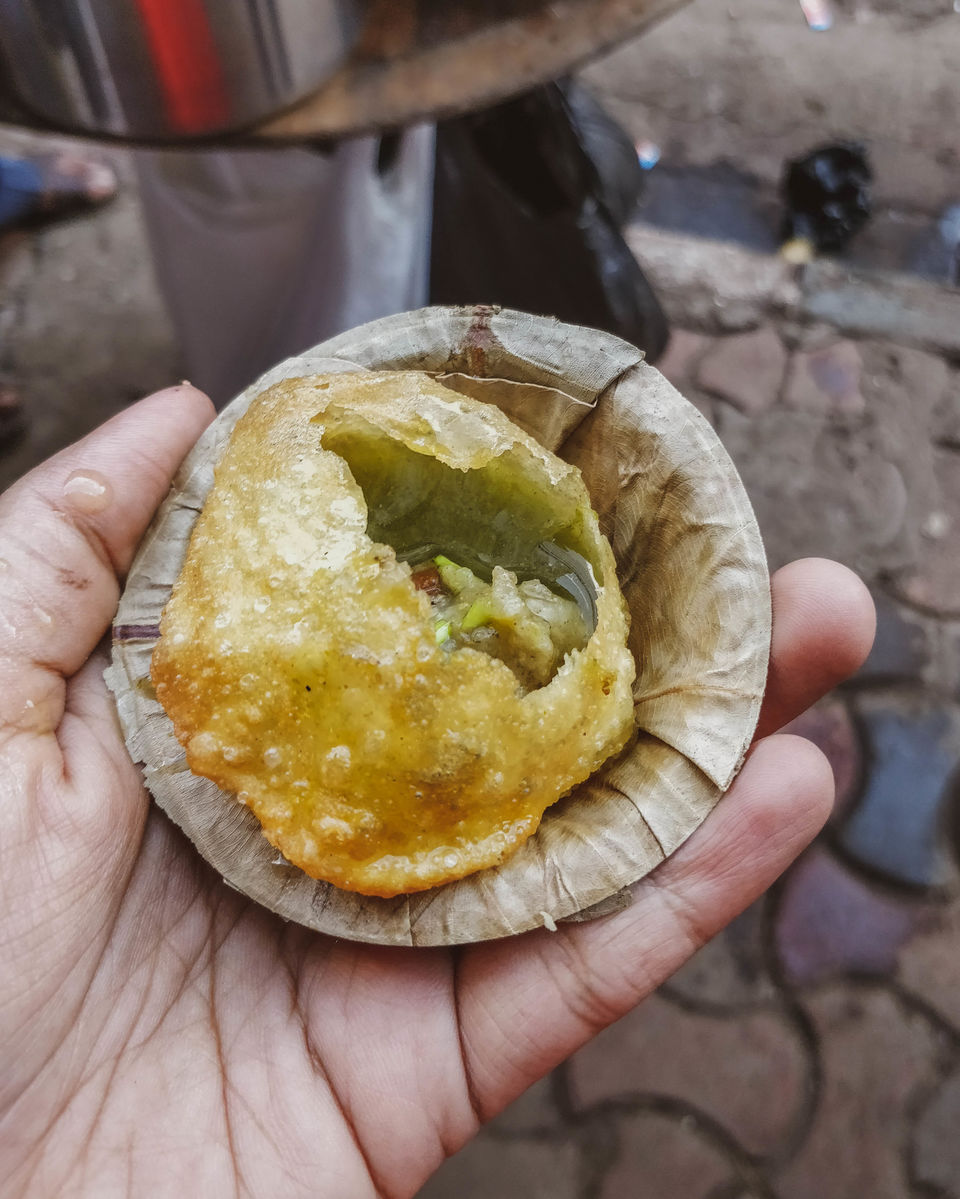 This one is first on the list and definitely the first of all the things you are gonna try in the city of joy. You'll find them everywhere you go. And their size is incomparable to your mouth! One look at the size of the puchkas and you'll go like -"I can never fit that into my mouth". Trust me the struggle is real, but the after taste ... oh so yumm! Just when you'll manage to fit it in your mouth and the whole thing cracks, a burst of flavors encompasses your tongue like never before. The chilled & sweet pickled water, you can taste the tamarind, pudina, lime, the potato filling. And that's the story of "Puchkas" in short. 'Puchka' ( Gol gappa, Pani puri, Paani ke Patashe are its other names).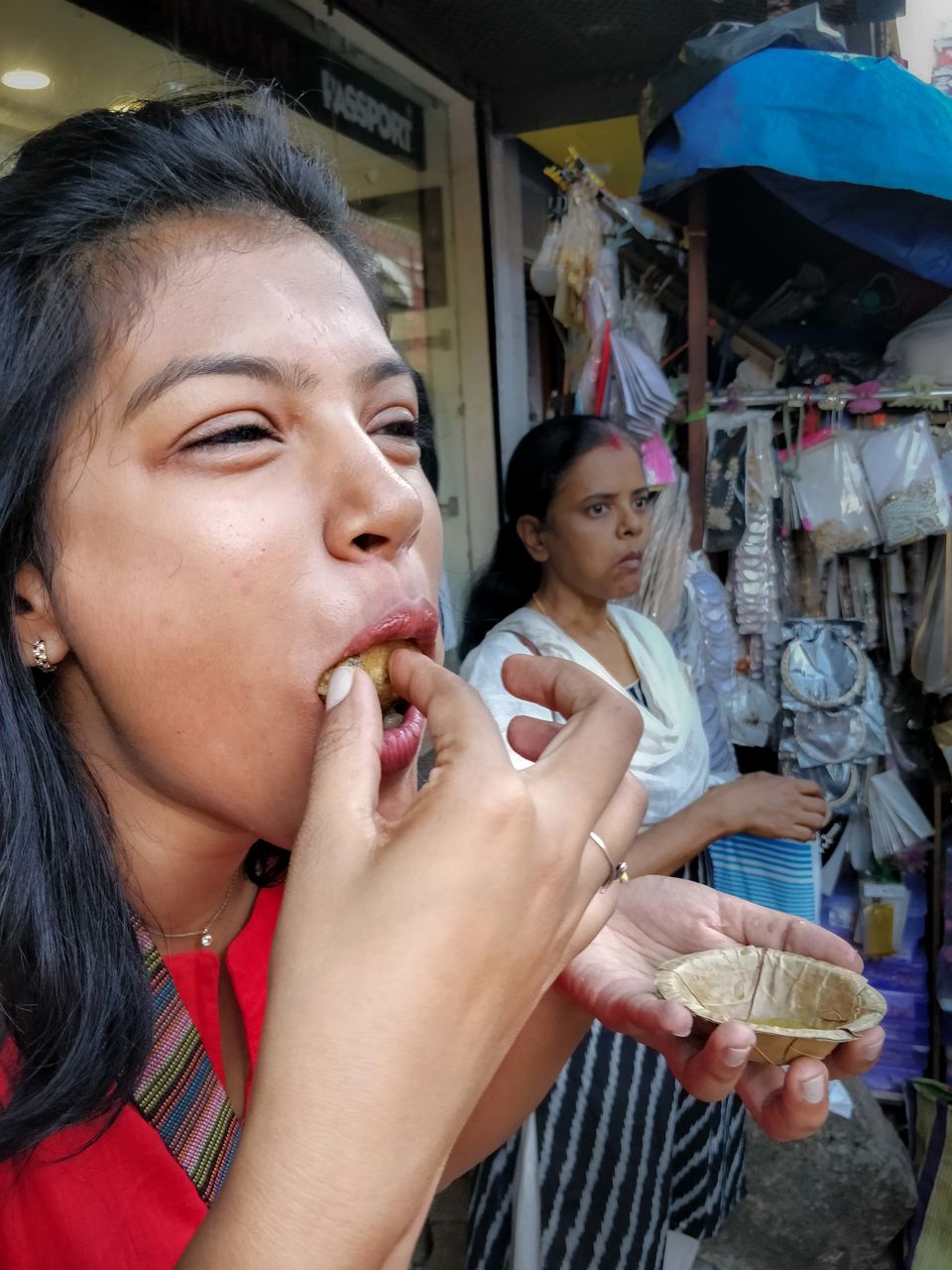 I guess we had some 4 or 5 of them for Rs20 or was it 15? I don't know I was just too busy savoring the flavors.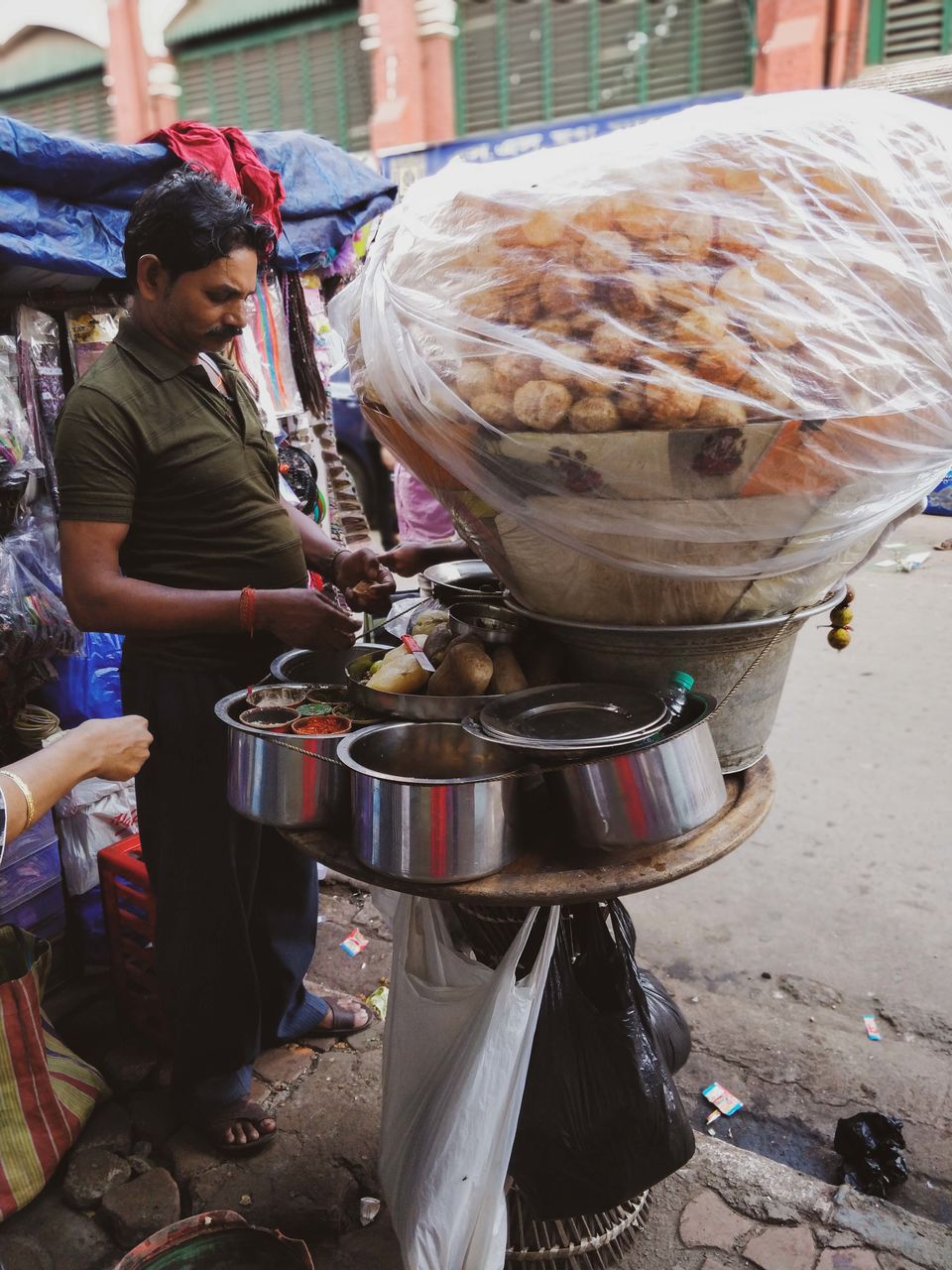 Oh and on top of it they even give you a ' sukha '(meaning a dry puchka), a must, it's complimentary.
I can totally come back to Kolkata just for these.
2. KATHI ROLL
Did you know the now famous 'Kathi Rolls' were first invented in Kolkata?
Egg, mutton, chicken, paneer - you name it and they have it. Basically a Kathi roll is a flaky flour paratha which is rolled up with your chosen stuffing laced with irresistible sauces, spices, and veggies.Just one of this is enough to fill your tummy and satisfy your taste buds.
Once you have had this, it will replace your next lunch/ dinner plan for sure.
You'll find the kathi roll stalls again, everywhere but there are these two places which you have to try when in kolkata. They have the best tasting rolls for the best prices! (Now who wouldn't want to save some money on food?)
1.Nizam's in New Market
2.Kusum's in Park Street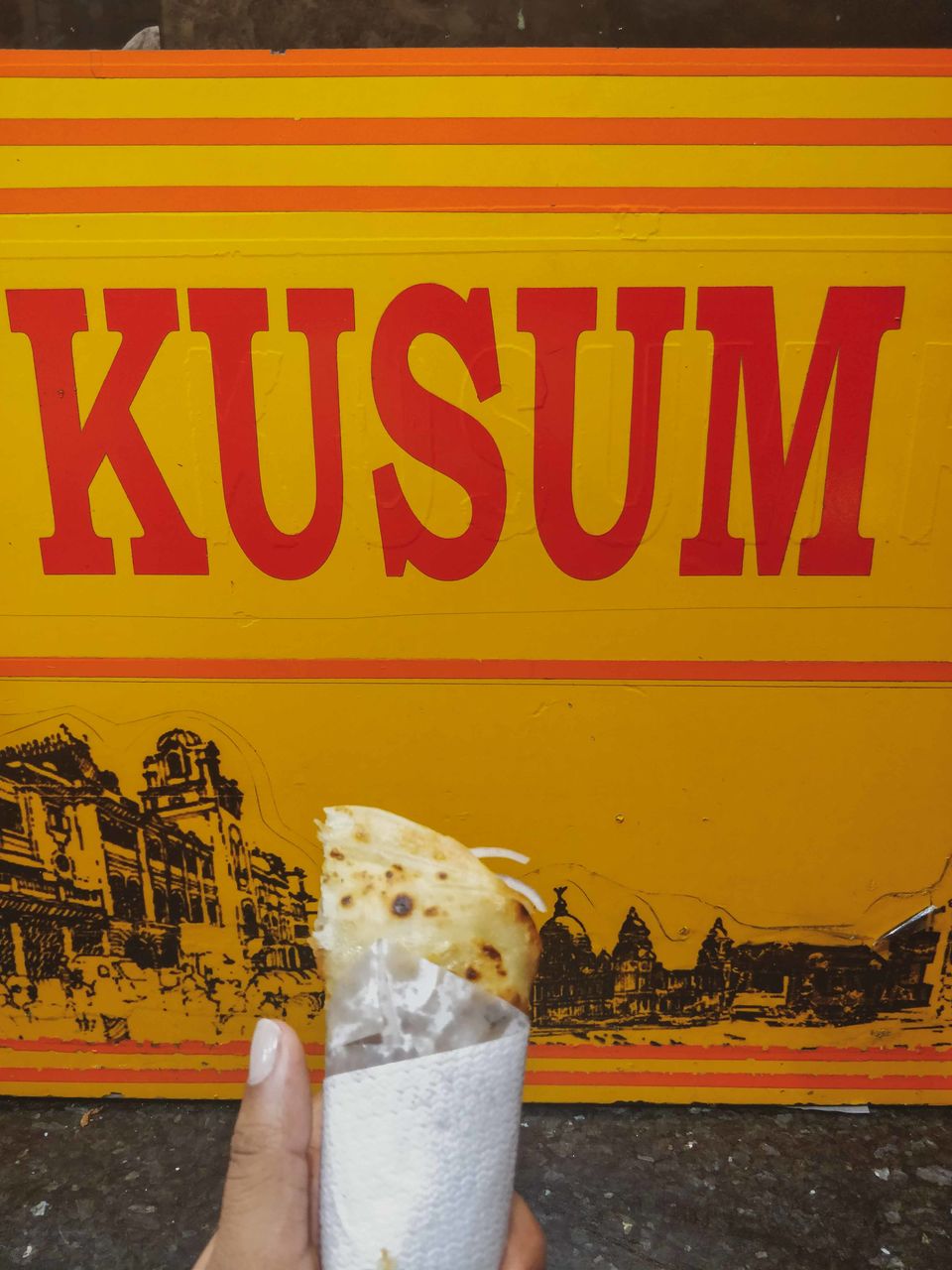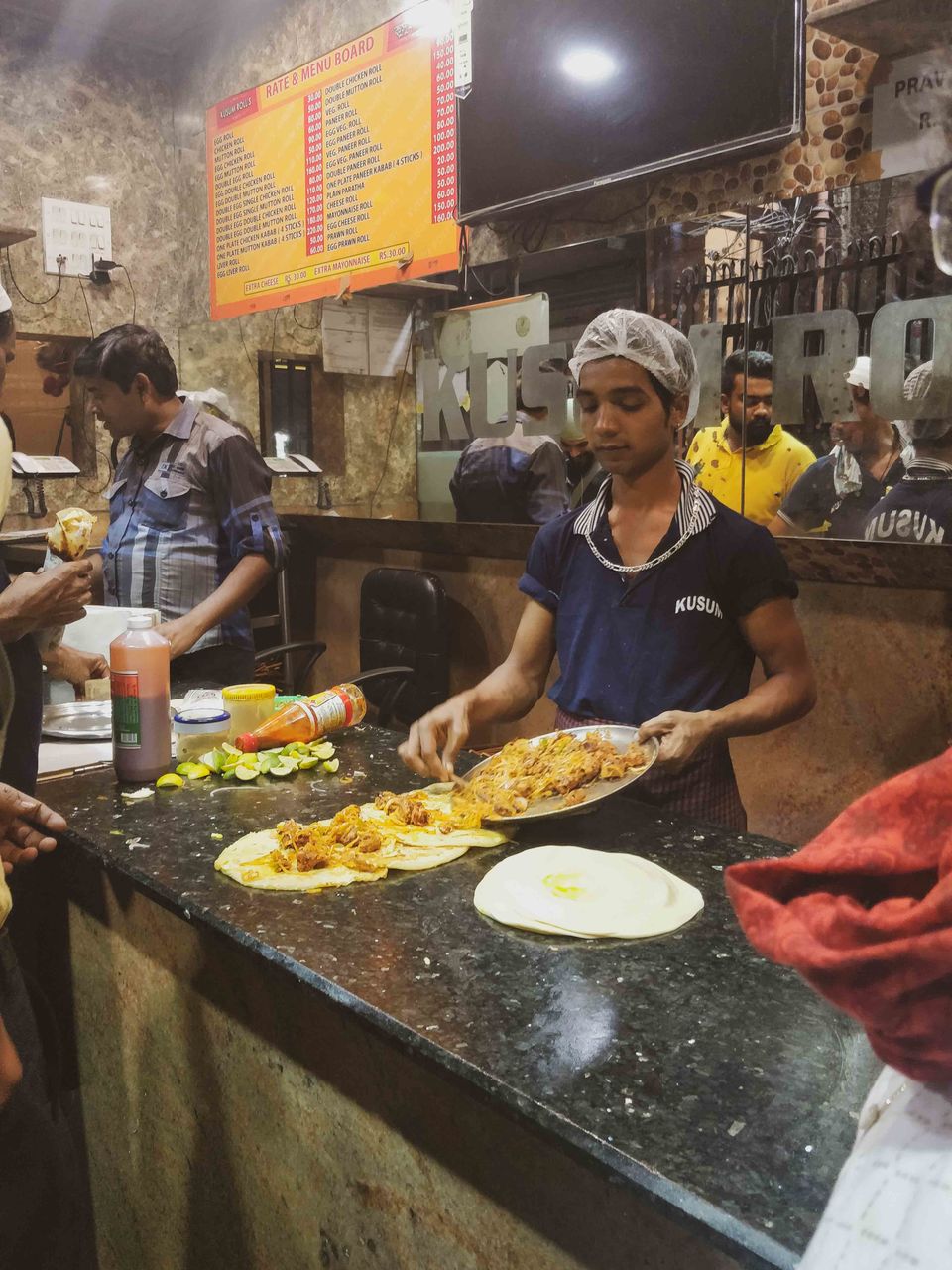 3. Chowmein -Noodles
This dish, I hope does not require an introduction. Everyone's heard about it and most would have had it before, probably in a restaurant. But you have to have the street version of it. You'll find most people having this from the stalls during the lunch/ dinner time and evening snacks time too, with ketchup!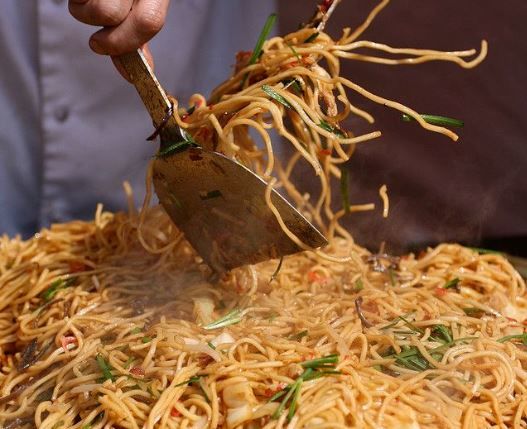 4. JHALMURI
It's super easy to make, even you can make it! But again we'll have it from the stalls. It's a munchy and appetizing street food that can be found in every nook of the city. This snack is a tossed-up mix of puffed rice, namkeen, peanuts, coriander, onions, tomatoes, spices, chilies, and more(whatever makes it tastier). No oil and no cooking makes it the quickest and the best street food in Kolkata. The final outcome is then served in a conical newspaper wrap. Pair it up with hot tea, or simply munch it, while on the move.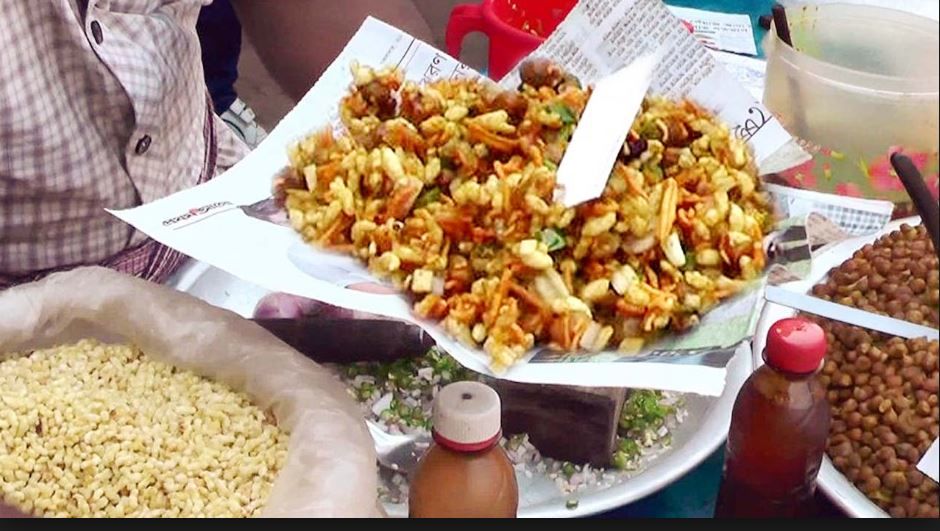 5. CHAAT
There's not just one type but almost more than 10 of them ! Out of them the ones that are popular in kolkata are: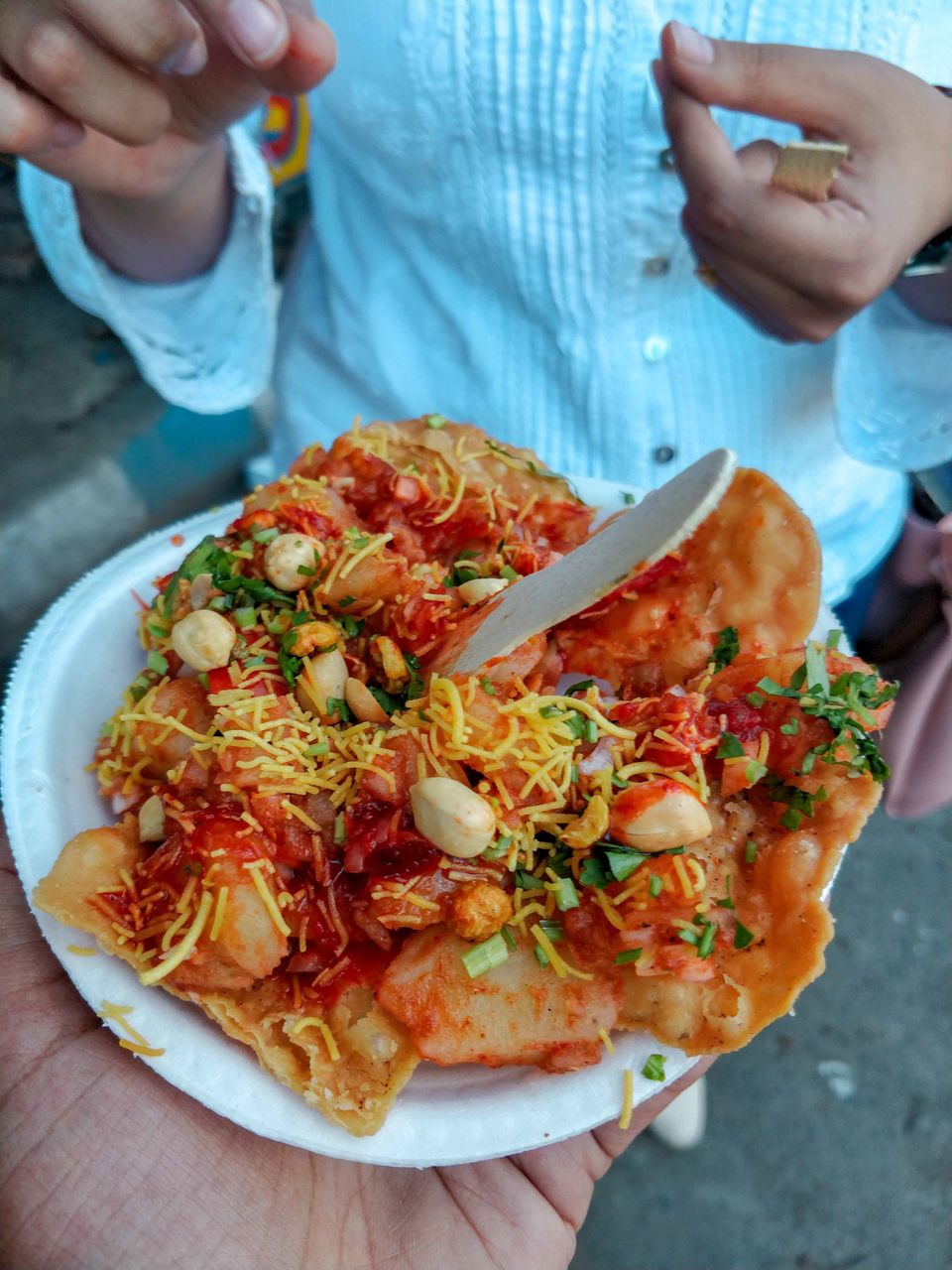 Ghugni Chaat - Tangy chickpeasGhugni chaat is made mainly of boiled yellow and white peas - mixed with onions, coriander, chillis, tomatoes, spices, and topped with tamarind pulp Churmur Much like Phuchka, this street food of Kolkata is a mix of crushed puchka, mixed with mashed potatoes, onions, spices, and of course tetul gola - pulp of tamarind. Though it tastes similar to Phuchka, Churmur is easier to eat. Your Kolkata street food tour is incomplete if you don't try Churmur. Aloo KabliOne of the best forms of potato, Aloo Kabli is a spicy and hot dish you mustn't miss when you crave for something flavorsome in Kolkata. Boiled potatoes are tossed with tamarind pulp, onions, tomatoes, chilies, chickpeas, and a magical combination of masalas. Churmur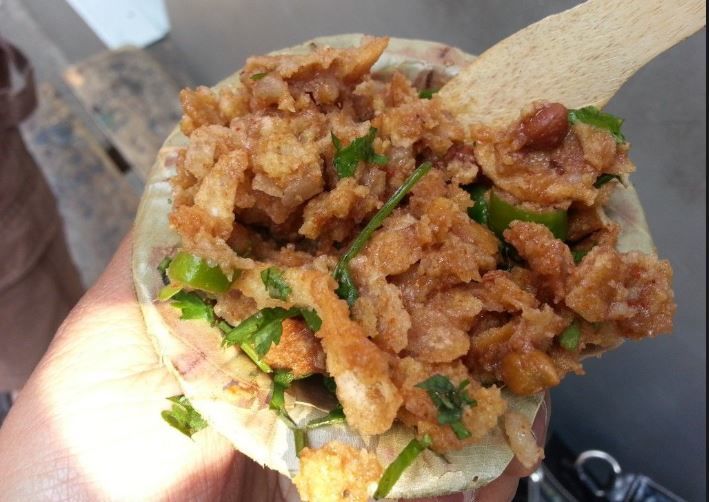 Ghugni chaat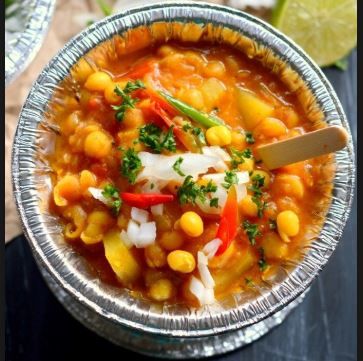 Aloo Kabli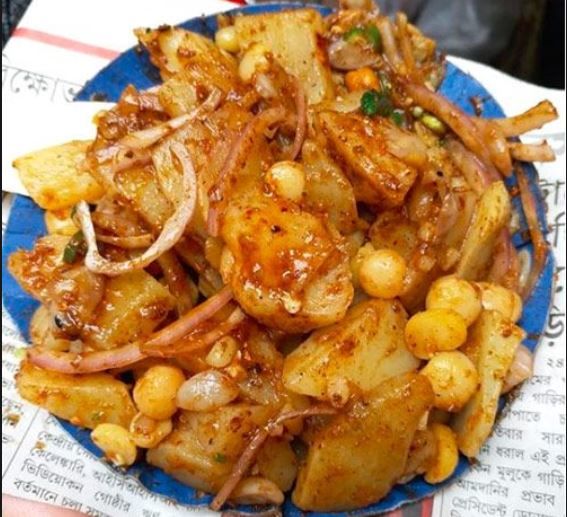 Are there others that are your favorites from Kolkata? Do mention in the comments below.
6. TELEBHAJA
Next we have this fried delight to go for any time of the day.
Telebhaja would be your favorite companion on a rainy day. You must know that all Indian's love pakoras and a cup of chai on a rainy day. In the monsoon season, its a must have.
This crispy snack is prepared by frying besan or cornflour batter covering various items like onion rings, potato, pumpkin, and eggplant. In fact, that's not all for this Kolkata street food! There's even Telebhaja made of raw mangoes, coriander leaves, and Bombay duck. Hungry much?
7. Breakfast the Chinese style in Teretti Bazaar
Kolkata was once home to 20,000 Chinese which has now drastically declined in number, however, it has not lost its food culture yet. Open from 5 in the morning everyday save Mondays, the foodie extravaganza is located at Sunyet Sen Street.Chinese Breakfast consisting of rice dumplings and soup is the most sought-after Chinese preparation while one can also find the Indian version of Chinese. From fresh steaming dumplings and fish sui mais to fishball soups, breaded pork chops, coconut balls, rice and sesame seed sweet balls, sticky rice, and even chicken pies, the place serves authentic Chinese food that is not only lovingly made by home-cooks but are also amazingly sumptuous. However, you've to be an early bird for this one. Visit the place no later than 6.30 AM, stocks last till about 7.30 or 8 AM. You do know that thing about how offers last only until stocks do, right?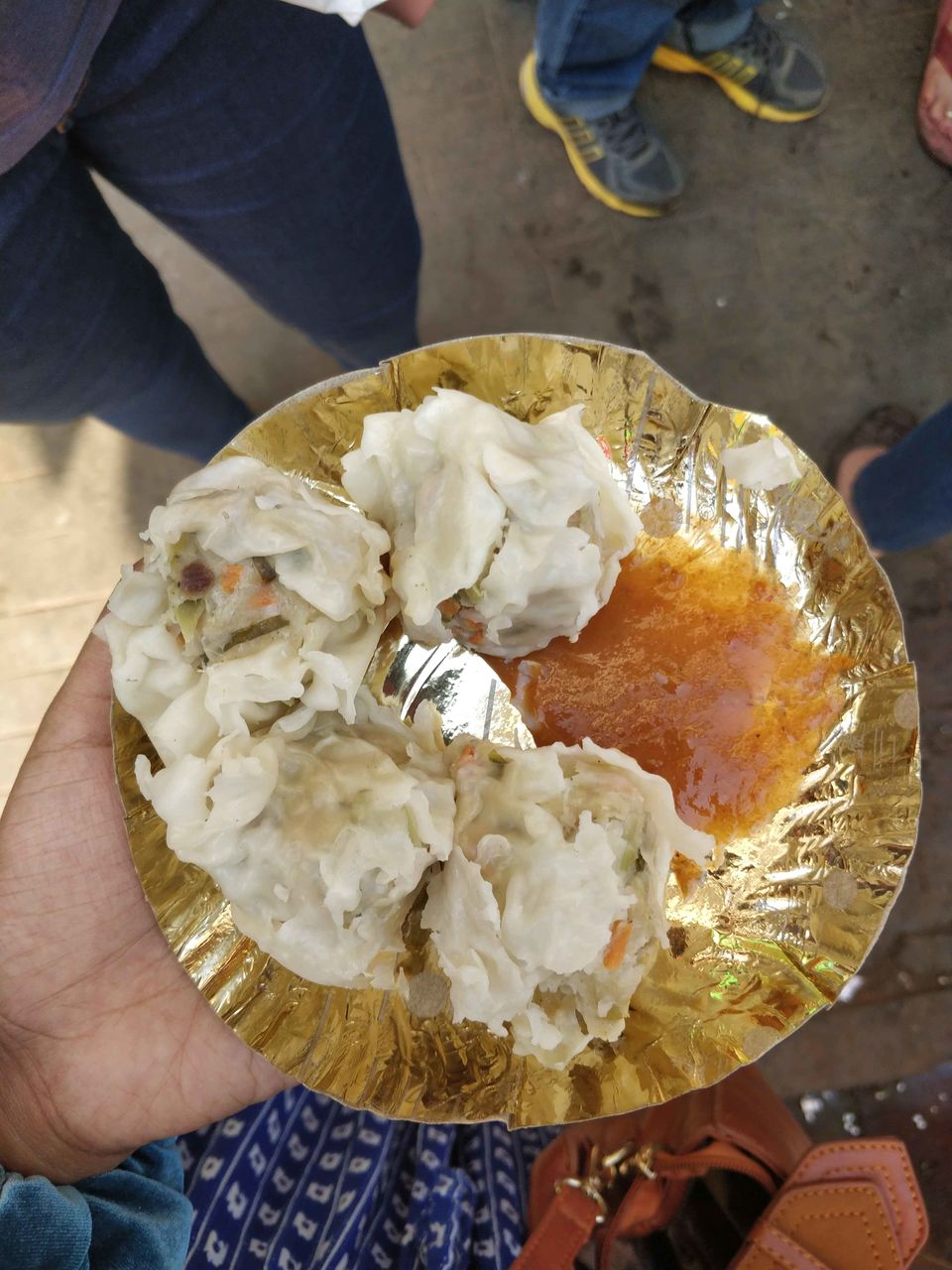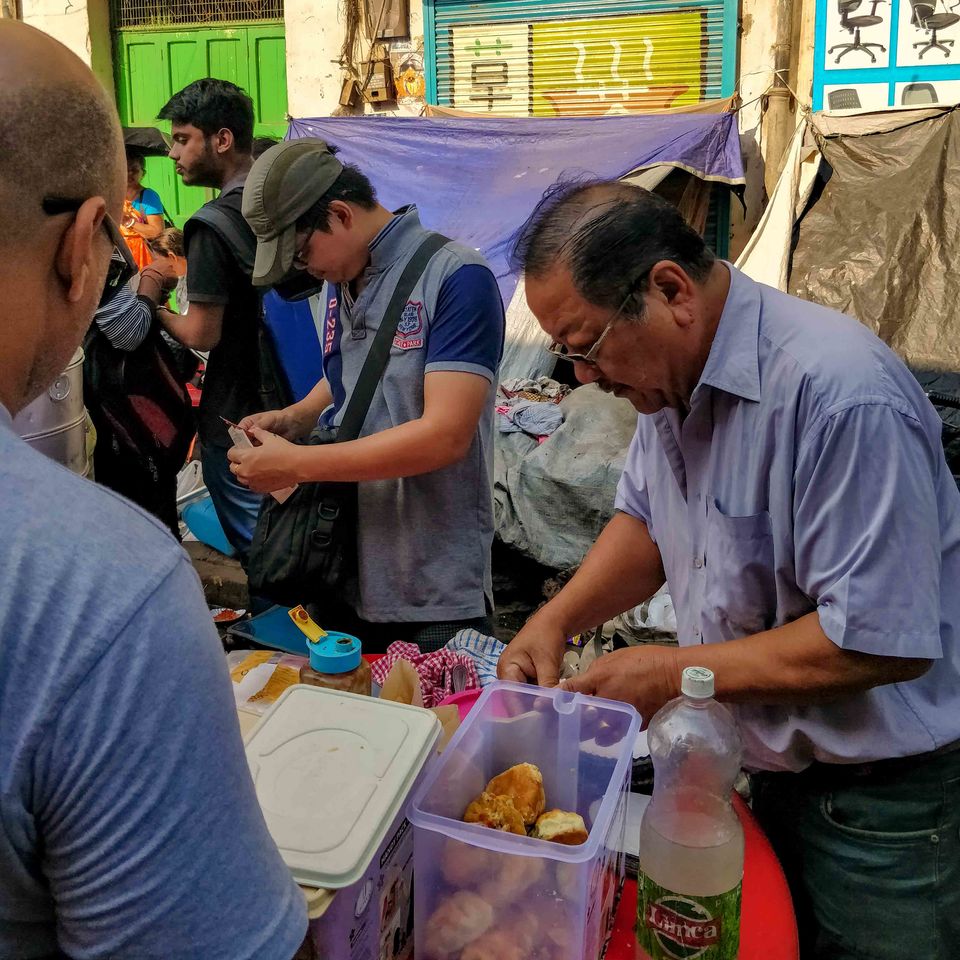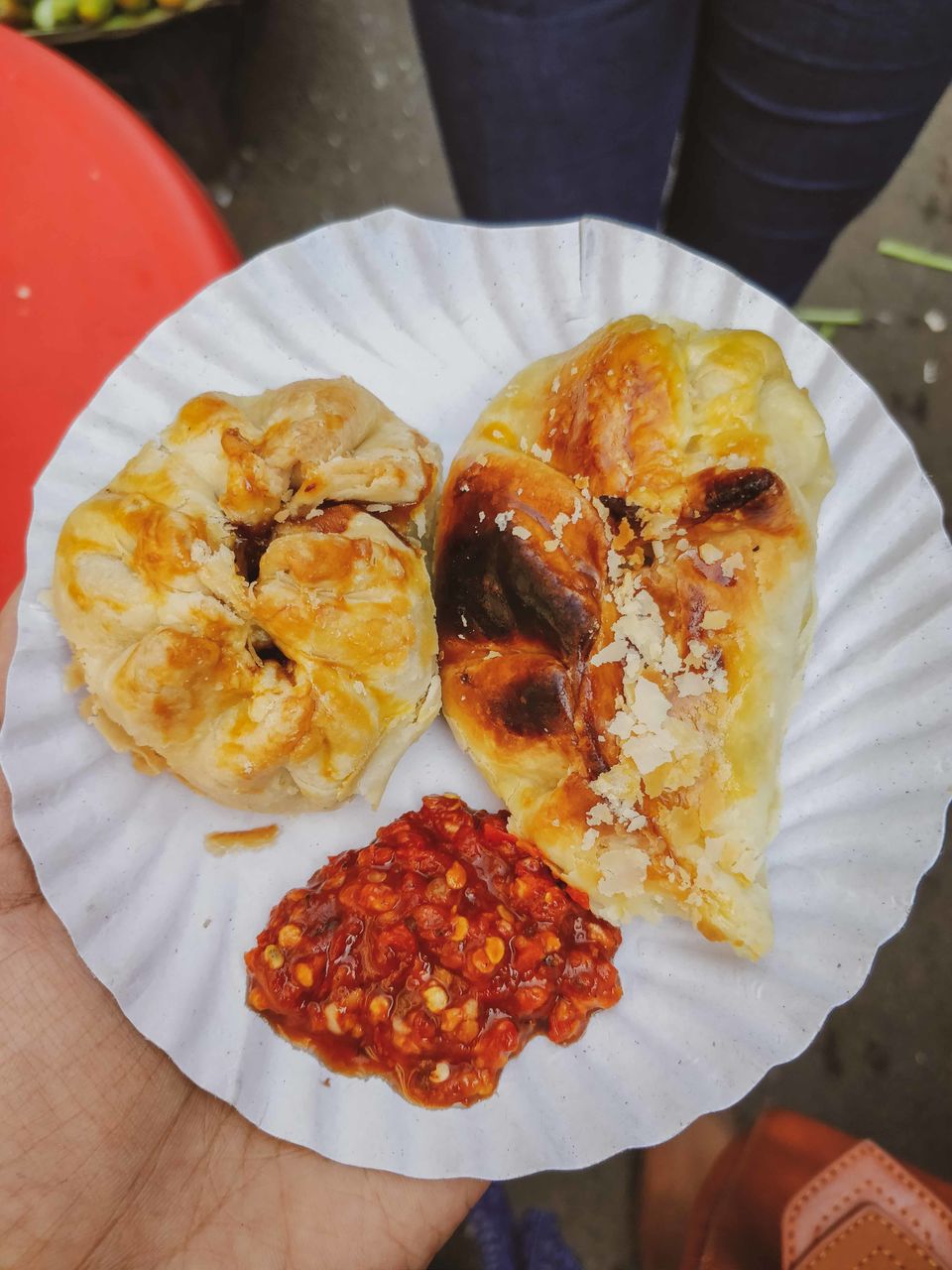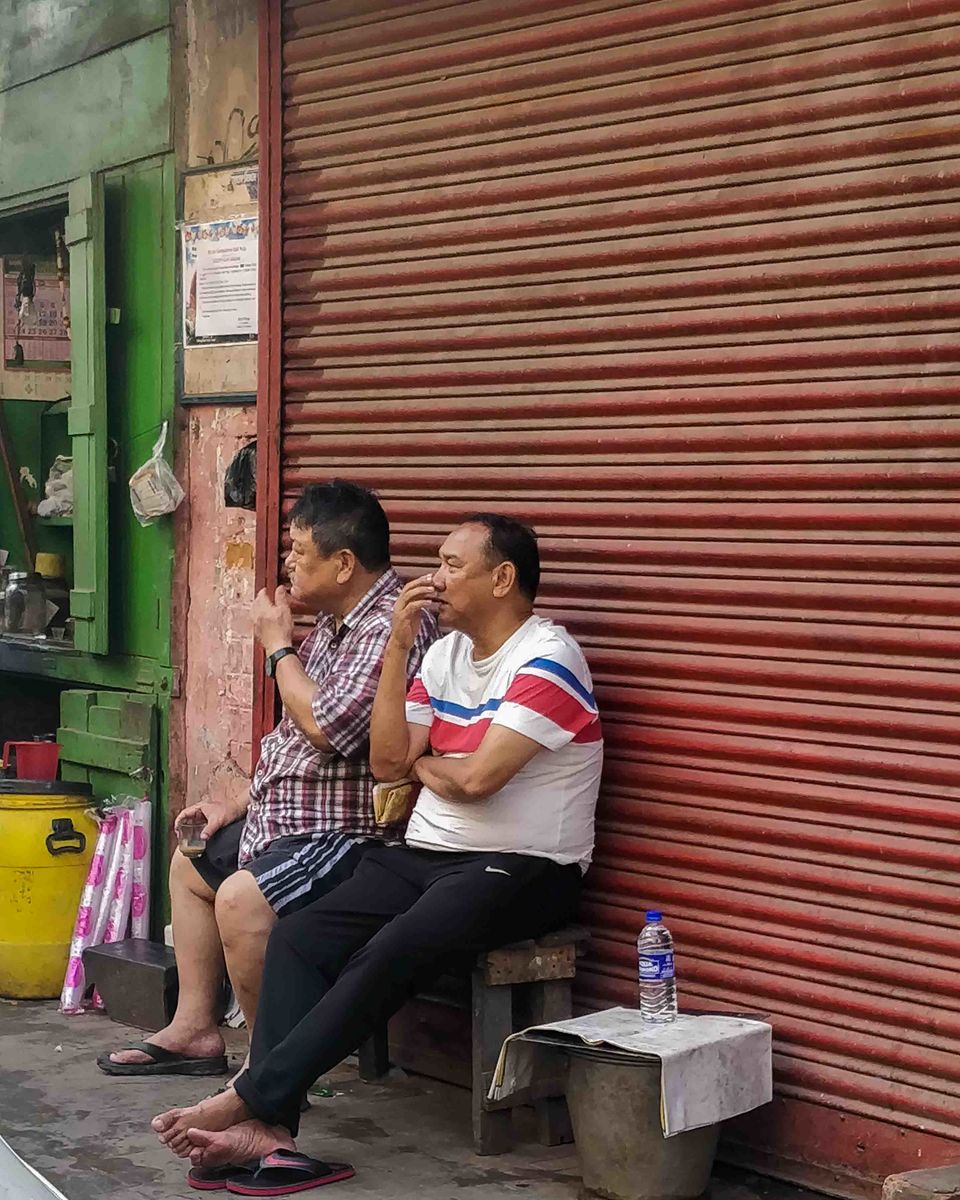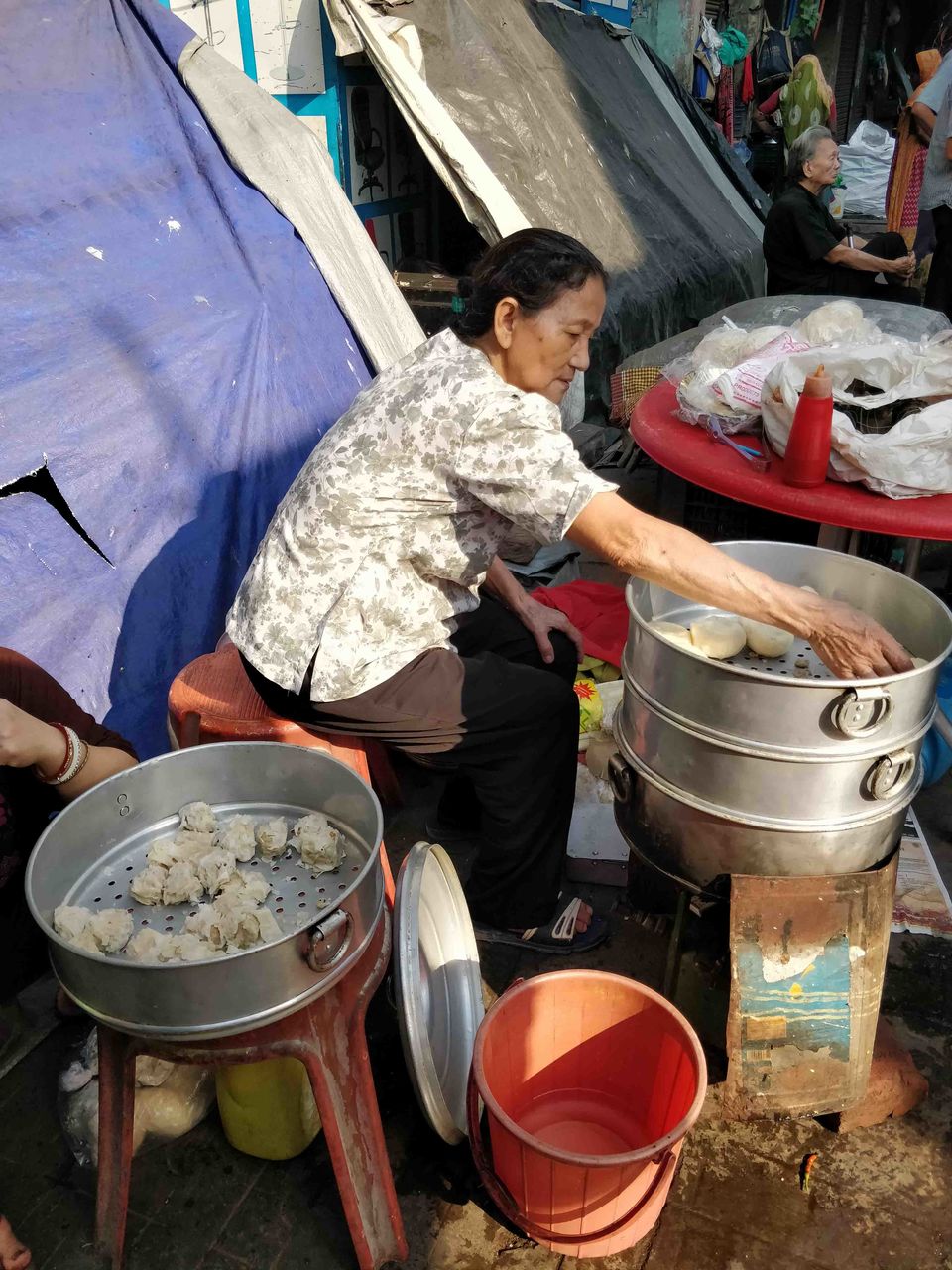 8. CHOP
Fish chop, chicken chop, Mutton chop, Aloo chop and there must be more types of chops!
It is basically the mix of your favorite stuffing wrapped in breadcrumbs and fried crisp.
9. MOMOS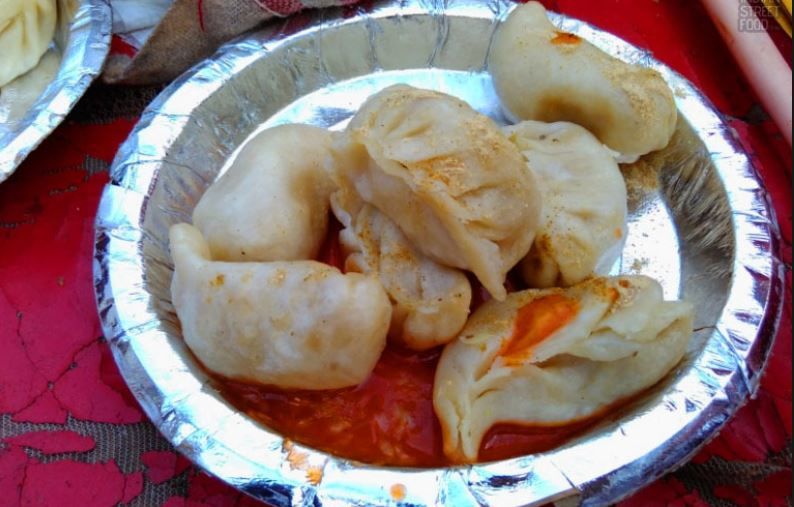 You get these everywhere. Again this is a dish that doesn't require an introduction. The stalls are everywhere. You see them so often that you will definitely have atleast a plate of them when in Kolkata.
10. KABIRAJI CUTLET
If you already know about it, then you must be thinking right now that what is she saying - "Its not a street food item at all". But in my defense , I think any food or street food post of Kolkata would be incomplete without the mention of Kabiraji.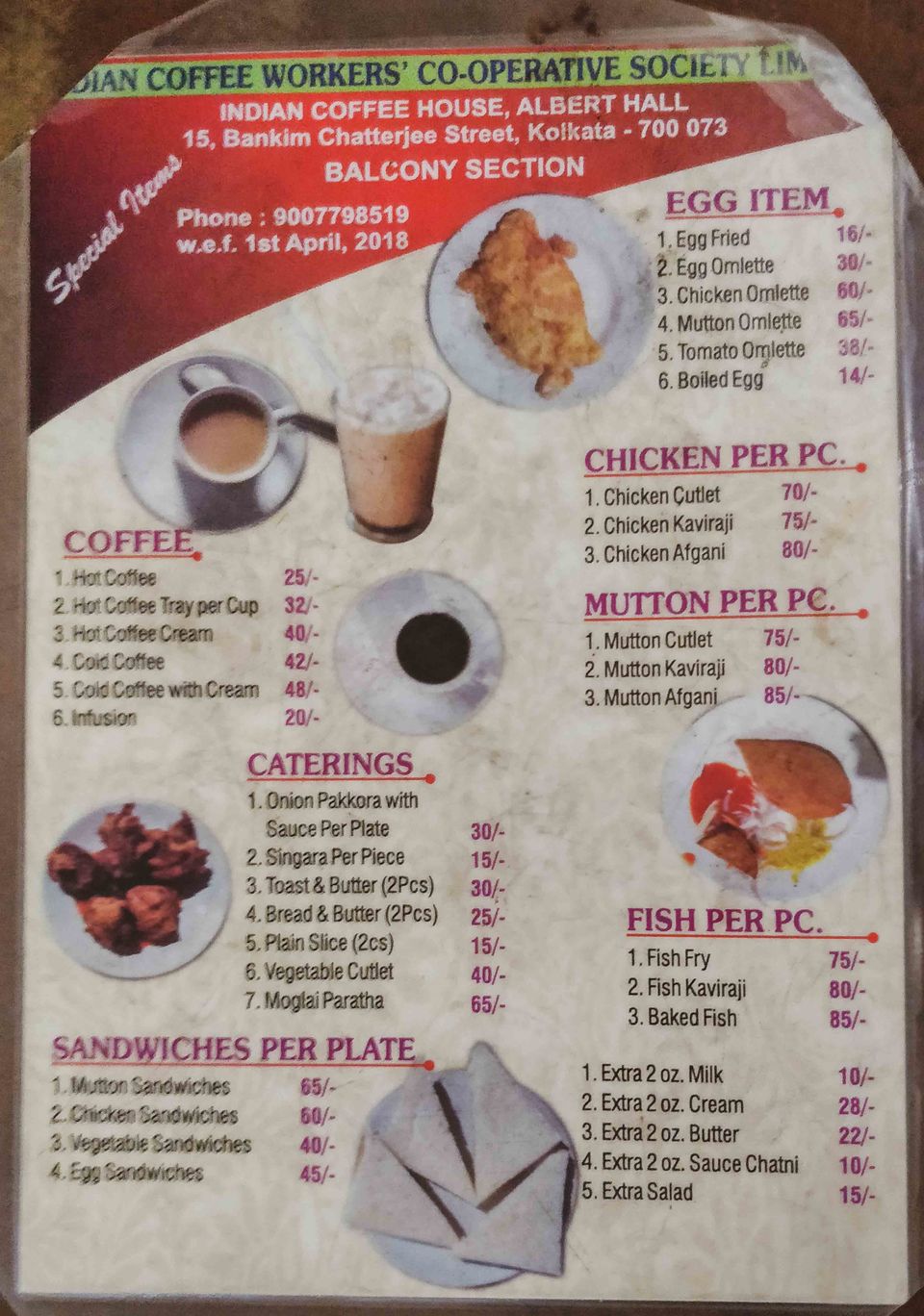 This one has a really interesting story behind it. It goes like this: So, Rabindranath Tagore did not like cutlets covered with the dust of biscuits.On hearing the same the Head cook of Basanta cabin made a challenge to prepare cutlet in such a way that the poet would agree to accept the same.
He accordingly started experiments and finally prepared the same with small fry from the liquid of eggs in stead of dust of biscuits and placed the same before the poet and he agreed to take the same.
Thus the cutlet was named " Kabi Raji " cutlet.
And if you want to taste this amazing dish for the best taste and for an extremely cheap price then you have to visit Coffee house in College street. A disclaimer: The pace there is really really slow. You'll surely be spending about an hour here and could be even more. And also the time they take to take your order is equally proportional to the amount of time they take to bring your order. Do take out some time when you come here.
These are just a few main one's that I've put down , but they are just about 30% what all you can have in the list of street food in Kolkata. Some more that you can try are : Rasgulla and Sandesh (a must and if you have sweet tooth then just put it on top of your list), Kachori, Bengali thali!