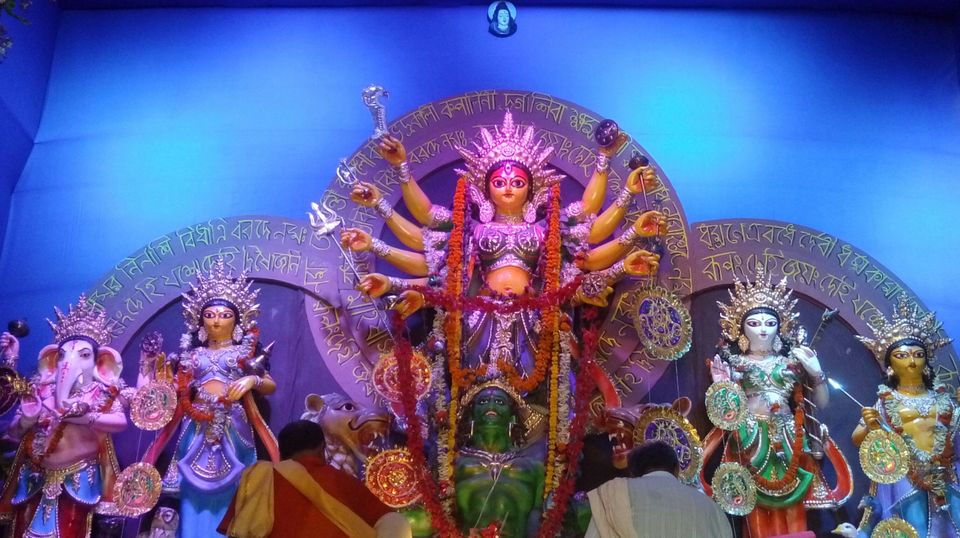 With Bengali's biggest festival just round the corner, the city of joy is all decked up and ready for the five days of revelry. Now along with Durga Pujo, another Pujo holds a special place in the Bangali's heart during this time... the "Pet pujo" 😜.
The city is dotted with tiny pop up restaurants and food corners during Durga pujo but there are some places that are very strategically located near the must visit Pujo-s.
Here is a tiny list of some eateries that satiate the hunger pangs of the pandal hoppers in North Kolkata.
1. Golabari
Located in Shyambazar five-point crossing this tiny nondescript shop, serves the most lip-smacking and fingerlickingly delicious kosha mangsho (mutton in thick fried onion gravy). For 260 bucks you get a quarter plate of kosha mangsho and two huge paratha. If mutton isn't your cup of tea you can settle for chicken (murgi-r chaap) and paratha.
Their kosha mangsho is actually on every food pagol bangali's list.
2. Cafe o Kobita
A relatively new addition to the food scenario, this upgrades the para-r cha-r dokan to a unique cafe. It is located near the Metro gate of Shyambazar station. A small place but the food is really good. Its menu ranges from sandwiches and burgers to lasagnas and chello kebabs. It serves wonderfully crispy croquettes and finger chips. The lasagna is a must try and if queue outside Peter Cat is a mile long the Chello Kebab here won't disappoint. They also serve a range of all-day breakfast items.
The pocket pinch for two is approx 700-800 bucks.
3. Mitra Cafe
Moving ahead you reach Sovabazar. The long queues outside the pujo pandals would surely make you hungry and lo behold...just oposite to Sovabazar Metro you will find the archaic Mitra Cafe. Despite a huge menu, I would personally suggest everyone to try out the Brain chop and the Diamond cutlet. The portion might leave you a tad disappointed but the subtle taste will you immensely happy.
It is extremely budget friendly and a meal for two costs some 500 bucks.
4. Dilkhusha Cabin
You have not truly experienced the North Kolkata flavour till you have taken a bite of their Kobiraji Cutlet. It is a simple cutlet made of fish, chicken or mutton and then given a yummy twist with crispy golden dollops of fried eggs surrounding it. The crunchy outside and the soft meat inside can give any KFC meal a run for their money.
Another must try is the noodles and chilli chicken. Chilli chicken lives upto its name and the noodles are peppery and lack the usual array of sauces. The quantity is quite a lot so order carefully.
It is situated on the junction of MG road and college street.
5. Basanta Cabin
Located not far from Dilkhusha is another famous eatery. Though it looks very dilapidated, the chicken cutlet and fish fry are very tasty.
6. Indian Coffee House
This place needs no introduction. No Bengali student has graduated to become an intellectual till he has spent some quality time in the famous Indian Coffee House. For years it has been feeding the mouths and minds of hungry students. If you find a chair you can sit for as long as you want, no one will ever ask you to leave. The cold coffee with cream is nice and thick. The chicken omlette with toast is a must have. Another speciality is the 6-inches high chowmein. The place is forever covered in smoke and there is a constant buzz but this place has been the brainstorming place for numerous literery gems.
7. Putiram
If you are pandal hopping for the whole night you can end your adventure with some yummy samosa or dalpuri and aloor dum. It is purely vegetarian and the best way to start one's day. The telebhaja (fritters) available in the evening are also nice.
Putiram's also offers a huge variety of sweets.
8. Nizam's
If you plan to visit esplanade as well, swing by Nizam's. They are the inventors of Kathi rolls as we know it. The tawa on which they make the kebab is almost a 100 years old and it used to weigh a whopping 185 kgs. Wear and tear has thinned it down to 110kgs.
The food is fingerlicking good. While Nizam's is known for it's roll, the paratha and Boti kebab and the Biryani deserve a special mention.
9. Karco Heritage
Their take away is better than their restaurant food. The grilled fish is yummy. It melts in our mouths. The quantity of food served is a lot. They serve a variety of rolls. The egg chicken roll is a must have. They also serve mango juice in the summers. The juice is so thick, it exercises our ventilatory muscles while taking in a sip.
10. Aminia
Though there are numerous outlets of Aminia in and around Kolkata, the one near New Market holds a special place in my hearts. They are renowned for their Biryani. They do serve a variety of other moghlai items but their Biryani is a class apart.
11. Anadi
I would draw the curtains with Anadi cabin. Located near the Esplanade metro, it is a very tiny shop known for serving the best Moghlai parothas. They have single egg, double egg and duck egg variety. One can also try the parantha and mutton kosha. The mutton kosha will surely transport you to heaven. It literally melts in your mouth. The moghlai is served with a potato curry which provides the necessary relief to the fried and spicy moghlai.
This covers mostly the North and Central Kolkata. South Kolkata comes with its own huge set of eateries but the charm of these archaic and ancient places are very interesting. I must warn you though, these aren't your AC posh fine dining places. Hygiene may not be their first priority but taste surely is. An added advantage is they are very pocket friendly and you will always find a place to satiate your hunger.
Happy Pujo...