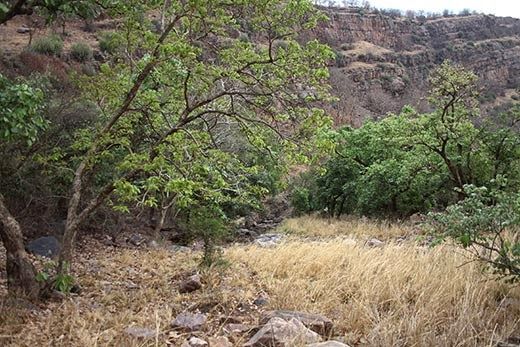 392 Sq Kms of dry deciduous forest; and a 700 year old fort standing royally against its backdrop; has been a great possession of the maharaja of Jaipur in the past. I recently had a great opportunity to visit the meeting grounds for the ancient mountain range of Arravalie and Vindhya. Abundant Flora and fauna makes this forest vibrant, alive and colorful. Support of man has been restricted to 3 lakes made by them. 30 mammals, 275 birds and 12 reptiles are great number of performers.
Thanks to the 1973 project Tiger this one of the largest National park in north India was born. The main characters which created their impact were: Michali, Sundari, Dollar, Jhumroo, Sitara, Mala, Junglee, Bina 1, Bina 2. I am talking about Ranthambore National Park Savai Madhopur Rajisthan. Courtasey My spouse.
The journey started on a great weekend from Hazrat Nizzamudin Railway station. The train bound to Kota. 6 hours of continuous movement of the train brings you to Savoi madhopur. As you enter the station you wander where the wildlife is. You are surrounded by the city life. The first feel comes, when you sit in a jeep that takes you to your property. On the way you see canters jeeps and international tourist. The jeep takes you to your resort and on the way you can see the forest at a height and wonder am I being watched from the forest top.
For my trip I stayed with The Tiger Den resort. The resort is a pleasure to be in as well. The property is spread across 7 acres of land and is well organized and planed. Care is taken to provide privacy to the travelers. There is a perfect blend of luxury of a modern life and the simplicity of a jungle resort in the property. The most attractive part of the property was to watch the star lit night sky from your veranda. Every morning you are greeted by lots of butterflies flying in and out in the lawns. My 3 year old daughter literally spent her time running around the butterflies. Obviously she couldn't catch any but really loved running around them. The property itself has some real great flowers in its campus. They spread a soothing fragrance around you to make you all relaxed and rejuvenated. The property has its own spa as well.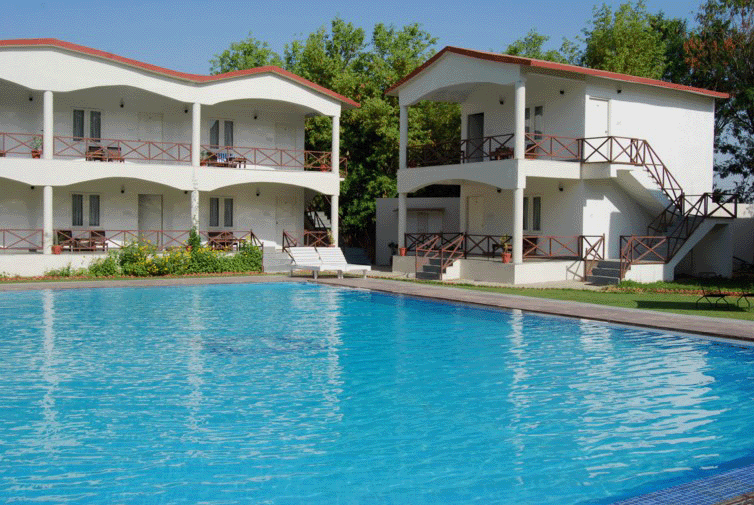 Our day one (actually evening) was spent moving around in the property to familiarize ourselves with it. The property has a great swimming pool in it. Starting from 3 feet deep and spreading to 9 feet depth. A good combination for all type of tourist sizes. Obviously we Indians love water and our evening was spend in it. The resorts souvenir shop has great t shirts and some handicraft items for you to take away as a memento. I loved there 2 hammocks that gave me a great value time with my daughter who loved the swinging on the hammock part with her loving parent. It was a perfect father daughter time. Her sweet questions pouring in and my swingy revert made our day. There barbecue area is big and comfortable. Cultural performance is a must watch too.
We had opted for the morning jeep safari which we thought would be a great ideal time for tiger watching. We got up early (around 5.30 am) as per plan. The excitement in my daughter to see a tiger was so strong that she didn't complained as we woke her early. She was all excited and ready to go in just 30 min. usually we have a hard time waking her every morning at 6.30 am for her school. We opted for rout number 6 for our safari. Just to update you the national park is divided in various zones for safari. Zone 6 is where we went for our tiger search. Please carry your photo id proof as it would be required for the safari.
Our jeep took us into the forest which was actually like going on a desert safari with only difference that you have to go up a hill of stone and rocks in place of sand. The safari is a fun filled exciting ride of 3 hours. In these 3 hours you are as alert as a spotted dear and as active as the tiger itself. There is a mixed feeling of fear, excitement, curiosity, wander, expectations. I would say the feeling is like a rainbow. Luck plays an important part in spotting the tiger in these safaris. We were not that lucky though to find the majestic beast. But surely we caught some tiger trails on the ground which was equally exciting. Who knows that the tiger was closely watching us but we couldn't spot it. Safari that went after us had an opportunity to watch the beast live in action. We were also lucky to spot the spotted dear, Mongoose, Nilgai, Chinkara, Sambhar. Peacock was present in abundance. Variants of birds like vulture, kingfisher, swallow and many more also play a great role in coloring the sky of the national park. Make sure you are empty stomach and do carry caps, glares, water bottle, binoculars and a great camera for shooting. Odomos and sun cream is also important.
With a little disappointment in our heart of not seeing the majestic beast we moved back to our resort. I say little because the tracks (pug marks) were equally intriguing for us all. I am sure I couldn't see them but they surly saw us up close. The weather was hot so we did not opt for the afternoon safari. Another reason was the presence of my tender daughter whom we thought might fall sick in the sun. Simple natural parental instincts.
We utilized our rest of the day by visiting some other properties and resorts at the vicinity. The best part of a tourist or traveler is that no hotel or resort stops you from entering their premises. After all we are there potential future guest. We visited around 7-8 properties. Just for the fun of it. Evening was spent in the pool with friends and my daughter. My daughter who was little scared to get in the pool the previous day was transformed into a fish and didn't wanted to get out of the pool. Somehow after 2-3 hours she agreed to come out as she was hungry. The food was really a great treat for the taste buds. I would personally like to thank the chef who made the non-veg item for the buffet. Pretty seasoned cook.
Next day was our departure day. With big heart and promise to the park of returning again we got into the jeep that was supposed to take us to the station. Really it was a great adventure trip. The all mighty had another adventure planned for us on our way. Our jeep got punctured on the way to the station. We took a local jeep for transportation. With 10 min of departure we hit the station and rushed to our train and somehow managed to get in time.
Promise is strong in our heart to the great beast. We will surely meet again. This time in person and face to face. No more track or pug marks chase. Purely Men in the wild not men verses wild as in the discovery channel.