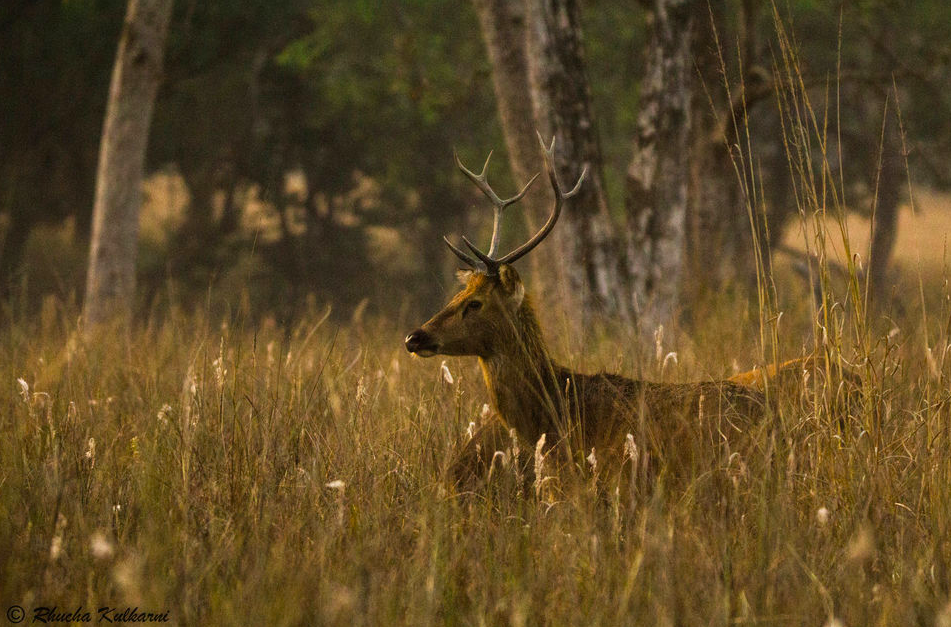 Living in the city has made me appreciate the solace that nature provides. Every time I yearn to be woken up by the chirping of birds rather than the blaring of horns, I know that a trip is on the cards. So on one such weekend, I put a pause on my busy city life and headed out to Kanha National Park for a date with wildlife! I couldn't wait to be under the aegis of the mighty sals, and hoped to spot the striped beast Kanha is known for.
A day's journey later, I was excitedly checking into my resort. Everyone seemed to be talking about spotting a tiger. Every time a group returned from a safari, they went on about describing their fantastic experience. In Kanha, I watched adults turn into curious children who couldn't wait to see their memories of Jungle Book come to life! I was told that early morning was the ideal time to spot wildlife. I had missed that window by a few hours, and so decided to head out to a village close by, hoping to learn about a life different from ours.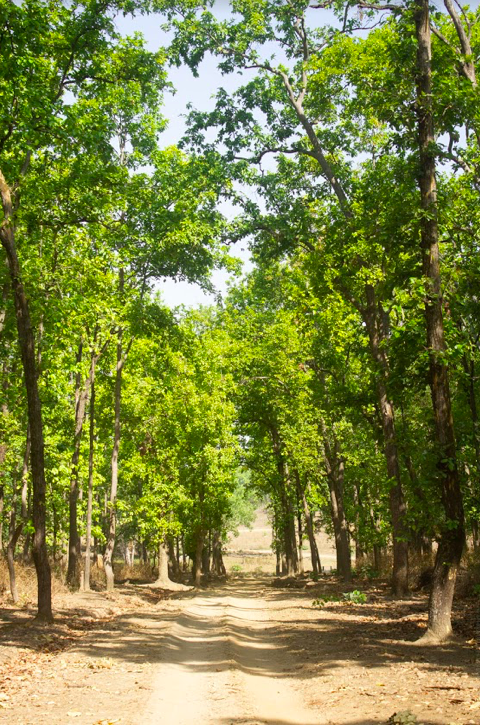 The landscape here stood in stark contrast to that of Delhi. Massive trees loomed over the main road, creating what looked like a well-manicured passageway. I was still admiring the forest when I saw a group of young women returning home from an event. Their elegant attire instantly caught my attention and fancy. They were all adorned in vibrant lehenga and choli, accessorised perfectly with chunky, traditional silver jewellery. My neon t-shirt and stone-washed jeans looked pale in comparison. A quick chat later, I was being accompanied by one of them to the local market where I could purchase similar clothes. Radha, a newly-married woman was the enthusiastic volunteer. I was surprised at how she didn't think twice before befriending a stranger from the city.
We headed to a local market located only 20 minutes away. I was in paradise. I had expected to find peace amid nature. However, I felt an undeniable calmness seeing crisp ethnic clothes folded neatly into piles. Under Radha's expert guidance, I was soon being shown gorgeous Chanderi and Maheshwari saris. My heart skipped a beat when I held a fuchsia dupatta bedazzled in fine Zardosi work.
Radha's knack for bargaining and her extensive knowledge of these textiles ensured that I splurged to my heart's content. I realised how travelling with locals made an experience more special. I made a mental note to thank her for being so warm and helpful.
The market also had numerous shops selling jute goodies and wooden artefacts that serve as ideal souvenirs. As if all this weren't enough, the traditional silver jewellery on display kept enticing me.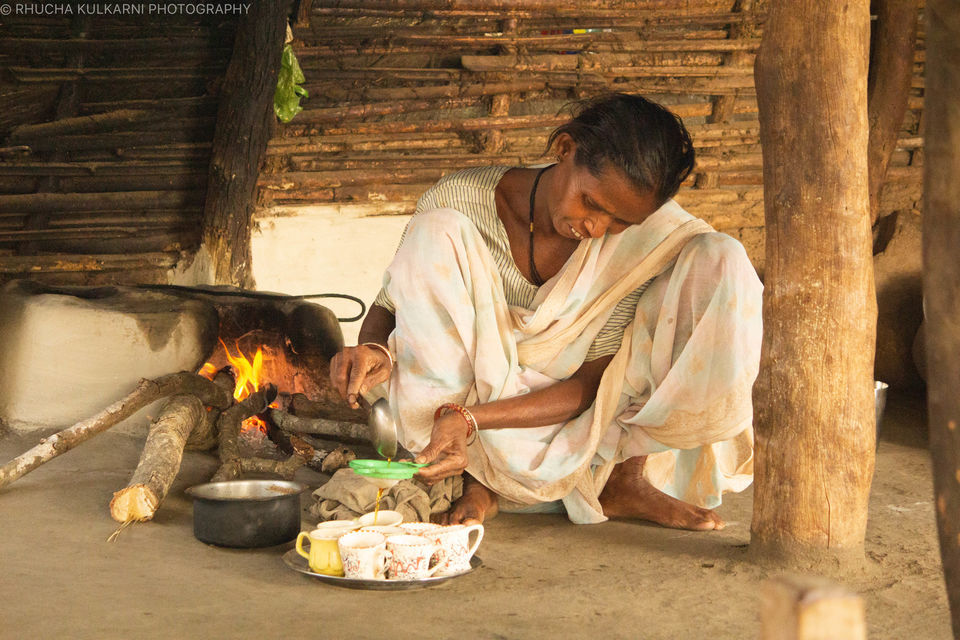 As a thank you to Radha, I wanted to take her for lunch back at my resort, but she had a better idea. She took me to a dhaba close by, called Kamlesh Dhaba. She said that the best way to experience a place was by trying their cuisine. I couldn't argue with that, so we went straight in. The food here was prepared on a chulha or a fire stove, lending it a unique smokey flavour. We had the desi chicken which was a typical preparation full of local flavours and spice. We washed down the late lunch with a tall glass of lassi.
I knew it was time for a break, so I lounged in my resort, devouring the sweet taste of freedom.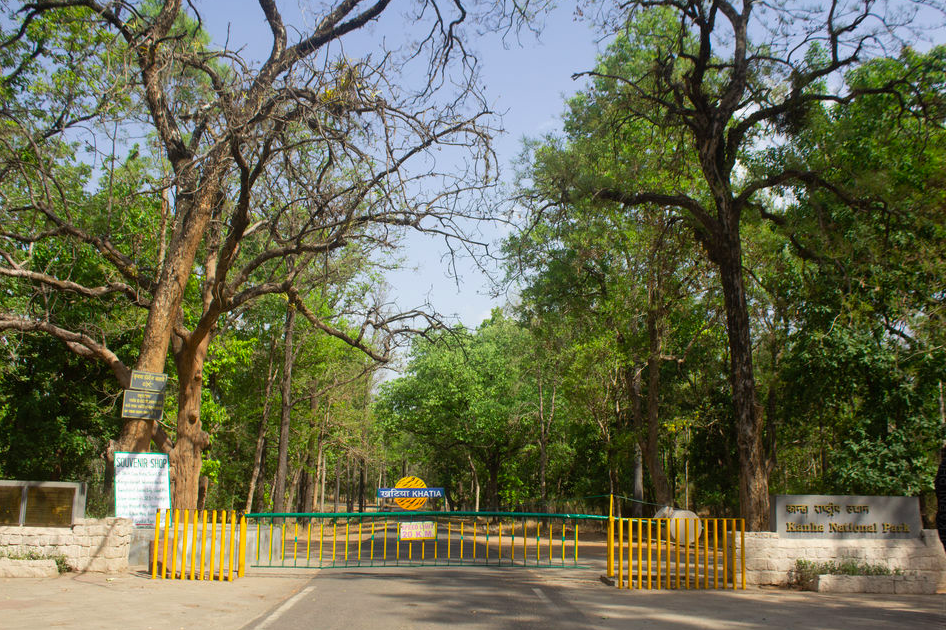 The next morning, I was prepared for the ultimate adventure. Today, I was finally going to get a glimpse into the wild. Our jeep roared into the forest, but we were soon quiet and alert, simply observing the nature around us. We listened carefully for animal calls that would indicate the presence of a tiger.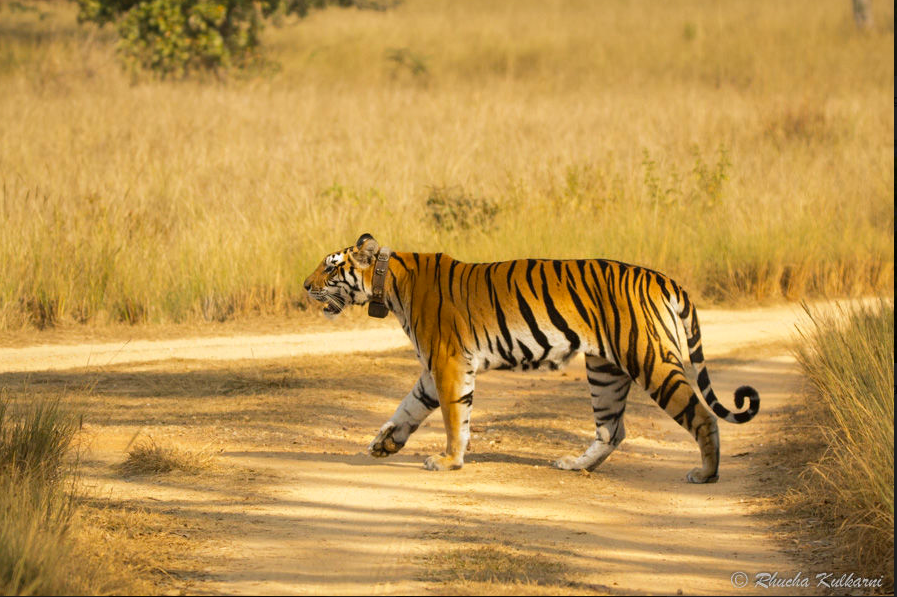 Meanwhile, we spotted a herd of barasingas (swamp deer), langurs, a jungle cat, mongoose, foxes and even a flying squirrel! We were all recovering from the excitement when suddenly, we felt the forest reflect our emotions. The crows began to caw, birds began to fly in a frenzy and we could here wild dogs bark loud as if giving out a warning. Could this be it? Could this be the moment when I finally spot a tiger? I thought to myself. And lo and behold! The majestic beast emerged from a bush far away. With a tracker around its neck, the tiger walked gracefully towards the safari and over the course of half an hour silently crossed the road ahead of us! The sight was breathtaking. I realised that no number of photos can prepare you for the moment when you behold a tiger with your own eyes. We were all so taken aback by this beautiful experience, that we spent the remaining journey in complete silence. It felt like the tiger's magnetism had stirred a sense of humility in all of us.
I soon returned to Delhi with memories of one of the most memorable solo trips I had ever taken. I carried a little bit of Kanha's magic into my life here, in the concrete jungle – this magic was sure to stay.
Have you been to Kanha National Park? Write all about your experience here.
Tick all hidden gems off your bucket list. Check out Kitkat Travel Breaks on Tripoto here.

The readers are hereby informed that the views, thoughts, images and opinions expressed in the article belong solely to the author, and Nestlé India Limited assumes no responsibility or liability for any errors or omissions.